AssessTEAM is a cloud-based performance management software that helps small to midsized businesses (SMBs) implement employee evaluation processes with ease. Aside from tracking staff performance through a wide range of assessment tools (such as continuous and 360-degree feedback), it offers a database of over 3,000 key performance indicators (KPIs) that you can group together to create custom evaluation metrics for measuring employee work performance.
In our evaluation of the best performance management software, AssessTEAM earned an overall score of 4.63 out of 5. It nabbed the top spot because of its feature-rich platform and affordability. Monthly fees start at $3 per employee—and you even get a 20% discount if you commit to an annual plan (which requires a lump sum payment of all yearly fees).
AssessTEAM Overview

Pros
Easy to set up; comes with guided system rollout
Customizable feedback templates, workflows, performance ratings, and employee evaluation forms
Large database of KPIs you can use for creating custom performance and job reviews
Cons
Lacks a free plan
Limited reporting customization options
Doesn't have a nine-box matrix for assessing high and low performers
Supported Business Types

SMBs looking for a budget-friendly solution for measuring employee performance, tracking work goals, and collecting feedback

Free Trial

10 days for new users (as of this writing)

Pricing

Businesses with up to 500 employees:

Basic: $3 per employee monthly
Premium: $4 per employee monthly
Enterprise: $5 per employee monthly

Business with more than 500 employees:

Call for a quote

Discounts

20% discount for annual plans (this requires upfront and lump sum payment of the yearly fees)

Standout Features

User-friendly interface with customizable evaluation tools
Library of more than 3,000 KPIs with pre-configured KPI lists for various industries, departments, and use cases
Supports continuous feedback, scheduled annual reviews, competency- and project-based evaluations, 360-degree feedback, and 30-, 60-, 90-, and 120-day assessments
Survey tool comes with a customizable "Workplace Happiness Survey" for measuring employee engagement

Ease of Use

Relatively easy to learn and use, but having basic knowledge of what

performance management

is and its processes will be helpful

Customer Support

Guided system setup for new clients
24/7 support via email, chat, phone, and in-app help button
Dedicated account manager for businesses with more than 300 employees
Free consulting services (provided on-site travel isn't needed) if you have questions about the performance review process
AssessTEAM Is Best For
SMBs looking for an affordable performance review software: The AssessTEAM pricing matrix is budget-friendly, with its Basic plan costing only $3 per employee monthly. It includes all of the essential tools you need to manage performance reviews, such as work goal setting, unlimited staff evaluations, continuous feedback, and 360-degree assessments.
Startups that require help setting up performance review processes: All AssessTEAM clients get consulting services if they need assistance in setting up the provider's software or creating a performance review strategy for their business. Its consulting team can even help answer your employees' questions about work goal planning and other performance review-related tasks.
Companies with distributed teams and field workers: AssessTEAM has a cloud-based platform that allows your distributed teams to access it from anywhere, provided there's an available internet connection. It also has mobile apps via Android and iOS devices, which enable field employees to complete scheduled evaluations and leave feedback for their subordinates, supervisors, and peers while on the go.
AssessTEAM Is Not Ideal For
HR teams that require a nine-box matrix for assessing employee performance and potential: AssessTEAM doesn't have a nine-box matrix you can use to assess employee potential for succession planning and talent mapping. If this is important to your organization, we recommend 15Five as it has a customizable nine-box talent matrix and a secure calibration solution for collecting stakeholder feedback. Read our 15Five review article to help you gauge if it fits your requirements.
Employers who want performance-based compensation planning tools: AssessTEAM's integration with Paylocity, an HR software with a compensation management solution, allows you to use the AssessTEAM review ratings data to plan employee pay increases in Paylocity. However, if you don't want to manage separate systems for these two processes, consider Lattice as it has a compensation module you can add to its performance management solution. Read our Lattice review to know more about its features.
Companies looking for an HR system that can handle all facets of the employee lifecycle: AssessTEAM may have a feature-rich platform, but its core functionality is performance management. Check out our guides on the best HR information system (HRIS) and top HR software if you want a well-rounded solution with basic to advanced HR features for managing employees.
How AssessTEAM Compares With Top Alternatives
Best For

Monthly Fees

Learn More

Businesses needing affordable performance review tools

Starts at $3 per employee

 

Companies that want a customizable talent matrix for succession planning

Employers that need performance and compensation planning tools

Businesses looking for robust performance reporting

Starts at $8 per employee
Looking for something different? If you want an online solution for collecting feedback from your team about employee engagement, the company's overall work environment, and other topics, check out our guide to the best employee survey tools to find one that's right for your business.
AssessTEAM Pricing
What we appreciate about AssessTEAM is its straightforward pricing. It doesn't have any plan minimums and you aren't required to sign up for an annual plan—but it offers a 20% discount if you prefer to pay all fees annually (in a lump sum and upfront). Pricing is also transparent, so you get no surprises come billing time. While these factors contributed to the high AssessTEAM pricing score, its lack of a free plan cost it some points.
For businesses with up to 500 employees, AssessTEAM offers three packages: Basic, Premium, and Enterprise. All plans include unlimited employee evaluations, software integration options, mobile apps, white-glove setup, and unlimited phone support. If you sign up for its higher tiers, you get additional AssessTEAM features for tracking time spent on projects, evaluating project profitability, and analyzing employee productivity.
AssessTEAM Plans at a Glance
| | Basic | Premium | Enterprise |
| --- | --- | --- | --- |
| Monthly Fees | $3 per employee | $4 per employee | $5 per employee |
| Pre-configured KPI Lists | ✓ | ✓ | ✓ |
| Goal Setting with 360-Degree & Continuous Feedback Tools | ✓ | ✓ | ✓ |
| Project Time Tracking & Project Performance Evaluations | ✕ | ✓ | ✓ |
| Project Time & Cost Budgeting with Configurable Risk Alerts | ✕ | ✓ | ✓ |
| Project Profitability Computations with Actionable Reporting | ✕ | ✕ | ✓ |
| Team Profitability Analysis | ✕ | ✕ | ✓ |
| Individual Productivity Analysis | ✕ | ✕ | ✓ |
AssessTEAM can also work with you to create a package with the performance review solutions that your business needs. However, this custom-priced plan is available only to companies with more than 500 employees.
AssessTEAM Performance Review Features
The provider earned a perfect score in this criterion because of its wide range of tools that allow employees, managers, and HR teams to complete and monitor simple yet effective performance reviews. AssessTEAM even provides solutions for analyzing productivity, tracking work goals and project performance, and comparing team profitability costs. Your field workers can also use its mobile apps to access employee evaluations via Android and iOS devices.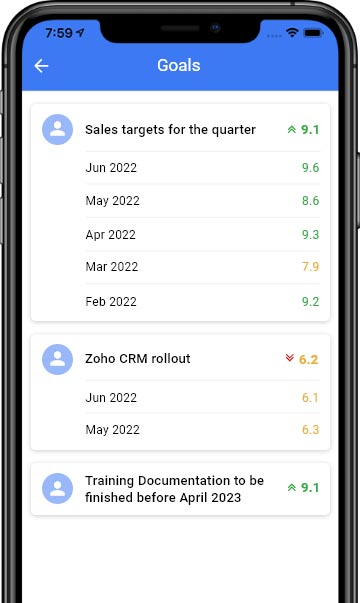 If you have timelines for specific evaluations, such as 30- and 60-day check-ins for new hires, AssessTEAM lets you set up review schedules and intervals. You also don't have to worry about manually creating notifications for scheduled assessments. The system will automatically send evaluation reminders via email, including a link to the form, based on your selected timelines.
Let's take a look at some of the AssessTEAM features to help you gauge if it's the right performance review tool for your organization.
AssessTEAM supports all evaluation methods—from employee self-assessments and annual reviews to continuous/360-degree feedback and competency-based evaluations. It can even handle project-driven assessments to help you track project-related goals. If your business conducts anniversary day evaluations, its platform allows you to set up once-a-year reviews with reminders that will be sent out on the employees' hire dates. Similarly, you can configure the system to create up to four new hire evaluation schedules, which can happen 30, 60, 90, and 120 days from the workers' start dates.
Setting up custom workflows, performance ratings, and evaluation levels is also possible with AssessTEAM. The software is designed to handle custom processes so it can accommodate the different performance review needs of various businesses. It can even mark all evaluations as anonymous if you don't want to reveal the identity of the reviewers. This is perfect if you want to send engagement surveys—although, AssessTEAM has a "Workplace Happiness Survey" that you can use or customize.
With AssessTEAM, you can assign specific individuals to be the evaluators of an employee. Evaluators can be the person's manager, direct reports, and co-team members for downward, upward, and peer reviews, respectively. While you can manually add employees to a worker's profile as evaluators, you can also import a spreadsheet containing the applicable data directly into the system or send the file to AssessTEAM so the provider can upload it.
Project Performance Tracking
AssessTEAM's project performance tools help monitor staff productivity and project profitability. It allows you to track when projects are completed, as well as find competency gaps that employees can work on to improve their skills. This is great for companies that have a lot of internal work projects. Businesses that handle projects for clients can also benefit from this solution to help with monitoring projects and collecting feedback from customers.
The software comes with a simple time sheet app that lets employees input the time they spend working on projects. Business intelligence reports are also available to provide visibility into various data, such as profit margins, actual project work hours, and completion status. The system even sends real-time alerts if there are projects that are at risk of exceeding the planned budget.
---
A library of over 3,000 KPIs is easily accessible on AssessTEAM's website and software. The provider also has nearly 90 results areas, which are groups of KPIs that can be the work goals, job responsibilities, and competencies that employees have to achieve.
You can use these results areas for creating quantitative, project-specific, and self- or peer-evaluation forms. Pre-built results areas are customizable, but you can create your own KPIs and KPI combinations to fit the positions in your company and your performance review needs.
After you have selected your results area or created a custom grouping, you can assign it to applicable job titles. The KPIs will serve as the evaluation criteria for the person holding the position. This makes it ideal for employers who assess worker performance based on identified job responsibilities.
However, the system also allows assigning KPIs to employees instead of position titles. This is optimal for those who measure staff performance based on special projects or have staff who have multiple job roles.
---
The goal-setting process in AssessTEAM is relatively easy. Employees can create their own goals or KPIs, select the completion dates, and set the goals as targets, competency-based accomplishments, or certifications they need to get.
You and your people managers can also set up work goals for teams. Managers can assign goals to team members and view their profiles. On the other hand, members of the team will have visibility into the collective goals they need to achieve, including the result areas for their group.
If you want to add performance scores to evaluation forms, AssessTEAM lets you build a custom rating scale while adding new result areas into its system. It also has a built-in 10-scale rating, which you can change to a different value by contacting the provider's support team. Note that if you ask AssessTEAM to revise the built-in scale, the change can't be undone.
The software also supports weighted score evaluations, allowing you to assign scoring weights to specific KPIs and goals. This enables you to get a quantitative value for each task or job responsibility, based on its cost advantage, complexity, or effort value.
If you don't want to use performance scores, AssessTEAM has a "Selections without scores" option you choose when setting up the KPIs for the evaluation template. It also supports free text answers, which is perfect for qualitative evaluation questions that require employees to type in an answer instead of selecting one from multiple options.
---
Part of the performance review process is getting employees and evaluator(s) to acknowledge the review by signing the form. AssessTEAM makes this part of the process easy, with its e-signature capabilities. The system accepts uploaded images for signatures, including those that are typed and drawn directly into the evaluation form's signature field.
---
Employees are granted access to an online portal where they can view their evaluation forms (both completed and scheduled evaluations), goals, profiles, job result areas, and performance summaries. Managers and employees identified as evaluators have additional access to dashboards that show evaluations for direct reports, peers, and teams.
---
AssessTEAM Forms & Reports
AssessTEAM's fully configurable evaluation tools are just one of the things we appreciate about this software. It lets you choose the evaluation KPIs you need, set up the answer options you want, select whether weighted scores should be used or not, and customize the performance review workflow. You can even create multiple evaluation templates for specific individuals, teams, and use cases (e.g., new hire check-ins or customer feedback forms).
Reporting and analytics tools are also available, but the customization options aren't robust. This prevented AssessTEAM from getting a perfect rating in this criterion.
Despite the limited report customizability, AssessTEAM has solid analytics and reporting capabilities. It offers project-related analytics, including reports that show individual and team metrics for results areas, specific KPIs, continuous and 360-degree feedback, and scores for upward, downward, and peer evaluations.
AssessTEAM Ease of Use
Guided system implementation
Online setup wizard
Generally easy to use
KPI library
Customizable solutions
24/7 support
Support via phone, email, and chat
Knowledge base
Although it is generally simple to use, AssessTEAM didn't get a perfect score because it can take some time for new users to learn how to navigate through all of its features. Some functionalities aren't intuitive, such as assigning evaluators to employees. You have to do this manually for all workers when you first set up the system and when employees move to different teams or job roles.
In addition, AssessTEAM's integration network may include popular solutions like Google Workspace, Slack, and Basecamp, but its partner HR systems (like Paylocity and Zoho People) are limited. You have to use its Zapier integration to connect its platform with other HR and payroll software.
However, we gave AssessTEAM high ratings in implementation and customer support. White-glove system setup is provided to all customers, including 24/7 phone support and free consulting services. If you're tech-savvy, the system comes with an online setup wizard that will guide you through the process of adding employees, identifying evaluators, and using its pre-built result areas to create evaluation forms.
Sending and completing an evaluation form is a relatively straightforward process—provided you were able to correctly set up all the templates, KPIs or result areas, evaluation levels, workflows, and assigned evaluators. If you need help, you can call customer support or browse through its online knowledge base, which contains FAQs and guides on how to use its features. Support is also available via email, chat, and an in-app help widget.
AssessTEAM Reviews: What Users Think
Many of the AssessTEAM reviews online may be positive, but it wasn't enough to push the provider's score to a higher level for this criterion. Its average user rating of 4.4 out of 5 on popular review sites (like G2 and Capterra) pulled its score down.
Most of the positive reviews are about its excellent customer service. One AssessTEAM review even highlighted how responsive and helpful its support team is. Other reviewers like that its evaluation tools are easy to customize, with a platform that's generally simple to use.
On the other hand, users aren't too happy with its dashboard as some parts can look a bit cluttered. A few reviewers said that not all of its features are intuitive, such as setting up peer evaluations and adding goals to result areas take a lot of time.
At the time of publication, AssessTEAM reviews earned the following scores on popular user review sites:
How We Evaluated AssessTEAM
For this AssessTEAM review article, we looked for essential features for creating, implementing, and tracking employee performance reviews. We also checked for customization options and reporting functionalities. Lastly, we considered pricing, ease of use, customer support, integration options with HR software, and feedback from actual users.
Click through the tabs below for our full evaluation criteria.
40%
Performance Review Tools
25% of Overall Score
Many performance management and HR systems require quotes or annual minimums. We considered those aspects as well as the per-employee price and the availability of a free plan.
40% of Overall Score
We looked at the breadth of tools, from online evaluation forms and goal tracking to 360-degree feedback and mobile app functionality. We also checked if the software offer unique features, such as nine-box assessments, review scheduling, and an e-signature solution.
10% of Overall Score
This looks at real-world user feedback found on third-party review sites like Capterra and G2. We considered not only the overall score but also how many people gave reviews.
10% of Overall Score
Preference was given to software with built-in basic performance reporting tools, analytics, and form/report customization options.
15% of Overall Score
We considered interface, customer support, online guides, HR software integration options, and learning curve when compiling this score.
*Percentages of overall score
Bottom Line
AssessTEAM is a cloud-based performance management software designed to help SMBs assess, track, and analyze employee performance. You get fully customizable evaluation tools and workflows to streamline and automate the entire process, While it lets you and your employees add their work goals into its system, AssessTEAM has a library of performance indicators you can readily use for your evaluations.
Best of all, it offers reasonably-priced plans and reliable support services—from initial system implementation to free consulting services and 24/7 support. Sign up for an AssessTEAM plan today.