Human resources (HR) software manages people processes, freeing business owners to focus on growing their companies. The best HR software helps employers track employee data starting with recruitment and hiring. For $3 to around $30 per employee, per month, all-in-one HR tools can manage benefits, payroll, and job performance with intuitive online software.
Top 6 HR Software Picks
| HR Software | Best For |
| --- | --- |
| | (Best Overall) Any business wanting all-in-one affordable HR software with onboarding, payroll, and recruiting |
| | Multistate employers needing integrated employee healthcare insurance |
| | Startups (under six employees) eager to use free HR tools |
| | Businesses that need a customizable HRIS with HR and IT management tools |
| | Professional HR managers responsible for compliance-focused workflows |
| | Firms wanting customization options with integration to HR and business apps |
How We Evaluated HR Software
Rather than evaluate HR software that only has one main feature such as software that helps with recruitment, manage leave balances, or keeps track of employee time, we looked at all-in-one HR software that have all of those features. You'll see HRIS (human resource information systems) and HCM (human capital management) software on our list. HCMs are the more robust HR software that offer all aforementioned features and tools that help with 30 talent management and learning and development.
We compared HR software that works throughout the employee life cycle, from hiring to termination, based on a number of features—including price, ease of use, payroll processing, leave management, and performance management and compensation.
The software applications we chose as the best HR software for small businesses are those that tick most of the boxes and can streamline the HR side of your growing company. We chose Paycor as the best overall, all-in-one HR software that's affordable—with all the features that a small business needs.
Paycor: Best Overall HR Software for Small Business

We recommend Paycor as the best overall HR software for small businesses due to its price and features like its employee self-service portal. It supports the entire employee life cycle, meaning you'll have one system to manage your recruitment, new hire onboarding, labor law compliance, payroll, benefits, time and attendance, performance management, and reporting needs.
Paycor Pricing
Paycor's plans are fully customizable, so you'll have to build out a quote to find out how much the platform will cost to fit your needs. That said, payroll bundles start at $99 per month for the Basic bundle, $149 per month for Essential, and $199 per month for Complete. Using the online quote tool, you can then enter the size of your business and select add-on services to get a better idea of what your plan will cost.
Paycor Features
Recruiting and hiring: Paycor offers a robust applicant tracking system (ATS) designed by professional recruiters to manage your recruitment pipeline. Paycor will even help you find hiring tax credits available in your location to help offset your payroll tax liability. Once a candidate is hired, data passes through to HR and payroll so that training can begin.
Onboarding and training: Paycor provides an employee handbook, electronic documentation, and all compliance forms such as I-9s and W-4s. There's also a built-in learning management system (LMS) that allows you to assign and track employee training, like new hire orientation.
Time and attendance: Beyond managing clock-ins and outs, Paycor provides labor costing metrics. Time worked data is integrated with payroll, saving you manual or duplicate data entry. Employees can clock in via mobile, web, or time clock, and they can manage their schedules using the mobile app—and even biometric facial recognition.
Payroll: Paycor's payroll solution is its core strength. It's built to catch errors and provides workflow, approvals, and payroll tax integration for all 50 US states.
Reporting: Paycor's analytics lets you create custom reports and access standardized reports for quick access to information using a keyword search function. All reports can be customized.
Software integrations: Paycor integrates with tax software, banks, insurance companies, recruiting firms, and retirement services. You can also build your own interfaces and an application program interface (API)—a kind of programming code.
Customer support: Paycor provides email and phone support, a tool called "Solution Finder," a help center, and frequently asked questions (FAQs). Paycor also has 30 local business offices that work standard business hours.
Average user review: 4.3 out of 5 stars. Users appreciate the platform's ease of use and the fact that each employee gets their own login credentials. However, some report that the platform's reporting tools are not as robust as they'd like.
Zenefits: For Businesses Wanting to Offer Health Insurance

Zenefits was built to offer a wide range of employee benefits in addition to HR. Its HR software platform is solid in its own right, but if you're a small business from 5-200 employees, you might find Zenefits is also a great way to ensure compliance with the ACA. Plus, the platform makes it easy for employees to enroll in and view their benefits from the mobile app.
Zenefits Pricing
Zenefits packages cost $8 per month, per employee for the Essentials package, $14 for the Growth plan, and $21 per month for Zen. Add-ons are also available for payroll ($6 per month, per employee) and HR and payroll advisory services ($8 per month, per employee). You can also opt to use your own broker—instead of a Zenefits partner—to administer benefits for $5 per month, per employee.
Zenefits Pricing Table
| Features | Essentials | Growth | Zen |
| --- | --- | --- | --- |
| Price | $8 per month, per employee | $14 per month, per employee | $21 per month, per employee |
| Core HR | ✔ | ✔ | ✔ |
| Integrations | ✔ | ✔ | ✔ |
| Time and Scheduling | ✔ | ✔ | ✔ |
| Mobile App | ✔ | ✔ | ✔ |
| Compensation and Performance Management | N/A | ✔ | ✔ |
| Wellbeing | N/A | N/A | ✔ |
| Employee Engagement Surveys | N/A | N/A | ✔ |
| People Hub | N/A | N/A | ✔ |
Zenefits Features
HR portal: Zenefits HR portal gives your staff access to view their HR data and benefits information, which saves you time. Zenefits' org chart is also a nice touch to help your employees find co-worker contact information through the HR software.
Time and attendance: If you want to save time uploading data between your timekeeping software and your payroll provider, Zenefits offers all three modules. They're integrated, so you can move the data from one application to the next without the hassle of downloading and uploading CSV files.
Zenefits benefits: Zenefits has partnered with hundreds of benefit providers and big health insurance companies so that you can do all of your comparison shopping on one website. Once you choose your plans, Zenefits manages employee enrollment through the HR portal, where your team members have access to their benefits data.
Payroll: Zenefits provides payroll at an extra cost as well as a payroll adviser (for an additional upcharge) who can help you set up your payroll processes and ensure they're compliant with state labor laws. It's also easy to set up direct deposit options with online pay stubs for your staff.
Customer support: All Zenefits users can access its customer service team weekdays from 5 a.m. to 6 p.m. Pacific time. However, you can also pay for consulting services with a dedicated HR or payroll expert to answer your questions.
Average user review: 4.5 out of 5 stars. Users love how the easy-to-use platform streamlines their HR, benefits, and payroll processes. Overall, it appears that Zenefits' primary shortcoming may be its customer support team, which can be difficult to reach. If you'd like a more in-depth analysis, check out our expert Zenefits review.
Zoho People: Best Free HR Software for Startups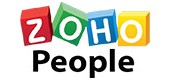 We recommend Zoho People as the best HR software for startups because it's free for up to five employees. In fact, it only costs $1 per user, per month if you have six or more team members (less if you pay annually). This means it's less expensive than Paycor and Zenefits—great for cash-strapped startups. In addition, Zoho People is part of a much larger suite of business software. Therefore, it's a great place to look for business apps that integrate with your HR data as your company grows.
Zoho People Pricing
Zoho People is free if you have five or fewer employees. Otherwise, Zoho costs range from $1 to $5 per user, per month for monthly plans that include the features shown below. A small discount is available for businesses that pay annually. The People Plus plan is also available for $10 per user, per month.
Zoho People Pricing Table
| Features | Essential HR | Professional | Premium | Enterprise |
| --- | --- | --- | --- | --- |
| Pricing | $1 per user, per month* | $2 per user, per month | $3 per user, per month | $5 per user, per month |
| HR Data, Documents, Automation, and Reports | ✔ | ✔ | ✔ | ✔ |
| Leave Tracking | ✔ | ✔ | ✔ | ✔ |
| Time and Attendance | N/A | ✔ | ✔ | ✔ |
| Performance Management | N/A | N/A | ✔ | ✔ |
| Employee Data Entry Forms | 1 | 2 | 3 | 5 |
*Free for businesses with fewer than five employees. Discounts available with annual billing.
Zoho People Features
Employee forms: Zoho People lets you create customized data entry forms for employees plus standardized forms to capture employee data, leave requests, training, and travel requests. The number of forms you receive is based on your package.
Time and attendance: For an extra dollar per employee, per month, you can use Zoho People to keep track of employee time worked. The time tracking data can then be exported to your payroll system.
Performance management: Zoho People's performance management functions are one of the best we've seen in all-in-one HR software. Robust performance feedback tools are included in the Premium and Enterprise versions, including goal setting and employee feedback.
Software integrations: Zoho People provides integration with other Zoho products—and just about any software through Zapier. You can also create your own payroll integration for the software you already use, such as QuickBooks.
Zoho Recruit: Although it's an extra $25 per user, per month when paid monthly, if you opt to use Zoho People, you can recruit new employees from the same platform. That saves you from having to buy third-party   recruiting software.
Customer support: Paid subscribers can access customer support 24 hours a day, Monday through Friday. There's also a knowledge base and a user community that can help you (and free software users) with routine questions.
Average user review: 4.2 out of 5 stars. People like how customizable it is. In addition, users rate other Zoho products highly. However, those new to HR may find themselves on a steep learning curve because there are so many features to learn.
Rippling: Best Customizable HRIS

Rippling is best for small business owners who want a robust HRIS that seamlessly integrates the HR and IT elements of their business. Because Rippling is an HRIS and not just exclusively for payroll or other individual HR functions, it makes it easy to keep all of your business and employee data in one place. What's more, the streamlined service—combined with a ton of helpful automations—makes Rippling a truly customizable and all-in-one HR software.
Rippling Pricing
Rippling's pricing starts $8 per user, per month for individual service packages. Customers have the option of building their plan with tools for HR management and IT management and can further customize by choosing individual services, like full-service payroll, benefits administration, and applicant tracking. For that reason, pricing is customized, so you'll have to contact a customer service rep to get a personalized quote.
Rippling Features
Talent management: Rippling's talent management tools include everything your business needs to recruit and onboard, as well as resources for keeping your team compliant and ensuring they have the information they need to stay satisfied and in the know.
Employee benefits: By automating new hire enrollment, payroll deductions, and COBRA administration, Rippling lets HR professionals spend more time on the human side of business. The built-in tools also make it easy to manage current benefits and shop for new ones.
Payroll: Because Rippling is an all-in-one tool, its payroll dashboard syncs all of your HR data to streamline the payroll process. Because of this, the platform also provides automatic compliance and tax-filing and easy reporting.
App management: Rippling extends beyond HR to give users a truly comprehensive HRIS that also manages all of the tools your employees use on a daily basis. Seamless integration with talent management tools means you can add new talent to your company's apps with a single click and easily disable users who leave the company.
Device management: Likewise, Rippling makes it easy to manage both Macs and PCs both in-office and for remote employees. Order, set up, and ship equipment to new employees, and then manage it remotely to install apps, update passwords, and monitor security threats.
Customer support: Rippling offers an online chat feature for prospective customers that we found to be extremely responsive and helpful. The platform's other customer support options are limited to users, who can log in to their account dashboard or access support via email.
Average user review: 4.7 out of 5 stars. Rippling is well-reviewed because of its ease of use and seamless integration of HR with IT. Users report that the automations make it much easier to stay on top of daily HR tasks. That said, some report that customer support can be difficult to reach via email. If you'd like a more in-depth analysis, check out our expert Rippling review.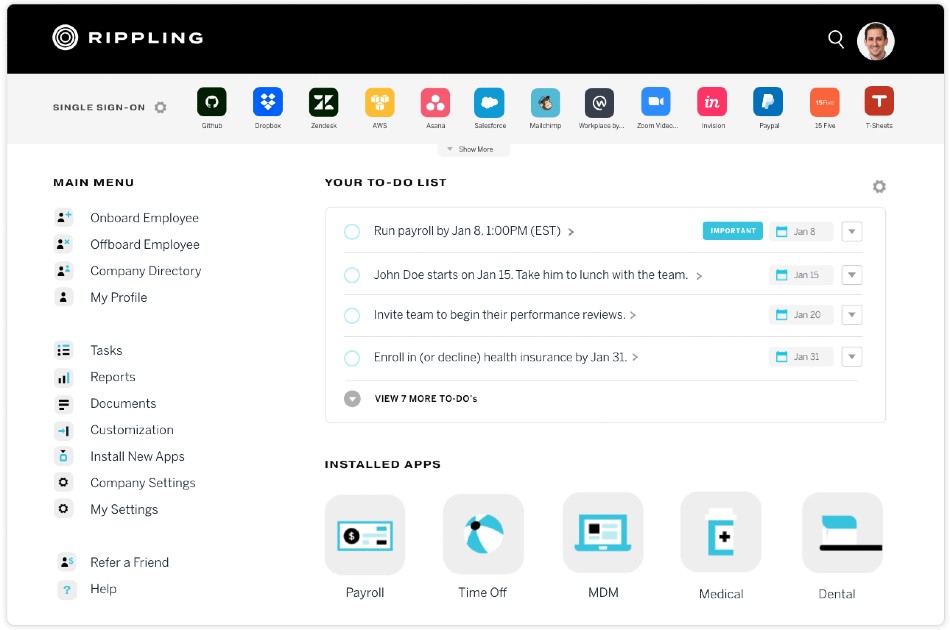 BambooHR: Best HR Software for Compliance-Focused HR Professionals

We recommend BambooHR as the best HR software for HR staff focused on compliance. It offers a built-in ATS and recruitment software, plus customized onboarding for new employees. All of those features include workflows and approvals. That's important for a business that wants to monitor their labor law compliance such as ensuring its hiring practices are fair.
BambooHR Pricing
Bamboo no longer publishes its prices online. In the past, it cost about $8 per employee, per month, which was in the same range as Rippling and Zenefits—although more expensive than Zoho People.
BambooHR Features
Payroll processing: Payroll processing is not included. However, it manages time off, which employees can request via mobile app, and asset tracking.
Recruiting: BambooHR integrates recruiting within its own HR software. Once you select an applicant, you can move their data directly into your HR system. There's also a full ATS, from job board posting to an easy-to-use application form.
Employee self-service: BambooHR saves your employees and your HR staff time. It provides self-service, ensuring employees can check their own PTO balances, find their benefits information, and know who is out of the office. That prevents them from calling or emailing you with routine questions. For instance, employees can submit time-off requests and even look up co-worker contact information in an employee directory.
Performance management: BambooHR has all of the tools—from annual employee reviews to ongoing feedback—that allow you to manage workplace performance. It's all built into their HR system. You no longer have to develop reviews on paper and track down whether evaluations have been done or not. It's features like this that make BambooHR best for professional HR staff. It saves them and you time.
Software integrations: BambooHR offers integrations with time clocks, org charts, payroll, scheduling, benefits, 401(k) vendors, and employee praise apps. In comparison, Paycor and Zenefits have those features baked into their HR software.
Customer support: BambooHR provides support Monday through Friday by phone, email, and online chat. Its customer service hours are from 8 a.m. to 5 p.m. Mountain time.
Average user review: 4.7 out of 5 stars. It appears to be liked most by HR practitioners who enjoy having a streamlined workflow. Novice HR practitioners and users requiring customer support aren't as complimentary. If you'd like a more in-depth analysis, check out our expert BambooHR review.
Need more insight to decide if BambooHR is right for your business? Check out our expert analysis and review of BambooHR.
Namely: Best HR Software for Customization and Integrations

Namely stands out because it provides the customization and integration that mid-sized and growing companies need. As an HR, payroll, benefits, and talent management platform, Namely lets you customize and tailor everything, from dashboards to data entry forms. This allows you to build the perfect platform to fit your business's processes and employment brand.
Namely Pricing
Namely does not publish pricing on its website, so you'll have to schedule a free demo and talk to a rep to build a custom plan. In general, businesses must start with the basic HR package and then take advantage of the option of adding several HR extensions (like payroll and compliance services) and managed payroll or benefits services.
Namely Features
Dashboard: Dashboards are included for different functions, such as timekeeping and monitoring staff activities, which gives you and your employees quick access to HR data. You can also view org charts, manage user roles, set up workflows, oversee your company calendar, and store important company resources.
Software integrations: Namely can be integrated with just about any kind of software, including ATS, e-signature, benefits, single sign-on (SSO), and international payroll—more than any of the other HR software we reviewed.
Reporting and analytics: Namely provides all kinds of standardized reports, such as employee, salary, headcount, open position, and payroll reports. You can customize them and manage the data you prefer to view on your dashboard.
Managed services: For a fee, Namely manages everything from benefits enrollment to labor compliance reports on your behalf. Namely can serve as your employee service center and provide employment verification. These services mimic what a professional employer organization (PEO) provides.
Custom workflows: Custom workflows are one of the features that can save your staff time and ensure compliance by making sure everything, from time-off requests to bonuses, is approved.
Mobile app: It has a mobile app to ensure you and your employees have access to the data they need from anywhere.
Customer support: Both you and your employees can contact Namely by phone or email, 9 a.m. to 9 p.m. Eastern time, for help using their system. However, to protect your business, Namely won't provide confidential employee information over the phone. Representatives advise employees to contact you instead.
Average user review: 3.4 out of 5 stars. Price seems to be a big deterrent, as well as some integration issues between Namely's HR and payroll functions. If you'd like a more in-depth analysis, check out our expert Namely review.
Tips for Choosing the Best HR Software
Before you commit to an HR software for your small business, consider these tips:
Identify your needs. If you're thinking about investing in HR software for your business, it can be helpful to spend time thinking about why you need it. What are you hoping to accomplish with the software? Do you need help with hiring employees? Are there any processes that you're not ready to change? Likewise, are there areas of your HR process that you need to build up as your company grows? Thinking about these things early on will help you make a better buying decision.
Shop around. Once you have an understanding of your non-negotiable features, review each software option to see if it meets those needs. Take the time to compare features, prices, and whether each software will be able to grow with your business.
Schedule a demo. Before you commit to HR software, schedule a demo so you can see the software in action. Even top-of-the-line platforms may not be a good fit for you if the dashboard isn't intuitive or if it's missing a feature you really need.
Ask for feedback. If it's appropriate in your business setting, invite members of the HR team to watch the demo before you sign on the dotted line. Depending on the leadership structure at your company, you may not feel comfortable with this, but it can be helpful to get feedback from the people who will actually be using the software
Bottom Line
HR software help you manage the people side of your business. You can get some HR software for free, but others cost as much as $30 per employee, per month depending on company size and the services you want. The best HR software for small business ensure you remain compliant with federal labor laws, improve productivity, monitor workers on the job, and offer benefits.
If you're looking for a modularized approach, where you pay only for the components you need, you may want to consider Paycor. It provides HR data, templates, benefits, payroll, reports, and leave tracking. And when you're ready for the training or performance management components, you can add those on. Contact Paycor for a demo and quote.