To be a successful real estate investor, you need to purchase properties in locations that build equity, yield a positive cash flow, and have long-term profitability. There are many factors that contribute to the earning power of a specific location, like home values, vacancy rates, cost of living, taxes, appreciation, and general location opportunities for renters.
We looked at these ranking factors to determine the 10 best states to invest in real estate as well as the five worst states. Based on these variables, we identified Georgia as the best and Louisiana as the worst states to invest in, with various states in between. Continue reading for details and data about each state.
1. Georgia
Due to its high population of renters (34.1%) and low cost of living (fourth lowest), Georgia is ranked as the best state overall to invest in real estate. With a high property appreciation rate year-over-year (YoY) of 22.1%, there is potential for rising rents and long-term equity growth.
Furthermore, the total location opportunity for renters places third in terms of economic, job, and population growth as well as an overall happiness rating, with rankings of eighth, fourth, eleventh, and eighteenth, respectively. These elements indicate that renters prefer Georgia because it offers a variety of job prospects and a pleasant living environment, making it an excellent place to invest.
Median household incomes are $61,244 (29th), and the state has the 15th lowest overall tax burden in the country at 7.46%, encouraging individuals to relocate there. Other factors contributing to its first-place spot are its increasing rent values, low vacancy rates, and average monthly rent of $1,024. Median home values are also reasonable, at $190,200, so investors can profit from the high rents and inexpensive homes. These considerations make it the best state to buy an investment property.
If you need affordable software for tenant screening, rent collection, and application and lease management, check out Avail. It provides maintenance tracking and online rent collection, including late fees and customizable lease templates. This platform will keep your business organized and your tenants happy.
2. Utah
Ranking first for its growing population and third for high market appreciation and low vacancy rates, Utah is the second-best state to buy an investment property. This increases home prices, which points to a supply issue and generates a sizable demand for homes.
On our ranking, Utah has the third-highest median home price at $305,400. Since prices are out of reach for many buyers, investors benefit from the demand for rental units. Investors might, however, have to fork over more money to buy an investment property.
Utah residents pay an average monthly rent of $1,090 (ranked 18th) due to a 6.19% increase in rent YoY. The area has the lowest vacancy rate at 3%, ranking third among all states, which causes a rise in housing demand for renters. Utah's $74,197 median household income ranks 11th, and its 3.95% job growth rate is strong.
However, the cost of living is high (sixth), the economy isn't growing quickly (0.9%, ranking 31st), and the state ranks 24th for tax load. Additionally, its residents have moderate opportunities and satisfaction compared to other states. Still, with its high-income state, combined with the other positive variables, it's one of the best states to invest in real estate.
3. Texas
Texas comes in third as the best state for buying an investment property. The Lonestar State's location opportunity factor ranks first collectively for economic, job, population growth, and resident happiness, so investors know that residents will welcome moving to the area.
Texas resident affordability is also fourth best, combining the cost of living and median household income, while property values have grown 19.8% YoY. Therefore, the high inventory (68,573 homes), in this case, reflects growth, which isn't true for all states.
The vacancy rate is quite high at 8.3%, ranking 42nd, but the percentage of renters offsets this by ranking eighth at 36.6%, showing that many individuals are actively seeking rental properties with landlords collecting an average monthly rent of $1,082 (19th highest). Median home values of $187,200 (20th), indicate opportunities for increased cash flow. Texas also has the 22nd lowest overall tax burden in the U.S., a major factor when people consider moving to a new state.
Did you know? Warmer climates are often better states for buying investment property, because people prefer to move where it's warm, and, therefore, will need housing. Five of our 10 best states to buy rental property are in warmer climates: Georgia, Texas, North Carolina, Tennessee, and Florida.
4. North Carolina
North Carolina offers an excellent opportunity for real estate investors and is the fourth-best state to buy a rental property. It has limited available inventory (ranking 45th with 18,090 available properties), but the overall resident opportunity score ranks number 11, which includes population increase (0.85%), job growth (3.33%), happiness score (53.69), and economic growth (2.8%). Property and rental appreciation rates come in fourth place, so there's potential for investors to benefit—from increased equity and cash flow.
The state's moderately low tax burden, ranking 16th, attracts real estate investors and residents who want to relocate. It's not the most affordable state, ranking 39th collectively for its low household income and high cost of living, but 36% of its residents prefer renting to owning. With current monthly rents being $932, there is room for landlords to increase rent.
Are you looking for a place to buy or sell investment properties? Check out Roofstock's online marketplace. The company offers a range of services for investors, including property management, financing, and investment analysis. Roofstock also provides a platform for buying and selling rental properties without the need for traditional real estate agents.
5. New Jersey
Although New Jersey has a high cost of living, ranking 40th out of 50, it also has the second-highest median income in the country at $85,245. It has more available inventory than some other states and the fifth-highest tax burden in the country, so this indicates an opportunity—with a need to proceed with caution.
Still, excellent deals can be found in New Jersey with solid due diligence. It ranks fourth highest for its monthly rental income ($1,368), 13th for the lowest vacancy rates, and seventh for the highest percentage of renters vs owners (36.7%). These factors make it a top contender for the best states to own rental property and number five on our list.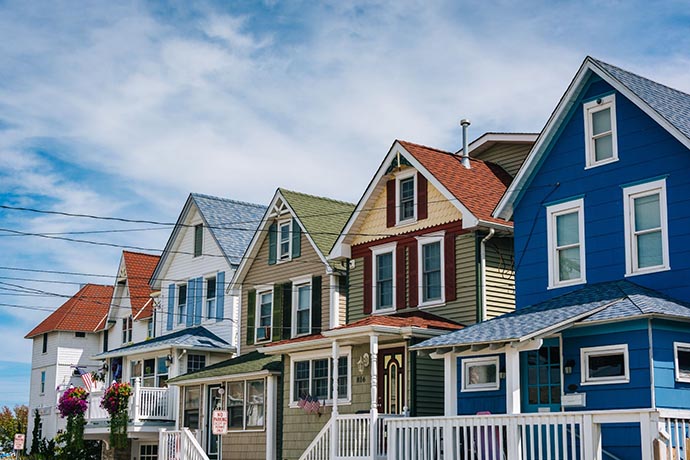 The Garden State has experienced moderate home and rental appreciation values, ranking 34th and 21st, so the income and home equity potential are strong. New Jersey has seen a slow population growth, but it ranks ninth for economic growth and sixth for job growth, with an overall opportunity score at sixth place. This indicates the state will likely see an influx of residents over time, and the population numbers should start to go up.
6. Tennessee
Tennessee is ranked number six of the best states for real estate investment, beating out other states because of its low cost of living (ranked sixth) and low overall tax burden (ranked fourth). Its rental income increase is a decent 15.8%, and properties have appreciated by 12.75%, ranking 13th-best collectively. Also, median property values are the 18th highest at $177,600, showing that it's a reasonably affordable place for investors to buy, so as more people move to the state, equity and rents will continue to climb.
It ranks 20th overall for its economic, employment, happiness score, and population growth, displaying a moderate-paced upward trend. Over a third of its citizens chose to rent over own, creating a healthy rental market with demand for more housing.
It has the 31st-highest vacancy rate at 6.5% and 22nd-lowest rental income at $897, putting it mid-range for best states to invest. Median salaries are the eighth lowest in the country, but it's offset by the state's low cost of living and tax burden.
Here are some calculators and tools to help you with investment property math:
7. Washington
Washington ranks in the top 10 because of its overall location opportunities (fifth place), which include economic, population, job growth, and happiness score. The state boasts the fifth-highest rental income, with an average monthly rent of $1,337, the 14th-lowest vacancy rate of 4.3%, and the eighth-highest median household income, with 33.8% of its residents renting. These numbers bode well for investors because it supports higher rents, low tenant turnover, and renters who can typically afford to pay each month.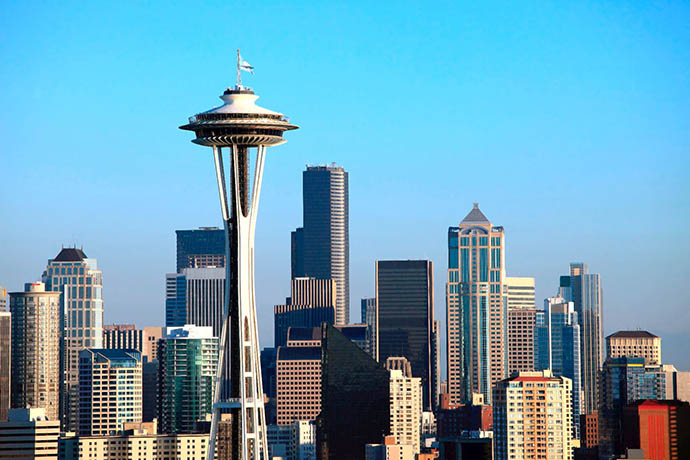 Even though rents and income are high, its increase in rental income appreciation from 2022 to 2023 is the seventh lowest in the country, so investors need to be mindful of how quickly they can raise the rent. Median property values are the fourth highest, and available properties are low, which indicates the need for more housing. Additionally, the state's tax burden is the 26th lowest, putting it right in the middle of all states, and property values have appreciated 21.8%, ranking 12th, boding well for investors.
8. Delaware
Delaware is the eighth-best state for real estate investing. Its home inventory is tight (ranked seventh), which has driven property values up by 13%, so there is a demand for housing. It has experienced moderate job, population, and economic growth, ranking 26th for overall location opportunity. It comes in seventh for its 15.62% rent increase YoY, so there is an opportunity for more cash flow.
Property values are the sixth highest, but it also has a high median income of $69,110. Additionally, its cost of living is the fourth highest, but fortunately, the state has the second-lowest tax burden of all 50 states, making it appealing to residents and investors.
Renters make up 27.4% of the population, pay $1,150 monthly on average, and the 4.7% vacancy rate is the 17th lowest. With the low inventory and rent value increases, there is room for further raising the rents. When you evaluate these statistics, it makes sense why Delaware is a top state to invest in.
Owning rental properties comes with many duties and paperwork, so real estate investors must stay organized. If you need help with screening tenants, collecting rent, and scheduling maintenance and repairs, check out MyRental, an online platform that can manage these tasks, plus it connects you to a network of local service providers.
9. Nebraska
Nebraska is a good option for investing in rental property because of the state's overall affordability (ranking 12th), which includes a moderate cost of living and median income. It ranks 25th for location opportunity, combining economic, job, happiness score, and population growth, and 25th for its rental income and property value appreciation. Additionally, its median home value is higher than two-thirds of all states, at $272,300. These factors make it a sound choice for many investors.
However, its overall tax burden is the 12th highest at 8.84%, so population growth will be lower than average. Housing inventory of 2,770 and vacancy rates of 4.1% are the 13th and 12th lowest, respectively—indicating the need for more housing, as 31.5% of its population prefers renting to owning. Its average monthly rent is $857, the 15th lowest in the country, so with the state's moderate growth opportunity and appreciation rates, raising the rent will also move at a moderate pace.
10. Florida
Florida rounds out our list of the top 10 best states for real estate investing. While its rankings are moderately low, property appreciation rates and rising rents ranked number one, making it the primary reason for its inclusion in this list. In addition, its economic, job, population growth, and happiness scores rank fourth, as the state is experiencing an influx of newcomers and the highest amount of available inventory in our research.
However, its affordability is the third lowest combining a high cost of living (28th) and low median wages of $57,703 (27th). Its home values are average, and it has the fifth-lowest tax burden, another reason people are flocking to the Sunshine State, but this is positive for investors if they can find a property to buy.
Rental income is the 11th best, with an average monthly rent of $1,218 and 32.1% of its residents renting. Vacancy rates of 6.8% are higher than two-thirds of its population (ranked 35th), but this is likely due to seasonality. Florida's population increases in the winter months when out-of-state residents come to their second homes to avoid the cold. So, vacation and short-term rentals are a great investment strategy in the sunshine state.
As an out-of-state landlord, you want to ensure rents are paid and deposited into your account in a timely manner. Using an online rent payment system for automated rent collection is the most efficient way to go. Baselane provides investors with a fully automated rent payment system, including security and pet deposits and late fees. It also offers customized lease templates, so your contracts work with state and local codes and regulations.
5 Worst States to Invest in Real Estate in 2023
Contrasting with the 10 best states to invest in real estate, we also evaluated the worst five states to invest in real estate. These generally have low rents and high vacancy rates. These five worst states for landlords also suffer from low housing inventory, sluggish jobs, population growth, and a struggling economy, indicating weak demand for rental properties. Household incomes are low compared to other states, and there are high vacancy rates, indicating too many vacant units to affect supply and demand.
The Bayou State ranks first among the worst states for real estate investing. It has a slow job and population growth (41st and 38th, respectively), a low happiness rating (48th), and ranks third for the lowest median income of $50,800. Property values have grown by 12.3%, but job growth is 1.91%, the third lowest. These factors don't make Louisiana particularly attractive to new residents, and, therefore, not the best for investors to purchase properties.
The percentage of renters in the area is 30.2% (32nd) and vacancy rates are at 8% (41st), which are rather low compared to other states, but still show some potential for the future. This equates to a YoY rent value increase of 5.66% with an average monthly rent of $876, so all is not lost. In addition, the median home price of $168,100, ranking 14th, makes it affordable for investors to buy. Overall though, these factors combined make it the worst state to invest in real estate for the time being.
---
Being a smaller state, Vermont has 807 available homes, but also a median home value of $230,900 (28th), making it a complex state for investors to find affordable properties for purchase. A major contributing factor to its lower ranking is the overall location opportunity for residents, which ranks 49th. This ranking is a combination of low economic (49th), job (47th), and population growth (41st), as well as a low happiness score (37th). The lack of opportunity in these areas deters renters from moving to Vermont.
However, a reason for its low state rating for renters is that most of the state's population (73.3%) owns their homes. Rental income averages $999 per month with a 5.1% vacancy rate, which is moderate compared to the rest of the country, so there is an opportunity for growth down the line. As mentioned earlier, colder states tend to attract fewer people than warmer states, although Vermont is a popular destination for winter sports enthusiasts, which could lend well to certain investment strategies like short-term leases and vacation rentals.
---
The Mountain State ranks third among the worst states to own rental property. This is primarily due to the overall ranking for rent potential, which looks at the percentage of renters and average monthly rent (both ranked 50th) and vacancy rate, ranked 48th.
These statistics show that there are a very low number of renters in the state, and therefore vacancy rates are high and rent price is low, which leaves a lot of supply and little demand. This is not ideal for investors who want to market their properties for top dollar and get quality tenants.
In addition, the economy, population, and happiness scores are low in this area, indicating fewer opportunities for residents. Although West Virginia has a 2.75% increase in job growth (26th), home values are at $123,200, ranking first in the country, and it has a cost of living index of 90.5 (ranked ninth). While this bodes well for buyers, investors should be cautious when thinking of purchasing in this state.
---
Ohio is the fourth-worst state for investing in real estate due in part to its lack of opportunities for residents. Although the economy is ranked seventh with a 3.2% growth, other factors like the happiness score and job and population growth were low at 36, 45, and 45, respectively. Also, the 91.3 cost of living index is relatively high (14th), considering the median income is $58,116 (36th). These numbers limit the number of renters who are willing to live in the Buckeye State.
The average rental income is $825 monthly, with a vacancy rate of 6.2%, which doesn't provide much profitability for investors. Home and rent values were moderate and climbed by 15.3% and 3.9% YoY, so there is some potential in Ohio for investors. This is especially true with the high percentage of renters at 33% ranking 18th overall.
---
Rounding out our list of the five worst states is New Mexico. Similar to the other states on this list, the overall location opportunity ranking is low at 34 for economy and population growth and happiness score. This, coupled with moderately lower home (36th) and rent values (26th), make it challenging for investors to attract tenants in this state.
Also, the tax burden of 8.83%, ranking 37th out of 50, is very high, considering the median household income is $51,243 (ranked 46th). With average rent prices at $857 per month, investors will be waiting a while to get a significant return on their investment.
Although the percentage of renters is 30.8% (25th), the job growth rate is 3.74% (11th), which could indicate a changing housing market in New Mexico. Also, there have been home and rent value increases YoY of 15% and 7.93%, ranking 36th and 26th in the U.S. While it might not be time to jump directly into purchasing a rental property, investors should keep an eye on this state.
---
Complete Data & Rankings for Each State
If you're curious about how your state stacks up against the best states to buy a rental property, check out our map below. Simply click on your state to see the rankings for each evaluation category.