Landlord Tenant Laws by State: Renter's Rights & Compliance
Landlord tenant laws exist across federal and state jurisdictions to govern the relationship between a property owner and a tenant. These laws include landlord and tenant responsibilities, such as handling security deposits, subletting, and evictions. Landlords must know and comply with these laws to protect their investments and ensure tenants continue to occupy their properties.
Whether you own one unit, one building, or are looking to scale your business to the next level, Baselane can help. Baselane is a new banking platform built specifically for independent landlords.

---

Free banking
Free rent collection
Free bookkeeping and reports 
Note that landlord tenant laws exist in all 50 states. If you own a property outside of the state you reside in, you must abide by the rules of the state in which the rental property exists. Click on the interactive map below to view landlord tenant laws specific to your state.
Landlord Tenant Laws by State
Read along to learn about the landlord tenant laws in your state, the responsibilities of a landlord and tenant in a rental agreement, and how to avoid breaking any landlord tenant laws.
What You Need to Know About Landlord Tenant Laws
These laws help investors determine which states to choose when looking for investment properties, because the laws can affect your bottom line. For example, if you own property in New York City, the most a landlord is able to charge for a late fee is $50 or 5% of monthly rent, whichever is less. However, rent payment is only considered late if received five days after the due date. In contrast, Alabama allows landlords to charge any amount for late fees so long as it's a reasonable amount.
Many landlord tenant law statutes across the country are very similar because they control different aspects of a rental transaction. They typically oversee the process of rental applications, tenant screening, lease requirements and disclosures, and process of evicting a tenant. However, since each state's laws vary, you have outlier states with more unusual laws. Although these laws are meant to protect both sides of a landlord tenant relationship, some laws will generally favor either the landlord or the tenant.
According to RealWealth, states can fall into two categories: landlord-friendly or tenant-friendly. The criteria for determining landlord-friendly states is based on an easier eviction process and whether there are any laws regarding rent control. However, tenant-friendly states make it difficult to evict tenants, have caps on fees and security deposits, and are less strict during the tenant screening process.
Examples of landlord tenant rights to consider when looking to own or live in the following states:
Oregon: Rent increase percentages are published annually by the Oregon Office of Economic Analysis. For 2022, the maximum rent increase rate is 9.9%.
New York: Tenants are considered month-to-month if they stay past the terms on the tenant lease agreement and the landlord continues to accept rent payment.
Maryland: A license law exists where a landlord must be licensed to operate their premise or else they cannot collect rent.
Ohio: If a tenant defaults on rent payment, landlords can proceed with eviction proceedings as soon as that payment is late.
Texas: Landlords can collect any amount of money for security deposits.
How States Set Their Landlord Tenant Laws
In 1972, the Uniform Residential Landlord And Tenant Act (URLTA) was created to provide uniformity and a central objective across different jurisdictions pertaining to landlord and tenant rights and obligations. The act was created by the Uniform Law Commission, which promotes cross-collaboration across all states where there is no federal oversight.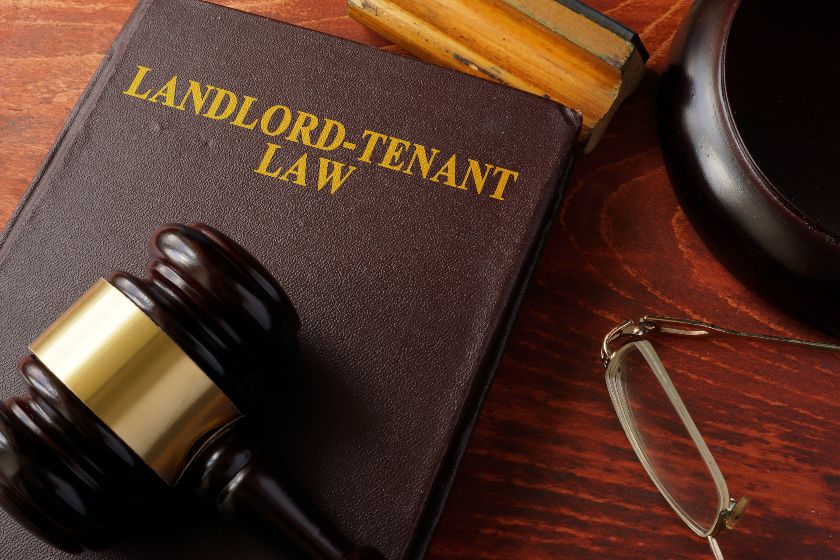 Since the creation of URLTA, 21 states have adopted the act, while others have used it to influence their state's laws. The act is made up of different articles that discuss general provisions, landlord and tenant obligations, access to the tenant's dwelling, security deposits, and more. It is important to note that the act is not applicable to commercial, industrial, or agricultural rental agreements. Commercial rentals agreements do fall under commercial landlord tenant law and are specific to each state as well.
General Landlord Responsibilities
Owning rental property comes with a set of responsibilities beyond the financial aspect of investing in real estate. Under the suggestion of URLTA and set in all state's landlord tenant law, tenant rights are responsibilities a landlord must provide to their tenants. Many of the laws and requirements generally require the landlord to provide safe housing for tenants in a clean and well-maintained living environment.
General landlord obligation falls into five categories:
Security deposit: One of the more common disputes between a landlord and tenant is over security deposits. Each state has rules governing security deposit amounts and return policy and whether a landlord can make any deduction from that deposit.
Disclosure of property owner: It's a renter's right to know the property owner's details and contact information of who they should reach out to if a problem occurs. This also applies if a property owner sells their property to another owner. The change in ownership must be disclosed.
Property turnover to tenant: Landlords must provide tenants with a vacant property on the move-in date stated on the lease. Landlords must honor the date on the lease agreement.
Property maintenance: Landlords must provide habitable living spaces to a tenant. That means landlords must make all repairs and maintenance, provide resources like garbage receptacles and waste management solutions, and keep common areas clean.
Liability: If a landlord owes a tenant any money, like a security deposit, they continue to be responsible for it even if the property is sold. Funds must be returned or transferred to new ownership.
General Tenant Responsibilities
The tenant's responsibility is required of the leaseholder and must be upheld when entering a landlord tenant agreement. These responsibilities are to protect the property and investment of an owner so they can continue to rent the property once a tenant has vacated. The responsibilities outline what a tenant can and cannot do when occupying a rental property. Tenants are equally responsible for maintaining a habitable property, similar to the responsibilities of a landlord.
Responsibilities that are generally expected of tenants:
Fulfilling payment responsibilities: When entering a rental agreement, tenants are responsible for on-time payment of rent and utilities.
Fixing damages: Any damage to the property that occurs beyond normal wear and tear should be the tenant's responsibility to fix or pay for repair.
Disturbance: Tenants are expected to not disturb their neighbors with excess noise so everyone can enjoy the premise. This is particularly the case for multifamily units.
Allowing landlord entry: Landlords have the right to enter their property for inspection. Although they must inform you of the time and date of entry, you must let them in.
Vacating property at the end of lease term: When the lease term is over, you must vacate the premises on that date. Tenants should also leave the property in good condition to not have fees deducted from their security deposits.
5 Ways to Avoid Breaking Landlord Tenant Laws
Illegal landlord actions usually arise when you have difficult tenants, but in some cases, a landlord may also think they're doing what's best for their property and can indirectly break these laws. For example, perhaps a property owner thinks they can raise rents because of neighborhood comparables, but their state may cap the increase like Oregon.
In order to continuously abide by these laws, you'll want to standardize your rental process and improve your tenant screening processes to reduce any disputes that may result in violating the laws.
1. Have a Standard Tenant Screening Process
A standard tenant screening process across all rental properties will help you avoid any disputes on discrimination. You should provide applicants with the same application form to gather prospective tenant information. In the application, you may also want to include a cover page outlining your rental requirements for income expectations, credit score requirements, and pet policy that will determine your acceptance of the application.
2. Collect the Appropriate Amount of Security Deposit
URLTA and most landlord tenant laws have rules specific to how security deposits are collected, how much you can collect, and where you must store the funds. Make sure you are collecting and storing the tenant's money appropriately. You can implement online payment services like Rentec Direct or PayRent with financial features to help with reporting for the funds.
3. Abide by Disclosure Requirements & Set Clear Expectations
Some state laws require certain disclosures in the leasing process. For example, New York's lead paint disclosure requires landlords to provide information on lead-based paint hazards and warning before leases are signed. Many tenant screening services, like TurboTenant, provide digital leases with sections for general clauses, addendums, and house rules that a tenant should acknowledge before signing the lease.
4. Continuously Maintain the Upkeep of Property
Providing safe and clean housing for tenants is one of the main focuses of URLTA. To avoid breaking these laws, property owners should have property management software to help manage rental property maintenance. Solutions like SimplifyEm and Property Manager Cloud have tenant portals for better communication with maintenance requests and completion.
5. Be Clear on Property Expectations
As a property owner, it's expected there will be normal wear and tear to the property during the tenant's occupancy. Be clear with tenants when moving in of your expectations, especially if a tenant does have pets. To understand changes occurring to your property during the tenancy, landlords must use a property maintenance checklist to record and observe changes to the property. The checklist can support your decision to evict a tenant or deduct fees from their security deposit without breaking any laws.
What to Do if a Tenant Violates the Laws
When tenants violate landlord provisions outlined in the lease agreement, the landlord can take measurable action to protect their investment. To avoid costly legal actions or unnecessary vacancy, you may want to first communicate with the tenant if it's something that can be quickly fixed. If the violation persists and more serious actions need to take place, first consult with the landlord tenant laws to ensure that there are no requirements of tenant notifications or timeline that needs to be met prior to proceeding.
Before immediately proceeding with the eviction process, which can take up a lot of resources and time, landlords should consider offering a cash for keys agreement to current tenants. This agreement provides a lump sum dollar amount to tenants in exchange for vacating the property. It's good to note that the agreement is not used exclusively in an eviction process, but can be used in an instance where the landlord wants to make improvements to the property to increase rent.
If you must proceed with evicting your tenant, your state laws will determine how you need to proceed. Typically, landlords will have to procure an eviction notice followed by eviction proceedings where you can represent yourself or enlist an attorney to represent you. A court date is then granted once eviction paperwork is filed, and a judge will make a ruling in one party's favor.
Bottom Line
Since the landlord tenant laws can change in each state, property owners and tenants should continuously review the laws in your state. If you're unfamiliar with the laws, you should seek assistance from legal counsel or someone familiar with the law in your state. Properly screening tenants and having a full understanding of what is required from both parties involved in a landlord tenant relationship will reduce problematic issues that may arise over time.