The Essential Guide to Rent Increase Letters + Free Template
While raising the rent price in one or more rental units is often necessary to make the most of your investment, informing your tenants can be difficult. To learn how to draft a professional yet friendly rent increase letter, first determine the right information you need to include (e.g., the date the increase will take effect). Make sure to follow state laws and requirements and send the letter to the tenant with a tear-off section for confirmation. We've created a sample rent increase letter below that you can download as a guide:
Whether you own one unit, one building, or are looking to scale your business to the next level, Baselane can help. Baselane is a new banking platform built specifically for independent landlords.

---

Free banking
Free rent collection
Free bookkeeping and reports 
6 Items to Include in a Rent Increase Letter
A letter of rent increase must include specific information to ensure that it is clear, easy to understand, and abides by all legal requirements. Although the dates they must be sent will vary based on your rental agreement terms with the tenant, they should include the same components, which include:
Landlord name and contact information
Date the letter is written
Tenant's name
Property address
Date the rent increase will take effect
Amount of rent increase
Current rental amount
Return receipt with tenant decision of rent increase
Our rent increase letter template includes all of these components and is generally divided into the following sections:
1. Landlord or Property Management Contact Information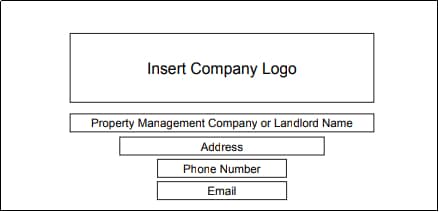 At the top of your rent increase notice letter, include your name (if you are the landlord) or the property management company's name. You may even choose to include this information on the envelope as well. This helps the tenant immediately see who the letter is from, grabbing their attention better than blank papers or envelopes. Don't forget to include a contact phone number, address, and email address if the tenant needs to contact you to discuss the increase.
2. Today's Date
When you're increasing rent price for your tenants, it's important to give them plenty of notice. The primary reason for this is to foster a positive relationship between you and your tenants, but many states also have legal requirements about the amount of notice a tenant must receive on a rent increase.
In New Jersey, landlords must give tenants with a yearly lease a 60- to 90-day notice, but only 15 days is required in Idaho. Therefore, adding the date shows that you are adhering to these laws and making this adjustment as easy for the tenants as possible.
3. Greeting
This is an area that's small in size but can have a major impact. Some landlords greet their tenants by saying, "Dear tenant," but we recommend using the tenant's first name. Using their name feels much more personal and encourages open communication, while using a generic heading can feel robotic and impersonal.
Pro tip: Another option is to include a subject line above the greeting, which our sample rent increase letter template above includes. Even though this isn't necessary, it's another key strategy to get the tenant's full attention and communicate the importance of this notice. A strong subject line is "change in rent notice," which accurately reflects the letter's topic without creating strong emotions. For example, the title "Increase in Rent" or "Rent Increase Notice" may immediately put tenants on the defense and create negative emotions.
4. Body of the Letter

The body of the rent increase notice is where you have the most room to be flexible with your tone. You can use strictly professional language or write somewhat informally, depending on your style and personal relationship with tenants. You may also write a few paragraphs or keep the body as brief as possible.
However you choose to write your rent increase letter to tenants, there are a few details you must include, like:
Current amount of rent
Amount of rent increase
The date the rent increase will take effect
Rental property address
Notice of other terms of tenancy that are changing or remaining the same
Details about how the price increase will be implemented
Another suggested option is adding a phrase or paragraph thanking the tenant for their cooperation. You can also use this space to invite the tenant to contact you or another team member with any questions, but it's important to think carefully about your wording.
It's also important to include logistical information about how the rent payments must be submitted. For instance, our sample rent increase letter says, "the monthly rent will be increased to $__ per month, payable in advance on/or before the 1st of each month during your tenancy." If you also have requirements about tenants paying via check, cash, card, or an online system, include it in the letter.
Depending on the system you currently have in place, the rent increase may require tenants to make changes with their bank. In this case, it's important to be clear about the expectations so they can take the necessary steps.
5. Closing Line & Signature
The final line of the letter should be short, professional, and friendly. Keep it simple and use a phrase like, "Sincerely," "Thank You," or "All the best." Below the closing line, add your name, a space for your signature, and your title (i.e., "landlord" or "property manager") to make it a proper formal letter.
6. Tenant Rent Increase Decision
At the bottom of your letter, include a tear-off section for the tenant to sign and return to you. It should have a space for them to write the date and multiple options for their response. For example, if they agree to the rent increase, you can include the next steps, like, "I agree to this rent increase. Please send me a new lease to sign."
On the other hand, if they disagree with the rent increase, you can provide options for them to check. In most cases, refusing the rent increase will force them to leave the property, so you can include the necessary information for this choice.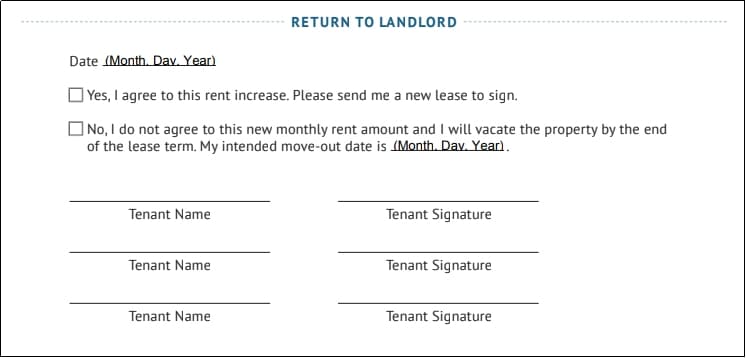 Some landlords ask for a response from tenants in a different way, like through email or phone. However, these methods tend to have more obstacles, like delivery issues and miscommunication. Including a physical section on your letter removes potential barriers and provides documentation that proves the tenant received the rent increase letter, acknowledged their options, and agreed to the next steps.
Reasons to Send a Rent Increase Letter
Landlords generally send a rent increase letter to a tenant for a few common reasons: to cover more carrying costs (whether expenses have increased or not) or to increase their cash flow. Many property owners in recent years have seen how quickly expenses can rise. If your expenses rise significantly, it is absolutely necessary to raise rent prices to keep your property cash flowing.
Even if expenses don't increase, there may be valid reasons to increase the rent price and generate higher profits on the property. For instance, many first-time rental property owners buy a property and find tenants without knowing how to run a rental market analysis (RMA). They may later run the analysis and find that the price they set is lower than the competition. As long as you abide by rent control regulations, it's perfectly legal and ethical to raise the price of rent to generate a higher return on investment (ROI).
A few additional but less common reasons to send a notice of rent increase letter include:
Negotiating a lease renewal
Changing the lease renewal date
Encouraging a tenant not to renew the lease
Tenants that you inherit when you purchase a property
Changing the price of rent can be a key tool for negotiating a lease renewal. For example, the existing lease may be scheduled to end at an inopportune time, like the holiday season. Since rental properties generally have the least amount of demand at this time, offering tenants a deal with a minimal increase can be an effective strategy. It may entice them to stay longer—providing additional months of cash flow and making it easier for you to avoid a long-term vacancy at the end of the lease.
Another time you may want to negotiate the existing lease is when you have particularly great tenants. Good tenants are the key to success, so you may want to make it as appealing for them to stay as possible. For tenants you want to continue with, you can offer them a smaller rent increase than planned. On the other hand, if you do not want the tenant to renew the lease, you can raise the number to a higher price.
Pro tip: The price increase is a valuable strategy to encourage less-than-ideal tenants to move on. However, the best way to avoid bad tenants is by thoroughly screening all property applicants from the start. Learn how to screen tenants for a rental property with the right tools.
Factors to Consider When Increasing Rent
Every state has a unique set of landlord-tenant laws that specify requirements for both parties. These requirements can vary widely, so it's absolutely necessary that every landlord studies the state laws to continually operate according to the laws and regulations. Look specifically for requirements about raising the price of rent and the required notice period for price increases or lease adjustments.
Some states have rent control regulations that limit how much a landlord can increase the price of rent. For instance, in California, annual rent increases are limited to 5% plus a maximum cost-of-living adjustment of 5% (maximum increase of 10%). However, there are no regulations about setting the original price of rent for new tenants, so it's especially important to learn how much to charge for rent from the beginning of your landlord career.
In addition, the majority of U.S. states have specific requirements about the amount of notice you must provide tenants for rent increases. In Idaho, as mentioned, you are only required to provide a rent increase notice 15 days in advance, but other states require 60 days, like Delaware and Vermont.
Take a look at the map below and find your state to learn more about the required notice period in your state.
Finally, before you deliver your letter, read it over and make sure it has the right information and uses an appropriate tone. The letter should be clear, professional, and friendly. Good quality tenants want and deserve to be respected, so the tone of the letter should encourage positive and open communication. Ideally, your tenants will interpret the rental increase letter as an agreement instead of a demand.
When & How to Send a Letter to Increase Rent
Increasing the price of rent can be done for both month-to-month tenants and yearly or multiyear tenants, but there are different notice requirements for different types of leases. Although it's most common to increase the price of rent when a new tenant moves in or when a tenant's lease expires, you may be able to send a rent increase letter at four different times:
The end of an annual lease
Prior to a lease renewal
At the end of a month-to-month lease
During the middle of a lease (only legal if there is a clause in the lease that allows it)
Keep in mind that most leases do not automatically renew. In these cases, you and your tenants must sign a new lease with updated terms and pricing. The new lease must be signed before the original lease expires, and the rent increase typically happens during the first rent payment after the required notice period.
Therefore, the date that you send the notice and how it's delivered are extremely important. Sending a rent increase letter to a tenant should be considered a formal document that must be delivered with care. There are three primary delivery options:
Certified mail
Email
In-person delivery
Certified mail is the most ideal method of sending your notice because the sending and receipt of the letter are recorded. This prevents the tenant from later claiming that they never received the rent increase notice or they didn't receive it with enough notice. This is why you must include the date on your letter and be sure to send it with plenty of time to reach them before the required notice period. If you're giving a 60-day notice, make sure you send the letter at least five days before the 60-day mark to prevent any timing discrepancies.
Email and in-person deliveries can also be acceptable methods of sending your letter, but it can be difficult to prove that tenants received the letter through these methods. For example, personally delivering the letter doesn't provide any documentation that the tenant received the letter, so you should consider asking them to provide a signature stating that they received it.
If you choose to send an email, there are tracking tools that tell you when an email is opened. However, relying on software for legally required tasks can be risky. Instead, you can manually request a read receipt through your email platform. If you'd rather avoid the risks of using technology to send your letter, many landlords choose to send certified mail as well as an email.
Pro tip: As a landlord, you should be continually documenting your transactions and important communications with tenants. Keeping your own documentation is important for your financial and administrative duties, but it's even more ideal to also provide tenants with documentation. Start improving your landlord-tenant relationship by downloading a free rent receipt template.
Bottom Line
One of the difficult and exciting elements of investing in real estate is the ability to set prices independently and be in control of your income. By using the tips above, sending a rent increase notice can be simple and efficient—helping you generate a higher income from your rental property. Make sure to research the landlord-tenant laws in your state and include the right information in your letter.