Welcome to the Fit Small Business Ultimate Roadmap to Real Estate Investing (REI). We're glad you're here. We're going to take you on a journey through real estate investing basics. The content in these 12 chapters should be valuable for both beginners who are contemplating their first investment property and experienced investors who are looking for tools and resources to grow and finance their real estate portfolios.
You can click on the chapters along the landing page roadmap to skip around the content based on your needs, or you can use the navigation tools in each chapter to read from beginning to end. Some chapters, such as Investment Property Financing Made Easy and The Ultimate Real Estate Investors Property Management Library, contain numerous links to other articles in our database where you can expand your knowledge. If you click away and get lost, go back to the landing page and click on the chapter you were reading.
How to Access Free REI Tools
At the end of most chapters, there is a chapter summary and mini-quiz to help you retain key points. Some chapters include downloadable worksheets, checklists, templates, and tools as our gift to you to help you during the various stages of real estate investing. For example, in Why You Need a Real Estate Business Plan, we include a free downloadable business plan template and a sample cash flow forecast to help you develop your business plan and determine financial feasibility.
To get these free tools, click where directed and enter your email address. Over time, we intend to add more free tools and resources, so sign up early so that you don't miss anything. We hope you find this guide fun and informative. More importantly, we wish you phenomenal success and profits, whether you plan to invest in one or two small residential properties, do a fix-and-flip, or build a real estate empire.
So let's dive right into understanding what real estate investing is and if it is right for you.

What Is Real Estate Investing?
In its simplest form, real estate investing is buying real estate with the goal of generating profit. You can earn money in different ways—through buying and holding property for rental income, resale, or fixing and flipping for profits. If investment real estate puts more money into your pocket than it takes out, it is an asset. If property expenses exceed profits or rental income, then it is a liability. This is a basic accounting principle.
Some people make the mistake of thinking their home is an asset. They make the incorrect assumption that their home equity is what makes it an asset. Because the real estate market can be unpredictable, the equity in your home only becomes an asset when you sell. Unless your home generates regular income that exceeds the home's expenses, it's not an asset. Even if you had no mortgage debt and owned your home outright, you still have expenses—taxes, insurance, maintenance, and repairs.
Is Real Estate Investing Right for You?
Some people jump into real estate investing because they've heard it can generate passive, easy, and steady income and can build wealth. The idea of easy passive income is appealing, but the truth is, real estate investing is anything but passive, and it is not the fast road to Easy Street. It can get you there—eventually—but it takes focus, hard work, and careful planning.
Although outsourcing your property management can significantly decrease how much time you spend managing rental property, you still need to meet with property managers and make decisions about the property. Property management company fees run from 4% to 10% of the gross rental income, carry additional fees, and you will still have to cough up cash for maintenance and repairs. It's the closest to passive you can get while physically owning properties. However, there is always an effort involved in finding, evaluating, and buying rental properties. None of it is passive.
The real estate gurus who tell you that you can get rich in real estate make it sound so easy, don't they? Buy property for positive cash flow, kick back, and watch the checks come in the mail. But tenants move. Sometimes, they need to be evicted—at a cost. Sometimes, they damage your property. The calls in the middle of the night are real. If you outsource to a property manager, they'll take those calls for you, but you'll pay for it.
Should You Quit Your Day Job?
If you're in a soul-sucking job, you may wonder if you should quit your job and focus on real estate investing full time. Since no two people are alike, the answer to this will vary. It depends on your financial resources and how quickly you can replace income through real estate investing. If you don't need the money from a job to live on and to launch your investing career, and you can afford to quit, then you'll have more time to focus on growing your portfolio.
If you're brand new, there's a steep learning curve, business planning, finding and evaluating properties, and closing deals. It takes time to build. Ideally, you wouldn't want to buy more than three or four properties within a year, and that is a lot of work. Three to four properties may not provide enough net income and positive cash flow to replace a salary from a day job. You also may need the income from your job to qualify for financing. It's important to look at the big picture and set long-term goals.
If you're not in a position to quit, the better approach is to keep your day job until you are generating more than enough income to support both your investing activities and your lifestyle. Consider your day job as a short-term business investment, even if you don't need the income from your job to fund your investing activities. If you're getting into investing because you hate your job and are looking for a way out, perhaps there's another job you could find until your real estate investing can support you.
Benefits of Investing in Real Estate
There are numerous benefits to investing in real estate, and many people have built significant wealth in doing so. As you learn how to invest in real estate successfully, the learning curve shortens and, over time, it does get easier. You'll learn a lot by putting money down on a property. In addition to the great education you'll get from investing in real estate, there are numerous additional benefits, including:
Steady rental income
High profits from a successful fix-and-flip
Property value appreciation
Tax benefits
A stable addition to a diversified portfolio of paper assets, businesses, and real estate
Hedge against inflation
Long-term financial security
Being your own boss
Providing decent and affordable housing
Leveraging other people's money (OPM)
Real estate is worth the risk if investing is done properly. Doing it haphazardly, without an education and a plan, can be incredibly risky. That is our ultimate goal in this guide, to help you make wise decisions, determine if it is right for you, and give you the tools, resources, and education you need to succeed. We're never going to sugar coat it and make it sound risk-free. You can reduce risk and take advantage of all of these benefits by using common sense and preparing well.
Understanding Real Estate Investing Risks
Understanding your risk tolerance for investing in real estate can help you decide if real estate investing is right for you. While investing in real estate is less risky than some other types of investing, if it is done properly, it's not 100% without risk. As you consider the risks involved, ask yourself if living with these risks is tolerable. Be careful not to gloss over your gut feelings because you will be confronted with the possibility of these risks.
Risks associated with investing in real estate include:
Rental income fluctuations: Vacancies and declines in market rents can affect the ability to meet expenses. If you've included a vacancy rate in your cash flow projections, you can minimize the risk of fluctuations to a degree but not entirely.
Challenging tenants: Tenants who stop paying rent, cause disturbances, or damage property and need to be evicted are not only painful to deal with, they affect rental property income. You can reduce this risk by thoroughly screening tenants.
Real estate market trends: Property values can shift downward during a recession, affecting resale and decreasing equity. Buying investment properties for positive cash flow and preparing in advance for potential loss from a down-turned market may reduce lost income or profits.
Depreciation recapture tax: If you claim depreciation on rental properties and sell before 27.5 years (39 years for commercial), you'll likely pay a depreciation recapture tax on the balance that was depreciated.
Capital gains tax: If you sell an investment property for a profit, you may be required to pay a capital gains tax. You can offset capital gains by taking advantage of IRS code 1031 Exchange, where you reinvest profits into another investment property.
Liquidity: You can't cash in an investment property quickly if you need cash since it takes time to sell. You may be able to get a home equity loan or line of credit, but this adds to your overall debt. You can avoid this risk by having a diverse portfolio that includes investments outside of real estate and building up a savings account.
Unforeseen property damage: Natural disasters, fires, failed plumbing or heating systems, or structural damage can force tenants into temporary housing, which you could be responsible to pay for, while you make repairs. You can lessen this risk by carrying ample property insurance.
Lawsuits: A slip-and-fall accident or other injury on your property can lead to a potential lawsuit, costing you expensive legal fees to defend yourself, even if you're found not at fault. Having adequate liability insurance may cover your costs.
Credit risk: If you're unable to pay your mortgage, you risk damaging your credit and possible foreclosure. Keeping a minimum of three to six months of property expenses in emergency savings can offset the risk.
By now, you might think I'm a Nelly Naysayer. I hope this didn't scare you off. Investing in real estate can be a great deal of fun and an awesome vehicle for building wealth. My goal is not to frighten you from investing in real estate. I just want to make sure you understand what could happen, so you are aware, and can create a plan to mitigate risks before you invest and potentially increase your profits if you do invest.
Lower Risk Real Estate Investing Alternatives
If you've weighed the benefits and risks and decide that owning investment property isn't right for you, but you're still interested in real estate, a less risky option is to invest in REITs or crowdfunding real estate. These investment vehicles are not without risk. However, since you can usually purchase them with little money down, and there are no properties to manage, the risk is much lower. It's easier to lose a few thousand dollars than to lose an apartment building through foreclosure.
If you can tolerate a moderate amount of risk but don't want to deal with tenants, investing in turnkey rentals is another option. Turnkey rentals come fully rehabbed and often with a property management company in place. They still carry the same risks as rental properties and typically cost more to purchase because of the rehab work and property management fees, but they're less risky than self-managing.
Understanding Your 'Why?'
Now that you understand some of the risks and rewards of real estate investing, ask yourself why you want to invest in real estate. Is it for all the benefits we just mentioned? Do you want to leave something for your family? Maybe you love the idea of fixing and flipping for profit. Or perhaps you're trying to diversify your portfolio and are using investment real estate as part of your retirement strategy.
Understanding your reasons for investing in real estate will help you develop your long-range plan and stay the course if something negative happens. Hopefully, you'll never experience a real estate market crash like 2008, but having strong reasons why you're investing in real estate, coupled with your carefully laid out plan, can increase your chances of success. Your why is what will carry you through the tough times.
My 'Why?'
When I first bought rental property in 2006, it was so I could leave my job and have some income during full-time graduate school. I had built up savings, and my husband had a great job, so we were in a good position to do this. It was right before the market tanked in 2008. Some of my investor buddies got crushed during the crash and filed for bankruptcy.
Because we invested for positive cash flow, although market rents decreased during this time, we had enough rental income to survive while others were falling. We started with a plan, not knowing how bad the 2008 subprime mortgage crash would be. We had that property for 13 years and sold it in 2019 for a decent profit, plus the equity we built up in the property over time. I was able to complete my full-time graduate studies and graduated in 2009.
Setting SMART Real Estate Investing Goals
SMART goals are goals that are Specific, Measurable, Achievable, Relevant, and Time-bound. You may be familiar with this acronym. Establishing SMART goals for investing in real estate can assist you from buying your first rental property through executing an exit strategy.
To set real estate investing SMART goals, start with the end in mind. You can use the SMART goals process for buying each property as well as your overall plan. For example, if your goal is to buy three multifamily rental properties within the next year, your SMART goals would look something like this:
Specific (What?): You plan to buy three three-to-four-unit multifamily buildings in the Jones Street neighborhood in the city of Umpty-Ump.
Measurable (How will you know you're on track?): You've detailed and are sticking to your plan. You have key performance indicators based on your deadlines.
Achievable (How will you know it's attainable?): You have created the strategy and plan, have the financial resources, and required knowledge to proceed.
Relevant (Is it realistic, and does it relate to your overall plan?): You're evaluating the right types of properties as they relate to your goals. In this case, three-to-four-unit multis. You're seeking out the right resources and financing for your project.
Time-bound (what are the short-term and long-term deadlines?): Your deadline for all three properties in this example is May 30, 2021. You purchase Property No. 1 by Oct. 31, 2020; property No. 2 by Feb. 28, 2021; and property No. 3 by May 30, 2021.
SMART Goals Worksheet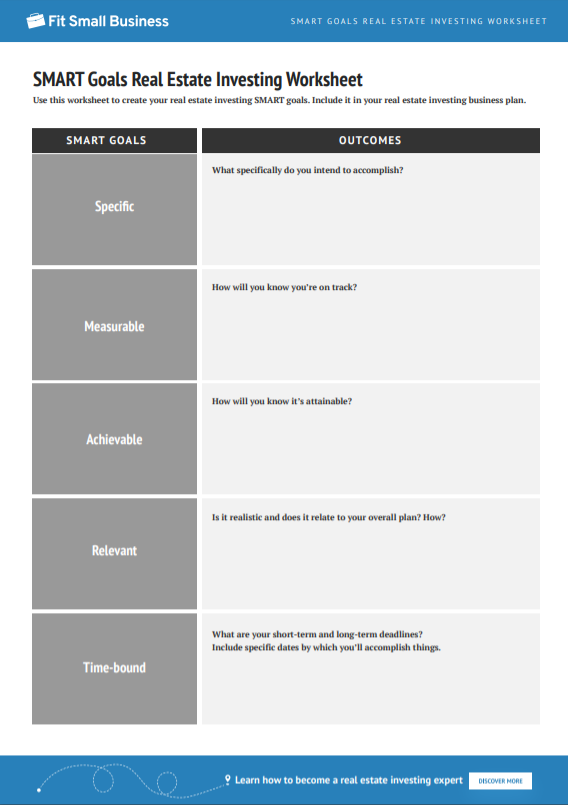 We've included a SMART goals worksheet to help you set your real estate investing goals. As you write your goals, think of your reasons why you're investing in real estate and be sure to include these in your goals. The SMART goals model is great because it gets you to take action by self-imposed deadlines, measuring and tracking outcomes, and being very specific in what you intend to accomplish.
Download SMART Goals Worksheet
Get Educated
The most important thing you can do before investing in real estate is to get educated. By doing so, you can reduce risk and feel more confident you're on the right track. Start by reading free guides like this. You also can learn from real estate investing books, blogs from experts, and taking courses. You can find courses for free-to-low cost through programs that offer them like Udemy and Coursera. Many colleges and universities also offer free virtual courses on a variety of topics, including investing in real estate.
Don't get caught up in "analysis paralysis," though. You don't have to study and learn for years. Get the basics under your belt, create a business plan, and run a cash flow projection, then start doing legwork by evaluating properties. Once you start taking action outside of your education, you'll learn quickly.
When choosing coaching or mentoring programs to learn from, be careful by thoroughly checking them out. Don't just read customer testimonials. Look them up on the Better Business Bureau (BBB). Search online for negative reviews and complaints. Many people have invested five and six figures into coaching programs telling them they'll make money back easily, and more if they sign up. Investing in real estate is not rocket science. You can learn pretty much everything you need to know for free to low cost.
Additional Educational Resources
Before you move onto the next chapter in this guide, here are some additional real estate investing educational resources to help you develop your real estate investing savvy:
Chapter Summary
Real estate investing can be fun, rewarding, and a great vehicle for building wealth. The key to succeeding in investing in real estate is to understand the risks and rewards, create and follow a plan, and have strong reasons why you're investing. Your reasons why will carry you through challenging times. It's also equally important to continue to build your knowledge and experience.
Key Points to Remember
When considering quitting your day job to invest in real estate full-time, make sure you have adequate resources for both your lifestyle and your real estate investing activities.
If you need to stay in a career that you're unhappy with, consider your time there as a short-term investment in your bigger real estate investing goals.
Real estate investing is hard work and is not passive. As you learn more and develop skills, the learning curve shortens, and it gets easier.
Steady rental income, which is a hedge against inflation, and long-term financial security are three benefits of investing in real estate.
Understanding the risks of investing in real estate is not intended to scare you away. Understanding risks make you a savvier investor.
Rental income fluctuations and challenging tenants are two very real risks associated with investing in real estate.
Having strong reasons why you're investing in real estate will help you weather challenges.
To set real estate investing SMART goals, start with the end in mind.
By getting educated and learning how to invest in real estate, you can decrease risk and have the confidence that you're on the right track to reach your goals.