Employment background check companies ensure the person you're hiring is who they say they are and are safe to hire. The best background check companies can verify resumes, identity, and personal backgrounds as well as provide compliant credit checks, drug screens, and even healthcare background checks for positions that require that degree of review. Prices range from about $30 to $200 per background check package.
Top 7 Employment Background Check Companies
| Background Check Companies | Best for |
| --- | --- |
| | (Best overall) Any business, thanks to the full range of affordable background checks offered |
| | Healthcare and nonprofit firms that need to ensure the safety of their clients |
| | Employers in states like California, Massachusetts, and New York with tough labor laws |
| | HR professionals wanting data to interface with top HR and payroll software like ADP and Paychex |
| | Professional companies that don't require drug testing; top-rated affordable alternative to GoodHire |
| | Global firms using enterprise software systems like Workday and PeopleSoft |
| | Finance and bookkeeping services wanting financial and credit history of their hires |
How We Evaluated Employee Background Check Companies
Background checking for pre-employment purposes should be a part of every on-boarding plan (if background checking is a standard practice), as well as employment termination (if there is a concern of substance use). Assuming that a small business would prefer to work with one employee background check company than several, we prioritized background check companies that include most of the services an employer would need. The ones we chose are affordable and allow you to choose packages of background checks, or one type of test, like a pre-employment drug screen, when it's all that's needed.
Based on small businesses that need background check companies, we considered:
Price: We found affordable background check companies ranging from $30 to nearly $200 per background check package. Some offer flat rates and fees for one-off tests.
User feedback: We only included top-rated background check companies.
Compliance: We prioritized background check companies certified by the Fair Credit Reporting Act (FCRA) and/or the National Association of Professional Background Screeners.
Kinds of background checks: To save you time from checking identity, resumes, drug screening and more, we evaluated all-inclusive background check companies.
Employment screening: We prioritized firms offering employment screening, resume verification, and both identity and personal background checking with consent forms for compliance.
Other background checks: Most of these firms offer credit checks, drug screening, international screening, and healthcare sanctions screening (for medical professionals).
Forms and status tracking: We found background check companies with downloadable consent forms and status tracking. Some have mobile apps for you to check progress.
Software integrations: We found background check firms that can share data with your existing HR software—eliminating duplicate data entry to save you time.
Which Employment Background Check Provider Is Right for You?
GoodHire retains the top spot as the best employment background check company. The top spot was won largely due to its affordable package pricing, easy-to-administer consent forms and the range of background check services it provides—including drug testing and international screening of candidates. GoodHire is easy to use, offers helpful customer support, and receives great feedback from its customers who like the intuitive dashboard.
GoodHire: Best Overall Employment Background Check Company

We find GoodHire to be the best overall employment background check company for both small and large businesses across multiple industries such as healthcare, construction, and nonprofit. It integrates with many popular software systems. It also provides unique background checks for industries with specific safety and security requirements like child care and home health services.
GoodHire offers extra services like fingerprinting, 4-10 panel drug testing options (panel = kind of drug), and international criminal background checks, in addition to candidate education and employer verification options. These services are priced in affordable packages, even for those businesses doing fewer than 50 background checks a year.
| GoodHire Pros | GoodHire Cons |
| --- | --- |
| Quick responses and reviews | Setup fee is higher than other providers |
| All reports are FCRA-compliant | Add-on features can get expensive really quickly |
| Fees are clearly posted on website and easy to understand | For many different types of reports, you need the premium package |
GoodHire Pricing
GoodHire provides the best value across the range of background check services it offers. Its packages cost between $29.99 and $79.99 for a background check with an initial setup fee. Third-party fees are added (with no markup) to cover court costs, state fees, and motor vehicle record fees.
GoodHire Pricing Packages
| Features | Basic | Standard | Premium |
| --- | --- | --- | --- |
| Price per Search | $29.99 | $54.99* | $79.99* |
| Social Security Number Verification | ✔ | ✔ | ✔ |
| National Criminal Database Search | ✔ | ✔ | ✔ |
| 7-Year County Criminal Court Search | N/A | ✔ | ✔ |
| Domestic Terrorist Watch List | N/A | ✔ | ✔ |
| Education and Employer Verification | N/A | N/A | ✔ |
*May include third-party fees to which GoodHire does not add a markup. If you expect to do more than 50 background checks a year, you'll need to contact GoodHire directly for a quote.
GoodHire Features
If you have a small business in the finance, accounting, healthcare, pharmaceuticals, in-home service (like massage therapy), or child care industries, you will need to run background checks on your employees in order to be compliant with industry-specific laws. What makes GoodHire a great solution is that it does everything within one system, providing you a dashboard view of all background checks you order.
Employment Screening: The number of days it takes GoodHire to do employment screening varies from one to 10, based on the number of background checks you want to have completed. Drug screens typically take the longest (they offer 4-, 5,- 7-, and 10-panel drug tests) as well as any screening that requires a request for court documents.
Additional Background Checks: Sensitive industries like financial services and insurance agencies may require additional checks like credit reports, licensing, or international screening. GoodHire can verify that medical professionals (doctors, dentists, nurses) are in good standing with its healthcare sanctions check.
Forms and Status Tracking: Unlike some others on this list, GoodHire provides a mobile app. It also includes your compliance documents and downloadable forms like consent and dispute documents. That helps ensure you're compliant with EEOC, credit, and drug testing laws that require you to obtain advance approval from candidates you want to hire.
Software Integrations: GoodHire integrates with several HR systems, including recruitment software and applicant tracking systems. It is able to work with other business apps using an application interface (API) if you have HR software beyond the 16 GoodHire interfaces with.
Customer Support: With GoodHire, email support is available 24/7, and both live chat and phone support are open Monday through Friday from 7 a.m. to 7 p.m. Central time. GoodHire's live chat feature is courteous and fast, allowing you to get quick answers to your background check questions directly from the website.
What GoodHire Is Missing
The only notable downside to GoodHire is that it does take slightly longer to get back the results than some of the background check services like AccurateNow that don't go as deep. If you sign up for the Premium level check or run extensive drug test panels, it can take up to 10 business days, and some of the data will come back sooner than others. For example, basic background checks often come back the same day.
Intellicorp: Best Background Check Company for Healthcare and Nonprofits

Intellicorp provides employment verifications, criminal background checks, credit checks, driving record reviews, and drug screening. Its award-winning service checks medical licensing, ensuring their candidates never engaged in medical fraud or abuse. In fact, it compares against the National Practitioner's Databank (DPDB) to ensure there are no sanctions from Medicare or Medicaid. Intellicorp tailors its pricing packages to the pre-employment process of businesses in the nonprofit and medical industries.
| Intellicorp Pros | Intellicorp Cons |
| --- | --- |
| Easy and intuitive user experience | Is not multi-lingual |
| All reports are FCRA-compliant | Volume discounts are difficult to meet (high minimums) |
| Meets time-committed turn-arounds | More of the company's focus is now on credit reporting (under the FCRA) for apartment leasing, etc. |
Intellicorp Pricing
Intellicorp offers multiple packages (an example is shown below) and does not provide pricing without a quote (which is why it didn't make it to the top of our list). However, third-party sources suggest its background checks range from $20 to $100 or more. That's because, in addition to their basic package offerings, you can add on customizations such as former name searches, adverse action letters, and an arrest history report. Therefore, your individual price may vary.
Intellicorp Packages for Pre-Employment & Volunteers
| Features | Standard/Good | Enhanced/Better | Premium/Best |
| --- | --- | --- | --- |
| Social Security Number and Address History | ✔ | ✔ | ✔ |
| Criminal Databases including Sex Offenders | ✔ | ✔ | ✔ |
| Federal Criminal Records | N/A | ✔ | ✔ |
| Employment Verification | N/A | ✔ | ✔ |
| Education Verification | N/A | N/A | ✔ |
| Professional Reference Checks | N/A | N/A | ✔ |
Intellicorp Features
Intellicorp provides all the same basic features as GoodHire, including civil, credit, criminal, and employment background checks. In fact, it'll assist you with I-9 forms and E-Verify as well as confirm a worker or volunteer's Social Security number and address—even if they're from outside the US. That's helpful if you work with volunteers and don't have HR or payroll software to do that for you.
Employment Screening: To get employment screening features, you'll have to upgrade to IntelliCorp's mid-tier plan. Intellicorp provides some of the forms in Spanish. That's helpful in medical and home service industries that often employ bilingual workers.
Additional Background Checks: It's the additional background checks and add-on features that may make Intellicorp a better option for you if you're primarily verifying nonprofit and healthcare workers in sensitive industries like child care, senior services, or medical fieldwork like disaster recovery. Services include multi-county, international screening, healthcare sanctions, credit checks, and drug tests.
Forms and Status Tracking: Intellicorp provides acknowledgment and disclosure forms for federal and state regulatory agencies. It also includes a European Union (EU) Acknowledgment if you need to employ union workers outside the US. However, it lacks a nifty dashboard and mobile app like GoodHire, requiring you to download and email forms to your prospective employees and volunteers.
Software Integrations: Intellicorp has a handful of integrations to organizations like VolunteerMatters and job boards like SmartRecruiters. Otherwise, it lacks the common HR and applicant tracking integrations that GoodHire provides. It's only pre-built integrations to these systems are for larger enterprise solutions using software tools like HRNX and iCIMS.
Customer Service: Intellicorp provides customer service via phone and email. Online customer support includes a blog, FAQs, online forms, training, and videos.
What Intellicorp Is Missing
Intellicorp lacks a mobile app. It doesn't have a cool interface like GoodHire and provides only a handful of software integrations. It also lacks transparent pricing, making it tough to decide whether it's an affordable option for your business without having to first sign up and subject yourself to a sales call and demo.
AGoodEmployee.com: Best Background Services for Heavily Regulated States

AGoodEmployee.com caters to employee background checks that are compliant with tougher laws in states like California, New York, and Massachusetts. These states provide unique employee protections such as for casual drug users and rehabilitated criminals. It offers fewer types of background checks than Intellicorp or GoodHire with comparable prices. Yet, it's a solid option in states where background checks can get you in trouble if they're not done right.
| AGoodEmployee.com Pros | AGoodEmployee.com Cons |
| --- | --- |
| Easy and intuitive user experience | Not the easiest user experience |
| In operation for decades and is trustworthy | Five levels of pricing; volume pricing is not listed. |
| Focuses on pre-employment hire background checks | Not clearly outlined if a free trial applies to all services |
AGoodEmployee.com Pricing
AGoodEmployee.com provides background check packages in the range of $29.95 up to nearly $200. Its most popular plan costs $79.95 per report, giving you education and employment verification in addition to a criminal background check and Social Security number verification.
AGoodEmployee.com Pricing Packages
| Features | Basic | Plus | Value |
| --- | --- | --- | --- |
| Price per Report | $29.95 | $49.95 | $79.95 |
| Social Security Number and Address History | ✔ | ✔ | ✔ |
| Criminal, Sex Offender, Terrorist, and Federal Crimes | ✔ | ✔ | ✔ |
| Number of County Searches | 0 | 1 | 1 |
| Social Security Number Fraud Verification | N/A | ✔ | ✔ |
| Employment, Education and I-9 Verification | N/A | N/A | ✔ |
If you need drug testing, reference checks, or a search of federal court records, you'll have to upgrade to a pricey Premier plan ($199.95) not shown above. Some of these services are also available but priced individually. For example, you can add a 10-panel drug screen to a basic package for $99.95, which is still significantly higher than what GoodHire charges.
AGoodEmployee.com Features
This employee background check company offers many of the same employment verifications including personal background, identity, and resume validation. It also has credit checks and drug screens along with downloadable forms and compliant testing processes. Unlike Intellicorp and GoodHire, however, there are no screening tools for international employers and it lacks a way to check for healthcare sanctions.
Employment Screening: AGoodEmployee includes a feature that's not found in GoodHire or IntelliCorp, and that is Telecheck check verification to ensure that the person you're hiring doesn't have a history of writing bad checks. (That's a feature more helpful to landlords.) Otherwise, if verifies the standard background information such as Social Security number and address history.
Additional Background Checks: Drug testing is available, but it costs extra. You don't have the option for multiple kinds of drug tests like you do with GoodHire. If you want to check federal court records or personal references, that requires you to upgrade to a plan that's nearly $200 per month.
Forms and Status Tracking: AGoodEmployee.com provides all the forms you might need—from candidate consent forms to a summary of rights under the Fair Credit Reporting Act. However, while the forms are free, you'll need to print them and have candidates sign them manually.
Software Integrations: AGoodEmploye.com can integrate with your applicant tracking system, however, this requires a consultation with its sales team and likely costs extra to build and test the interface. We found no standard integrations available. And while the reports are printer friendly, we didn't uncover any data export options.
What AGoodEmployee.com Is Missing
AGoodEmployee.com is missing an affordable drug testing option. It also lacks an intuitive dashboard and has no app. It's structured like an old-fashioned menu-driven database. Further, most small businesses want to save time by having their data interface with existing business software. With AGoodEmployee.com, you're likely to be doing some duplicate data entry for candidates.
HireRight: Best Background Check Company for HR Teams

HireRight wins hands-down when it comes to employment background check companies that interface with existing HR software. HR folks will love that they can pass data from HireRight straight through to their applicant tracking system, HR software, payroll system, or timekeeping software. In fact, it even integrates with enterprise systems like SAP, ADP, and Paychex.
| HireRights Pros | HireRights Cons |
| --- | --- |
| A global company, with global reach in its background checks. Used by Fortune 100 corporations and small businesses alike | Past violations of the FCRA, although that was a few years ago now |
| Has been in operations for decades and is trustworthy | Its parent company were defendants in numerous individual and class action consumer lawsuits and in federal regulatory actions |
| Easy and intuitive user experience | At times there are delays with background check reviews |
HireRight Pricing
One of the reasons HireRight didn't make it to the top of our list is that they don't post package pricing online. It's available by quote only. In fact, to even see the packages they offer, you have to fill out a form providing information on where you're located, how many employees you have and how many background checks you're likely to need each year, or you can contact the sales team.
However, HireRight does have a small business package called HireRight Express costing $29.95 to $64.95 with very basic offerings that allow you to do quick ad hoc background checks. HireRight Express is part of BackgroundChecks.com (although it's available from the HireRight website menu).
Here's how HireRight Express is priced (and what you get):
HireRight Express Pricing (now part of BackgroundChecks.com)
| Features | Basic | Better | Premium |
| --- | --- | --- | --- |
| Pricing | $29.95 | $49.95 | $64.95 |
| Criminal Database Search | ✔ | ✔ | ✔ |
| Nonhit and Alias Links | ✔ | ✔ | ✔ |
| County Criminal Search | N/A | 1 county | Unlimited counties (up to 7 years) |
| Turnaround Time | N/A | 1-3 days | 1-3 days |
HireRight Features
HireRight includes all the requisite background screening options a growing business might need and makes it easy for your HR team to screen job candidates. It includes identity checks, I-9 and E-Verify, global screening, driving records, criminal background screening, and more. It's all inclusive for industries from transportation to healthcare, education, financial services, retail and more.
Employment Screening: HireRight's employment screening offers an expansive set of features like social media background checks and compliance with states that "ban the box." It includes criminal records, county searches, education, employment history, and references, to name a few.
Additional Background Checks: HireRight provides over 150 background screening services across 200 countries and territories, making it a great option for HR practitioners in just about any industry and location. In addition, candidates receive a copy of the report, can dispute the accuracy, and even get assistance if they're not sure what to fill out on the form.
Forms and Status Tracking: HireRight makes it easy for you as an HR professional to obtain background check information directly from the candidate, either through your existing HR business software or through email. Using the interfaces, you can store the background check information along with the candidate information in your ATS, HR, or payroll software, reducing data security issues and multiple online storage locations.
Software Integrations: HireRight has the most software integrations available making it the best options for HR professionals already accustomed to using integrated systems like HRIS systems or recruiting software. Greenhouse, Cornerstone, SmartRecruiters, Kronos, and Workday are just a few.
What HireRight Is Missing
Unless you click-through to HireRight Express, now part of BackgroundChecks.com, you're not likely to find it affordable for small business users. It's more of an enterprise option for HR professionals managing background checks as part of a standardized recruiting process.
AccurateNow: Alternative Background Check Company for Professional Firms

AccurateNow is great for professional firms. That's because it provides popular add-on background checks like motor vehicle records (for your field sales team), professional license verification for your certified staff, and low-cost employment and education verification options. Therefore, you can tailor your screening to match the job role of the new hire.
| AccurateNow Pros | AccurateNow Cons |
| --- | --- |
| Ability to undertake background screening worldwide | Users report that there have been record errors, or missed convictions on reporting |
| Add on services are around $10 each | Extra set up fees and fees for preadverse and adverse action notices |
| Easy and intuitive user experience | At times there are delays with background check reviews |
AccurateNow Pricing
If budget is your main concern, AccurateNow is a solid alternative to HireRight and IntelliCorp. It has a $25 setup fee, making it cheaper than GoodHire, but it doesn't include as many features per background check. Packages run from $29.95 to $74.95. One-off add-on reports range between $5 and $9.95 each. Drug testing is priced separately. So, if you're in professional services rather than a sensitive industry, AccurateNow can serve your needs.
AccurateNow Pricing Packages
Features

Basic+

Standard

Premium

Pricing

$29.95

$59.95

$74.95

Social Security Number and Address History

✔

✔

✔

Local and National Criminal History, Including Sex Offender

1 current county only

+ national

7-year history

7-year history

Global Watch

N/A

✔

✔

Education and Employment Verification

N/A

N/A

✔
AccurateNow Features
AccurateNow makes background checks easy for your hiring team. They will be able to fill in a form with candidate information, and once the check is complete, they'll receive a report. They'll also be able to see status updates when each check is done. For example, if you're hiring individuals and want to check court records in a place like New York, it can take a few days.
Employment Screening: AccurateNow provides the same employment background checks you find in GoodHire, HireRight, and most other background check companies. In fact, the only reason it wasn't listed higher is that it doesn't provide a search of health check sanctions and there are no pre-built interfaces to store resulting candidate background data.
Additional Background Checks: In addition to the standard service AccurateNow provides as an employment background check company, you'll find it offers professional license verification, a motor vehicle report, and a search of US District Court records. Each of these add-ons costs only $9.95 per report—allowing you to purchase a lower-tier package and buy additional ad hoc reports.
Forms and Status Tracking: To obtain forms like a pre-adverse or adverse action letter, you need to purchase the $5 add on and combine it with an existing report package.
Software Integrations: Besides providing you with an electronic copy of the background check report, AccurateNow offers no interfaces into your recruitment or applicant tracking software. To save the report, you'll need to attach it electronically to a secure employee data file or place a physical copy in the applicants' hiring folder.
What AccurateNow Is Missing
AccurateNow offers fewer background check options than more complete background check companies like GoodHire and HireRight. In addition, it lacks healthcare-industry checks so it's not best for health service businesses. Finally, it doesn't have any pre-built integrations—although it does provide an API if you want to build your own using its developer portal.
InfoMart: Best Background Check Company for Enterprise Firms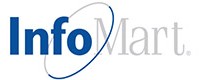 InfoMart provides the full range of background check services any business would need—from tracking how candidates use social media to motor vehicle records and criminal history. It serves all industries, including automotive, foodservice healthcare, hospitality, retail, and more. But, the real benefit is for firms that are using an enterprise software platform, as it has pre-built interfaces to the most popular workforce management systems like Workday and PeopleSoft.
| InfoMart Pros | InfoMart Cons |
| --- | --- |
| Offers services in Spanish | At times there are delays with background check reviews |
| Accredited by the National Association of Professional Background screeners (NAPBS) | |
| Has been in operation for decades and is trustworthy | |
InfoMart Pricing
InfoMart, as an ERP integration partner, is priced based on industry and company size. For a communications company with 50 employees, prices ranged from about $30 to $80 for pre-employment screening, with education and employment available only at the higher pricing tier. Therefore you'll need to get in touch with the InfoMart sales team to share what software you're using, how many checks you'll likely need, and what industry you're in before you'll have an accurate sense of what InfoMart will cost.
InfoMart Small Business Package Options
| Features | Pre-employment Screening | Post-hire Services |
| --- | --- | --- |
| Identify Verification | ✔ | Plus, I-9 and E-Verity |
| Drug Testing | ✔ | ✔ |
| Driver Monitoring | ✔ | ✔ |
| Employment and Education Verification | ✔ | N/A |
| Sex Offender and Criminal History | ✔ | N/A |
InfoMart Features
InfoMart provides the full range of background screening services including Social Security ID verification, multi-state criminal history, and a check against the sex offender database. Plus, it adds background check options for occupational health, sanctions searches, screening audits, social media, and compares candidate data with verified watch lists.
Employment Screening: The basic employment screening services verify your candidate's identity and employment as well as check that their educational background lines up. Candidates can upload their data and a photo (for biometric verification) via mobile app (ASAP ID) to save time.
Additional Background Checks: InfoMart offers an entire range of background checks. For instance, its social services reveal any incendiary or violent behavior as well as sexually explicit posts. It can uncover demonstrations of intolerance or racism as well. One cool service it provides for new business users is an audit to see how accurate your existing background check company is.
Forms and Status Tracking: You can access forms and background checks status updates online. In fact, you can create workflows to manage the screening services based on position. In addition, InfoMart supports multiple languages.
Software Integrations: InfoMart integrates with popular software applicant tracking systems like Greenhouse, Workable, and Taleo. Further, it can share data across enterprise platforms including PeopleSoft, Workday, and ADP Virtual Edge—saving you from having to track background check data in more than one software system.
What InfoMart Is Missing
InfoMart lacks HR and payroll integrations into common software that are more likely to be used by smaller businesses (Gusto and Indeed, for instance). If you need interfaces, you'll have to find someone tech savvy to build an interface using its API.
ShareAble for Hires: Best Background Check Company for Financial Firms

ShareAble for Hires offers all the basic candidate background, identity, resume verification, and employment screening, as well as credit checks. It's part of the TransUnion system, so it provides these services fast and entirely online. It's great at ensuring your finance and accounting new hires aren't arriving with burdensome financial debt and credit issues.
| ShareAble for Hires' Pro's | ShareAble for Hires' Con's |
| --- | --- |
| Free pre-employment background checks for small businesses | ShareAble does not offer a free trial at this time for paid levels of support |
| The "Pro" package is around $10 (discounting their pricing at this time) | At times there are delays with background check reviews |
| Easy and intuitive user experience | |
ShareAble for Hires Pricing
ShareAble for Hires offers one of the more affordable background check packages priced in the range of $35 to $60 per background check. What's nice is that you don't have to have to buy a membership or pay setup fees. If you need a background check for a candidate, you simply order it online.
ShareAble for Hires Pricing Packages
| Features | Background Check Basic | Background Check Plus | Background Check Pro |
| --- | --- | --- | --- |
| Price per Report | $35 | $50 | $60 |
| Identity | ✔ | ✔ | ✔ |
| National Registries (Sex Offender, Most Wanted and Federal Watch Lists) | ✔ | ✔ | ✔ |
| Instant State and County Checks | ✔ | ✔ | ✔ |
| Fraud Alerts, Name and Social Security Number Mismatch and Deceased Person's Social Security Number Check | N/A | ✔ | ✔ |
| Current and Previous Addresses, Prior Employment | N/A | N/A | ✔ |
| Detailed Credit Report | N/A | N/A | ✔ |
ShareAble for Hires Features
To get the package most suitable for employment, you'll likely want the Pro package which verifies prior employment and address information. The pre-employment credit checks include payment history, installment debts, and revolving credit. While these are designed to help landlords screen tenants, they can also help you vet any employees who will be managing money in your firm.
Employment Screening: The employment screening options in the basic package provide identification and criminal background checks compliant with the Fair Credit Reporting Act. For checks on Social Security, prior employment, and prior addresses, you have to upgrade to the Pro package.
Additional Background Checks: Other than robust credit reports and criminal records, ShareAble for Hires doesn't yet offer international background screening, healthcare sanctions checks (required for medical professionals), or drug tests.
Forms and Status Tracking: ShareAble for Hires provides you with printed reports. It will be on you to save and attach those documents to your employee records within your HR software or paper personnel files.
Software Integrations: Due to the online process and speed of the background checks, ShareAble for Hires doesn't provide any software integrations. The workaround is to save a printed (or PDF) copy of the report and to attach it to your HR or payroll system, or drop into a secure employee personnel file.
What ShareAble for Hires Is Missing
ShareAble for Hires lacks an all-in-one background check option if you need, for instance, driving records or drug testing. However, it makes up for that with an affordable web-based system that doesn't require sign-up or setup fees. When you need a report, you simply request one online.
Alternative Background Check Companies
| Alternative | Best for |
| --- | --- |
| | Recruiters that want to up their game with AI and additional hiring tools |
| | Larger and/or regulated firms concerned about adverse impact |
| | Businesses in healthcare, insurance, or transportation industries managing employee licenses, credentials, and renewals |
| | Security services and professional consultants that want to evaluate biofacial data |
| | Media and talent agencies requiring nontraditional info like height, race, and eye color |
| | Global firms that need background checks for international talent |
| | Individuals and businesses that want to do background checks on people they work with |
Bottom Line
Background check companies provide assurance that the people you're hiring don't have red flags in their past that could affect you or your business negatively. The best employment background check companies provide an all-in-one background screening service with online report storage and a dashboard that can share data with your other HR software, which makes your overall employee hiring experience easier, more consistent and aids in legal compliance.
Lastly, a friendly reminder that you should not pull background information from any vendor, or on your own, until a job offer has been made to the candidate. Although federal law does not prohibit employers from conducting background checks before an offer of employment being made, some state laws have clearly laid out restrictions on this matter (note, the "Ban the Box" movement ties into this topic).