A personnel file is a paper or electronic folder for storing HR and payroll documents related to new, existing, or past employees. It should include basic employee and compensation information in compliance with federal and state labor laws. Understanding what employment records to store in a secure personnel file helps you avoid potential mistakes and fines. Later, we'll provide a downloadable employee file folder checklist and personnel file checklist.
To safeguard personnel files and other worker documents, companies should use an employee management platform like Rippling. With it, all people operations are done in one place—from onboarding to offboarding, including document management. You can manage and automate employee data and operations easily to ensure that you are compliant with federal, state, and local labor laws. Sign up for a free demo.
Documents Employers Should Include in  Personnel Files
The documents within an employee's personnel file should cover the entire lifecycle of their employment, from offer letters and W-4 forms to performance reviews and termination paperwork, including documentation of each employee's exit interview. The personnel file can be either a physical folder with printed paperwork or stored electronically using HR software like Rippling.
The list of what encompasses a complete personnel file is long; therefore, we'll divide it into three shorter lists—legally required, best practice, and optional items. Before you dive in, please download the free employee file folder checklist and personnel file audit checklist below so you can follow along: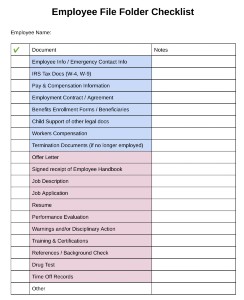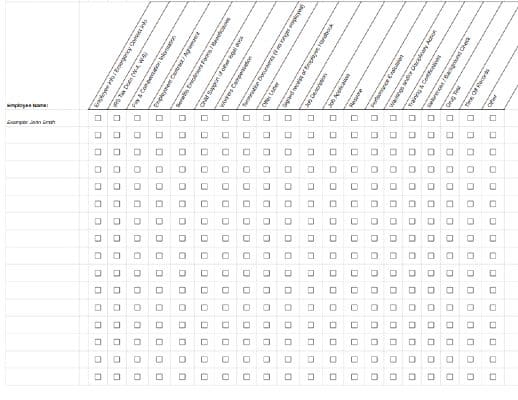 Legally Required Documents to Keep in Personnel Files
There are eight employee-related HR documents that every personnel file must contain, which include legal employment records—such as payroll tax forms and employee-employer agreements.
The eight documents that every employee personnel file must contain are:
Basic employee information: Name, address, and phone number) and emergency contact details
Payroll and compensation information: Any paycheck or pay card data
Contracts or agreements: Typically between the employee and the employer, such as a non-compete agreement, an employment contract, or an agreement relating to a company-provided car or business credit card
Forms relating to employee benefits: Enrollment forms and beneficiary agreements
Child support: Any legal or litigation documents
Workers' compensation: Documentation of claims filed
Termination documents: Documented reasons why the worker was terminated, unemployment documents, insurance continuation forms, etc.
Additional Documents to Include in Employee Personnel Files as a Best Practice
These next 10 documents are not required but are often included in an employee's personnel file so that they can be easily accessed by the employee's manager, payroll, or the employee, if needed. They include job and employer-related files, such as the job application, performance reviews, and employee time-off records.
The 10 documents that are nice to have in every employee personnel file are:
*In some states, employers are required to maintain sick time off records. If they're not stored electronically within your payroll system, it's a good idea to keep them in the employee's personnel folder.
Optional Items to Include in Employee Personnel Files
The Society of Human Resources Management (SHRM), adds to these lists by suggesting additional documents that could be included in an employee's personnel folder. In many cases, these documents are maintained by the employer but might not be kept in the personnel file itself. It's up to the employer where to store these docs.
Educational transcripts: For example, if you use a learning management system (LMS) or online training portal, your employees' training and certifications will likely be stored electronically.
Goal-setting records: If you use performance management software, your employee goal-setting documents will likely be stored electronically.
If all of this gets complicated as your business grows, you can outsource payroll or use an all-in-one HR, benefits, payroll, and document management software like Rippling to help track documents and manage paid time off (PTO) and benefits. Rippling provides online document storage, including copies of employee contracts, policies, and a copy of your employee handbook. Sign up for a free trial today.
What Not to Keep in Personnel Files
Since there are documents that are needed to be in your personnel files, there are also documents that you should not include with the employee's personnel folder. These include the following:
Pre-employment records except for the application
Monthly attendance records
Medical information
Anything related to worker eligibility, such as I-9 forms, copies of driver's licenses, or Equal Employment Opportunity (EEO) records
Private documents that are protected by the Health Insurance Portability and Accountability Act (HIPAA), also referred to as health information privacy
Private employee data—such as bank accounts, Social Security numbers, or immigration documents—are best stored separately from the personnel folder
To put things in order, here are some suggestions on how to store the documents that should not be kept in an employee's personnel folder.
Employment Eligibility Verification: Consider putting all I-9 forms and related documents that verify an employee's right to work in the US into a separate folder. Immigration Services representatives, as well as authorized personnel from the Department of Homeland Security (DHS), are entitled to inspect I-9s. You may want to limit what agents can view by keeping I-9s separate from employee personnel information.
Equal Employment Opportunity (EEO) Information: The EEOC provides a voluntary option for job candidates to self-identify their disability or veteran status (maintaining records related to these documents is required if you have 100 or more employees). We suggest that you keep this documentation separate from the employee's personnel folder; managers should not have access to view this data for the risk of discriminating against an employee in a protected class.
Online Applicant Tracking Systems (ATS) typically store EEOC information separately from each new hire's job application and resume; HR can see it, but interviewers and managers can't.
Medical Information: HIPAA's medical information privacy laws require you to protect the confidentiality of your employee's medical records. If you have staff who have given you doctor's notes or other documentation, such as for medical leave, keep these health-related documents separate.
For example, if an employee requests maternity leave using FMLA request forms, you should store the request in a separate, secure FMLA file that no one has access to but you and your HR manager who is responsible for leave benefits administration. An employee's manager should not be allowed to see confidential health information within an employee file.
For help setting up a hiring process, follow our guide to hiring new employees.
How to Set up Employee Personnel Files
Business owners don't always realize the importance of setting up personnel files until they're audited or served with a lawsuit. If you are operating in hindsight and nervous about getting everything set up for employees that already exist, don't stress. Use the two templates we've provided above along with the steps for you to get your employee file folders set up and in order.
You should complete the following for organizing and storing personnel records to ensure compliance and security:
Take Inventory
First, you need to take an inventory of what you already have for each employee. Use a personnel file audit checklist to help keep track of what you've received. Ideally, you should create a personnel file for each employee on the date of hire. However, if you forget to do so, you may check your old emails and see if you can find documents—like employee resumes, performance reviews, and tax forms—in your inbox. Make sure you also have I-9s for each employee as well.
Determine What's Missing From Each Personnel File
Be sure to take into account the documents that you already have and what you need from each employee. Use the employee file folder checklist list to make sure everything is in order, as it includes our list of forms from above. Each person might require their own list. You can customize the employee file folder checklist above for that purpose. It would also be best if you start auditing files periodically to make sure every piece of information is up-to-date and accurate.
Notify Your Employees of Their Personnel Files
Notify all your employees by holding a company-wide meeting and explain why you are creating personnel files. Explain that it is best for the business to have solid employment documentation. Let employees know that you may need their help to gather the information that's missing, such as their emergency contact information or copies of their resume.
Request Items You Need to Complete Each Personnel File
Give each employee their individual checklist to show what they need to submit to update their personnel file. Set a due date of one week for all employee documents to be in and complete. Be sure to review each employee's list with them present so that if anything was not submitted, you can address it right away.
Follow Up and Secure Files Within One Week
Follow up with each employee you requested additional documents from before the deadline so that everyone has time to submit the missing documents. Then, store your documents online, on your computer network, or in a locked file cabinet.
Limit Access Personnel Files
You should make sure to keep limited access to employee files to an authorized individual or department whose permission is needed to view the files. We also recommend that you keep the files in a locked, fireproof filing cabinet. This is to safeguard confidential employee information from unauthorized personnel.
Establish a Regular Personnel File Audit
Schedule a periodical review of each employee's personnel file. You can do it when you conduct their annual evaluation. Ensure that the files are accurate, up-to-date, and complete. If not, you can ask the employee to provide you with the updated files or information. Your business should verify that files are in order before any audits such as payroll or labor.
Please note, personnel files can be viewed during a government audit or subpoenaed in the event of a wrongful termination lawsuit. Maintaining accurate, up-to-date files will help you avoid liability. Follow our onboarding guide to learn how some of the personnel file documents will be used upon hire.
Federal and State Laws About Personnel Files
Being compliant with federal and state law is an important aspect of being an employer because you're required to maintain employee data and personnel files. Here are the best practices, as well as what is required, at the federal and state levels.
Federal Law and Personnel Files
Labor laws apply to all employers covered by federal anti-discrimination laws, which is typically any employer with 15 full-time employees or more. However, the following laws apply to all businesses, and each agency has its own document retention requirements and/or guidelines.
The Equal Employment Opportunity Commission (EEOC) requires that employers keep all personnel or employment records for one year. If an employee is fired, their personnel records must be retained for one year from the date of termination.
Under the Age Discrimination in Employment Act (ADEA), employers must keep payroll records for three years. Additionally, employers must keep on file any employee benefit plan (such as pension and insurance plans) and any written seniority or merit system for the full period the plan or system is in effect and for at least one year after its termination.
Under the Fair Labor Standards Act (FLSA), employers must keep payroll records for at least three years. Also, employers must keep all records for at least two years (including pay rates, performance reviews, seniority and merit systems, and collective bargaining agreements) that explain the basis for paying different wages to employees of all genders in the same establishment.
You can find more on required documentation by reading our article on payroll records.
State Laws and Personnel Files
State laws on personnel files revolve around whether or not an employee has a right to look at their personnel file. Many states have a provision that allows employees to request copies of documents in their files. In other states, employees may have to file a lawsuit to see their personnel file.
Right to View States
The following states allow employees to see some or all of the documents in their personnel folder; many states are quite specific about what exactly employees are allowed to view. Others allow the employer to charge reasonable fees for document copies. For example, in Arizona, payroll records can only be viewed.
Please see your state's Department of Labor (DOL) website for more specific details.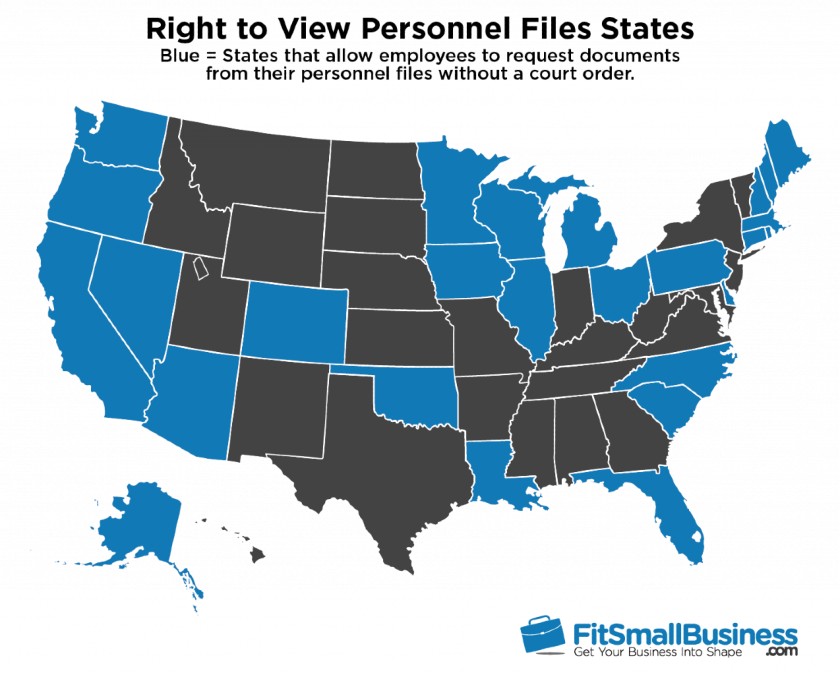 Public (government) employees are allowed to view their employment documents in most states—except Mississippi, Missouri, New Jersey, New Mexico, and West Virginia. At the time of publication, "right to view personnel file" states include: Alaska, Arizona, California, Colorado, Connecticut, Delaware, Florida, Illinois, Iowa, Louisiana, Maine, Massachusetts, Michigan, Minnesota, Nevada, New Hampshire, North Carolina, Ohio, Oklahoma, Oregon, Pennsylvania, Rhode Island, South Carolina, Washington, and Wisconsin.
Bottom Line
Maintaining personnel files is an important part of being an employer and protecting yourself from liability. It's a great way to organize employee data and provides support for human resource decisions. You can choose to manage the files electronically or using a paper-based system; either way, it's important to include basic employee reports and adhere to the appropriate federal and state laws.
If you're struggling with maintaining paper-based personnel records, consider using a cloud-based HR platform like Rippling. You can store all employee documents in an online database and collect electronic signatures with ease. The files are stored on a secure server and are accessible even after the employee leaves the company. Sign up for a free demo today.
Zenia Lazaro contributed to this article.