A personnel file is where you securely store all of the important documents about a new, existing, or past employee. These documents can range from new hire forms like tax paperwork to performance reviews and termination paperwork or their exit interview. Many states also have a right to view law where employees can request the contents of their files, so you'll want to make sure you follow along with us on what should and should not go into a personnel file.
If creating a personnel file seems a bit overwhelming, you can use payroll software like Gusto to help track documents, track PTO, and create a checklist for each employee automatically to make sure their files are complete. Click here for a free 30 day trial.
What a Personnel File Is and Why You Need Them
A personnel file is all the "paperwork" you need on an employee. I put paperwork in quotations because all of the old forms that were papers can now be kept or done electronically. As long as you are keeping a record and the records are secure, electronic storage is actually our recommended policy.
Did you know that most states have a law where employees have the right to view their own personnel file? This is why you'll want to read on about what to include, and what not to include, in them.
Most payroll providers, including Gusto, allow you to store your employee files, like paystubs online in a paperless system.
What You Need in Your Personnel Files
The list for what encompasses a complete personnel file is long. We are going to divide it up into the Must Haves, Nice to Haves, and Optional items.
Must Haves:
These are the non-negotiables that you need to have in every single one of your personnel files.
Nice to Haves (Best Practices Would Say Mandatory):
Optional Items:
SHRM, the Society of Human Resources Managers, adds on to this list by also mentioning the following what we would call optional items:
Educational transcripts.
Goal setting records.
Equal employment opportunity (EEO)/invitation to self-identify disability or veteran status records (mandatory if you have 100+ employees)
If all of this seems overwhelming, you can outsource payroll or use software like Gusto to help track documents, track PTO, and create a checklist for each employee automatically to make sure their files are complete.
What You Should NOT Keep In Personnel Files
You might also be wondering what you should avoid putting into personnel files, and we can narrow that down to 3 things in general:
You should put all Form I-9s into one folder for USCIS. The government is entitled to inspect I-9s, and you don't want the government viewing the rest of the employee personnel information. This is a bad idea all around for your employees and your business.
Medical information. HIPAA and other laws require privacy when it concerns people's medical records. If you have employees who have given you doctor's notes or other information, i.e. for an extended medical leave, you should keep these in a separate secure file that no one has access to but your HR manager. The employee's manager should NOT be allowed to see this file.
Unnecessary material. You don't need to go crazy documenting things. Remember that, in many states, employees have the right to view their personnel files. Think of it this way: Don't put anything in a personnel file that you would not want a jury to see.
Why You Need Personnel Files
The word no small business owner wants to hear is "lawsuit". Think of personnel files as a track record of all your work with your employees. You probably keep good records on your clients and your financial transactions, thus you should extend that same diligence with your people in order to avoid a lawsuit (just like you do to avoid providing a wrong order to a client or the wrong numbers to your accountant). Remember, personnel files also can be looked at in the case of an audit by the government, so that is another reason to add to our list.
Let's look more at the "why" with 2 sample scenarios:
2 Scenarios Showing Why You Need Personnel Files
Case scenario 1: Cindy was fired from your company for performance. She had 3 bad performance reviews in 18 months, and she was not meeting any of her goals. You terminated her employment for performance and gave her 2 weeks of severance pay to be nice. You gave her a termination letter with her final paycheck and sent her on her way.
2 days later, you get a call from an HR attorney. Cindy has claimed she was fired for being the only female on the team and that her supervisor was harassing her. You have never heard her say this, she never came to you, and the supervisor says he has never heard this either. You look in her file- and there is nothing in there but tax forms. The performance reviews have been missed or not filed at all. It's now your word against hers and time to call your attorney.
Prevent This: Document your performance reviews in your personnel file and your reasons for termination, including all constructive performance conversations. This proof of why Cindy was terminated wouldn't completely prevent someone from lying about harassment, but certainly would be a big bat on your side to show that the reason why she was terminated was clear. Better yet, also have an employee handbook and her signature with a harassment policy that requires reporting of incidents within 1 week of occurrence.
Case scenario 2: Johnny was an independent contractor with your company who you chose to terminate. You chose to do this because you really need a full time employee in the office. You offered the role to Johnny and he said no, so you posted a role on Indeed and found a great candidate and hired him. A day later, you hear from an attorney for Johnny who says you broke an implied contract. You have no idea what he is talking about. You go look in the personnel file for Johnny's contract and the contract you have on file was for last year. You look through your emails and see that you wrote him saying he would have a contract through January 1st, which is next month. Johnny now has a case against you.
Prevent This: Every contract, agreement, and any other signed document that has to do with employment or contract should be kept in a personnel file folder and signed by both parties.
How to Get Personnel Files Set Up for Existing Employees
If you are operating in hindsight and are nervous about getting everything set up for employees that already exist, don't worry about it- that's what we are here for. Business owners don't always know about the importance of setting up personnel files and no one tells you either— until you *really* need to know, that is.
5 Steps to Setting Up Personnel Files for Existing Employees
Already have a team but no files? No problem. Creating personnel files is a project, but a manageable one that is well worthwhile and it takes only 5 steps.
1. Take an inventory
First, you will need to take an inventory of what you already have for each employee. Dig through your old emails and see if you can find bits and pieces here and there, like their resume and tax forms.
2. Figure out what you are missing and from whom
Create a checklist of what you want for each file from our list of forms above, and then create a list for each employee on what you already have and what you need from them. Each employee might require their own list.
3. Hold a meeting
Hold a company-wide meeting and explain why you are creating personnel files. Explain that it is best for the business to have this documentation.
4. Give each employee a personal list of what you need from them
Give each employee their individual checklist on what you are missing. If there is anything the employee does not want to give you, such as educational transcripts, you might put your guard up as if there is something he may have fudged in order to get the job. Don't assume though- just ask the employee why they do not want to provide all the information you need.
5. Follow up and secure files within 1 week
Set a due date of 1 week for all employee documents to be in and complete. Longer than that and the chances you complete this project are slim to none. Then, store your documents either in the cloud, in a payroll or HR software system, or in securely locked paper files.
How to Get Personnel Files Set Up for New Employees
This is the easier situation of the 2 to be in. If you are reading this, you have probably just hired your first employee. Figure out what paperwork you want from them from our above list and create a checklist for them to complete it.
If you want to use payroll software like Gusto or HR software like BizMerlin, you can create an onboarding checklist directly in the software and upload all paperwork into them for the employee to complete.
Then, establish how you want to store your personnel files, which we will get into next.
5 Options for Personnel File Storage
It's a myth that you need to have the old filing cabinet full of personnel files. In fact, it's legal and advisable to store all of your employees' personnel files in the cloud or a web service in order to prevent security issues or to lose them entirely to a flood or fire.
SHRM also cautions that Employers must give special consideration to where and how they maintain these files, limiting access to only those with a need to know and protecting applicants and employees from discrimination, identity theft, breach of privacy, and Health Insurance Portability and Accountability Act (HIPAA) violations.
| | | | |
| --- | --- | --- | --- |
| Option | Software Providers | Advantages | Disadvantages |
| Payroll software | Gusto | Payroll software also does onboarding and ensures compliance with the basic mandatory personnel forms (taxes, etc.) | You need to take the time to customize the onboarding process to have additional items included, like a handbook, and you have to remember to upload other things like performance reviews. |
| HR software | Bizmerlin | HR software does onboarding and ensures compliance like payroll software. They also have features including recruitment and performance management, which helps you to house everything in one place. | These are bigger systems in general, so they can take a bit more time to implement because they reach into all HR categories, from taxes to performance and goal setting. This is also most likely the most expensive option. |
| Document storage service | DropBox | It's inexpensive and simple- you just drag and drop your files and then protect them with a password. | You will have to remember to do everything yourself with your employees- or have an HR person who does it. This can take 10-20 hours per employee per year. That's a lot of time and with no compliance guarantee- people make mistakes. |
| Your computer server | Not applicable | It's simple- just scan files in and create password protected files. This is also, arguably, free. | The same as above- you have to do everything yourself, with no guarantee that it is correct or accurate. |
| Paper files | Not applicable | It's simple- you can just give an employee a packet of papers and then create a file. This is also fairly inexpensive, aside from printer ink, folders, and a locked cabinet. | It's archaic and insecure- even locked file cabinets can be tampered with, and if your building has a flood or fire, you could lose everything. This is on top of the above disadvantages- people make mistakes and there is no compliance guaranteed. |
Federal and State Laws around Personnel Files
Being compliant with federal and state law is an important aspect of personnel files. Here are the best practices, as well as what is required by law, at the federal and state levels.
Federal Law & Personnel Files
There is not a ton of law around personnel files and small businesses. These laws apply to all employers covered by federal anti-discrimination laws, which is for employers of 15 people or more. However, the following laws are considered best practices for all businesses:
The Equal Employment Opportunity Commission (EEOC) requires that employers keep all personnel or employment records for one year. If an employee was fired, their personnel records must be retained for one year from the date of termination.
Under the Age Discrimination in Employment Act (ADEA), employers must also keep all payroll records for three years. Additionally, employers must keep on file any employee benefit plan (such as pension and insurance plans) and any written seniority or merit system for the full period the plan or system is in effect and for at least one year after its termination.
Under the Fair Labor Standards Act (FLSA), employers must keep payroll records for at least 3 years. In addition, employers must keep for at least 2 years all records (including pay rates, performance reviews, seniority and merit systems, and collective bargaining agreements) that explain the basis for paying different wages to employees of opposite sexes in the same establishment.
Now, let's talk about state laws.
State Laws & Personnel Files
State laws on personnel files revolve around if an employee has a right to look at their personnel file. Many states have a provision that allows for this, and the other states are still subject to the potential for an employee to see their personnel file by filing a lawsuit.
Right to View States
The following states allow employees to request to see their personnel file at a company by law in some form; please see your state's Department of Labor for more specific details.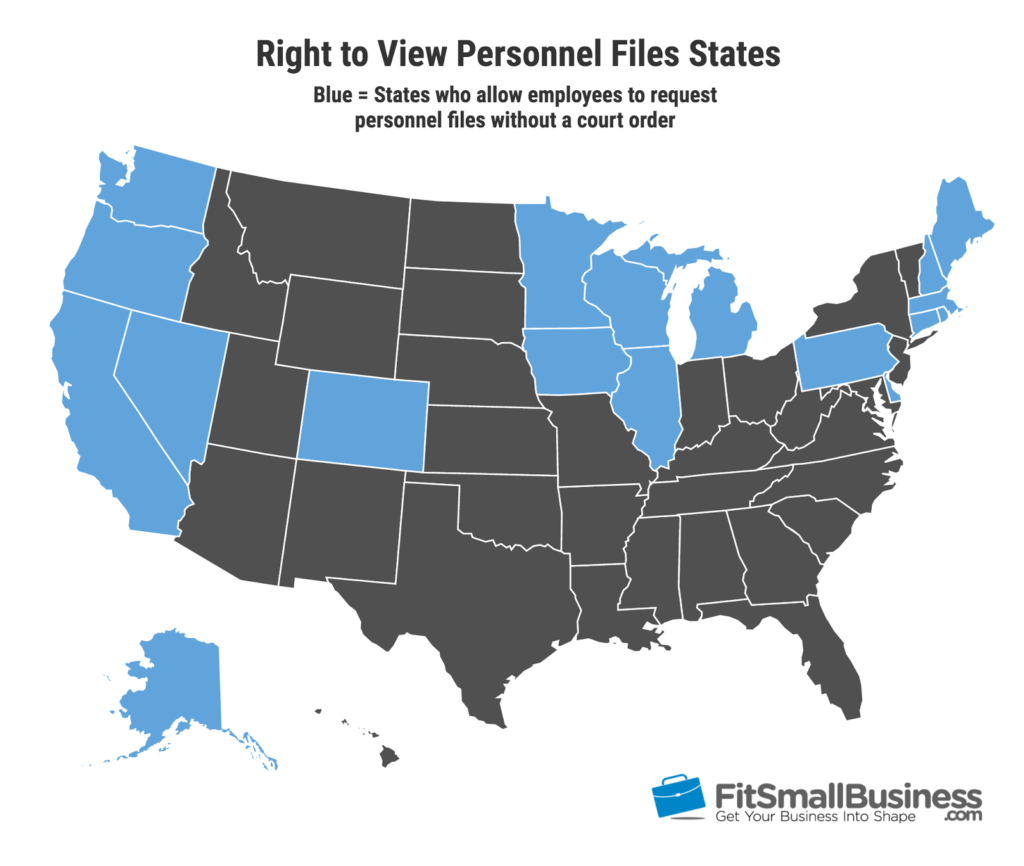 Right to View Personnel Files States include: Alaska, California, Colorado, Connecticut, Delaware, Illinois, Iowa, Maine, Massachusetts, Michigan, Minnesota, Nevada, New Hampshire, Oregon, Pennsylvania, Rhode Island, Washington, Wisconsin
A good resource for more details on these laws can be found here.
The Bottom Line
Personnel files may seem outdated but they are actually an important part of your business procedures to protect you from liability. They are generally required for compliance (such as if you were audited) and considered a best practice. We recommend using a secure cloud system for storing your personnel files, such as by using payroll software like Gusto, or HR software like BizMerlin. These are the best options for security and to ensure that everything is up-to-date and stored properly.