Small business owners want to work with ecommerce insurance companies that are reliable, can offer quality coverage at an affordable rate, and can scale with their business. We compared more than 15 carriers on criteria including costs, policy options, and online features, to come up with the top six ecommerce insurance companies.
Top 6 Ecommerce Insurance Companies
What Ecommerce Insurance Is
Ecommerce insurance is a safeguard for small business owners seeking to protect their business assets. Acquiring the appropriate insurance for online business protects your operations and assets by covering product liability, cyber and data breach protection, and other risks so that the costs following an incident don't put you out of business.
Some common ecommerce insurance policies small business owners need include:
General liability insurance: Covers third-party lawsuits over bodily injury, property damage, and advertising injury. It also generally includes protection for product liability—essential insurance for online retailers because if a customer receives a defective product that injures or harms them, you (the seller), the manufacturer, and the distributor can all be held legally responsible
Commercial property insurance: Covers the cost to repair or replace damaged business-owned property, including buildings and their contents like inventory.
Business owner's policy (BOP): Bundles general liability and commercial property insurance and includes business interruption to help pay for lost profits and ongoing expenses if a covered event causes your online business to pause operations.
Cyber liability and data breach insurance: Protects businesses from losses or damages resulting from cyberattacks and data breaches—another key policy for online businesses.
Intellectual property insurance: If you've got a unique or one-of-a-kind product in a crowded marketplace, this policy can help protect your ecommerce business if another company or competitor accuses you of intellectual property or copyright infringement.
Workers' compensation insurance: Helps ecommerce businesses pay for an employee's medical bills and lost wages resulting from a work-related injury.
Who Needs Insurance for Online Business?
Small business owners selling products or services online typically need ecommerce insurance to minimize their risks. Whether you're a sole proprietor or you own a larger business with a warehouse, insurance for an online business can help protect your inventory, product liability, and customer data. If disaster strikes, you might have to pay for damages out of pocket.
If you work from home, a homeowners policy generally doesn't cover your business assets or inventory. Sell something edible or maybe electronics? These types of products typically have a higher chance of causing bodily injury or physical harm. Consider the type of services or products you sell online while evaluating your risks and ecommerce insurance needs because you can be held responsible for damage your products cause consumers.
Ecommerce Insurance Costs for Online Businesses
Insurers consider many factors to determine an ecommerce business's premiums. These might include characteristics such as an online business's industry, product type, volume of sales, and claims history. As a result, costs may widely vary from insurer to insurer, but most businesses, dependent on policies obtained, can expect to pay between $300 to $5,000 annually.
How We Evaluated Ecommerce Insurance Companies
We reviewed the best ecommerce insurance companies and small business insurance brokers by looking at the financial stability of carriers as well as the features of their ecommerce policies and services, including costs, endorsement options, claims process, and additional features. Additionally, we evaluated customer reviews to determine which ecommerce insurers generated positive feedback from their clientele.
Based on these considerations, we used the following criteria to evaluate ecommerce insurance companies:
Costs: Each carrier uses its own method for calculating the premium and others don't list prices online, so we compared quotes when available while also looking for potential discounts.
Policy options: Depending on the insurer, business owners might be able to customize their policy by bundling coverage or selecting endorsements.
Claims process: Some insurance companies make it simple to file claims with 24/7 online assistance or specialized claims teams.
Additional services: Insurers often set themselves apart is by offering additional services, such as management resources and risk evaluations.
Customer reviews: Customer feedback was considered from several sources, including the Better Business Bureau and J.D. Power.
Financial stability: Financial stability is an essential factor when considering ecommerce insurers because it shows they can pay claims, if necessary, so we reviewed ratings from agencies like A.M. Best, Standard & Poor's, and Moody's.
Using the criteria above, we recommend Nationwide as the best overall ecommerce insurance company for small business owners.
Nationwide: Best Overall Ecommerce Insurance Company for Small Businesses


Nationwide Financial Stability
Nationwide earns high rankings from all of the top credit rating agencies, indicating a low risk of defaulting on their ongoing policy and contract obligations. Ecommerce business owners who take out a policy with Nationwide can trust that covered claims will be paid.
Nationwide Customer Reviews
Nationwide is rated number one for customer satisfaction in J.D. Power's 2018 U.S. Small Commercial Insurance Study, demonstrating a commitment to excellent customer service. Reviews for Nationwide often mention the friendly service and advice, great value, and numerous educational resources.
What Nationwide Is Missing
As a financially sound carrier, Nationwide offers quality coverage, superior customer service, and educational resources. However, it doesn't openly list policy prices, and its list of industries is narrow. To get a customized quote, you'll need to submit some basic information about your business or work directly with an agent to obtain additional insight.
How to Apply for Ecommerce Insurance With Nationwide
Visit Nationwide's website to complete an easy application and get a quote instantly. Ecommerce isn't specifically listed under its industries, so you might need to call a representative for assistance.
AP Intego: Best Ecommerce Insurance Company for Workers' Compensation


AP Intego offers pay-as-you-go workers' compensation insurance for ecommerce businesses with employees. As the payroll adjusts with staffing changes, your premium does too. AP Intego created pay-as-you-go workers' compensation options that integrate with payroll solutions, like Gusto and Square, to help ecommerce employers take the guesswork out of cash flow management.
AP Intego Costs
AP Intego is an online agency that offers quotes from multiple insurance carriers for ecommerce business owners looking for commercial insurance. They do this through a single, simple application that is easy to understand and takes just minutes to complete. Because AP Intego works with multiple carriers, cost information on insurance for online businesses is not available on the website.
However, keep in mind your quotes may be influenced by many factors, including:
Your ecommerce products or services
The amount you pay your employees
Your number of employees
Location where your employees work
Additionally, insurers weigh these factors differently, so prices vary.
AP Intego Coverage
AP Intego specializes in workers' compensation insurance for many industries, including ecommerce businesses. With its pay-as-you-go workers' compensation, AP Intego takes the guesswork out of adjusting your premium as your workforce grows or decreases.
AP Intego works with top insurers that can write additional commercial insurance policies for ecommerce businesses, including:
General liability
Commercial property
Business owner's policies
Commercial auto
Umbrella
Professional liability
Cyber Liability
Directors & officers
Employer's liability (EPLI)
AP Intego Online Features
AP Intego's online application makes it uncomplicated and straightforward to get insurance for online business quotes from multiple carriers. If you're not sure what type of insurance your online business needs, there's an online tool available offering recommendations for coverage. There's also a quick option to send off a note to a customer service specialist to request assistance.
AP Intego Financial Stability
As an agency and insurance marketplace, AP Intego isn't rated in the same way as a carrier. However, it partners with multiple A-rated insurance carriers to ensure ecommerce businesses work with financially stable companies. This gives business owners peace of mind they're working with top-notch carriers that can ensure claims are paid out when the time comes.
Some of the insurance companies that work with AP Intego include:
Travelers
The Hartford
Chubb
CNA
Working with multiple carriers means AP Intego can offer ecommerce insurance policies of all kinds. Business owners should always review an insurer's ratings before binding.
What AP Intego Is Missing
AP Intego's online application is easy to use, sending ecommerce quotes instantly. However, for policy specifics, it's difficult to know the breadth of coverage and endorsement options without speaking directly to a broker. While AP Intego has experienced, licensed agents to help you, you may need to contact brokers separately for complete coverage information.
AP Intego Customer Reviews
AP Intego has an "A" rating from the Better Business Bureau and generally has favorable feedback from customers. While there are few comprehensive reviews available, AP Intego user reviews mention dedicated customer service and ease of use. Other users cite initial difficulties with getting pay-as-you-go workers' compensation integrated with their payroll software.
How to Apply for Ecommerce Insurance With AP Intego
To apply for ecommerce insurance with AP Intego, visit their website to complete a straightforward application and get an instant quote. Not sure what type of insurance you need? Receive recommendations by entering basic business information or talk to a customer service specialist for more details.
Hiscox: Best Ecommerce Insurance Company for Micro-businesses


Hiscox excels in commercial insurance for sole proprietorships and micro-businesses, which is a good fit for ecommerce businesses that are run out of the home. The carrier also specializes in lower-risk companies, which helps to keep coverage costs more affordable. Ecommerce businesses can tailor a BOP with Hiscox to include electronic data loss insurance.
Hiscox Costs
On average, a general liability policy from Hiscox is about $30 to $50 each month for most small business owners. A BOP that includes property coverage starts at just $42 per month.
Hiscox also offers:
Tailored packages to ensure you only pay for what you need
Monthly payment plans
A 14-day full money-back guarantee
For additional savings, Hiscox offers lower business insurance rates if your ecommerce business proactively utilizes good risk management practices to lower your chance of filing a claim.
Hiscox Coverage
Hiscox specializes in liability insurance, especially for micro- and home-based businesses, with the flexibility to tailor products to cover exposures in numerous industries. Aside from basic policies such as general liability and property, Hiscox also offers coverage for cybersecurity, workers' compensation, and professional liability.
Need additional coverage? Hiscox partners with CoverHound, a full-service insurance agency, to offer:
Directors and officers insurance
Commercial auto insurance
Employment practices liability insurance
Umbrella insurance
Hiscox Online Features
Hiscox also offers online quotes and policy management options. Compared to other carriers, however, Hiscox boasts above-average online features. Along with offering fast, easy quotes online, the Hiscox customer portal allows policyholders to perform other tasks.
Some of the actions available through Hiscox's online portal include:
Request loss runs and policy documents
Update business information
Obtain certificates of insurance
File claims
Additionally, Hiscox offers helpful business insurance frequently asked questions (FAQs) and partners with other companies to provide services that your business may find useful, such as business licensing and lending.
Hiscox Financial Stability
Hiscox has high ratings for its financial strength, receiving an Excellent (or A) rating from both A.M. Best and Standard & Poor's. While a rating from Moody's was not available, these two ratings indicate Hiscox is capable of paying covered claims and meeting additional requirements.
What Hiscox Is Missing
Micro-businesses and sole proprietorships can find the basic ecommerce insurance they need with Hiscox. If you need additional coverage for a growing business, Hiscox may not be able to offer it in house. While they offer some policies through other means, the company is transparent about its partnership with CoverHound.
Hiscox Customer Reviews
Hiscox has an "A+" rating with the Better Business Bureau, and customer reviews are generally positive. Users often note the carrier's quick service and easy-to-use application. Hiscox user reviews find the representatives helpful but also comment that you may not be matched with an agent who knows your industry.
How to Apply for Ecommerce Insurance With Hiscox
To obtain ecommerce insurance from Hiscox, visit its website. You can apply online or call to speak with a representative. Often, it's possible to get same-day coverage. Be prepared with basic information about your business to get started.
Layr: Best Ecommerce Insurance Company for Cyber Liability Insurance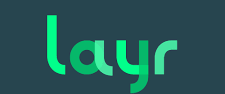 Layr is an online insurance agency that embraces technology to make it easier to buy commercial insurance. It places a focus on cyber liability protection at the top of its list, especially for ecommerce business owners. With a deep understanding of challenges facing ecommerce businesses, Layr provides educational resources to help mitigate their risks.
Layr Costs
Layr doesn't list coverage cost information online, but it does provide an explanation of its pricing and how it generates revenue. The agency reveals that the insurance carriers it works with pay a commission for every policy purchased through the Layr platform, and businesses pay a percentage-based finance fee, up to 20% of the premium.
Layr does offer discounts based on when customers pay their premium:
A 10% discount if you pay your premium in full for one year
A 5% discount if you pay your premium in quarterly installments
The agency notes its customers are saving up to 35% when compared to buying commercial insurance through a more traditional process. Because its platform saves carriers money, they're able to bind policies for less and pass those savings on to the customer.
Layr Coverage
Layr offers all the most common policy types ecommerce businesses need, including liability insurance. It places an emphasis on cyber liability insurance as a top need for ecommerce businesses because they often collect and store customer data through online transactions. The coverage details provided are extensive and comprehensive compared to other online agencies. With two cyber policy options, Layr's limits start at $250,000 and goes up to $1 million.
Cyber liability insurance available through Layr typically includes:
Hacking-related breaches
Phishing attacks
Employee breaches and theft
Physical data theft
Third-party vendor breaches
Viruses, spyware, and malware
Additionally, Layr offers less well-known coverage for ecommerce businesses, such as suspension and chargeback insurance.
Layr Online Features
Layr's website gets down to business by prompting you to get a quote online, but coverage and industry information take a few more steps to find. In the top navigation menu under "Blog," users can find educational materials and posts. There's a section just for ecommerce businesses, highlighting top risks and helpful risk management tips, along with an ecommerce insurance e-book.
Some of the online tools for account management Layr offers include:
Accessing a policy management portal
Making payments
Obtaining proof of insurance
Transferring policies from another carrier
Filing a claim
A nice feature is also being able to schedule a call for a specific time and date with a representative if you have questions.
Layr Financial Stability
Layr works with multiple carriers to provide ecommerce business owners a hassle-free application and underwriting experience. Different from other agencies, Layr does not provide multiple quotes, despite working with many carriers. Its platform tries to match you with the right carrier for your needs at the right price point.
Some of the A-rated insurance companies that Layr works with include:
CNA
Chubb
One Beacon
Philadelphia
Interestingly, Layr provides some research about popular insurance carriers, whether they're a partner or not, to help users understand the differences between them.
What Layr Is Missing
While great about tooting its own horn with innovative technology and resources, Layr lacks easy-to-find coverage information for different kinds of businesses. Users need to dig into an uncategorized blog to find industry and policy details. Unless you stumble onto the right page from a search engine, you might spend too much time digging for more information.
Layr Customer Reviews
Founded in 2016, Layr is a newer entry into the business insurance marketplace, so customers reviews are tougher to come by. However, user testimonials tout the company for its easy, streamlined platform and ability to bind coverage quickly, often within 48 hours.
How to Apply for Ecommerce Insurance With Layr
Apply for ecommerce insurance with Layr by visiting its website and completing the online application. It takes about 12 minutes to complete, and you only need basic information about your online business to get started. The application includes helpful information and an advice column in the right rail as you navigate through.
Best Ecommerce Insurance Company for Comparison Shopping: CoverWallet


CoverWallet stands out for ecommerce business owners who want to quickly comparison shop quotes from multiple carriers. If you need insurance for online business fast, CoverWallet can get you a quote in minutes while making sure you can select the coverage you need and nothing you don't.
CoverWallet Costs
Refreshingly, CoverWallet is one of the few providers online that offers pricing on its website—and it's easy to find. Pricing varies, depending on the type of ecommerce business and how much coverage is needed. For example, basic general liability coverage starts at $39 per month, and a business owner's policy starts at $49 per month.
By customizing a policy with additional coverage, prices naturally increase. For example, cyber liability insurance for ecommerce businesses runs about $500 annually, and business interruption insurance cost about $800 per year with CoverWallet.
CoverWallet Coverage
Ecommerce businesses can purchase all the most common policies they need from CoverWallet to operate with protection, including general liability, workers' compensation, commercial property, business interruption, and cyber liability coverage.
Additional insurance types provided by CoverWallet include:
Commercial umbrella
Errors and omissions
Product liability
Inland marine
Surety bonds for contracts
Equipment breakdown
CoverWallet offers detailed information about all the types of coverage it can provide.
CoverWallet Online Features
Along with its simple online application, CoverWallet offers plenty of online features with bells and whistles. Its "digital wallet" is an extensive insurance management tool that allows customers 24/7 access to several helpful services.
Some of the features available in CoverWallet's digital wallet include:
Dedicated concierge-like service
Certificates of insurance
Notifications before a policy expires
Price alerts to save money
Peer risk and policy comparisons
Coverage recommendations and claim support
If you already have business insurance policies from another carrier, CoverWallet allows you to use the digital wallet to manage them for only $99 per year. CoverWallet also offers a simple online advice tool that helps evaluate your ecommerce insurance needs.
CoverWallet Financial Stability
CoverWallet works with top-rated insurance carriers with A ratings to ensure ecommerce businesses will have claims paid out when the time comes. The site provides comprehensive financial stability information about the insurance companies it partners with, allowing for business owners to make an informed decision.
Some well-known providers CoverWallet partners with include:
Hiscox
Progressive
AmTrust
Liberty Mutual
Markel
What CoverWallet Is Missing
CoverWallet is an online broker, which means some of its servicing is done by the insurance carrier that writes your ecommerce insurance policy. Communication can be difficult if a policyholder doesn't know if they should turn to CoverWallet or their specific carrier for assistance. Also, most insurers use their own service representatives and adjusters when a business files a claim, which can confuse a policyholder.
CoverWallet Customer Reviews
CoverWallet receives high marks from customers for its intuitive online portal, enjoying the attention to detail and ease of use. CoverWallet user reviews also highlight the speedy service handling and helpful representatives.
How to Apply for Ecommerce Insurance With CoverWallet
CoverWallet's application process begins by asking for your email address to send quotes directly to your inbox―you have the option to skip this step. Then, you're taken to an assessment page to help you decide what types of ecommerce insurance you need. A bar in the left rail keeps track of your progress, and you can always call to speak with a representative for assistance.
Founder Shield: Best Ecommerce Insurance Company for Growing Online Businesses


Founder Shield is the best ecommerce insurance company for online businesses and startups that are innovating and growing quickly. Ecommerce entrepreneurs looking to cover their boards can find directors and officers insurance quickly through Founder Shield. It's also a good choice for ecommerce businesses seeking to do one or more rounds of capital raises.
Founder Shield Costs
While it doesn't offer actual pricing information on its site, Founder Shield does point to research for some policies to offer average costs. For example, on its cyber liability insurance page, you can find research from Deloitte providing general premium costs. Founder Shield notes some of its clients get quotes as low as $5,000 for cyber liability.
Founder Shield lists these factors as potential considerations for insurance carriers:
Type of data collected
Security measures
Industry
Clientele or customer base
Revenue and sales
Claims history
Controls
Each insurance carrier weighs these and other factors differently, impacting your potential premiums. The best way to get cost information is to get a quote by completing an application.
Founder Shield Coverage
Based on the size of your online business, policies are tailored and bundled in a way that protects your company as it scales. Founder Shield offers insurance options that are unique to startups and technology-based businesses, including ecommerce.
Founder Shield helpfully breaks down recommended coverage for ecommerce insurance based on the stage of your business: Bootstrapper, Venturer, and Premiere. It offers the basics, such as general liability, property, cyber liability, and workers' compensation. The broker also lists product liability, directors and officers, crime, and ocean cargo and inland marine as top choices for insurance for online businesses.
Founder Shield Online Features
Like many insurers, Founder Shield offers a fully digital application process for a quick experience to receive quotes. It also provides helpful tip sheets, FAQs, and resources for ecommerce businesses. However, there is limited information available about policy management or other online tools, which doesn't give you a clear picture of what to expect if you obtain a policy with them.
Founder Shield Financial Stability
Founder Shield is a broker, so it doesn't have financial ratings the same way a carrier does. Founder Shield works with top-rated carriers and offers expertise for businesses in the tech industry. It also understands risks associated with ecommerce businesses that are scaling up and fundraising. All of this provides peace of mind that customers are working with a broker familiar with the unique needs of ecommerce businesses.
What Founder Shield Is Missing
Beyond a simple online application, there is little to no transparency about what happens after you get a quote for ecommerce insurance. It's unclear how customers ultimately obtain coverage, manage their policy, and file claims. Speaking with a Founder Shield service representative would be the best way to gain additional information.
Founder Shield Customer Reviews
Generally, Founder Shield has numerous positive reviews citing a customer-centric experience. Customers also love the company's focus and expertise for technology-based ecommerce businesses and startups. Despite mentions of good customer service, some reviewers felt Founder Shield could offer more dedicated, proactive attention to their companies.
How to Apply for Ecommerce Insurance With Founder Shield
To apply for ecommerce insurance with Founder Shield, go to the website to start an application. You'll begin by selecting a plan, such as Bootstrapper, Venturer, or Premier, based on the stage of your ecommerce business, or you can select your own package and specific coverage.
Bottom Line
Ecommerce business owners are concerned with time and money as are most small business owners. While these are important factors when it comes to shopping for ecommerce insurance, you also want to work with a company that covers your specific risks and offers expertise in your industry.
With its top-rated customer satisfaction among small business insurers and expert coverage advice, Nationwide is the best overall ecommerce insurance provider. Fill out a simple application to get a quote for insurance for online business.