Food trucks have a lot to consider when choosing a point-of-sale (POS) system. They need software that works in an internet dead zone and hardware that can withstand the rigors of the road. The best food truck POS systems allow you to update your menu remotely, market your truck to new customers, and accurately track your sales and costs. You don't have to break the bank to get a food truck POS. The systems on this list range in starting price from $0 to $99 per month.
Based on our evaluations, the six best food truck POS systems are:
Can you run a food truck without a POS? If you don't plan to grow your business much, sure. But if you want to accept the credit, contactless, and mobile payments that customers prefer, increase your speed of service, streamline your marketing efforts, and bust through lines quickly, a POS is a must.
Top Food Truck POS Systems Compared
Monthly software fee

$0 - $60+

$0 - $272

$99+

$39 - $69

$0 - $149

$39.95, +$9.95 per additional device

Installation fee

$0

$0 - $250+

$674+

$0

$0

$0

Hardware costs

$169 - $1,818

$0 - $799+

Custom Quoted

Provided free with 1-year service agreement

$465 - $1,198

* Basic subscription includes 1 free terminal

$99 - $1,649

Available Payment Processors

Square

Toast Payments

Revel Advantage, First Data, Heartland, TSYS, TriPOS, Worldpay, Chase Paymentech, Elavon

Shift4 Payments

Rezku

Fiserv affiliates*

Processing rates

From 2.6% + $0.10

From 2.49% + $0.15

Custom-quoted by processor

From 1.39% + $0.20

From 2.99% + $0.15

From 2.3% + $0.10*

Handheld Terminal options
* Clover is owned by Fiserv, with processing offered on the Fiserv network via several different payment processors. Rates will vary based on which processor you buy your Clover system from. The rate listed is for processing directly through Clover.
How We Evaluated Food Truck POS Systems
We compared over a dozen of the most popular POS systems based on what's important to food truck operators, including price, mobility, offline functionality, general point-of-sale functions, and ease of use. We also considered our retail and restaurant experts' evaluations of each software to arrive at a comprehensive score.
Based on the above criteria, Square for Restaurants is the best food truck POS. According to our grading system for food truck software, Square earned a score of 4.13 out of 5. Based on our personal experience testing different POS software and working with small businesses that use POS systems every day, Square is also one of the top POS software that we personally recommend for food trucks.
Click through the tabs below for our in-depth evaluation criteria:
20%
Mobility and Payment Processing
20%
Marketing and Customer Management
20%
Niche Food Truck Features
20% of Overall Score
Finally, we considered each system's standout features and whether or not the software and hardware options offer an excellent overall value. We judged each system's popularity among food truck operators and awarded points based on our personal experience interacting with the software and the company's customer support.
*Percentages of overall score
Square for Restaurants: Best Overall Food Truck POS
Square for Restaurants

Overall Score:
4.13

OUT OF

5
i
Our score is based on a weighted evaluation of dozens of similar products and services conducted by our experts.
What We Like
Incredibly flexible hardware
Baseline POS is free
Mobile-first system can operate on cellular or Wi-Fi-connected devices
Transparent pricing
What's Missing
Free POS only supports one set of user permissions
Locked into Square's processing rates
Re-opening checks automatically refunds the payment
Square Pricing
Three subscription tiers: Free ($0 per month), Plus ($60 per month), and Enterprise (custom-quoted)
Hardware costs: $169 for a basic Square stand and card reader (iPad not included) up to $1,818 for a full POS station including an iPad, stand, cash drawer, card reader, receipt printer, kitchen printer and handheld Square Terminal
One-time installation fees: $0 for self-installation; optional in-person installation starts at $600
Processing fees*:

2.6% + $0.10 for in-person swiped, dipped, or tapped transactions
2.9% + $0.30 for online and invoice payments
3.5% + $0.15 for card not present transactions
*Custom rates are available for businesses that process more than $250,000 annually.
Square is a small business powerhouse that offers tons of software and hardware configurations to support a variety of food trucks. Small independent food trucks that sell on street corners will love the flexibility of using cellular or Wi-Fi-enabled devices. Trucks that primarily cater private events can rely on Square's integrated invoicing tools. Busy trucks with separate kitchen and cashier teams will enjoy Square's streamlined kitchen display screen (KDS) system. And if you want to expand into online ordering to keep business moving, you can use the free Square Online Store or an integrated food truck tracking platform like Food Truck Pub.
Square for Restaurants earned the highest score on our food truck POS ranking, earning 4.13 out of 5. The system outscored all the competitors for price, earning a perfect 5 out of 5. It also earned a perfect score from our restaurant and retail experts (as did competitor Toast). Loyalty and marketing tools come at an added cost, though, so it lost some points there. The free POS subscription tier also only comes with a single set of user permissions, so free subscribers can't create different access levels for different users. You'll need to jump up to the Plus plan at $60 per month if you need a variety of roles and permissions.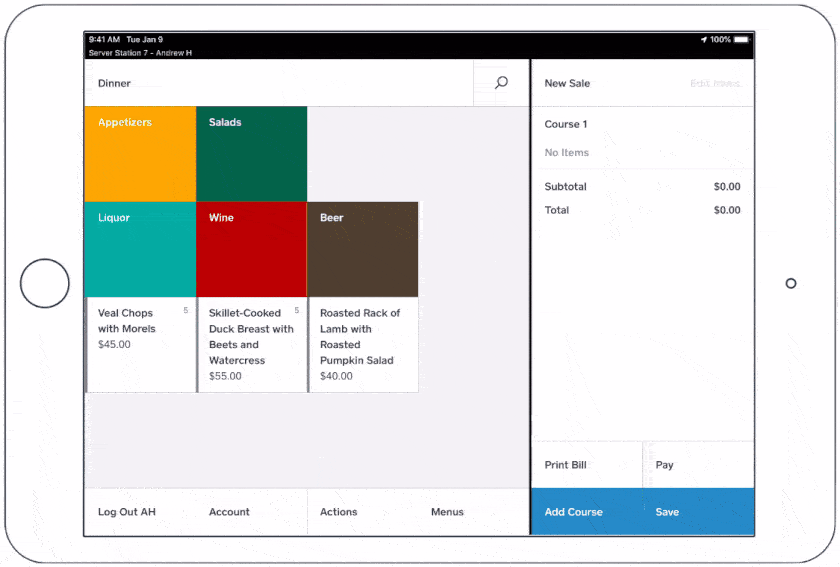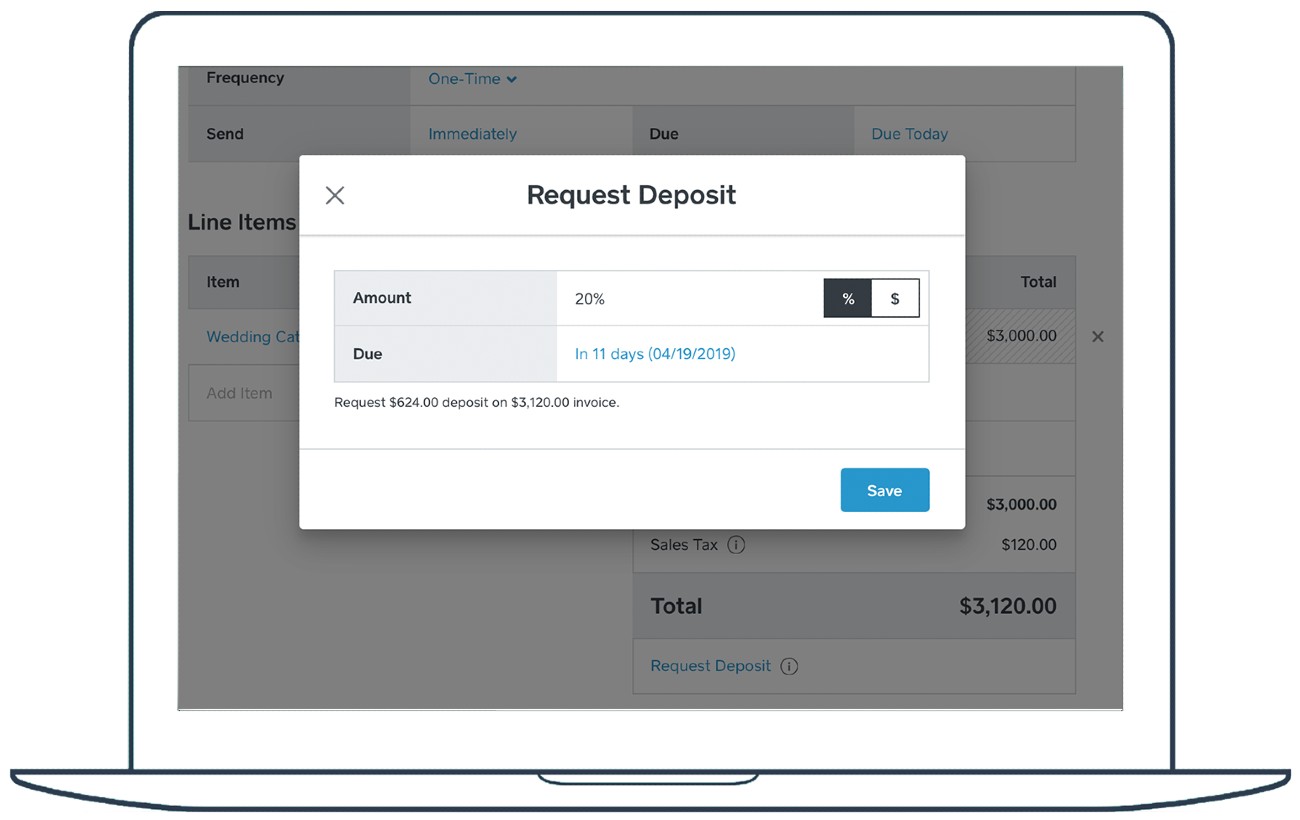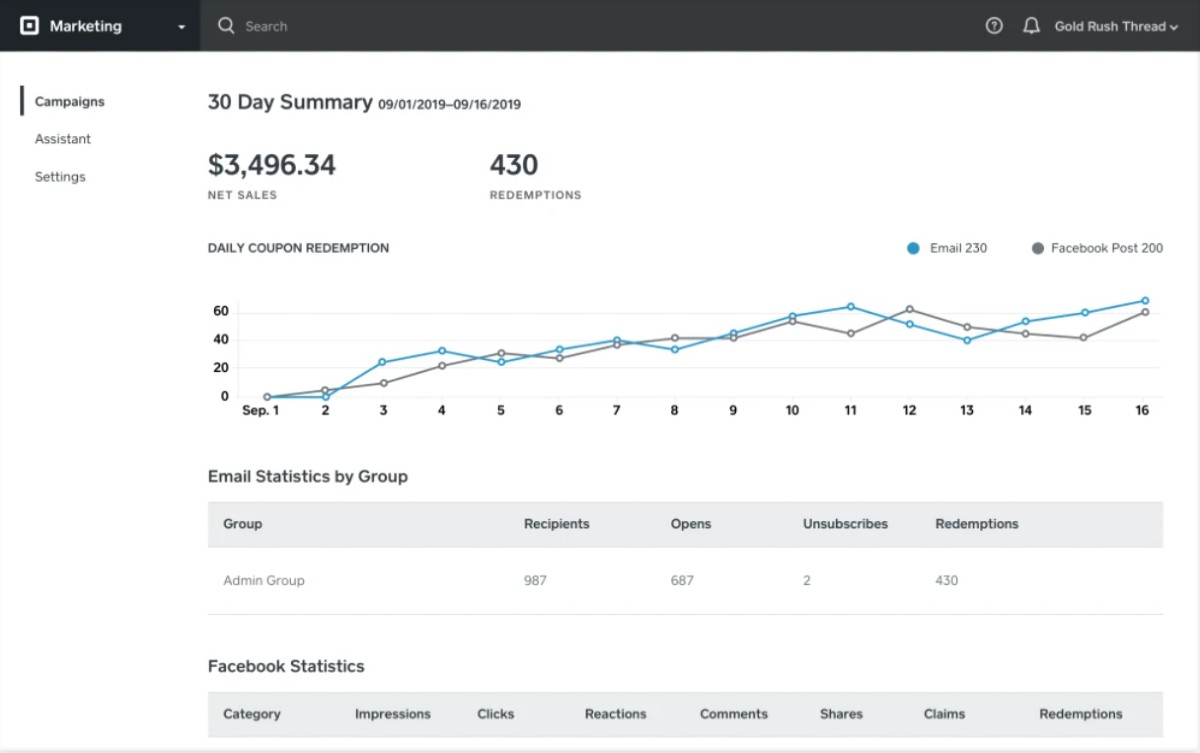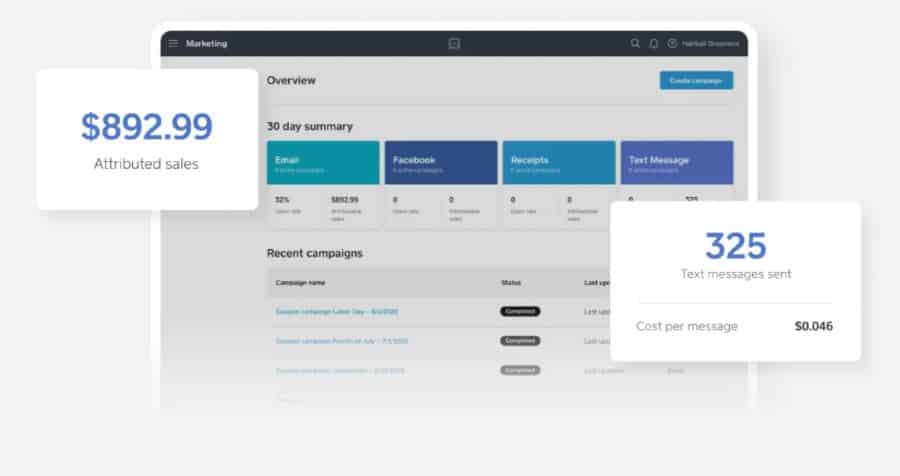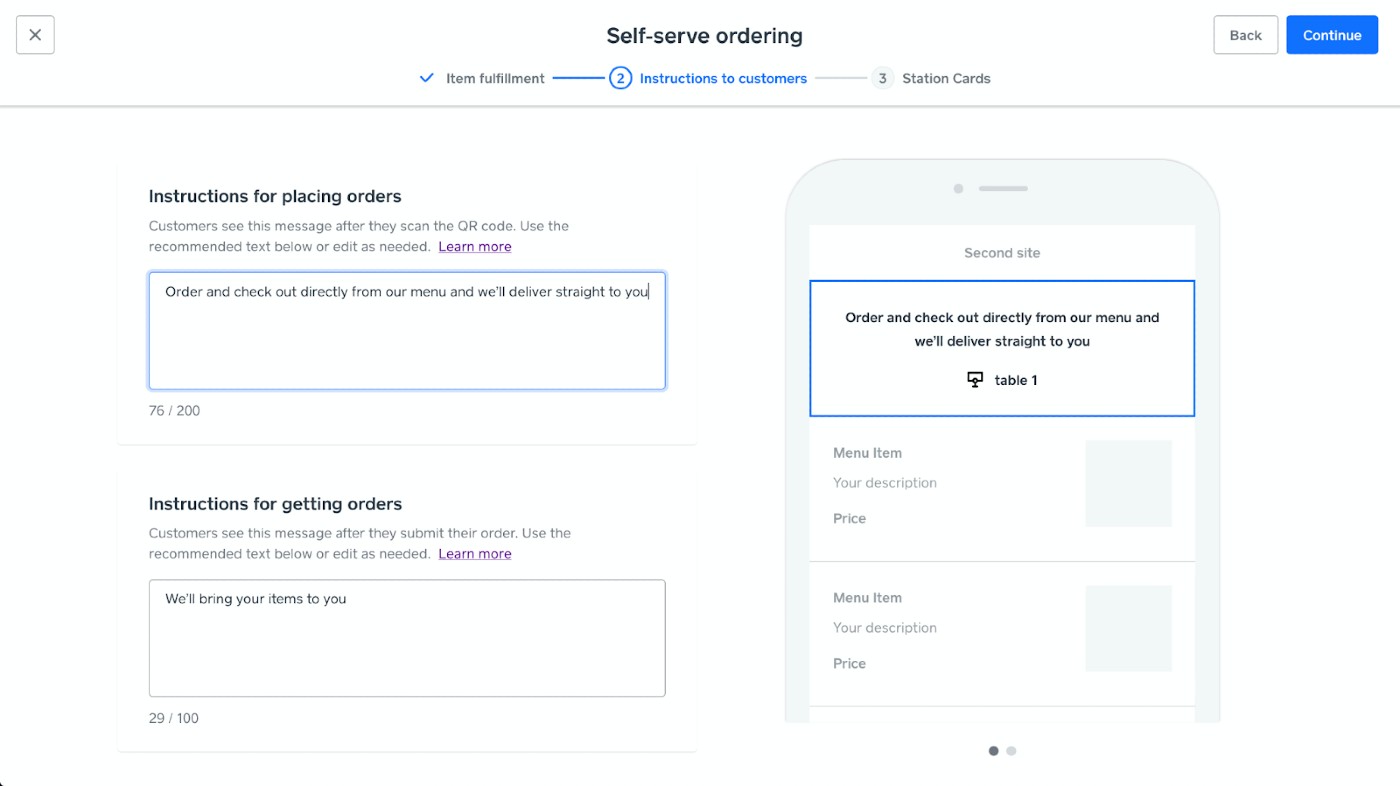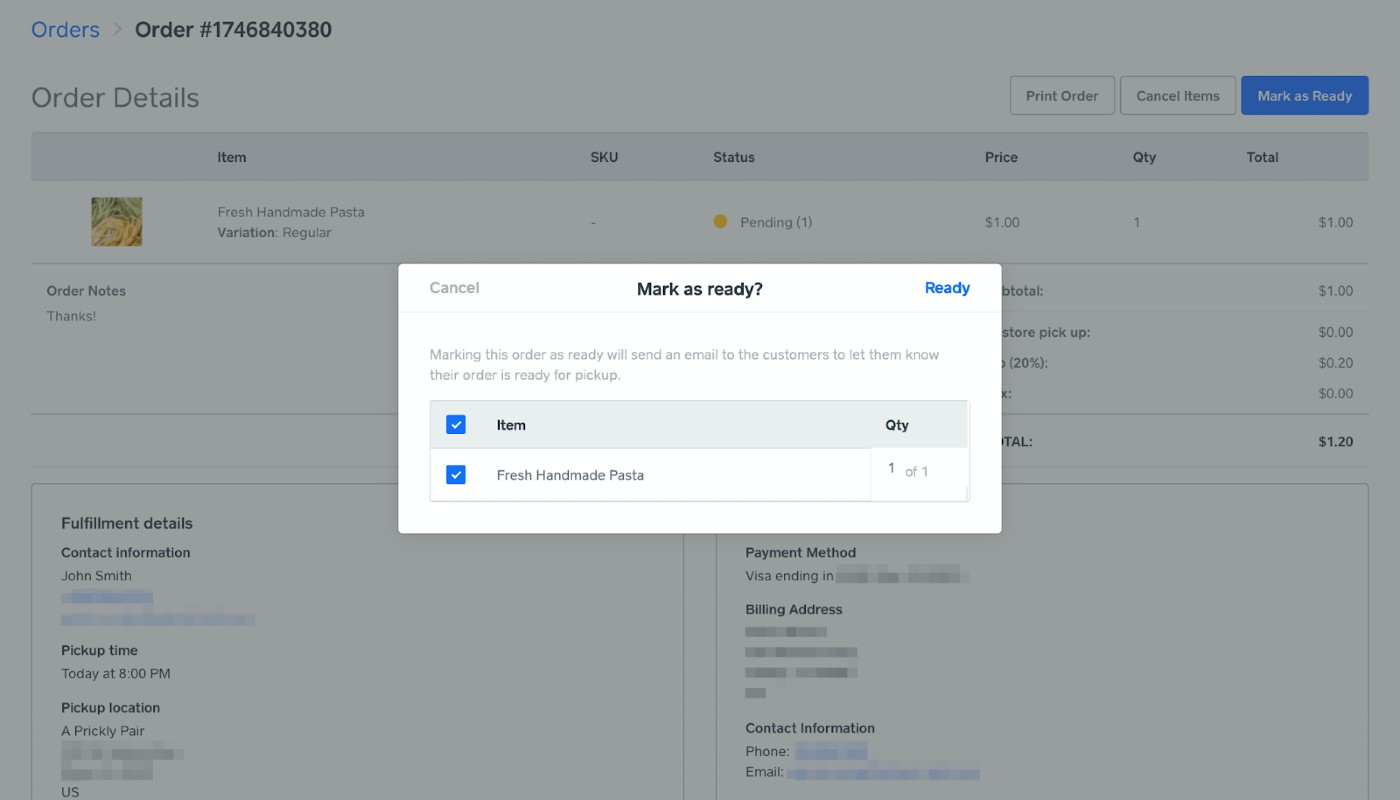 Square Standout Features
More than half of the independent food truck operators I know use a version of Square. Square offers two major food truck POS software categories: the basic Square POS and Square for Restaurants. Both systems are cloud-based and offer excellent functions for food trucks. Square for Restaurants has more robust ordering for combo meals and menu modifications, so it is our top recommendation for full-service food trucks. If your truck menu is super streamlined—like an ice cream truck, coffee kiosk, or catering truck—the basic Square POS app might be more your speed. Both tools are available with no monthly subscription fees and communicate seamlessly with other Square tools (like Square Marketing, Square Loyalty, and Square Online Store).
Square's standout features include:
Multiple hardware options: Space is limited on a food truck, and Square's POS hardware keeps a small footprint. You can run your food truck from stationary iPad terminals with traditional cash drawers or slip an iPad mini into a Square mobile case to take orders and payments on the move.
Unlimited devices on the Free plan: Competitors toast and Rezku offer a free baseline software subscription when you enroll in their payment processing services. Those offers only support a single terminal, though. With the Square for Restaurants Free tier, you can use the software on an unlimited number of connected devices.
Cellular or Wi-Fi connectivity: Your Square POS system can communicate through any Wi-Fi network with an internet speed of least 25Mbps. Depending on your location, you can get these speeds through a mobile hot spot or an LTE-enabled mobile router from your cellular provider.
Free online ordering: Your truck might be plenty busy without adding an online ordering site. But if you want to try boosting your sales with online ordering, Square offers POS users a free online ordering site. You can choose to accept orders for pickup only or add delivery options. New orders appear on your POS screen. When the food is prepared, change the order status to ready, and Square automatically emails the customer. You can toggle your online ordering on or off at any time to keep your truck busy (but not overwhelmed!).
QR codes for customer self-orders: Square allows users to print QR codes directly from the Square dashboard. Customers can scan this QR code, turning their cell phones into a mini self-service kiosk where they can place an order and pay for it. If your food truck is understaffed, this function can transform your food truck business. The QR code ordering tool relies on the Square Online Store, so you'll need to set up online ordering to use it.
Text and Email marketing: Square's Email Marketing and Text Marketing tools allow you to easily collect customer contact information and send email or text promotions to capture their attention. Included message templates speed your administrative process, and the system tracks the sales associated with each campaign so you can track which messages are most effective. Pricing is based on the volume of messages you send and ranges from $15 to $25 per month for Email Marketing and $10 to $125 per month for Text Marketing.
Affordable, streamlined KDS: If the rattle of a kitchen printer isn't your thing, Square for Restaurants offers a built-in KDS tool that operates on iPads. You can download the KDS app directly from the Apple App Store. Fees are $10 per screen, per month, through 2021.
Integrated invoices for catering trucks: Many food trucks do major business in private events like weddings. Square Invoices—which integrates with Square's POS products—keeps your catering deposits organized and processes payments for large events. Square says that over 60% of Square invoices are paid within 24 hours. Square Invoices is free to use; the only cost is a slightly higher payment processing rate of 2.9% + $0.30 for invoices paid online.
Easy set up: All you need to get started with Square for Restaurants (or Square POS) on your food truck is a Square account, an iOS device, an internet connection, and a card reader. You download the Square POS software from the Apple App store, and you can purchase a card reader from Square or major retailers like Staples or Walgreens. Most truck operators can get their Square system running in only a couple of hours. If you want guided assistance, you can request one-on-one support from Square's customer support team. Pricing for personalized setup starts at around $600.
Food truck friendly integrations: Like competitor Clover, Square's third-party integrations number in the hundreds. Square integrates with several third-party tools to create a streamlined food truck management solution in addition to the Square suite of software tools. You can list your food truck on truck tracking platforms like Food Truck Pub or streamline your bookkeeping with Xero or QuickBooks Online integrations. Large truck operations may want to integrate Homebase for staff scheduling, and Marketman or Yellow Dog for inventory management.
No long-term contracts: Square does not require long-term contracts. So if your truck is seasonal or only operates a few hours a week, you aren't stuck paying fees for a system you don't use. If you sell your truck or your business grows, you can cancel or upgrade your Square subscription at any time with no penalties.
Toast: Best for High-Volume Food Trucks and Line-Busting
Toast

Overall Score:
3.83

OUT OF

5
i
Our score is based on a weighted evaluation of dozens of similar products and services conducted by our experts.
What We Like
Starter subscription has no software fees
Pay-as-you-go options for Toast hardware and marketing tools
Incredibly easy to use
Industry-grade hardware includes a multi-functional handheld tablet for line-busting
What's Missing
Marketing and Loyalty tools are an extra cost
Locked into Toast Payments
Toast Pricing
Three subscription tiers:

Starter (from $0 per month for up to two terminals)
Essentials ($165 per month, includes online ordering and delivery)
Growth ($272 per month, includes gift cards, loyalty, and marketing)

Hardware costs: $0 for the Starter Kit (one flex terminal, Toast Tap payment device, and router), to $799+
One-time Installation fees: $0 for self-setup, guided installation from $250
Processing fees: 2.49% +$0.15 for in-person dipped, swiped or tapped transactions

2.99% + $0.15 per in-person transaction for Pay-as-you-go Starter Kit customers
3.39% + $0.15 per in-person transaction for Pay-as-you-go Starter Kit customers that add Marketing and Loyalty Tools
Toast is a hybrid POS built exclusively for restaurants. The brand has long been popular with brick-and-mortar establishments and regularly tops our ranking of the best restaurant POS systems. Toast has spent 2021 making its feature-rich POS software and industry-grade, touch-screen hardware accessible to microbusinesses like independent food trucks. The only cost for Toast's new "Starter" subscription tier is enrolling in Toast Payments and paying the credit card processing fees. The integrated Toast Go 2 handheld tablets are some of the most dynamic handheld tools available for the price, and make it a breeze to handle long truck lines.
On our food truck POS rating system, Toast earned a score of 3.83 out of 5. The system earned high marks for price, diverse array of available hardware, and its popularity among restaurant users. The required two-year service agreement and additional charges for marketing tools set Toast's score back a bit.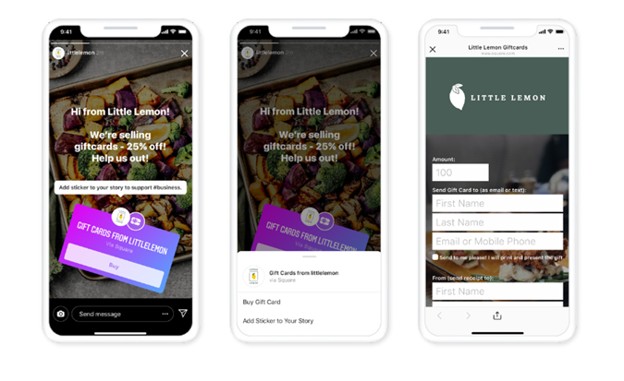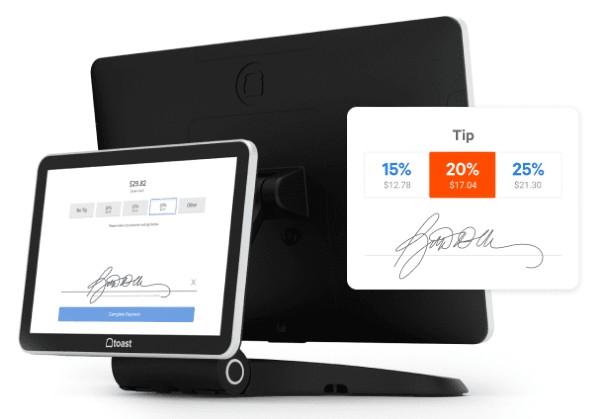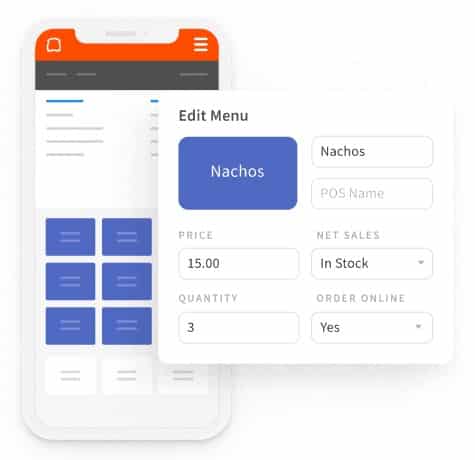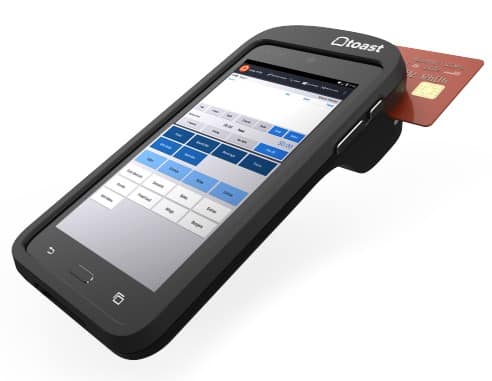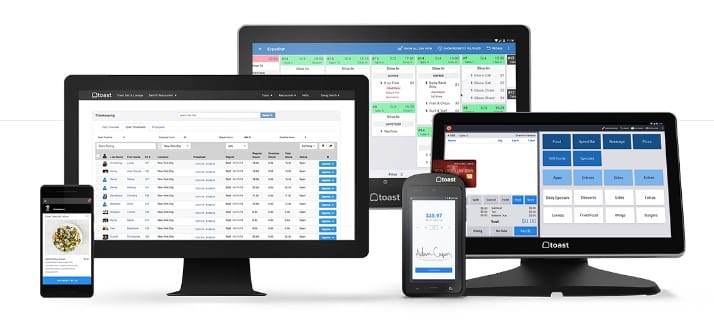 Toast Standout Features
Toast offers POS software at three subscription tiers: Starter ($0 per month), Essentials ($165 per month), and Growth ($272 per month). We recommend the Starter subscription for food trucks. The only cost for the Starter software is Toast's payment processing fees, which start at 2.49% + $0.15 for in-person transactions. This rate is lower than competitors like Rezku but higher than Harbortouch and Square.
Unlike Square, however, Toast subscribers can add a pay-as-you-go stationary Toast Flex terminal and pay for it with credit card fees. Customers that would rather pay upfront for their hardware can get the Starter Kit terminal for $799.
In addition to accessible hardware, Toast's standout features include:
Industry-grade hardware: It might be a bummer to hear that you can't use an iPad to run Toast on your food truck. But high-volume truck operations will be glad to know that Toast's hardware is designed to withstand high volume use in hot (and spill-prone) kitchen environments.
Pay-as-you-go options: Toast users that only need one to two terminals can use Toast's Starter POS with no monthly software fees. You can also roll in a complete Toast stationary terminal with a terminal, cash drawer, card reader, and router for a higher processing fee. If you want to add Toast's marketing, loyalty, and digital ordering tools to a pay-as-you-go plan they are available for an additional 0.40% in card processing fees.
Dynamic handheld terminals: Toast's Toast Go 2 handheld is one of the most comprehensive handheld POS terminals available. The large touch screen is easy to read and navigate. It can take orders, process swiped, dipped, and tapped payments, and alert your staff when orders are ready. The Toast Go 2 has a 24-hour battery life and is water-resistant and drop-proof.
Food and beverage focused software: Toast was developed with food and beverage businesses in mind, so everything from the sales reporting to ingredient tracking fits food trucks. You can track tips by employee, track inventory at the ingredient level, and see which menu items make you the most money at a glance.
Toast Order and Pay: Toast Order and Pay is a QR-code-based digital ordering tool. This feature allows customers to scan a QR code to place an order and pay directly from their personal smartphones for a fully contactless experience. This is an excellent solution for staff-strapped trucks.
Marketing and Loyalty: Toast's add-on loyalty and marketing modules allow food truck operators to email customers with customized promotions like birthday offers in addition to a traditional loyalty points program. Pay-as-you-go Starter subscribers can add these features, along with online ordering, and gift cards for an additional 0.40% per transaction.
Revel Systems: Best for Trucks Affiliated With Brick-and-Mortar Restaurants and Multitruck Fleets
Revel Systems

Overall Score:
3.81

OUT OF

5
i
Our score is based on a weighted evaluation of dozens of similar products and services conducted by our experts.
What We Like
Centralized, multi-location management
Robust offline functionality
Supports multiple payment processors
Social media integrations allow you to Tweet directly from the POS
What's Missing
Pricey
Requires a three-year service agreement
More robust than small, independent trucks need
Revel Systems Pricing
Software subscription fee: $99 per terminal, per month
Hardware costs: Custom-quoted
One-time installation fees: From $674
Processing fees: Varies based on which processor you use
Revel Systems is a hybrid POS that operates via a local ethernet network, backed up by the cloud. This setup gives the system incredible offline functionality. Revel Systems has various hardware configurations, an Always On mode for conducting business offline, social media integrations to update customers on your location, and advanced invoicing and house account features to support catering operations. Not every truck needs such a comprehensive system, though. Revel works best for multitruck fleets or trucks that are extensions of brick-and-mortar restaurants because of the number of revenue centers they use, and the massive volume of menu and payment data they process.
On our food truck POS ranking criteria, Revel Systems earned a rating of 3.81 out of 5. It got a perfect 5 out of 5 for niche food truck features and customer relationship management. An open API, robust third-party integrations, and streamlined order and menu management, alongside loyalty, marketing, and social media management make this POS an absolute powerhouse. The high subscription price and lengthy contract kept Revel from earning a higher score.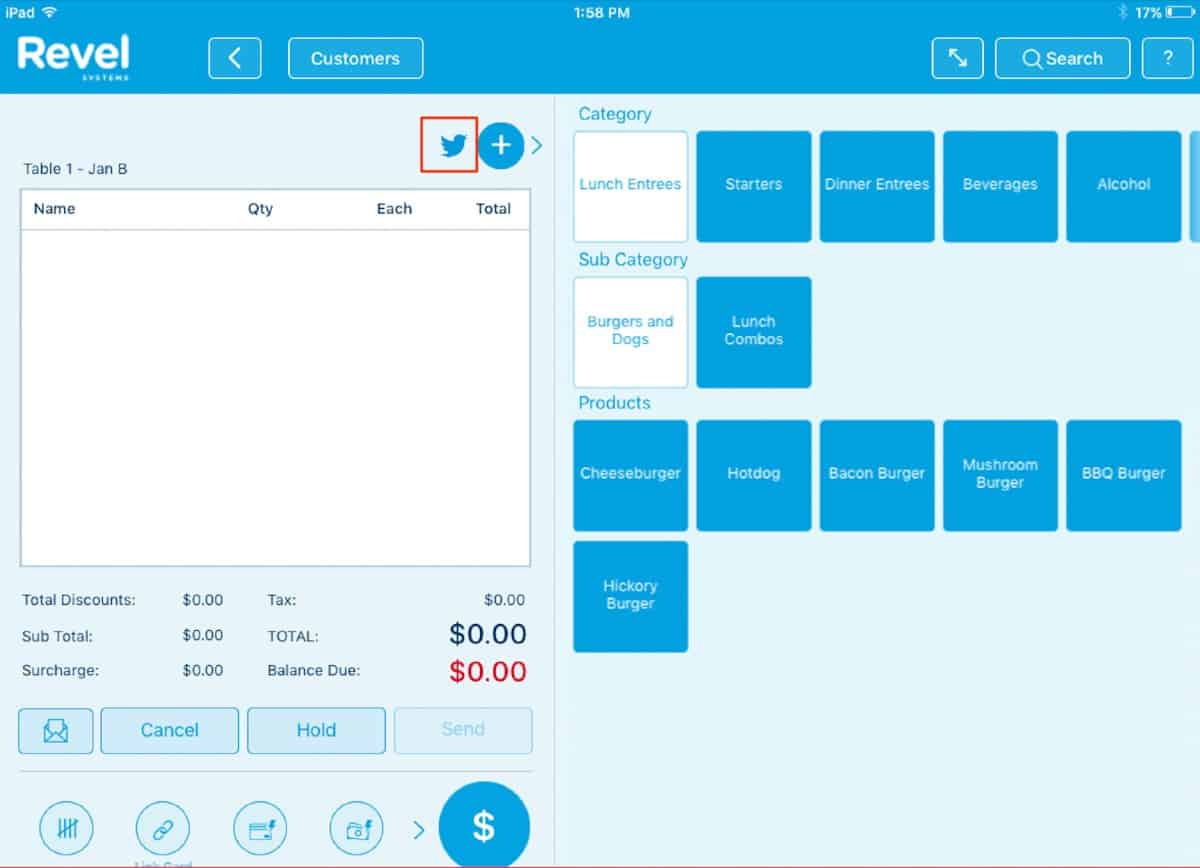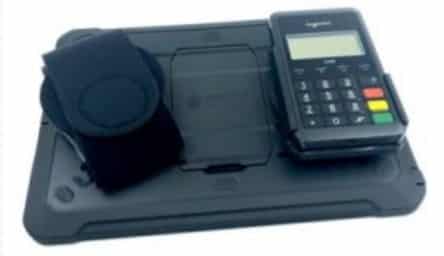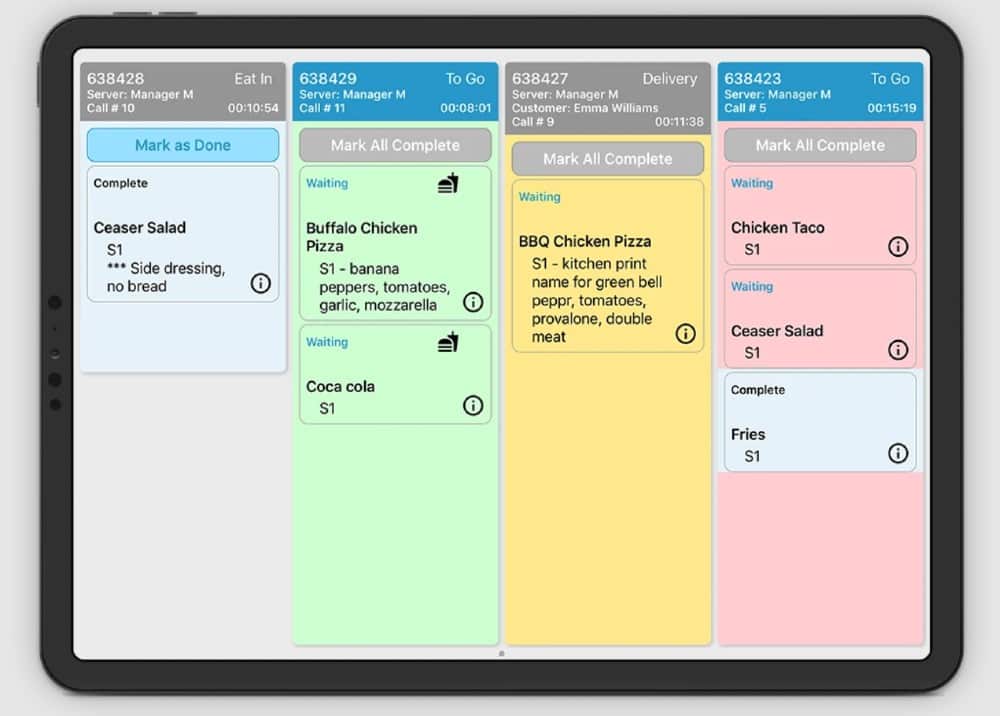 Revel Systems Standout Features
Revel Systems is the highest price POS on this list. In addition to higher subscription prices, this system requires a mandatory, one-time installation fee of $674. For the price, though, Revel includes modules that cost extra on other platforms, like customer relationship, inventory management, and employee scheduling. The installation fee sounds hefty, but for your money, you get the Revel service team to network your terminals, upload your menu, and set up your payment processor. If you're running a busy food truck fleet on your own, you might be happy to pay for the support. If you are interested in DIY set up options, consider Square, Clover, or Rezku.
Revel's standout features include:
Centralized multilocation management: Via the Revel Management Console, you can manage several locations from a single dashboard. You can generate reports to compare locations or get a birds-eye view of your entire operation. Beyond reporting, you can also manage menus, employees, inventory counts and generate supply orders.
Search Manager XT: This tool in the Revel Management Console publishes your business information across more than 70 web platforms, ensuring that your hours, menu, and contact information are always up-to-date. It integrates directly with Google My Business, allowing you to easily add marketing messages to your Google search results (such as "Click here for a 2-for-1 coupon"). Search Manager XT also syncs with your Facebook business account for centralized social media management.
Marketing and loyalty: Like Rezku and Harbortouch, Revel includes marketing and loyalty tools in the baseline POS. Log customer contact information, compose targeted email messages, and reward repeat customers with rewards points.
Twitter integration: You can connect your Revel POS to your truck's Twitter account and compose tweets directly from the POS terminal. Let customers know your location and quickly post updates or special announcements in real time.
Dynamic payment options: Revel readily accepts dipped, swiped, and tapped card and mobile wallet payments. The system also hosts tools for creating and applying house accounts, deposits, and invoice payments. These tools are an excellent fit for trucks that do a lot of catering business or regularly work with corporate clients. Like others on this list, Revel also supports QR-code-based and online orders and payments.
Multiple payment processors: Revel users can rely on Revel's integrated payment processor, Revel Advantage, or choose to use TriPOS, FreedomPay, First Data, Heartland, TSYS, WorldPay, Chase Paymentech, or Elavon. This flexibility ensures that Revel users are always sure to get the most competitive rates.
Harbortouch: Best for Free Hardware
Harbortouch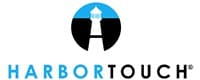 Overall Score:
3.78

OUT OF

5
i
Our score is based on a weighted evaluation of dozens of similar products and services conducted by our experts.
What We Like
POS Hardware is included for free
Robust mobile functionality
Dynamic handheld terminals
Offers a 30-day free trial
What's Missing
Locked into Harbortouch Payments
Unique pricing structure can be tricky to navigate
Operates on proprietary hardware
Harbortouch Pricing
Software subscription fee: $39 monthly subscription fee
Hardware costs: Stationary POS Hardware provided with subscription; Skytab Handhelds $15 (Wi-Fi enabled) – $30 (4G Enabled) per device, per month. $79 Annual Hardware Warranty fee
One-time installation fees: None
Processing fees: Custom-quoted based on business type. We were quoted 1.39% + $0.20 for in-person debit transactions, 1.75% + $0.20 for in-person credit transactions, with a monthly service fee of $7.50.
Harbortouch is a hybrid small business POS system operating like Revel (through a local ethernet network backed up by the cloud). Like Toast and Clover, Harbortouch operates on proprietary hardware. Harbortouch subscriptions include free stationary POS hardware. The Skytab handheld order and payment processing devices are available for a monthly fee of $15 to $30 each, depending on the connectivity type (Wi-Fi or 4G). Contracts require a one-year service agreement, after which users can cancel or renew.
In our scoring system, Harbortouch earned a 3.78 out of 5. This POS earned high marks for its mobile functionality, free trial, included in-person installation, and customer relationship management tools. The free hardware also boosted the score. If the system supported a wider range of third-party integrations—like Square or Clover—it could have earned a higher score.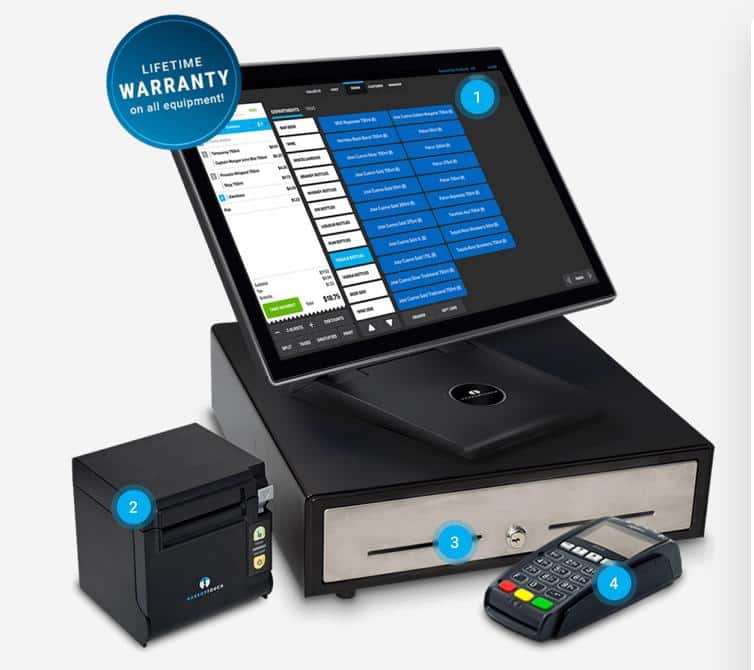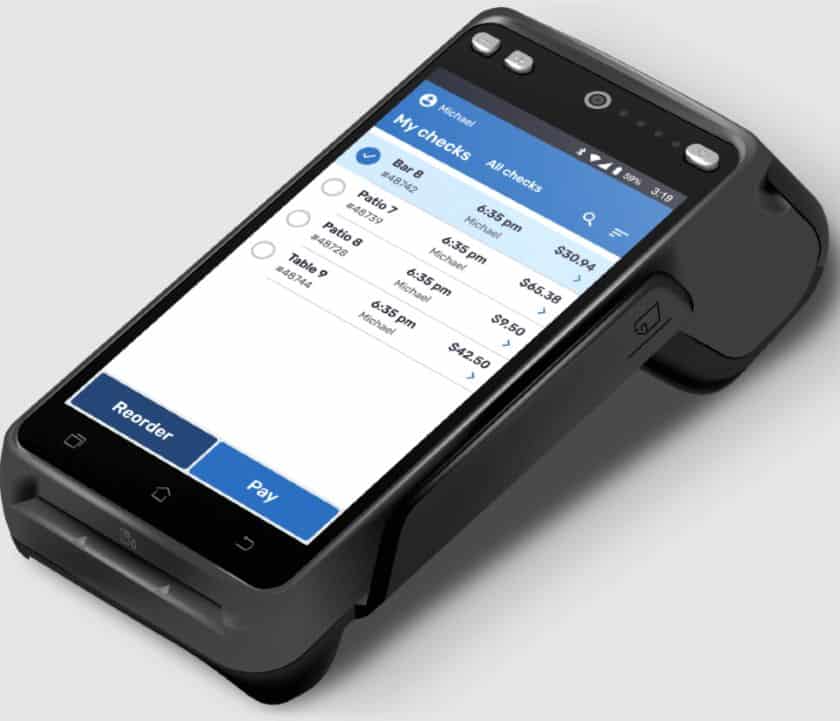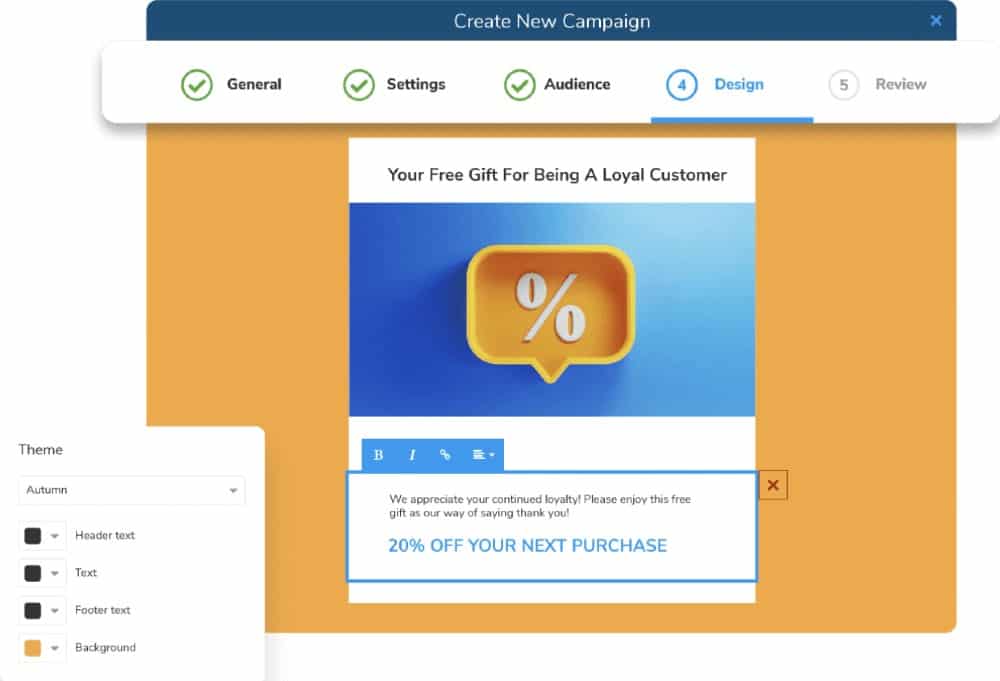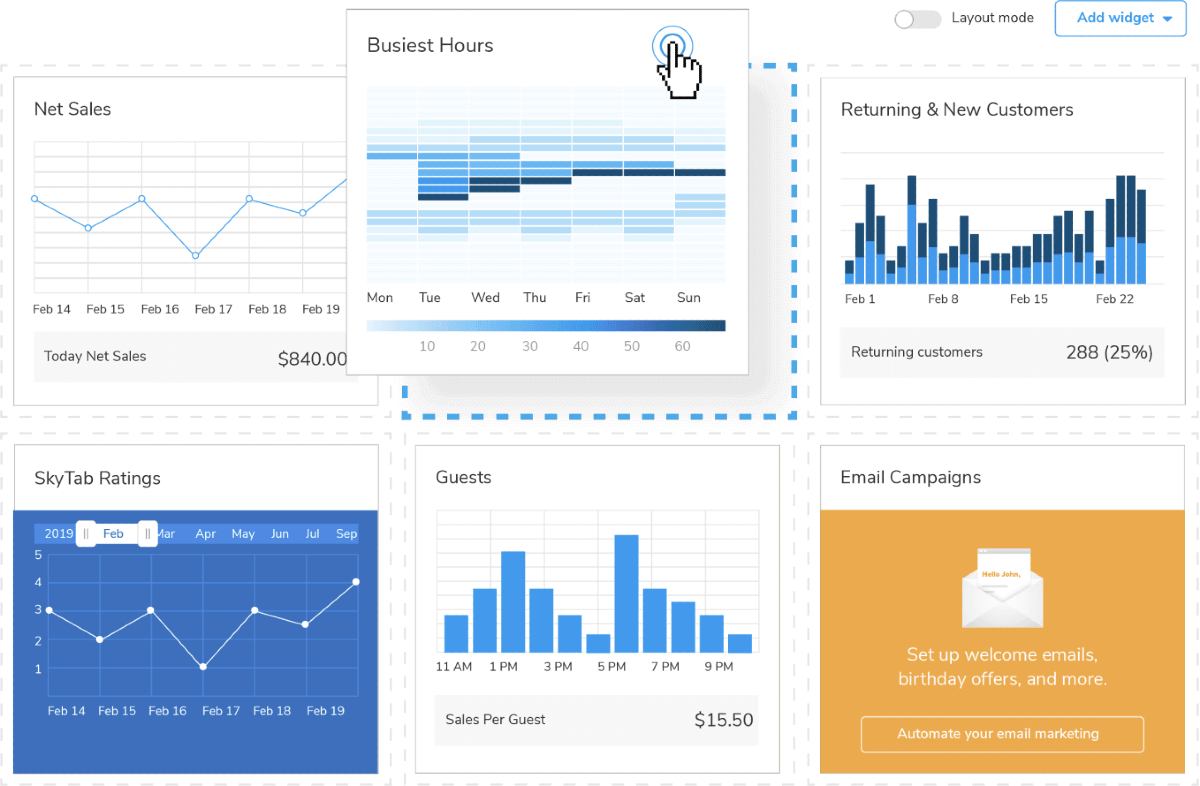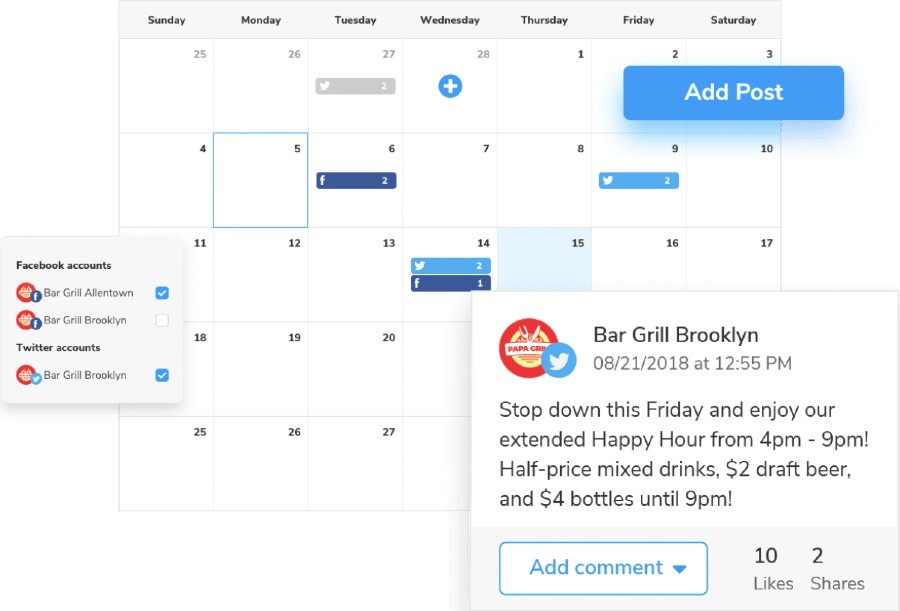 Harbortouch Standout Features
Harbortouch strives to be the most cost-effective POS available. Sometimes that effort makes their itemized prices a little hard to follow. For example, software costs $39 per terminal, per month, but your contract requires an annual $79 fee for the hardware warranty. Payment processing quotes are also highly itemized, breaking out various fees for pin-enabled debit card payments versus credit cards and requiring a monthly service fee. Pricing is transparent, but you should request a customized quote to get a firm idea of what Harbortouch will cost you.
Complex pricing structure aside, Harbortouch has a lot of great standout features, including:
Free, preconfigured hardware: All Harbortouch hardware comes pre-configured with your business information and menu. The Harbortouch team handles all of the tedious setup for you and will install the system in person at no charge. This is an excellent feature for food truck operators that need some extra hands.
Marketing features: Baseline POS subscribers can log customer information, track loyalty points, and send email campaigns from Harbortouch's browser-based Lighthouse dashboard. The dashboard also tracks online reviews, so you can manage your truck's reputation in real time and quickly respond to negative reviews.
Social media management: You can manage your truck's Facebook and Twitter accounts from your Lighthouse dashboard and schedule posts in advance, so your fans always know where to find your truck.
Skytab Handheld: The Skytab handheld is one of the most dynamic handhelds I've seen for a food truck (comparable to Toast's Toast Go 2). Skytab terminals can process orders and accept swiped, dipped, or tapped card and mobile wallet payments. Best of all, you can get terminals pre-configured to operate on Wi-Fi or 4G networks, a perfect fit for highly mobile truck operations.
Online ordering and QR code ordering: Harbortouch also includes popular industry features like online ordering and QR code ordering so you can expand your truck's reach or operate with a small truck staff.
Rezku: Best for Marketing and Loyalty
Rezku

Overall Score:
3.76

OUT OF

5
i
Our score is based on a weighted evaluation of dozens of similar products and services conducted by our experts.
What We Like
Baseline subscription includes a free stationary POS system
Marketing, loyalty, and gift cards are included in the baseline subscription
Cash discount setting allows you to pass processing fees on to customers
What's Missing
Fewer available hardware options than competitors
Locked into Rezku's processing rates
Third-party integrations are only available at higher subscription levels
Rezku Pricing
Software subscription fee: Three subscription tiers; Basic ($0 per month for up to two terminals), Premium ($49 per terminal, per month), and Enterprise ($149 per month for the first terminal; $69 for each additional terminal)
Hardware costs: One terminal included in baseline subscription. Additional hardware ranges from $465 – $1,198 per terminal.
One-time installation fees: None; installation is DIY
Processing fees: Starting at 2.99% + $0.15 for in-person swiped, dipped, and tapped transactions. The full fee schedule requires a custom quote.
Founded in 2014, Rezku is still a relative newcomer to the restaurant POS scene. Like competitors Toast and Square, this cloud-based iPad POS offers a free baseline POS software subscription. Like Toast and Harbortouch, Rezku also offers a free POS terminal for entry-level subscribers. Like Revel Systems and Clover, Rezku includes marketing and loyalty tools in the basic POS, but at a more affordable price.
Rezku scored a 3.76 out of 5 on our food truck POS ranking. This system earned high marks for the sheer volume of tools included in the baseline POS. Coupons, loyalty, gift cards, inventory tracking, and more are included in the baseline subscription. Rezku lost some points because third-party integrations and handheld terminals are only available with higher-priced subscriptions. Unlike top-ranked Square, Rezku does not include invoicing tools to support catering-heavy trucks.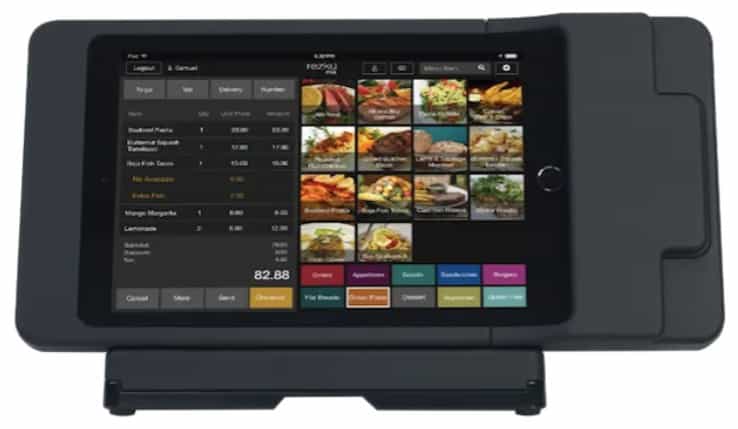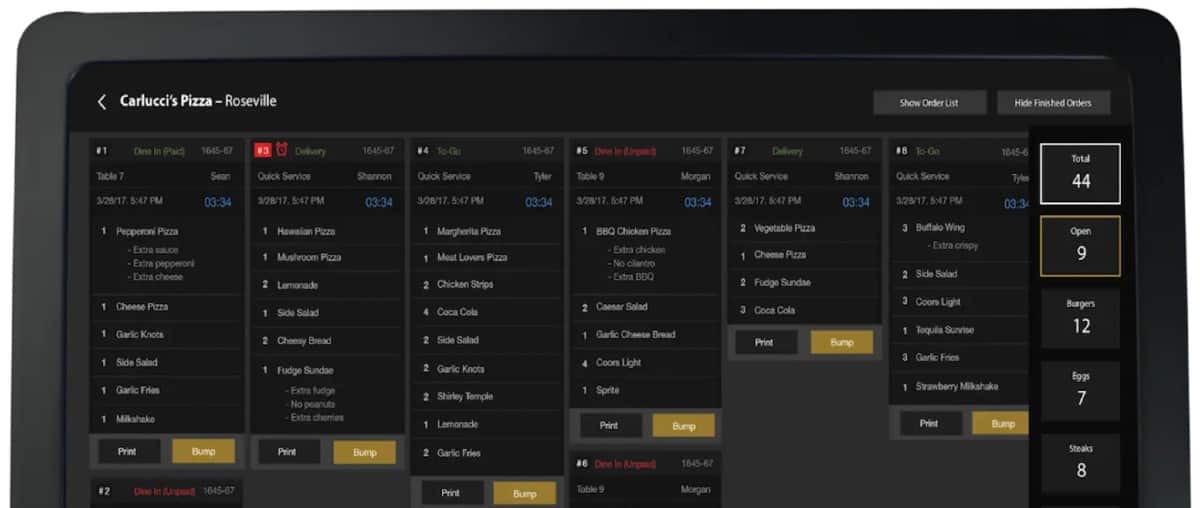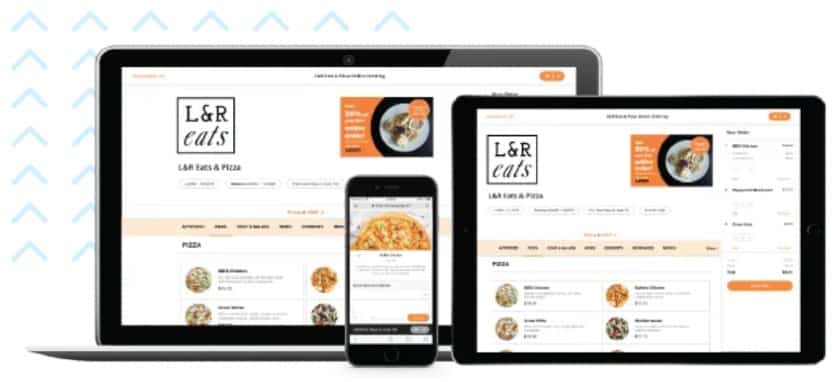 Rezku Standout Features
Rezku POS works via mobile hot spots and mobile data-enabled iPads, so the system works even when you don't have a great Wi-Fi signal. Credit card transactions received in offline mode are saved for up to three days and will automatically process once you regain internet access. The basic Rezku system does not require installation fees, and it includes several functions like online ordering and customer loyalty that other platforms charge for. You can purchase Rezku hardware with iPads, or you can bring your own compatible iOS devices.
Rezku's standout features include:
Free POS Terminal: Rezku recently updated its price structure to offer a $0 baseline subscription that includes a free stationary Rezku POS terminal.
Cash discount option: Rezku supports a unique function that it calls Cash Discount. This feature automatically applies a 3%-4% discount to checks that are paid in cash. Customers that pay with credit, debit, or mobile wallets do not receive the discount, which essentially passes the credit card processing fees on to the customer check. If processing fees are a hurdle for your truck, this feature can offset some of your costs.
Food-focused hardware: Like Toast, Rezku specializes in the restaurant business. So the software is streamlined for food operations. With available QR-code ordering, KDS screens, and handheld tablets, Rezku can support a variety of truck operations. A custom-branded online ordering site is also included in the basic POS subscription, so you can toggle on digital orders if foot traffic is low.
Marketing and loyalty: Rezku includes rewards points tracking, personalized email campaigns, and text reminders to prompt your customers to become superfans. Rezku also includes branded digital and physical gift cards in the Basic POS, unlike any other competitor on this list. Rezku's marketing and loyalty features are the most robust available in an affordable food truck POS.
Clover: Best for Mobile Functionality
Clover

Overall Score:
3.75

OUT OF

5
i
Our score is based on a weighted evaluation of dozens of similar products and services conducted by our experts.
What We Like
Software subscription rates are affordable for food trucks
App marketplace supports tons of customization
Marketing and loyalty functions are included in the baseline subscription
What's Missing
Must purchase Clover hardware
Sold through multiple third-party processors on the Fiserv network; users need to shop around for the best rates
Third-party resellers have little oversight, so contract terms, processing rates and customer service can vary widely
Clover Pricing
Software subscription fee: From $39.95 per month for the first device, $9.95 for each additional device
Hardware costs: From $99 for a mobile Clover Go card reader to $499 for a Clover Flex Handheld, and up to $1,649 for a stationary terminal with receipt printer and cash drawer. Payment plans are available.
One-time installation fees: None; setting up Clover is a DIY affair.
Processing fees: Varies based on which processor you purchase your Clover system from. Clover's direct rates start at 2.3% + $0.10 per in-person transaction, 3.5% + $0.15 for manually keyed transactions
Clover is a mobile-first, cloud-based POS that is popular with a variety of small businesses. Most Clover hardware operates as efficiently on a cellular signal as a Wi-Fi connection, and the baseline subscription—when purchased through Clover directly—comes with 24/7 live customer support. The POS brand is owned by the payment gateway Fiserv. Fiserv allows merchant services providers that operate on its network to sell the Clover system pre-programmed with their payment processing software. So rates and contract terms can vary.
On our food truck POS ranking criteria, Clover earned a score of 3.75 out of 5. The system earned high marks for mobility, offline functionality, and included marketing tools in the baseline system. Clover lost some points because selling the system through third-party resellers requires some legwork from food truck operators to ensure that they get the best contract terms. And while the system is affordably priced, it was outscored by systems like Square and Toast that offer a free baseline subscription.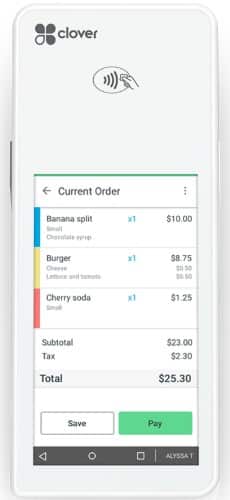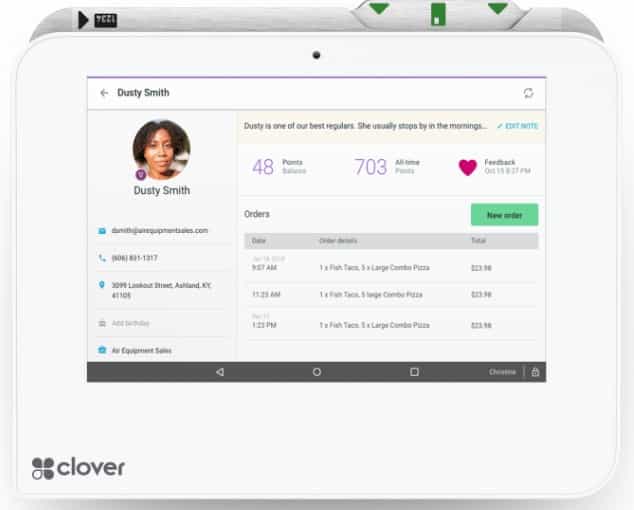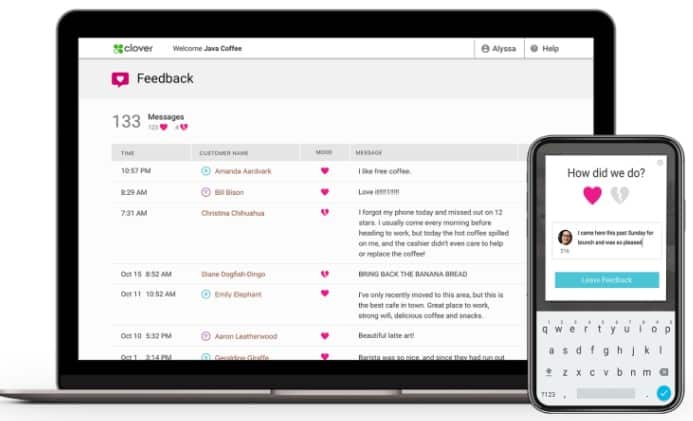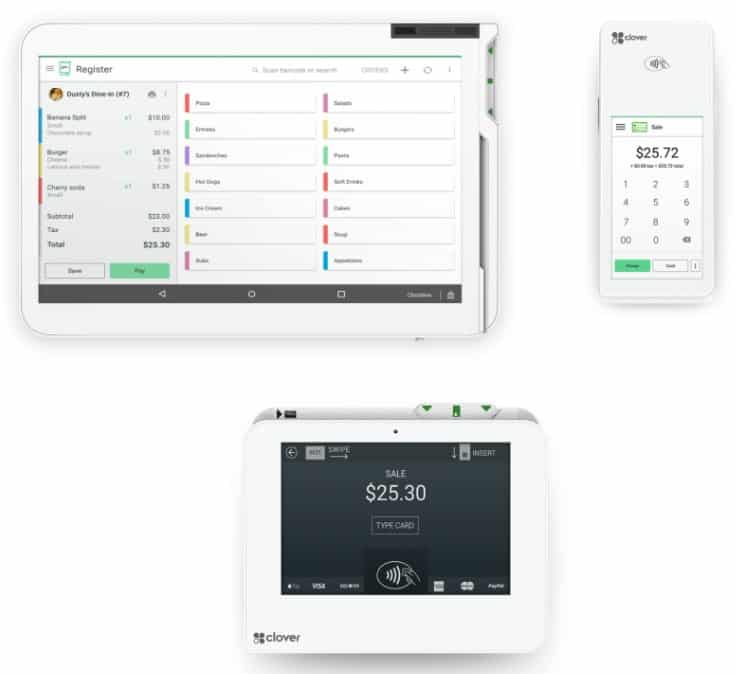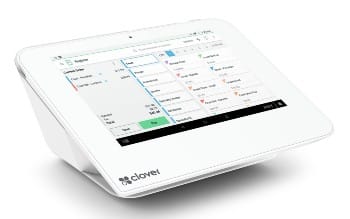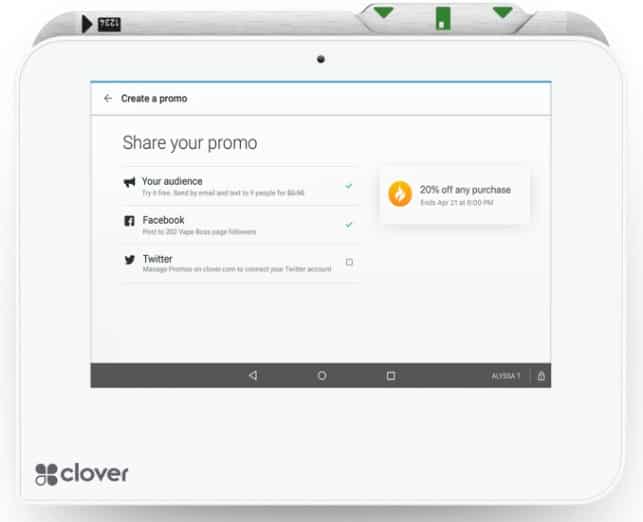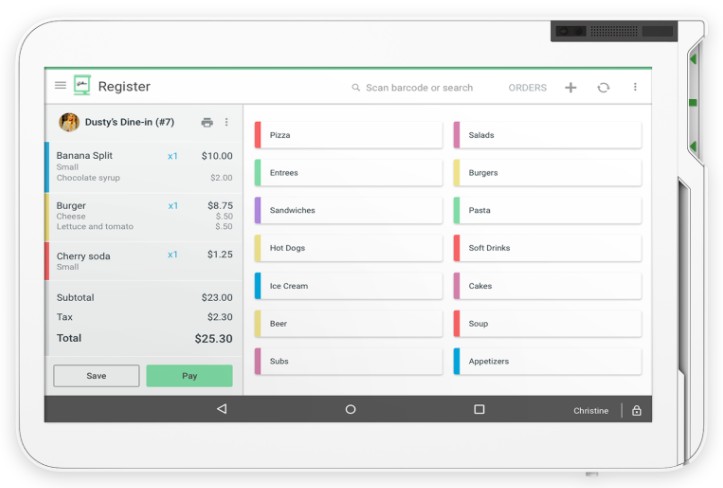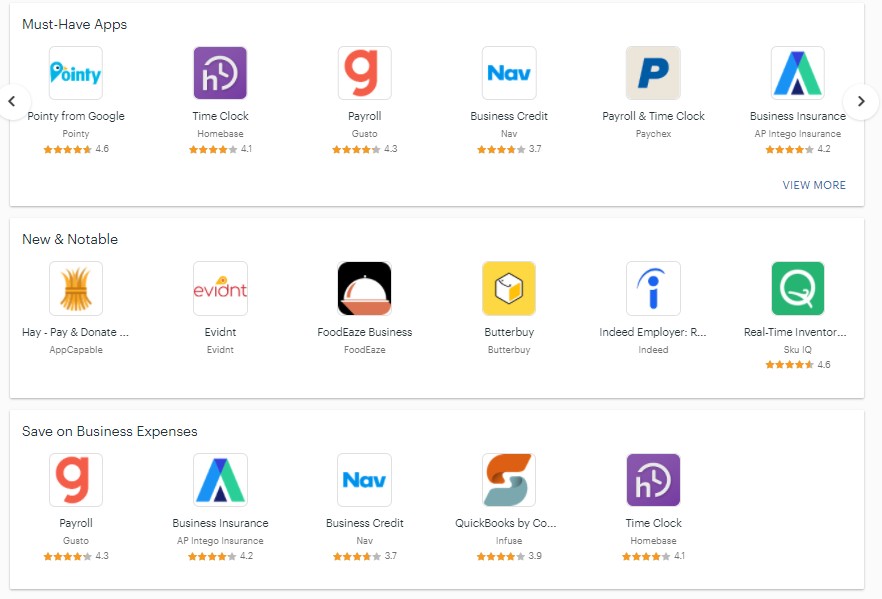 Clover Standout Features
Clover's pricing and payment structure differ from the others on this list. Like Square, Toast, Rezku, and Harbortouch, a Clover system comes pre-programmed with payment processing. Unlike those other systems, you can purchase a Clover POS from dozens of different merchant services companies that operate on the Fiserv network.
To get the best rates and contract terms, you should get quotes from a few Clover processors. For example, one of our top recommended restaurant credit card processors, Dharma Merchant Services, is a Clover provider. If you don't want to gather several quotes, you can purchase a Clover system with payment processing directly from Clover.
Clover's standout features include:
Mobile hardware: Many of Clover's POS devices, particularly the Clover Flex device, can operate with a SIM card on a cellular network. For food trucks that sell in a new location every day, cellular signals can be easier to find than stable Wi-Fi. Many users also successfully network Clover hardware through a mobile hot spot or LTE-enabled router.
Marketing and loyalty: Like Rezku and Revel systems, Clover includes marketing and loyalty tools in the baseline POS. You need to add the Clover Promos and Rewards apps from the Clover App Marketplace, but most of the features in both apps are free. You can generate detailed customer profiles, award loyalty points, and create Facebook messages and Twitter posts from your POS. Higher-level features like targeted promotions and automated bounce-back campaigns require the Customer Engagement Plus package ($99 per month).
App Marketplace: Clover integrates with hundreds of third-party apps to support everything from accounting and employee scheduling to pizza building and KDS screens. Via the marketplace, Clover integrates with multiple food truck listing apps like Truckfindr, Food Truck Pub, and FoodEaze.
Notable Runner-Up Food Truck POS Systems
TouchBistro

TouchBistro is a cloud-based iPad restaurant POS. This incredibly user-friendly system has a minimal footprint and offers several options for payment processing. Users can choose to rely on the built-in TouchBistro Payments, TSYS, or Square. You set up TouchBistro yourself, following one of TouchBistro's detailed tutorials. The system has several options for mobile configurations using LTE-enabled routers. It is more expensive than others on this list, with pricing for the baseline POS starting at $69 per terminal per month.
It didn't make the top six on our food truck POS ranking because of the higher baseline price and because marketing, loyalty, and other software come at an added cost ($25 to $100 per month). And while the system is streamlined and easy to use, it lacks buzzy standout features like free hardware, free software, or cutting-edge handheld devices. But if you want a user-friendly, mobile-enabled iPad POS that you can set up yourself, TouchBistro won't disappoint. For more information, see our detailed TouchBistro review.
Loyverse

Loyverse is a free, cloud-based POS that operates on iOS and Android mobile devices. The lack of long-term contracts makes this system a good fit for seasonal truck businesses. Unlike every other POS on this list, Loyverse is not also a payment processor. So you can shop around for the best processing rates and attach a USB or Bluetooth card reader to your Loyverse POS to process dipped, swiped, and tapped payments. This payment flexibility is great for trucks that need low processing rates, but it has a drawback: It weakens Loyverse's offline functionality.
The other POS systems on this list have no trouble spooling swiped card transactions when the system loses internet or cellular connectivity. Since Loyverse doesn't integrate with your card reader, the POS cannot store payment information. Your ability to process offline payments with Loyverse will depend entirely on your credit card processor and whether its card reader can store payment data to run later. But if your truck is relatively stationary and you can get a dependable Wi-Fi connection, Loyverse can work for you. Learn more by reading our full Loyverse review.
Bottom Line
Square for Restaurants received the highest score across our food truck POS grading system for its affordability, flexibility, and mobility features. With invoicing, text and email marketing, and a variety of hardware, you can configure this POS to fit any food truck style. Square can also grow with your business as it expands or your needs change. The lack of a long-term contract makes Square for Restaurants a low-risk option for new or seasonal food trucks. To see if Square is a fit for your food truck, visit Square for a demo.