2023 TouchBistro Review: Best for High-turnover Restaurants
This article is part of a larger series on POS Systems.
TouchBistro is one of the most user-friendly iPad point-of-sale (POS) systems available. This all-on-one cloud POS earned a score of 4.16 out of 5 on our overall ranking of the best POS systems, and a 3.47 out of 5 on our restaurant POS ranking. Our TouchBistro review found this POS to be an especially great fit for food and beverage businesses that experience high turnover. New staff learn this system quickly, so there's little downtime for training.
Pros
Incredibly user-friendly iOS-based user interface
Transparent pricing
Options for built-in loyalty, online ordering, and reservations
Integration with multiple payment processors
Cons
No free trial or free baseline subscription
Workforce management is not robust
Vendor management and purchase order management require third-party integrations
When to Use TouchBistro:
Use an Alternative When You Need:
TouchBistro is an incredibly streamlined restaurant POS at a competitive price point and regularly ranks as one of our top-recommended restaurant POS systems. It supports multiple payment processors so you can shop around for the best rates.
TouchBistro is a great fit for restaurants that experience high staff turnover. If you need to save time on staff training, TouchBistro is one of the easiest-to-use cloud POS systems available.
If you only need a single terminal, there are less expensive systems available (like Square and Toast). If you need advanced inventory or employee management, TouchBistro is also not the best fit; you'll need third-party integrations to expand the built-in functions.
TouchBistro Deciding Factors
Supported Business Types

Quick service restaurants, full-service restaurants, coffee shops, bakeries, bars, food trucks

Standout Features

User-friendly iOS interface
Easy self-installation
Mobile installation

Monthly Software Fees

$69 per terminal monthly (Custom pricing available for more than 2 terminals)

Setup and Installation Fees

Optional, custom-quoted

Contract Length

1 year

Payment Processing Options

TouchBistro Payments, TSYS, Worldpay, Square

Payment Processing Fees

TouchBistro Payments,TSYS, and Worldpay are custom-quoted; Square Payments starts at 2.6% + 10 cents

Customer Support

24/7
TouchBistro POS Alternatives
| | Best for | Monthly fees | Processing fees | Learn more |
| --- | --- | --- | --- | --- |
| | Short-term contracts and free iPad POS | $0–$60+ | From 2.6% + 10 cents | |
| | Advanced inventory and reporting in an iPad POS | $69–$399+ | From 2.6% + 10 cents | |
| | Industry-grade hardware and low upfront cost | $0–$165+ | From 2.49% + 15 cents | |
TouchBistro pricing is simple and straightforward. You'll pay $69 per month for software for a single POS terminal with baseline functions. TouchBistro also offers custom-quoted tiered pricing for multiple terminals. So the more terminals you add, the lower your per-terminal cost will be. You'll need to contact TouchBistro directly to discuss tiered pricing options. Both hardware and payment processing are custom-quoted.
This pricing makes TouchBistro a better fit for foodservice businesses that need three or more terminals. If you only need one or two terminals, there are free or lower-cost options like Square and Toast.
TouchBistro uses iPads exclusively for its POS terminals and peripherals. You can configure iPads as countertop terminals, tableside terminals, or kitchen display system (KDS) screens. You can bring your own compatible iPads that run iOS 12 or later, or purchase through TouchBistro for custom-quoted prices.
Countertop Terminal Kit

Tableside Terminal

Kitchen Display Screen

iPad stand, cash drawer, card reader, and receipt printer

iPad-based handheld order and payment terminal

iPad-based kitchen display system screen
---
Alongside your POS terminals, you can add advanced features like online ordering and reservations management for a-la-carte prices.
| Software and add-ons | Monthly fee starts at |
| --- | --- |
| Software for a single terminal | |
| Gift cards | |
| Online ordering | |
| Loyalty | |
| Reservations | |
| Kitchen display system | |
| Customer-facing display | |
---
TouchBistro includes built-in payment processing via TouchBistro Payments. But the system also integrates with TSYS, Worldpay, and Square, so you can shop for the lowest processing rates. Outside the US, TouchBistro also integrates with Chase Merchant Services, Moneris (Canada), Barclaycard (UK), and EVO (Mexico).
Payments Integrations (US-only)

Provider

Rates

In-person payments: 2.6% + 10 cents
Online payments: 2.9% + 30 cents
Card-not-present payments: 3.5% + 15 cents

Custom-quoted based on sales volume and card types accepted

Custom-quoted based on sales volume and card types accepted
---
TouchBistro is a comprehensive, all-in-one foodservice POS. The baseline TouchBistro POS includes the following:
Detailed menu modifiers
Combo-building
Ingredient-level inventory
Tableside ordering
Custom floor plan
Table management
Reporting and analytics
Customizable user roles and permissions
Employee timekeeping
TouchBistro users can update their menu items in the POS terminal or in the cloud-based back-office management dashboard. You can change prices, create discounts, and add new menu items, modifiers, and combos. You can add item images, 86 menu items, or designate them for online or in-house ordering only. You can also set time-restricted, promotional menus (like Happy Hour). This system can also easily handle house accounts if you want to offer that service to regulars. And it acts as a time clock to log employee hours.
TouchBistro lost some points here because the reporting—while exceedingly easy to use—is templated and not highly customizable. TouchBistro also doesn't have as many third-party integrations as competitors. It has a lot of options for inventory management, but it doesn't integrate directly with third-party ordering and delivery platforms; you'll need a middleman app like Deliverect, which adds to your costs. Same for accounting software: If you want to connect the POS to QuickBooks, you'll need a middleman plug-in like Shogo.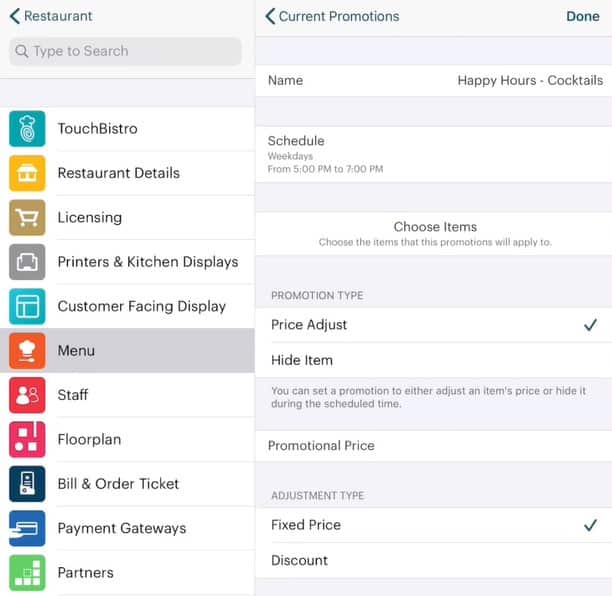 ---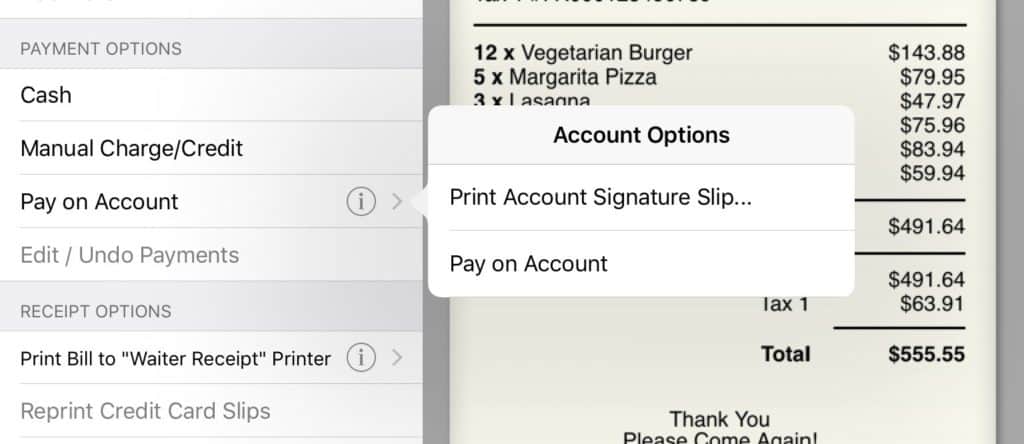 ---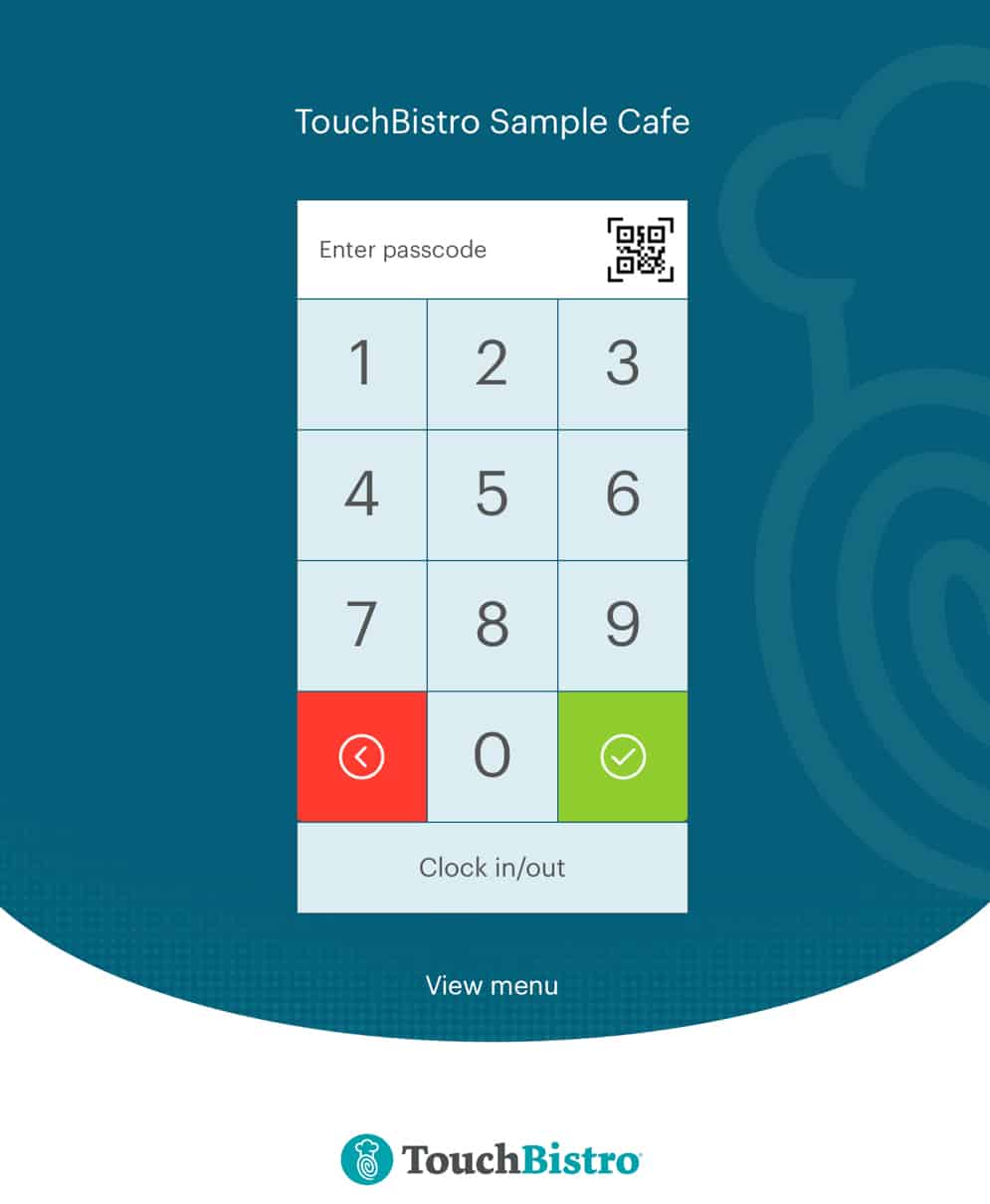 ---
TouchBistro includes ingredient-level inventory tracking in the baseline POS, but it is less automated than competitors like Lightspeed Restaurant. To use TouchBistro's inventory, you'll need to add all of your bulk ingredients and recipes and tie these to specific menu items. Once this bit of administrative work is done, your TouchBistro POS will update your stock levels in real time as items sell. It will also alert you when stock is running low, so you never forget to reorder. You can export the low stock report as a CSV file and use it to generate purchase orders.
TouchBistro's inventory management is ingredient-level, and the food cost and usage reports can help you control costs. However, the platform's inventory tools require manual updates to stay current.
You'll need to enter each ingredient from a POS terminal manually; you can't currently add ingredients in the cloud dashboard or bulk upload them from a spreadsheet. You'll also need to adjust quantities as new stock arrives manually; you can't scan invoices to update quantities as with a system like Revel. And you can't generate purchase orders in the POS as you can with Toast.
That doesn't mean that these tools are unavailable to TouchBistro users—all you need is a third-party integration. The platform integrates with several third-party inventory tools for all types of food and beverage businesses. There are even specialized options for bars that need to track draft beer programs and keg levels.
---
TouchBistro includes over 50 built-in reports that track sales, labor, customer behavior, payments, and accounting. You can schedule specific reports to be automatically emailed to you and your management team at the end of a day, week, or month. TouchBistro's reports are all available on the cloud and update in real time, so you can keep track of your business even when you are out of the restaurant.
You can customize each report's view by filtering the report by date, payment type, sales type, or menu category. All reports can be downloaded as CSV and XLSX files, so you can filter the data or create combined reports for deeper analysis. You can further streamline your operation by connecting your POS to accounting software to save administrative time and reduce human error. However, with TouchBistro, you'll need to do a little jury-rigging.
You can also get your TouchBistro system to communicate with popular accounting tools Xero, Sage Intacct, and QuickBooks via intermediary plug-ins Shogo or MarginEdge. A Shogo account runs $30 per month for a single location, though the price decreases for additional locations. MarginEdge, on the other hand, runs $300 per month but also includes robust inventory tools.
These fees are in addition to whatever you pay for the accounting software itself. These costs can add up, but if you are running a restaurant with few managers or support staff, it may be money worth spending.
---
TouchBistro integrations are a little feast or famine. If you want a direct integration for inventory and vendor management, you can choose from seven options, including general-use inventory tools like MarketMan or niche bar industry tools like bevcheck and Freepour. But if you need third-party online ordering platforms or accounting integrations, you'll need middleman plug-ins, which adds to your costs.
For staff scheduling, you can only integrate with 7Shifts or Push. Considering that TouchBistro does not have scheduling features built into the POS, it would be nice if it included other popular scheduling options like HomeBase, Dolce, or Hotschedules.
But, unlike some competitors, TouchBistro does not charge extra to add a pre-built integration. If the two systems are compatible, all you'll pay are the subscription fees for the partner service. There are no integration fees from TouchBistro.
---
TouchBistro is a little thin on niche restaurant functions like tip pool automation, employee scheduling, and detailed cash management. The niche tools it does include, like online ordering and loyalty, require additional monthly fees. But TouchBistro includes one add-on function that several cloud POS systems are missing: reservations.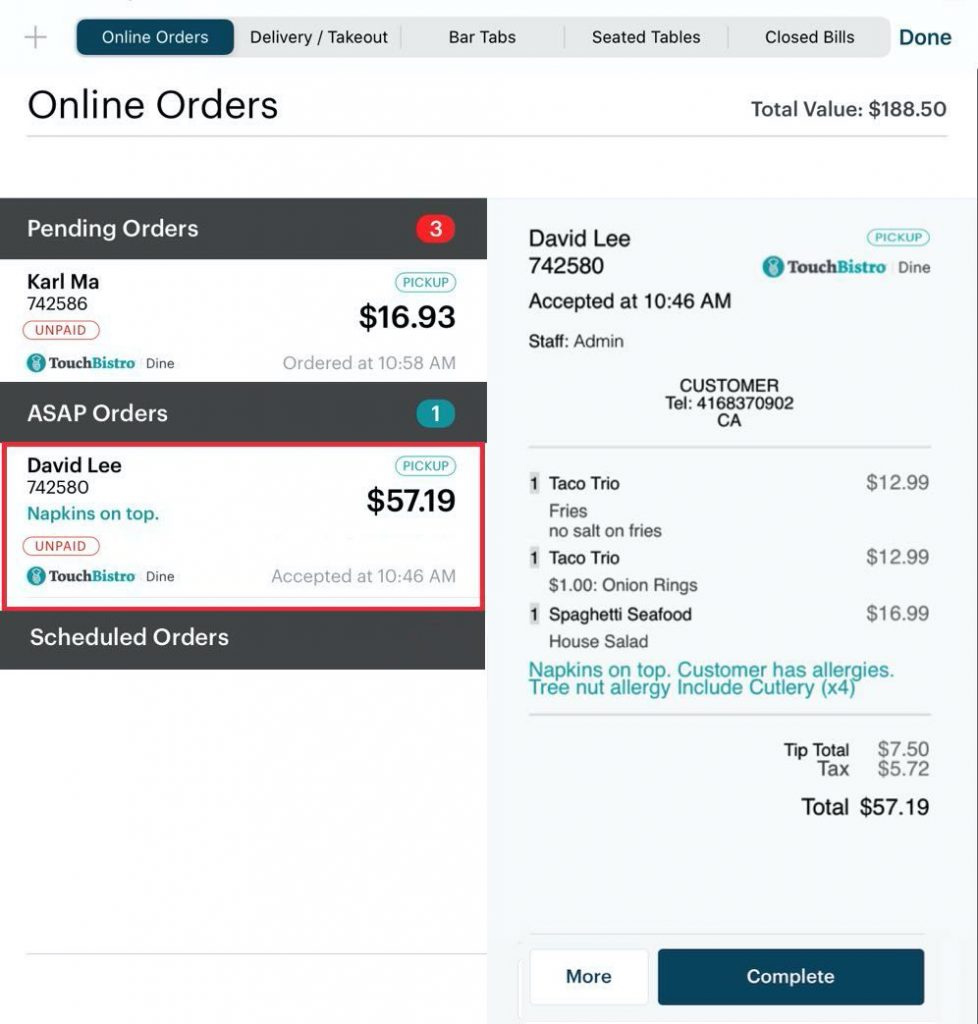 ---
---
For an additional $50 per month, TouchBistro users can add the online ordering module. This built-in module allows your customers to place orders via an "order now" widget on your website that redirects them to your online menu on TBDine.com. You can also send this link to customers via email and link it on your social media accounts. You have the option to accept orders for delivery or pick-up, with online payments or payment at pick-up, and to be ready as soon as possible. You can also schedule future orders.
TouchBistro Online ordering syncs directly with TouchBistro's Loyalty module, so you can reward your regular customers even online. For orders that are placed in advance (for pick-up the next day, for example), you can set your POS to only print the kitchen ticket in time to prepare the order rather than at the time the order is placed. You can also choose to accept or decline online orders as they show up in your POS and send cancellation messages if your kitchen is backed up or you have run out of stock.
In addition to TouchBistro's built-in online ordering tools, the system integrates with aggregating apps to feed third-party platform orders directly into your POS. However, TouchBistro does not integrate directly with popular third-party ordering and delivery platforms like GrubHub and UberEats.
If you use those platforms and want those online orders to appear directly in your TouchBistro orderstream, you'll need to use an ordering aggregator like Deliverect. These have their own monthly fees, alongside any commissions or fees you'll pay for using the third-party platforms themselves.
---
TouchBistro's Loyalty and Rewards modules are streamlined and dynamic, so customers can enroll easily at checkout. Loyalty profiles are tracked by phone number or email address, so you don't have to track special loyalty numbers or distribute cards. TouchBistro Loyalty is an add-on to the baseline POS, offered at $99 per month. This module integrates with other POS functions, like online ordering, to reward your loyal customers wherever they order. Multilocation restaurants can decide to apply rewards at all locations or only specific ones.
You can customize reward settings in the POS cloud dashboard. Choose whether to reward customers for each dollar spent, offer a specific item as a reward, or apply a dollar or percentage discount. Customer accounts are tracked by phone number or email, so customers never have to remember a loyalty card or special number. You can create categories for regulars, recent visitors, or guests who like beer. Then create custom email promotions to those groups or by customers' birthdays, number of visits, or average spend.
---
TouchBistro is one of the only cloud POS systems that supports a built-in reservations module. This tool is priced at $229 per month. This sounds steep, but it is in line with what systems like Resy ($249–$899), OpenTable ($249–$449), and Yelp Guest Manager ($249–$299) cost. You can accept reservations over the phone, in person, or online.
You can also require a credit card to secure reservations and send custom email messages to reserved guests to alert them to cancellation fees or parking instructions. To process no-show or cancellation fees, you'll need a Stripe account (in addition to whatever processor you use for your POS).
---
TouchBistro is exceptionally easy to use. We're not the only folks who think so; several TouchBistro user reviews mention it. Many even state that their staff learns the system in less than an hour. The iOS-based interface in the front and back office ends of the POS app is familiar to anyone who has ever used an iPhone. The flexible way that TouchBistro employs iPads as everything from POS terminals, to customer-facing displays, KDS screens, and handheld tableside terminals also reduces training time and keeps your costs down.
TouchBistro User Reviews
On popular user reviews sites, most TouchBistro reviews are positive. Positive reviews mention easy installation and short training times and increased connectivity when adding a Pro Server to sync terminals.
Here's a snapshot of how actual users rank TouchBistro:
Finances Online: TouchBistro earns a rare rating of 5 out of 5 based on about 20 user reviews and a 95% User Satisfaction rating.
G2: It is listed as a 2022 Winter Leader, earning a rating of 4.4 of 5 from around 90 user reviews.
Capterra: TouchBistro scores a 4.0 out of 5 based on more than 350 reviews. It ranks as a Noteworthy Product on Capterra's 2022 shortlists of food delivery software and restaurant management software.
There are some criticisms, though. Some recent negative reviews mention granular issues like glitches with discounts not reaching 100% and limited customization options. One user mentioned TouchBistro salespeople telling them the system could perform certain functions that it, in fact, cannot. So if you are considering this system, we recommend getting a detailed demo and requesting answers to your detailed functionality questions via email.
Users Like

Users Don't Like

Ease of use for customers and staff
Customization options are limited
Flexible payment processing
Nested menu modifiers do not automatically pull from the POS to online ordering tools.
Flexible hardware
Discounts can be glitchy
TouchBistro's best features are its ease of use and the streamlined frontend and backend user interface. It is easy to self-install, and you can learn the system incredibly quickly. Though, considering the price, this system is best for businesses that need two or more POS terminals. If you only need a single terminal, there are cheaper systems available. This combination of features makes TouchBistro a natural fit for operations with a small footprint like busy coffee shops, and quick service restaurants that need more than one terminal.
The system lacks advanced features like payroll and purchase order management. So if you need those, this is not the system for you. But if you just need the basics and need them to work well, TouchBistro is a good fit.
Methodology: How We Evaluated TouchBistro
Multiple times per year, we grade restaurant POS systems on 20+ criteria that are critical to restaurant success. First, we consider price and ease of use, and then look at general and niche POS functions. Finally, we consider how actual users respond to the system, alongside our restaurant expert's personal experience using the software.
Click through the slides below for a detailed explanation of our criteria:
10% of Overall Score
Independent restaurants operate with tight budgets. We first considered whether each system offers a free plan, free trial, and entry-level software subscription under $75 per month. To help ensure restaurants can get the lowest possible prices, we gave high marks to POS systems that support multiple payment processing options. Finally, we considered hardware costs and subscription length. Systems that allow restaurants to bring their own hardware or avoid long-term service contracts earned the highest marks.
*Percentages of overall score
TouchBistro Frequently Asked Questions (FAQs)
Who should use TouchBistro?
TouchBistro is best for independent foodservice businesses that need two or more POS terminals. Busy counter-service restaurants, coffee shops, and breweries are especially good fits. If you experience high staff turnover and frequently train new employees, this user-friendly system will save you in training costs.
When should I use a TouchBistro alternative?
If you only need one POS terminal, Square for Restaurants or Toast are both lower-cost options. If you need advanced reporting or inventory with vendor and purchase order management, Lightspeed Restaurant and Revel are both more robust.
Bottom Line
TouchBistro is as user-friendly as it gets for a foodservice POS system. Restaurants, coffee shops, bars and other food businesses that experience high turnover will find that it saves money on training costs, since most employees can learn this POS in less than an hour. The back-office dashboard is just as easy to use, but managers might feel a pinch with lack of customized reporting. If you want to get the best pricing on this midpriced system, it is best to get a custom quote, especially if you need more than two terminals.