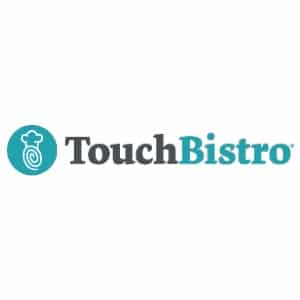 What We Recommend TouchBistro For
TouchBistro is an incredibly streamlined restaurant POS at a competitive price point. It is regularly ranked as one of our favorite restaurant POS systems. It supports multiple payment processors so that you can shop around for the best rates.
In particular, we recommend TouchBistro for:
When TouchBistro Would Not Be a Good Fit
The management interface makes it hard to recommend this system unconditionally. If your full-service restaurant doesn't use your POS for inventory management, food costing, or complex analytics, TouchBistro will be fine. But if your full-service restaurant needs those functions—or in-house delivery management—in a POS, TouchBistro isn't ideal.
These restaurants, in particular, will find a better fit elsewhere:
High-volume, full-service restaurants: If your restaurant is both high volume and full service, you'll be happier with a system that automates some of the work for you, like Toast or Revel.
Farm-to-table restaurants that want inventory management: Restaurants with extensive menus that change frequently will find TouchBistro's inventory interface time-consuming. Our ranking of the best restaurant inventory management software can show you better options.
Restaurants with in-house delivery: If you need to manage a team of in-house delivery drivers, you'll be better supported by one of our top POS systems for food delivery.
Still not seeing the right fit? Check out our top small business POS system recommendations.
TouchBistro POS Overview
PROS

CONS

System is competitively priced
Vendor management is not supported without a third-party integration
Tons of hardware peripherals make a highly customizable system
Driver dispatch functions are not robust
Options for built-in or third-party payment processing let you shop for the best rates
Not flexible enough for large restaurant operations with multiple revenue streams
One of the easiest to use restaurant POS systems
Some reports are only available as emailed CSV files
Ingredient-level inventory is included in the baseline system
TouchBistro Pricing
Competitive baseline rates: Monthly rates for the POS software start at $69 for a single terminal.
Custom quote: Full pricing is based on a custom quote.
Payment flexibility: Choose from built-in payment processing or integrated payments through TSYS, Worldpay, TB Payments, and Square.
Add-ons priced separately: Native reservations, online ordering, and gift cards are available for additional monthly fees.
TouchBistro's baseline pricing starts at $69 per month for the software; hardware and add-ons will increase your monthly fees. This pricing puts TouchBistro in line with competitors like Lavu and Rezku. The system uses iPads for POS terminals, self-service kiosks, and KDS screens, so adding these hardware features will increase your software rate. TouchBistro no longer publicly lists comprehensive pricing for more than a single terminal. And while TouchBistro doesn't list pricing for several of the system's optional add-on modules, it does list these:
| TouchBistro software | Monthly fees starting at |
| --- | --- |
| Software for a single terminal | $69 |
| Reservations | $229 |
| Online Ordering | $50 |
| Gift Cards | $25 |
| Loyalty | $99 |
TouchBistro offers a free trial of its POS system, which sets it apart from other restaurant POS providers. It does not publicly disclose the length of the trial, but previous offers were for 28 days. If you are on the fence about this system, then you should definitely reach out to TouchBistro to request the trial. Like most restaurant POS systems, getting TouchBistro system's full cost requires scheduling a product demo and getting a custom quote.
TouchBistro Payments
Transparent Payment Fees: TouchBistro and the majority of its integrated payment partners offer transparent cost-plus pricing.
Built-in Payment Processing: TouchBistro recently added built-in payment processing that supports online payments.
Integrated Payments: TB Payments, TSYS, Worldpay, and Square are also supported.
Payment Processing Flexibility: Options for all-in-one system or to shop around for rates.
Offer Tableside Contactless Payments: EMV- and PCI-compliant card readers for in-house, online, and contactless payments.
When it comes to payment processing, TouchBistro offers restaurants the best of both worlds. If you want to shop around for the best processing rates, you can choose from several popular options. However, if you want to enable online payments in your TouchBistro POS, this flexibility disappears; you must use TouchBistro payments powered by Chase.
TouchBistro Payments' processing rates are based on your business type, card mix, and sales volume. You'll need to contact TouchBistro for a custom quote.
TouchBistro Hardware
iPad-based: TouchBistro is compatible with all fifth generation and later iPad models. However, the system runs best on iPad, iPad Air, and iPad Mini devices from 2018 or later.
Tons of peripherals: Self-service Kiosk, Customer Facing Display, KDS, Digital Menu Boards, Barcode scanners, cash drawers, and card readers are customizable to fit any restaurant configuration.
Connectivity boosts: AmpliFi routers and ethernet switches increase connectivity for more extensive operations.
Mobile options: A variety of iPad stands and holders allow you to use TouchBistro tableside or stationery.
The baseline TouchBistro configuration is a single terminal consisting of an iPad, iPad stand, receipt printer, card reader, router, and modem. Fully mobile operations, like food trucks, can sub in an LTE-enabled router to access wireless broadband signals. In small operations, this single iPad can operate as your POS terminal and the "brain" of your system. As you add iPads—as either KDS screens, self-service kiosks, or additional POS terminals—you'll need to reserve a single iPad to act as your central server.
When your total iPad count gets to six or higher, you'll need a TouchBistro "Pro" configuration. The Pro hardware setup requires a Mac Mini server connected to a monitor, keyboard, and mouse to communicate with all your terminals. Digital menu displays operate via Apple TV on HDMI-enabled screens, while KDS and self-service kiosks operate as additional TouchBistro terminals. You can purchase hardware through TouchBistro directly or bring your own compatible hardware. Detailed online tutorials walk you through the hardware configuration.
The TouchBistro hardware is linked together in an elegant way to support offline functionality. If you lose internet connectivity, your TouchBistro system will still communicate on-site. Tickets will still print from printers, and orders will still go to the kitchen. The only thing the system needs the internet to do is process payments. This hybrid set up and iPad foundation make TouchBistro a compelling option for small restaurants that want to operate completely via self-service kiosks.
TouchBistro POS Features
Menu and check management: Add and edit menu items directly in the POS. Quickly transfer tabs to tables, and split checks by item or seat number.
Table management: Customize your TouchBistro floorplan to match your restaurant set up.
Speed Ordering: Bars, breweries, and QSRs can use speed ordering screens to ring in orders without table numbers.
Reporting and analytics: TouchBistro has a wide variety of built-in sales, labor, menu, accounting, and payment reports that you can print, email, or view in the app.
Integrations galore: A wide array of third-party integrations are available, including popular scheduling and accounting tools.
Open API: You can build your own integrations to plug in your preferred software tools.
Customer support: 24/7 year-round support is available by phone, email, and chat, plus an extensive online support portal for self-guided solutions.
Available add-ons: Reservations, Online Ordering, Gift Cards, and Loyalty are available.
Click through the sections below to learn more about TouchBistro's specific features:
TouchBistro Inventory
Dual featured: Track single unit items (like bottled beverages) or ingredient-level.
Customizable: Enter bulk items by the same measure you order them with and back them out by the measure you use.
Manage from the POS: Update counts and input new orders as they arrive to keep your stock counts up to date.
Low stock reports: Provide a shortcut to help you build vendor orders.
TouchBistro's inventory module is included in the baseline software subscription. It allows you to input raw ingredients and tie them to individual menu items so that your inventory updates as dishes are ordered. You can bulk import ingredients into the system via a CSV file to get started, then update individual items directly from the POS. You can customize each ingredient to reflect the way you order it—ground beef by the pound, for example—then customize measures used in individual recipes—as in 4 ounces for a quarter-pound burger.
This may not be enough customization for some restaurants. Consider a restaurant that sells a signature Cobb salad. Each of those Cobb salads is topped with 3 ounces of cooked, crumbled bacon. The restaurant buys the bacon raw, by the pound. But because bacon loses water and fat when it is cooked, its inventory is likely to show a constant variance of 10%–15% in its bacon costs because of this difference.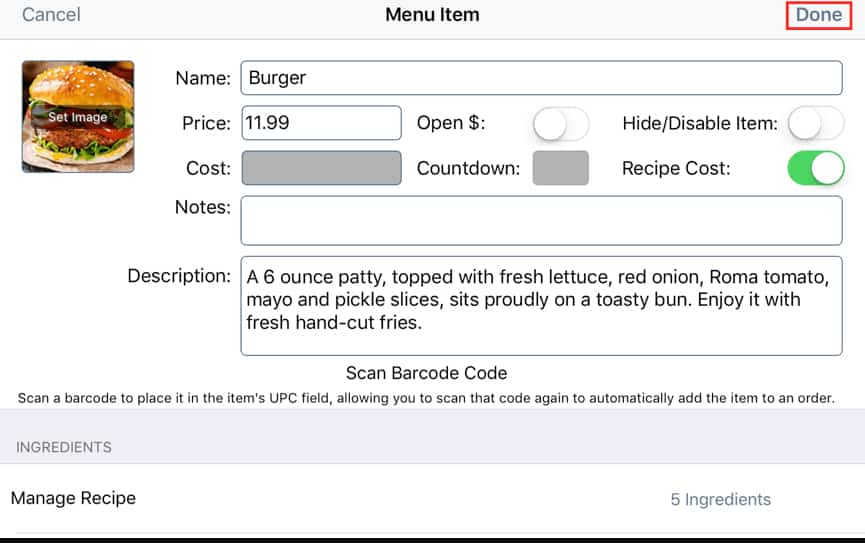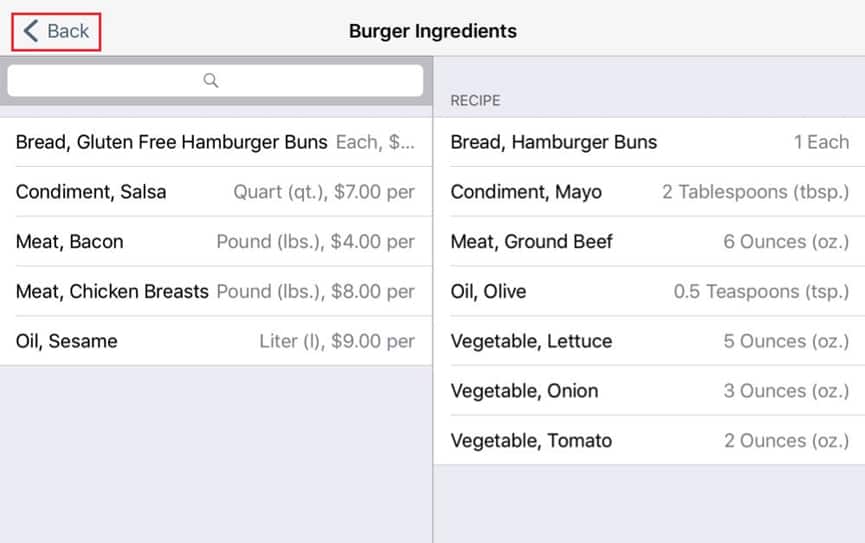 More comprehensive inventory systems like Toast and Upserve have customizable settings to sidestep this common dilemma. They also have built-in vendor management, which TouchBistro's inventory system lacks. You can add this function to TouchBistro, though, via a third-party integration with MarketMan.
TouchBistro's inventory is not bad; it just isn't a fit for every restaurant. If your menu is streamlined—like a taqueria, coffee shop, or burrito bar—and you don't change it often, then TouchBistro's inventory will be just your speed. If your restaurant doesn't use POS integrated inventory, then TouchBistro's inventory limitations aren't a reason to avoid this affordable system.
---
TouchBistro Staff Management
Set staff breaks: TouchBistro lets you set up break periods so your staff no longer have to clock out and clock in for their breaks.
Manage permissions with staff types: Create staff roles and assign permissions to each role instead of the staff logins.
Get detailed shift reporting: The breaks management feature allows you to get a more detailed shit time and break times report for your staff.
Set schedules: TouchBistro integrates with 7shifts and PushOperations for employee scheduling and HR and payroll management.
See real-time labor cost: View daily reports on staff attendance, sales performance, and tips.
TouchBistro comes with a baseline staff management feature similar to popular restaurant POSes like Clover and Toast that allows you to create and manage logins and permissions. You can also store employee-specific payroll details in TouchBistro Cloud to help you manage paydays and tax season with ease.
However, for shift scheduling and payroll functions, you'll need to subscribe to one of TouchBistro's integration partners. Push Operations charges $4–$8 per employee, per month, with varying degrees of functionality. You can get 7shifts for free if you have one location with 10 employees or fewer; paid subscriptions start at $17.99 per location for up to 20 users.
You can create, customize, and manage staff roles. Assigning permission to staff roles instead of giving them to individual logins helps streamline your staff onboarding process, not to mention ensuring that only the right staff members have access to certain POS features.
Break management might seem like a simple feature at first, but it comes in handy when creating a more detailed report and running your restaurant's day-to-day operations smoothly. For example, if a server who clocks out to go on break still has open tables, TouchBistro will display a popup window prompting your staff to either close their open tables or transfer them to another server.
---
TouchBistro Reservations
Reservation management from your POS platform: TouchBistro's reservations system is fully integrated with the TouchBistro POS.
Customizable settings: Customize booking settings for in-house and online reservations.
Built-in SMS messaging: Text customers for reservation confirmations and special requests directly from the app.
Customizable employee profiles: Block higher level reservations functions for non-front desk employees.
Cancellation policy: Prompt for a credit card for large parties or special events.
TouchBistro has an optional built-in reservation function, and pricing starts at $229 per month. The reservation system integrates with the TouchBistro POS, enhancing its ability to track and report guest trends. You can accept reservations over the phone, in-person, via your website, or through Google. The system can also integrate with Google's Waitlist Me if you want to allow customers to add themselves to your waitlist before they arrive. Once tables are seated, the sync with the POS shows your front desk team the status of each table as they move through courses and pay their checks.
Like most reservation systems, TouchBistro Reservations customizes your floor plan and has controls to block tables and set maximum cover counts that can be set by timeframe. TouchBistro also supports in-app SMS messaging so that your staff can confirm reservations via text, and customers can text you if their plans change. Like the POS, you can set employee permissions in the reservation module to control what specific functions employees can access.
---
TouchBistro Customer Management and Loyalty
Cardless: Customer accounts are tracked by phone number or email, so customers never have to remember a loyalty card or special number.
Customer filters and tags: Create categories for regulars, recent visitors, or guests who like beer. Filter customers by birthday month, number of visits, average spend, and more.
Customizable rewards: Decide whether to reward specific purchases or award points by dollars spent. Offer dollar or percentage discounts based on points earned.
In-app messaging: Select filtered customer groups and send tailored email promotions directly from your Loyalty dashboard.
TouchBistro's Loyalty and Rewards modules are streamlined and dynamic, so customers can enroll easily at checkout. Loyalty profiles are tracked by phone number or email address, so you don't have to track special loyalty numbers or distribute cards. TouchBistro Loyalty is an add-on to the baseline POS, offered at a custom quoted rate, and this module integrates with other POS functions to create customized promotions and various reward options. Multilocation restaurants can decide to apply rewards at all locations or only specific ones.
---
TouchBistro Online Ordering
Customize your platform: TouchBistro supports in-house online ordering or integrations with third-party aggregators.
Accept online payments: TouchBistro Payments customers can process online payments in-house.
Keep the kitchen in the loop: Built-in online orders and third-party orders are transmitted directly to your KDS.
Accept or decline in real time: You have the option to accept or decline online orders as they show up in your POS and send cancellation messages if your kitchen is backed up or you have run out of stock.
You can get online ordering on TouchBistro via third-party integrations or add the optional built-in module to host an in-house solution. Pricing for the built-in module starts at $50 per month. The built-in module allows customers to place orders via an "order now" widget on your website that redirects them to your online menu on TBDine.com. You can also send this link to customers via email and link it on your social media accounts.
Moreover, you can accept online orders without accepting online payments. But, if you want to accept online payment for in-house online orders, you'll need to use TouchBistro Payments. This is a minor limitation to the online order functions. TouchBistro's Online ordering module allows you to attach customer addresses and driver names to delivery orders. Still, the system doesn't currently support driver management to the same degree as it does server and cashier management. You may need to do some offline Google Mapping and tip pooling to direct and manage your driver roster.
You can add third-party online ordering platforms through an integration with aggregators Ordermark or Deliverect. Both are third-party aggregators that accept orders from platforms Uber Eats, DoorDash, and others and funnel them directly to your POS. Both aggregators charge their own monthly fees in addition to the fees charged by the third-party order originators. So, the cost of orders from these integrators could add up.
---
TouchBistro Reporting
Vast array of built-in reports: Sales, menu, payments, accounting, and labor reports show where your money is being spent and identify your most significant profit drivers.
Mobile reporting app: TouchBistro's Reports To Go smartphone reporting app is available for iOS and Android phones.
Auto-schedule email: Auto-schedule specific reports to email ownership and management teams to keep everyone on the same page.
Customizable parameters: Select report parameters to drill down for sales and cost details during specific operation hours.
Reports in your favorite format: Email, print, or download a CSV file of a report directly from the POS.
TouchBistro hosts all the standard reports that any restaurant needs to monitor daily operations. Reports are organized into five categories for easy navigation: sales, accounting, menu, payments, and labor. Reports are accessed via the Admin menu on the POS itself, via the Reports To Go smartphone app, or via an online cloud reporting dashboard. Built-in inventory and staff time tracking functions give TouchBistro a lot of reporting data to work with.
In addition to logging standard sales, discounts, voids, and comps, TouchBistro offers users a comprehensive look at food and labor cost in real time. The reports feature vivid graphs and other visual elements to illustrate your performance at a glance. The Key Targets report is especially helpful, showing your management team exactly how close your team is to hitting sales and traffic targets for the week.
The reporting and management module does have a minor Achilles' heel. You can access reports from a mobile app, a cloud dashboard, or the POS, but many updates can only be made in the POS itself. If you have a lot of updates and changes to make or want to reconfigure certain reports, you might have to arm-wrestle your staff for a terminal. This can hamstring a high-volume operation.
---
TouchBistro Ease of Use
iOS configuration: The POS interface is as familiar as an iPhone.
Uncluttered order screen: The minimal design makes it easy to find what you are looking for and cuts down on errors.
24/7 customer support: Customer support is available over the phone, via email, or online chat.
Online resources: Comprehensive online database of video tutorials walk you through everything from inputting an employee to configuring a new terminal.
Personalized implementation support: A dedicated account manager supports you in setting up your initial POS system.
Remote access: Support technicians can remotely access your POS to help troubleshoot problems.
For staff and customers using self-service kiosks, the TouchBistro system is incredibly user-friendly. TouchBistro is built on Apple iOS on iPads, so it looks, feels, and operates just like a smartphone. Staff tend to pick up the system almost immediately, cutting down on training time. Additionally, Self-order kiosks and KDS screens are intuitive with tap and swipe navigation.
This same navigational mode can make administrative tasks a little tedious, though. Many manager functions need to be performed directly in a TouchBistro terminal. The administrative settings and reports are accessible via nested drop-down menus that look and function exactly like iPhone menus. This means you won't have to run to the manager's office to make a quick change to update a menu item or adjust the floorplan. It also means that editing a single menu item can take several taps using a touch-screen keyboard.
TouchBistro Restaurant Software Alternatives
TouchBistro is a great, economical POS for small restaurants that don't need lots of terminals or devices. Large operations that have several revenue centers—like on-site service with delivery, takeout, catering, and special events—will likely want a more robust system, though.
| If You Need: | Try: |
| --- | --- |
| Flexible inventory with vendor management | |
| Built-in employee management | |
| Robust delivery dispatch and river management functions | |
| An even lower-priced restaurant POS | |
What Users Think of TouchBistro POS
Users love this system. The most frequently cited benefit in user reviews is that servers and cashiers learn the system easily. If cutting down staff training time is important to you, then TouchBistro can really help your operation. Experts also find a lot to like in TouchBistro:
Finances Online: TouchBistro earns a rare rating of 5 out of 5 based on 22 user reviews and a 95% User Satisfaction rating.
G2: It is listed as a 2021 Summer Leader, earning a rating of 4.5 of 5 from 88 user reviews.
U.S. News & World Report: TouchBistro is its #4 overall restaurant POS for 2021, awarding the system 3.8 out of 5 stars.
| Users Like | Users Don't Like |
| --- | --- |
| Ease of use for customers and staff | Long waits for customer service response |
| Flexible payment processing | Limited reporting and inventory functions |
| Affordable pricing | Bar tabs do not retain credit card information |
Bottom Line
TouchBistro is one of the easiest restaurant POS systems for front-of-house staff to use. The customer facing interface is also speedy and elegant. The hybrid installation, extreme mobility, and low cost for a single register make TouchBistro an excellent choice for wine bars, burger joints, coffee shops, and other QSRs with focused menus. To see if this system is a fit for your food and beverage business, contact TouchBistro for a free demo.