A free conference call service allows you to host basic conference calls and video meetings. We looked at the top conference call services that are either completely free or free to start and narrowed it down to six. We then compared the number of participants and features to identify the best free overall offering.
While these free solutions offer a helpful core set of features, they are limited compared to paid systems that offer things like a free business phone number, call recording, and an auto-attendant. If you need more robust conference calling functionality, try using RingCentral. It even offers a 15-day free trial with no upfront commitment, so you can see how it works for you risk-free. Get started today.
Top 6 Free Conference Call Service 2019
| Free Conference Call Service | Best For |
| --- | --- |
| FreeConferenceCall.com | (Best Overall) Businesses that need a comprehensive free conference call service. |
| UberConference | Startups that want to hold smaller conference calls with up to 10 people. |
| FreeConference.com | Those who want a free conference number with toll-free international call-in numbers. |
| Google Hangouts | Companies that use G Suite and want to sync communications across devices. |
| Zoom | Businesses that want a robust video conference service with a powerful mobile app. |
| GoToMeeting | Companies looking for a product with robust video collaboration capabilities. |
How We Evaluated Free Conference Call Services
Free conference call services should allow you to host calls with multiple participants either from within your phone system or online without a subscription fee or additional hardware. When determining the best, we considered factors like price, features, call quality, and ease of use in order to determine the overall best for small business.
We evaluated the services on the following key areas:
Price: In order to be considered, each service has to either be free-to-start or completely free to use, even if there is a paid version.
Setup and ease of use: Setup should be quick and the process to host a conference call should be easy.
Caller limits: We compared each service's limits on attendees, such as maximum participants, whether callers can be added once the call has been started, or if a service supports international access.
Call quality: We researched customer feedback and concerns related to call quality and if a service offered high-definition audio or video calling.
Security: We checked to see if a service offered protections such as PIN, dedicated phone numbers for each account, or scheduling features, which could protect calls from overlapping.
Call controls: We evaluated available options for managing the conference call, such as caller muting, caller announcement, and call scheduling.
Call recording: We considered each service's ability to record conference calls or transcribe calls and, if applicable, how easy it was to access recordings later.
Mobile app: Mobile apps should be available to allow management and participation in conference calls on the go.
Customer support: We examined the customer service channels available in case customers run into problems.
FreeConferenceCall.com is our recommendation for the best free conference call service because it supports up to 1,000 participants with call recording, participant controls, and calendar integrations. Meetings are easy to schedule and the system, whether you use it for an audio call or online meeting, is simple to use. Read on to see how our picks compared.
Best Overall Free Conference Call Service for Small Business: FreeConferenceCall.com


FreeConferenceCall.com is a free conference bridge provider that offers call recording, web management, and calendar integrations for up to 1,000 participants, which far exceeds the limits imposed by other services. This option is the best choice for any business that wants to use a robust conference calling system without paying any subscription or per user fees.
FreeConferenceCall.com Pricing
FreeConferenceCall.com's web-based conferencing service is available at no cost to the user. While there used to be a premium version, that product has since been discontinued, although a new paid solution, called StartMeeting, is available through the company's website. This makes FreeConferenceCall.com a truly free solution for conference calling.
FreeConferenceCall.com Features
FreeConferenceCall.com is one of the most feature-rich free conference call services available. The free service offers many of the same features and tools as many other paid providers, such as calendar integrations and a local desktop app. The service can also be used to host webinars and provides online storage for recorded meetings.
Some of the key features of FreeConferenceCall.com include:
Call Limits
With FreeConferenceCall.com, you can host online meetings with as many as 1,000 participants, much larger than any other provider. This far exceeds the call limits of UberConference and other competitors.
Call Controls
FreeConferenceCall.com offers what's called a "reservationless service." This means that you can host a meeting anytime without needing to schedule your meeting in advance. Once your conference call is underway, you can mute callers, start recordings, and lock calls like you can with most solutions of this kind. The web-based controls also give you the added benefit of being able to see each person on the call.
Call Recording
FreeConferenceCall.com provides a conference recording feature. You can initiate recordings of your audio or video conference from the desktop app, and all your recordings are automatically saved in the online storage offered by the conference call service provider. This is much more convenient than solutions like UberConference that provide no video recording options.
Mobile App
FreeConferenceCall.com offers a mobile app for iOS and Android devices, which is rare for a free video conferencing system. The app allows you to host meetings, manage calls, and configure account settings just like you would with the desktop version of the app.
FreeConferenceCall.com Setup & Ease of Use
Signing up for the service takes just a few seconds. You create your free account by entering your email address and a password. You are then given a confirmation email that includes your conference call telephone number, access code, and host PIN. It also includes your online meeting ID, your playback number, and a brief overview on how to host your first call. This platform is one of the most intuitive on the market.
FreeConferenceCall.com Customer Support
FreeConferenceCall.com's customer support is fantastic. It was surprising to speak with a live support representative for a completely free service. All questions were answered with great detail, and the representative provided a clear explanation of the system's features and settings.
What FreeConferenceCall.com Is Missing
There wasn't much missing from FreeConferenceCall.com in regard to features. However, online storage is limited to 1GB of storage for video or audio call recordings. In addition, it doesn't send recordings directly to your email inbox after meetings like UberConference does, either. Still, this isn't necessarily a deal-breaker because 1GB equates to 90 minutes of video and about 10 hours of audio.
What Users Think About FreeConferenceCall.com
Businesses that use this conference call service appreciate that it's free and reliable. The support for up to 1,000 callers on a conference with features like call recording, screen sharing, and international numbers is a favorite among many small business owners. For more reviews, check out our FreeConferenceCall.com user reviews page.
Best Free Conference Call Service for Small Meetings: UberConference
UberConference is a free conference call service that allows you to host online meetings. It can accommodate up to ten users for free on a call and includes many features, such as call scheduling and recording. A paid version is also available for $15 per user, per month. This is best for startups that regularly need to conference with ten callers or less.
UberConference Pricing
UberConference is free for up to ten participants and includes screen and document sharing. There is also a premium version of conference call service that costs $15 per user, per month. The premium version includes all the same features of the free version, but allows for up to 100 participants and international access numbers.
UberConference Features
UberConference's free service plan includes many of the features and tools that businesses are looking for in a conference call service, but one of its best features is its unique ability to call participants directly when a conference call begins, which helps make calls more efficient by reducing the risk of participants forgetting access numbers or calling in to a conference late.
Some of the features of UberConference include:
Caller Limits
With UberConference, you can host online meetings with up to ten participants for free, but it does not support international calling like FreeConferencecall.com does. However, the paid version of the service can support up to 100 callers, and participants can join with their desktop, phone, or the mobile app.
Call Controls
UberConference allows you to host meetings by phone, browser, or mobile app with no advance notice required. You can start recordings, share documents with callers, and record meetings for playback at any time, just like with other services we looked at. You also have the ability to dial out from the meeting to bring another participant into the conference call, or configure the system to automatically call each participant when your meeting is ready to begin.
Call Recording
UberConference also provides a recording feature for your conference calls. You can record and save phone meetings as an MP3 file that you can download at any time. Unlike FreeConferenceCall.com, you aren't able to record video, but your audio recordings are sent to you in an email after every meeting.
Mobile App
UberConference offers a mobile app for both iOS and Android devices. From the app, you'll have all of the same features and controls as you would using the system through the web portal. You can easily start and join a conference call, see who else is on the call, and control the conference.
UberConference Setup & Ease of Use
From start to finish, UberConference is incredibly easy to use. Within seconds of signing up, you can start holding meetings. The simple design and layout helps you move quickly and hassle-free, the simple online dashboard shows you everyone in your conference call, and it uses an icon to show who's actively speaking during the meeting. It is one of the smoother user experiences we've seen in a conferencing system.
UberConference Customer Support
The customer support offered by UberConference is very helpful. You can contact a support technician by creating a support ticket or by sending an email. They also have an online knowledge base with a comprehensive list of frequently asked questions, videos, and training material so you can search for answers to your issues before contacting a representative.
What UberConference Is Missing
The biggest drawback of UberConference is the lack of video support, which puts it behind systems like FreeConferenceCall.com and FreeConference.com. The audio quality of the calls could also use some improvement, as there can sometimes be feedback or static that could interfere with a conference call.
What Users Think About UberConference
Business owners who use UberConference are satisfied with the simplicity of the service. Some of the automated tools make management easier for business owners. However, some, but not all users expressed dissatisfaction with the quality of the audio on conference calls. For more customer opinions, check out our UberConference user reviews page.
Best Free Conference Call Service for International Calls: FreeConference.com


FreeConference.com is a conference service provider that offers a free plan with a rich set of features and is easy to use. The free service supports up to 400 participants and offers many features of competing services, but also offers toll-free call-in numbers for international callers. Paid plans are available starting at $9.99 per month. This makes this the best for businesses that conduct conference calls with a large number of international participants.
FreeConference.com Pricing
FreeConference.com offers unlimited conferencing for up to 400 phone participants as part of its free service, as well as up to five online meeting participants and free international dial-ins. There are also paid plans which range in price from $9.99 to $34.99 per month, which include additional premium minutes and call recording.
FreeConference.com Features
FreeConference.com free plan includes features like unlimited conference calls, video conferencing, calendar integration, screen sharing, and meeting smart search. It supports up to 400 phone participants for free, which is significantly more than other free services. It also offers toll-free international call-in numbers.
Some of the key features of FreeConference.com include:
Call Limits
FreeConference.com allows you to hold unlimited free audio conference calls with up to 400 people at a time. You can also get a free international number, which is rare in this space. The system allows callers from 15 different countries to call a number that is local to their area. The service also supports up to five participants in an online video call.
Call Controls
FreeConference.com accounts come with a primary local or international number, a PIN number for the admin, and an access code. With these, you can use your account at any time to start a conference on demand or schedule with your attendees. You'll have the same standard controls such as muting callers, and both the host and participants can share their screens in a video call. This is a benefit, as most other services limit screen sharing to just the account holder.
Call Recording
FreeConference.com does not offer call recording as part of its free plan, which is a shame because FreeConferenceCall.com includes it. If you want to record your meetings with the platform, you will have to subscribe to one of the paid plans.
Mobile App
FreeConference.com's app allows you to instantly start or schedule a free conference call right from the palm of your hand via an iOS or Android device. You can manage your conference call meetings and all account settings with the app. The app offers a smooth interface, but it's not quite as intuitive as UberConference's mobile offering.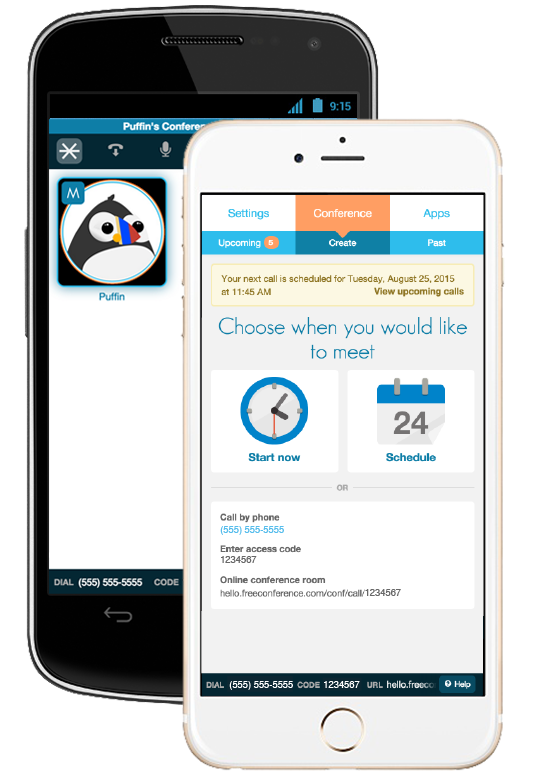 FreeConference.com Setup & Ease of Use
FreeConference.com's setup is just as simple as other providers. You can create your account directly from their website and get started right away. There are no desktop app downloads required to use the conference call service, and you can dial the number that's given to you once your account is created and enter the access code to start a meeting with your phone.
FreeConference.com Customer Support
FreeConference.com has a large collection of how-to videos, tools, and tips, frequently asked questions, and "getting started" guides to help you find answers to any questions you might have. Its knowledge base is far more extensive than other free conferencing solutions. If these resources don't give you the answers you're looking for, you can contact their customer support through their toll-free support number.
What FreeConference.com Is Missing
The lack of support for recordings in the free tier is a big drawback for FreeConference.com. Another disadvantage of the service is that you can't lock your meetings. This means that anyone can effectively join your conference call with the number and access code provided, regardless of whether they've been invited to the meeting or not. If you are looking for better security measures, we recommend looking at FreeConferenceCall.com instead.
What Users Think About FreeConference.com
The simple setup, combined with how easy it is to schedule a call with participants, is a favorite among business owners. Others love the interface, getting a free dedicated number, and the reminder emails that are sent by the system for scheduled conference calls.
Best Free Conference Call Service for G Suite Users: Google Hangouts


Google Hangouts is a free virtual conference call service that allows you to host and participate in virtual meetings. It syncs across all your devices, giving you history of all messages exchanged during conference calls, and is tied into your Gmail and Google Calendar for easy scheduling of conference calls. It's best for entrepreneurs and businesses that are already using Google services to manage their business and are looking for a free conferencing service.
Google Hangouts Pricing
Google Hangouts is completely free to use, but requires you to have a G Suite account. Personal G Suite accounts are free, but G Suite for business starts at $6 per user, per month, and includes access to Docs, Sheets, and other business productivity tools.
Google Hangouts Features
While Google Hangouts is positioned as a great service for individual one-on-one meetings, it also works as a great free conference call service with no limits on call length. It provides HD video and audio, meeting controls, and integrates with your Google Contacts, Calendar, and Gmail at no additional cost.
Some of the key features of Google Hangouts include:
Call Limits
With Google Hangouts, you can perform a group video chat with up to 25 users. Unlike the other providers, Hangouts doesn't directly provide you with a phone number. You'll need to obtain a virtual phone number from Google Voice for use with Hangouts. Callers can get into your meeting through your individual web link or with your virtual phone number.
Call Controls
Google Hangouts has call controls similar to the other providers. You can mute callers and share screens for presentations. With the mobile interface, you can also communicate privately with a chatroom and use buttons to turn your camera on and off.
Call Recording
Recording of audio and video conference calls isn't available with Google Hangouts, as Google would prefer to host recorded videos on its other product, YouTube. There is also no voice transcription service included with Google Hangouts. If recording is a must-have for you, FreeConferenceCall.com might be a better fit.
Mobile App
Google Hangouts can be accessed on your mobile device and is available for both Apple and Android systems. With your mobile app, you can host and join meetings and even use your mobile phone's camera to participate in a video call.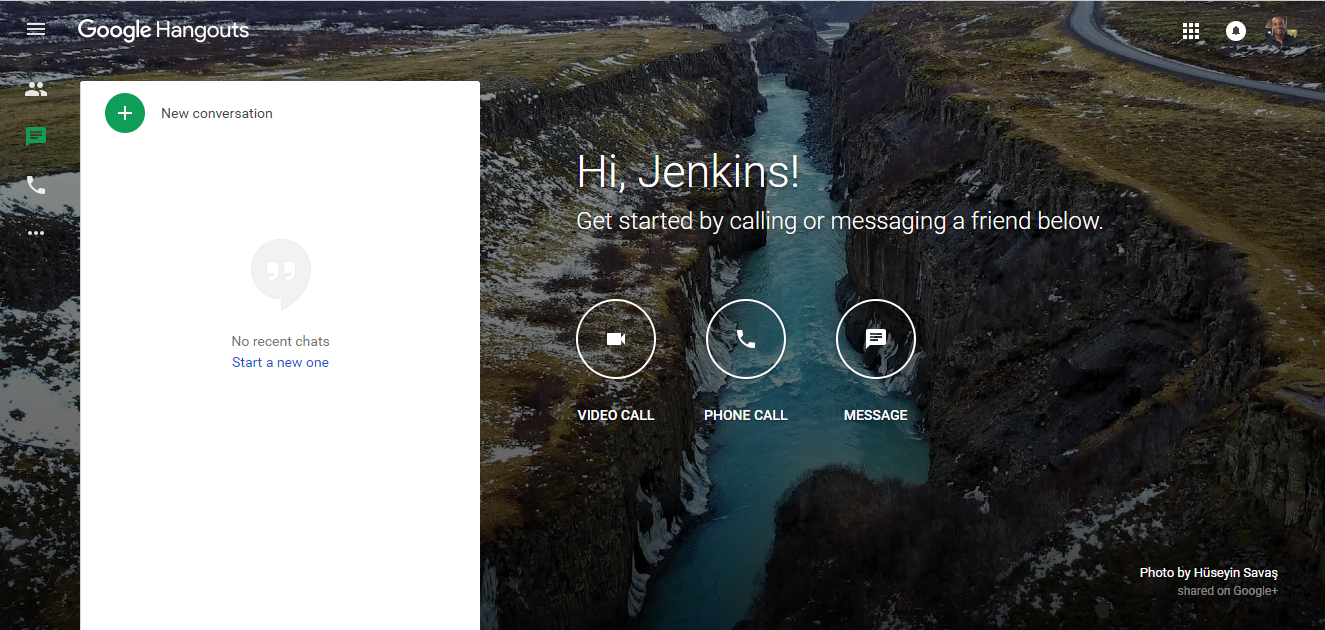 Google Hangouts Setup & Ease of Use
Setting up and using Google Hangouts is as simple as it gets. All you need is a free Google account to set up an online conference call. The interface is surprisingly easy to navigate, it connects to your Gmail account, and is directly integrated with your Google Calendar, making it easy to add scheduled Hangouts conference calls. Since no other service integrates so smoothly with Google apps, this is easy to recommend for users of the company's business suite.
What Google Hangouts Is Missing
The lack of recording is a disadvantage of using Google Hangouts. Also, customer service isn't available for the free service of Google Hangouts, so you'll have to rely on forums and online searches to find resolutions to any problem you might have. This is a far cry from Freeconference.com and other competitors that offer live help. It can be a deterrent to those who want the security of having a customer service team to help them with any questions.
What Users Think About Google Hangouts
Users of Google Hangouts love how well it integrates with all your Google accounts and other services, and feel that it has an intuitive interface that works even for those who aren't technologically savvy. Others would like to see more tools with the service that give more control during conference calls without interrupting the call. For more reviews, visit our Google Hangouts user reviews page.
Best Free Conference Call Service for Mobile Video Conferences: Zoom


Zoom is a comprehensive cloud-based conference call service that is easy to use and offers both a free version and a paid version that starts at $14.99. It features high-quality HD video and audio support for conference calls at no cost, and features one of the most user-friendly mobile apps. This is a great option for companies that want to make video conference calls in the office or on the go.
Zoom Pricing
Zoom's free service allows you to host video conferences for up to 40 minutes in length and with up to 100 participants. There are also paid plans which range in price from $14.99 to $19.99 per host, per month. These paid plans remove the limitation on conference length and includes additional administrative controls.
Zoom Features
Zoom offers a wide array of video features such as screen sharing, instant meetings, reservations, and scheduled meetings, as well as private and group chats. Zoom supports audio calls, but it is best for video. Its mobile app, which is one of the most user-friendly of the tools compared, allows participants to schedule and join conference calls whether they are at their desk or out in the field (provided there is a strong internet connection).
Call Limits
With Zoom, you can host online meetings with as many as 100 callers for free. With the free version of Zoom, you are only limited to 40 minute sessions for video and audio conference calls, but you'll still have access to all the features of the service. This limitation on call length for its free version does put it at a disadvantage when compared to Google Hangouts.
Call Controls
Free users of Zoom can mute and control calls, turn the video camera on and off, invite new participants to join while a meeting is in progress, share screens, or record the presentation. When reserving and scheduling a meeting, you can automatically add those to your Outlook and Gmail calendars and send meeting invitations directly from Zoom.
Call Recording
Zoom allows you to record conference calls, which puts it in line with most other conference call services. Its recording feature will capture both the audio and video from meetings and make them available for you to download immediately after the meeting.
Mobile App
Zoom's mobile app is one the most user-friendly out of all the tools we compared. Available for both iOS and Android phones, you can either create your account if you're a new user or sign into your account. With the app, you can host and join meetings, see a list of all previously attended meetings, chat with meeting attendees, and perform all the same functions that you would with the online portal.
Zoom Setup & Ease of Use
Zoom's platform is pretty straightforward and easy to understand. While it does have a long list of features, the online dashboard is not difficult to navigate. Zoom automatically presents the video feed of the active participant, which is the person currently speaking. Many of the available options are simple and self-explanatory. Even those who aren't technologically savvy will be able to pick it up quickly.
Zoom Customer Support
Zoom does offer 24/7 customer support, but only for those on one of the paid subscription plans. FreeConferenceCall.com, on the other hand, provides live support for its free app. With the free version, you'll have access to their online help desk, one-minute video tutorials, and frequently asked questions to help yourself with any questions. You can also submit a support ticket to get in touch with the technical support team.
What Zoom Is Missing
There isn't much missing from Zoom when it comes to available features. However, the 40-minute limit on conference calls is a bit of a disadvantage, as other free conference call service allow for unlimited meetings.
What Users Think About Zoom
Business owners and users of Zoom strongly feel that it makes video conferencing easy. They love the ability to schedule a meeting and have it automatically added to their calendars, and feel that it's a great substitute for in-person meetings. For a more comprehensive overview of what users think of the conference call service, check out our user reviews of Zoom.
Best Free Conference Call Service for Collaboration: GoToMeeting

GoToMeeting is a free-to-start conference call service provided by Citrix. It offers phone and voice-over-internet-protocol (VoIP) audio conferencing as well as video conferencing with screen sharing, annotation functionality, and chat messaging for up to 10 participants. While there is no forever-free version, the platform does have a lot to offer small businesses, and we find that it is worth considering for small teams who want a conferencing tool designed for group collaboration.
GoToMeeting Pricing
GoToMeeting offers a free trial for fourteen days. However, after the trial has ended, you will be asked to sign up for one of their paid plans. The paid plans range in price from $19 per month for up to ten participants to $49 per month and up to 250 participants.
GoToMeeting Features
The free-to-start version GoToMeeting doesn't require any downloads to run, nor does it require your participants to download the software either, unlike other services. All the available features, such as webcam sharing, screen sharing, meeting recording, and others, can all be run directly from your web browser. Participants can also draw on shared screens with its built-in annotation feature, making collaboration easier.
GoToMeeting's key features include:
Call Limits
With the Free version of GoToMeeting, you can host unlimited meetings for up to 10 participants. While not as many as providers like FreeConferenceCall.com or Zoom, the ability to use just the web browser with no additional software does provide a slight advantage over the other conference call services.
Call Controls
With GoToMeeting, you'll have a lot of the same controls that you'll find with other conference call services. You can invite others to your conference call while a meeting is in progress, and share your screen or a specific application on your computer. You can give participants the ability to draw on shared screens, mute and unmute attendees, and even make other attendees presenters.
Call Recording
GoToMeeting allows you to record your conference calls with a cloud recording feature. With the click of a button, you can record your meeting and have it automatically saved online. Once your conference call is complete, a meeting summary page is loaded that allows you to play the recording, copy the link to share with others, download the recording, and even delete the recording.
Mobile App
GoToMeeting does have a mobile app that's available for iOS and Android devices, but the app and its available features are only available to users on one of the paid subscription plans. If a mobile app is a must-have for your free conference call service, then a provider like Zoom might be a better choice for you.
GoToMeeting Setup & Ease of Use
Signing up for GoToMeeting is easy and takes only a few moments. With just an email address, you can create your account and start your first online conference call in minutes through the online portal.
GoToMeeting Customer Support
GoToMeeting's customer support is quite comprehensive. You can reach a support representative over the phone or get 24/7 support through support tickets. There are plenty of resources such as frequently asked questions, how-to videos, and getting started guides that will help you get the information you need when you have an issue.
What GoToMeeting Is Missing
The free version of GoToMeeting doesn't provide a conference number and access code for users to join a conference call over the phone. It's strictly a web-based conference call service rather than a feature of a business phone system. So, if you need to have a virtual phone number for your conference call with an access code for callers, then perhaps FreeConferenceCall.com is a better fit.
What Users Think About GoToMeeting
Users who are happy with GoToMeeting liked that it can be used just about anywhere. They loved the ability to host meetings from their mobile devices and found screen sharing to be incredibly helpful. For more detailed reviews of the conference call service, check out our user reviews of GoToMeeting.
Bottom Line
Conference call services provide a simple and convenient way to hold meetings with team members, remote employees, and even customers. There are numerous factors to consider when looking at a free conference call service, such as whether it supports the number of callers you need and has a comprehensive set of features. With all the providers that provide free conference call services, we found FreeConferenceCall.com to be the best.
FreeConferenceCall.com gets our recommendation as the best free conference call service. It offers a wide selection of features that will be valuable to any business, supports as many as 1,000 users, and provides excellent customer support at no cost. If you're looking for a conference call service that will grow with your business and allow you to reach a large number of users with a conference call or webinar, FreeConferenceCall.com is the best choice for you.