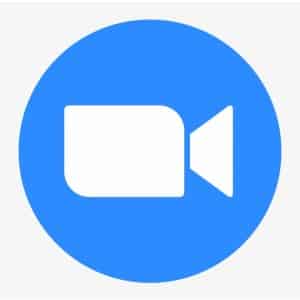 Zoom is a video conferencing software solution that caters to businesses of all sizes. It is simple, easy-to-use, and affordable, making it the go-to platform for one-to-one chats, group calls, and even webinars. Users can initiate Zoom sessions from a web browser, desktop app, mobile app, and through many of Zoom's software integrations. It's a popular tool among small businesses thanks to its user-friendly interface and free plan.
What We Recommend Zoom For
Zoom works for most businesses wanting straightforward, reliable video conferencing. Plus, because it is one of the most widely used conferencing platforms in the world, it often requires little user training. While it isn't the most advanced or feature-rich tool on the market, it hits all the key fundamentals required for team collaboration and communications, making it a great option for individuals and growing teams looking for an affordable, basic video chat solution.
When to Use Zoom
When Zoom Would Not Be a Good Fit
Businesses in need of an end-to-end VoIP business phone system: Zoom provides basic VoIP phone functionality, and is not intended to replace a full-featured business phone system. Businesses in need of more robust communication features, like the ability to automatically update client records with log call notes or customizable call management functionalities, should look into alternatives like RingCentral or Nextiva.
Scaling companies on a tight budget: Zoom is an affordable option for small businesses, but it starts to get pricey as you scale. Enterprise accounts start at $30 per license, per month, which could cost over a million dollars annually if you have thousands of employees. Microsoft Teams, on the other hand, costs just $12.50 per user, per month on its most robust plan.
Businesses in need of advanced meeting control features and functionality: Zoom is an affordable, reliable solution, but it might not have every feature your business needs. Alternatives like Webex and GoToMeeting provide targeted benefits like whiteboard sharing, advanced meeting security, and specific software integrations.
Zoom Overview
PROS

CONS

Easy to use
Could get expensive for enterprise businesses
Reliable uptimes
HIPAA compliance requires a special healthcare plan subscription
Has a free plan
Not an end-to-end business phone system
Popularity and widespread familiarity
Lacks advanced features
Zoom Pricing
For its video conferencing solution, Zoom offers a free version and three paid plans that start at $14.99 per license, per month. The differences between the plans include participant capacity, storage size, license count, and meeting duration.
Basic

Pro

Business

Enterprise

Best For

Solopreneurs and freelancers

Startups and small teams

Small and mid-sized companies

Large scaling businesses

Monthly Pricing
($/License/Month)






$0

$14.99

$19.99

$19.99

Annual Pricing
($/License/Year)






$0

$149.90

$199.90

$240

Participant Capacity

100

100

300

500

License Count Limit

1

1-9

10-99

50+

Group Meeting Duration

40 minutes

30 hours

30 hours

30 hours

Unlimited Group Meetings

✔

✔

✔

✔

Unlimited One-on-One Meetings

✔

✔

✔

✔

Screen Sharing, Breakout Rooms, Virtual Background, Personal Meeting ID, Private and Group Chat

✔

✔

✔

✔

Meeting Recording Storage

Local

Local and 1GB cloud (per license)

Local and 1GB cloud (per license)

Local and unlimited cloud

Technical Support

Help center

Ticket and live chat

Ticket, live chat, and phone

Ticket, live chat, and phone
Zoom also offers other solutions catering to specific business uses:
Zoom Phone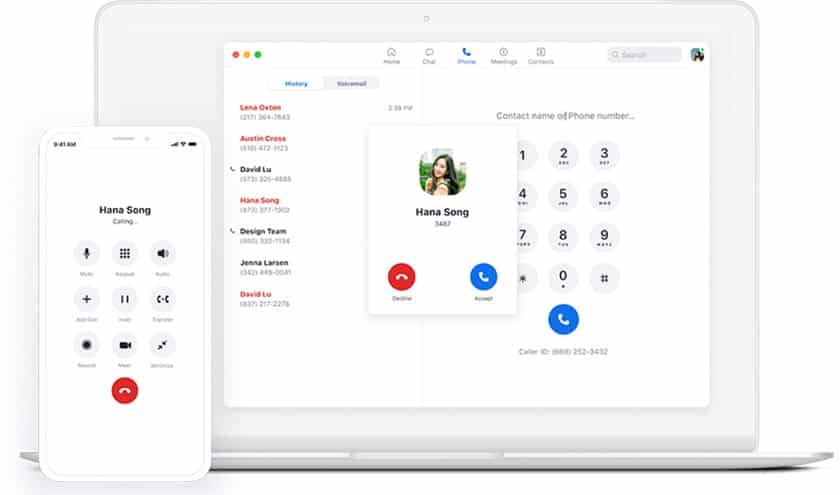 Zoom Phone is the platform's native cloud-based phone solution. It empowers your business to make and receive phone calls, chat, participate in video meetings, and share content straight from native apps for desktop and mobile devices. Pricing ranges from $10 per user, per month for the metered plan to $20 per user, per month for the unlimited domestic calling plan.
Zoom Video Webinar
Zoom Video Webinar empowers you to host bigger, better meetings that can handle participant counts as high as 50,000. The solution includes live streaming integrations with other services so that you can stream your event via YouTube Live and Facebook Live simultaneously. Beyond your typical Zoom meetings, webinars provide you with registration pages, reminder emails, post-webinar landing pages, livestreaming watermarks, Q&A features, surveys, and customer relationship management (CRM) integrations.
Plans start at $40 per license, per month for 100 attendees and scale as high as $6,490 per license, per month for 10,000 attendees. You'll have to contact sales if you plan to scale beyond that.
Zoom Rooms
Zoom Rooms turns existing conference room systems into Zoom-compatible meetings. Businesses can leverage Zoom Rooms for one-touch to join and one-touch to share functionality, as well as robust meeting security. This platform can be set up for rooms of all sizes and configurations, seamlessly integrating with audio-visual (A/V) systems and existing hardware solutions. Plans start at $49 per room, per month, and include optional add-ons for scaling across a company, hardware leases, conference room connectors, and professional services.
Zoom United
Zoom United is the platform's packaged software solution. It bundles Meetings, Phone, and Chat into one comprehensive, scalable plan. If you're looking for a complete package to cover your internal and external communications needs, consider Zoom United. Plans start at $25 per user, per month and scale up to $30 per user, per month for the enterprise tier.
Hardware
Zoom offers a hardware as a service add-on that enables businesses to lease phone equipment for their Zoom Phone license. Users can rent individual phone units for as little as $5.99 per month for simplistic solutions or as much as $60 per month for more robust Bluetooth-enabled devices. Leasing hardware makes it easy (and affordable) to scale up or down to satisfy your business' dynamic needs.
Zoom Features
General Features
HD video and audio
Screen sharing and co-annotating
Team chat
File sharing
Calendaring
Domestic and international calling
Meeting recording
Desktop and mobile apps
Zoom delivers on all the fundamental features. Whether you're using it for meetings, phone calls, or webinars, it has the essentials you need to create and maintain high-quality conversations. However, it lacks the general features of more advanced VoIP phone systems, like SMS messaging, faxing, and advanced call handling.
Video Conferencing
Video conferencing is the heart and soul of Zoom's platform, and that's the core product they deliver the most value toward. Zoom's video conferencing provides top-notch video and audio quality while also maintaining more than 50-active camera streams. The user interface is intuitive and easy to use. However, some of the more advanced functionality is hidden beyond a clunky and somewhat disorganized settings menu.
---
Chat
While Zoom's internal in-meeting chat tool can be aggravatingly simple, its separate Zoom Chat solution is refreshingly easy to use and rich in collaboration features. It includes customer relationship management (CRM) integrations, click-to-meet functionality, multifactor authentication, personnel status, and search. It's not more robust than alternatives like Slack or Microsoft Teams, but it's affordable and usable enough considering it's packaged with your Zoom license.
---
Cloud Phone System
Zoom's enterprise cloud phone system provides a suite of features that keep up with the most basic VoIP solutions. It doesn't provide advanced call handling, SMS, or interactive voice response (IVR) technology, but it does provide the basics, like call routing, auto-attendants, CRM integrations, voicemail transcriptions, and call recordings. If you're looking for a complete business phone system, then you'll be better off going with RingCentral or Nextiva.
---
Desktop & Mobile Apps
Zoom's integrated desktop app gives you holistic control over your calendar, meetings, contacts, chat, and phone calls. With all of Zoom's integrations, most users access their meetings through the web browser or third-party integrations, but the desktop app (for macOS and Windows) does it all through a single unified platform.
The mobile app combines video, phone, meetings, and chat into one tool built for iOS and Android devices. The interface is intuitive and straightforward, making it easy to join meetings, make calls, or chat with teammates. However, you'll find yourself turning to the desktop app or web browser for performing any other Zoom-related activities.
---
Integrations
Zoom provides an entire App Marketplace for you to browse its extensive list of third-party integrations. It includes popular integrations with Google Apps, Salesforce, Slack, social media websites, HubSpot, and Atlassian. Beyond that, it provides hundreds of other integrations for lesser-known scheduling, PeopleOps, productivity, finance, and even event management tools.
---
Ease of Use
Zoom's user interface across its products is fairly intuitive and easy to learn. The fundamental features of joining meetings, muting, and screen sharing are simple, but the more advanced features aren't always so easy to find. However, since Zoom has become the go-to conferencing tool for business and personal use, most users are already familiar with the tool, making the onboarding time significantly faster.
Zoom Alternatives
| | | |
| --- | --- | --- |
| Best for: Mid-to-large-scale businesses that require a scalable and unified communications platform | Best for: Mid-to-large-scale businesses that want a comprehensive cloud-based business phone system | Best for: Small businesses and solopreneurs who need a simple and affordable VoIP solution that doesn't have video conferencing |
| Starting price: $21.95 per user, per month | Starting price: $19.99 per user, per month | Starting price: $26 per month for 1 phone number, 3 extensions |
| | | |
What Users Think of Zoom
Zoom has an all-around positive reputation across the most popular review sites. It's had hiccups in the past due to some privacy and security issues, but recently the video conferencing giant has been satisfying expectations and delivering reliable communications. Users love how easy it is to start, join, and conduct meetings via the platform. Many users complain about the simplicity of the in-meeting chat function and the difficulty of sharing videos with a larger group. Beyond that, people are generally happy with the product.
While reading through reviews, I noticed these trends:
| Users Like | Users Don't Like |
| --- | --- |
| Simplicity and ease of use | Basic in-meeting chat function |
| Popularity (everyone seems to have it) | Difficult to share videos |
| Engagement tools: breakout rooms, polling, and screen sharing | Managing settings and permissions on the back-end |
| Reliable video and audio quality | Confusing pricing between products |
Bottom Line
Zoom is one of the most used video conferencing tools on the market, and its business phone system is growing in popularity too. While its VoIP solution isn't the most sophisticated, it provides the bare-bone essentials most small businesses need to build a professional, end-to-end communications experience. Small teams and companies will love its budget-friendly pricing as well as the ability to purchase separate products or bundle them together under the Zoom United plan.