A conference call is a meeting where multiple participants connect via audio, video, or web using an access code. It is typically done over a landline connection or internet-enabled device. Conference calls benefit remote and hybrid teams wanting to communicate over long distances. Keep reading to understand what a conference call is, the best practices, and top providers.
How Conference Calls Work
A conference call works in the same way as a phone call but connects more than two people. It can be conducted through a desk phone or web conferencing solution, but the latter offers more functionality, such as screen sharing, closed captioning, and cloud recording.
Here are common ways to start a conference call:
The host and participants manually enter the conference room: On the desk phone, dial the conference bridge number, which creates a virtual room where users can host or join meetings. This requires you to input the dial-in number manually and the access code. Once you're on the call, wait for the others to enter the meeting.
The host arranges the conference call: If you're using a web conferencing service, use your browser or your service provider's desktop or mobile app to arrange the meeting. Select the desired date and time for the call and send the calendar invite to the attendees. To join the meeting, the attendees must click the invite link or enter the bridge dial-in number.
The host adds participants to the call: The host initiates the phone conference by dialing the number of each participant or choosing the contacts in the directory. The active calls will merge into a conference phone call as the hosts dial additional numbers.
Conference telephone calls made over voice-over-internet protocol (VoIP) include more additional functionality compared to traditional landlines. The participants have access to various features, such as screen sharing, mute, transcripts, and meeting recording.
Types of Conference Calls
Conference calls come in three types: audio, video, and web conference. Knowing the difference between the three is important to learn how to utilize each tool for your conferencing needs. Below is a table comparing its advantages and potential drawbacks.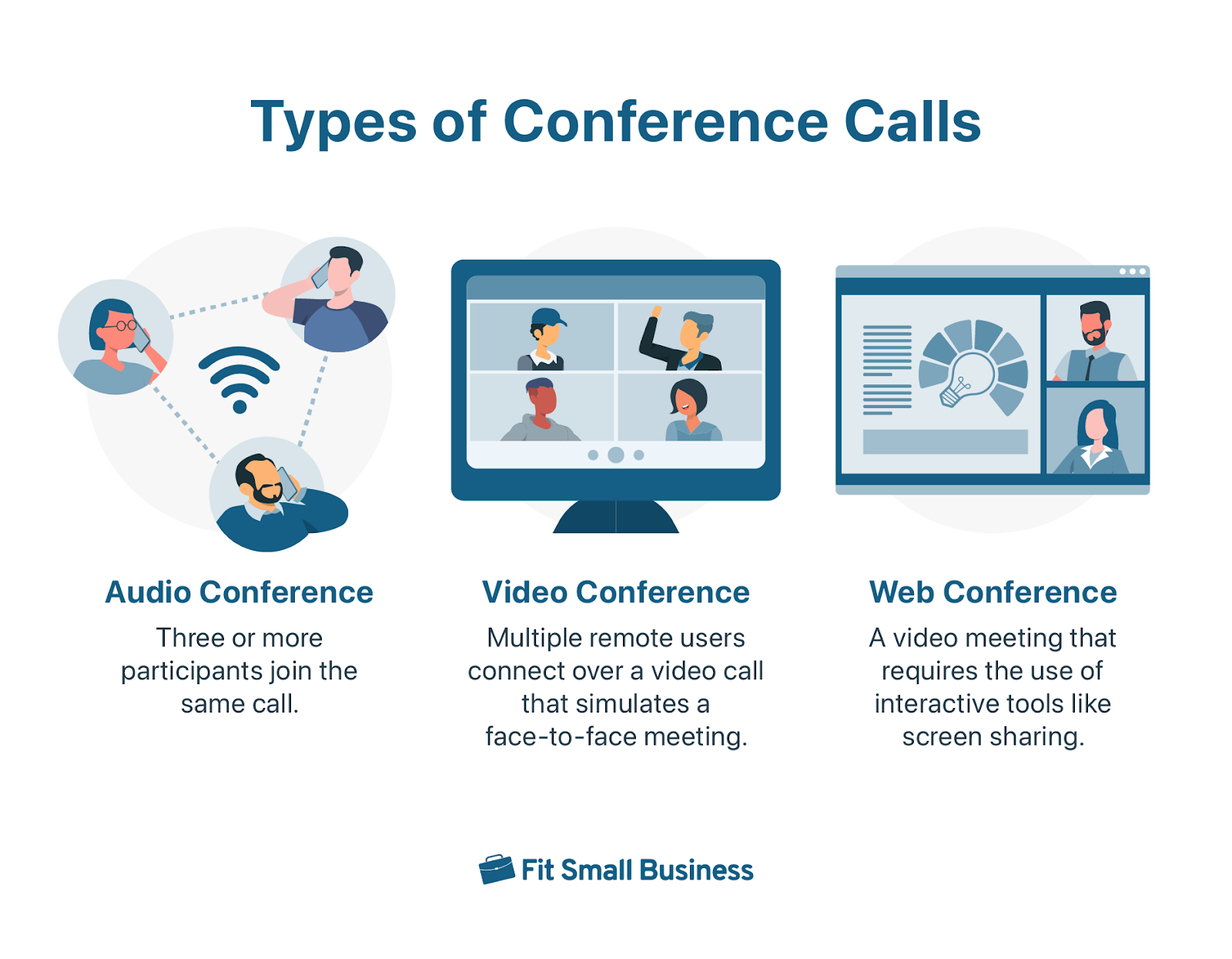 | Types of Conference Calls | How It Works | Benefits | Disadvantages |
| --- | --- | --- | --- |
| Audio Conference | Multiple users communicate via landline or VoIP system. | It's easy to set up and cost-effective since it only relies on telephone lines. | It doesn't support visual images, so it's not ideal for meetings that involve visual presentations. |
| Video Conference | Participants engage in an audio-visual call through webcams. | It curbs the lack of face-to-face interactions by showing everyone's facial cues and body language. | Network issues are a common problem in video conferencing, resulting in blurry images. |
| Web Conference | The host conducts a virtual presentation or event, while participants interact through polls, chat, polls, or whiteboards. | The sophisticated features of a web conference facilitate engagement and information sharing. | Advanced web conferencing solutions can be a little pricey and require adequate training. |
Best Practices for Conference Calls
A conference call is no different from attending a face-to-face meeting. You have to come prepared, whether you're simply attending or giving a presentation. Below are some best practices and etiquette tips to ensure a smooth and productive meeting experience for the host and participants.
1. Ensure Your Equipment Works Correctly
Test your conference equipment, such as the webcam, speakers, and microphone, beforehand to ensure they'll work during the call. If you're using video conferencing software, check for software updates to avoid getting download prompts as the meeting begins. For hosts or presenters, important files and screen sharing tools should be accessible.
2. Use a Professional Background
Organize your workspace and remove all the visual distractions that are within range of your webcam. If you don't have time to clean, use the blur feature or the pre-installed virtual backgrounds from your video conference provider. Invest in a lighting product if your space has poor lighting.
3. Manage Background Noise
Find a private space in your home or office to avoid causing interruptions during the call. If disruptions are unavoidable, utilize the noise suppression feature on your microphone, headphones, and conferencing app to enhance audio quality. It's also good practice to put yourself on mute if you're not speaking or in a noisy environment.
4. Record the Meeting
Record your conference calls to save time and effort from taking notes and capture discussions for teammates who couldn't make it. Video conferencing providers like RingCentral and Dialpad use smart features to provide meeting insights in the form of meeting summaries, action items, and keywords.
5. Make Use of Meeting Engagement Features
Enhance participant engagement by using the interactive meeting tools provided by your service provider. Screen sharing is a valuable feature for presentation or training, while live transcription converts the entire meeting conversation into a written text document. Use the whiteboard and co-annotation feature to brainstorm and collaborate with the team.
6. Follow Proper Meeting Etiquette
Video conferencing statistics show that almost 90% of employees multitask during video calls. Conference call etiquette is just as important as it is in office interactions. This allows everyone to make a good impression and maintain a level of professionalism even if all participants aren't in the same room. Consider the following do's and don'ts when taking part in a business call:
Wear office-appropriate attire.
Stick to the meeting agenda.
Respect the agreed-upon meeting length.
Provide meeting-related information ahead of time.
Be mindful of non-verbal cues.
Never multitask, even if others can't see you.
Don't talk over another participant.
Save the snack for before or after the call.
7. Invest in Conference Call Software
The right conference call solution for your business will depend on your budget and feature needs. Ideally, a teleconference provider should have a service level agreement (SLA) of at least 99.999%. This way, the chances of call dropping are almost zero. Look for providers that offer HD voice in their packages to ensure optimal voice quality during conference calls.
Top Conference Call Providers
The best conference call services offer businesses impressive sound quality, a user-friendly interface, multiple collaboration features, and a secure platform. To help you decide which provider suits your business needs, we provided the top four solutions and summarized their unique offerings.
Frequently Asked Questions (FAQs)
Conference call pricing is divided into two cost structures. Some offer pay-as-you-go plans, while others charge a flat monthly rate for unlimited use. With pay-as-you-go plans, rates typically range from 2 to 10 cents per minute for each participant on the call, while monthly plans range from $15 to $40 per user. Some providers charge extra fees for premium features like transcripts and call recording.
---
If you're looking to save money or for a budget-friendly way to communicate with your small team, a free conference call service is a practical choice. However, it's important to note that they have fewer features than paid services. Choose a paid subscription if you want to accommodate more participants and get advanced meeting tools like meeting summary and live captions.
---
Conference call services provide multiple benefits to remote and hybrid workers, specifically in making communication more accessible across the organization. Despite being geographically distributed, a good conferencing call service makes it easy to connect all employees without being in the same location at the same time.
---
Bottom Line
As we shift to online spaces, it's about time to utilize conference calls to connect with our teams and facilitate collaborative work experiences. To make your conference call sessions more efficient and productive, make sure to look for providers offering tools and features that will make team communication easier.