Conference call services facilitate meetings between two or more people over the internet using computers or mobile apps when face-to-face meetings aren't possible. Some systems only support audio conferencing while others like RingCentral and Zoom also support video meetings. Pricing ranges from free to several hundred dollars per month, depending on the type of service.
How Conference Calls Work
Conference calls work by connecting three or more people over a phone system or conference call service. Some businesses use traditional landline phones to host meetings. While they offer reliable sound quality, landline phone service can be prohibitively expensive at scale. Conferencing over VoIP phone service may be a much better value. However, the sound quality may degrade as more participants join the call.
There are two primary ways to bring people together on a call. With the first, participants dial a dedicated phone number to join a call. It's as easy as dialing a standard phone number. However, the drawback is that anyone with that phone number can join the meeting, which may be fine for sales presentations or casual meetings but less than ideal for calls discussing sensitive information.
Alternatively, many providers also offer a calling platform that requires participants to dial a phone number then enter a personal identification number (PIN) to join a call. This ensures that audio and video meetings are private. With both options, it's typically possible to use voice-only or video conference calling capabilities.
Benefits of Conference Calls
Conference calls are beneficial for nearly every business environment. They improve customer and client relationships by providing an easy way for multiple people to meet without leaving their office or traveling. The service also offers remote teams, distributed workers, and salespeople who travel an opportunity to collaborate easily.
Conference call benefits include:
Customer service: Audio and video calls can be used to improve the customer experience by bringing subject matter experts into a call to close a deal or provide technical support.
Accessibility: Conference calls provide a way to attend meetings for people who are unable to travel to attend in person.
Team collaboration: Sales and support teams can use conference calls to hold brainstorming, informational, or progress meetings that keep everyone in the loop no matter where they're physically located.
Lower transportation costs: Businesses can keep commuter costs low by holding audio or video calls, instead of paying travel expenses to visit clients or bring remote workers to the main office.
Less planning time: Meetings can be planned and held in a matter of hours or days instead of the weeks it takes to for distributed teams to make travel plans for in-person meetings.
Faster decision making: When situations arise that require a prompt decision, it's quicker to hold a team call than wait for everyone involved to assemble in person.
Save space: They are a great way to hold large meetings without paying for a conference room or using valuable office space.
Global hiring options: Businesses that hire globally can use conference calling to train workers and hold meetings that span multiple time zones.
Reduction in email chains: They eliminate the need for inefficient and lengthy email changes that take a lot of time to read and answer.
Conference Call Costs
VoIP phone service is often the best value for conference calls, with pricing from $12.99 per month. Mobile phone plans start at about $17 a month, and virtual phone number service can reach as high as $89 per month. Landline service is priciest, with five phone lines running about $435 a month. Alternatively, customers can sign up with a free calling service or a paid service that starts at about $10 per month.
Conference Call Service Types
There are several types of conference call services to choose from. Deciding which one is right for you depends on your budget, the size of your organization, and the kinds of meetings you host.
Conference call service types include VoIP business phone service, virtual phone number, mobile phone, landlines, and conference call service.
VoIP Business Phone Service
VoIP phone service is entirely internet-based, and the conference call experience is fundamentally the same as calls held over traditional landline phones. The biggest drawback to VoIP e calls is the potential for lower sound quality as the number of meeting participants grow. Therefore, it's important to assess your internet speeds before making a final purchasing decision.
Service plans for VoIP business phone service and visual voicemail cost $12.99 to $55 per user, per month. A VoIP business phone plan for five users can run between $64.95 and $275. VoIP phone service is big cost savings over many virtual phone number providers and mobile phone plans and offers far more standard features than either option.
Virtual Phone Number
Virtual phone numbers are a great way to extend the functionality of your personal mobile phone or landline device by adding a second business phone number to host meetings. Virtual phone number providers like Grasshopper and Phone.com include conference calling with their service plans.
Business owners and solopreneurs who use a virtual phone number provider to add a business number to their existing personal landline or mobile phone can find service plans that range from free to $89 per month for five numbers, with conference calling as a standard feature.
Mobile Phone
Most mobile phone plans also include basic conference calling as a standard feature at no cost. While it's convenient to host a meeting from a mobile phone, it uses your data to facilitate the call unless you connect to Wi-Fi. Furthermore, hosting a meeting over your mobile device quickly drains your battery and calls are subject to sound quality issues when a data signal is spotty.
Business cell phone plans range from $17 to $120 per month, which translates to $85 to $625 for a mobile plan with five users. To get the best of both worlds, check into VoIP providers like Nextiva that offer mobile apps with built-in conference calling features.
Landlines
Many landline providers support conference calling. However, some limit the number of participants to three. A landline phone may be a good choice for solopreneurs who don't host large meetings, but not for larger companies that host big meetings or multiple meetings simultaneously. Furthermore, pricing can be prohibitive, with plans starting at about $435 a month for five phone lines.
Conference Call Service
Business owners who don't need phone service with their conferencing system can sign up for a provider that provides conference calling services over the internet. Standalone conference call solutions like Zoom often offer a buffet of features like collaboration tools that are designed specifically to enhance meeting efficiency and productivity. Pricing ranges from free to paid plans that start at around $10 per month.
Whether VoIP service, mobile phones, landlines, a virtual phone number provider or a conferencing service is best for your company depends on your business needs and budget. If you decide to choose service with conference calling as a feature, dollar-for-dollar, VoIP often gives you the best bang for your buck and offers a wide range of features other types of phone service can't, such as call recording and cloud storage.
Conference Call Features
Conference call features vary by the phone system or service provider. A no-frills service may support audio calling for a limited number of people, while more robust systems offer audio and visual calling, collaboration tools, and support for hundreds of callers.
Common conference call features include:
Conference bridge: Conference bridging allows participants to dial in from their own phones to attend calls and meetings rather than wait for the host to call each participant individually.
Number of participants: Some companies limit the number of participants that can join meetings although, in some cases, it's possible to buy additional seats.
Number of meetings: Some companies limit the number of meetings you can host at different tier levels.
Business application integration: Business app integration extends the benefits of conferencing by linking it to popular productivity and sales tools like Slack and Salesforce.
User management controls: These controls allow managers and admins to add and delete users or assign users their own calling extensions.
Collaboration tools: Features like drawing tools and screen, desktop sharing, and document sharing help teams work more efficiently together.
Call controls: Tools like speaker spotlight, mute, and switch presenter allow hosts to schedule and manage conference calls.
Meeting Recording: Businesses that want to preserve meetings for future reference use this feature to capture audio and video calls.
Meeting transcripts: Some providers transcribe meetings into written form for later reference.
Cloud storage: Meeting recordings, transcripts, files, and other data can be stored in the cloud and access by participants from anywhere with an internet connection.
Conference Call Providers
Conference calling is a standard feature of many VoIP business phone services at no additional cost. Service plans include features like unlimited domestic calling, call recording, business app integration, and conference calling. Standalone, conferencing services, or those without built-in phone services as another option and often offer additional features like unlimited meetings, screen sharing, and document sharing.
Here are some of the best VoIP phone and standalone conferencing providers to consider.

RingCentral offers unlimited conference calling for up to 100 dial-in participants as part of its complete business VoIP phone system. All service plans include unlimited audio and video meetings, unlimited phone calls, voicemail, and fax starting at $29.99 per month.
RingCentral is right for companies wanting a GoToMeeting alternative for conference calling built into a complete phone system. The company offers a free trial of its product and 30-day, money-back guarantee when you purchase an account. Check out RingCentral's website for details.

Grasshopper is a virtual phone number provider with price plans from $29 per month. All service plans include unlimited conference calling for up to 10 participants. Moderators must dial each person individually, meaning that it is not possible for them to dial into the call themselves. Grasshopper also features unlimited domestic calling, voicemail, and virtual faxing.
Grasshopper an excellent choice for solopreneurs and small business owners wanting a virtual phone number on their personal mobile device to take business calls. Call the sales team or visit the company website today to try Grasshopper with a 30-day money back guarantee.
GoToConnect

GoToConnect (formerly known as Jive) is a top-ranked call center phone system with a dial-in conference calling service that supports up to 24 people. It offers unlimited free calling to 52 countries and unlimited domestic calling with plans starting at $19.95 monthly. GoToConnect also features mobile apps, call recording, and call reports.
GoToConnect is a great match for businesses that have international clients or team members, and companies that expect to expand globally. The company offers a free demo of its product when you contact the sales team. Head to GoToConnect's website today for details.


Zoom is a conference calling provider featuring unlimited dial-in meetings for up to 100 people. The free plan offers on-screen collaboration and call controls for free. Paid tiers start at $14.99 per month and include 1GB of cloud storage, user management tools, and dedicated phone support.
Zoom is a smart choice for businesses that want reliable customer support from a dedicated team of technicians. The company offers a forever free plan and free demo of its paid plans. Visit Zoom's website for details.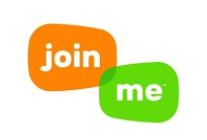 join.me is a conference calling solution that supports up to 250 dial-in participants with a free plan as well as paid plans starting at $10 per month. Features include call controls, file transfer, and up to 5TB of cloud storage.
It also offers a greater number of customer relationship management (CRM) tools and other business app integrations than its competitors, making join.me right for sales teams that want to integrate their call details with their existing CRMs. Contact the sales team to request a demo or try the free tier. Head to Join.me's website for details.
Pros & Cons of Conference Calls
Conference calling is a valuable phone service feature, but it's not without its drawbacks. There are a few things to keep in mind when deciding if phone conferencing right for your business.
Pros of Conference Calls
Accessible anywhere: Calls are accessible to users wherever they can use their phone or, depending on the service provider, have an internet connection.
Permanent meeting records: Call recording allow businesses to keep audio, video, or written documentation of a meeting for reference, training, or quality assurance purposes.
Geographically dispersed teams stay connected: Co-workers in different towns, time zones, and countries can collaborate easily without additional travel expenses.
Cons of Conference Calls
Call quality: Depending on the provider, call quality can degrade as more participants join the call.
Participants can be prone to distraction: A 2018 survey by Loopup revealed conference call participants can waste up to 15 minutes per call connecting to the meeting and dealing with distractions.
More impersonal than face-to-face meetings: Conferencing can be more efficient than in-person meetings, but they can also be less personal, particularly audio calls where you can't see the other participants.
Conference Call Do's & Don'ts
Conference calls rely on participants to follow some general guidelines to help meetings run efficiently and give everyone attending the chance to have the best experience. Keep these tips in mind when you host or attend your next meeting.
What You Should Do Before & During a Conference Call
Verify setup: Whether you're running the meeting or simply attending, make sure the computer, video camera, headset, and any other equipment you plan to use is working as you expect. Otherwise, you run the risk of holding up the call or everyone while you sort out technical issues at the last minute.
Check your surroundings: Make sure you have adequate lighting for video calls and a quiet environment for all calls. If you get stuck in a train station or otherwise noisy environment, it's better to skip the call altogether than make it difficult for participants to hear each other.
Mute yourself: Always keep your mute button on until you're ready to speak to cut down on ambient noise that could filter into the call.
Center your camera: If you're using a webcam, position the camera either directly at your face or angle it down from slightly above so participants aren't looking up your nose or at the side of your face.
Be prompt: Call hosts should always arrive in the meeting room ahead of participants. Greet people as they join and keep the pre-meeting small talk flowing smoothly. Participants should always arrive on time to help ensure the meeting starts promptly.
What You Should Not Do Before & During a Conference Call
Minimize interruptions: If your connection drops during the call, reconnect and continue. Unless you were speaking when the call dropped, there's no need to interrupt the flow of the conversation with details on why you were momentarily gone.
Refrain from eating: It's fine to sip a beverage during a video call but refrain from eating your lunch, chewing gum, or other distracting behavior.
Pay attention: Set aside other work and your computer keyboard to be fully present for the call.
Frequently Asked Questions (FAQs)
Do conference calls require special hardware or equipment?
If you're using an internet-based conference call service or using the feature with your VoIP phone system, you'll need to have a stable internet connection and a computer. If you're using a mobile phone or landline to hold conference calls, you'll need a handset and a phone service plan.
Does my internet speed affect the quality of conference calls?
For the clearest and most stable call quality, you'll want to make sure that your internet service has the bandwidth to support multiple calls. Run a VoIP speed test to find out how many calls your internet connection can handle.
Bottom Line
Conference calling is a quick and efficient way for business owners and teams to meet with clients, customers, and each other without incurring any travel or commuting expenses. It's a business phone feature for VoIP, mobile, and landline phone systems as well as a standalone service offered by conferencing service providers.
Companies wanting a comprehensive and affordable VoIP business phone system that includes unlimited audio and video conference calling for up to 100 people should consider RingCentral. Sign up for a 15-day free trial by visiting RingCentral's website today.