Webex Review: Is It Right for Your Business?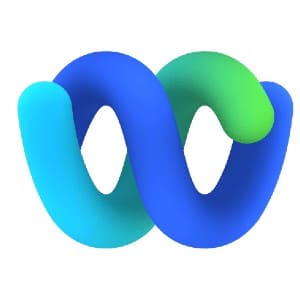 Webex Overview
PROS

CONS

Free unlimited calling between Webex users
Only offers up to 100 third-party integrations
AI-powered features like noise removal, virtual assistant, and speech enhancement
Complicated user interface
Robust security features on the entry-level tier
Real-time translation requires add-on charges
All plans are Health Insurance Portability and Accountability Act (HIPAA) compliant
Cloud storage is limited to 10GB
Accessible across devices, including computers, smartphones, tablets, and wearables
Limited annual option for subscriptions
What We Recommend Webex For
Webex offers five subscription plans that cater to different conference calling needs, including cloud calling, meetings capabilities, and advanced messaging. This makes it a good solution for businesses that rely on different communication channels to connect and collaborate with their teams. In addition, it has webinar and events features helpful for companies looking for a video meeting solution with lead generation strategies.
When to Use Webex
When Webex Might Not Be a Good Fit
Companies needing many third-party integrations: Since Webex only supports up to 100 third-party apps, it may not be a perfect fit for businesses needing various integrations to improve their workflow. If you're looking for more integrations, try Zoom, one of our best Webex alternatives. It offers over 1,500 applications, including popular tools like Google Workspace, Slack, and Microsoft Teams. Check out our Zoom review to learn more.
Teams who want a video meetings solution with cloud storage: While Webex offers a free video conferencing plan, it doesn't include cloud recording storage in this package. A better alternative is RingCentral, which offers 10 hours of cloud recording with a seven-day retention period. You also get RingCentral Video's paid plan at a lower cost, which includes the same feature set as Webex. Read our RingCentral review and discover what makes it a top business phone system solution.
Large teams looking for a more comprehensive collaborative platform: While Webex supports video meetings and team messaging, it doesn't have productivity tools like a shared to-do list and team reminders. Choose Microsoft Teams if you're looking for a central platform for interacting with teams and managing projects. It is our best team communication app for collaboration—combining instant messaging, video conferencing, and project management all in one place. Find out more in our Microsoft Teams review.
Webex Pricing
Webex pricing includes a free plan and four paid monthly subscriptions that range from $14.50 to $25 per user. All plans include meeting recording, noise removal, screen sharing, polling, and whiteboard. There is no free trial for the paid plans, and only the Meetings plan accepts an annual payment option.
The main difference between the plans depends on the type of conference call service you need. For example, Webex Call is best for businesses that need voice-over-internet-protocol (VoIP) capabilities, such as call hold, call transfer, and call forward, but doesn't need all the advanced features for hosting virtual meetings. However, those who need all the premium features for calling and online meetings may subscribe to the Webex-Suite Business plan.
| Webex Plans | Webex Suite-Basic | Webex Meet | Webex Call | Webex Suite-Business | Webex Enterprise |
| --- | --- | --- | --- | --- | --- |
| Best For | Solopreneurs and small teams who don't need group meetings longer than 50 minutes | Small businesses that want to host longer meetings and need cloud recording storage | Small businesses that only need telephony capabilities | Small to mid-size businesses that need advanced telephony and video meeting features | Enterprise-size businesses that want to host up to 1,000 participants and need unlimited cloud storage |
| Monthly Pricing* | Free | $14.50 | $17 | $25 | Contact sales for quote |
| Meeting Duration | Up to 50 minutes | 24 hours | 24 hours | 24 hours | 24 hours |
| Participant Limit | Up to 100 | Up to 200 | Up to 200 | Up to 200 | Up to 1,000 |
| Cloud Recording Storage | ✕ | 10GB | 10GB | 10GB | Unlimited |
| Advanced Calling Features (Call Hold, Transfer & Forward) | ✕ | ✕ | ✓ | ✓ | ✓ |
| Control Participants | ✕ | ✓ | ✓ | ✓ | ✓ |
| Post-meeting Transcript | ✕ | ✓ | ✓ | ✓ | ✓ |
| Voicemail-to-Email | ✕ | ✕ | ✕ | ✕ | ✓ |
| Customer Service | Help center | Help center, chat, and call-in | Help center, chat, and call-in | Help center, chat, and call-in | Help center, chat, call-in, and dedicated representatives |
*The prices displayed are based on monthly per-user pricing
Companies needing larger cloud storage and participant sizes for meetings should consider upgrading to the Enterprise plan. You get up to 1,000-participant meeting capacity, unlimited cloud storage, developer tools, and Federal Risk and Authorization Management Program (FedRAMP) authorization. For webinars and large-scale events, contact the sales team to get custom pricing.
Webex Features
Webex is business software for voice calling, team messaging, video conferencing, and webinars. Its features focus on making meetings more inclusive through real-time transcriptions and improving team productivity through AI-powered tools. The platform is accessible through desktop and mobile devices through the Webex app.
General Features
Webex offers unified communications services and collaborative features that drive engagement and interactive experiences. Its all-in-one platform includes a suite of online meeting tools, such as screen sharing, whiteboarding, breakout rooms, and noise removal. Even at the basic tier, Webex is packed with security features, end-to-end encryption, meeting passwords, locked personal room meetings, and HIPAA-compliant security.
Although its user interface looks well-designed and sophisticated, less tech-savvy users will find it confusing and complicated. Users ended up not utilizing the new tools because they either couldn't find them or don't know how to use them. Also, Webex only has 100 integrations, including Google Chrome, Microsoft Teams, and Slack. This is considerably fewer than its closest competitor, Zoom, which has over 1,000 third-party integrations.
Webex Calling
The Webex cloud calling service enables users to move their calling operations to the cloud and access their phone lines from anywhere. It offers a complete cloud phone system that includes a phone number for every user and VoIP calling features. Here are the standard calling features offered by Webex:
Call queues
Auto-attendant
Call forwarding
Call hold/resume
Call waiting/call transfer
Extensions and phone menu
Intelligent call routing
Merge and conference
Move/pull calls
Visual voicemail
The Webex Call plan enables users to make and receive business calls domestically or internationally. When complemented with the Meet plan, you'll easily be able to turn a call into a full-featured meeting. If you're on the go, the Webex app allows you to quickly move calls between desktop and mobile.
Webex Calling supports a wide range of internet protocol (IP) phones, such as the Cisco 6800, 7800, and 8800 Series. It includes comprehensive private branch exchange (PBX) capabilities, such as virtual receptionist and personalized voicemail boxes. Plus, it lets you make calls with extension numbers, direct inward dialing (DID) numbers, and directory-based dialing.
---
Webex Meetings
Webex offers an AI-powered video conferencing platform equipped with interactive features. For example, it combines advanced noise removal and speech enhancement to eliminate background noise while enhancing speech. It includes an interactive virtual assistant that makes meetings more productive. Use the Webex Assistant to highlight key moments, take note of important decisions, and follow up on action items.
Here are other features Webex Meetings offers:
Custom layouts
Content and screen sharing
Breakout sessions
Animated virtual backgrounds
Recordings and transcriptions
Meeting controls
Picture-in-picture for multitasking
Gesture recognition
Meeting lock
For a richer collaboration experience, Webex has a digital whiteboard feature that enables teams to work together on any device. It allows you to add pictures, draw, react, and build templates to capture information. If you're hosting a multilingual meeting, Webex has real-time translation and transcription capabilities that support 13 spoken languages that can be translated to more than 100 other languages in closed captions.
---
Webex Messaging
Webex offers a centralized hub to collaborate with internal or external teams. Spaces are like messaging channels that enable participants to share files, create a thread, use emojis and GIFs, and add various formatting options. It allows you to host quick meetings, then have the recordings and transcripts automatically stored alongside your chats. All shared files and interactions are searchable and saved within the space.
Here are other features to look for in Webex Messaging:
Two-way whiteboard
Large file sharing
End-to-end encryption
Filters and advanced search
Contacts and presence
Through its integration with OneDrive and SharePoint, teams are able to edit and review files within a chat space, reducing the need to switch between apps. If you want to collaborate with anyone outside your organization, simply add their email address to a space. Webex lets you update your status through presence to let coworkers know when you're available, on a call, or in a meeting. Additionally, your status update provides the time you were last available.
---
Webex Webinars
Webex offers a scalable webinar platform that accommodates up to 100,000 attendees. It has two options when organizing an event: webinar and webcast view for attendees. Webinars are designed for collaboration and interaction, while webinars in webcast view call for a simpler attendee participation only through polling, Q&A, and text-based chat.
Webex Webinar comes with all the advanced features included in Webex Meetings, such as AI-assistance, whiteboard, annotation, live closed captioning, and transcription. Themes and custom branding options are available to build brand identity. Additionally, participants have access to various engagement tools, such as live polling, chat, emoji reactions, moderated Q&A, and gesture recognition. There's also a music mode if you want to perform or play music.
There are multiple roles assigned during a webinar: host, cohost, panelist, interpreter, presenter, note taker, closed captionist, and attendees. The host or the cohost will designate the role you will have in a webinar. Once the webinar is finished, Webex provides post-webinar reports, including registration, attendee, and activity reports.
---
Webex Events
Webex Events makes hosting online events easy by making them more customized and engaging. Its virtual event platform allows you to create TV-like, professional livestreams without the need for an audio-visual team. Plus, it includes engagement tools, such as chat, polling, gamification, moderated Q&A, and video rooms, encouraging attendees to connect with your brand.
Webex offers flexible registration and ticketing features to enable multiple ticket types, groups, prices, and discount codes. With its event mobile app, attendees have the option to access your event content, whether in-person or on the go. For lead generation purposes, Webex allows organizers to turn their virtual events into on-demand experiences by making their content accessible before, during, and after the event.
---
Webex Alternatives
Webex provides several interactive tools for its conferencing services, but it may not be the best fit for your business. For example, you may be looking for a provider with a more user-friendly interface or a more robust set of third-party integrations. If so, here are the best Webex alternatives to consider:
| | | |
| --- | --- | --- |
| Best for: Teams needing plenty of third-party integrations | Best for: Businesses needing a robust phone system with video conferencing features | Best for: Small businesses looking for an affordable virtual meeting solution with large participant capacity |
| Monthly starting price: Free for the basic plan; $14.99 per user for the first paid tier | Monthly starting price: $19.99 per user* | Monthly starting price: $12 per user* |
| or | or | or |
*Pricing for RingCentral and GoTo Meeting is based on an annual subscription option
Webex Reviews: What Users Think
According to Webex reviews we found online, users utilize the platform for hosting internal meetings, webinars, and large events. They commented that its powerful security features make Webex the best choice among other competitors. Users like the video meeting platform as a collaborative tool for hybrid work environments because it includes several interesting features and AI capabilities, such as real-time translations and whiteboarding.
Webex earned the following average ratings on these popular review sites at the time of publication:
Meanwhile, some users who left negative reviews said that the platform isn't user-friendly because it is confusing to navigate, and some features are unintuitive to use, like the drawing tool. Also, even though its services work across devices, it doesn't guarantee it will work properly, especially its mobile app.
Bottom Line
Webex offers an all-in-one platform for hosting online meetings, conference calls, and webinars—making it a good choice for businesses operating in remote and hybrid work environments. It includes a variety of interactive tools and automation features that makes video conferencing convenient and engaging. Get started by signing up for a free Webex plan or contact its sales team to learn which plan suits your needs.