6 Best iPad Restaurant POS Systems
This article is part of a larger series on POS Systems.
A great point-of-sale (POS) system built for iPads is not only functional but also affordable and mobile. This mobility can make a huge difference in a world where 77% of diners prefer contactless dining options. In addition to standard POS terminals, iPad POS systems typically use iPads for everything from customer-facing displays to kitchen display systems (KDS) and self-ordering kiosks. With software that syncs to the cloud, an iPad POS also lets you access your restaurant data anywhere.
Based on our evaluations, the best iPad Restaurant POS systems are:
Top iPad Restaurant POS Compared
Minimum Monthly Fee

Contract Length

Payment Processing

Card-present Processing Rates

Online Ordering

Visit Lightspeed Restaurant

$39

Month-to-month or yearly

Built-in and third party

Varies based on processor; Lightspeed Payments is 2.6% + 10 cents

Built-in and third party

Visit Square for Restaurants

$0

Month-to-month or yearly

Built-in only

Built-in only

Built-in and third party

Visit Revel Systems

$99

3 years

Built-in and third party

Varies based on processor;

Revel Advantage is custom-quoted

Built-in and third party

Visit TouchBistro

$69

1 year

Built-in and third party

Varies based on processor;

TouchBistro payments is custom-quoted

Built-in or third party via aggregating apps

Visit Rezku

$49

1 year

Built-in only

Custom-quoted

Built-in and third party

Visit Lightspeed Restaurant (U-Series)

$59, plus $60 per terminal

3 years

Built-in only

Custom-quoted

Built-in and third party
Lightspeed Restaurant: Best Overall iPad Restaurant POS
Lightspeed Restaurant

What We Like
Month-to-month subscription option supports seasonal restaurants
Integrates with Hotel Property Management Software (PMS) systems
Offers 14-day free trial
Order Ahead capability for dine-in and take-out
What's Missing
Some features come with additional monthly fees
Workforce management tools do not include payroll processing
Vendor management requires an integration
Lightspeed Restaurant Pricing
Monthly Software subscription fee:

Essentials: $39 per month: 1 register, takeout, reporting, inventory
Plus: $119 per month: Essentials + Loyalty and gift cards
Pro: $299 per month: Plus + Advanced Insights and Advanced Inventory

Additional terminals: $39 per month
One-time Installation fees: None
Processing fees: Varies based on your chosen processor. Choose from Lightspeed Payments, Cayan, Worldpay, or BridgePay. Lightspeed payments are 2.6% + 10 cents.
Lightspeed Restaurant is a cloud-based, all-in-one iPad POS that regularly lands on our best restaurant POS systems list. With an affordable $39 per month plan, multiple options for integrated payment processing, and a do-it-yourself installation, Lightspeed Restaurant is equipped to support restaurants of all types. All the features you need are present, from complex menu modifiers, ingredient-level inventory, check splitting, offline payments, and an integrated KDS. A few of these features come with additional monthly fees, however.
It earned a 4.21 out of 5 on our iPad restaurant POS scoring criteria, scoring well for its affordable pricing structure (only free Square for Restaurants scored higher). Lightspeed Restaurant also got high marks for its front-of-house features like its built-in kiosk mode. It could have scored higher if the inventory tools included vendor management like Lightspeed Restaurant (U-Series) and Revel Systems do, or more tools in the baseline POS (like Rezku).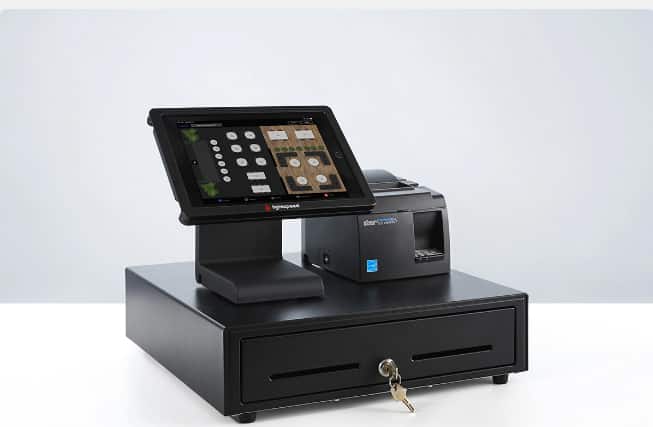 ---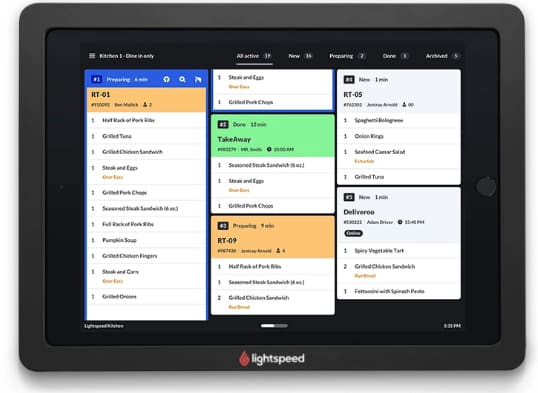 ---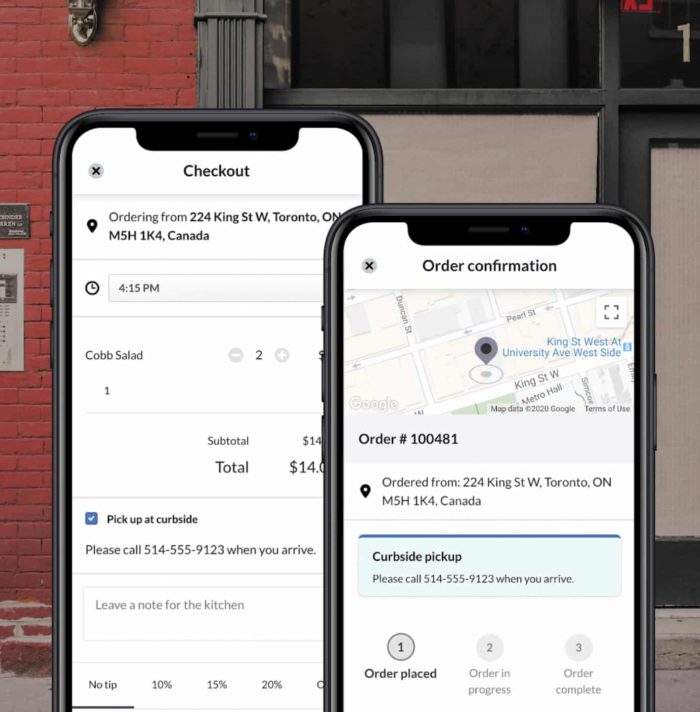 ---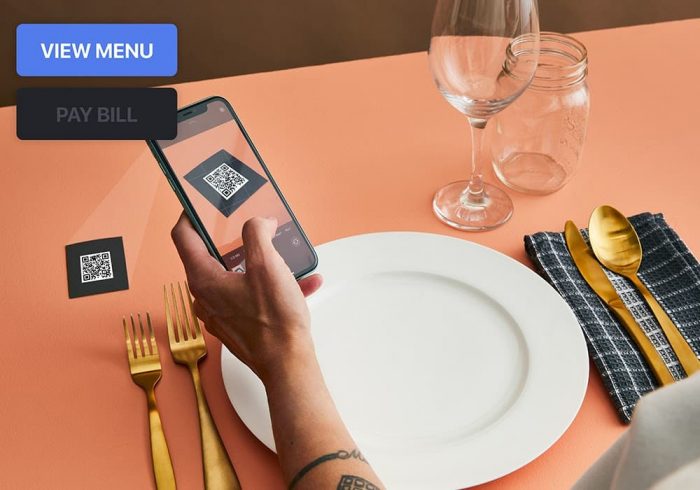 ---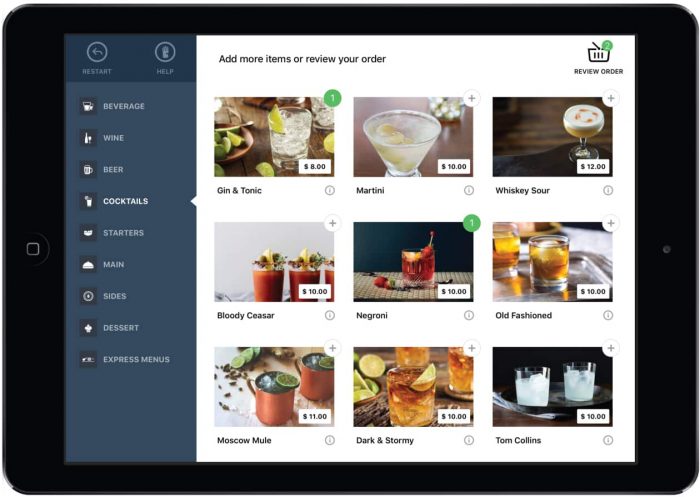 ---
What's New with Lightspeed: Lightspeed has had multiple updates since our last review, including:
With new Order Ahead features, customers can order up to a week in advance and pay in-store or dine-in. You can add QR codes for easy ordering and even set limits per five-minute time slot for rushes.
You can offer deposits and refunds on menu items such as for getting back glass bottles from drinks.
Improved at-the-table Split Check features.
Lightspeed Restaurant Features
Free trial: Lightspeed Restaurant is the only POS on this list that offers a free trial. Of course, competitor Square for Restaurants offers completely free baseline POS software, which sidesteps the free trial question. But, when you're only looking at $39 per month out of pocket, a free trial is an excellent opportunity for small restaurants to test the software before committing.
Month-to-month subscription option: It offers a monthly subscription option for small restaurants that operate seasonally. You pay only for the months when your bar or restaurant is active, and your business information is vaulted for you until your next business season.
Quick Service mode: For bars and counter-service restaurants, Lightspeed Restaurant includes a Quick Service ordering mode. This mode keeps ordering and payment buttons on a single screen and reduces button pushes so your team can create orders faster. Lightspeed recently added barcode scanning to this feature.
Order Ahead: Lightspeed Restaurant calls their online self-ordering system Order Ahead. You design your Order Ahead online ordering site from the Lightspeed Restaurant back-office dashboard. The site fully integrates with your POS; online orders appear automatically in your order stream. You can accept orders for in-house pickup, curbside pickup, or delivery. For delivery, you can use a team of in-house drivers or rely on third-party drivers. Lightspeed has added several new functions to Order Ahead for 2022 and made it available to European nations.
Customer self-ordering tools: Lightspeed Restaurant users have several options for customer self-ordering. You can use QR codes to receive orders and payments from customer smartphones. If proper self-service kiosks are your style, you can operate self-ordering tables in table mode (where the tablet is tied to a specific table) or kiosk mode (at a counter).
Square for Restaurants: Best Free iPad Restaurant POS
Square for Restaurants

What We Like
Free baseline POS
30-day free trial for higher subscription tiers
No long-term contracts
What's Missing
Cannot pre-authorize cards for bar tabs
Free POS does not include multiple user permissions
Inventory and employee scheduling require integrations
Square for Restaurants Pricing
Software subscription fee:

Starter – $0
Plus – $60 per month
Premium – Custom-quoted

One-time installation fees: None; installation is do-it-yourself
Payment Processing fees:

Card present: 2.6% + 10 cents
Virtual terminal/keyed in/online: 3.5% + 15 cents
Invoices: 2.9% + 30 cents or 3.5% + 15 cents if processed using card on file
Square is a popular and easy-to-use POS system for retailers of all types. Its free restaurant POS offers product-level inventory, online ordering, basic reporting, and unlimited terminals. The basic plan is free with just a simple charge for Square's integrated payment processing, but Square also offers a more robust version with advanced features like auto-86ing. It's a great choice for budget-minded restaurants, small eateries, and food trucks, especially those with simple menus.
We gave Square 4.1 out of 5 stars, earning massive points for its free plan—it is the only POS on our list with one. However, it lost some points because some critical functions need integrations or the advanced plan to get to the level of detail Lightspeed and others achieve natively. For example, it needs an integration to get to ingredient-level inventory.
But, if you need a solid iPad POS system at a terrific price, it's hard to beat Square. Though its restaurant POS does not top this list, Square generally offers some of the best POS software for small businesses.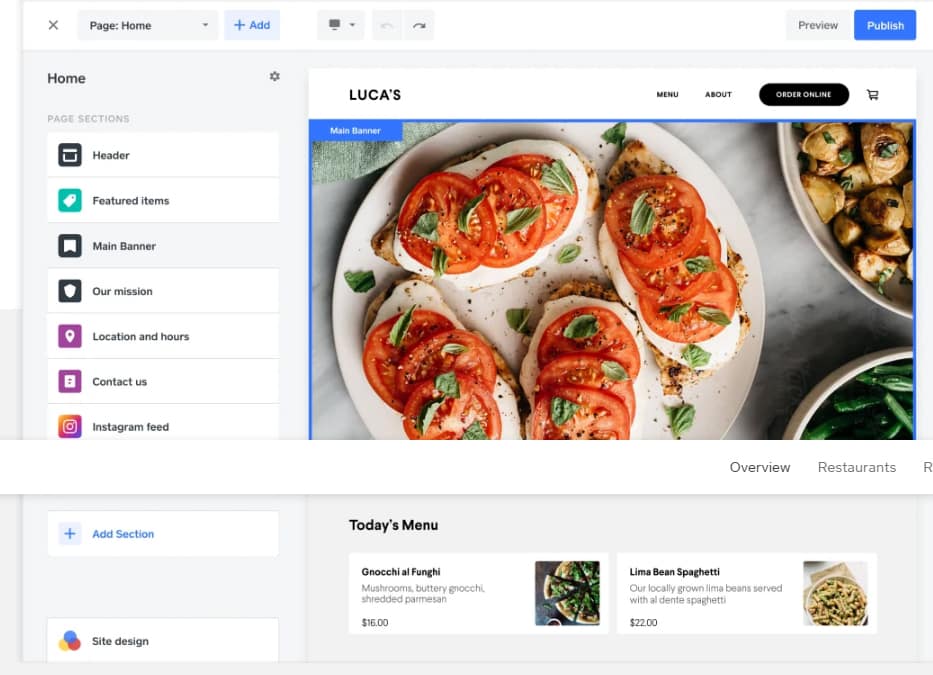 ---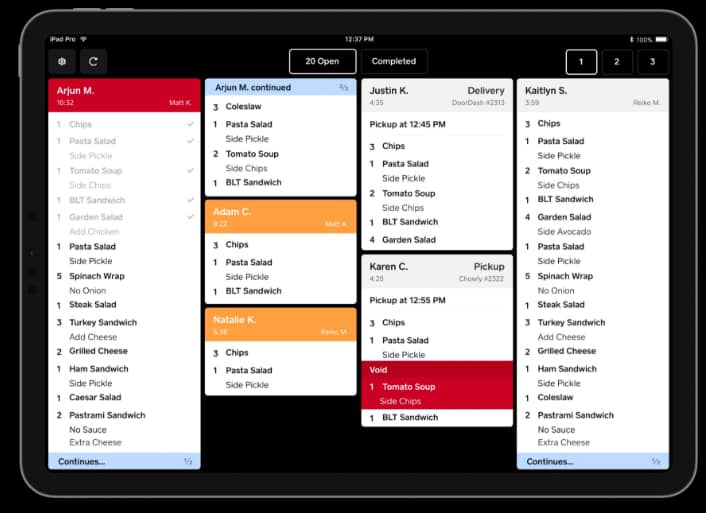 ---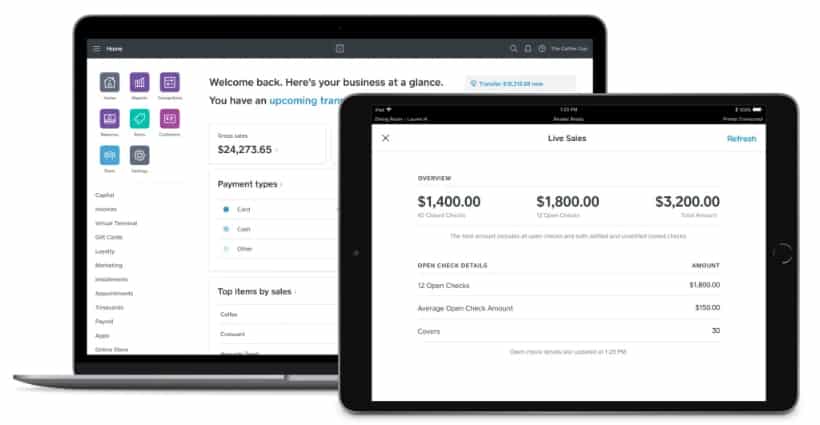 ---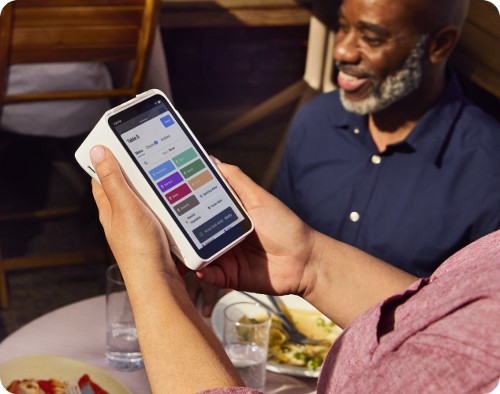 ---
What's new with Square:
Mobile Square for Restaurants: In May, Square announced its mobile restaurant POS, which runs on Square Terminal and will soon have a Restaurant Mobile POS kit. This makes it easier for waitstaff to take orders at the table.
Kiosk stand: The improved stand mount will let you use an iPad as a kiosk. (Square says "Coming Soon.")
Personalized upsell: In May, it also acquired GoParrot, which offers advanced selling features and personalized upselling. It's currently available in the US, Canada, Australia, and the UK.
Square for Restaurants Features
Free baseline POS: Unlike the other systems on this list, Square for Restaurants offers free software for its entry-level iPad POS. You can use iPads you already own and get started using Square for free. With no long-term contracts, you can use the POS for as long as you need it, then move to a higher subscription tier or a whole different system if your restaurant's needs change.
Free online ordering: All Square users can get an online ordering site for free. Setup is easy via Square's site creation wizard. Most users can start accepting online sales in an hour or two. You don't even need a web address; you can get a free Square URL to host a website where customers can self-order their food.
Square small business suite: Square for Restaurants POS users also gain access to the full suite of Square's small business tools. In addition to the Square Online store, you can get their easy-to-use marketing, payroll, and appointment booking.
Integrations: If you want a feature that Square for Restaurants lacks, you can probably find an integration for it. Square hosts an app marketplace where you can find several options for email marketing, accounting, ingredient-level inventory, employee scheduling, food delivery, and more.
Revel Systems: Best for High-volume Restaurants Wanting In-house Delivery Options
Revel Systems

What We Like
Robust inventory tools
Wide range of integrated hardware peripherals
Multiple options for payment processing
Robust tools for handling combos
What's Missing
Pricey
Contract is typically three years
Requires an installation fee
Revel Systems Pricing
Software subscription fee: $99 per month for a single terminal; additional terminals require a custom quote
One-time installation fee: $674
Processing fees: Varies based on your chosen processor. Choose from Revel Advantage, First Data, Heartland, TSYS, Worldpay, Chase Paymentech, or Elavon.
Revel's complex order modifiers and robust reporting make it a great choice for busy restaurants with complex menus. Its delivery management system allows you to assign and track in-house drivers with Uber-like efficiency.
The fact that you can choose your own payment processing solution also allows high-volume restaurants to shop for the lowest processing rates from a third-party processor or use the built-in Revel Advantage. That being said, it is among the most expensive of the iPad POS systems for restaurants since it has a required installation fee that most do not.
Earning 4.01 out of 5 stars, Revel is a strong iPad POS for restaurants that need peripheral hardware like KDS and self-service kiosks. Though we think the price, onboarding assistance, and depth of functions make Revel especially suitable for larger restaurants and those with more complex needs. The system lost points in our ranking for its high price, though. If you want the variety of integrated hardware at a lower price, try TouchBistro.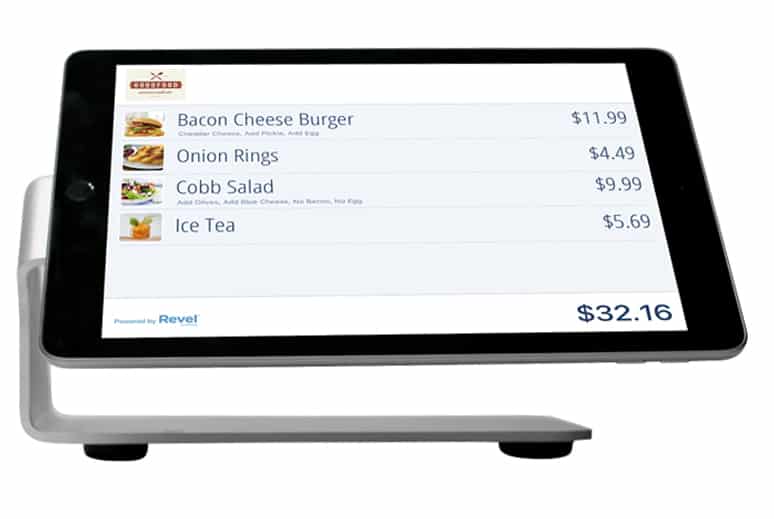 ---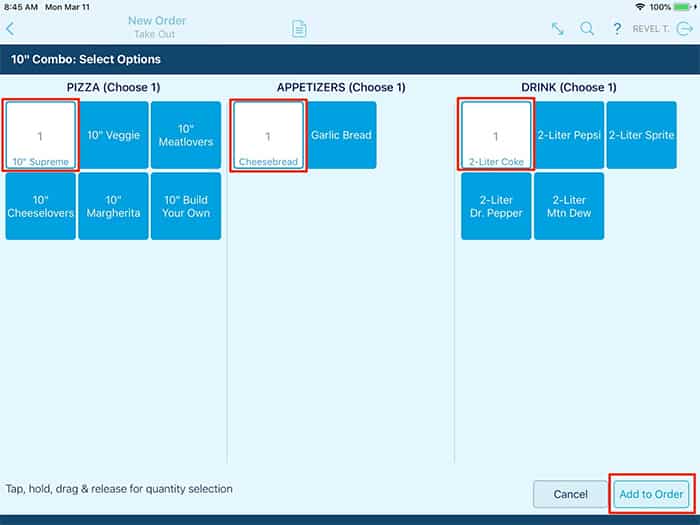 ---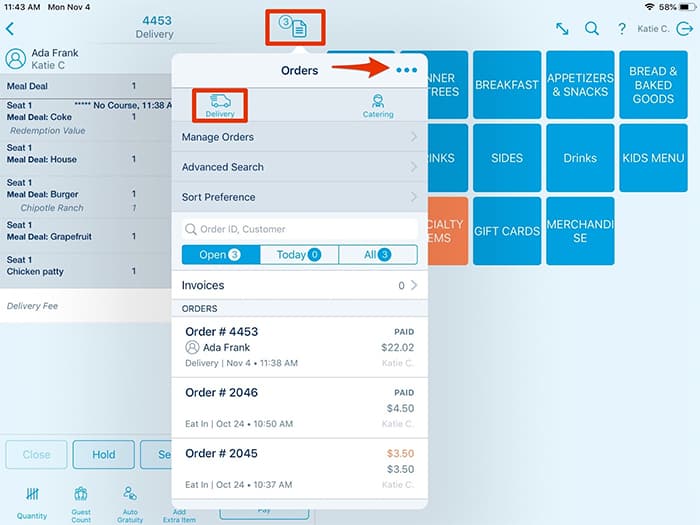 ---
What's New for Revel Systems: Since our last review, Revel has added two new features—loyalty and chat—and had four updates, with improvements to many functions, new integrations, and more. You can find them all on Revel's page, but here are a few:
Improved combo tools for splitting, linking, and grouping combos in conversational ordering
New payment integrations: Adyen, IFCC, Freedom Pay, Apple Pay
Improved Drive Through tools like a dedicated ordering queue
More KDS functions like order prioritization
Improved modifier tools
New reports: Discounts and Adjustments, Labor
Eighty-six items with a date to undo/mark available again
Discount Floors to set maximum allowed discount price
Delivery address confirmation; delivery zone service fees
Integrated with DoorDash Drive
Improvements to the driver system including more visible order views, assignments, map improvements
Revel Systems Features
Complex combo building: Revel's menu modifier screens can handle the most complex orders from build-your-own pizzas to meal deals of every type. In most cases, you can organize multiple modifier types on a single screen to speed up orders. Revel has improved these tools for 2022.
Detailed reporting: Unlike Lightspeed Restaurant and Square for Restaurants, Revel includes customized reporting in the baseline POS. You can customize report views and export reports as CSV files for further analysis.
Delivery management: You can manage a team of in-house drivers with Revel's detailed driver management tools. Assign deliveries to individual drivers, plan routes, and track your drivers in real time with Uber-like efficiency. Revel has added zones with programmable service fees.
Range of peripheral hardware: Like TouchBistro, Revel Systems has software for any type of peripheral POS tool you can dream up. You can manage software for KDS, customer-facing displays, digital menu boards, and self-ordering kiosks from your back office dashboard.
Ingredient-level inventory with vendor management: Revel Systems' ingredient-level inventory is as robust as Lightspeed Restaurant (U-Series), if slightly less automated. You'll get low-stock alerts and can place orders with vendors directly from your back office dashboard.
TouchBistro: Best for Cafes, Pubs & Breweries
TouchBistro

What We Like
Tableside ordering mode is easy to use
Integrated online ordering tool works as a self-ordering kiosk
Speed order screens and pre-authorized bar tabs are excellent for pubs and bars
Terminals include suggestive upselling
What's Missing
Third-party online ordering and delivery integrations require middleman app
No free plan or free trial
Online ordering is an extra monthly cost
TouchBistro Pricing
Monthly Software subscription fee: $69
Add-ons:

Loyalty: $99 per month
Online Ordering: $50 per month
Marketing: $99 per month
Gift Cards: $25 per month
Reservations: $229/month

One-time installation fee: None
Processing fees: Varies based on processor; choose from TouchBistro Payments, TSYS, or Square.
TouchBistro is an iPad POS designed specifically for food and beverage businesses. It includes a food ordering system and other features for full-service restaurants, quick-service restaurants, food trucks, and breweries. However, its features for running and organizing tabs and quick order screens make it the best choice for bars, cafes, and breweries. It is also a great option for small restaurants that want affordable hardware peripherals from digital menu boards to KDS screens. Revel Systems also includes these tools, but TouchBistro offers them at a more affordable price for small, independent restaurants.
With a 4 out of 5 stars, TouchBistro earned high marks for mobility and the fact that it supports both built-in and third-party payments. It lost points because a few features—like ingredient-level inventory and employee scheduling—are basic or need integrations, but the overall toolset is strong.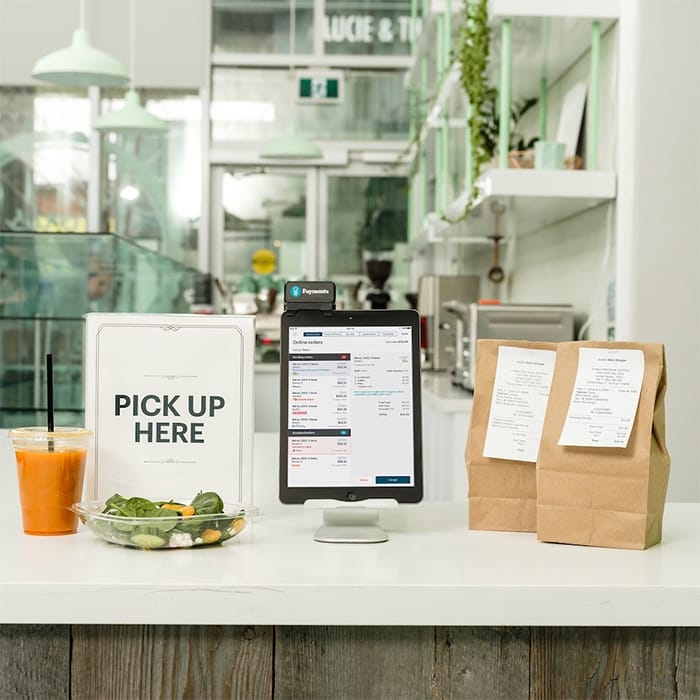 ---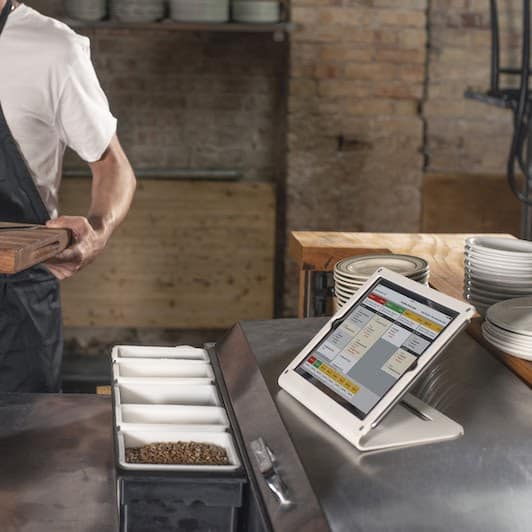 ---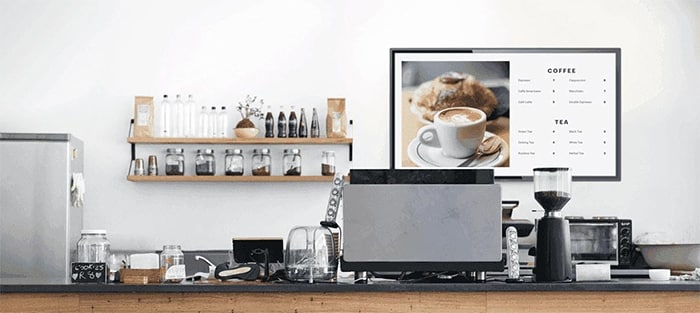 ---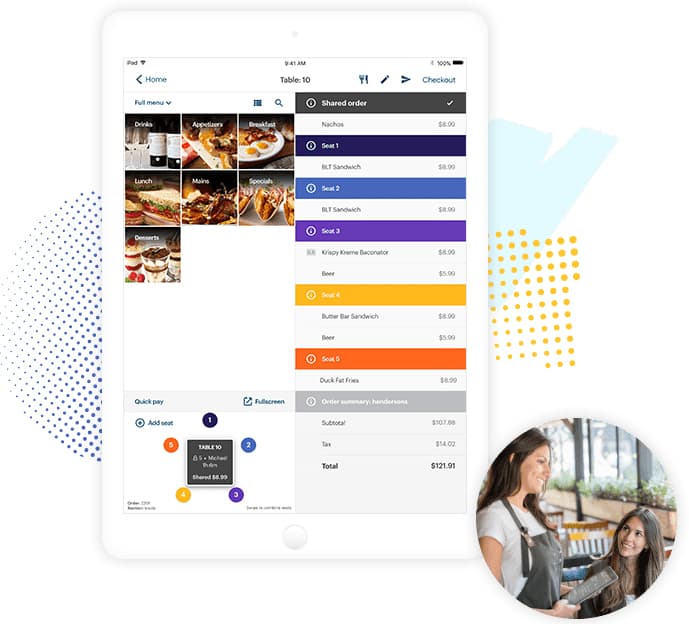 ---
What's new for TouchBistro: In April 2022, TouchBistro launched a marketing and CRM platform, TouchBistro Marketing. It's a separate module for $99 per month. TouchBistro has been making some improvements to the software and adding some features like:
Diners can save delivery addresses in their profile
You can create multiple delivery boundaries and charge delivery fees
A new Sales Trend report has been added to Cloud, plus multi-venue reports
TouchBistro Features
Integrated Online ordering: For an additional $50 per month, TouchBistro users can add integrated online ordering. You can accept online orders for pickup, curbside pickup, or delivery. Like Square for Restaurants, Revel Systems, and Lightspeed Restaurant (U-Series), TouchBistro includes map-based delivery tools to help you manage a team of on-staff drivers. If you prefer to use third-party ordering and delivery apps, you can integrate them into your TouchBistro POS via middleman plug-ins Deliverect or Ordermark.
Flexible hardware: Like competitor Revel Systems, TouchBistro includes integrated digital menu boards, customer-facing displays, KDS screens, self-ordering kiosks, and tableside ordering tablets. You can manage all of these peripherals from your TouchBistro management dashboard. TouchBistro beats Revel Systems in the price department, though, offering software for these tools with transparent monthly pricing from $20 to $69 per month. KDS screens and customer-facing displays have no monthly software costs; you only need to purchase hardware. Revel Systems requires a custom quote.
Bar features: Like Lightspeed Restaurant, TouchBistro offers a condensed quick-order screen to help your bartenders speed through orders. With TouchBistro, you can also pre-authorize bar tabs with a card swipe, customize tab names, and quickly transfer bar tabs to tables.
Ease of Use: TouchBistro's user interface resembles an iPhone more than any other system on this list. This makes TouchBistro easy to learn for both you and your staff. Anyone who has used an iPhone can navigate TouchBistro in no time. Many user reviews mention how quickly new staff learn the system.
Rezku: Best for Small Restaurants Needing an Affordable, All-in-One POS
Rezku

What We Like
All functions included in baseline POS
Gift cards included for no extra cost
Affordable price
What's Missing
Reporting has limitations
Vendor management requires third-party integration
Customer support is not yet 24/7
Rezku Pricing
Software subscription fee: $49 per terminal per month
One-time installation fee: None
Processing fees: Custom-quoted
Rezku is an iPad POS that, like TouchBistro and Upserve, is built specifically to support food and beverage businesses. However, unlike the other systems on this list, Rezku aims to include every function an independent restaurant needs in its baseline POS. And when I say everything, I mean it. It offers everything from gift cards to online ordering, delivery management, and marketing tools for $49 per terminal, per month.
This POS system earned a 3.93 out of 5 in our evaluation. It scored well in nearly every category, only losing points because some included features have limited functionality and because it doesn't offer a free subscription (like Square) or free trial (like Lightspeed). But, if you want an all-in-one POS that doesn't have a lot of confusing add-on fees, Rezku is a great bet.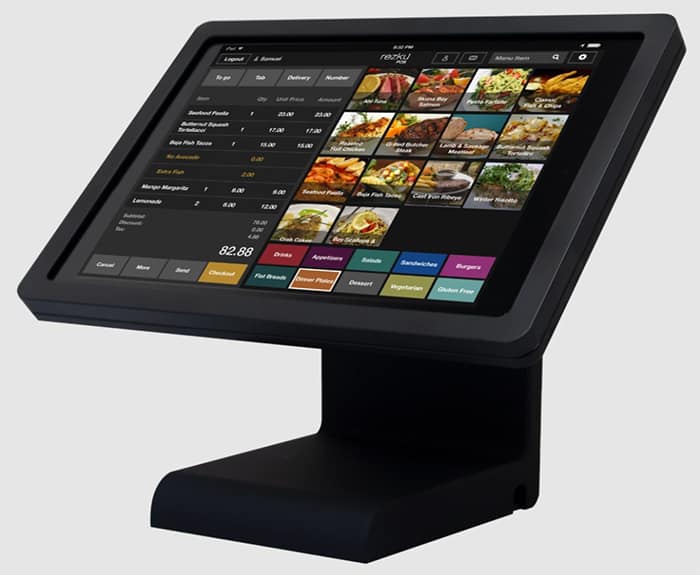 ---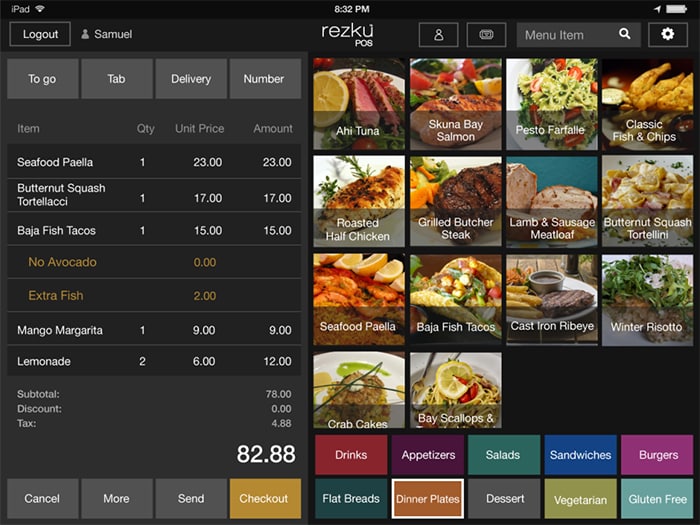 ---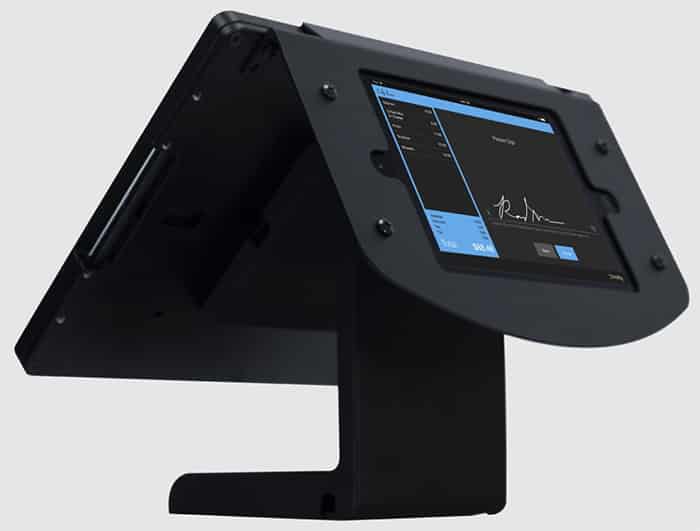 ---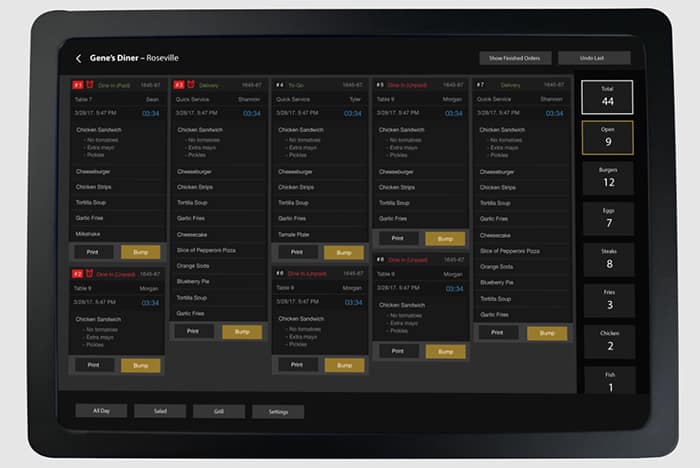 ---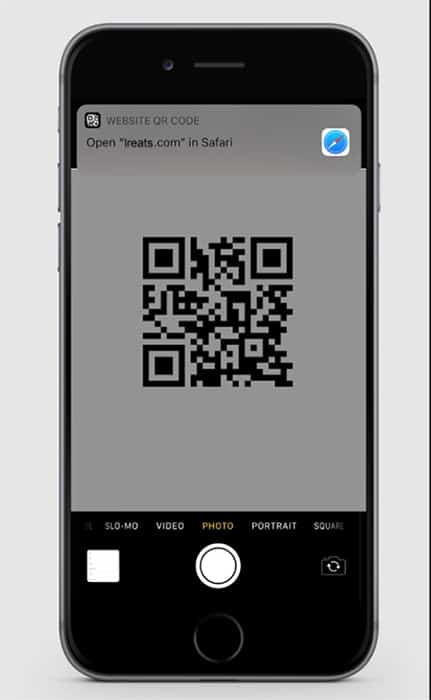 ---
Rezku Features
Comprehensive all-in-one POS: Rezku includes an exhaustive list of software tools in its baseline POS. You get ingredient-level inventory tracking with low-stock alerts, online ordering with delivery management, points or dollar-based loyalty and rewards, gift cards, and more. It offers over 300 functions for a single monthly subscription fee.
Cash discount setting: Rezku includes a setting that automatically calculates a discount for customers that pay in cash. The discount amount will be the same as your credit card processing fees. So, if customers pay with a credit or debit card, your processing fees are covered. This is a clever way to sidestep laws in 10 states prohibiting small businesses from passing card processing fees onto customers. If the prospect of credit card processing fees has kept you from getting a POS, Rezku might be your perfect fit.
Included gift cards: Every other system on this list—and pretty much every POS system in general—charges extra for gift cards. Meanwhile, Rezku includes them as part of the baseline POS system.
Employee management: Rezku's employee management tools include an integrated timecard system, clock in/out, photo clock-in to prevent buddy punching, and more. The reports include labor cost analysis, payroll exports, and shift management applications. Payroll is even calculated for you based on employee position, pay rate, and hours.
Lightspeed Restaurant (U-Series) (Formerly Upserve by Lightspeed): Best for Inventory Management
Lightspeed Restaurant (U-Series)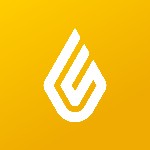 What We Like
Automated inventory tools with vendor management and one-click reordering
Smartphone reporting app
Marketing tools included in baseline POS
What's Missing
Pricey
Custom reporting is an extra cost
Inventory tools only included in higher-priced subscriptions
Lightspeed Restaurant (U-Series) Pricing
Monthly Software subscription fee:

Core – $59 + $60 per terminal
Pro – $199 + $50 per terminal
Pro Plus – $359 + $40 per terminal

One-time installation fee: Custom-quoted
Processing fees: Custom-quoted
In the News:
In May 2022, Upserve by Lightspeed changed its name to Lightspeed Restaurant (U-Series). The changes are only cosmetic. According to the company, all the features and workflows are the same.
Like TouchBistro and Rezku, Lightspeed Restaurant (U-Series) (formerly Upserve by Lightspeed), is designed specifically for food and beverage businesses. Unlike others on this list, Lightspeed Restaurant (U-Series) also has POS options for Android tablets, including a purpose-built, pocket-sized ordering and payment device. But the real ace up its sleeve is the incredibly easy-to-use inventory tools. The system tracks your inventory in real time, sending low stock alerts, generating suggested orders from your vendors, and organizing suggested orders that you can send to all your vendors with one click.
Lightspeed Restaurant (U-Series) earned a 3.75 out of 5 on our scoring system. It tied with Revel Systems for the highest score in back-of-house and office tools. This seems like a low score for a system that offers such robust tools—the only real issue with Lightspeed Restaurant (U-Series) is the price. With a monthly price per terminal in addition to the monthly software fee, Lightspeed Restaurant (U-Series) is one of the priciest iPad POS systems on the market. With typical contracts written for 36 months, you'll need to be sure that Lightspeed Restaurant (U-Series) is your perfect fit before signing up.

---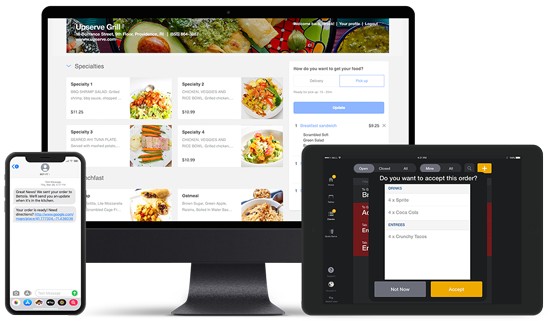 ---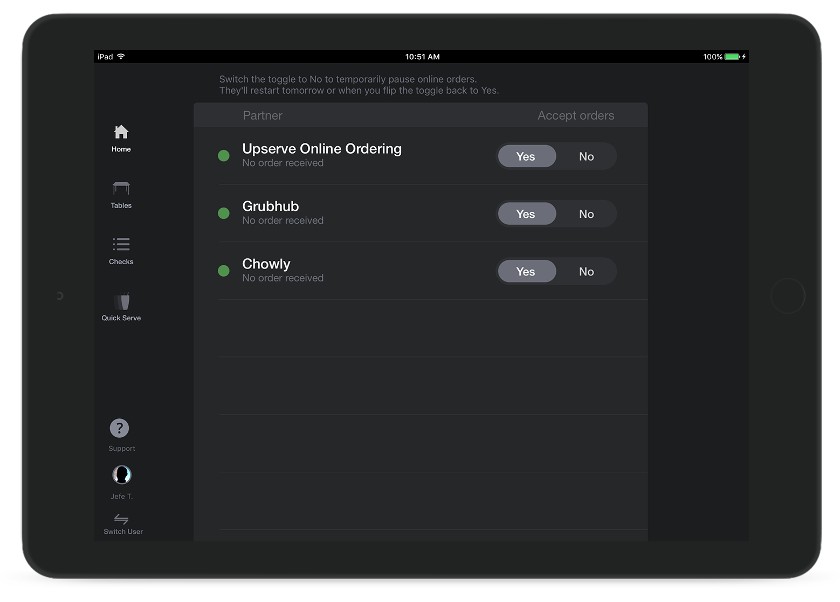 ---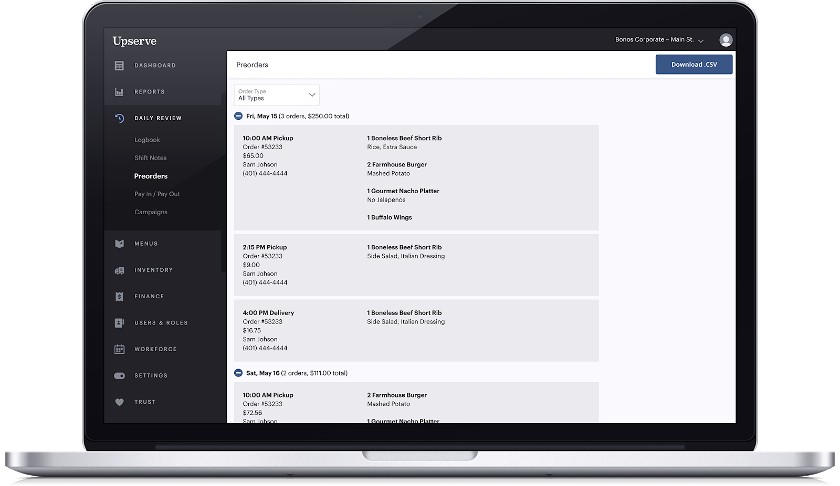 ---
Lightspeed Restaurant (U-Series) Features
One-click reordering: Lightspeed Restaurant (U-Series) has the most user-friendly inventory management tools available. While most systems on this list—aside from Square for Restaurants—include built-in ingredient-level inventory tracking, Lightspeed Restaurant (U-Series) includes automated tools like the ability to place all your re-stocking orders with a single click.
Niche reporting: Upserve collects 25 data points from every transaction to offer detailed and easy-to-read analytics, including labor costs, scheduling, sales trends, and performance. Menu and server performance data are connected so you can spot trends in your staff performance and opportunities for training.
Reputation management: Lightspeed Restaurant (U-Series) alerts you to new customer reviews when they appear on social media sites or Yelp. You can monitor and respond to customer reviews directly from your management dashboard. The reputation management tool further lets you compare your online reviews with competitors to see how you stack up.
Full offline mode: Even when the internet is down, your food ordering system still works. In offline mode, Lightspeed Restaurant (U-Series) users can still send orders to the kitchen, take payments, and print receipts. You can also spool credit card payments to be run when you regain internet access.
Workforce management: You can create and distribute staff schedules directly through the POS in the management dashboard. Integrated schedules also allow you to prevent early clock-ins to save on labor costs.
Live mobile reporting app: You can keep your restaurant analytics in your pocket with a live mobile reporting app. There's no need to log in to a browser-based dashboard—just open the always-on app for real-time reports.
How We Evaluated iPad Restaurant POS
We compared a dozen of the most popular iPad POS systems based on what's important to independent restaurants. Each system was evaluated for the price, mobility and payment processing features, and front-of-house tools alongside back-of-house and back-office functionality. We also considered our retail and restaurant experts' evaluations of each tool.
Based on the above criteria, Lightspeed Restaurant is the best iPad restaurant POS. The software received the highest overall score according to our grading system for iPad restaurant POS software (4.21 out of 5). From our personal experience testing different POS software and working in and with small businesses that use POS systems every day, Lightspeed Restaurant is one of the top software we would personally recommend.
Click through the tabs below for our full evaluation criteria:
20%
Mobility and Payment Processing
20%
Back-of-house and Office Tools
20% of Overall Score
We looked for inexpensive systems that didn't limit the number of users on a terminal. Also, we gave favor to any with a free plan and month-to-month contracts. Square, with its free POS, earned a perfect score.
20% of Overall Score
POS systems with integrated payment processing earned extra points, but regardless, all the POS systems on our list process credit cards and contactless payments. Most had an offline mode to allow you to record payments to process when you were back on the internet. All scored 4.0 and up.
20% of Overall Score
We considered table mapping, order taking that allowed modifications, loyalty programs, and gift cards in addition to standard order-and-pay functions. Revel Systems had a near-perfect score with 4.81 out of 5.
20% of Overall Score
We gave our own score based on the features and functionality vs price and looked at real-user reviews on reputable sites like Capterra and G2. Only Square earned a perfect score here.
*Percentages of overall score
Bottom Line
When you're looking for an iPad restaurant POS, Lightspeed Restaurant is the best combination of affordable price and robust functions. You can bring your compatible hardware and, for $39, get easy-to-use tools for managing orders and payments. It lets you add tools for loyalty, online ordering, delivery, and KDS for transparent, affordable prices. To see if Lightspeed Restaurant is a fit for your restaurant, contact Lightspeed for a demo.
You May Also Like…