Building an audience on social media takes time, effort, and know-how, but it is essential to increasing brand exposure and generating leads for your real estate business. Using a real estate social media marketing company will save you time and stress by offering content production, advertising, automation, and design skills. To assist you in choosing the most effective company for expanding your business, we looked into dozens of platforms to uncover the best real estate social media marketing companies in 2023.
Based on pricing, the types of services provided, and the social platforms supported, here are the best social media marketing agencies for realtors:
Best Real Estate Social Media Marketing Companies at a Glance
Company

Starting Price

Free Trial

Social Media Outlets

Customer Support

$9.99 per month

✓

14-day free trial

Facebook
Instagram
Twitter
LinkedIn

Phone and email

$249 per month

✓

30-day free trial

Facebook
Instagram
TikTok
Twitter
LinkedIn
Pinterest
YouTube

Phone and email

Pricing varies per service and freelancer—starting at $5

✕

All social media platforms

Phone and email

$54 per month

✕

Email

$99 per month

✕

No free trial, 14-day risk-free guarantee

Facebook
Instagram
Google My Business
LinkedIn
TikTok

Phone, email, and live chat

Free-forever plan; paid plans start at $16 per month

✓

Free-forever plan

Email

$99 per month

✓

7-day free trial

Phone and email

$500 per month

✕

Facebook
Instagram
TikTok
LinkedIn
Twitter
Pinterest

Phone and online form

$69 per month

✕

Phone, email, and online form

$18 per month

✓

14-day free trial

Instagram
Facebook
Twitter
Pinterest
TikTok
LinkedIn

Live chatbot
To find out which lead social media marketing company will best suit your real estate needs, take this quick quiz:
Which social media marketing company is right for you?
Constant Contact: Best for Targeted Social Posts & Emailing

Pros
Post to Facebook, Instagram, Twitter, and LinkedIn simultaneously
Contact segmenting for more targeted campaigns
200+ email and newsletter templates
Cons
No free plan
A steep increase from $9.99 to $45 per month
Plans severely limit your contact list total
Monthly Pricing*
Core: Starts at $9.99, includes website sign-up forms, lead generation landing pages, and gift card incentives integrated
Plus: Starts at $45, includes unlimited users, Google ads integrated, and email newsletter archive
*Pricing varies depending on the number of contacts
Our Expert Opinion on Constant Contact
Constant Contact has simple list management, drag-and-drop templates, and time-saving automation to assist real estate professionals with organizing their social media campaigns. Constant Contact makes segmenting client lists simple so you can target the right audience. Segment your contacts based on location, tags, and email activity manually or automatically with an additional fee. Tags like the most engaged, the slightly engaged, and the least engaged help agents prioritize leads most likely to transact.
In addition, Constant Contact's user-friendly interface makes it easy for beginners to get started with email, text, and social media marketing. It allows you to post to multiple social media platforms simultaneously, saving you time. Similarly, you can manage Facebook and Instagram ads directly from the platform, making Constant Contact one of the best real estate social media companies for targeted posting and emailing marketing to reach a specific audience.
Statistics and metric reports: Provides easy-to-access statistics and metric reports for campaign performance.
Templates and layouts: Offers hundreds of professionally designed and customizable templates and layouts.
Email marketing automation: This feature automatically sends a targeted welcome email, nurtures leads, segments contacts, and expands your reach.
SMS marketing: Includes a dedicated phone number, simple message editor, detailed reporting, and list growth and opt-in tools.
Integrations: 300-plus integrations, such as Shopify, Canva, Etsy, and Vimeo.
---
From 2,400 reviews, consumers rated Constant Contact a 4.3 out of 5. Constant Contact's user-friendly layout and the simple process for setting up your first campaign—from opening an account to beginning your free trial—were lauded by users. Customers also liked how easy it was to examine analytics related to the success of campaigns and their customizable templates.
However, several users shared that the site was full of bugs that never got fixed despite significantly impacting usability. Another main complaint that reviewers expressed was Constant Contact's pricing structure. Many customers noted that certain features were expensive and out of their price point. We recommend Animoto if you want a social media manager for real estate agents offering a free-forever plan.
---
Sprout Social: Best for Robust Social Media Management & SEO Tools

Pros
Wide range of social media outlets, including YouTube and Google Analytics
Simple and neat user interface
Publishing and scheduling tool
Cons
Minimal options on the basic plan
Can't use the Social Listening tool as a free trial user without requesting a demo
Input lag or dashboard freeze
Monthly Pricing:
Standard: $249, includes five social profiles, all-in-one social inbox, social content calendar, review management, tasking, and social CRM tools
Professional: $399, includes unlimited social profiles, all Standard plan features, competitive reports, message tagging, custom workflows, trend analysis for Twitter, and paid social reporting
Advanced: $499, includes all Professional plan features, digital asset and content library, chatbots with automation tools, inbox rule builder, and automated link tracking
Enterprise: Custom pricing, includes Advanced plan features, tailored implementation and onboarding, premier consulting services, and 24/5 prioritized customer support
Our Expert Opinion on Sprout Social
Sprout Social is a simple social media management tool for web and mobile applications. It is divided into several tools for managing your inbox, social media schedule, mentions, and analytics. Plus, it supports Facebook, Instagram, TikTok, Twitter, LinkedIn, Pinterest, and YouTube for core social media. You can also link accounts from Google My Business, Google Analytics, Tripadvisor, and Glassdoor when you connect a profile—allowing you to reach a wider audience and have consistent posts across all your platforms.
Additionally, Sprout Social's user interface is organized, and the quick-access buttons are helpful, requiring fewer clicks to do routine tasks. The Publishing tool lets you schedule several posts simultaneously when your audience is most active, guaranteeing maximum exposure for your posts. Furthermore, its Feedly integration lets you see and share information from your "followed" feeds directly from the app's interface, providing you insights about the trends and topics of your followers.
Fiverr: Best for Niche Social Media Marketing Management Specialists

Pros
Custom social media strategy and content
Pay only for the exact services you need
Shows freelancer ratings from previous clients for increased confidence
Cons
Requires time and effort to find qualified candidates
Service quality varies by freelancer
No long-term contracts
Monthly Pricing:
Varies depending on the service and freelancer, but fees start as low as $5 per job or project
Our Expert Opinion on Fiverr
Fiverr is a freelance platform that helps you find and connect with real estate social media marketing professionals who offer any individual service you may need. Fiverr is a perfect alternative because you can find general or specific real estate social media marketing services, such as Instagram engagement, hashtag research, TikTok video editing, LinkedIn lead generation, or Facebook advertising. For this reason, Fiverr is best for those who want unique, custom content and collaboration with a specialist.
Purchase a one-time service like branded, premade graphic templates for social media images or set up a long-term contract with one or multiple social media marketing experts. Some freelancers focus on specific social media platforms or skills, like hashtags or copywriting. In contrast, others can take charge of all the elements of your social media strategy, from planning to designing, writing, and scheduling.
Fiverr Pro and Fiverr's Choice: Pro Verified sellers have passed Fiverr's quality and qualification checks. On the other hand, if a seller is listed as Fiverr's Choice, it signifies that Fiverr has given them a high rating and approves their level of service.
Gig Subscriptions: If you need more than one project completed quickly, several freelancers offer service subscriptions.
Inbox: Fiverr's inbox works like a chat room, with conversations in separate threads.
Milestones (for projects over $100): Work with your freelancer to set up milestones if you have a big project, like designing a website. Milestones are marked complete when you accept them, and you must pay for each one separately.
Revisions: If a project comes back unsatisfactory or there are some parts you want to change, you can request revisions.
---
Fiverr earned a 3.8 out of 5 customer rating from its 8,830 users, showing highly positive reviews and stating the platform has an excellent online service with many talented and professional designers and freelancers. However, each freelancer's types, quality, and levels of services differ, and pricing varies greatly. You can utilize each freelancer's average ratings and client testimonials to narrow your list of possible services.
Nevertheless, finding the right freelancer can be much easier said than done. It takes time to sort through all of the options, and it could require some trial and error to figure out precisely what services you need and which freelancer offers the most significant value. CityBlast or $99 Social are excellent options if you're searching for the simplest and fastest way to cross social media posting off your to-do list.
---
Read how our experts feel about this real estate social media marketing company in our Fiverr Review.
Coffee & Contracts: Best One-stop Shop Social Media Marketing Agency for Realtors

Pros
Access to Coffee & Contracts Members Only Facebook Group
Multiple real estate guides, including staging, investing, and rent vs buy guides
Various templates for social media posts, stories, reels, The Broke Agent social media, branding kit, and logo templates
Cons
Does not support multiple social media platforms like Twitter and LinkedIn
No free trial
It doesn't have automated posting or an in-app editor
Monthly Pricing*:
Single-user license: $54 for access to its Member's Only Facebook Group, monthly content calendars, social media post templates, and guides
Multi-user licenses for teams and brokerages: Customized pricing, depending on the number of users. It includes hundreds of real estate marketing templates, real estate guides, checklists, and access to all content
*Can be paid in semi-annual or annual contracts
Our Expert Opinion on Coffee & Contracts
Coffee & Contracts is a one-stop shop for all the tools and resources real estate agents need to thrive online, increase their visibility, and attract new followers-turned-clients. It provides customizable monthly content calendars, various real estate guides, email newsletters, video scripts, and postcards in Canva to support you in creating unique and eye-catching social media marketing content.
Moreover, Coffee & Contracts updates the content calendar with social media post options for every day of the month. It also offers many bonus materials to keep your social accounts fresh and engaging, including 400-plus engaging captions to copy and paste and timeless, clean, and ready-to-go templates and flyers. Real estate agents can benefit significantly from the real estate-specific content available from Coffee & Contracts to attract an active audience and engage with new prospects.
Story templates: Provides unique and fun story templates or posts that help boost engagement and capture leads.
Done-for-You marketing guides, checklists, and flyers: Coffee & Contracts offers neat and ready-to-go templates. These can be completely customizable using Canva.
Prewritten email newsletters: Coffee & Contracts provides prewritten templates for email newsletters, including checklists, open house guides, local event calendars, and preferred vendor packets.
Realtor training resources: Offers users training on how to successfully generate leads using social media, such as making videos, creating Instagram Stories, and how to increase likes and comments.
---
As of this writing, there are only a few third-party online reviews for Coffee & Contracts, giving it a 5 out of 5-star rating. Real estate professionals rave about the content available through the platform. Users said the Reels, images, videos, and monthly newsletters are excellent and can be adapted to their needs. Also, integration with Canva allows agents to customize their content to match their brand.
Nevertheless, Coffee & Contracts does not support specific social media platforms like Twitter and LinkedIn. With this, explore Sprout Social if you have multiple accounts, including Twitter, YouTube, LinkedIn, and Google My Business.
---
$99 Social: Best Social Media Marketing Company for Daily Facebook Posts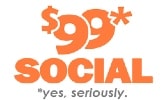 Pros
Daily posting to Facebook and one other network of your choice for $99 per month
14-day money-back guarantee
Does not require a contract or long-term commitment
Cons
Limits posting to two social media platforms on all except for the highest-tiered plan
Twitter posting is not included in all plans, and it costs $59
Lacks more robust services, like strategy and analytics
Monthly Pricing:
Presence: $99 plus a $99 one-time setup fee, includes three weekly posts per network, high-resolution, relevant images, error-free text captions, 500-700 text characters per post, relevant hashtags, and a dedicated content specialist and account manager
Presence Plus: $189, includes everything in the Presence plan plus five weekly posts per network
Presence Premium: $299, includes everything in the Presence Plus plan and 500-750 text characters per post, custom branded images, and once-a-month custom SEO blog post
Max Presence: $389, includes everything in the Presence Premium plan
Our Expert Opinion on $99 Social
$99 Social offers a simple and affordable way to post daily real estate content on Facebook, Instagram, LinkedIn, and Google My Business. A professional content specialist manages all plans, including article links, real estate hashtags, and weekly promotions for your networks. In addition, each post is prepared by content specialists—producing unique content for your audience and niche. With this, $99 Social is a great solution to build a social presence with consistent posts.
If you don't need to post daily, opt for the Presence plan. It includes three weekly posts on your chosen two networks. Alternatively, the higher-tiered plans include five weekly posts per network. It also contains long-form copy with 500 to 750-plus characters and informational content; the same post goes to both networks. The two highest-tier plans include custom branded images and a once-a-month custom SEO blog post.
Animoto: Best Real Estate Social Media Video Creation Services

Pros
Real estate-specific video templates
Unlimited video edits on all plans
Free social video marketing community
Cons
Not directly compatible with Instagram
Animoto watermark on the free plan
A limited number of real estate templates
Monthly Pricing*:
Free: $0, includes all standard features, unlimited video creation, share tools, and 50 royalty-free songs
Basic: $16, includes all standard features, unlimited downloads, and high-quality video (HD 1080p)
Professional: $29, includes everything in the Basic plan, 3,000 licensed music tracks, over 1 million licensed stock photos and videos from Getty Images, voice-over, record screen and webcam together, three saved templates, 40 professional fonts, and one saved brand
Professional Plus: $79, includes everything in the Professional plan, accounts for up to 3 users, more than 100 million Premium licensed photos and videos from Getty Images, multiple saved brands, 25 saved templates, collect time-stamped comments, 30-minute consultation with a video expert, and license to resell to businesses
*Choose annual billing for a discounted rate
Our Expert Opinion on Animoto
Animoto is a video creation platform that provides real estate templates so you can quickly and professionally edit your videos. According to Wordstream, businesses that use video increase their revenue 49% faster than those that don't. Using Animoto, you can start creating professional real estate marketing videos for free on any device, and paid plans start at only $8 per month (billed annually).
Since all plans include unlimited video editing and social sharing, Animoto is a perfect social media marketing agency for realtors who are ready to infuse their social media strategy with video. There are nearly 200 video templates, but only a few are specific to real estate. Animoto also provides a social video marketing community on Facebook where you can ask for assistance from its video experts to administer your growth with tips, ideas, inspiration, and feedback on your videos.
Accessibility: Using your preferred browser, you can log in from a Mac or PC. All your videos will be ready for you in their cloud-based video editor.
Lifetime license: Your videos belong to you with a license that doesn't expire. Download and post the videos you create online anywhere, anytime.
Drag and drop: You can upload photos and clips into an easy-to-use template or start with a clean slate.
Video commenting tool: This feature lets you reply and implement feedback from your video editing workspace.
---
Animoto has a 4.2 out of 5 customer review rating from its 992 users, with most customers loving its fast and efficient services and easy-to-use interface. Many users also commended the quick response time and excellent customer service of Animoto. Plus, several users noted that work outputs are extremely beautifully designed and made.
The few unhappy Animoto reviews were from customers who stated that the editing features aren't exceptionally robust. Aside from these, learning how to edit videos on the platform or use one of the general (not real estate-specific) video templates to fit your needs will require time and effort. The best alternative to Animoto would be to hire freelance video editors on Fiverr.
---
CityBlast: Best for Local Real Estate Content

Pros
Content branded with your contact information
You get to approve or reject content before it's posted
Easily connects to social media accounts
Cons
Content is not customizable
Does not support Instagram and no Instagram integration
No real estate-specific templates or layouts
Monthly Pricing:
Custom service pricing*: $99 paid monthly
Build and optimize Facebook page: $199.99
One-time setup fee: $149
Free trial: 7 days
*Choose annual billing for a discounted rate
Our Expert Opinion on CityBlast
CityBlast is one of the best social media marketing companies for realtors that includes local content in social media posts. Local content contains articles about events in your area, local news stories, and updates on the real estate market. Sharing this local content will show your expertise and gain the trust of prospective clients. Although pricing is customized to your needs and posting frequency, CityBlast is generally more affordable than most real estate social media management companies.
In addition, the setup process is fast and easy and gives you the power to curate content for your audience. This is an excellent choice for agents who want to appear active on social media without spending much time and energy writing and posting content on social media platforms.
Real estate-specific content: Offers 15 real estate content categories, including buyer and seller advice and home and garden projects.
Dashboard: CityBlast's dashboard displays likes, shares, and comments for multiple social media platforms.
IDX listings: This feature automatically integrates IDX listings for an additional fee to capture more leads.
Marketing services: Offers additional marketing services like real estate lead generation, email marketing, and pay-per-click (PPC) advertising.
---
CityBlast garnered 3.5 out of 5 stars from Google reviews. Many customers claimed CityBlast was integral in enhancing their social media presence, specifically their Facebook pages. Some users commended the content available from CityBlast, saying that they were well-received by followers and helped bring more exposure to their business.
However, CityBlast's content is pre-created and is not customized to your business. Most of your social media posts will be links to articles or landing pages, which is generally not the most effective social marketing strategy for realtors. If you'd prefer to invest in a more bespoke real estate social media marketing strategy, Lyfe Marketing's consultations will be a better fit for you. You can also hire one of Fiverr's freelance real estate social media pros for a fully customized strategy and maximized results.
---
Lyfe Marketing: Best for Building a Comprehensive Social Media Management Strategy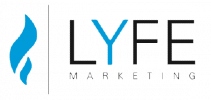 Pros
Offers online reputation management services
Includes campaign strategy consultation
Dedicated account managers
Cons
Not real estate-specific
Twitter and LinkedIn require additional cost
Requires a 3-month contract
Monthly Pricing:
Social Media Management: Starts at $750, includes image posts to Facebook and Instagram, 12 posts per month, page monitoring and responding, and sponsored posts and follower ads
Social Media Advertising: Starts at $650, includes advanced ad targeting, advertising creation, and bid management and optimization
PPC Management: Starts at $650, includes $500 to $9,999 per month ad spend (paid to channel), advanced ad targeting, and advertising creation
Email Marketing: Starts at $500, includes email design and copy, list maintenance, and monthly reporting
Short Video Management: Starts at $1,350, includes ad management: sponsored posts and page monitoring and responding to activity
Short Video Advertising: Starts at $1,250, includes max ad campaigns, ad creation, and ad optimization
Our Expert Opinion on Lyfe Marketing
Lyfe Marketing is a social media management company built for small business owners and is a fantastic fit for real estate agents who want a comprehensive and highly personal strategy. You will get a dedicated account manager with any plan and up to two hours of consultation per month. The account manager will help you refine and tell your brand story in engaging, original, and customized content that consistently works to build and nurture your audience, helping you become more successful in real estate.
The social media content created is original, customized, and unique to you. Lyfe Marketing also offers social media advertising and website design services to support your brand-building efforts further. It is the best real estate social media marketing agency for realtors for its comprehensive, tailored approach and dedicated, expert account managers.
Content calendar: Lyfe Marketing offers a social media content calendar organization, allowing you to schedule and plan your posts.
Reports and analytics: Provides you with statistics and allows you to see how far you've come in your social media marketing campaign in real time.
Custom posts: Lyfe Marketing curates about 12 to 40 unique custom posts monthly.
Additional services: Provides additional services like PPC advertising, video animation, and website design services.
---
Lyfe Marketing received a customer rating of 4.5 out of 5. Since Lyfe Marketing serves a wide variety of clientele, there are reviews from business owners in almost every industry, like healthcare and coaching companies. Most customers loved its well-designed ads, highly rated social media marketing services for real estate agents, and company communication, and said personalized strategies helped their business grow and boost its online presence.
However, several unhappy Lyfe Marketing reviews from entrepreneurs experienced missed deadlines and poor communication. Aside from this, with its pricing starting at $500 per month, Lyfe Marketing is not the most affordable option. If this is outside your budget, $99 Social will likely have services closer to your price range.
---
Roar Solutions: Best for Combined Social Media & Website Management

Pros
Real estate-specific content
Most affordable option for basic social media posting
Does not require a contract
Cons
Content is not original
Reporting and analytics require an additional fee
Doesn't support LinkedIn
Monthly Pricing:
Mortgage and Real Estate Websites: One-time setup fee starting at $199, but does not include customizations or taxes
Small Real Estate Websites: $69, includes beautiful designs and themes, easily managed content, premium hosting, free rock-solid support, and secure/SSL encrypted website
Medium Real Estate Websites: $129, includes everything in the Small Real Estate Websites plan, one free email account, Google Analytics/sitemap setup, one free quick task changes to site content, average two per week social media posts, weekly industry news, and monthly blog posts
Large Real Estate, Mortgage, and Small-Biz Websites*: $399, includes everything in the Medium Real Estate Websites plan, optimized website for Google rankings, customized blog posts, and custom-branded free reports
*Requires a six-month contract, at a minimum
Our Expert Opinion on Roar Solutions
Roar Solutions offers lead generation and digital marketing for real estate and mortgage companies. At only $59 per month for Facebook, Instagram, and Twitter, its organic social media management service add-on is the most affordable on our list. It also offers packages to manage your real estate website and social media platforms simultaneously. For $99 per month plus a $199 one-time setup fee, you'll get a free email account, a monthly blog post, and two weekly social media posts on Facebook, Instagram, and Twitter.
Because of these offerings, Roar Solutions is an incredible choice for real estate agents and brokers who want an affordable way to outsource most of their online marketing tasks. It allows you to separate your website and your social media presence. At the same time, Roar keeps you active online and develops a beautiful, functional, mobile-friendly real estate website. It also provides website hosting and screen-share support, so you have a reliable website and responsive customer support.
Add-ons: Optional add-ons for various features like hand-curated news, landing pages, and chat widget installs are available.
Preset contents: Roar Solutions provides your site with preloaded content and tools, from buyer and seller information to lead capture forms.
Webstats and analytics: You can view your monthly website traffic, what pages are visited, and leads to your site. Roar Solutions can also install Google Analytics for more data.
REMIC Mortgage Agent Discounts: Roar Solutions offers new REMIC graduates $100 off for mortgage website setup services.
---
There are many Roar Solutions reviews online, and almost every customer gave it 5 out of 5 stars. These happy customers loved how quickly Roar Solutions got its website up and running and how straightforward and thorough its communication methods were.
However, like CityBlast, the content posted to your social media accounts from Roar Solutions will not be unique or customized to your business. Instead, posts will generally be premade articles shared with a caption rather than standout features like unique content or highly engaging real estate memes. For social media management services fully customized to your brand and optimized for effectiveness, check out Lyfe Marketing.
---
Later.com: Best All-in-one Social Media Marketing Tool

Pros
Supports multiple social media platforms
Provides social media training
Mobile app is available
Cons
Limited performance reporting and analytics
Free account only has basic features
No phone and email customer support
Monthly Pricing:
Free: $0, includes the basic features
Starter: $18, includes 30 posts per social profile, limited analytics (up to three months of data), a customizable Linkin.bio page, and collab tools for creators
Growth: $40, includes 150 posts per social profile, full analytics (up to one year of data), customizable Linkin.bio page, collab tools for creators and brands, and team and brand management tools
Advanced: $80, includes unlimited posts, full analytics, a customizable Linkin.bio page, collab tools for creators and brands, team and brand management tools, and live chat support
Our Expert Opinion on Later.com
Later.com is an all-in-one social media marketing tool that allows you to create, edit, and schedule posts to your Instagram, TikTok, Twitter, Facebook, LinkedIn, and Pinterest accounts. Additionally, Quick Schedule on Later.com lets you drag and drop posts into available slots on your schedule. It also offers a Conversations module for the higher payment tiers to help you manage your Instagram comments.
Conversations and Contributors are other interesting features restricted to holders of a business plan. Conversations enable you to manage your Instagram comments right within Later. The Later business plans also give access to Linkin.bio, which is excellent if you want to engage in ecommerce directly from your Instagram account. Aside from these, it offers features like Best Time to Post and Hashtag Suggestions to help you drive growth and optimize your social presence.
Visual planner: Allows you to see your profile the way your followers will.
Media library: An unlimited storage for all your photos and videos. You can also upload your files from your phone or laptop or import them from Dropbox and Google Drive.
Instagram Stories scheduler: This enables you to visually plan and schedule Instagram Stories from your desktop or the Later mobile app and publish them at the right time.
Auto-publish: Later.com schedule and automatically post your Instagram images, Carousels, and Reels with no notifications required.
---
Later.com obtained a high customer review rating of 4.6 out of 5 for its ease of use, quality of support, and features. One user shared that he uses Later for its "Link.in bio" feature, keeping all his links attached to the photos. This feature allows him to go back and click on old links without them disappearing. Furthermore, many users love the platform's layout as it is clean and pleasing to the eye.
However, users disliked the limitations of the free version and the lack of analytics for LinkedIn. Aside from these, Later.com is not a real estate-specific social media marketing tool. So, if you need a video creation platform that provides real estate-specific templates, check out Animoto.
---
How We Evaluated the Top Social Media Marketing Companies
Social media changes daily, so the best real estate social media marketing companies must offer a wide range of specific skills and expertise. However, there's no one-size-fits-all solution for creating content or your strategy. As a result, we sought out social media management companies that offered various pricing options, provided relevant and targeted content or other time-saving services for real estate marketing, and supported the most popular platforms.
Based on the needs of real estate agents and brokers, we used the following criteria in our ranking:
Pricing
Social media platforms supported
Targeted content (local buyer leads/seller leads)
Supported content categories
Customizable posting frequency
Reporting and analytics
Contract options
Frequently Asked Questions (FAQs)
The amount you should spend on marketing as a real estate agent will largely depend on your income and the resources you have available. Most agents suggest setting aside 10% of your commission income for marketing. Top agents may want to invest 15% to 20% of their income on marketing if they are up against strong competitors. But the real estate sector is different, as most businesses only need to invest roughly 5% to generate new leads.
---
---
---
Bottom Line
We identified the 10 best real estate social media marketing companies based on extensive research. Since the needs of real estate professionals are so widely varied, we selected companies that offer an equal variety of services. Whether you need to work with a freelancer, run social media ads, create videos, or share daily content, you can find a solution within one of these real estate social media manager platforms.