In this article, I'm going to cover a goldmine of tips and best practices for running successful Facebook ads for real estate agents. If you've never run Facebook ads before–or even if you have and they didn't seem to work–this article is for you.
You'll learn how to set up real estate Facebook advertising campaigns that will help you generate new leads. You'll also learn how to set up a Facebook ad campaign that you can start running today to generate buyer leads.
If you're looking for a real estate focused service to do this for you, consider Real Geeks. Real Geeks is a marketing solution for real estate agents that has a built-in Facebook advertising tool. With Real Geeks, agents can create Facebook ads in under 5 minutes. Real Geeks also integrates directly with the Facebook advertising platform to easily track how your ads are converting. Click here to get started.
Why Real Estate Facebook Ads Are Perfect For Realtors in 2017
If you're reading this article, then chances are you've heard that Facebook advertising can be a great way to generate both buyer and seller leads. Here are a few of the many advantages that Facebook advertising offers Realtors in 2017:
Reach a Targeted Audience of Buyers & Sellers Without Spending a Ton of Money
Last year, advertisers spent over $26.8B on Facebook ads–a 57% increase over the previous year. While a good chunk of this spending comes from huge brands, you don't need a 7-figure marketing budget to have success with Facebook ads for your real estate business. In fact, you can get started generating buyer and seller leads with Facebook ads for as little as $5 per day.
Generate Awareness and Sign-ups for Open Houses
A successful open house can be a great way to generate buyer leads, as well as potential seller leads from curious neighbors. Since Facebook lets you target people in specific locations with specific interests, it can be a great way to drive traffic to your open houses.
Show off Featured Listings to Generate Buyer Leads
Facebook ads can also be a great way to put your listing in front of potential buyers. While they may have already seen your listing on Zillow, a well designed ad can pique their curiosity and get them to call you for a showing.
Generate Seller Leads With Home Valuation Ads
Since Facebook allows you to target your ads to specific groups of people, it's a great way to get homeowners who are thinking of selling onto your website, and into your CRM. The strategy is pretty simple; you run Facebook ads offering a free CMA, and homeowner's who are thinking of selling click on the ad, then fill in their contact information on your website.
Two Types of Facebook Ad Campaigns: Boosted Posts & Facebook Ads Manager
Before we walk you through building your first campaign, it's important to understand the difference between a Facebook ad that's created using the boosted posts or the Facebook Ads Manager.
1. Boosted Posts
Boosted posts are an advertising option that Facebook offers to small businesses like Realtors that lets you promote a Facebook post you've created on your target audience's feeds. For example, let's say you wrote up a detailed Facebook post on closing costs in your farm area. Facebook gives you the option to use this post as an ad in your audience's feeds.
However, boosted posts offer very little of the fine tuning and control you have when you create an ad using Facebook Ad Manager . While it does increase the reach of your posts (by the way, beware of vanity metrics like "reach"), it rarely produces any real results that get you warm leads.
2. Facebook Ads Manager
Creating an ad using the Facebook Ads Manager, by contrast, gives you total control over how well your ad will perform (along with much better options for targeting your ideal audience). The Facebook Ads Manager also lets you closely track, tweak, and optimize your ads to make sure they're producing the best possible results.
Getting Started: Anatomy of a Facebook Real Estate Ad
If you've never run Facebook ads before, you'll need a couple of things. First, you'll need a Facebook page for your business or personal brand (click here to learn how to set up an awesome Facebook page). Then, you'll need to got to this link to access your Facebook Ads Manager account.
Now that we've cleared that up, let's talk about the anatomy (or, structure) of a Facebook ad campaign.
Facebook ad campaigns are broken down into three levels: a Campaign, Ad Sets, and Ads.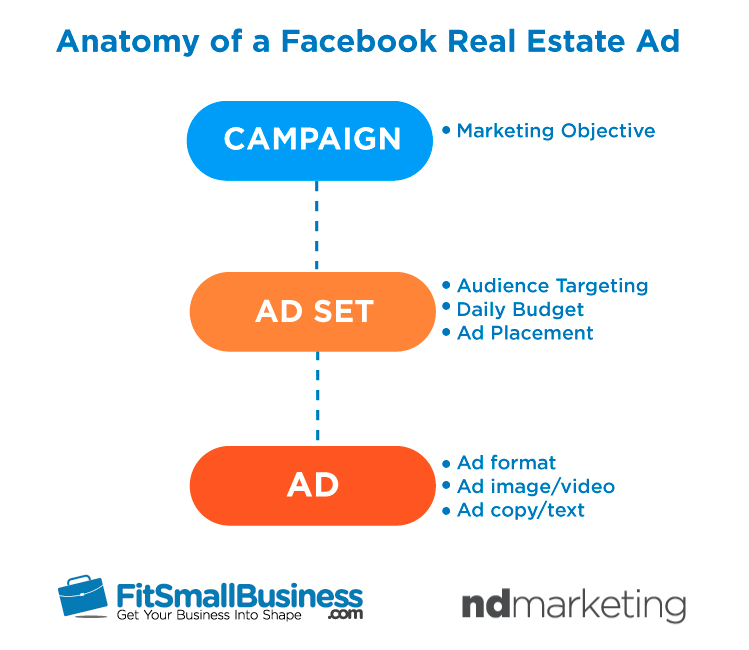 The Campaign
Your campaign is the overall goal of your Facebook advertising. What do you want your ads to accomplish for you? For example, you may want to generate buyer leads, seller leads, or maybe just drive traffic to your site.
The Ad Set
The ad set is where you create target audiences, create a daily budget, and control where and how often your ads will appear on Facebook. You can have multiple ad sets under the umbrella of one campaign. The reason Facebook gives advertisers this option is to make it easy to test different targeting, ad copy, and ad creative under a single campaign.
Ads
Ads are the Facebook ads themselves. Like with ad sets, you can have multiple ads under one campaign. The idea is that when the best Ad Sets and Ads "win out", you can turn off everything that isn't working that well and move your entire budget to what is working.
Today, we'll just be going through a simple Campaign with one Ad Set and one Ad.
Four Steps to Creating A Real Estate Facebook Ad in 2017
Now that you have a better idea of how advertising campaigns work on Facebook, let's go through building a campaign to generate buyer leads.
Step 1: Choose Your Objective (Campaign Level)
Every Facebook ad campaign starts at the Campaign level. This is where we tell Facebook what the objective of our campaign will be.
The reason you need to think about the objective of your real estate Facebook advertising is because Facebook will put your ad in front of a specific group of Facebook users based on what objective you choose.
You see, Facebook knows which users watch more videos, click on more ads, or submit their contact information more often, on average. They know which users scroll furiously through their news feed and which users take their time to read every single post.
By choosing an objective, you're basically telling Facebook how to deliver your ad and to what type of user. In other words, you're telling Facebook to show your ad to people who are likely to take a specific action.
The Ten Options for Campaign Objectives
Brand awareness
Reach
Traffic
Engagement
App installs
Video views
Lead generation
Conversions
Product Catalog sales
Store visits
Each of these objectives is segmented a simple marketing funnel separated into three categories: awareness, consideration, and conversion. If you're not familiar with marketing funnels, here's a quick rundown of the three stages: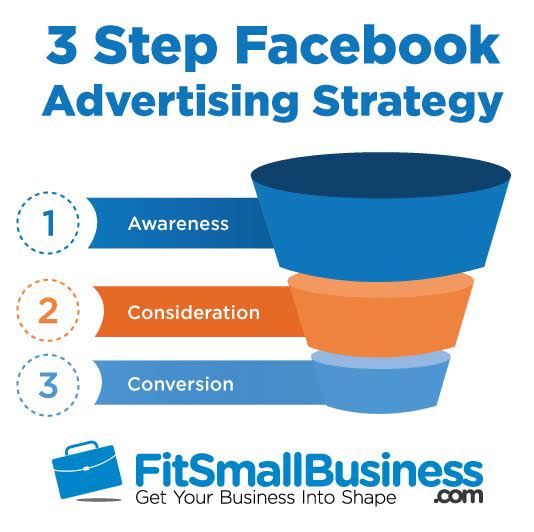 Awareness:
Your lead is aware of your brand and possibly your current offer.
Consideration:
Your lead is considering whether or not to engage with your ad
Conversion:
Your lead clicks on your ad and gives you their contact information or does another specified action like calling you or watching a video.
Choosing the Right Objective for Your Real Estate Facebook Ad Campaign
The campaign objective you choose should match the goal of your ad. For instance, if the goal of your ad is to get people to click on it to be taken to a page on your website, choose the "Traffic" objective (since your goal is to drive traffic from Facebook to your website).
If the goal of your ad is to get people to submit a form with their contact info to sign up for an open house, choose the "Conversion" objective (since someone will be "converting" into a lead).
If the goal of your ad is to get as many people as possible to watch a video tour of one of your listings, choose the "Video views" objective.
If you just want as many people as possible to see your ad without any rhyme or reason, choose the "Reach" objective (not recommended unless you have a big marketing budget).
For today, we'll focus on the traffic objective, since your goal is usually to drive traffic to a contact or sign-up page (pictured below).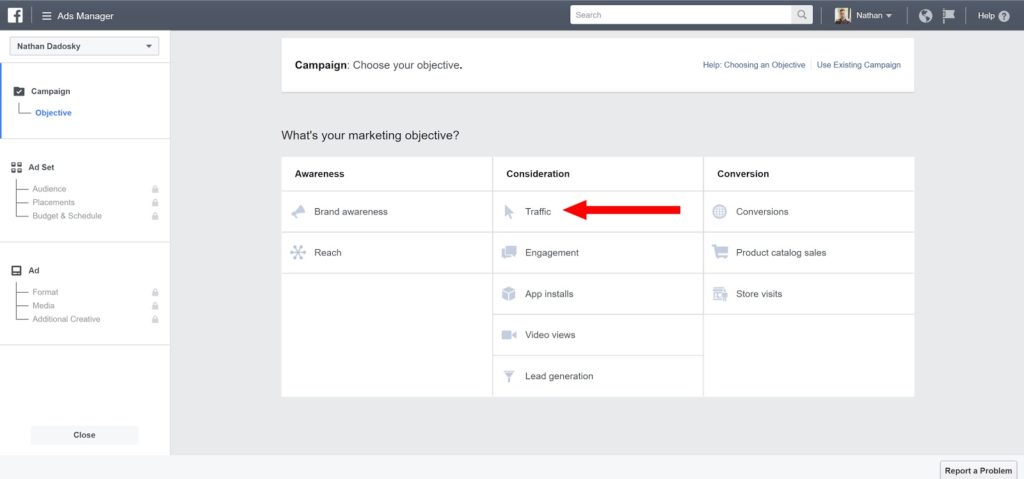 After you've chosen your objective, name your campaign using that objective and the goal of your ad (for example, "Traffic | Buyer Leads") (pictured below). Naming your campaigns like this will help you keep track of them when you're running several at once.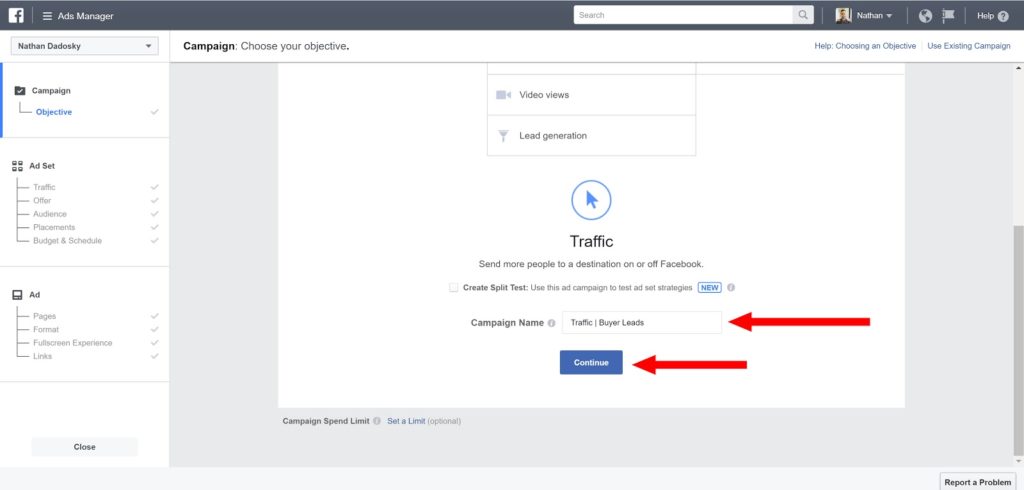 Now onto the Ad Set level to target your audience and set up an advertising budget.
Step 2: Set Your Targeting and Advertising Budget (Ad Set Level)
The Ad Set level is where you determine who will see your ad and how much you're willing to pay per day. It's also where you tell Facebook where you want your ad to show up and what actions you want to optimize for.
Targeting Your Audience
There are three types of audiences you can target on Facebook: Core Audiences, Custom Audiences, and Lookalike Audiences. In the interest of brevity, we're only going to talk about Core Audiences, but you should note that Custom and Lookalike Audiences also perform extremely well.
Facebook lets you target Core Audiences using a wide variety of attributes. We can broadly categorize these attributes into: demographics, location, interests, and behaviors.
Here are a few attributes that agents can use to target people who are likely to be buying or selling a home:
Demographics:
Age
Income
Net Worth
Gender
Ethnicity
Language
Active Military
Veterans
Separated
Divorced
Location:
Zip codes (you can also exclude zip codes)
City radius
Specific address radius
People traveling in a location
Interests:
Trulia
Redfin
Realtor.com
Real Estate Agent Directory
Behaviors:
Likely to move
Recent mortgage borrower
First time home buyer
Visiting from out of town
Recently married
Recently engaged
We'll start under the "Locations" subsection.
Here you can type in a city or address and select a radius between 10 and 50 miles (you can also input multiple zip codes). For the campaign we're building today, I recommend you start with a radius around either your business location or your farm area.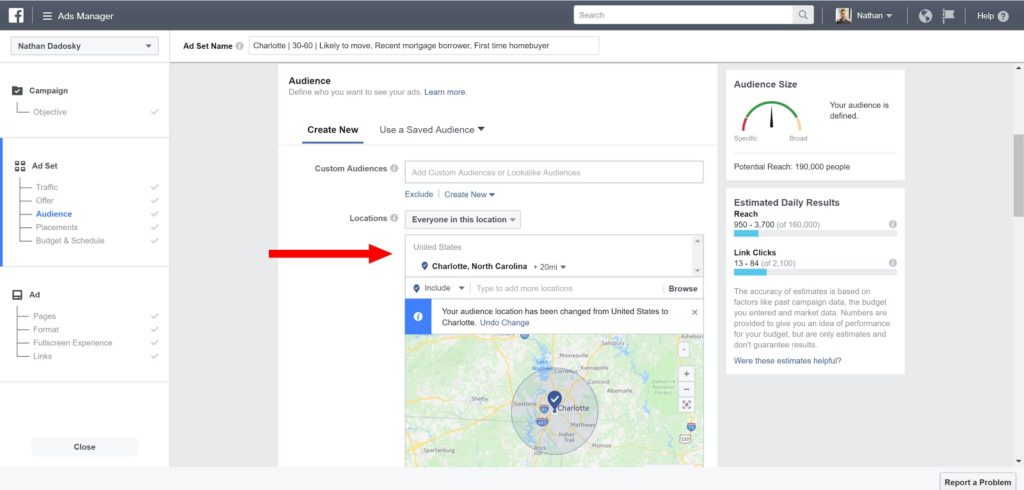 Under the "Age", "Gender", and "Languages" subsections you can pick the age range, gender, and language of the clients you typically work with (pictured below).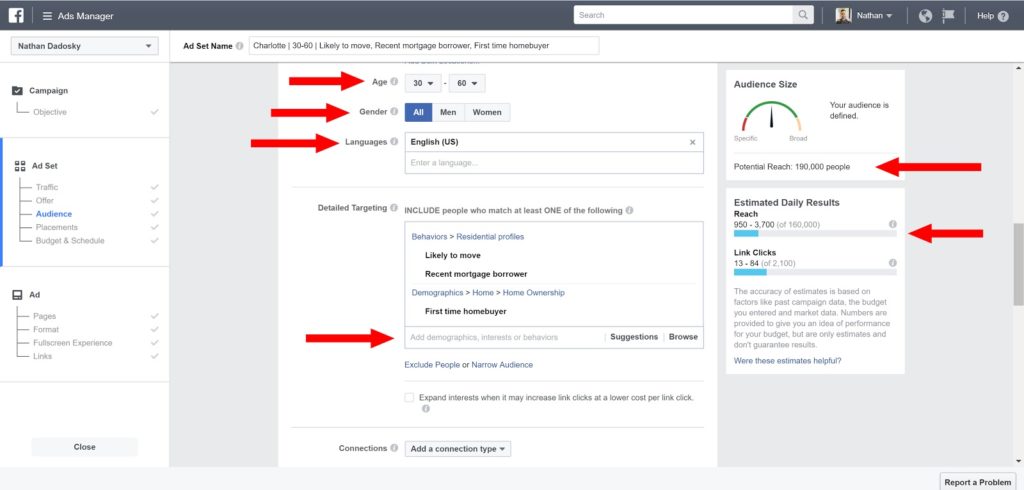 The Audience Size Meter
Notice that the more specific you get with your audience targeting, the "Audience Size" meter on the right hand side of the screen shows a smaller and smaller potential reach (picture above).
Underneath the "Audience Size" meter you'll see the "Estimated Daily Results" slider bars which give you a rough estimate of how many people you're likely to reach with your ad in a day along with how many of them will click on it.
The "Detailed Targeting" subsection is where you can add in interests and behaviors. You can either type them in or click "Browse" to see what options are available.
Since we're focusing on generating buyer leads, good interests and behaviors to start with are "Likely to move", "Recent mortgage borrower", and "First time home buyer".
Placement
Next, we'll move on to the "Placements" section. Facebook gives you two options for ad placement: "Automatic" or "Manual".
If you're new to Facebook advertising, I recommend you choose "Automatic" placements and let Facebook figure out where the best place to show your ad is (they'll test different placements and find the ones that bring you results) (pictured below).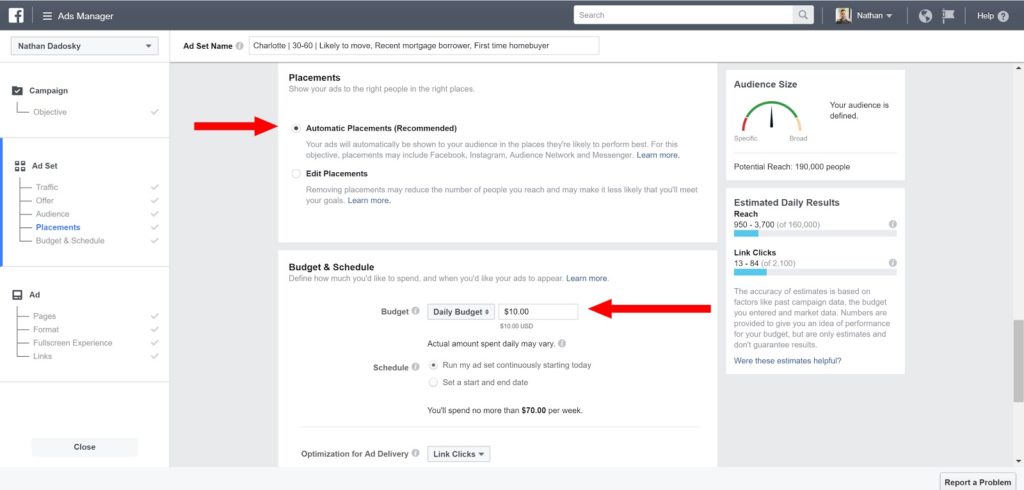 Setting Up Your Advertising Budget & Scheduling
Under the "Budget" subsection, you can start with a daily budget of as low as $5, but I recommend you start with $10 which will get your ad out there faster (pictured above).
Under the "Schedule" subsection, you can choose to either run your ad continuously starting today or set a start and end date. Regardless of which you choose, I wouldn't recommend running a Facebook ad campaign for less than two weeks.
One of the biggest mistakes I see people make with Facebook ads is giving up too soon.
You have to understand that from the moment you start running a campaign, Facebook is constantly testing and learning what's working and what isn't in order to bring you results.
That means you need to give their algorithm time to optimize your ad before you decide that it isn't working.
Next we'll move onto the "Optimization for Ad Delivery" subsection.
Optimization for Ad Delivery
This is where you'll tell Facebook what's most important to you. In our example, you have three options: "Link Clicks", "Impressions", and "Daily Unique Reach".
Most of the time, you'll want to select "Link Clicks", so that's what we'll do in our campaign (pictured below).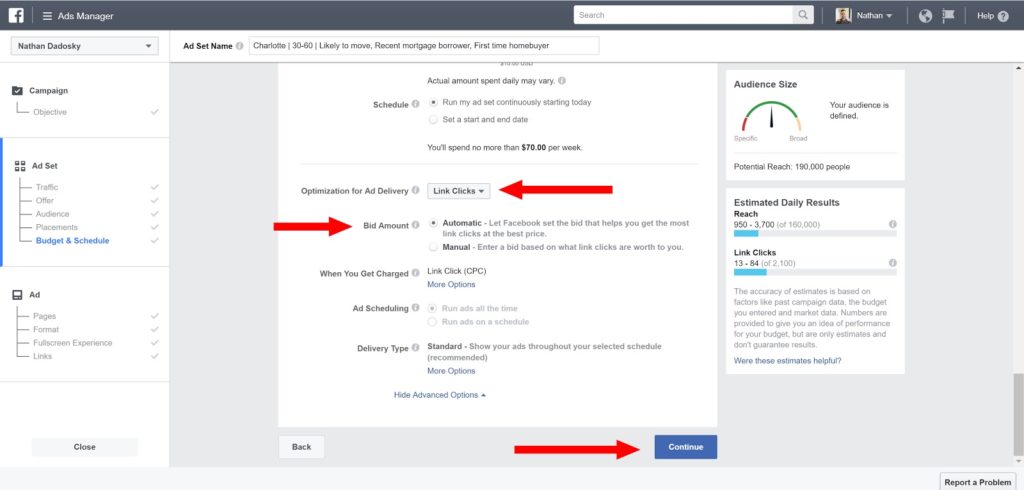 This means Facebook will try to get as many people to click on our ad as possible at the lowest cost.
The only time I would select "Impressions" or "Daily Unique Reach" is if you had a very small audience size and wanted to deliver your ad to everyone in that audience as soon as possible.
Bid Amounts
Under the "Bid Amount" subsection, you can tell Facebook how much you're willing to pay for a particular outcome. Since we optimized for "Link Clicks", we're telling Facebook what we're willing to pay each time someone clicks on our ad.
You can either set your "Bid Amount" to "Automatic" or "Manual". I recommend that you select "Automatic" and let Facebook figure it out for you.
Note: Don't worry about letting Facebook determine your bids for you. Remember that Facebook's goal is to get you results at the lowest possible cost so that you'll keep advertising with them. They're not going to intentionally waste your money because they know you'd stop advertising on their platform if you don't see results (and if you find that your ads aren't working, the problem is likely on your end).
Finally, leave the rest of the subsection options as they are.
Naming Your Ad Set
When naming your Ad Set, I recommend using the location, age range, interests, and behaviors (for example, Charlotte | 30-60 | Likely to move, Recent mortgage borrowers, First time home buyer). Now onto the Ad level.
Choose Your Ad Format and Create Your Ad (the Ad Level)
This is where everything starts to come together. The Ad Set level is where you pick your ad format and create your ad image or video along with your ad text.
Depending on what Campaign objective you select, Facebook gives you 4-5 ad format options: Carousel, Single Image, Single Video, Slideshow, and Collection. As a good rule of thumb, you should try to make your ad as interactive and engaging as possible. That means making sure your ad doesn't scream, "Look at me! I'm an advertisement!".
It also means you should only target an audience of people (at the Ad Set level) who are likely to be interested in your services, since these are the people that are most likely to engage with your ad. The reason this is important is that Facebook will deliver an ad that gets engagement (shares, likes, clicks, video views, etc.) to more people at a lower cost.
Relevance Score
Facebook decides how relevant your ads will be to your audience using a metric called Relevance Score, which determines how relevant your ad is to a particular audience using a scale of 1-10, with one being the least relevant and ten being the most relevant.. A Relevance Score that's higher than 6 will receive better deliver, which means more people will see it at a lower cost.
Conversely, Facebook will limit the delivery of an ad with a Relevance Score that's lower than 3, which means you'll be spending the same amount to show your ad to fewer people.
How to Create Ads With a High Relevance Score
The only way to create ads that will be highly relevant to your audience is by making ads they can't help but engage with them. That usually means picking an ad format that's inherently more engaging, like Video, Carousel, or Collection ads.
For the campaign we're building today, I'm going to recommend a Carousel ad since it's an easy way to make images–which aren't that engaging on their own–more interactive.
Since we chose to target potential home buyers at the Ad Set level, we're going to simply create a Carousel ad with up to ten images of current home listings.
To get started, choose ten listings in your farm area that you think your target audience will respond to. Then, copy and paste the pages on your IDX website that have these listings on them.
To get started created your carousel ad, select "Carousel" under the "Format" section (pictured below).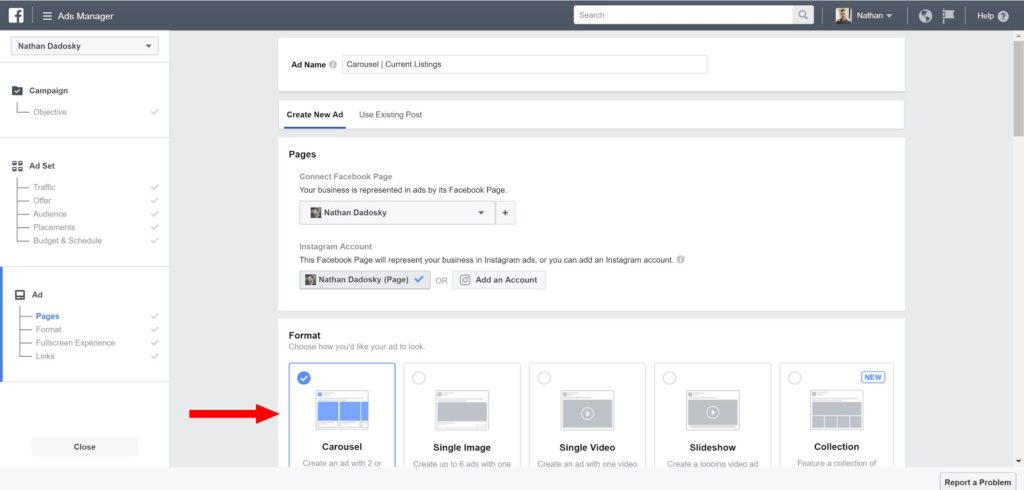 Under the "Text" subsection in the "Links" section, type in the copy you want to appear on top of all of the images in your Carousel (pictured below).
In my example, I just wrote, "Check out what's on the market in Charlotte".
You can choose to be a little more creative and say something like: "You won't BELIEVE some of the beautiful homes that are currently on the market in Charlotte". Be creative. What do you think your audience will respond to?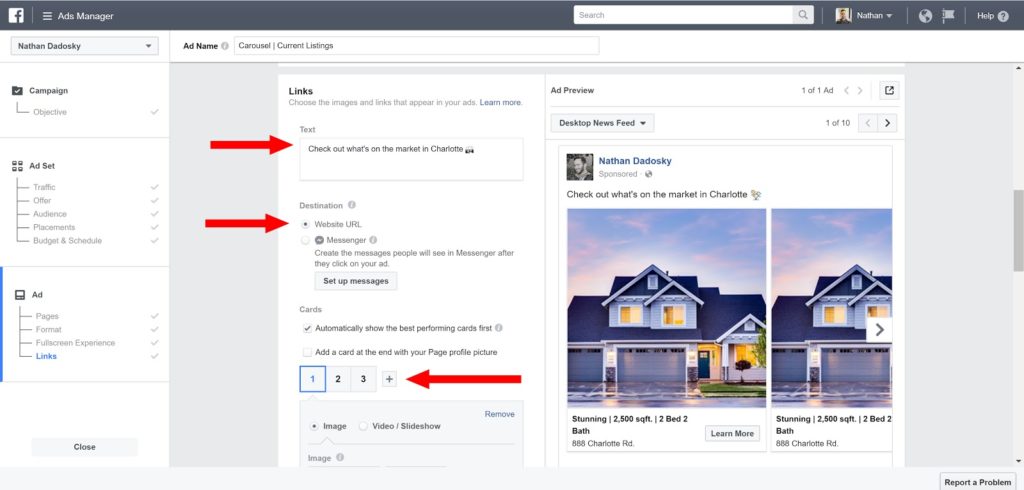 Under the "Destination" subsection, select "Website URL" since we'll be sending traffic to a landing page when someone clicks on our ad (pictured above).
Under the "Cards" subsection, check the "Automatically show the best performing cards first" box (pictured above).
Click the "+" sign to add a new card to your Carousel ad (pictured above).
Select "Change Image" under the "Image" subsection and add an image of one of your current listings (pictured below).
Under the "Headline" and "Description" subsections, include some of the home specifications and the address, respectively (pictured below).
Finally, copy and paste the URL for that particular listing under the "Destination URL" subsection.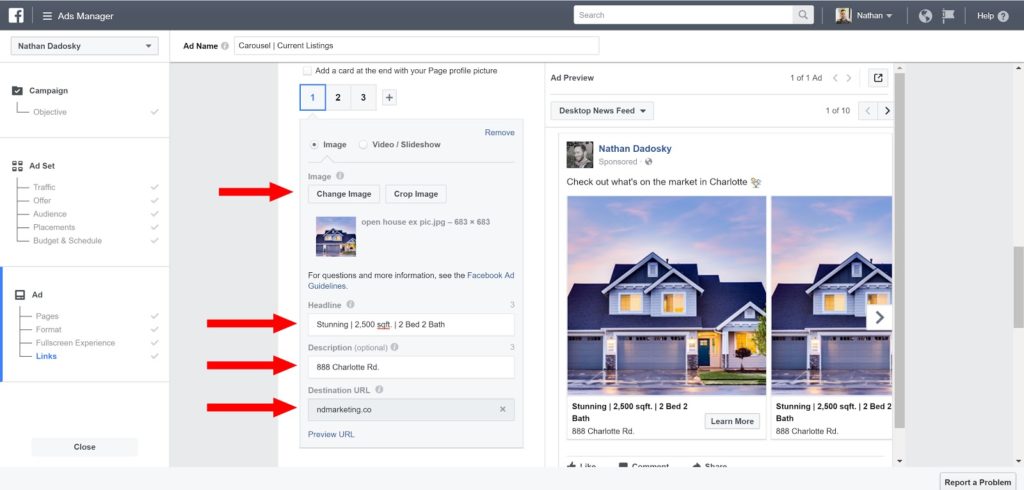 Repeat these steps for each of the cards in your Carousel ad (remember, you can have up to ten).
Under the "Call To Action" subsection, select "Learn More" (pictured below).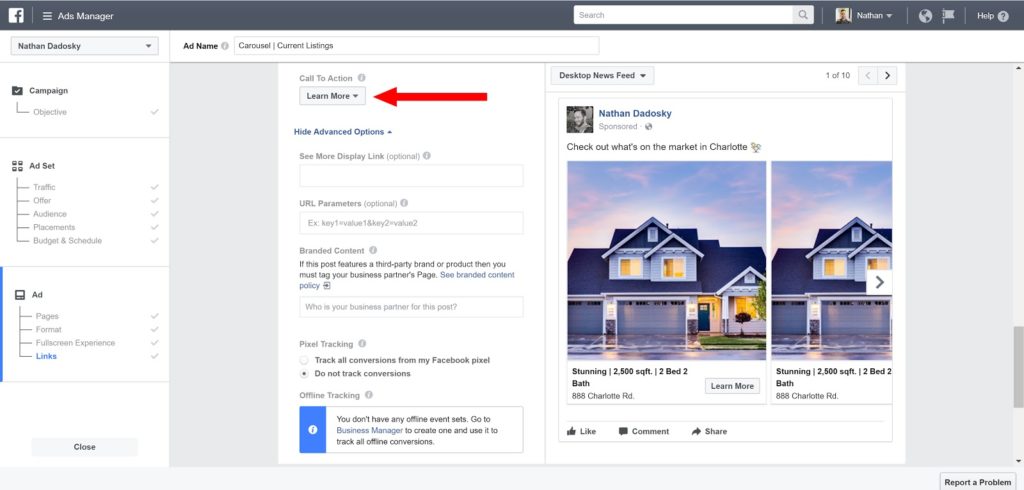 Next, name your ad something descriptive that is easy to remember. "Current Listings Carousel" will work fine for this ad. This is important as you can create multiple ad sets and ads to see figure out which perform best in your farm area.
Okay, now all we need to do is launch the campaign. To launch your campaign, leave the rest of the settings as they are and click "Confirm" in the bottom right hand corner.
That's it, we're done! Once Facebook approves your ad, they'll begin delivering it to your selected audience.
Please note that creating a great ad is only the first step in running successful Facebook ad campaigns. From here, you'll want to track, analyze, and optimize the campaign for the best possible results.
This article is already a bit too long for me to go into how to optimize a campaign, but I'll still cover some best practices for how to run a successful campaign when you're just starting out.
Tips & Best Practices for Running a Successful Real Estate Facebook Ad Campaign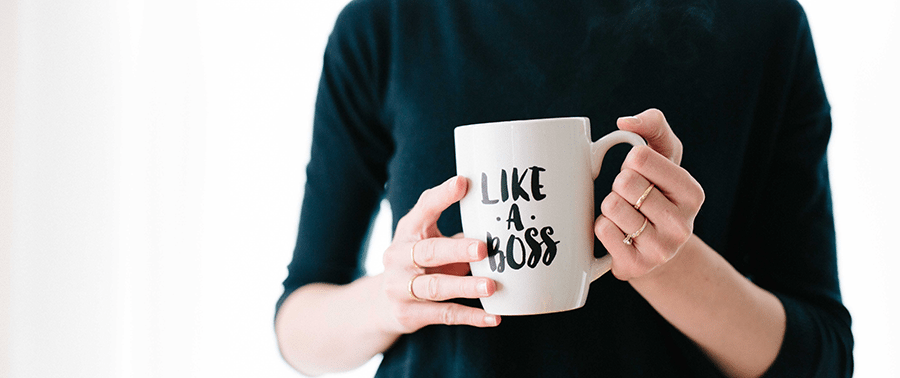 Do not make constant changes to your Ad Set.
Every time you make a change to your Ad Set, you restart all of the testing and learning Facebook has already done–which means you'll have to wait that much longer for your results to improve. If you want to change your targeting, duplicate your Ad Set and change the targeting on the new Ad Set.
Do not make any changes to an Ad after it's been approved.
Each time you tweak anything on an ad (even a single word) Facebook will need to re-approve it–which means it will temporarily stop running and, again, you will restart all of the tests and learning Facebook has already done. If you want to test variations of a particular Ad, use multiple Ads in a single Ad Set.
Do not increase or decrease your daily budget by more than 25% at a time.
If you find that an ad is working well, you should not double or triple its budget. Doing so will "flood" the algorithm and you will probably see that your costs will rise. Instead, increase your daily budget by 25% every three days.
Be patient.
Depending on your daily budget, Facebook ad campaigns typically take at least a week to begin producing results. That said, I would not recommend giving up on a campaign until after running it for at least one week (preferably two weeks). From there, you can analyze what seems to be working or not working and make the appropriate changes.
Learn More About Facebook Video Ads
Let's face it, text and images are great, but if your really want to engage with your leads a video is ideal, especially on mobile. Luckily Facebook offers an option to create video ads. To learn more about video ads for Facebook, check out Single Grain's excellent write up How to Produce Paid Facebook Video Ads for Mobile Like a Pro here.
Bottom Line
Setting up a high converting real estate facebook ad is not that complicated once you understand the basic principles. Choosing the right campaign objective, setting up the right audience, and creating engaging ads will help you generate more leads for less money.