How to Create Real Estate Facebook Ads in 7 Steps (+ Examples)
Advertising your real estate business and services on Facebook is an effective way to target your audience, capture leads, and build your brand. We'll walk you through the process of creating your first campaign—from selecting objectives to identifying the target audience and converting leads. Discover real-world examples of Facebook ads for real estate agents that you can use to generate leads.
If you want professional assistance creating Facebook real estate ads, use the built-in Facebook tool from Real Geeks. In addition to creating Facebook ads, Real Geeks tracks ad performance for cost-per-click (CPC), likes, shares, and more using tracking pixels. Your leads will funnel into the Real Geeks CRM (customer relationship management) tool, where you can follow up with easy lead nurturing and conversion strategies to grow your business.
Here are the seven steps on how to use Facebook ads for real estate and how to create successful and effective lead-generating real estate Facebook ads:
1. Select Your Campaign Objective
The first step to creating real estate Facebook ads is to find the "Ads Manager" in the drop-down menu on the upper right-hand side of the page. Once the Ads Manager is opened, click "Create Ad," and you will be prompted to choose your campaign objective.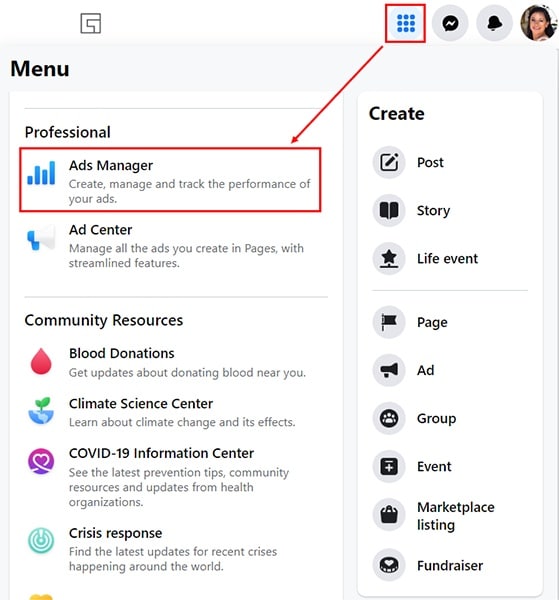 ---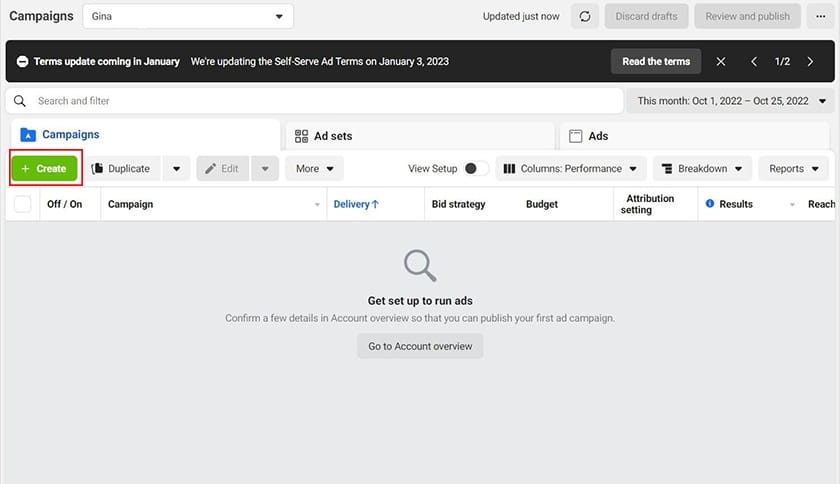 ---
Campaign objectives are based on the six stages of the sales cycle: awareness, traffic, engagement, leads, app promotion, and sales. Choose an objective based on what you want potential leads to do as a result of your ad, like clicking through to your real estate landing page or website, watching a video, filling out a form, and so on.
Each objective allows you to target visitors in different stages of the sales process. Some are contemplating the purchase or sale of a property within the next year or so, some are just exploring potential options, and others are ready to employ the services of a real estate professional within the next few weeks.
Before placing your ad, consider where you are targeting clients in the sales cycle. For instance, if your real estate business is brand-new or has been renamed, awareness may help potential clients become more familiar with your real estate business. However, if you have a well-established business and are looking for new clients to sign up for your online newsletter, consider choosing the traffic or leads campaign.
Take a look at the sales to funnel below to understand further the strategies you can utilize for your real estate Facebook ad:
Awareness: Show up to future buyers or sellers to build a familiar brand. Leads in the awareness stage aren't active or may simply be toying with the idea of buying or selling their property. Introduce your brand and services with videos or images.
Traffic: Increase traffic to your preferred online destination. Send people to a specific site, such as your Facebook or Instagram store, website, or app.
Engagement: Find people more likely to interact with your company online, send a message, or take the desired actions on your ad or Page. For instance, you could use Messenger to encourage people considering your products or services to start conversations.
Leads: Messages, phone calls, and signups can all be used to capture and generate leads for your real estate company or brand.
App promotion: Encourage users of mobile devices to install or perform a specific action within your app.
Sales: This phase of business aims to find people who are likely to buy your products or services. You can target other activities, like having them add something to their cart.
Targeting individuals in each cycle is essential to bring them further down the funnel toward conversion. By having detailed targeting Facebook ads for real estate and by targeting clients months or even years away from a transaction and ready to convert now, you will build a sustainable pipeline of continuous clients.
2. Create & Name Your Campaign
With a clear objective, the next step is to name your campaign. Your campaign name will only be for internal reference and won't be visible to users. You will also be able to select whether or not this campaign will include a single advertisement or an ad set with multiple ad variations under "Advantage Campaign Budget."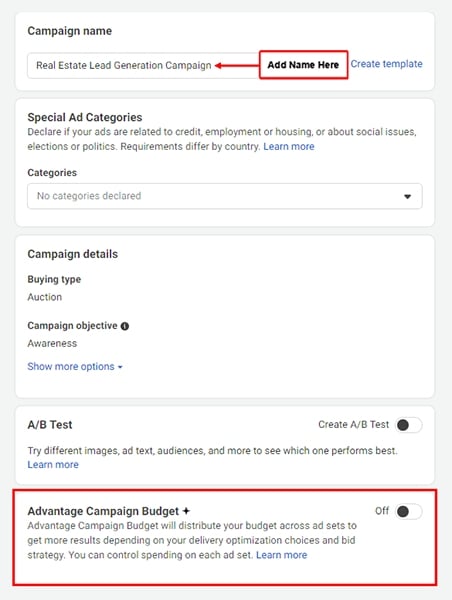 ---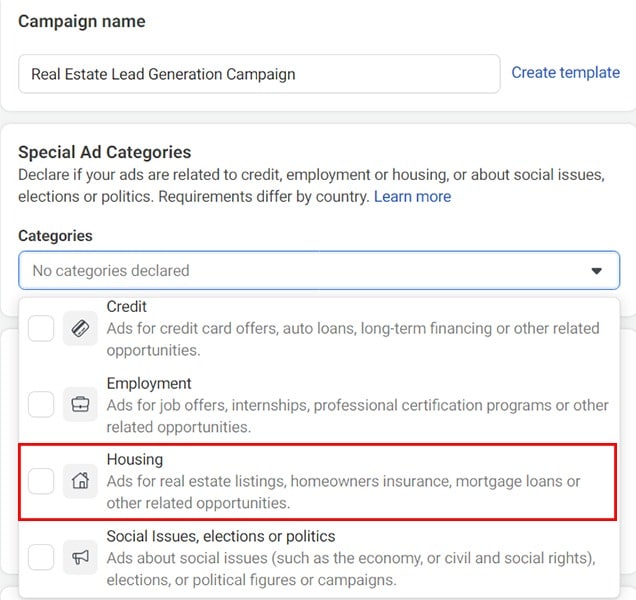 ---
The following prompts will ask you to add any particular categories. All real estate Facebook ads will be under the "Housing" category. In the last few years, Facebook has changed ads in the housing category to prevent discrimination. That means that you will have a smaller set of targeting options, and you will be unable to target by age, gender, or ZIP code, as this could be considered a violation of Fair Housing Regulations.
Even though there are some restrictions to the housing category, when you get to the option to target a specific audience, you will be able to set other parameters to direct your Facebook ads to the intended target. Other parameters you'll be able to set to target your ad include location radius and interests like hobbies, businesses, and entertainment, as well as where ads will be placed and displayed.
3. Set a Posting Schedule & Budget
Scheduling your real estate Facebook ads is as simple as choosing a date for the ads to start running and when they will stop running. The Facebook algorithm handles the specifics of how often your ads are shown. Similarly, setting a budget is relatively simple—just input a maximum daily budget.
However, the amount spent on your ads won't always be the same. The pricing of Facebook advertising is based on a bidding system, which you can learn more about in our guide on Facebook ad costs by industry, but it all happens behind the scenes. You can adjust your daily budget for each campaign over time until you get results and land at a reasonable cost per lead.
According to Belle Strategies, the average Facebook cost per real estate lead is $9.76. However, depending on your lead generation platform and on the clicks you get on your Facebook advertising campaigns, it can cost anywhere from $15 to $75 per lead—which is an excellent return on investment compared to other platforms.
To optimize your ad campaigns for the highest return on investment (ROI) without spending hours, days, or weeks figuring out the technical details, check out Sprout Social. Sprout Social's intuitive publishing and scheduling tools can create and manage your Facebook ads and automatically schedule real estate Facebook posts. It strengthens your strategy and concentrates on nurturing and converting your clients as efficiently and effectively as possible.
4. Identify Your Target Audience
Some real estate agents make the mistake of trying to appeal to everyone in their marketing and ad campaigns. In reality, being successful in real estate requires getting specific about who you want to work with so you can attract the type of clients you want as you build your business. This is particularly important when creating real estate Facebook ads, but it profoundly impacts every level of your marketing.
You might want to specialize in a real estate niche like expired listings or first-time homebuyers, or you may want to target a specific type of client like fix-and-flip investors or a young couple. For example, you may want to work with retirees who are downsizing or corporate professionals relocating to your area. The more specific you get about your market, the easier it will be to target your Facebook ads.
To target a specific audience with restrictions that apply to real estate and housing ads, you'll have to do a bit of profiling, like in many popular crime shows. By putting yourself in the mindset of your target audience, you can still reference specifics to reach the leads you are interested in capturing.
You are allowed to target by a general location radius, so you'll first add the location to your criteria. Then, you want to consider the area and who would be moving there. For example, Westfield, New Jersey, is a suburban town with a median home list price of $835,000. It is close to New York City, a quaint town full of boutique shops and a highly rated school district.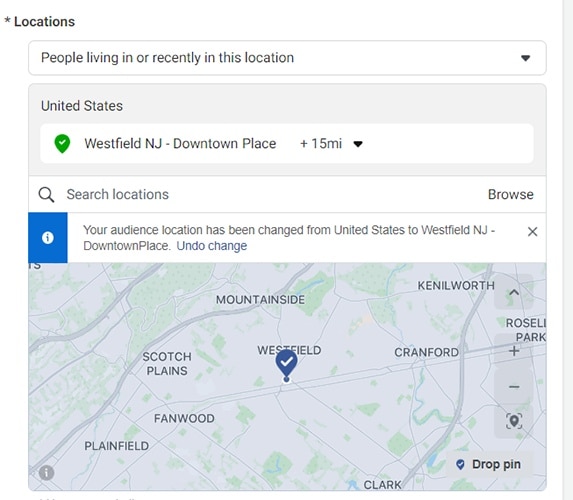 ---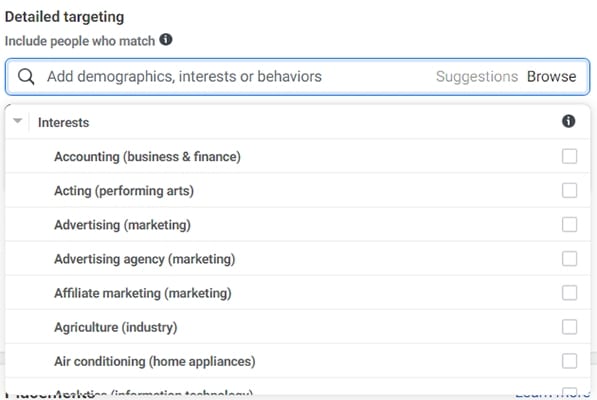 ---
An example target audience for this location could include people who are married with a family or are planning to start one. They are leaving a rental property in a more metropolitan area in search of more space, quality schooling, and an easy commute to New York City for nightlife or work.
When identifying interests for Facebook ads focusing on this target audience, consider interests like real estate, furniture, and business and industry. By thinking backward and profiling your target audience, you can specify your outreach to people interested in your particular ad and listings.
Keep in mind that the Fair Housing laws prohibit targeting certain demographics, behaviors, and interests due to discrimination, which will limit your options for certain details.
Be prepared to manage and nurture the new leads generated through real estate Facebook ads by having a real estate CRM and an automated prospect follow-up system ready to go. Market leader will help manage your Facebook ads, funnel generated leads into your CRM, and automatically send emails to nurture your new prospects.
5. Select Ad Placement
When you run targeted Facebook ads for real estate, you might envision your ads showing up in a few places of interest and frequently visited by your target audience, like Instagram, Google search results, and news feeds. However, there's a wide variety of placement options for your ad. You can let Facebook automatically place your real estate ads on various channels or manually specify where and how you want your ad to be shown to users.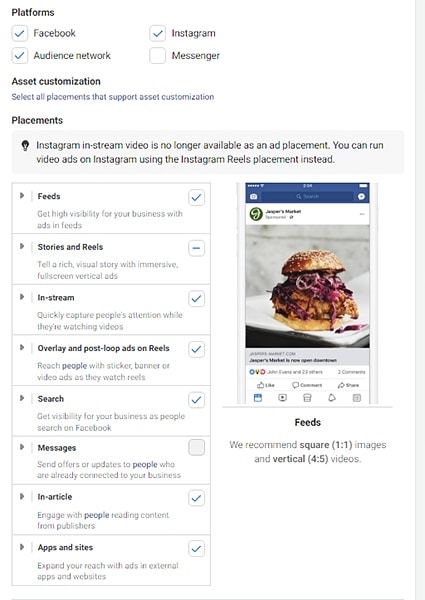 ---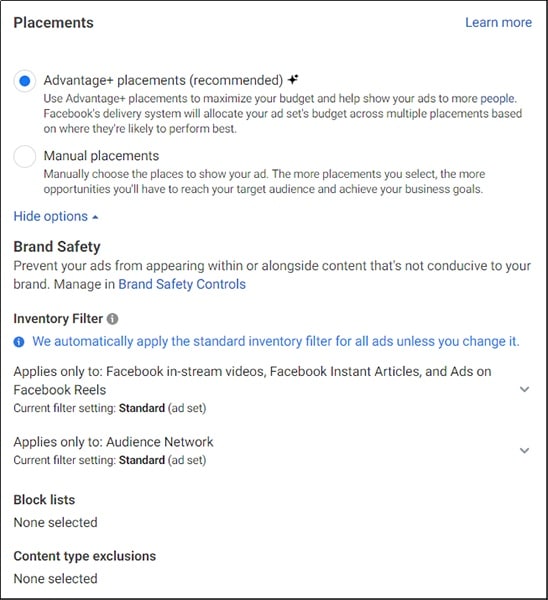 ---

---
There are four primary channels where Facebook ads for real estate agents can be placed: Facebook, Instagram, Facebook Messenger, and Audience Network. Ads placed on Audience Network may be placed on many other apps and websites that support advertising across the web.
These are the additional placement options:
Facebook News Feed
Instagram Feeds
Instagram Stories and Reels
Facebook and Instagram In-Stream Videos
Search Results
Messages
In-Article
Apps and Sites
To decide on where you want your real estate Facebook ad placed, refer back to the profile you created for your target clients. Based on the previous example of first-time homebuyers moving to Westfield, NJ, consider where these clients are looking at ads. If you think your audience is more likely to use Instagram, you will want to concentrate most of your advertising on that platform.
6. Create Your Ad
After completing all the technical elements for creating your real estate Facebook ads, it's finally time to design and create your ads. This is the actual product your audience will see, including creative details like images, video, and ad copy. Depending on your objectives and placements, Facebook will show the most proper ad formats. The most common formats for Facebook ads for realtors are single-image ads, video ads, and carousel posts. You can learn more about each option in our more in-depth article on Facebook advertising.
The ad creation process will have a direct impact on the overall success of the ad. Don't just throw an image into your ad or write ad copy on a whim. Take the time to develop an ad that communicates clearly and is visually appealing enough to stop people from scrolling.
Here are examples of effective Facebook ads for real estate buyers and sellers, driving real estate lead generation:
Example #1: For Individuals Looking to Sell Their Properties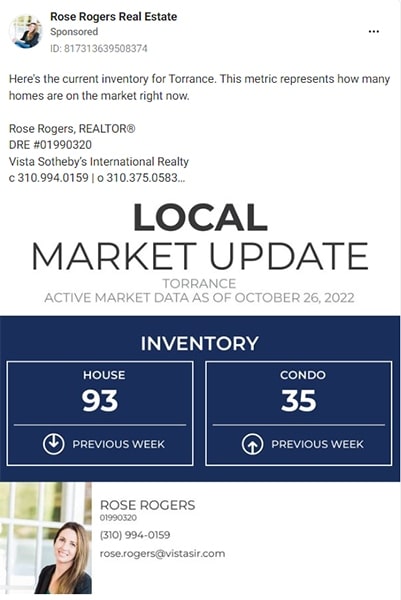 ---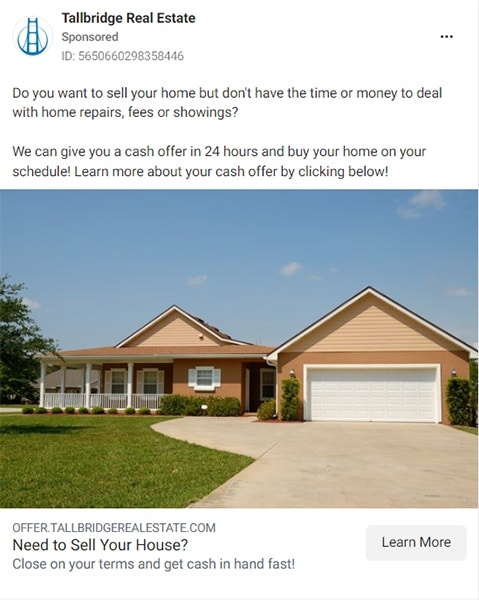 ---
This ad targets individuals who are looking to sell their property. Since it has information from the past year and last month, it can focus on sellers within the awareness, engagement, leads, and sales stage of the sales funnel. They also give information about houses and condos, which could be those looking to upgrade to a larger home from their current living situation.
Example #2: For Agents Aiming to Engage & Capture Leads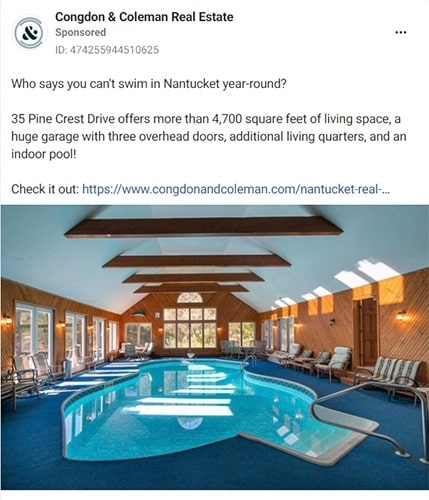 ---
---
This type of ad targets leads in the engagement, leads, and sales phase since they add contact information and show images or videos for a property currently on the market.
Example #3: For Agents Targeting Active Homebuyers & Sellers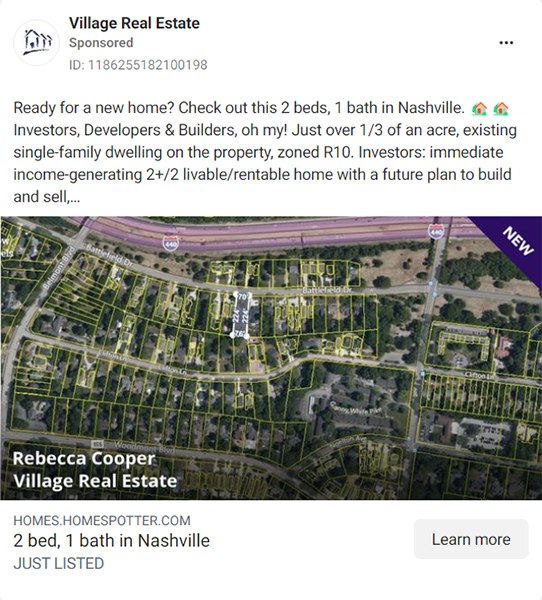 ---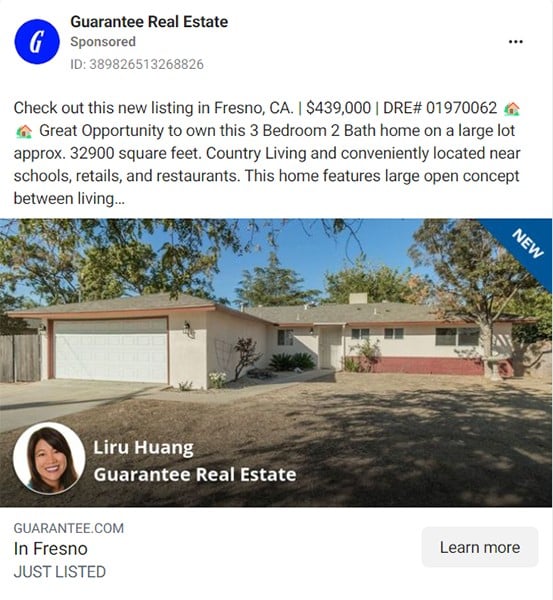 ---
This type of Facebook ad uses upcoming listings to target active homebuyers and sellers. By providing access to an off-market listing, traffic, engagement, leads, and app promotion phase, leads looking to purchase within the next six months can start looking at homes without making a firm commitment. Also, those looking to convert soon can get access and negotiate an off-market property and price.
Example #4: For Agents Who Want to Drive Awareness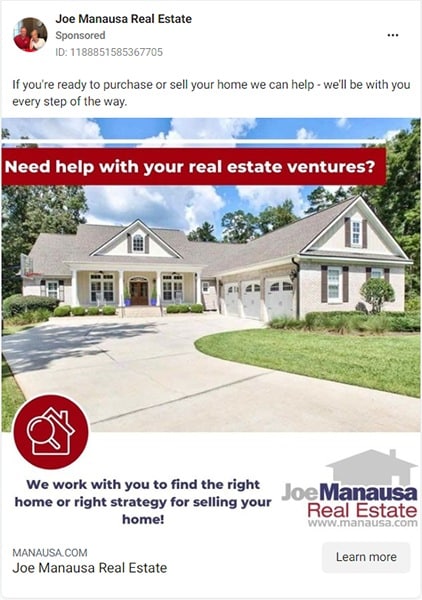 ---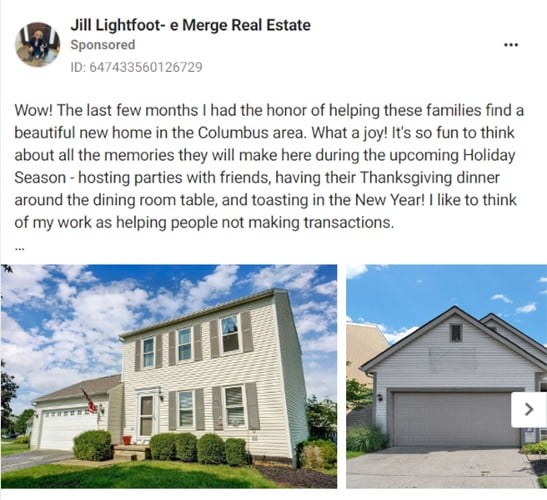 ---
This type of real estate Facebook ad reaches out to leads with a long-term plan to buy or sell a house—driving awareness to your real estate services. Neither group may be willing to make an immediate commitment to selling their home, but the real estate agent hopes to capture their attention and convert them into clients early in the sales process.
If the idea of building and optimizing your real estate Facebook ads is overwhelming, outsourcing the job might be the best choice. With Constant Contact, you can design engaging social media ads to simplify the process and expand your reach to targeted audiences. Email marketing templates make it easy to stay in touch with clients and continue to grow your network.
7. Integrate Your CRM & Convert Leads
Before you hit publish, creating a plan to collect, track, manage, and communicate with your new flow of Facebook ad-generated real estate leads is necessary. Without a thorough plan and the right tools, your contacts will inevitably fall through the cracks.
Don't spend any money on ad lead generation if you don't have a CRM with a Facebook integration, which Pipedrive offers. It is a comprehensive CRM with all the necessary features like email campaigns, visual pipelines, contact segmentation, and activity reminders. Start with a free trial of Pipedrive.
However, if Pipedrive doesn't meet your business needs, below are some alternatives you can consider:
CRM Software

Best For

Real estate agents who use Facebook Ads and third-party sites to generate leads

Agents and brokers wanting to automate repetitive tasks like email follow-ups and update contact profiles

Real estate professionals who need a robust, free CRM with advanced email marketing tools

Agents or teams wanting an all-in-one real estate CRM with robust automation tools

Key Features

Integrates with many third-party applications, like Zillow, Brokermint, and Mailchimp
Contact, transaction, and task management
Robust in-app phone to help agents reach out and follow up with more leads

Built-in project management features
Easy-to-use report and analytics generation tools
Email sequences can be scheduled and triggered based on contact traits and behaviors

The free plan offers valuable email marketing tools, such as email templates and reply tracking
Unlimited users and contacts
Integrate with multiple social media accounts like Facebook Messenger and Instagram

Integrates with more than 200 real estate lead sources, including Realtor.com and Zillow
Lead assignment and imports
Automated drip engagement emails and bulk emailing

Starting Price

$99 per month

$29 per user, per month

Free; paid plans start at $50 per month

$69 per user, per month

Learn More
Bottom Line
Learning how to create and run Facebook ads for real estate lead generation can be intimidating, but it is undeniably powerful—and surprisingly affordable compared to other advertising channels. By following these steps to create real estate Facebook ads, you'll be able to multiply your reach and generate more real estate quality leads in less time.