12 Ways to Generate Leads on TikTok for Real Estate Agents
TikTok is one of the fastest-growing social media apps, presenting realtors with an exciting opportunity to build an audience. By targeting a real estate niche, engaging with your audience, and leveraging trends, marketing on TikTok can help you reach a larger audience and generate more leads.
If you struggle to create unique TikTok content, use REDX Brand Builder. Brand Builder is a "done-with-you" social media content creation platform designed to help you convert more leads from your database through TikTok, Facebook, and Instagram. From your raw videos, REDX's team of experts will enhance your video with captions, emojis, and stickers and craft a caption that matches your brand, voice, and message.
Keep reading to learn the 12 best ways to use TikTok for real estate agents.
1. Target a Real Estate Niche
The best way to generate real estate leads on TikTok is by establishing a niche or specialty. This is especially simple to do on TikTok since there are constantly new trends that are easily adaptable to any industry or topic. You should still get specific when targeting content, like speaking directly to first-time buyers or for sale by owner (FSBO) properties. Envision the ideal client within your niche, write down their common questions and concerns, and then make content that addresses those topics.
For example, Kevin Blair makes real estate TikToks focused on helping people buy a home even if they think they aren't able to do so. He even changed his username to "HomeBuying Tips by Kevin Blair," which defines his niche and expertise. Kevin shares videos that describe specific tips for buying a home and successes he's gotten for clients. He also responds to almost every comment and asks questions, which encourages his followers to continue a conversation with him.
2. Utilize Social Media Marketing Tools
Building a presence on TikTok can be incredibly effective and fun, but it also requires you to create a successful strategy and dedicate time to planning, filming, editing, and publishing content.
To help you leverage this social media platform most efficiently and repurpose your content for multiple channels, consider investing in a social media marketing tool. The right tool for your business can take hours of content creation off your plate and increase your content's reach. A few of the best real estate social media marketing companies include:
Provider

Best For

Agents wanting a robust, multi-channel management tool to plan, schedule, and optimize all content

Agents and teams wanting a digital marketing tool across social media, email, and text message marketing

Professionals wanting social media assistance directly from experts

Key Features

Content scheduling tool with automated publishing
Built-in optimization tools
Easy-to-understand analytics

60-day free trial
Content publishing tools
Built-in CRM to manage leads and contacts

Dedicated account managers
Campaign strategy consultations
Short-form video specialty

Monthly Starting Price

$99

$9.99

$500

Learn More
3. Actively Engage With Your Audience
When you're learning how to use TikTok for real estate, it's important to remember that TikTok heavily prioritizes engagement. In fact, TikTok has an average engagement rate of 4.25%, which is the highest engagement rate of any social media platform. Therefore, continue to improve your results and increase engagement by responding to comments and gathering more real estate TikTok ideas based on what your audience asks you.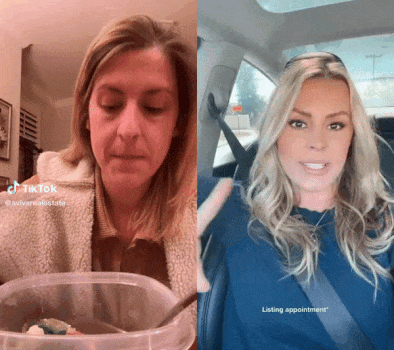 ---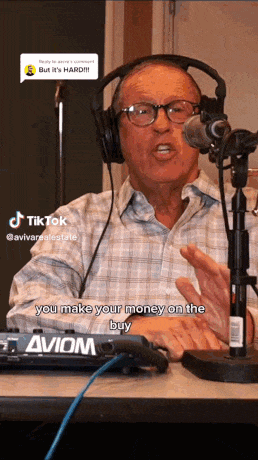 ---
One of the reasons TikTok has such a high engagement rate is that it provides a few unique features to help you engage with your audience, like video responses to comments, duets, and stitches. Commercial real estate TikToker @avivarealestate consistently uses all of these features to connect with her audience, address related topics, and provide her unique perspective on viral real estate videos.
4. Be Creative With TikTok Real Estate Videos
One of the many reasons TikTok's content is attractive to users is its algorithm uniquely gives all users an equal opportunity to go viral. It also provides an extensive number of editing tools and features, from sounds, voice effects, on-screen text, and interactive filters. Even if you're camera-shy, you can find creative ways to make engaging videos.
For example, video clips of your listings can become educational content by simply adding text to the screen and using a text-to-speech voice. In the example from @realtor.erikamontes, she shares five tips to help homebuyers prepare to buy a home without having to show their face, talk to the camera, or even do a voice-over.
On the other hand, @soldbysophiev records a simple video of herself and adds text to the screen to share educational information. Another reason this strategy is successful is that users will most likely have to watch the video multiple times to remember the information, boosting the video in the TikTok algorithm.
5. Use TikTok Real Estate Hashtags
Social media hashtags tell the TikTok algorithm what your content is about so your video can be shown to people interested in relevant topics. To find popular and relevant TikTok hashtags, go to the "Discover" page within the app and search for real estate-related topics. Popular TikTok real estate hashtags include #realtor, #realestateagent, and #home. Look at the people who are successful in real estate and take note of the hashtags they use.
For example, @cassandrahartford uses a few general hashtags for her videos, like #realestate, #realtor, #florida, and #fyp. However, since she's creating content about commercial real estate and she works in Florida, she also uses more specific hashtags like #commercialrealestatebroker, #ccim, and #multifamilyinvestor.
Use hashtags with varying levels of popularity. You have a better chance of being found through real estate hashtags with under 100,000 views, whereas hashtags with billions of views might bury your video too quickly.
6. Capitalize on TikTok Trends
TikTok is a unique social media channel because it's created a culture with its humor, style, and trends. There are constantly new TikTok trends, meaning many people use the same audio, dance, or filters to jump on the trend bandwagon. Since these trends are viral and familiar, they are a great way to grow your audience and tweak the trends to fit your real estate brand and niche.
Take a few minutes to scroll down the "For You" page on TikTok, and you'll start noticing trends, like songs that are used on a variety of videos, filters, or CapCut videos. Take note of any patterns and think about how you could tweak the trend to fit your real estate TikTok strategy. Most trending videos are under 30 seconds long but still drive millions of views, offering an easily accessible way to grow your audience and build your authority with TikTok trends.
There's an endless number of realtor TikTok ideas using trends, and @texastattooedrealtor shows many excellent examples. She uses popular trends, talks to her target audience, and answers their questions or problems. Here are just a few of the trends she used to grow her audience to over 240,000 followers:
Pro tip: Another way to take advantage of TikTok trends is by using CapCut templates. CapCut is a relatively new TikTok feature and provides a variety of user-generated templates. It essentially allows you to create a video meme and customize it for any topic. If you want to leverage TikTok to get leads and build an audience, using CapCut templates and trends is arguably the easiest way to do it.
7. Use Trending TikTok Sounds
TikTok relies heavily on audio, which can be a clip of a song, a clip from a TV show or movie, or other TikTok users' voices. Unlike Facebook, LinkedIn, and most other social media platforms where posts don't have sound, TikTok is designed to be used with sound on. This is part of what drives its high engagement rates. When you're learning how to use TikTok for real estate agents, being able to identify and use trending sounds and the best songs for real estate videos will be key to your success.
For example, with a trending version of the song "It's a Wrap," a few realtors showed houses that had recently sold or were still on the market. @markedbymarker showed clips of her property tour with the caption, "It's time for somebody to wrap this property up." On the other hand, @morgsthereal_realtor used the same song with a trending dance to celebrate a buyer who closed on a property.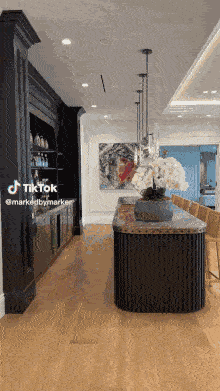 ---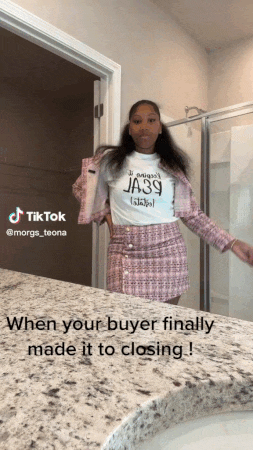 ---
Keep in mind that many trending sounds do not come from songs, and the lyrics don't need to be relevant to real estate TikTok. Think of the audio as a trending hashtag that will attract others looking for the same hashtag. In fact, you can even take advantage of audio without actually having the sound play on your video.
Here's a great example from @maxfisherrealestate. You can see that there is a song attached to the video, but the video is primarily made from shots of commercial properties and a voice-over. Even though the sound is barely audible, it's an easy and practical way to make it more likely for TikTok to show your video to a greater number of people.
8. Share Your Real Estate Listing Videos
Real estate listings with videos receive 403% more inquiries than listings without videos. Plus, Zillow encourages real estate agents to add property videos to their listings. Since the data about listing videos speaks for itself, it only makes sense that you should use those videos to reach more users on TikTok.
Since Zillow videos can be up to 10 minutes, you can splice them to create multiple videos to share on TikTok. Cut your walk-through videos into several shorter videos, or use simple video transitions with audio to make your listing videos even more engaging. For example, split your videos up by room to showcase the features and encourage viewers to scroll through each of your videos to get a complete snapshot of the home.
Check out the above example listing video from @heider_realestate on TikTok. She does a video tour of her listings and then speeds up the video to make each tour fits into a 30-second to one-minute video. She also includes music in the background to match the home's ambiance and to leverage trending audio.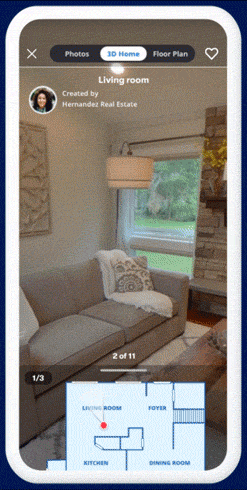 ---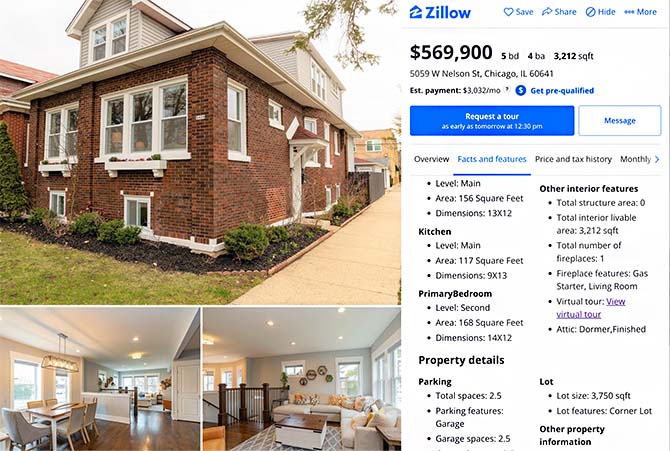 ---
Along with leveraging the power of video, reach the largest possible audience for your properties and generate more leads as a Zillow Premier Agent (ZPA). It gives your profile a prime location on listings and generates more highly qualified leads since it's the largest real estate database online. You'll even be able to communicate with leads and clients through the Zillow app and get exposure on other Zillow-owned real estate platforms like Trulia, Street Easy, and RealEstate.com.
9. Adapt Your Real Estate Video Content for TikTok
Starting a new social media platform doesn't necessarily mean you have to make content from scratch. If you've created any video content in the past, like for YouTube or Instagram stories, you can easily edit your existing videos to fit on TikTok. TikTok videos can be up to 10 minutes long, but TikTok videos that are 15 seconds or less have a 90% watch time.
Even if you don't have video content, you can develop many real estate TikTok ideas with a little strategy. Go through your existing content, including blogs, emails, and social media posts, and think about consolidating the content from those posts into short videos. Plus, don't forget how TikTok trends, sounds, and CapCut templates can help you generate topics for real estate videos.
TikTok and YouTube real estate creator @Stefaniekebede has many great examples of repurposing content between both platforms. She simply cuts short clips of YouTube videos on TikTok and directs viewers to watch the whole video in the caption. She also uniquely records her cold calls to property owners and shares them on TikTok, which means she's essentially completing two tasks for her business at once. These videos generate a high number of views and engagement because they are unusual to watch and can even be controversial.
TikTok for real estate agents can be challenging, but by combining the Market Leader client relationship manager (CRM) with your real estate TikTok strategy, you'll be able to increase your audience and be confident that you're not missing any opportunities to grow your business. Market Leader offers a robust CRM and exclusive leads, immediately cutting down your competition. Plus, multi-channel automated marketing helps you start effectively following up with your leads without spending weeks creating a funnel.
10. Direct Viewers to Your Website & Landing Page
TikTok allows you to put one link on your profile, and it's front and center for anyone who clicks on your name and views your profile. When using TikTok for real estate agents, an ideal way to use this spot is to link to your website or a landing page. Creating a landing page specifically for TikTok users can also give you more precise insights into how many people interact with your content.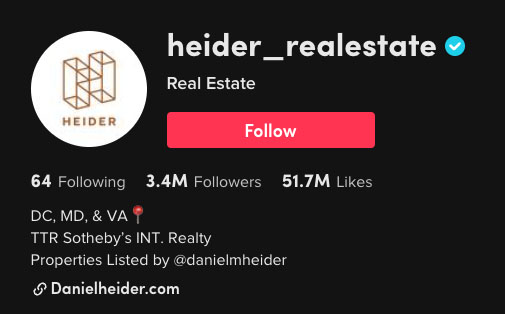 ---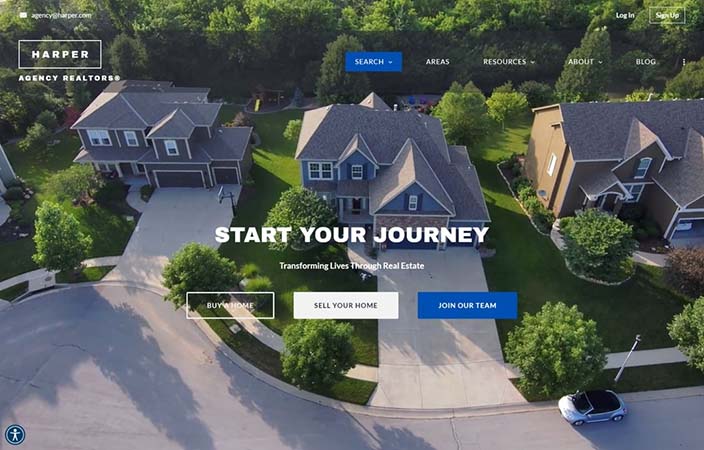 ---
You can easily use Placester to create a custom landing page optimized to convert leads from TikTok. Placester is a lead generation company that provides a variety of options to easily create a professional website with unlimited landing pages. You can take advantage of their real estate templates or hire a Placester expert to build, customize, and manage your website. Plus, you can try Placester free for 30 days.
11. Share Your Content on Other Platforms
The short, attention-grabbing nature of TikTok content has reached over 3 billion users and contributed to the app's extremely fast growth. However, TikTok for realtors should be just one part of a successful real estate social media marketing strategy.
Every time you invest your time and effort into marketing your real estate business, make sure you get as much mileage as possible out of the materials you create. Share your TikTok real estate videos on other platforms, like Instagram Reels and Stories, Snapchat, Twitter, Facebook posts, and even Facebook real estate ads.
Here are a few of the top social media platforms to repurpose your real estate TikToks:
In combination with a multi-channel real estate lead generation strategy, grow your social media reputation and business using a service like SmartZip. SmartZip uses artificial intelligence (AI) to identify homeowners likely to sell, then it targets your marketing directly to them. When they start seeing your ads, receiving direct mail, and seeing your organic videos on TikTok, you'll increase your chances of converting them into clients.
12. Input TikTok Leads Into a CRM
Before TikTok real estate leads start pouring in, make sure you're set up for success by using tools that will prevent potential clients from falling through the cracks. Look for a real estate CRM with lead generation and follow-up tools that integrate with TikTok, like Pipedrive.
Through a Zapier integration, every lead you generate from TikTok real estate videos will automatically be added to the Pipedrive CRM. Since Pipedrive has a visual pipeline process and tracks every communication you have with each lead, you'll be able to nurture your leads without spending hours replying to comments and messages.
With Pipedrive, you can move your leads along the pipeline more smoothly with automated emails and calls and the ability to live chat and easily schedule appointments. Pipedrive helps you not only generate and communicate with leads, but truly nurture them at every turn and build the rapport and trust you need to sign them as a new client ultimately.
TikTok Real Estate Marketing Statistics
Still not convinced that TikTok for real estate agents can be an asset? Take a look at some additional statistics below to see the positive power of TikTok and the TikTok audience:
Bottom Line
TikTok is a unique social media platform many real estate agents haven't taken advantage of yet. This means there is still a massive opportunity on TikTok for real estate agents to build a following. By optimizing your TikTok with trending videos and audio and addressing your audience's problems, you'll be able to attract a targeted audience and grow your real estate business.