6 Best Professional Tax Software Programs for 2023
Tax software is the core of a tax preparer's business—which is why the best professional tax software must include the ability to prepare both individual and business returns. The needs of tax preparers vary greatly based on their need for bookkeeping integrations, remote access, and budget.
The six best tax software programs for professionals are:
Do-it-yourself (DIY) tax software:
The tax software in this guide is for professional return preparers and isn't suitable for individuals and businesses seeking to prepare their own returns. For DIY tax software, see our guide to the
best small business tax software
.
Best Professional Tax Software Compared
 

Unlimited Returns

Pay-per-Return Plan

Return Bundles

Form 1040

Forms 1120, 1120S & 1065

Form 5500

Form 990

Forms 706 & 709

$2,868 per year for unlimited 1040s

 

Custom pricing for unlimited individual and business returns

$594 per year plus per return charge starting at $53 federal and $45 state

Custom pricing for 200 individual and business returns

✓

✓

N/A

✓

✓

N/A

Starts at $94.95 for individual and $117.95 for business returns

N/A

✓

✓

N/A

709 only

$735 for unlimited 1040s

 

$1,325 for unlimited individual and business returns

N/A

N/A

✓

✓

N/A

N/A

$1,825 for unlimited individual and business returns

$345 includes 10 1040s

$29.99 per additional 1040

$44.99 per business returns

N/A

✓

✓

N/A

✓

706 only

Quote upon request

$746 per year, plus $91 per 1040 and $118 per business return

Quote upon request

✓

✓

✓

✓

✓

Quote upon request

N/A

Quote upon request

✓

✓

✓

✓

✓
Quiz
The best tax software for your professional tax firm depends on several factors:
Number of returns: Some software offers per-return pricing while others offer unlimited returns for a single price. If you only need to prepare a few returns, it makes little sense to purchase unlimited returns.
Type of returns: Some software offers special savings if you plan on preparing only individual returns and no business returns.
Remote access: Most professional tax software programs are installed locally and are difficult to access remotely without sacrificing security. If you plan on allowing tax preparers to work remotely, buy a cloud-based software package or software that can be hosted for an additional fee.
Return complication: Not all professional tax software can handle every complication in the tax code. If you plan on preparing extremely complex returns, like oil and gas partnerships, go with high-end tax software. It will cost more money, but you should be able to recover that with your fees for the complex returns.
---
ProSeries Professional: Best Overall Professional Tax Preparation Software

What We Like
Offers multiple packages to fit your needs
Choose to enter data through forms or quick-entry sheets
Integrated billing clock
What's Missing
Pay-per-return pricing charges extra for a state return
No upfront pricing for some plans
Multi-user access is an additional fee for most plans
ProSeries Professional Pricing
Pay per Return: $594 per year doesn't include any returns

Each individual return (federal plus one state) is $98
Each business return (federal plus one state) is $126

Choice 200: Custom pricing

Includes any combination of 200 individual and business returns
Additional returns can be purchased for the pay-per-return rates

1040 Complete: $2,868 per year includes unlimited federal and state individual tax returns

Business returns can be added for the pay-per-return rates

Power Tax Library: Custom pricing

Includes unlimited federal and state individual and business returns
You can sign up for a free trial and receive the 2021 version without the ability to print or e-file.
ProSeries Professional provides several tools that will suit the needs of small and mid-sized businesses. Except for Form 5500 returns, the software offers a variety of packages and access to a variety of helpful resources, including tax planning suggestions:
Client tools: It offers a variety of resources for your clients, including the ability to create checklists for the items clients need for each year's tax return. Client-specific billing and editable invoice options are available as well, including flat rates, hourly fees, and charges per form.
Electronic filing: You can view, track the status of, and manage your clients' e-filed returns. Missing client data is also filed and tracked, and data must be entered before the return is sent.
Hosting and integration: Hosting is available starting at $120 per month, per user. With hosting, the ProSeries software can be accessed anywhere on any device, and information is stored in the cloud, allowing for flexible workflow.
Import from QuickBooks: You can import a trial balance from QuickBooks Desktop Accountant easily.
Tax planning: ProSeries Professional will generate a list of more than 70 tax planning suggestions that will assist your clients with lowering future taxes. The tax planner estimates income, expenses, withholdings, and tax payments for future tax years.
Input guidance and forms: K-1 data imports transfer data to individual returns automatically. The Intuit link portal allows clients to upload their documents in a timely and organized manner.
---
ProSeries Professional, a reliable tax preparation software from Intuit, is a good fit for accountants looking for desktop software with a forms-based interface that can import account balances from QuickBooks Desktop. It can process almost any tax return, including Forms 1040, 1120, 1120S, 1065, 1041, 990, 706, and 709. However, it cannot prepare Form 5500 returns.
It has all the features you'd expect from modern tax software, such as e-file management, downloading tax forms from financial institutions, and K-1 data transfers between returns. It offers four pricing tiers, with a great option for small firms preparing 200 or fewer returns per year or firms that focus almost exclusively on individual returns. The price is very reasonable, especially if you specialize in individual returns and purchase the 1040 Complete package.
---
ProConnect Tax Online: Best Tax Software for QuickBooks Online ProAdvisors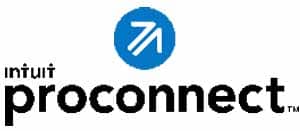 What We Like
Cloud-based system eliminates information technology (IT) headaches
Manage tax returns from your QuickBooks Online Accountant dashboard
No annual license fee
What's Missing
Pay-per-return pricing is expensive for high-volume preparers
No options for unlimited returns
Cannot handle more complex returns like consolidations
ProConnect Tax Pricing
All users must pay per return on a sliding scale based on the total number of returns purchased:
Business returns: Starts at $117.95 each for the first nine returns and gradually decreases to $59.95 for each return over 200
Individual returns: Starts at $94.95 each for the first nine returns and gradually decreases to $47.95 for each return over 200
Intuit is offering 35% off of the prices listed above for first-time customers that pre-order returns prior to March 15, 2023.
Any firm that specializes in QuickBooks Online should give serious consideration to ProConnect Tax as it provides powerful features, such as missing data review and document management. It also has a K-1 package and a tax planner with the ability to project multiple case scenarios:
Document management: It lets you upload documents, store them, and view them as you do the return, with the option to download forms, if desired. You can also customize your requests for tax information, based on the previous year's information.
Tax planner: You can plan ahead with your 1040 and Schedule C clients by playing around with comparative tax scenarios. These scenarios include making multiyear comparisons for up to three years and building multiple case scenarios. You can also calculate tax liability and import diagnostics.
K-1 package: Partnerships, S corporations (S-corps), and fiduciaries can produce letters, K-1 forms, K-1 state forms, and other applicable forms for each individual partner or shareholder.
E-filing: View the e-file status of all of your clients with a dashboard that allows you to sort, filter, and check for rejections. You can also offer e-signature signing, which lets your clients review and sign forms from anywhere, on any device.
Missing data review: ProConnect Tax will flag missing data fields so that you can identify any gaps prior to filing. This streamlines the process of identifying any errors, which will create a faster review time.
---
If you're an avid user of QuickBooks Online, you're probably going to like ProConnect Tax Online, which is designed specifically to serve the tax preparation function for firms centered on QuickBooks Online Accountant. The programs integrate tightly and can be managed from a single dashboard inside QuickBooks Online Accountant.
ProConnect Tax is priced on a pay-per-return basis with no annual fee. QuickBooks Online ProAdvisors can try ProConnect for free and not pay until the return is filed. Its powerful software can prepare returns for Forms 1040, 1120, 1120S, 1065, 1041, 990, and 709. However, it can't prepare Form 5500 and 706 returns. Its biggest drawback is that it's only available as a pay-per-return package.
---
TaxAct Professional: Best Value for Preparing Unlimited Returns

What We Like
Great value for unlimited returns
Extensive support options
Online data backup
What's Missing
Additional fee applies for state returns and e-filing in Professional Federal Edition
No tax research applications available
Cannot prepare Forms 5500, 706 or 709
TaxAct Professional Pricing
Professional Federal Edition: $150 per edition (Forms 1040, 1041, 1065, 1120, 1120S, or 990) plus $35 per state and $15 per e-file
1040 Bundle: $735—includes 1040 edition plus all states and unlimited e-filing
Unlimited: $1,325 for all federal editions plus all states and unlimited e-filing
All packages are for a single-user license and include dedicated technical support.
TaxAct Professional is a great option for accounting firms on a budget, with an inexpensive price for unlimited returns. Although it doesn't integrate with tax research applications, its other features, such as access to ProAdvance and virtual practice capability, more than make up for its shortcomings. TaxAct Professional also backs its work with a money-back guarantee and access to dedicated technical support:
Virtual practice capability: It has partnered with TaxDome to give you access to more than 20 key practice management features, including automated workflows, customizable customer relationship management (CRM), and unlimited and secure file storage. It also allows for unlimited e-signatures and has a client portal and mobile app.
Access to ProAdvance: TaxAct ProAdvance is an online resource center that provides information and resources to enhance your practice.
Powerful reports and tools: There are a variety of reports and tools available for you and your clients, including TaxTutor guidance, which helps to shed light on deductions, complex tax law changes, strategies, and tips. You also have access to what-if scenario tax calculators, depreciation and disposal summaries, and custom client reporting.
Dedicated support: TaxAct Professional offers easy access to support tools. There's also a help page to troubleshoot issues, and a comprehensive knowledge base. The TaxAct support team is available via phone and email.
Money-back guarantee: If you aren't 100% satisfied with TaxAct Professional, simply return the product for a full refund within 30 days of receipt. You'll receive your money back, no questions asked.
---
TaxAct Professional is the low-price leader in professional tax software without sacrificing the quality of its features. There are several add-ons that allow you to customize the software based on your needs, including payment acceptance and practice management features. You can also access digital marketing capabilities and facilitate client returns. TaxAct Professional offers a money-back guarantee to all clients, allowing you to return it for a full refund within 30 days if you aren't satisfied completely.
---
Drake Tax: Best Value for Preparing 30 or Fewer Individual & Business Returns

What We Like
Prepare Forms 1040, 1120, 1120S, 1065, 1041, 706, and 990
Unlimited users and preparers included in all packages
All 50 states included in all packages
What's Missing
Navigation from input screens to forms isn't intuitive
Cannot prepare Form 5500 returns
Cannot prepare consolidated returns
Drake Tax Pricing
Pay per Return: $345 includes 10 individual returns:

$29.99 per additional individual returns
$44.99 per business return
Price includes unlimited states per return

Unlimited: $1,825 for unlimited returns, including states
Drake is currently offering $100 off the unlimited plan but doesn't provide a deadline for this deal.
Either package can be hosted on the cloud for an additional fee of $99 per month, per user.
Drake Tax not only is a great value in professional tax software, but it also has many useful features, such as Look Back and DoubleCheck, which will save you time when preparing returns. Its hardware add-ons and paperless options also streamline the process:
Look Back: The Look Back feature lets you view the prior year's tax return data, which can be useful when comparing information. Use a keyboard shortcut to toggle between Look Back and the current view.
DoubleCheck: This is Drake Tax's diagnostic tool, which can track any changes that affect verified data entry items. If any changes are detected, DoubleCheck will flag it for review automatically.
Hardware add-ons: You can simplify tax preparation using optional hardware add-ons, such as an e-signature pad, which allows clients to sign returns digitally. Another add-on is a barcode scanner, which enables importing data from W-2s or K-1s with 2D barcodes.
SecureFilePro: If you're looking for paperless options, SecureFilePro allows users to obtain source documents from their clients electronically for tax preparation.
Multistate returns: Drake Tax allows you to create an unlimited number of state returns for each federal return for no additional charge.
---
Drake Tax, which has been in business since 1977, isn't just slightly cheaper than its competitors―it's a fraction of the price. Yet, it provides very capable tax software. All state programs are included, and you can prepare multiple state returns for a single business with no additional charge. Its attractive price―$345 for 10 individual returns plus pay-per-return pricing for business returns―makes it a good fit for tax firms that prepare 30 or fewer individual and business tax returns.
The platform has most of the same features as more expensive software, including client organizers, a tax planner, MFJ to MFS comparison, and multistate returns. The e-file center works like most professional software packages and includes an option to attach electronic client signatures, so there's no need to print out Form 8879 for your client to sign.
---
Lacerte: Best Software for Preparing Complicated Tax Returns

What We Like
Consolidate subsidiary tax returns
Complete complex oil and gas returns
High-end software that provides a pay-per-return option
What's Missing
No forms-based data entry
Pay-per-return plan requires a $746 annual fee
No upfront pricing
Lacerte Tax Pricing
Lacerte 200 Federal 1040: Provides 200 individual returns for a fixed price and business returns for a pay-per-return fee
Lacerte Unlimited: Provides unlimited individual and business returns for a fixed price
Lacerte REP: $746 annually, plus:

$91 per 1040 (one state)
$118 per business return (one state)
Lacerte Tax is a powerful solution that offers a variety of tools to help streamline your practice. These include an expansive form library, a paperless option for organizing and collecting tax information, and a variety of tax analysis and planning tools. Lacerte Tax's missing client data tool and trial balance utility will also help save time:
Comprehensive form library: Lacerte Tax gives you access to more than 5,700 forms, including multistate, K-1s, and 5500 benefit plan returns, which enable you to service a variety of clients and businesses.
E-organizer: A paperless option for the organization and collection of information for the tax filing process, E-organizer assists with sending questionnaires, forms, and emails to clients. It provides them with access to a customized, password-protected executable file, which includes detailed information on how to use the organizer and frequently asked questions (FAQs).
Missing client data tool: The built-in missing client data utility tool identifies fields with missing information and sends requests to your clients for the required information and documents. This reduces the hassle of tracking down client data by allowing tax preparers to flag the missing field for future reference or until data is received.
Trial balance utility: The trial balance utility helps to develop a chart for accounts, modify journal entries, review trial balance reports, and more. It can also import data easily from QuickBooks and EasyACCT, which will seamlessly export to Excel.
Tax analysis and planning tools: With the combination of Tax Planner and Tax Analyzer, you have access to sophisticated tax analysis and planning tools. Tax Planner provides customized plans for each client's future liability based on current and future state and federal tax rates. Tax Analyzer assists professionals with managing their liabilities and financial health, red-flagging amounts that are most likely to trigger an IRS audit.
---
Lacerte is Intuit's high-end tax preparation software for preparing the most complicated tax returns, such as consolidated returns and returns for oil and gas companies. It can import balances from QuickBooks Desktop and integrate with Intuit Practice Management. Lacerte is expensive, but with complicated returns, you should be able to recoup the cost through client fees.
You can prepare all individual and business returns, including Forms 1040, 1120, 1120S, 1065, 1041, and 990. It can also prepare gift and estate tax returns, forms 709 and 706, and form 5500 benefit plan returns. It includes time-saving features, such as importing forms from financial institutions, importing capital gain/loss transactions from a spreadsheet, and integrating with QuickBooks Accountant Desktop.
---
CCH Axcess Tax: Best Cloud-based Software to Manage the Whole Firm

What We Like
Cloud-based system eliminates IT headaches
In-program links to CCH IntelliConnect research service
Integrates with other CCH Axcess modules for cloud-based firm management
What's Missing
No pricing available without speaking to a sales representative
Many features require add-ons for an additional cost
Cannot import data from QuickBooks files
CCH Axcess Tax Pricing
Quick Start for small firms:

150, 300, or 500 returns
All states
All types of returns
Larger firms can customize a package to meet their needs. Pricing information is not given on its website.
CCH Axcess Tax is a well-rounded, cloud-based software program for tax professionals. It integrates with other CCH Axcess modules to provide more features to help you run your practice. Its user interface is easy to navigate, and it allows you to create a tax organizer for your clients. The e-filing capability and tax research tools save time for both you and your clients, and strong support options ensure that you'll never be at a loss for solving any issues that may come up while using the software:
Intuitive user interface: CCH Axcess Tax's user interface is easy to navigate, with a Quick Access toolbar that can be customized to suit the needs of any firm. The dashboard gives you quick access to all related projects, tasks, and related client documents. Users will also receive notifications when a return needs attention.
Tax organizer: Users can create organizers for all clients, which can be printed and sent or emailed. These can also be uploaded to the client portal, allowing clients access at their convenience. Clients can also upload requested documents to the CCH Axcess Portal.
E-filing capability: CCH Axcess Tax offers complete e-filing for all supported forms, and users can check their status easily, viewing alerts and rejections. Digital tax workflow is also available, automating the entire tax preparation process.
Strong support options: There are several help and support options available, including a searchable knowledge base, product guides, user videos, and a community user forum. You can also download product enhancements or updates from the website. All registered users have access to telephone, email, or chat support.
Tax research tools: CCH AnswerConnect is a powerful resource for comprehensive tax research that offers explanations of tax law and how to apply it in real-world situations.
---
CCH Axcess Tax is one module of the CCH Axcess cloud-based firm management software. It's good for small and midsized accounting firms looking for more than just tax preparation software and preferring cloud-based applications. It integrates with CCH IntelliConnect, a leading tax research service, to provide in-program links to relevant tax authorities and analysis.
While it's disappointing that the CCH Axcess Tax website doesn't provide more information on the platform's features, it's from CCH and Wolters Kluwer, so we have confidence that it will include all the standard features you need to prepare almost any return. Despite the lack of details, it made our list because of its integration with other CCH Axcess modules for cloud-based management for your entire firm.
---
How We Evaluated Tax Software for Tax Preparers
When evaluating the best tax software for tax preparers, we considered the needs of tax professionals who prepare individual and business tax returns. The price of the software is a primary concern as are its features, such as importing data, integrating with client portals, and sending out returns and invoices for e-signature and e-payment.
Based on the needs of bookkeepers, accountants, and tax professionals, the criteria we used to evaluate the best tax software for professionals include:
Pricing: We looked at how much the tax software costs, including annual fees and the amount you'll need to pay, if any, per tax return.
Features: The software should include all the features expected of modern software, including e-file management, easy data input, integration among all tax forms, and integration among federal and state returns.
Ease of use: We looked at how efficient keying data into worksheets is and how easy it's to review the tax forms.
Data import and accounting software integration: We considered whether the tax software can automate some of the data entry, including importing data from QuickBooks or Excel, extracting data from source documents using scan-and-fill technology, and downloading clients' tax data directly from financial institutions.
Practice management integration: We looked at whether the tax software integrates with practice management software.
Electronic file sharing and client portal integration: We considered whether the tax software helps gather information from clients and sends completed tax returns to them digitally, including printing returns to a client portal, or whether clients have to fill out a digital organizer and upload their documents.
Electronic signatures: We looked at whether the tax software can collect digital signatures for e-filing.
FAQs
What software do tax preparers Use?
Paid tax preparers must use professional tax software that allows them to sign the return as a paid preparer and e-file the return as an Electronic Return Originator (ERO). Popular platforms include ProSeries, ProConnect, Drake Tax, Lacerte, TaxAct Professional, and CCH Axcess Tax.
What is the best tax software for CPA firms?
The tax software for your certified public accountant (CPA) firm depends primarily on the number, type, and complexity of returns you expect to file. For instance, TaxAct Professional is great for filing an unlimited number of individual returns, while Lacerte is commonly considered the best software for extremely complex returns.
Bottom Line
You should choose software that provides a pricing option that fits the number and types of tax returns you prepare. However, you must also consider your need to prepare complex returns and the time you could save with bookkeeping software and practice management integrations.