Virtual staging is the process of adding digital furnishing to a picture of an empty room to make it more appealing to potential buyers. Services that offer the software and expertise to create images of staged spaces help potential buyers visualize what's possible with any given room in a house. We looked at many virtual staging services and chose the six best based on price, quality, customer service, and turnaround time as well as any extra services that may be offered.
Top 6 Virtual Staging Services for 2020
| Virtual Staging Service | Best For |
| --- | --- |
| | (Best Overall) Agents seeking a one-stop shop for virtual staging services |
| | Agents who need affordable, full-service virtual staging with next-day turnaround |
| | Agents who want rooms that have been virtually staged by interior designers |
| | Agents who want to offer virtually staged photos that are shoppable |
| | Agents seeking realistic renderings to pre-sell new construction and renovations |
| | Agents looking for a click-and-drag DIY option for quick virtual staging |
How We Evaluated Best Virtual Staging Services 2020
We looked at a range of factors to choose the best virtual staging services, including how affordable they are, how quickly you can set up and create images, and the overall quality. These factors are important since agents need an affordable, full-service virtual staging provider to help create images that attract buyers to their listings and lead to more sales.
These are the criteria used to find the best virtual staging services of 2020:
Price: Virtual staging is typically priced by each edited image. While the price of virtual staging is significantly less than renting furniture for traditional home staging, the overall cost can add up depending on how many rooms are staged. We looked at each service for overall affordability and what they charged for extras, add-ons, and revisions.
Turnaround: We looked at how long each staging service took to return the finished product since a long turnaround time might hold up your real estate listing.
Quality: Virtual staging should look as realistic as possible. We also looked at the design, style, and selection available for the furnishings in each type of room.
Customer service: From a free consultation to a money-back guarantee, these are the details that help real estate agents know what to expect when using a virtual service.
Extra services: We looked at what kinds of unique services each company offered beyond virtual staging to help identify which one may be the perfect fit for your real estate needs.
A Quick Note on Virtual Staging vs Real Staging
Virtual staging refers to the process of using software to place virtual furnishings onto property photos while traditional home staging is the process of physically placing furniture and accessories in a home for the purpose of marketing a listing. While both types of staging are real, the term "real staging" is often used to describe the process of placing furniture in a home as opposed to using software to place digital images of furniture into a picture.
Virtual staging is much less expensive than traditional home staging because there is no furniture to rent or movers to hire. Virtual staging is often a fraction of the cost of physically staging a room, making it a great choice for agents looking to save money while presenting their listing in the best possible light. Virtually staged photos can be used as part of your real estate listing marketing plan to encourage potential buyers to consider, visit, and ultimately buy the property that you are promoting.
Blue-Sketch: Best Overall Virtual Staging Service

Blue-Sketch is a virtual staging company that creates high-quality, realistic images with attention paid to detail, shadows, and reflections. Their designers collaborate with agents in order to assess the buyer profile for your listing, and consider the age and style of the house along with fixtures and cabinetry to create staged images that will appeal to your target buyer. They offer a full range of virtual staging services, from architectural renderings to 360-degree interactive virtual tours, as well as responsive customer service, making them our best overall pick.
| Blue-Sketch Strengths | Blue-Sketch Weaknesses |
| --- | --- |
| Highly realistic imagery | More expensive than competitors |
| 360-degree virtual staging | Additional charge for revisions |
| Collaborative process between designer and real estate agent | |
Example of Virtually Staged Room by Blue-Sketch
Blue-Sketch Pricing
Virtual staging: $79.95 per image
360-degree virtual staging: $159.99 per panorama image
3D "dollhouse" floor plan: $259.95
Architectural renderings: $599.95
Revisions, additional edits, and decluttering: $19.95
Blue-Sketch Features
2D and 3D virtual staging
3D floor plans
Matterport tours
Construction blueprints
Architectural renderings
Schematic 2D floor plans
What Users Think About Blue-Sketch
Blue-Sketch places an emphasis on customer service and communication, so much so that they have won the Best of Houzz award for customer service every year since 2017. Reviews are glowing and clients rave about the exceptional image quality and attentive customer service.
VRX Staging: Best Affordable, Full-service Virtual Staging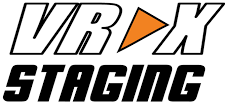 VRX Staging offers a comprehensive suite of services at an affordable price. Their services include popular tweaks like virtual twilight and making the sky bluer and the grass greener. VRX Staging offers virtual staging for a flat fee of $35 per image and next-day turnaround. Virtual Staging Lab offers a free consultation ahead of the staging to make sure that your design preferences are noted before the work gets done.
| VRX Staging Strengths | VRX Staging Weaknesses |
| --- | --- |
| Affordable pricing | Results appear staged, not real |
| Next-day turnaround | Lack of attention to details like light sources, shadows, and reflections |
| One free revision | |
Example of Virtually Staged Room by VRX Staging
VRX Staging Pricing
Virtual staging: $35 per image
Virtual staging plus furniture removal: $55 per image
Blue sky and green grass: $5 per image
Virtual twilight: $10 per image
Wall paint color change: $15 per image
Special edits: Pricing upon request
VRX Staging Features
Next-day delivery
Affordable pricing
Outdoor staging
What Users Think About VRX Staging
Online reviews were overwhelmingly positive. Real estate agents say the virtual staging images were high quality for an affordable price. Other reviewers noted that the customer service and quick turnaround were superior.
PadStyler: Best Virtual Staging Service With Rooms Styled by Interior Designers

PadStyler's virtual staging services offer design collections that were created by professional interior designers, taking the guesswork out of which pieces of virtual furniture work together to make a room feel finished. In addition to staged rooms, PadStyler offers virtual renovation, which agents can use to market properties that need to be fixed up. They also offer furniture replacement, virtual landscaping, and 3D floor plans.
| PadStyler Strengths | PadStyler Weaknesses |
| --- | --- |
| Design collections created by professional interior designers | Website design is very busy |
| Virtual renovations and kitchen revisions | Options are complicated to figure out |
| Unlimited free revisions | |
Example of Virtually Staged Room by PadStyler
PadStyler Pricing
Eight or more photos: $59 per photo
Five or more photos: $64 per photo
Two or more photos: $69 per photo
One photo: $79 per photo
3D floor plan: $199 per floor
PadStyler Features
Same-day turnaround available
Interactive 3D Rendering
Video walk-through
Professional interior design
Virtual remodeling and kitchen revision
Virtual landscaping
What Users Think About PadStyler
Online reviews of PadStyler are very positive about their experience. Many note how realistic the photos appear along with the quick turnaround, vast design choices, and a broad range of virtual staging services.
roOomy: Best Virtual Staging Service for Images That Are Shoppable


roOomy is a web and app-based platform that allows users to convert photos into virtually staged spaces using furniture and accessories from leading home furnishing retailers like Crate & Barrel, Wayfair, and Design Within Reach. Viewers can purchase the furniture in the staged photos, which is a great tool for buyers to use when it's time to furnish their new homes. roOomy offers a full range of virtual staging services, including augmented and virtual reality capabilities.
| roOomy Strengths | roOomy Weaknesses |
| --- | --- |
| Users can order furniture directly from staging photos | App can be glitchy |
| Augmented and virtual reality | Pricier than competitors |
| Branded staging options | Website navigation is confusing |
Example of Virtually Staged, Shoppable Room by roOomy
roOomy Pricing
Single image: $109
Tier 1 (four photos): $415
Tier 2 (six photos): $589
Tier 3 (nine photos): $835
Each additional photo: $89
Virtual room cleaning: $35
roOomy Features
Staged with real, shoppable home furnishings
3D and augmented reality capability
Web and app platforms
What Users Think About roOomy
Reviewers praise roOomy for its ease of use and interactive options like augmented reality and shoppable images, while some complain that the app crashes too often to be a useful tool.
Virtual Staging Solutions: Best for Realistic Renderings to Pre-sell New Construction & Renovations

While most virtual staging companies add or remove furniture to a room, Virtual Staging Solutions goes one step further with Envision to create a virtual room, a property, or setting from a floor plan. Virtual staging starts at $75 per photo, but there is a volume discount. Virtual Staging Solutions is ideal for real estate agents who handle new construction, build-outs, or renovations.
| Virtual Staging Strengths | Virtual Staging Weaknesses |
| --- | --- |
| Complete visualization of new construction and renovation | Gets expensive for larger projects |
| Printed photos of staged spaces for home display | Limited furniture designs |
| 2 revisions per image | |
Example of Virtually Staged Photo by Virtual Staging Solutions
Virtual Staging Solutions Pricing
Four photos: $300 basic; $396 pro
Five photos: $375 basic; $495 pro
Six photos: $450 basic; $594 pro
Seven photos: $525 basic; $693 pro
Remodeling: $159 per photo
Virtual finished construction: $599 per photo
Virtual Staging Solutions Features
Virtual staging
Remodeling and renderings of structural changes
Virtual finished construction created from floor plans
Two revisions for each image
High-quality photos for display in vacant rooms
What Users Think About Virtual Staging Solutions
Reviews are positive with users commenting on the ease of ordering and attention to detail like light sources with corresponding shadows in the finished product.
Visit Virtual Staging Solutions
VisualStager: Best Virtual Staging Software for DIY

VisualStager is do-it-yourself virtual staging software created to give real estate agents the power to quickly add furnishings to a property. Starting at $15 per image with a bulk discount available, VisualStager allows agents to drag-and-drop furniture, rugs, and pictures into place to self-stage a room. VisualStager is perfect for real estate agents who want quick, inexpensive staging for a property and do not need superior realism for their sales efforts.
| VisualStager Strengths | VisualStager Weaknesses |
| --- | --- |
| DIY platform for agents who want to offer this service in-house to clients | Platform can be slow to load |
| Drag-and-drop furniture and accessories | Users without an eye for design may have trouble creating a well-designed space |
| Stage from anywhere using the web or mobile platform | Images cannot be refined to fix shadows and reflections |
Example of Virtually Staged Room by VisualStager
VisualStager Pricing
10 credits to stage a standard photo; 15 credits for a 360-degree photo
10 credits: $15
50 credits: $59
100 credits: $99
300 credits: $269
500 credits: $399
1,000 credits: $699
VisualStager Features
Pay-as-you-go pricing
DIY format
Budget-friendly
Large library of furniture and home accessories
What Users Think About VisualStager
Reviews of VisualStager are generally positive. Agents appreciate the ability to upload a photo to the platform and stage a space, allowing them to use it as a tool for listings as well as demonstrating potential to buyers.
Pro Tip:
Pictures of a home are supposed to represent what a buyer can reasonably expect to purchase. Real estate agents should disclose whenever images are virtually staged to avoid potential legal issues and ethics violations. This topic is covered in Article 12 of the
NAR code of ethics
as part of honest and truthful communications. Disclosing virtual staging will help you comply with NAR rules and regulations and remain credible with clients and consumers.
Bottom Line
Virtual staging is a service that removes furniture or adds decoration to the image of a home to make it more appealing to potential buyers. Virtual staging is right for real estate agents who want to increase sales by presenting a more aesthetically pleasing image of a property. With furniture, pictures, and all the decorations of a home, the buyer can visualize themselves living in the house at a fraction of the cost of traditional home staging.
Our choice for the best overall virtual staging solution is Blue-Sketch. They offer highly realistic staging, a collaborative process between agent and interior designers, and very responsive customer support. While they are not the least expensive option on our list, we found their images were high quality and true to life, making them well worth the price. They are also one of the few companies capable of staging 360-degree virtual tours.