Open houses are an excellent strategy to entice active buyers to view an available listing without an appointment. There are many things to do before, during, and after open houses, such as scheduling the date, preparing the home, advertising your event, obtaining leads' contact info, and sending follow-up emails. Having an open house checklist will ensure you're fully prepared.
Download our free open house checklist for a comprehensive task list of how to host an open house efficiently. It's divided into three sections: what to do before, the day of and during, and after the open house. Then, read on in our article as we walk you through the steps on how to do an open house.
Choose which stage of the open house checklist you'd like to focus on from the drop-downs below, or take a look at all three stages to prepare yourself for a successful property sale:
Careful planning is essential when hosting an open house to ensure everything flows smoothly on the event day. By following an open house checklist for agents, you maximize your time and resources to attract active buyers.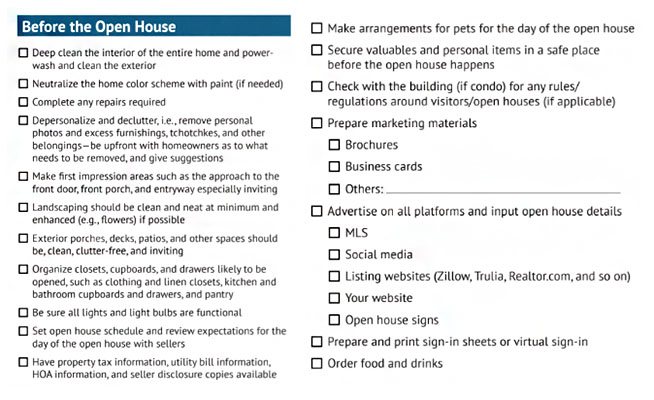 In preparation for the open house, follow these four steps:
1. Schedule the Best Day & Time for Your Open House
The best days to host an open house are ideally Saturdays and Sundays since most people don't have work during the weekends. Nevertheless, choosing an unconventional day or time slot may actually produce more visitors and potential buyers, depending on your market. Hosting multiple open houses with both weekend and weekday open house dates can further attract different types of active buyers and produce more traffic for harder-to-sell properties.
When setting a date for your open house, using a scheduling service like Calendly can streamline the process. Determine time slots based on when you're available for showings, and they simply click on a link to schedule a showing without even having to reach out to you. You can also share your event via email. This streamlines the scheduling process to ensure you don't miss out on appointments.
If you're uncertain as to which day to schedule your open house, consider the following:
House hunters plan their weekends for touring listings, and Sunday is the day potential buyers are expected to attend open houses. People often have events on Saturdays, but Sundays allow them to visit open houses on a true day off from planned events. In a metropolitan area like New York City, rental open houses are typically held on Saturdays, while for-sale open houses are on Sundays, so plan accordingly based on your target audience.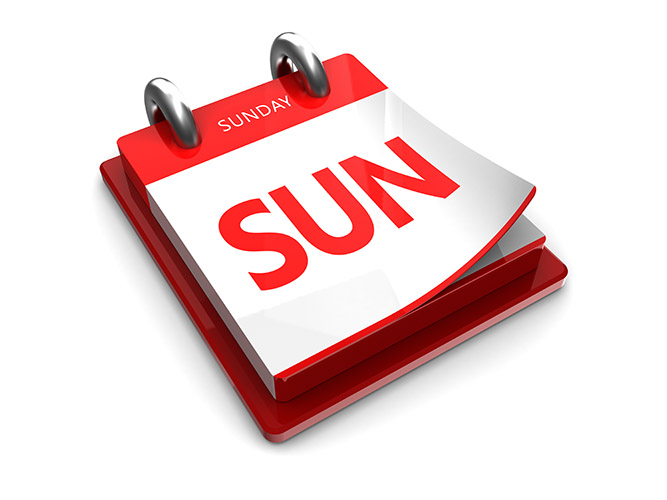 To capture buyers trying to view as many properties as possible in a day, schedule your open house for later in the afternoon (e.g., 3 p.m. to 5 p.m. rather than 1 p.m. to 3 p.m.). If you can, schedule two open houses in one day (e.g., 11 a.m. to 1 p.m. and another from 3 p.m. to 5 p.m.) to accommodate as many potential buyers as possible.
Nontraditional days and times work better for some clients. For communities with large populations of retirees or swing shift workers who work hours other than nine-to-five, it will be beneficial to host an open house at nontraditional times.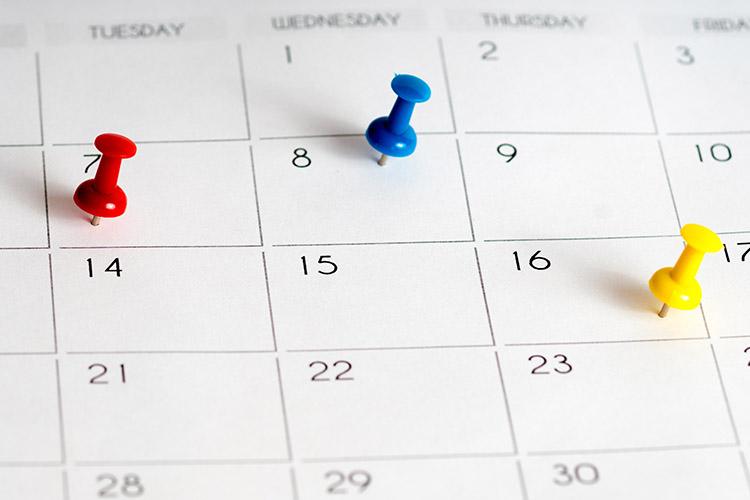 For example, if you're in an area where people flock to the beach in the summer, hosting an open house on a sunny, warm Saturday will not be ideal. Consider hosting an open house on a Wednesday or Thursday night from 6 p.m. to 8 p.m. to accommodate more visitors.
Holiday showings are an issue if a home is unoccupied. However, hosting an open house on or near a holiday may disrupt holiday plans and family gatherings of homeowners. If you think an open house would be well-attended, be mindful of balancing your client's wishes and your duty to get the best results for their listing. For example, if the home is located in a vacation community, hosting an open house during the holidays can attract relocation buyers who are vacationing in town and looking for a vacation home of their own.
No matter when you decide to host, make sure to advertise your open house days before the event. Create professional brochures and printable materials through photo-editing platforms like Canva, which has hundreds of real estate templates and design elements. It's easy to adjust every element of the template to fit your branding and marketing objectives. Email these to your serious prospects willing to come over during the holidays.
A cost-effective alternative is to host a virtual home tour instead of in-person open houses, which may attract more interested buyers. Simply use a video meeting app, such as Facebook Live or Zoom, to conduct a live walk-through of the home. Invite homebuyers and agents to join your virtual open house and encourage attendees to ask questions in real time. Like traditional open houses, collect contact information for follow-up and lead generation.
2. Prepare the Home & Property
The next step is ensuring the property is fully ready for the open house so you will showcase the home's potential. That's where home staging becomes an invaluable asset. Staging makes the home more appealing to potential buyers, such as improving the interior design and decor, as well as furniture selection and placement.
Aside from home staging, you also need to declutter and remove personal items like family photos, so interested buyers can visualize themselves living in the home. Complete all home repairs, do a deep cleaning, and finish low-cost improvements like repainting. Additionally, increasing the curb appeal is an effective way to raise a home's sales price by 7-14%. Explore cost-effective curb appeal ideas to increase the value of the home and get more proposals from prospective buyers.
It's best for sellers to be away from home during all showings and open houses. Their presence may hinder interested buyers from envisioning themselves in the home when the current owners are hovering over them. It also prevents buyers from expressing their honest thoughts and opinions if the homeowners are present.
Home staging further increases the appeal of a home to the greatest number of active buyers, ultimately leading to an offer. Thanks to technology, you can utilize a virtual staging company like BoxBrownie to provide photo-realistic virtual staging. This is a much more affordable option than staging a home with furniture that helps buyers see the home's full potential.
3. Create Marketing Materials for the Open House
Another important step to accomplish before the event is to create marketing materials for the open house. To make it easier for clients to remember your services, include your logo and customize your marketing materials to reflect your branding. Add details about the property and yourself as the representing agent.
These materials include:
While you can create these items yourself, you can also outsource with a company like PostcardMania to customize professional brochures and other printable materials. PostcardMania has hundreds of real estate templates and enables you to create multichannel marketing campaigns, combining mailers with online displays and social media ads. Using a campaign tracking system, set up automated follow-ups for your open house guests.
Being able to estimate utility expenses, property tax costs, and homeowner association (HOA) fees and reviewing seller disclosures, neighborhood amenities, and purchasing agreements are valuable information that can shorten their decision timeline. For more ideas for marketing materials, visit our article 21 Best Real Estate Marketing Ideas & Strategies for Success.
4. Advertise Online & Off for Maximum Exposure
After scheduling the date and time of your open house, successful real estate agents share information about the event on every possible channel, including both online and offline advertising. Examples of where you can advertise open house events include the following:
Once entered into the MLS, the open house information is automatically fed to sites like Realtor.com and Zillow. In addition to your MLS, use real estate lead generation websites to market your property to as many potential buyers as possible.
Check out the table below to find effective channels to promote your listings and capture leads:
Platforms

Best For

Real estate agents who want to advertise on the most visited real estate website

Realtors looking to generate leads and advertise on a single platform

Agents looking to advertise listings on their own easy-to-customize website

Real estate professionals needing marketing automation and CRM tools

Key Features

Preview ZIP code pricing before purchase
Streamlined CRM
Agent toolkit containing scripts, templates, and handouts

Market listings on Facebook and Instagram
Agent reviews listed on profiles
Instant push notifications for each new lead

Easy-to-customize and code-free websites
Marketing integrations with other software like Pipedrive and Mailchimp
Built-in search engine optimization (SEO) tools for content and website optimization

Customizable IDX website
Third-party integration with lead generation platforms like Zillow and Realtor.com
Managed Facebook and Google pay-per-click ads

Starting Price

Depends on the ZIP code, but typically around $20 to $60 per lead

Depends on the ZIP code, but pricing starts at around $200 per month

$79 per month

$299 per month

Learn More
After completing the tasks above, you should be mindful of the next steps you need to perform on the day of the open house. Following an open house checklist for realtors ensures that the day of your event flows smoothly, motivating active buyers to make an offer.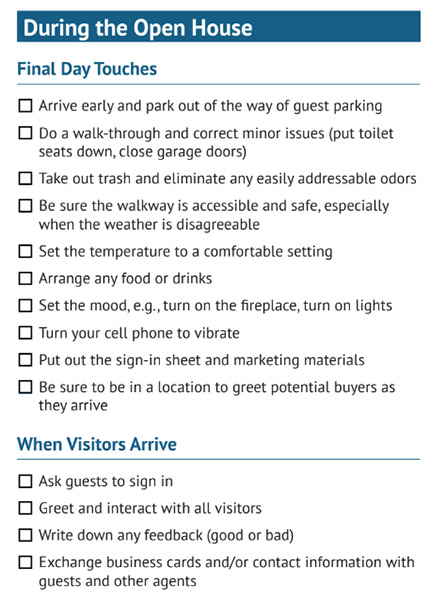 5. Final Touches
On the day of the open house, make sure to arrive early and drop off the refreshments you're planning to offer. Next, park away from the entrance to allow for maximum guest parking. Before opening the home for prospective buyers, do the following:
Do a final check: Walk through the property to ensure that every part of the home is in its top-notch state. Pay attention to the walkway to guarantee that it's safe and easily accessible. Even small details can leave a poor impression on prospects.
Set the mood: Create a welcoming ambiance. Set the thermostat to a comfortable temperature, and correct any minor issues you might see throughout the home, like toilet seats left up, drawers partially open, light bulbs out, or trash in waste bins. Turn on all the lights to showcase the home's best features. Consider lighting a scented candle to leave a lasting impression on clients.
Prepare the snacks and marketing materials: Set up food and beverages in the kitchen, and consider setting the table to show the home as a space that works for entertaining. Then, place your flyers, brochures, and business cards near the entrance or in a strategic location, such as the kitchen counter. Lastly, get your open house sign-in sheet ready.
To attract house hunters who are casually passing by, put up an "Open House" sign that pops. Try using an unconventional shape for your sign, such as the shape of a house instead of the typical rectangle. This will more likely turn the heads of passersby. For more open house sign ideas, check out our article "10 Real Estate Open House Sign Strategies & Tips for Larger Turnout."
6. Get Buyers in Touch With Their Five Senses
Buying a home is a highly emotional decision. One of the most effective ways to encourage an offer from your prospects is to appeal to their five senses. This helps them develop a positive impression of you and the home. Here are some ideas to appeal to the buyer's five senses: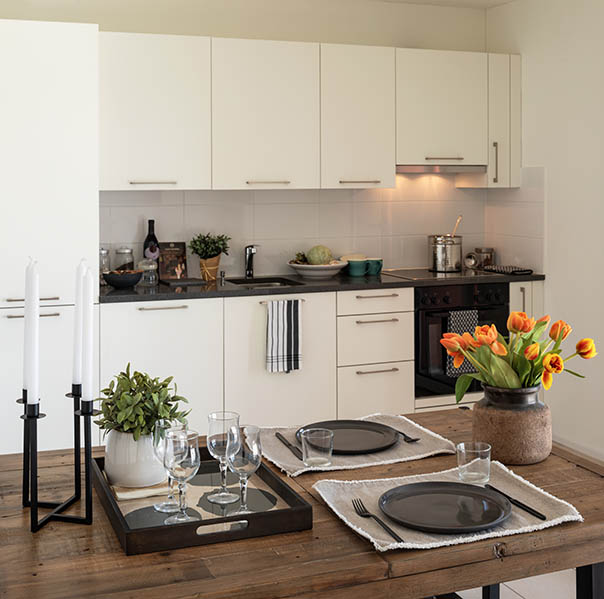 Sight is the first interaction most buyers have with the home. What will they see before entering and when they walk in the door? A welcoming visual appears clean, comfortable, beautiful, and relaxing. To make sure the home is spotless, arrive early enough to clean up anything the seller might have overlooked. Bring flowers, candles, and decor to elevate the home's design. Plump the pillows and arrange comfort items like throws.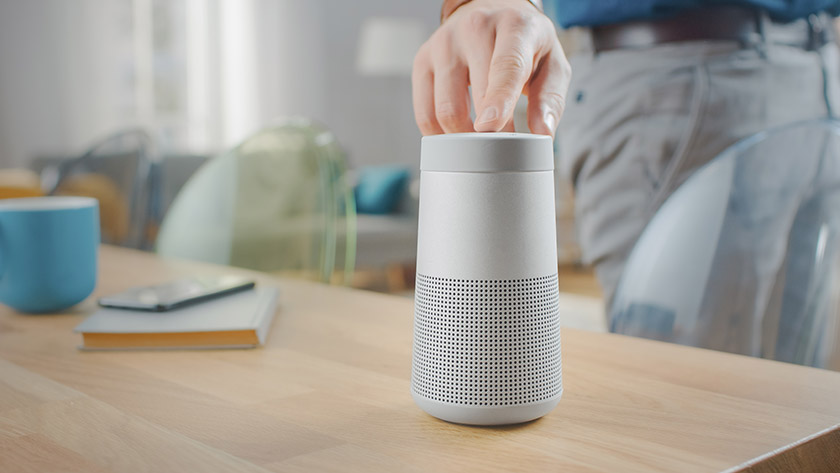 Part of your open house preparation checklist should include ambient noise. Traffic right outside the door or a dog barking across the street may turn off potential buyers no matter how beautiful the interior looks. Play soft, relaxing (but upbeat) music to set the tone and mask car noises or dog barks in the background. Strive to bolster a good first impression without being deceptive.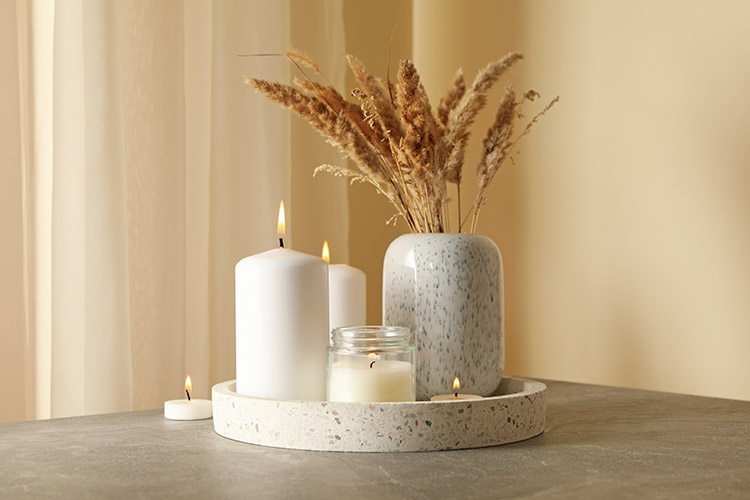 If the home has an odor that won't be appealing to buyers, communicate that to the homeowner while being careful not to offend them so you can work together to fix the issue in advance. Using air fresheners may have the undesired effect of making people wonder if it's hiding something. Consider using scented candles instead, but don't try to add scent to every room.
You can also create a welcoming environment by baking cookies, which you can later serve. The smell of newly baked cookies can evoke pleasant memories, making the house feel homier. Make any added scents subtle, as though they are a genuine extension of what it's like to live in the home.
Pro tip: To tone down a strong odor like stale cigarettes, place white vinegar in shallow bowls and hide them under furniture or behind a couch. Just remember to remove them when you leave. Explore more open house ideas to entice multiple offers from interested buyers.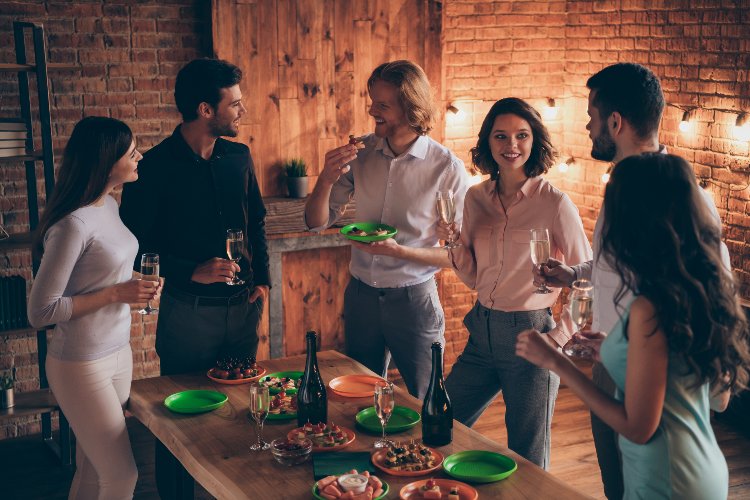 Offer treats while potential buyers tour a property to boost their impressions and leave positive memories and feelings toward the home. It's even better if you can serve goodies from a bakery nearby to promote a local business. Serve snacks (or have alternatives) that are free of common allergens like nuts. Additionally, label refreshments clearly to avoid potential issues.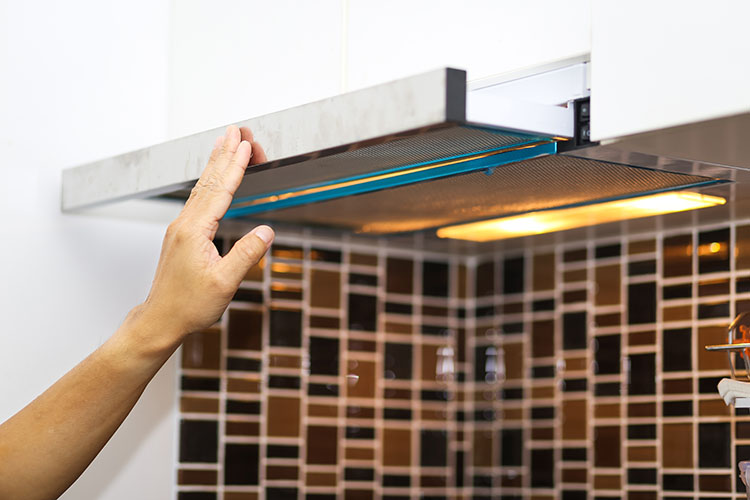 Buyers would want to touch surfaces and fixtures when evaluating a house. It's a natural impulse, so prepare by making sure all surfaces are clean and free of clutter. Keep disinfecting wipes on hand so that surfaces can stay clean and germ-free throughout the event. It's also important to set the thermostat properly to prevent a "drafty" or "stuffy" home, which may suggest there could be issues with the heating, ventilation, and air conditioning (HVAC) system or the home's insulation, windows, or siding.
Pro tip: If you're hosting a virtual open house, it's important to describe the way things feel to the touch. Talk about the smooth granite, the solid feeling of a door when it closes, or the grain of wood cabinetry.
7. Ask Everyone to Sign In When Entering
The primary goal of open houses is to attract potential buyers and get significant offers on the listing. This event is also an extremely valuable opportunity to expand your client base and attract other potential buyer and seller leads. Make sure to have a sign-in sheet ready before visitors arrive and a process to capture contact information from each one. It could be a basic, detailed, or digital sign-in sheet.
Download and print our open house sign-in sheet template or use a digital sign-in system like Spacio. Spacio provides you with a digital sign-in form to capture the highest quality leads from in-person and virtual events, saving you time and effort. What's more, Spacio allows you to market listings on social media and other major websites and communicate with your most important buyers and sellers through automated follow-up emails.
8. Interact With All Visitors
The aim of hosting an open house is to generate leads, so be intentional about interacting with visitors. Greet each guest as they arrive and initiate conversation. The open house is an opportunity to showcase not only the home for sale but also your skills as a real estate agent. You want to bring in offers for the home, but you also want to generate more leads to build your business. Put your phone away so that clients feel more connected with you and you are completely available for questions.
Here are other tips to help you establish connections with your prospects:
Gather contact information: Although it's important to direct visitors to the sign-in sheet, be careful not to give the impression that your only goal is to gather contact information. Instead, place your business cards and brochures in prominent spaces, and give them out after you build a rapport. Use a business card provider like VistaPrint (promo code: FSB15 for $15 off $50) to customize your business cards according to your branding.
Encourage feedback: As visitors are leaving, check in one last time to see if they have questions and ask for honest feedback. Getting feedback on the property is an important part of hosting a successful open house because it helps gauge the perspective of potential buyers. Additionally, if the open house doesn't produce offers, this feedback can help you identify pitfalls and better prepare the home for the next open house or showing opportunity.
Leave yourself notes for later: Write down all the feedback you receive and make special notes of any elements that seem to be of general consensus or common questions that tend to arise, such as unclear property lines or a price point set a bit too high. It's important to convey such information to the seller. If the house doesn't sell quickly, you can use this information to adjust and help the property move faster and receive multiple offers during future open house events.
Your job does not end when the last visitor leaves your open house. These open house follow-up tasks will increase your chances of getting offers on the property, gaining new leads, and impressing your sellers, thereby producing positive reviews about your real estate services.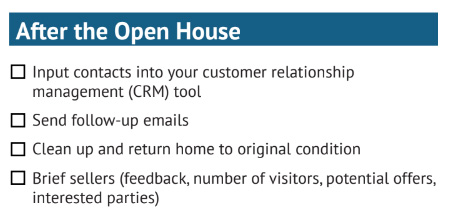 9. Clean Up
Once your open house event ends, gather up any refreshments, decor pieces, marketing materials, and signs you brought to tidy up the home. Make sure to use a disinfecting wipe on any areas that need it. Throw away open house-generated trash and clean any dishes. If you set the table, wash these items before putting them away. Ensuring the sellers return to a clean home relieves their stress and makes you look more professional, leaving a lasting impression of your service as an agent.
10. Brief Sellers
After tidying up, give your sellers an update about the event. Review the feedback you got from visitors and discuss any notes for improvement. Even more importantly, discuss any potential offers (or expected offers) and talk to the sellers about your plans for following up with interested parties.
11. Send Follow-up Emails Using a CRM
Real estate statistics reported that real estate emails have an open rate of 19.17% and a return on investment of $36 for every dollar invested. Moreover, according to follow-up statistics, you get a 25% email reply rate if you follow up within 24 hours of the initial outreach. Thus, it's crucial to contact every visitor from the open house as soon as possible.
A simple email saying that you enjoyed meeting them and are available to answer any questions can open the line of communication with new leads. Even if you don't hear back immediately, you'll leave an impression of being highly engaged and readily available to assist them in the homebuying process.
To avoid missing out on new leads, use a real estate customer relationship manager (CRM) to gather, track, and automatically follow up with leads. Pipedrive allows you to create a visual pipeline to easily keep track of each of your leads and automatically send follow-up emails to open house visitors. Segment your email lists into categories so you can prioritize the leads that are most likely to present an offer.
Frequently Asked Questions
The essentials include balloons, sign-in sheets, informational packets, and marketing materials like brochures, flyers, and yard signs. The balloons and yard signs will attract house hunters, signaling there's an ongoing open house. You can also bring flowers to enhance the mood of the home.
Prepare pertinent documents ahead of time, so you don't miss any opportunities. These documents can be blank copies of the buyer's representation agreement, listing agreement, and seller's disclosure notice.
---
---
Informational packets should answer homebuyers' basic questions. These include the square footage of the home, the number of rooms, and other details about the property being sold. Include information about the neighborhood, as well as your real estate services. Place them in folders with your name and logo on them to stay top of mind.
While optional, prepare small gifts or "goodie" bags along with your informational packets to take home so that your buyers will still think about you even after they've left.
---
The key to selling a home is to help buyers envision themselves living there. This means utilizing pleasant visuals, music, aromas, and food to stimulate their five senses and spark their imagination. This goes without saying that you need to research your buyer's taste when preparing the home.
Other ways to make your open house stand out are to show off the "before" and "after" of some areas of the home, stage the home by pairing it with a particular season, theme, or story, and offer free drinks. Consider holding contests and raffles to engage your buyers and make your open house memorable. If your budget allows, hire a professional photographer who can snap photos of the open house as it happens. Share these photos on your social media and tag your prospects as a low-key way of following up with them.
---
Bottom Line
An open house checklist enables you to showcase the potential of a home more efficiently while also displaying your real estate skills in attracting quality leads. By downloading our checklist on how to host an open house, you ensure that all open house essentials are covered and that you establish a repeatable pattern of professionalism. You can even customize the open house list to fit your process. Lastly, a successful open house creates more buzz for your listings, enabling you to get more listings for future work.