An open house is a scheduled time when a house for sale is available for public viewing without an appointment. People often come to open houses to browse for homes before committing to an agent, which gives agents an opportunity to try to sell the house while also capturing leads. This article will show you how to host a successful open house.
Agents who want to show a home virtually instead of in-person can still host open houses for prospective buyers. Just use any video meeting or event tool, such as Facebook Live or Zoom, to schedule a live online walk-through of the home. Invite homebuyers and agents to join your virtual open house and encourage attendees to ask questions in real-time.
Pro tip: Record your virtual open house and upload it to the listing as a virtual tour or video. You can also post your virtual open house on social media sites like YouTube, Instagram, and TikTok.
6 Steps for Hosting a Successful Open House
Hosting a successful open house requires careful planning. In this section, we break down the most important elements of hosting a successful open house step by step, and offer a free open house checklist in the next section to back you up.
1. Choose the Best Day & Time to Show
Hosting an open house on a Sunday afternoon may be the norm, but don't be afraid to explore other dates and unconventional time slots depending on your market. For example, virtual open houses can take place anytime, offering flexibility and the ability to market your listing to other time zones. Always advertise these open houses on social media and by email, and provide links for any open houses that take place virtually.
The Sunday Standard
In most communities, Sunday is the day most potential buyers expect to attend an open house. Young families often have events on Saturdays that prevent their attendance, and Sundays can capture those after their time of worship or on a true day off from planned events. Try scheduling your open house for later in the afternoon (say from 3 p.m. to 5 p.m. instead of 1 p.m. to 3 p.m.) to capture buyers who are trying to view as many properties as they can in a day.
Nontraditional Days & Times
In some markets, nontraditional days or nontraditional times work better. If your market area includes a town where people tend to go away for the weekend, for example, those buyers might appreciate the chance to attend an open house on a weeknight. Communities with large populations of retirees and swing shift workers can benefit from showing at untraditional times too. You may be surprised by how many people you capture with a different approach.
Holidays
Hosting an open house over a holiday can be tricky. Homeowners may not want to disrupt holiday plans and family gatherings. If you think an open house would be well attended, be mindful of balancing your client's wishes and your duty to give them the best representation. Vacation communities are an exception since holidays are often prime showcasing opportunities. If a holiday public open house isn't in the cards, you can still host a virtual open house over the holidays with minimal disruption to your client's plans.
2. Help Sellers Stage Their Home
Staging is an umbrella term that includes making repairs, clearing clutter, deep cleaning, organizing closets, and repainting. You can also hire a professional stager to style rooms and rent furniture. The goal of staging is to present a house in a way that will appeal to the greatest number of potential buyers, and ultimately lead to an offer. Sellers may be unwilling or unable to pay for a professional stager, but there are still many steps you can take to present the home in the best possible light and show buyers the potential of a property.
The HGTV effect is a real thing, and homebuyers have very high expectations for the way a house "should" look before they'll consider buying it. Stage the house with an eye toward removing distractions so people can focus on what they like about the house and not what's wrong with it.
If you're selling a vacant home, try using virtual staging to help buyers see potential. During your open house, display virtually staged photos in each room on an easel or offer them on an iPad or laptop. Virtual staging companies like VRX Staging can take your listing photos and do things like add furniture, change paint color, and make grass greener in order to give the buyer an idea of what's possible.
A home that is staged and ready to show has a solid chance to capture potential buyers and help them connect with your listing during an open house.
3. Create an Amazing Brochure
A brochure gives prospective buyers something tangible that they can refer to after the open house. Make the most of it by including information about the property, highlight any key features, include professional photos, and list your contact information. Your brokerage should offer templates or get creative and create your own on sites like Canva and ProspectsPLUS.
People tend to browse homes without keeping track of important details about each property, and a well-designed brochure helps them remember the property they just toured by providing key information to help make a decision about the house. For virtual open houses, be sure to link to a PDF of the same brochure someone would have received in person.
There are two primary benefits to offering impactful brochures at your open house.
Continued Impact
People tend to visit a number of open houses in one day, visiting homes that contain many similar and overlapping features. Having a brochure that contains the best images and features of the property will help make your listing stand out when the others begin to blend together, and help sell the house after the open house has ended.
Potential Leads
Buyers who attend an open house may not take your business card, but most will take the brochure. When you create a brochure worth keeping, you get your contact information into the hands of active buyers who are in the market right now. Even if you only get one new client, it's well worth the time and effort. If you aren't sure where to start, be sure to check out these real estate brochure template examples.
4. Advertise Your Open House
On the day of an open house, signs help grab the attention of people driving by. Prior to your open house, you should target your advertising toward people who might be the most interested in the property. Advertising your open house online, in a print flyer, and an invitation by mail not only draws people to the house you're selling, but shows potential clients that you're a busy, successful agent.
Use Open House Signs to Pull In Neighbors
We may live in a digital age, but a sign is still a staple of hosting a successful open house for real estate agents. People driving and walking in the neighborhood see the sign, visit the property, and spread the word. Whether planning to attend themselves or talking to others about the upcoming home for sale in the area, you want the locals to be in the know.
There are an endless number of ways to use signs for advertising, and the types of signs available for real estate agents go way beyond the standard sandwich board with balloons. To see tips on where to place signs to drive traffic to your open house or what types of signs are best to use, our guide to open house signs is extensive.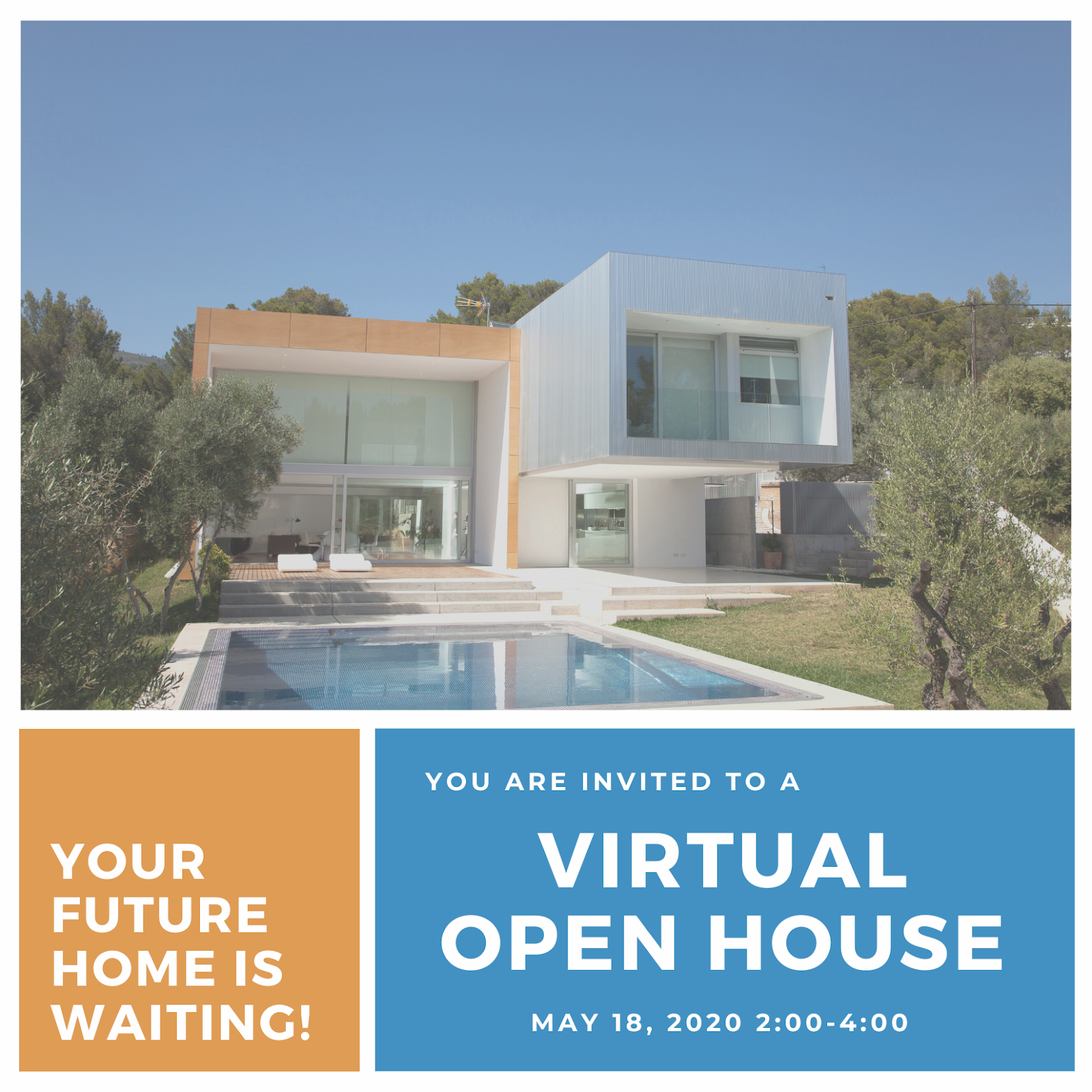 Use Social Media for Virtual Open Houses
Social media is an essential tool for agents to get the word out about open houses to prospective buyers. Not only can you promote your public open house, but you can also make social media the destination for your virtual open house by live-streaming a walk-through of the property on sites like Instagram and Facebook.
Neighborhood Facebook Groups for Open Houses
Neighborhood Facebook groups are a great way to advertise your open house for free to people who already love the area and may have friends or family looking to move in. Be sure to join Facebook groups in your market area so your posts target people who may be actively searching for houses and apartments.
Once your open house is entered into your MLS, it should be automatically fed into sites like Realtor and Zillow. You can also maximize your listing with Zillow Premier Agent and become the exclusive agent on the property, increasing your odds of finding buyers and generating real estate leads.
5. Make People Feel at Home
Create a welcoming first impression by putting yourself into the shoes of a potential buyer. You want the house to feel like home from the minute people walk in the door. Consider each of the five senses and make the home appealing to sight, sound, smell, taste, and touch.
Sight
What will be the first thing a potential buyer sees when they walk in the door? Make sure the home is spotless. Get there early enough to clean up anything the seller might have overlooked. Turn on that gas fireplace, put out flowers, and set the table. A welcoming visual is one that appears clean, comfortable, beautiful, and relaxing.
Sound
Homes are not always in optimal locations. Traffic right outside the door or a dog barking across the street will make potential buyers rethink the purchase no matter how beautiful the interior. Part of your open house checklist is to think a step ahead of potential problems. Sometimes soft, relaxing music can mask the faint car noises in the background or make the dog in the distance blend into the background. You never want to be deceptive, but you do want to bolster that first impression.
Smell
Agents need to consider the importance of smell. Ideally, the house should smell like nothing. Spray an air freshener and people will wonder if something is being hidden from them when they walk in. You don't want to offend the seller, but you're not providing the best service if you aren't honest. Work together to try to fix the issue. A home that smells bad is a home that doesn't sell.
You can use smell to create a welcoming environment by doing something as simple as lighting a scented candle or baking cookies, which you can later serve. Make any added scents subtle, as though they are a genuine extension of the open house experience.
Pro tip: If you're trying to tone down a strong odor like stale cigarettes, place white vinegar in shallow bowls and hide them under furniture or behind a couch. Just remember to remove them when you leave.
Taste
When people feel welcomed, they feel happy, and those positive feelings help color their impressions of the home itself. Offer treats while potential buyers tour a property to give those impressions a boost. Serve goodies from a bakery nearby to promote a local business, since those treats can help accentuate the positives of both the house and the neighborhood.
Touch
Buyers touch things to get a feeling for how the house was built. Watch any homebuying show and notice how much people use touch to evaluate a house. Make sure surfaces like kitchen counters are clean and free of clutter so people feel free to touch them. Keep disinfecting wipes on hand so people feel confident that surfaces are clean and germ-free.
Arrive early and set the thermostat to a comfortable temperature. Experiencing the home as "drafty" in a cold climate or "stuffy" in a warm one can make potential buyers believe the house is not well-suited for them or would require additional work. If it's a beautiful day, try opening a few windows and let people feel a nice breeze.
Pro tip: If you're hosting a virtual open house, it's important to describe the way things feel to the touch. You can talk about the smooth granite, the solid feeling of a door when it closes, or the grain of the wood cabinetry.
6. Gather Feedback & Follow-up
Hosting a successful open house is not just about selling the house. Open houses are one of the best methods for generating real estate leads. Make the most of your open house by following these tips.
Have Each Guest Sign in on a Book or iPad
As each guest arrives, be sure to have them sign in to a book or iPad with some brief contact information. Set out your business cards next to the brochure. Try using one of our templates to create your own real estate open house sign-in sheet.
Greet each person, invite them to look around, and ask about what they are looking for in a future home. Even if this property might not be the right fit for them, you might know of a perfect house that they would fall in love with.
Pro tip: Always ask a potential buyer if they're already working with an agent before engaging them about their search. If they say yes, follow up after the open house with their agent.
Invite Guests to Offer Honest Feedback
Getting feedback on the property is an important part of hosting a successful open house because it allows you to have a sense of what potential buyers are seeing and what may require some adjustments.
Make a special note of elements that seem to be of general consensus or common questions that tend to arise, such as unclear property lines or a price point set a bit too high. Share their concerns with the seller. If the house is not sold quickly, honest feedback can help the seller address any issues and help the property move faster.
Reach Out
You should make it a point to contact every party that attended the open house as soon as possible. All it takes is a quick note to say you enjoyed meeting them and you're available to answer any questions if they're interested in the property. You may not hear back right away, but you'll leave them with the impression that you're engaged and interested.
Keep in mind that people attend open houses for a variety of reasons, many which are not about the home being offered for sale. Often you'll meet buyers who are just starting their home search and attending open houses to get an idea of what they like or what certain price points can offer them. Investors attend open houses to look at the kinds of finishes people expect so they can try to match their own renovations to fit the market.
Use an Open House Checklist
Organizing an open house as a real estate agent is a multistage process with many moving parts, so using an open house checklist can help you make sure everything gets done. Hosting a successful open house requires solid organization and planning with the owners of the house being showcased. In this section, we'll offer a free checklist and tips to using that checklist effectively.
Download Your Free Open House Checklist
The first thing to do is to download our free open house checklist to get organized. In this document, we help to get you prepared by dividing the checklist into three sections: the planning stage, one week prior, and the day of the open house. We'll review these three stages and how to best use your checklist.
The Planning Stage of Your Real Estate Open House Checklist
In the planning stage of your open house, there is a great emphasis on getting homeowners on board to create the best possible version of the home for showing. Depending on the amount of work required to get the home ready for the open house, this stage may begin weeks prior to the actual event. This preparation matters regardless of whether the open house is in person or virtual. Hopefully, the sellers are willing to do some work to get their home ready to be shown.
The planning stage is the time to recruit homeowners as active participants in preparing their home for the open house to increase the value and appeal of their home. While we offer 29 curb appeal ideas that have great return on investment (ROI), many homes hitting the market might require a bit more. This sometimes requires hard conversations and honest discussion on what makes homes sell.
You can do so without being critical of the homeowner's taste or the condition of the home they may love and live in daily. The red dining room? Paint it neutral. The room stuffed with grandma's old furniture? Put at least half in storage. The smelly cat litter box you noticed immediately upon entry? Address it.
It's your job to help the homeowner see that repairing and changing some elements of the home is a smart business decision meant to get maximum value. You are not providing the best service or doing them any favors if you don't broach the subject. Talk with them honestly about the expectations of an open house, and give them resources to help them complete the work. A place like HomeAdvisor can help them get work done at reasonable rates from locally sourced individuals who have good reviews.
Feel free to give your homeowners a copy of our open house checklist so that they can look through advised changes, repairs, and expectations. Be sure to review the expectations of open house days, and make them your partners in the process.
Your Open House Checklist for Real Estate Agents: One Week Before
One week before the event, your open house checklist will remind you to start tying up loose ends. At the beginning of this period, confirm with homeowners that the open house time is accurate, that any repairs or changes have been done, and that there are accommodations in place for any pets. If all systems are go, then roll up your real estate agent sleeves and get to work.
Getting a home prepared for showing takes a lot of preparation. Mark the open house on the MLS and begin advertising. Use Facebook and NextDoor to target neighborhood groups and forums with strategic ads to generate local interest. Be sure to have your open house signs together and start putting out your riders. We reviewed the best real estate signs and found differences in price and quality among vendors, so be sure you choose one that best reflects your brand.
This is also the time to get your materials together. Print open house sign-in sheets and send out invitations to target clients. Be sure that brochures are put together on the home with professional products like ProspectsPlus, and that they have home information potential buyers could be asking about, such as utility expenses, property tax costs, and homeowner association (HOA) fees. Other information, like seller disclosures, neighborhood amenities, and purchasing agreements, are great to keep on hand as well. This is also a good time to place an order at that local bakery.
Your Open House Checklist for Real Estate Agents: The Day of the Event
The day of the open house, everything should be accounted for, with only a few things to check on and set up. Things do not always go as planned, but by using your open house checklist, or a trusted app, you can guarantee a smooth event by making sure the details are addressed. Everything should be done by the day of the open house, so all that should be left is your final review and setup.
Arrive early with whatever treats you may have pre-ordered, park away from the entrance to allow for maximum guest parking, and walk through the property. Be sure that the walkway is safe and easily accessible. Set the thermostat to a comfortable temperature as you start the tour and correct minor issues you might see throughout the home. Toilet seats left up or a garage door open can leave a poor impression of an otherwise nice space.
Set the mood by turning on all the lights, light the fireplace, and showcase the home's best features. Set up food and beverages in the kitchen, light a scented candle, and think about setting the table to show the home as a space that works for entertaining.
While statistically we know that open houses won't always sell homes, they do provide great leads for future clients. Be sure that you are in a position to greet each guest as they arrive and encourage them to sign in. Be a good host, initiate conversation, put your phone away, and have your marketing materials placed prominently at the entrance. Be present and available for conversation and questions during the open house, and consider it an opportunity to showcase not only the home for sale, but your skills as a real estate agent.
Be sure that at the end of your open house, you gather your leads and follow up on all of those who attended. Sometimes it's easy to just put these in your CRM and set a reminder. Contactually, the customer relationship management (CRM) tool we highly recommend, allows you to put individuals into specific categories and set reminders to contact them.
Bottom Line
A successful open house for real estate agents is one that showcases the house and the level of service you provide. Every person who walks through the door or watches the live stream of an open house is a potential new client, and you should treat it like an audition for their future business. By reviewing the steps to hosting and using an open house checklist for the details, you can create an event that demonstrates your skills and professionalism.
A great open house leads to more buzz for your listings, establishing your ability to market the properties you represent and gaining more clients for future work. Using an open house checklist can help you nail down the details for a repeated pattern of professionalism—feel free to add items that customize it to you.