To learn how to be successful in real estate, you need a strong strategy and excellent tools. Start by defining your goals and deciding what success means to you, then organize your marketing, lead generation, and advertising methods. Achieving success is an ongoing process that requires consistency. Take a look at the following tips to determine how to become a successful real estate agent.
One of the best places to start building real estate success is through name recognition. Zillow, which has over 226 million visitors monthly, is a simple way to display your brand and value to clients. The platform can give you exclusivity on your listings and place your contact information on the listings of non-Premier Agents in your area. Start collecting commissions and getting your brand known on the largest real estate marketplace on the internet.
1. Define Success With a Real Estate Business Plan
Everyone wants to know how to succeed as a realtor, but each person has a different definition of success. The first step to actually becoming a successful real estate agent is defining exactly what you want out of your career; it may be reaching monetary goals, completing a certain number of deals each year, creating connections with a variety of clients, or participating in community events, or a combination of several of these goals.
After you become a real estate agent, you must create a real estate business plan to clearly determine your goals and define a strategy to reach them. Your real estate business plan doesn't have to be overwhelming or complex but should include the following elements:
Your mission statement
Analysis of your strengths, weaknesses, opportunities, and threats (SWOT)
Specific and measurable goals
Marketing and lead generation strategy
Income goal
Schedule to revisit your business plan
By outlining these elements and determining the most important yet realistic goals for new real estate agents, you will be able to carry out an established plan and reach your goals more efficiently.
2. Choose a Real Estate Brokerage Strategically
One of the top reasons why real estate agents fail is a lack of training and mentorship. Therefore, choosing the right brokerage is an important part of what makes a good real estate agent. Your brokerage should provide you with tools to aid your success, like lead generation systems, client relationship management (CRM) platforms, training, marketing materials, mentorship, and income. Make sure to ask about these elements when interviewing potential firms.
In addition, when you align yourself with a brokerage firm, you adopt their reputation as part of your own. Choosing one of the top real estate companies, like Keller Williams or RE/MAX, will reflect highly on you. A brokerage that has negative reviews, a poor online presence, and a generally bad reputation will also reflect on you.
Take a closer look at strategies when researching potential brokerages in the article How to Choose a Real Estate Company to Work For. Then, download the evaluation rubric to help you make an informed decision on which company you should join.
3. Evaluate & Keep Track of Your Finances
As a licensed agent, you are an independent contractor and fully responsible for recording your income and deducting taxes and insurance. As your business grows and you learn how to become successful in real estate, your expenses will naturally increase. Real estate professionals need to track all business expenses and especially consider the costs that directly impact revenue and profits, like:
Marketing materials
Brokerage desk fees
Multiple listing services fees
Client meals
Lead generation
Marketing and advertising
Client relationship management platform
Vehicle and mileage expenses
All agents should carefully track their expenses in a spreadsheet or use accounting software like QuickBooks. For just $10 to $20 per month, QuickBooks Self-Employed can help you manage expenses, track mileage, calculate real estate tax deductions, and generate reports. It also has an easy-to-use mobile app to keep expenses categorized with the touch of a finger. You can even create custom reports that organize your spending to allocate money where it needs to go in your business.
Pro tip: Many agents don't close a transaction for several months after becoming an agent, so it's essential to evaluate your financial situation before entering the profession. It's best to have a cushion of funds to fall back on as you begin, so you can still live comfortably while pursuing your new career. Make sure to research the initial costs to become an agent, like prelicensing education, licensing fees, and board dues, to determine whether you're financially ready to enter the real estate industry.
4. Find a Real Estate Mentor
A real estate mentor is a valuable resource for both brand-new and experienced agents who want to learn how to be a successful realtor. Mentors can teach you how to navigate the ever-changing real estate market, work different types of real estate transactions, find unique ways to make money in real estate, employ marketing and lead generation strategies, and interact with clients. By hearing about their experience and receiving specific advice, you can learn how to become a successful real estate agent more efficiently.
Many real estate brokerages offer a mentorship program as part of their onboarding, but it may not provide as much support as you need. If you can't get support directly from your brokerage, learn how to find a real estate mentor and choose the right one in our complete guide.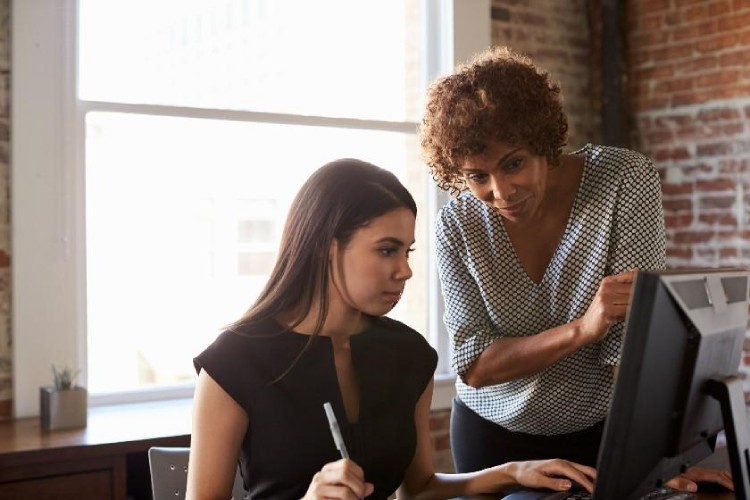 Another strategy to get support and learn how to get ahead in real estate is by working on a team. Within real estate teams, there is often less competition and more camaraderie. Teams are likely to share leads, marketing strategies, and listings, so it's a great way to get a jump-start on working with clients and bringing in your first deal and paycheck.
5. Select a Farm Area & Become an Expert in That Market
One of the most important steps to being a successful real estate agent is knowing the housing market in the area you serve. Understanding general information about the U.S. real estate market, as well as your state, county, and city or town, will ensure you are able to speak to and inform clients. To learn more about market trends, read real estate publications, research and visit properties in the area, and do a deep dive into real estate statistics surrounding interest rates, price points, inventory, and days on market.
Once you have an understanding of current market trends, you can more strategically choose a real estate farm area to focus your business efforts. This will guarantee that you are targeting the right audience of buyers, sellers, and renters with marketing materials like farming postcards. This will help you learn how to be successful in real estate by generating consistent leads for your business and creating a recognized brand in your area.
With a tool like ProspectsPLUS!, you can pick direct mail templates or customize your own materials. You can also automatically send your custom mail to an audience by location, demographic, or lifestyle, without having to lick a hundred envelopes. Learn more about how ProspectsPLUS! direct mail service can help you generate targeted leads.
6. Inject Your Personality Into Your Real Estate Brand
Many people think that being successful in real estate is only about sales. However, learning how to become a top real estate agent includes many subtle but important elements, like creating a strong real estate brand. Branding is what helps you attract and connect with your target clientele, and helps them remember and recognize you.
Before creating your marketing materials, think about the message you want to send to leads and define your unique selling proposition (USP). Then you can create more effective and cohesive branding materials, like:
For example, take a look at the headshot, bio, and social media feed from realtor Ariel Self. Her social media feed reflects the lifestyle that her target audience wants to live and shows that she is familiar with the area. Her bio narrates how she gained experience in the New Jersey real estate market, and speaks about her value and promise to clients. Her headshot is the same on her website, business cards, and social media pages, which helps build brand recognition and consistency. These are all valuable components in learning how to be successful in real estate.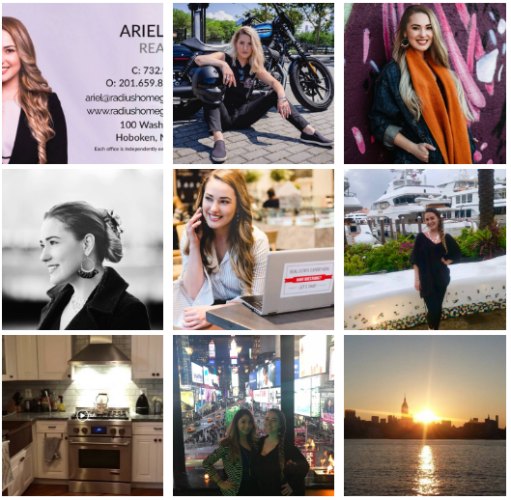 ---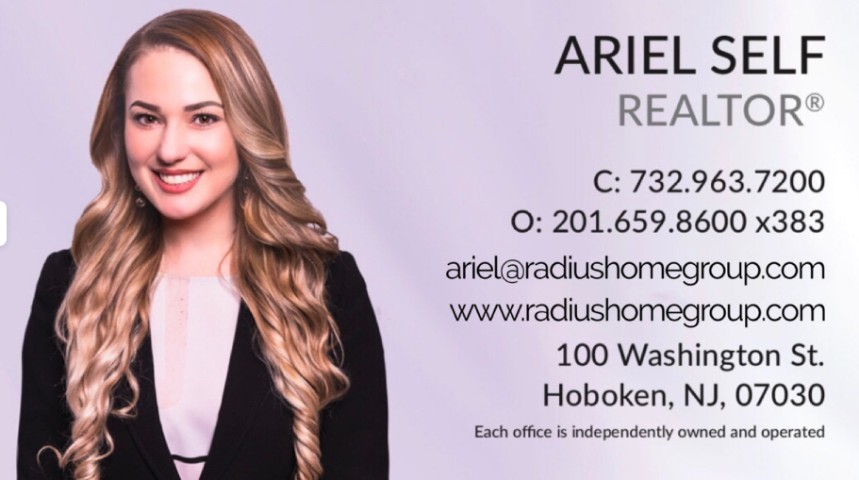 ---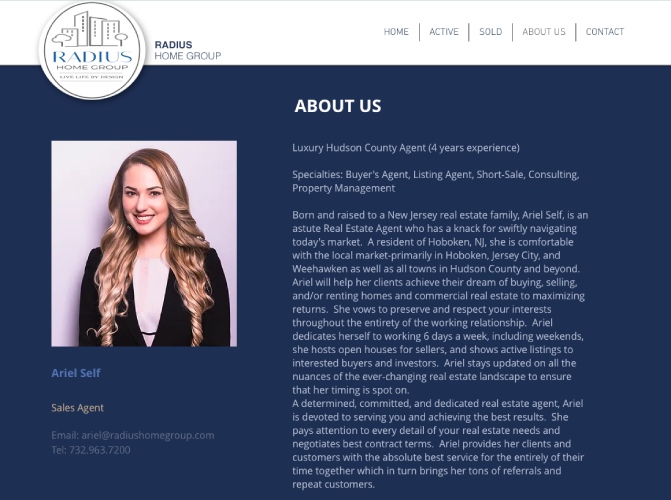 ---
7. Establish Your Marketing Strategy
There's an unlimited number of real estate marketing ideas to help you promote your business and generate leads. In order to become a successful real estate agent, you must learn to focus on a small number of effective marketing strategies instead of trying every available tactic. By focusing your efforts on a few methods, you'll be able to give 100% to each and then expand to include more methods as time goes on.
With a thorough plan in hand, start creating a few important marketing materials, like:
Another great way to boost your marketing efforts is by utilizing the tools from a real estate marketing company like Market Leader. Market Leader is an all-in-one marketing system for agents and brokers that provides essential tools for both digital and print marketing. It includes a customizable website builder, a robust customer relationship manager (CRM), automated email marketing, automated listing marketing packages, and even a full content library with your branding. This platform also provides exclusive leads if agents are interested in paid lead generation opportunities.
8. Utilize Lead Generation Tools
While leads can be generated organically through websites, social media, and word of mouth, many professionals supplement their business by buying leads as they learn how to become a successful real estate agent. Generating real estate leads through paid sources can be extremely effective and provide a high return on investment (ROI). Combining organic and paid lead generation tactics will ensure a constant flow of clients to your real estate business.
Many lead generation websites combine generation tactics along with marketing, brand building, CRM, and listing capabilities. Leads can cost about $10 to $60 each, depending on the provider you choose. Agents and brokerages should review each software to determine the best for their particular needs.
One of the best places to buy real estate leads is REDX, a unique prospecting platform with features to target specialized leads, like for sale by owner (FSBO), expired leads, and foreclosure leads. It also provides a neighborhood farming tool that can generate up to 2,500 leads for only $49.99 per month. REDX also includes Vortex, a unique contact management system that organizes your leads and clients to prioritize calls, provide phone scripts, and set notes and reminders. Learn more about how REDX can help you be successful in real estate.
For more information about lead generation providers, review our articles:
9. Organize & Nurture Your Client Base With a CRM
A necessary part of learning how to succeed in real estate is choosing the right tools to help you manage your growth. As your marketing and lead generation efforts grow, it will be absolutely essential to have your leads, current clients, and past clients well-organized. The most efficient and powerful way to do so is by using a customer relationship management (CRM) system.
The top CRM software programs can not only organize and prioritize your contacts, but also provide automations like task reminders, lead tracking, listing management, and marketing services. The right tool will remove multiple tasks from your plate, allowing you to spend more time working with clients and generating more revenue. There are free and paid CRM options, so make sure you thoroughly evaluate your budget and needs when choosing a platform.
Here are a few of the best real estate CRM software:
Providers

Best For

Professionals wanting a highly customizable CRM to start using for free

Brokerages and individuals seeking an affordable but robust CRM

Agents and brokerages who need CRM organization with advertising options

Budget-conscious agents and teams wanting an all-in-one CRM with marketing tools

Key Features

Seamless integrations with Zoho's ecosystem
Omnichannel communication tracking
Team and collaboration tools

Drag-and-drop sales pipeline organization
Customizable reports
Mobile app

Built-in power dialer
Email and text marketing campaigns
Third-party integration with listing websites

Customizable IDX website
Email and SMS marketing
Online advertising

Starting Monthly Price

Free plan or $20 per user

$14.90 per user

$25

$299

Learn More
10. Create an Engaging Online Presence
Even if you prefer marketing through in-person events and print marketing, you must still have an online presence to be a successful real estate agent. In fact, 46% of realtors say that social media is the top tool for generating high-quality leads. Creating an engaging and consistent online presence attracts clients and helps build your reputation, even for leads who find you offline.
While you should build an online presence through more than one channel, it isn't necessary to use every social media platform or online marketing tactic. In fact, focusing on just a few online marketing strategies will be more effective if you don't spread yourself too thin. Some of the best channels to build an online presence include:
Regardless of which channels you choose, here are a few important tips for building a successful online presence:
Try to secure the same username for all social media accounts and your website to make it easier for people to find and recognize you. For example, if you are known as "LancasterJon" on your website, it helps clients find you elsewhere if you are also "LancasterJon" on Twitter, Facebook, Instagram, and Pinterest.
Notice in the example below that the real estate team, Jennifer Vick & Co., has the same Instagram handle, Facebook page name, and website name. Its brand is centered around its name, so it's easy for anyone to search for the name on Google or social media to find them.
---
Another way to increase your visibility online is by posting a variety of useful or entertaining content, like funny real estate memes or inspiring real estate quotes. In fact, in a 2022 report, HubSpot found that funny and interactive content was the most effective type of content by 80%.
By mixing up your content to include humor, knowledge, statistics, listings, and your personality, you'll be able to capture a large audience. Everything you do online represents your brand, so it is often best to stay away from controversial topics, such as politics, and focus on your hobbies or real estate information. For examples of different types of social media content, read 13 Best Real Estate Facebook Posts (+ Examples & Ideas).
---
Posting online alone doesn't help you build relationships, but interaction does. Take the opportunity to respond when someone posts a comment or sends you a direct message online. Make comments on other people's posts to build your followers and post insightful articles to showcase your expertise on places like Facebook and LinkedIn.
Using hashtags is also beneficial to draw attention to your content and gain a following. Hashtags can include your real estate slogan or tagline, locations, property features, or familiar real estate words. It is also an effective way to highlight your niche and brand. Check out some hashtag examples and create your own today in the article 107 Best Real Estate Hashtags for Social Media.
---
Use search engine optimization (SEO) to drive traffic to your sites and your social media content. Real estate SEO is a powerful way to increase your online reach and help you appear more often in organic searches in Google and on social media pages. Using common SEO keywords like "real estate agent" and "houses for sale," along with more specific long-tail keywords like "buying a house in Houston" or "apartments for sale outside of Los Angeles," will bring potential buyers and sellers to your pages.
When building an online presence, having a website as your home base is ideal. Consider using a real estate website builder and lead generation platform like Placester. It provides ready-to-use real estate website templates and landing pages complete with internet data exchange (IDX) capabilities, a codeless website builder, lead capture tools, and CRM. Plus, Placester has built-in SEO tools to ensure visitors can easily find your content.
---
11. Network With Like-minded Real Estate Professionals
Networking with other real estate professionals is essential to building a positive reputation in a highly competitive industry. In addition, having relationships with like-minded professionals naturally helps you improve your business by seeing what challenges they face and learning from their mistakes and victories. To start building a network of real estate professionals, speak with other members of your real estate brokerage, attend networking events, and join associations like the National Association of Realtors (NAR).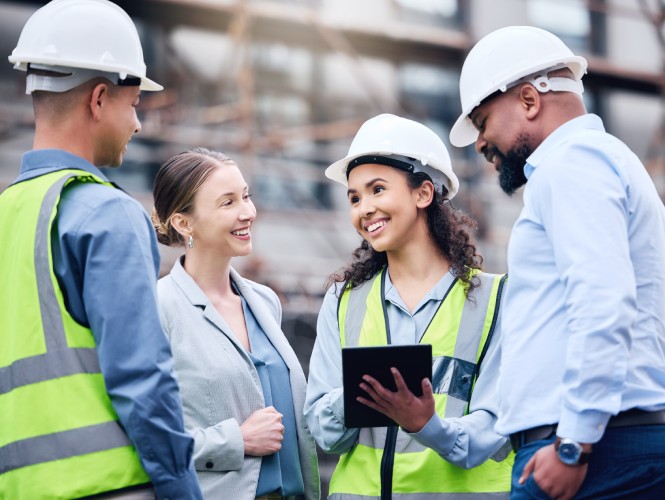 Keep in mind that there are plenty of real estate career paths other than being a sales agent. It's highly beneficial to befriend other professionals in the industry, like home inspectors, appraisers, mortgage officers, contractors, and attorneys. Not only can they give you advice on specialized real estate topics, but they can also become valuable sources of real estate referrals. You can also refer your clients to their services, creating a mutually beneficial relationship that serves you and your network, and makes your clients feel like they are getting the red-carpet treatment.
12. Use Apps & Business Tools to Manage Your Operations
When agents are busy working with clients, showing properties, and marketing their services, it's easy to forget the back-office components essential when managing and running a successful real estate business. Luckily, software tools like phone apps and databases keep agents organized, so they can spend more time working with clients and less time organizing behind the scenes.
Here are a few of the business items you're required to manage and will help you be more successful, as well as recommended software tools:
Document management software: Tools that allow you to upload paperwork, request and submit electronic signatures, and collaborate with team members digitally.
Communication: The right software will help you streamline communication with clients, leads, and team members.
Time and calendar management: Using a digital calendar with automations is important for scheduling the variety of tasks you must complete, like client lunches, showings, listing presentations, brokerage meetings, and closings.
For example, Dotloop is a comprehensive real estate transaction management software that provides features to manage documents, track multiple transactions, create tasks and reminders, collaborate with a team, send SMS text messages, and generate detailed transaction reports. It even includes a mobile app so agents, brokers, and teams can manage operations seamlessly.
13. Always Continue Learning & Improving
Becoming a successful real estate agent isn't a one-time activity. Your success in real estate will continue to grow as you continue developing your skills and improving your business. In fact, all real estate professionals must complete continuing education (CE) requirements to renew their real estate license every one to two years. These hours typically include some mandatory content, which covers new laws and regulations in your state. Remaining hours allow time for elective topics based on your interests and needs.
Most agents find that completing their CE requirements through an accredited online real estate school is the easiest and most convenient method. Online schools like The CE Shop, McKissock Learning, and Kaplan offer self-paced, live stream, and on-demand video classes to help agents and brokers complete their designated hours.
The CE Shop, in particular, offers a variety of required and elective CE courses in all 50 states in a self-paced format at affordable prices. Choose from course packages or customize your courses to choose topics that interest you.
In addition to the required education, the most successful real estate agents continue to seek education and support throughout their careers. Gain specific expertise by taking certification and designation courses for different niches. For instance, getting an Accredited Buyer Representative certification will establish your credentials with potential buyers, while a "Green" Realtor designation will help you specialize in buying and selling environmentally friendly homes.
Frequently Asked Questions (FAQs)
There are many different types of real estate careers and ways to achieve success in the industry. Whether you want to be a successful real estate agent, broker, or professional, you must start with a clear and thorough plan. Set realistic goals, define your marketing strategies, and find the right support and education.
---
There are a wide variety of ways to be successful in the real estate industry, so you must start by clarifying your definition of success. Then you can create a business plan and strategically choose the right company to work with, as well as partnerships, mentors, and tools. By taking the time and energy to evaluate your choices, you'll reach your goals and gain success more quickly.
---
Successful real estate agents must have some specific attributes, like being self-motivated, hard-working, willing to solve problems, and having strong communication and people skills. However, if you're keen to put in the time and effort, you can improve the skills needed to become successful in real estate.
For inspiration about agents who have achieved success, read about the Top 10 Most Famous Real Estate Agents.
---
Bottom Line
Learning how to become a successful real estate agent is not just about sales and revenue. It includes setting clear and realistic goals, choosing the right real estate company and tools, implementing a marketing strategy, continually improving your skills, and gaining more education. By incorporating the 13 tips above, you'll be on the right track to being successful in real estate and building a lucrative career.