13 Essential Tips on How to Be Successful in Real Estate
To be a successful real estate agent or broker, start by defining measurable and realistic goals. Choose the right sponsoring brokerage, establish marketing and lead generation plans, organize your finances, and build relationships. Maximize your time and effort by using technology tools like marketing, document management, and customer relationship management (CRM) software—helping you find potential leads and manage clients efficiently. Continue reading for more actionable tips on how to be successful in real estate.
One of the best places to start building real estate success is through name recognition. Zillow, which has over 36 million visitors monthly, is a simple way to display your brand and value to clients. Zillow can give you exclusivity on your listings and place your contact information on the listings of non-Premier Agents in your area. Start collecting commissions and getting your brand known on the largest real estate marketplace on the internet.
1. Define What Success Means for You & Create a Business Plan
Success means different things to different real estate agents and brokers. It may be reaching monetary goals, completing a certain number of deals each year, creating connections with a variety of clients, or participating in community events. It also could be a combination of several of these goals.
Regardless of your end goal, define what a successful real estate career means to you by setting measurable and achievable goals to gauge your success over time.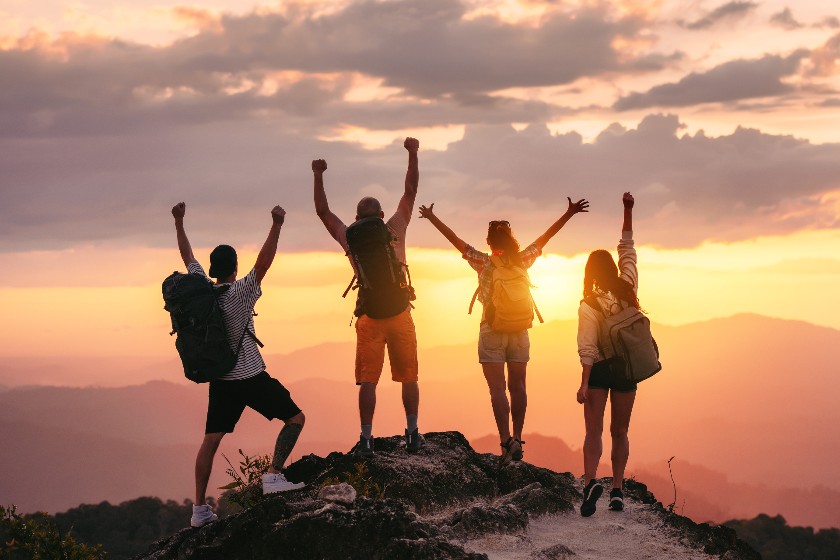 When you begin your real estate career, and as you continue building upon your business from year to year, you must create a real estate business plan to outline where your business will improve and grow as well as how you will measure your success. Your real estate business plan should include the following elements:
Write your mission statement
Conduct a strengths, weaknesses, opportunities, and threats (SWOT) analysis
Set specific and measurable goals
Plan your marketing and lead generation strategy
Calculate your income goal
Set times to revisit your business plan
By outlining these elements and determining the most important goals, you will be able to define what a successful real estate career looks like and carry out an established plan to achieve it.
For more detailed information on creating a business plan, visit our article How to Write a Real Estate Business Plan: Elements, Examples & Free Template and download the free template to get started.
2. Choose a Brokerage That Fits Your Needs & Leverage Its Reputation
The brokerage you choose is a big determining factor in how successful you will be. This is especially true if you're a new real estate agent with no experience, but it also is important for experienced agents.
Your brokerage is responsible for your initial reputation in the real estate industry. When you align yourself with a brokerage firm, you adopt their reputation as part of your own. When prospective clients research you, you will be associated with your sponsoring brokerage.
If your brokerage has a great reputation, like Keller Williams or RE/MAX, it will reflect highly on you. However, if your brokerage has negative reviews, poor online presence, and a generally bad reputation, these will also reflect on you.
In addition, your brokerage should provide you with tools to aid your success like lead generation systems, client relationship management (CRM) platforms, training, marketing materials, mentorship, and income. Although they may not offer all of these or may charge a fee for some items, you should ask about these elements when interviewing potential firms to join as they are helpful in being successful in real estate.
Take a closer look at strategies when researching potential brokerages in the article How to Choose a Real Estate Company to Work For. Then, download the evaluation rubric to help you make an informed decision on which company you should join.
3. Evaluate & Keep Track of Your Finances
Many real estate agents don't close a transaction for several months after getting their license, so it's essential to evaluate your financial situation before entering the profession. It's best to have a cushion of funds to fall back on as you begin, so you can still live comfortably while pursuing your new career. Also, consider the initial costs to become an agent, like prelicensing education, licensing fees, and board dues, to determine whether you're financially ready to enter the real estate industry.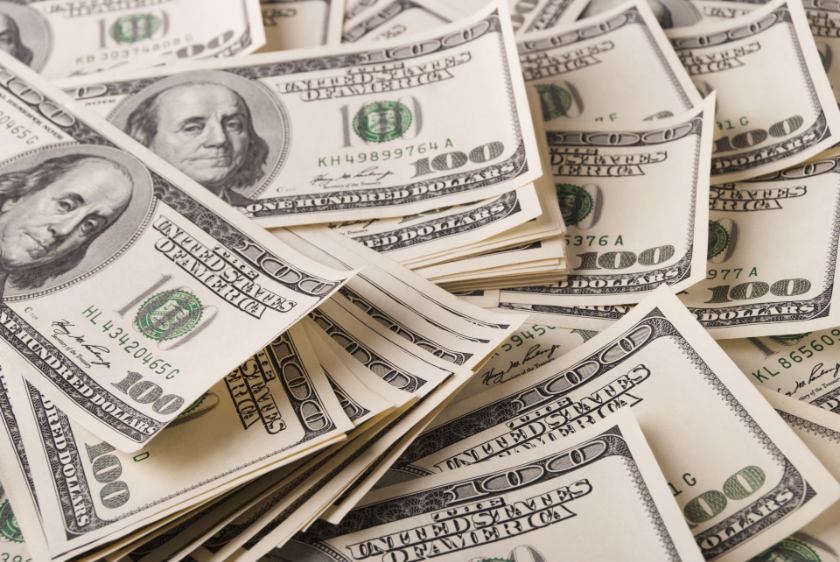 As a licensed agent, you are an independent contractor fully responsible for recording income and deducting taxes and insurances. And as you learn how to become successful in real estate and your business grows, expenses will increase as well. Agents and brokers need to take account of business expenses that will impact profits like:
Marketing materials
Brokerage desk fees
Multiple listing services fees
Client meals
Lead generation
Marketing and advertising
Client relationship management platform
Vehicle and mileage expenses
All agents should carefully track their expenses in a spreadsheet or use accounting software like QuickBooks. For $12 a month, QuickBooks Self-Employed can help agents manage their expenses, track mileage, calculate tax deductions, and generate reports. It also has an easy-to-use mobile app to keep expenses categorized with the touch of a finger. You can even create custom reports that organize your spending to allocate money where it needs to go in your business.
4. Find a Mentor
A real estate mentor is a valuable resource for both a brand-new and experienced agent who wants to continue growing. A mentor can teach you how to navigate the ever-changing real estate market, work through different types of real estate transactions, find unique ways to make money in real estate, employ marketing and lead generation strategies, and interact with clients. Learning how to become a successful real estate agent through their experiences will improve your business and is a priceless source of information.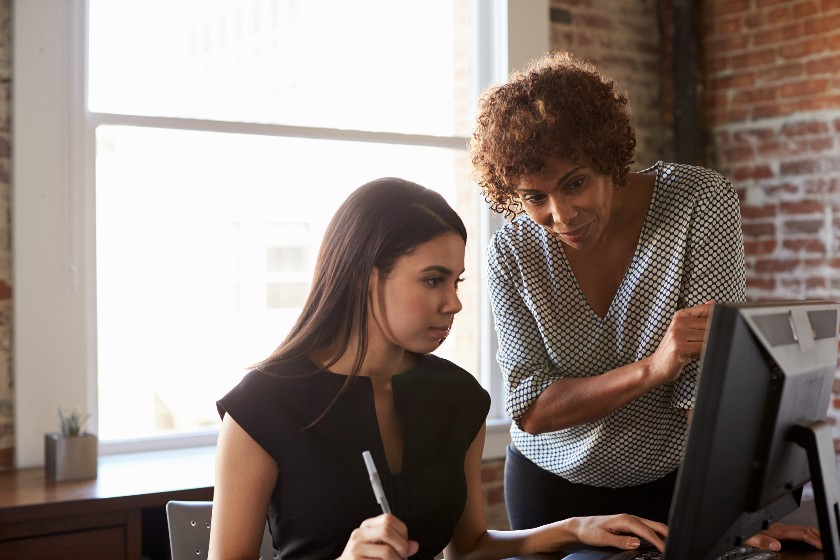 Many real estate brokerages offer a mentorship program as part of their onboarding, which agents can take advantage of. However, if they do not offer this opportunity, you can find a mentor in other ways. Introduce yourself to senior members of the firm and ask if you can shadow them throughout the day on showings, phone calls, or administrative tasks.
Consider joining a real estate team, so you can lean on other team members while learning the ropes of the real estate industry. Team members often share leads, marketing, and listings, so it's a great way to get a jump-start on working with clients and bringing in your first deal and paycheck.
5. Select a Farm Area & Become an Expert in That Market
You cannot be a success in real estate without knowing the specifics of the market you are serving. This includes general information about the U.S. as a whole as well as your state, county, and city or town. Read real estate publications, research and visit properties in the area, and do a deep dive into real estate statistics surrounding interest rates, price points, inventory, and days on market. Knowing these details ensures you have a firm grasp on the market and are able to speak to and inform clients.
Once you have an understanding of current market trends, decide on a real estate farm area where you can focus your business efforts. This will guarantee that you are targeting the right audience of buyers and sellers with marketing materials like farming postcards that are suited specifically to their needs. This will help you successfully generate leads for your real estate business and create a recognized brand in your area.
For help with branding and marketing needs, check out ProspectsPLUS!. Pick from predesigned templates or customize your own materials that will be eye-catching, but also display your value as a real estate professional. Then use its direct mail service to organize geographic mailing lists and send campaigns to your target clientele to start generating leads.
6. Target a Specific Niche & Establish Your Marketing Strategy
Along with choosing a farm area, real estate professionals often choose a specialized niche to target clientele even further as a strategy to become successful in real estate. This could be buyers or sellers, property types, foreclosures, rental properties, or properties based on certain interior or exterior amenities. While it may seem counterintuitive to narrow your focus, it is a way to differentiate yourself from the competition and work with clients who share your passions and interests.
It will also make marketing to this audience even easier because you will be able to showcase your expertise and experience in your specific field. All real estate professionals should create a real estate marketing plan that encompasses all the ideas and resources you'll need to execute your materials and build your brand. A few examples of marketing materials you should prepare are:
All this work may seem overwhelming at first, but you can take it little by little and develop your brand over time. Download the free template from our article Real Estate Marketing Plan Template & Strategy Guide and start checking items off your list.
Real estate professionals can also work with a marketing company to get their plans up and running. Market Leader is an all-in-one system with real estate-specific marketing and lead generation tools to help agents succeed in the industry. Its marketing tools include both digital and print options that can be automated to save agents time and effort. Market Leader also provides exclusive leads if agents are interested in paid lead generation opportunities.
7. Inject Your Personality Into Your Business With Branding
While clients want to work with a knowledgeable and organized agent, they also want to work with a real estate agent with a personality and enthusiasm for their clients and job. A successful real estate agent displays all these qualities through personal branding—attracting leads and building a client base.
When creating your marketing materials, think about the materials that can convey your personality and message the most, like your agent bio and headshot. After all, these two items are typically the first impression you'll make on your audience.
Your biography should be a short story about you, your accomplishments, professional experience, and what you can bring to the table as a real estate expert. When people read it, it should instill confidence in your skills while also being personable. Similarly, your headshot should welcome and encourage the viewer to reach out to you for your services.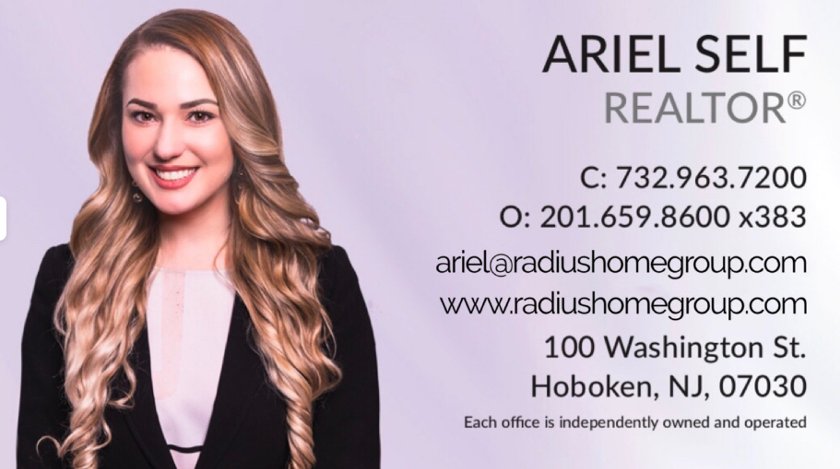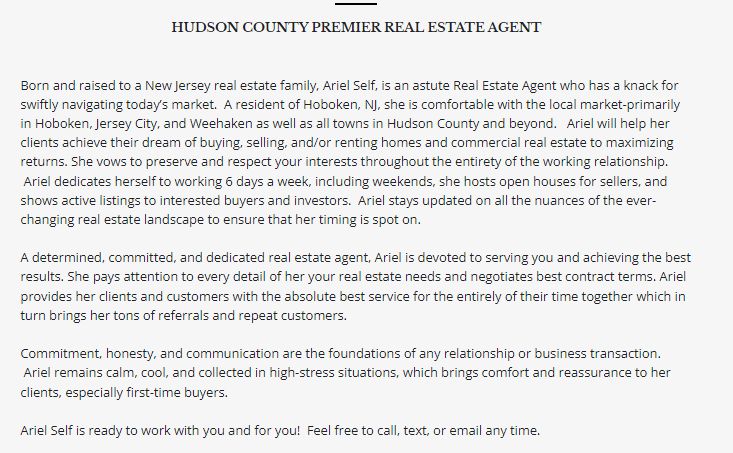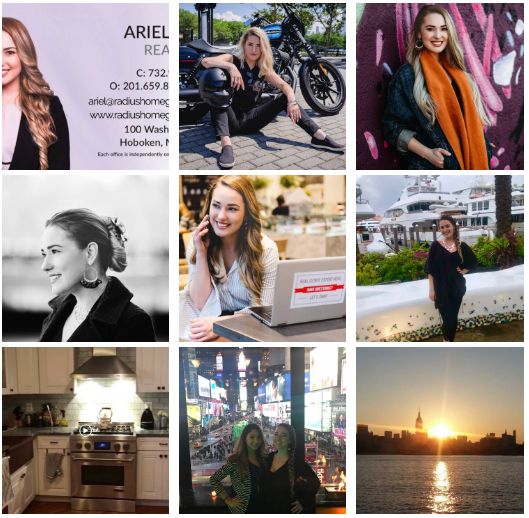 ---
Take a look at the headshot, bio, and images of realtor Ariel Self. Her headshot is smiling and confident, inviting visitors to dig deeper into her information. Ariel's bio narrates how she gained experience in the New Jersey real estate market, her primary locations of focus, and speaks about her value and promise to clients. Her website displays pictures and videos of Ariel on trips, working, and having fun, showcasing her personality. These are valuable components that convey her success as a real estate agent.
8. Create an Engaging & Search Engine Optimized Online Presence
Creating an engaging and consistent online presence helps clients find you across platforms and establishes you as the go-to, successful real estate professional. Clients follow and interact with online realtors, look at their listings, and contact them through various social media outlets—remember this as you post photos, videos, and content.
Create your online presence through websites and landing pages, as well as social media marketing platforms like:
While your online presence should be dispersed throughout multiple platforms, it is not necessary to use every single website and social media channel in existence to be recognized. In addition to your website, choose two to three social media options, and commit to post and comment consistently.
Here are some additional tips on how to be a successful real estate agent through your online presence:
Use the Same Handle Across Platforms
Try to secure the same username and use the same headshot photo across platforms for consistency and to make it easier for people to find and recognize you. For example, if you are known as "LancasterJon" on your website, it helps clients find you elsewhere if you are also "LancasterJon" on Twitter, Facebook, Instagram, and Pinterest.
Notice in the example below that agent Dusty Baker's Instagram handle is @dustyjbaker and his website is dustybakergroup.com. He has built a brand centered around his name, so when anyone wants to reach out about his services, they can Google his name, and all search results will lead you directly to him.
Check the availability of your domain name with our article 17 Real Estate Domain Name Examples & Ideas. Or, if you're not sure which domain name and handle will work best for you, read the tips in this article to inspire your real estate handle.
---
Post Relevant & Interesting Content
Funny memes or inspiring real estate quotes are great ways to increase your visibility online. In fact, in a 2022 report, HubSpot found that the most effective type of content on social media—by 80%—is funny and interactive. However, when posting to any social media website, agents should show that they can be professional and funny simultaneously.
By mixing up your content to include humor, knowledge, statistics, listings, and your personality, you'll be able to capture a large audience. Everything you do online represents your brand, so it is often best to stay away from controversial topics, such as politics, and focus on your hobbies or real estate information.
---
Gain & Interact With Followers
Social media interaction is the key to relationship building. Take the opportunity to respond when someone posts a comment and leave your direct messages (DMs) open for private conversation or inquiries. Make comments on other people's posts to build your following and post insightful articles to showcase your expertise on places like Facebook and LinkedIn.
Using hashtags is also beneficial to draw attention to your content and gain a following. Hashtags can include your real estate slogan or tagline, locations, property features, or familiar real estate words. It is also an effective way to highlight your niche and brand. Check out some hashtag examples and create your own today in the article 50 Best Real Estate Hashtags for Social Media.
Use search engine optimization (SEO) to drive traffic to your sites, increasing your online presence and enabling you to appear more often in organic searches for more lead generation opportunities. Using common SEO keywords like "real estate agent" and "houses for sale," along with more specific long-tail keywords like "where to buy rental properties" and "steps to buying a house," will bring potential buyers and sellers to your pages.
To start creating your online presence, use a website builder and lead generation platform like Placester. It has ready-to-use, real estate-specific website templates and landing pages complete with internet data exchange (IDX) capabilities, a codeless website builder, lead capture tools, and a customer relationship manager (CRM). Plus, Placester has built-in SEO tools to ensure visitors can easily find your content.
---
9. Utilize Lead Generation Tools to Boost Marketing Efforts
While leads can be generated organically through websites, social media, and word of mouth, many real estate professionals choose to purchase leads to supplement their business. This is an effective method of lead generation that is profitable and affordable, with prices ranging from about $10 to $60 per lead, depending on the provider you choose. Combining organic and paid lead generation tactics will ensure a constant flow of clients to your real estate business.
Many lead generation websites combine generation tactics along with marketing, brand building, CRM, and listing capabilities. Agents and brokerages should review each software to determine the best for their particular needs. Here are a few of the top places to generate and purchase real estate leads:
Providers

Best For

Ideal for beginner real estate agents who want to build their clientele with exclusive buyer and seller leads

Real estate agents and brokers who focus on buyers leads

Experienced agents who specialize in a niche market like foreclosures and expired listings

Real estate professionals who want exclusive leads and marketing capabilities in one

Key Features

Free coaching
Automated text and email marketing campaigns
Create landing pages, ad campaigns, and advertising automation

Interactive listing tools
Track lead conversion and performance
Featured agents on exclusive and non-exclusive listings

Power dialer
Phone script provided for each lead source
For sale by owner and preforeclosure leads

Print and digital marketing options
Pay-per-click advertising campaigns
Create IDX listing website

Starting Price

$499 per user, per month

Based on ZIP code;

$20 to $60 per lead

$39.99 per month

$139 per user, per month

Learn More
For more information about lead generation providers, review our articles:
10. Organize & Nurture Your Client Base With a CRM
In addition to generating leads, real estate agents and brokers need a way to organize their leads, current clients, and past clients as a method of how to succeed in real estate. To do this in the most time-efficient manner, invest in a client relationship management (CRM) system.
CRM software not only organizes and prioritizes contacts in a database, but also has automation like task reminders, lead tracking, listing management, and marketing services. This allows agents to spend more time working with their clients—helping them be more successful overall. There are free and paid CRM options, so agents should evaluate their budget and business needs before deciding which platform works best for them.
Here are a few of the top CRM provider options that agents should investigate, but you can also review our Best Free Real Estate CRM Software and Best Real Estate CRM Software articles to get more details:
Providers

Best For

Real estate professionals who are on a budget and want a free CRM solution

Brokerages and individual agents seeking a low-cost, all-in-one CRM

Agents looking for a free CRM with email marketing tools

Agents and brokerages that need CRM organization with advertising options

Key Features

Up to three free users on Growth plan
Chat, email, and phone capabilities
Manage contacts

24/7 customer support
Drag-and-drop sales pipeline organization
Customizable reports

Project management features
Over 250 integrations, like Google Suite and Microsoft 365
2,500 contacts with a free plan

Built-in power dialer
Email and text marketing campaigns
Third-party integration with listing websites

Starting Price (per user, per month)

$15

$14.90

Free plan for up to 2 users or $35

$21

Learn More
11. Network With Like-minded Real Estate Professionals
Networking with other real estate professionals is essential to building a positive reputation in a highly competitive industry. Speak with other members of your real estate brokerage, attend networking events, and join associations to meet other like-minded real estate agents and brokers. A relationship with other agents can lead to real estate referrals, increasing the success of your real estate business.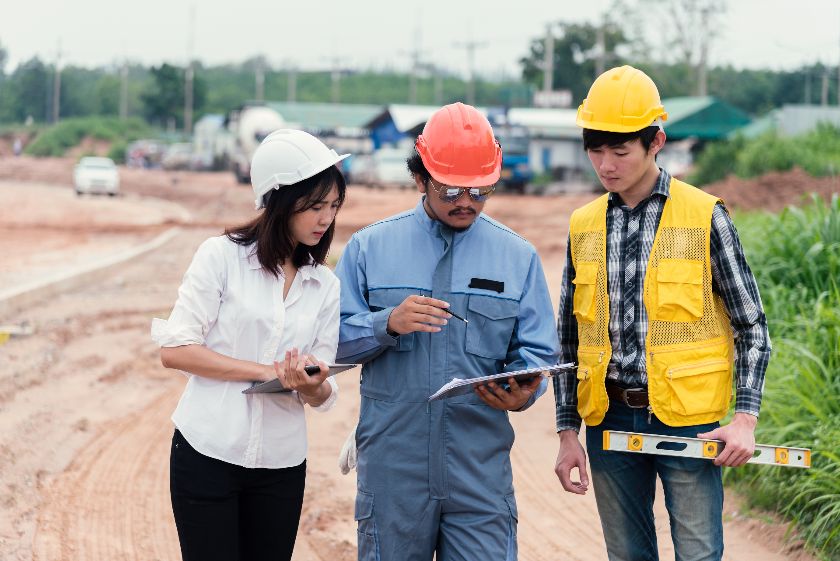 It's also beneficial to befriend other real estate-related professionals like home inspectors, appraisers, mortgage officers, contractors, and attorneys. Reach out to them for advice about transactions and recommend them to clients for their services, which they can do as well. Having a mutually beneficial relationship with other professionals will make your clients feel like they are getting the red carpet treatment.
12. Always Continue Learning & Improving
In any profession, especially in the ever-changing landscape of real estate, it's crucial that agents always continue learning. As a state requirement, all real estate agents and brokers must renew their licenses every one to two years by completing continuing education (CE) hours. These hours will cover any new laws and regulations in your state, as well as allow you to take elective real estate courses based on your interests.
While you can opt for traditional in-person courses, online real estate schools make fulfilling your education hours easy and engaging, even from the comfort of your own home. Schools like The CE Shop, McKissock Learning, and Kaplan offer self-paced, livestream, and on-demand video classes to help agents and brokers complete their designated hours.
The CE Shop, in particular, offers continuing education in all 50 states in a self-paced format at affordable prices. Choose from course packages or customize your courses to choose topics that interest you. Read our review to learn more.
In addition to the required education, real estate professionals should also seek further knowledge in their niche fields. For instance, if you work primarily with buyers, getting a certificate as an Accredited Buyer Representative will establish your credentials to potential clients. Or, if you specialize in buying and selling environmentally friendly homes, getting a designation as a "Green" Realtor will make you highly desirable.
Taking on opportunities to improve your knowledge and enhance your status and credibility in the real estate industry will benefit you and your clients. To find a certification or designation that is a great fit for you, read through our article Top 10 Real Estate Certifications & Designations Agents Need to Gain Clients This 2022.
13. Use Apps & Business Tools to Manage Your Operations
When agents are busy working with clients, showing properties, and marketing their services, it's easy to forget the back-office components essential in managing and running a successful real estate business. Luckily, software tools like phone apps and databases keep agents organized, so they can spend more time working with clients and less time organizing behind the scenes.
Here are a few of the business items you're required to manage and will help you be more successful, as well as recommended software tools:
There are so many additional software tools available to real estate agents and brokers that will assist in how to be successful in real estate. Review our article 41 Best Real Estate Software & Tools for Top Agents to learn about more options that can improve the success of your real estate business.
Bottom Line
Learning how to be successful in the real estate business is not just about closing deals, but also entails using technology to streamline efficiency, networking, and lead generation. Incorporate the 13 tips above on how to be successful in real estate to get started on the right track to building a lucrative career in the industry.