29 Best Business Card Design Ideas (+ Free Templates)
Despite the prevalence of digital business communication today, business cards are still relevant. Whether you're networking at an event or want to pass along your contact information to a new client, business cards are the fastest way to connect. Whether you need to create business cards for the first time or refresh the design of your existing collateral, here are some of the best business card designs, complete with customizable templates, for inspiration:
1. Runway Remix Business Card for Photographers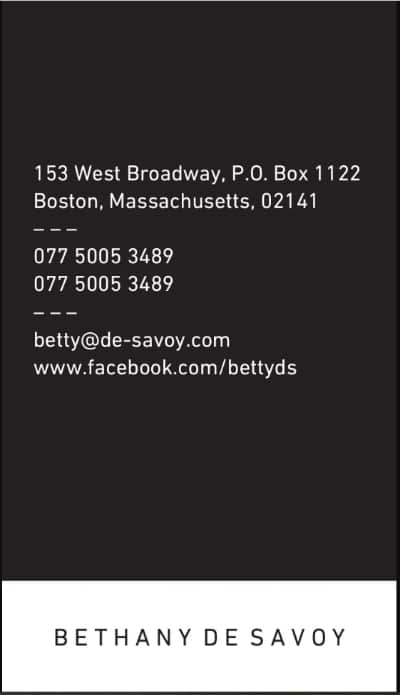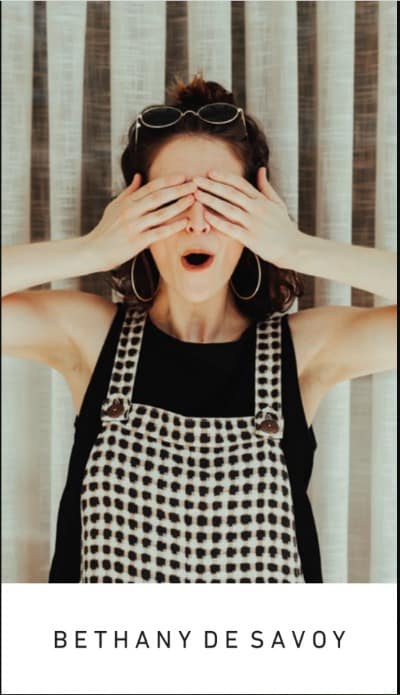 Why it works: Business card designs that put your work front and center (in this case, on the back) remind a client what you do. It makes sense for photographers to showcase their art on business cards, but most business card printers don't let you print a variety of designs in the same run. At MOO, however, you can get several back-of-card designs with the same print run, so you can show off more than one photo.
2. Automotive Business Card Design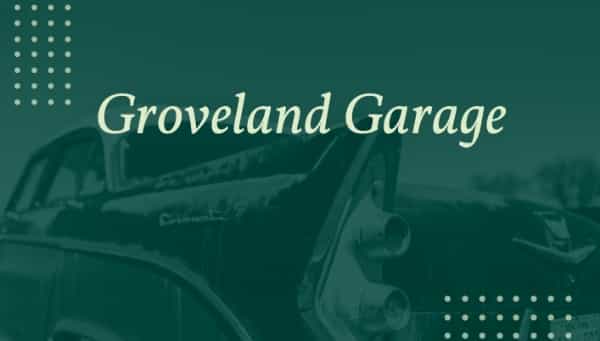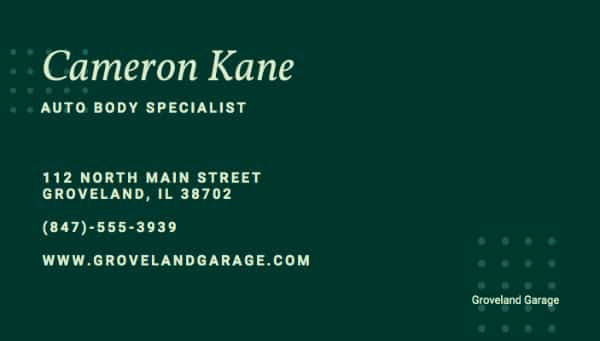 Why it works: Most companies in the automotive industry use business cards, whether they sell vehicles, change tires, or offer repair services. A design that hints at the industry looks professional and is versatile enough for any automotive business.
Modify and download this automotive business card design template from Canva and then upload your creation to Vistaprint. With Vistaprint, you can add custom back-of-card templates, such as appointment reminders, punch cards, or percentage off after a specific number of visits.
3. Makeup Artist Mini Business Card


Why it works: Not all business cards have to be the same size. In fact, if you use a unique size, like this mini business card from Zazzle, you may have a chance of standing out among other cards a client picks up. This makeup artist design makes it clear what industry it is, but it is by no means the only option you have.
4. Educator Business Card Design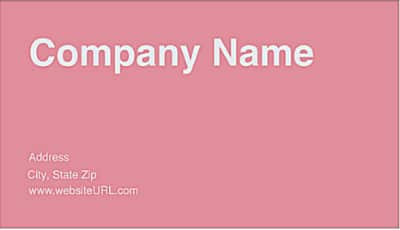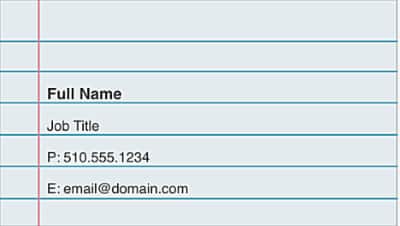 Why it works: This is a no-frills business card design, but it offers a clever nod to teaching and education with a lined paper look on the backside of the card. It's versatile enough to work for administrators, teachers, or even writers. The template from PsPrint is easy to customize too.
5. Travel Services Business Card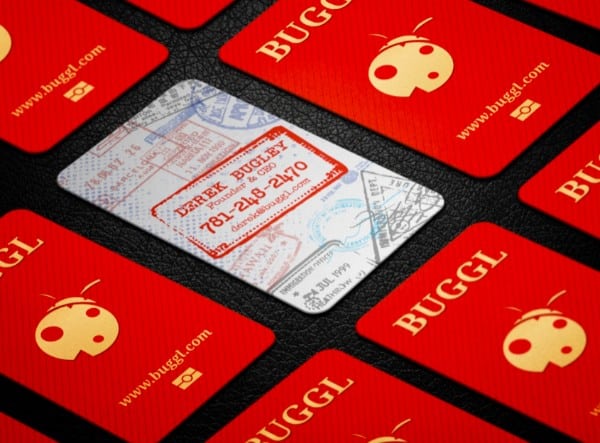 Why it works: A striking and memorable card that evokes thoughts of travel, like this passport-stamped imagery, is a great way to inspire people to hold onto your business card. Travel agents, hoteliers, and others who work in the travel industry could easily make this card design work. Modify this Staples business card template with your logo, a different combination of colors, and another font to keep your card on brand.
6. The Cut Portrait for Hair Stylists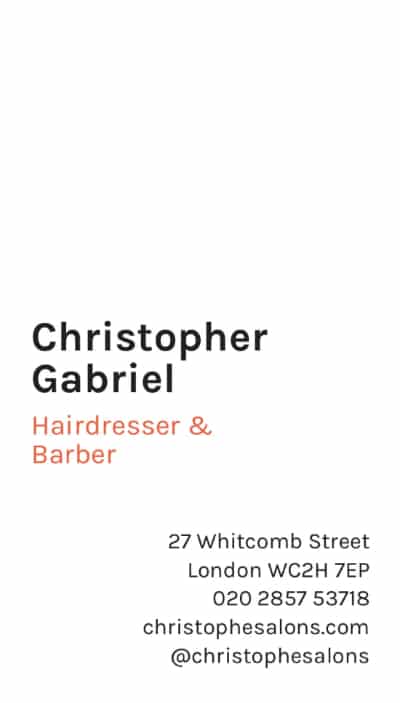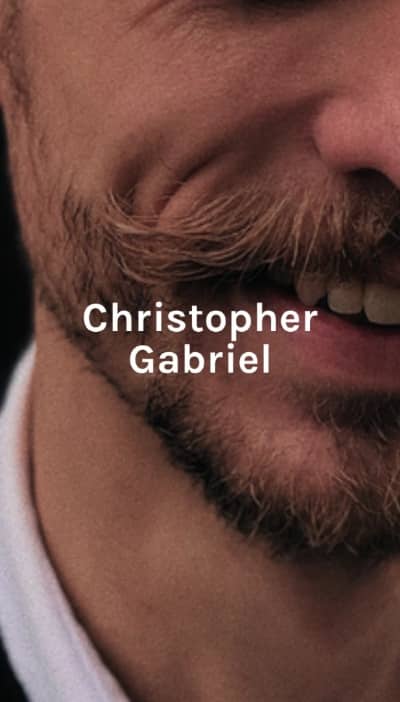 Why it works: The professional beauty industry is another industry that benefits greatly from photo-quality business card designs. Stylists can use images of their work to remind customers of their hair color, trim, or style. Include your website and phone number on your business card so customers can easily book their next appointment. If you don't have a website, learn how to quickly create a small business website to impress.
7. Construction Business Card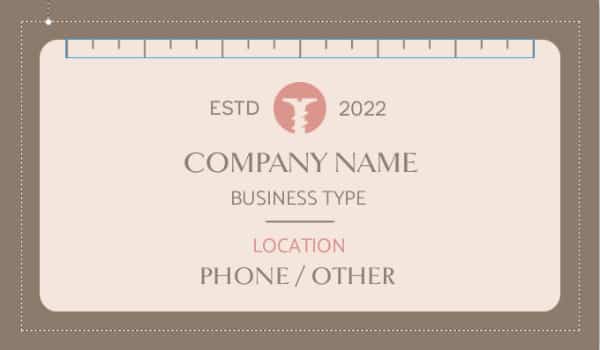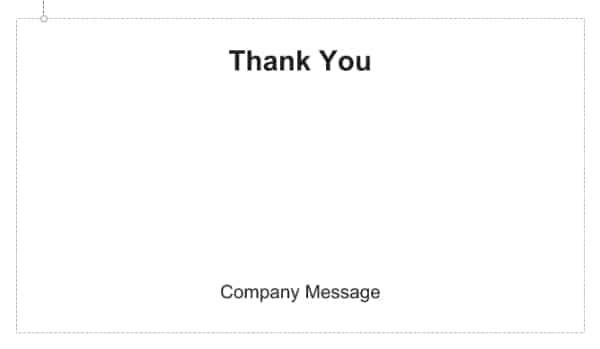 Why it works: The construction industry is big on networking, so it's important to keep a pocketful of business cards on you when you're working. You'll hand them out to contractors, subcontractors, real estate agents, and homeowners all the time.
When you use a clean design that references your industry, contacts will be able to quickly recognize why they're holding on to your card. This Vistaprint business card template offers a blank side that is perfect if you want to add an estimate or your contact wants to write down some kind of note.
8. Cleaning Services Folded Business Card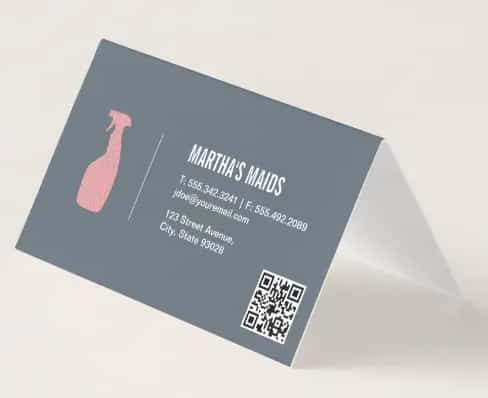 Why it works: Like mini business cards, folded business cards are unique and memorable. They're ideal for service-based industries, like cleaning services, as you can use the inside to print information about services or packages along with costs. Add a quick response (QR) code to make it easy for leads to visit your website or a landing page that lists more details and enables them to request a quote or schedule a service.
9. Logo-forward Business Card Design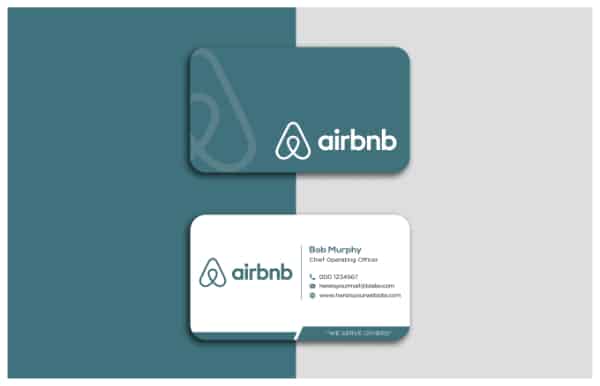 Why it works: A simple, basic business card design with your logo and a bit of color is a great choice for businesses wanting to create an instantly recognizable brand. This design from a Fiverr freelance graphic designer fits this need well.
If you'd rather not design your own or use a template, hire a professional from Fiverr for as little as $5 to create the perfect business card for you. Be sure to include your business email address on your cards—it makes you look more professional, and it makes it easy for your contacts to get a hold of you.
10. Showstopper Card for Bakers or Caterers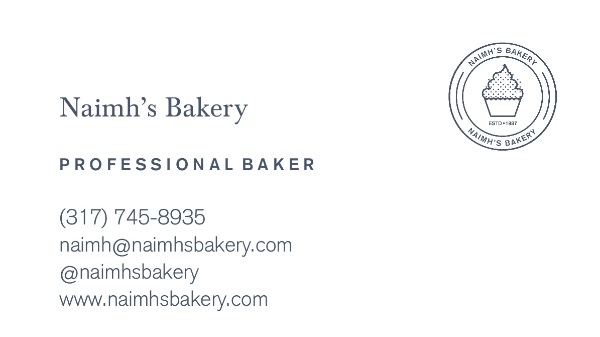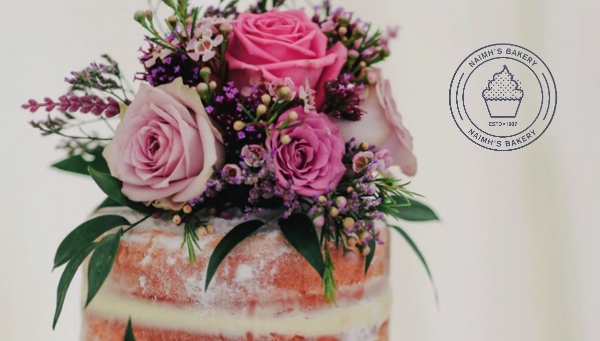 Why it works: Using this business card template from MOO, you can keep the elements you like and replace the photo with images of your own confections. Bakers and caterers can take advantage of the option to print a batch of business cards with multiple designs on the back of the cards to show off savory and sweet dishes, so you can pass out different ones at different events.
11. Appointment Reminder Business Cards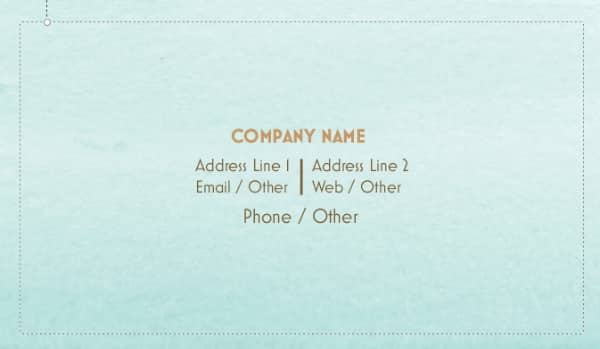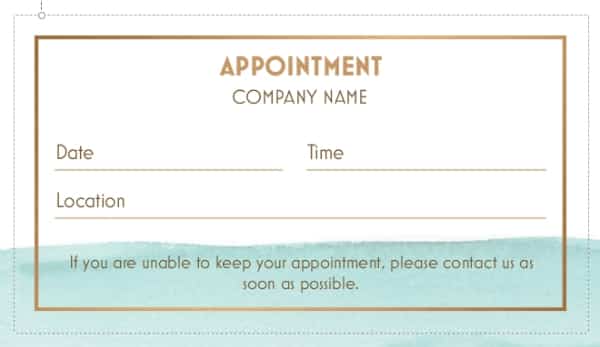 Why it works: The most effective element of this business card design is the appointment reminder on one side of the card. It's especially helpful as a business card for dentists, hairstylists, physicians, and any other appointment-based business. This appointment reminder business card template from Vistaprint can work well for any service-based business, and you can add a graphic element if you want or change the color scheme.
12. Dog Grooming or Sitting Service Business Card Design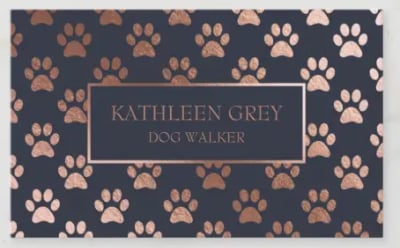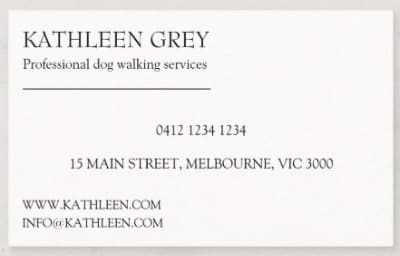 Why it works: Whenever you use a graphic that reflects precisely what you do, it's easy for a client to know who you are and why they're keeping your business card. In this example, it's clear that the business card holder works with dogs, yet the design appears almost floral and feminine, conveying a sense of the business owner's brand and style.
13. Raised Print Business Card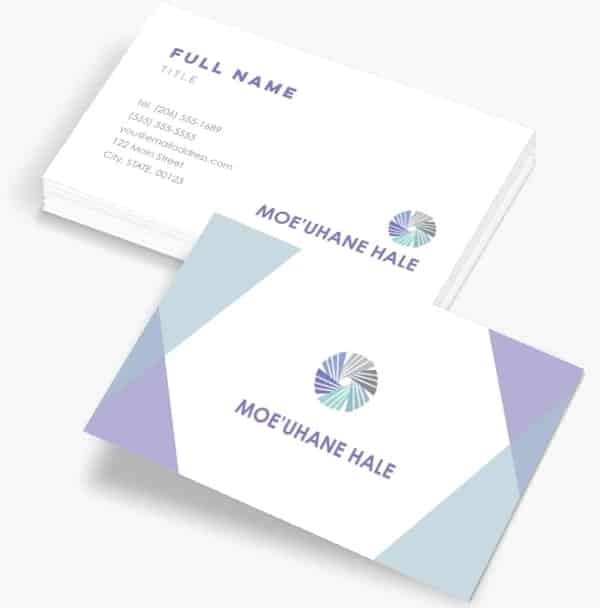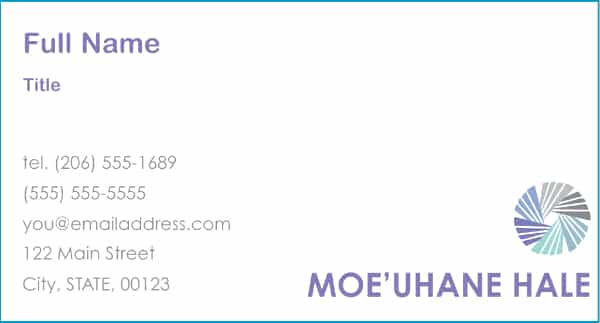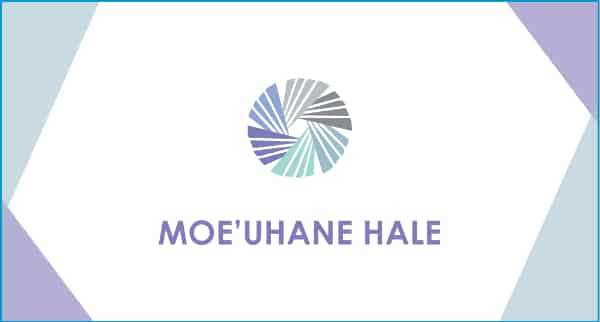 Why it works: Although it might not be immediately apparent, the text and logo on the finished product of this Staples' business card template are raised. Adding this small difference to appeal to the sense of touch can make a lasting impression on a client and makes your business card design stand out among others that fall flat.
14. Simplicity Card for Minimalist Design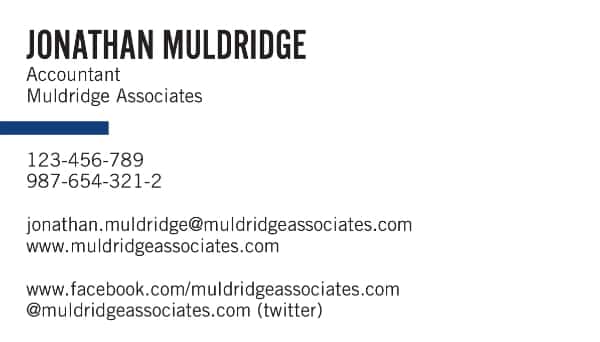 Why it works: Minimalist business card designs like this one from MOO are often preferred by professionals like architects and lawyers, using white space to make the information stand out. It also gives more space for information and won't look cluttered.
15. Private Investigator Business Card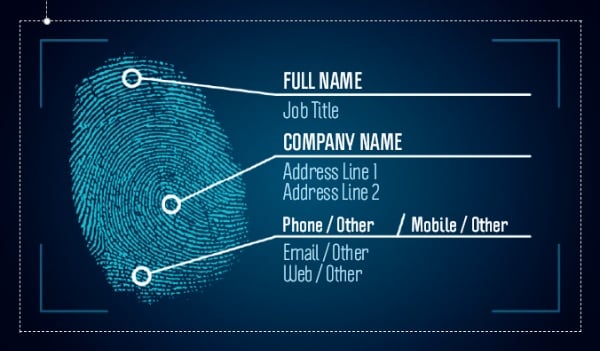 Why it works: Business card designs that include graphics and bold colors can be effective for private investigators (or any professionals) who want to stand out. This particular template from Vistaprint could work well for forensic experts, law enforcers, and security detail that network within their industries.
16. Electrician Business Card Design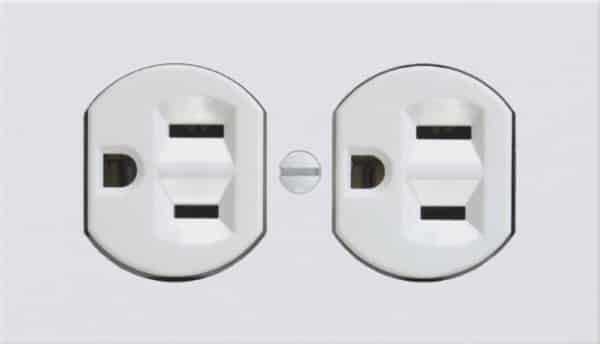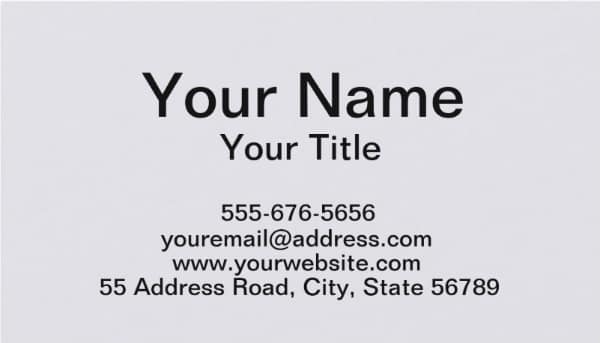 Why it works: A great trick to make sure clients can find your business card quickly and easily is to make its design bold and obvious. In this Zazzle business card template, it's pretty clear that the professional is an electrician.
Nothing else is needed on the front of the card, and your contact information on the back will be more than enough when they need you. Other common images that work well are lightning bolts and a light switch.
17. Bold, Colorful Business Card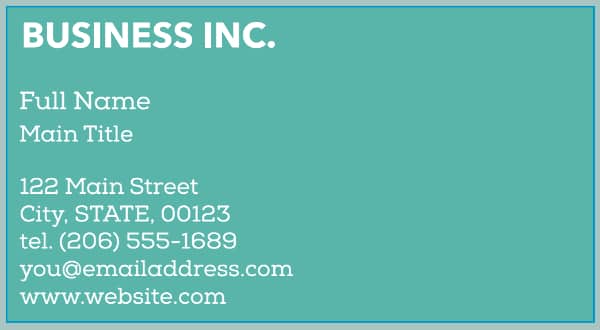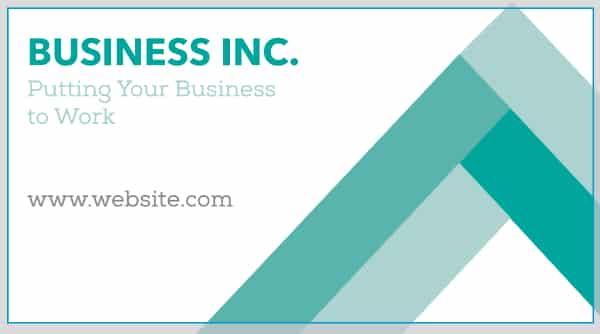 Why it works: Bold, contrasting color, and geometric shapes can take the place of logos and busy graphics. In this template from Staples, one side of the card doubles down on the color but uses a simple abstract design and white space to make it bold.
When you use color as the main element of your marketing materials, you're banking on other business cards your clients or contacts get being more traditional. Yours will then stand out in a sea of neutral-colored business cards.
18. Real Estate Business Card Design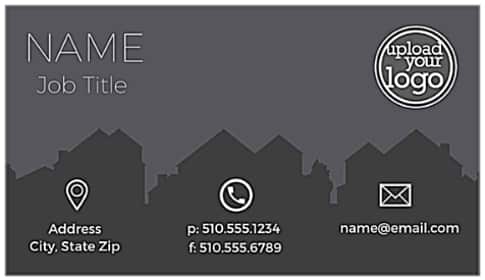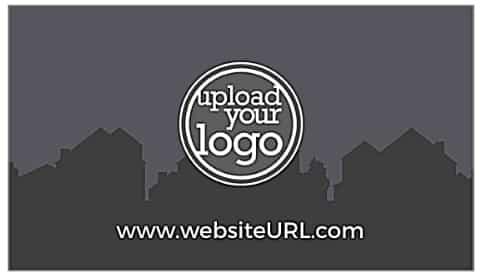 Why it works: One of the most important elements of a business card is, of course, your contact details. This template from PsPrint makes it clear you're in the real estate industry and puts your contact information in the spotlight. Add a logo to the front or back, or use your professional headshot. For more inspiration, check out these 28 real estate business card ideas we love.
19. Photorealistic Business Card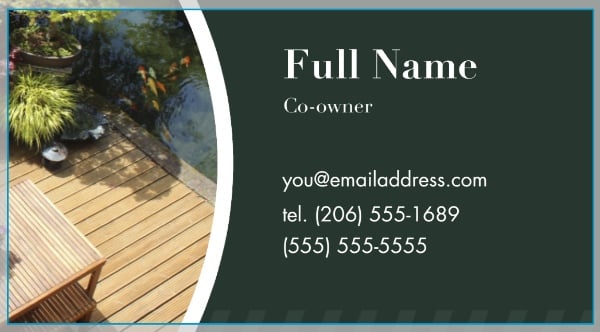 Why it works: Adding a photograph of your work to a business card can be an effective way to capture new customers, as in this template for a landscaping business. When modifying this Staples business card template, replace the photo with anything that represents your work or business type well.
20. Chelsea Groves Business Card for Artists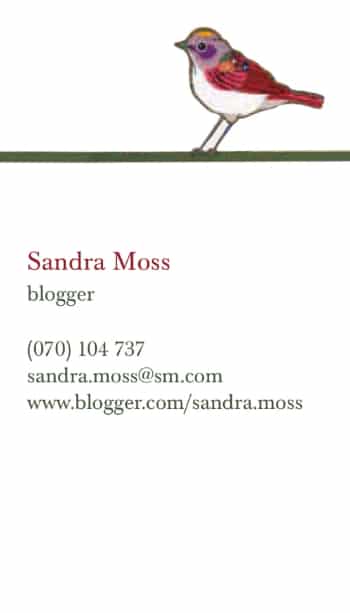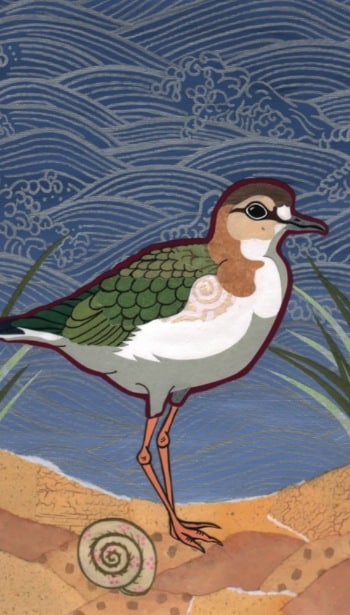 Why it works: Similar to photographers and hair stylists, visual artists would do well to use the high-quality, modern business card templates available from MOO. You can choose different weights of paper when you order, which affects how the card feels in your hand and how your art shows up on the paper. There are also options for rounded or square corners and matte or gloss finishes.
21. Restaurant Business Card Design With QR Code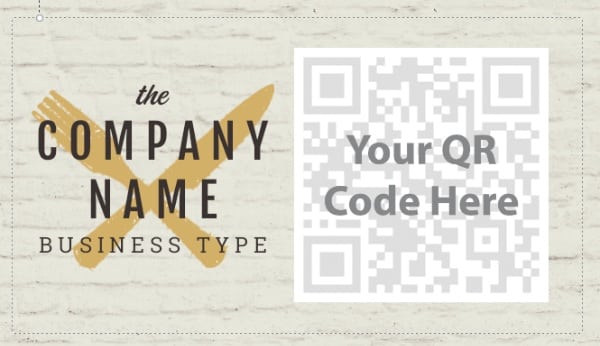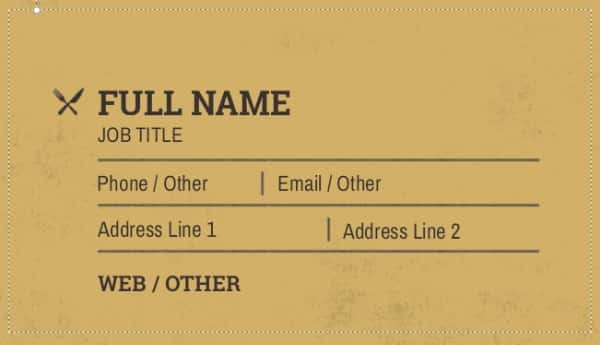 Why it works: Combining helpful elements onto one card makes it as useful to a customer as possible, which is why this business card design makes our list. The addition of a QR code gives customers a quick way to view your menu or daily specials online. The design from Vistaprint is meant for restaurants, but with a few modifications, it could work for nearly any type of business.
22. Business Card Design for Entrepreneurs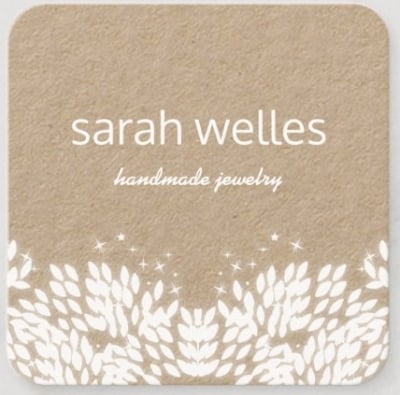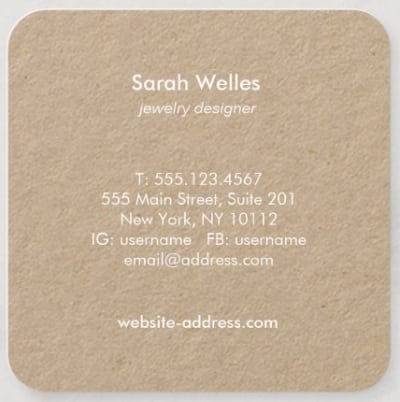 Why it works: A rustic, hand-made business card design is a great look for craft and jewelry entrepreneurs, wedding planners, local gift and home goods shops, and more. The smaller size, rounded corners, and textured stock of this Zazzle template speak to a personal aesthetic.
23. Foil Finish Business Card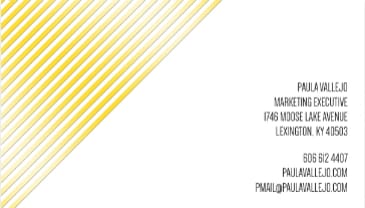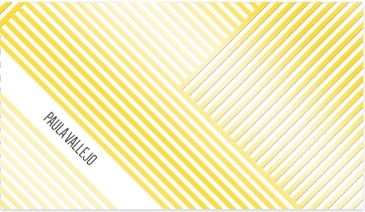 Why it works: For a great first impression with your business card, add some bling—as in the gold or silver foil finish you can get with this MOO business card design. The finished look will be noticed by anyone you give it to. It's bright and bold, and the material with a strong geometric design replaces other types of graphics. It's a good choice for any professional.
24. Die-cut Style Business Card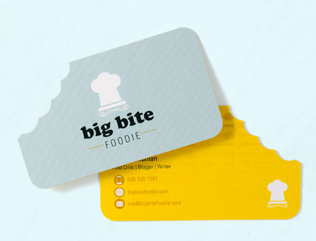 Why it works: One of the most unique styles of business cards is a die-cut card. You can choose almost any kind of cut shape to make your card look and feel different from other business cards. In the PsPrint example here, the bite cutout shape mimics the name of the business. This die-cut method is similar to using raised fonts to appeal to the sense of touch, and visually it offers a bit of whimsy.
25. Classic Business Card Design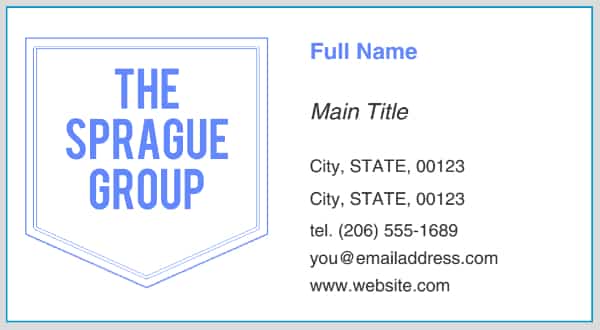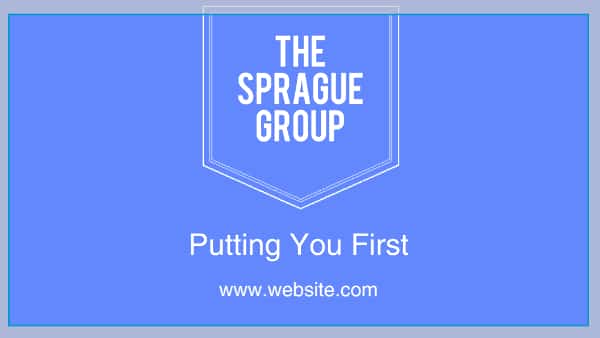 Why it works: Not everyone wants bling―you can stick to the basics and still get a bold, modern design. The great thing about this Staples business card template is that you can add or remove whatever you'd like to make it uniquely yours. It's more of a blank slate for any type of business, but the blue jeans pocket look of the graphic could also make this great for a handy services business or painter.
26. Textured Business Card Designs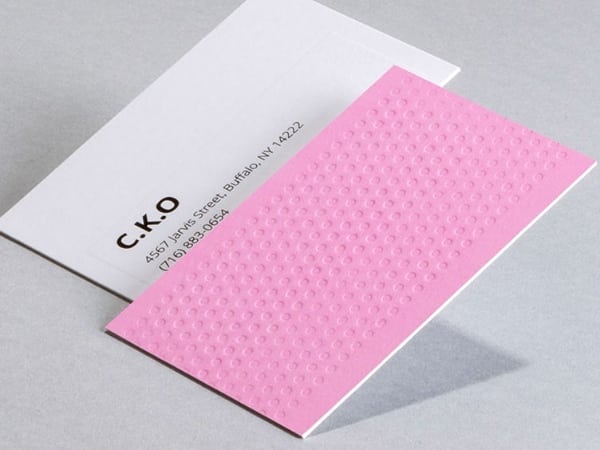 Why it works: Effective business card design isn't just about graphics or design—in this template example from MOO, it's all about texture. You can intrigue a contact by including textural elements, like embossed dots, to make your business card stand out. Bold color helps visually, but this is more about a contact finding your card based on the sense of touch.
27. Stay on Brand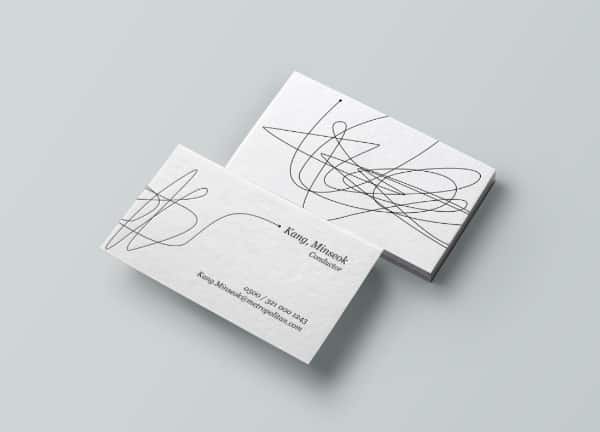 Why it works: In this example of a well-designed business card from 99designs, the graphic element mimics the movement of a musical conductor's motions on the front and back of the card. If you've got an idea for a custom graphic but don't know how to create it, hire a professional graphic designer from 99designs to turn your vision into a marketing-ready logo.
28. Traditional Layout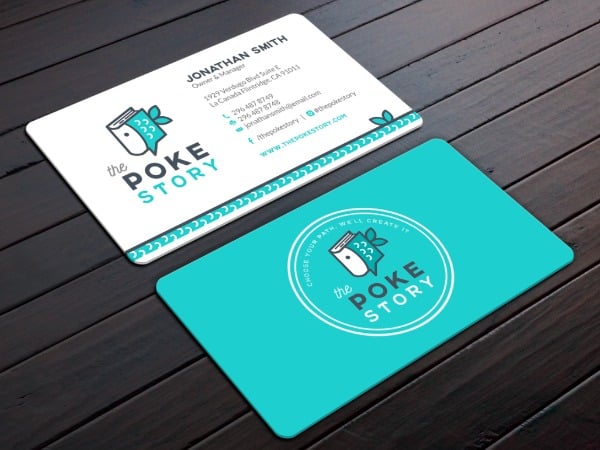 Why it works: A traditional layout can be simple and still stand out with a professionally designed logo and bright colors. If you don't already have an eye-catching logo, consider hiring a designer from 99designs to create your logo and a business card at the same time.
29. Use Eye-catching & Non-traditional Colors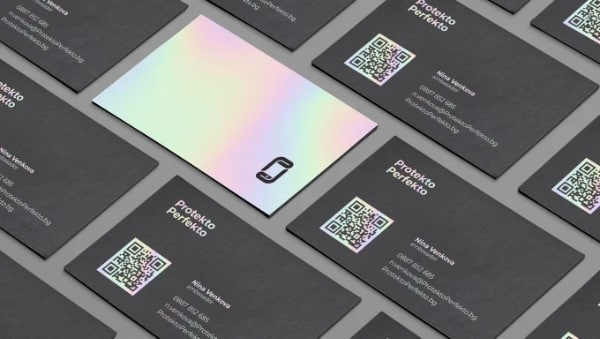 Why it works: Finding a way to make your business card pop in a handful of other business cards can be challenging. Leave it to a pro to use new ways to make your card unique. In this example, a Fiverr designer uses non-traditional colors to create the appearance of iridescence with pastel rainbow colors and shading.
Frequently Asked Questions (FAQs)
How do I design a professional business card?
You have a few options when it comes to designing a professional business card. It might be best for you to work with a graphic designer to help you achieve your vision for your business card styles. Alternatively, you could design the cards yourself via business card templates from some of the best places to print business cards.
What should you not put on a business card?
Although there are no written rules on what should or shouldn't be on a business card, there are some general guidelines you want to follow to make your marketing materials as effective as possible. For example, you don't want to put too much information on a card, or it may be difficult for a client to find the information they need (e.g., your email address or phone number).
How can I make my business card stand out?
Use the ideas in this article to create unique and effective business card designs. For example, using QR codes can be helpful, and including your pricing means a client may hold on to your card for reference. Using different textures of stock, shape, or finishes can make your business card stand out.
You can also make your brand stand out by incorporating the design of your business cards into other marketing collateral, like postcards, brochures, presentations, and flyers. To send clients a full presentation complete with brochure and business cards, save time and money by using the best direct mail services.
Bottom Line
Business card templates make it easy for you to design and order business cards. The best business card companies provide easy-to-use editors that let you swap graphics and images, so you can modify templates to make one that is uniquely yours to represent your business.
To get started with the best business card designs, start with a free template from a trusted company that prints business cards. Vistaprint is affordable and easy to use, and you can choose from a variety of paper weights, finishes, and shapes to make your cards stand out.
You Might Also Like…
Local businesses wanting to diversify their marketing efforts should consider these local advertising ideas.
You could think of Google My Business as an online business card, but it's on Google and easy for anyone to find with a local search.
Every great marketing plan should include email marketing to stay in touch with current customers and subscribers.