The construction industry focuses on the execution of thoughtful designs, so construction business cards should reflect that to help attract potential customers. However, many contractors tend to limit their business card designs to classic colors and images that fail to stand out. To help inspire you, we've compiled a list of examples to follow.
Here are 28 unique and inspiring examples to give a fresh new look to construction business cards.
---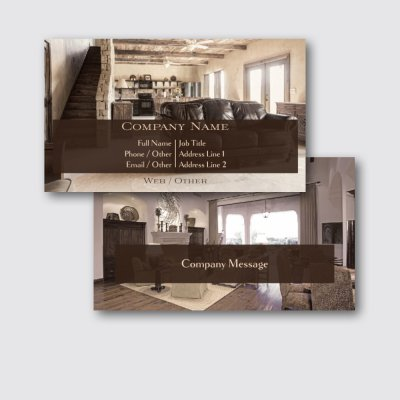 This monochrome look gives this example just the right tone for a before and after remodeling feature. Try hiring a freelancer from Fiverr to design a business card that will properly represent you and your business. Pricing starts as low as $5. Click here to find a freelancer.
---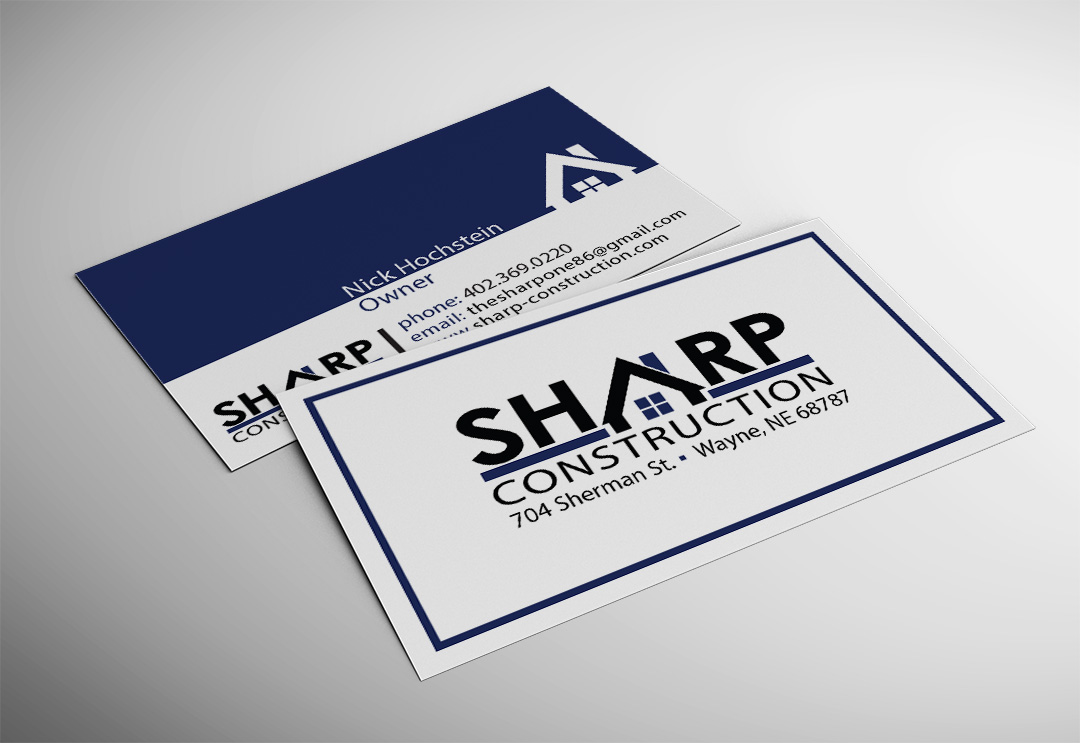 If your business thrives in your local community, this business card design is spot on with the company's physical address displayed right below the logo. The branding is strong, working on brand colors and logo throughout the card. A simple yet effective layout you can try for your own business card.
---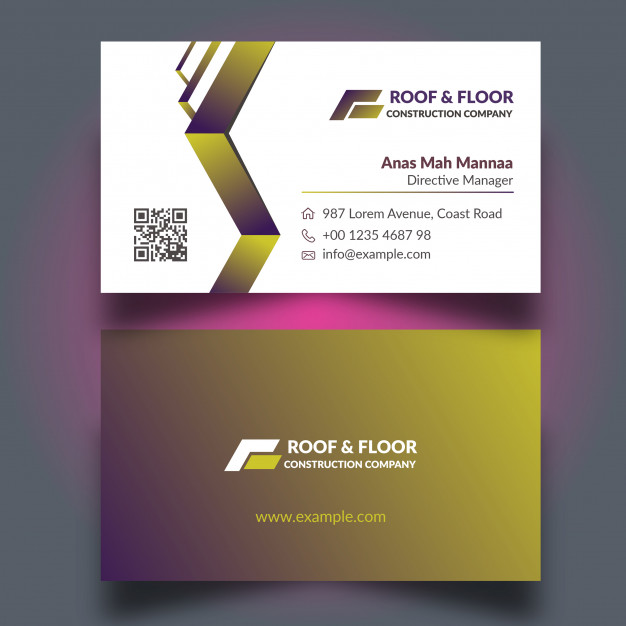 The use of a color gradient can turn business cards from simple to premium easily. Notice how the style is incorporated from the logo to the design and background color as well as to the fonts. To keep it consistent with your other marketing materials, try this out by starting from your major brand color and experiment with gradients.
---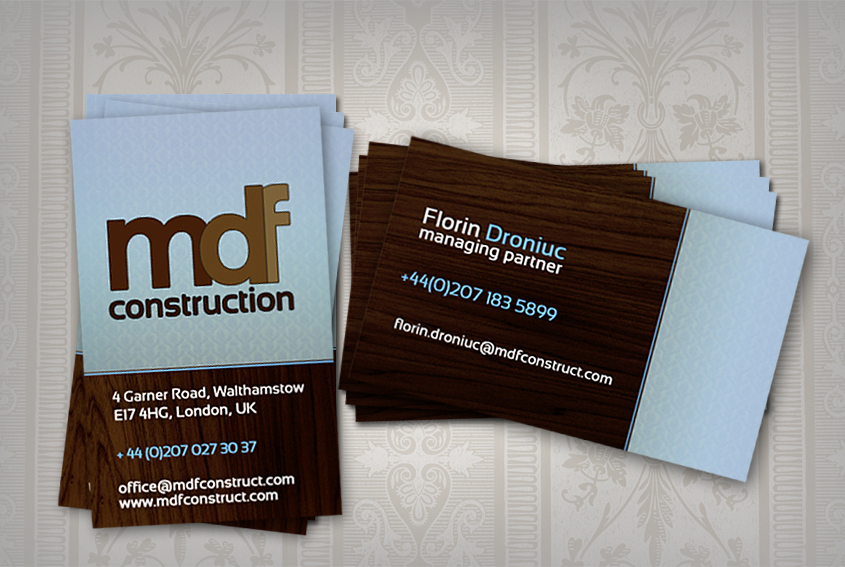 What makes this example stand out is the use of background and layout. Notice how the orientation is different for the front and back. This makes your space more adaptable to different designs but remember to keep the layout clean and pleasant.
---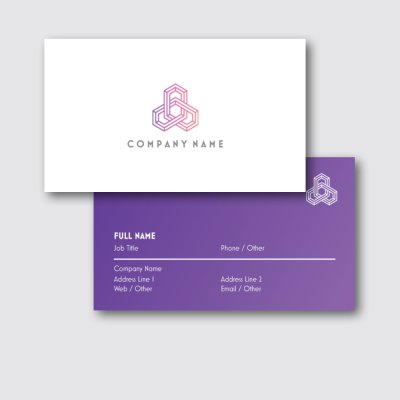 If you have an interesting logo and you want to make it the focus of your business card, remember that the background doesn't always have to be black. This example shows us how adding a spot ultraviolet ray coating finish on a white background gives your business card the same elegant feel. You can then use your logo's colors as the background for the back for a cohesive look.
---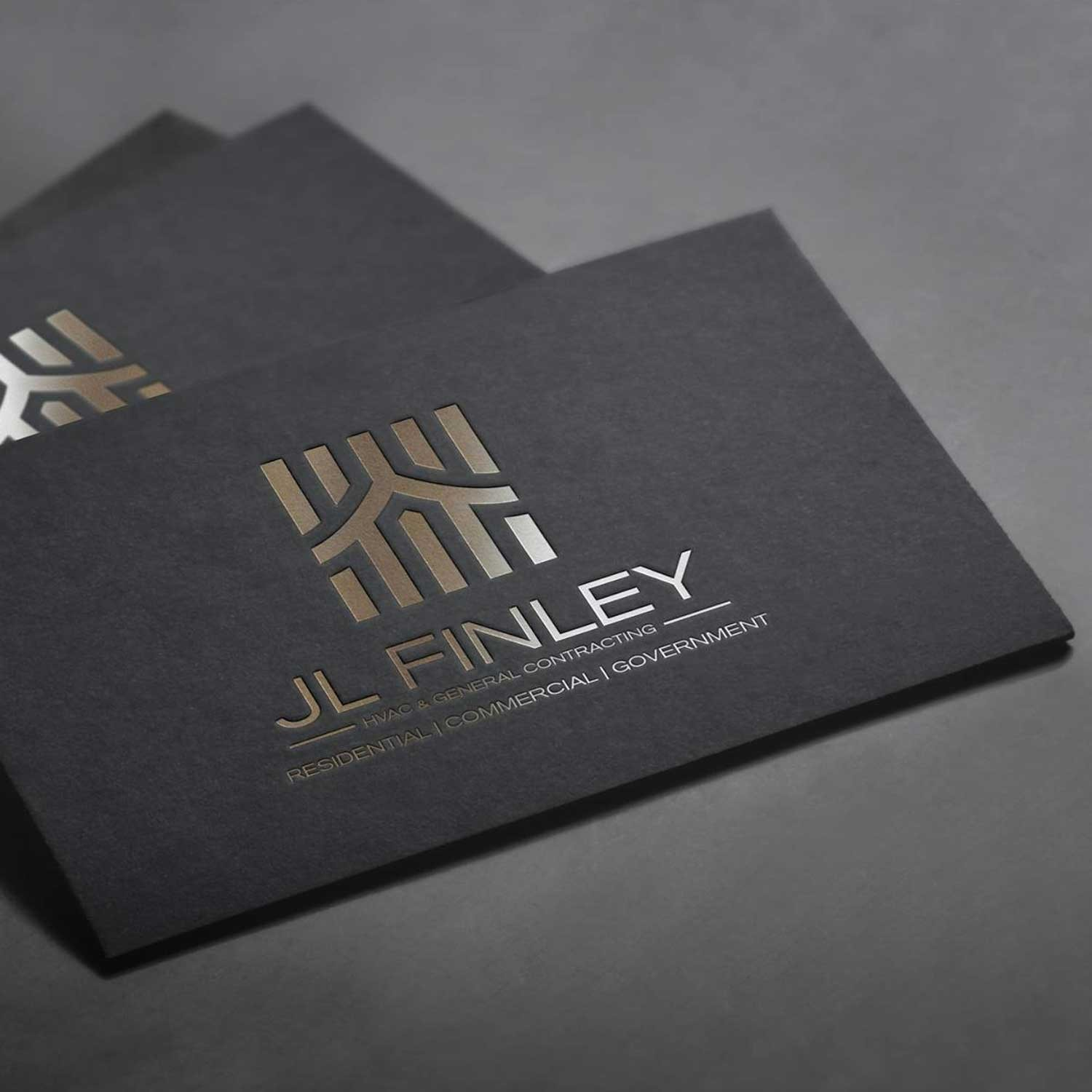 This black and gold elegant card design is usually adopted by corporate construction companies. The use of the gold foil and minimalist style identifies a brand that's more referring to high standards rather than being expensive. Notice how the text is minimal but contains the most important details you need in a business card.
---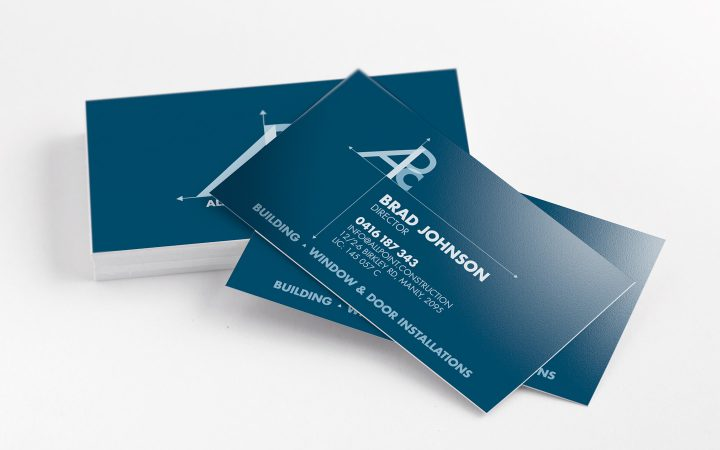 For a simple, efficient look, try this example for your own business card. Use your dominant brand color as a background against white and gray text in the simple layout. Then add your logo to complete the look. The design also highlights important messages by using text in bold and sharper contrast against the background.,
---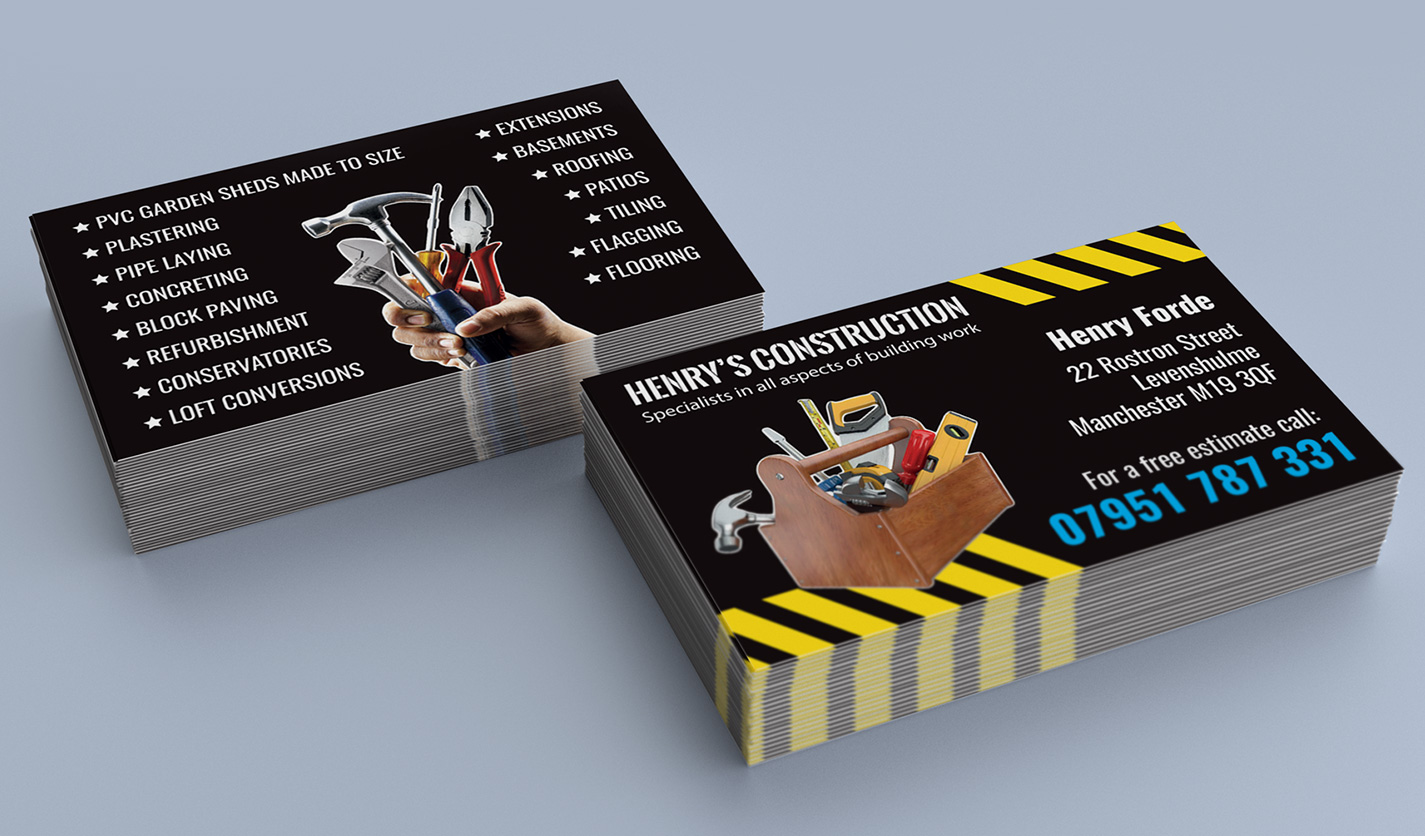 Want a more traditional design for your general contractor business? The traditional construction hazard stripes help your audience identify the nature of your business easily with one look. We also like how this design makes good use of the back of the business card by listing their services and even adding an image without making it look cluttered.
---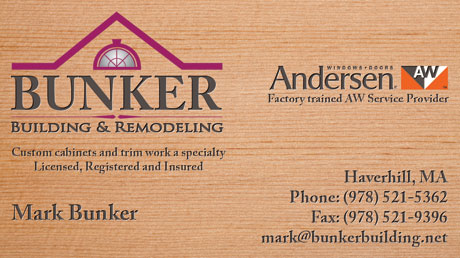 The hardwood background gives this design a more personal look that's ideal for a business that's looking to develop a friendly, personal brand. The layout is simple and the content informative. We like how the designer incorporated the company's slogan and affiliation with other recognized brands to help build trust and immediately improve credibility with its audience.
---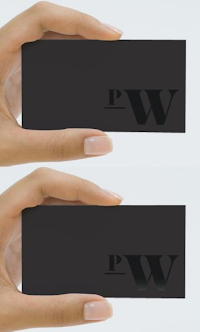 Another idea for a black minimalist design is to focus on initials instead of your logo. Add a unique element on it like Spot UV, metallic finishing, gloss, embossing or debossing that will easily catch the eye. This feature makes it easy for your audience to pick your business card out from a pile.
---
11. Logo Silhouette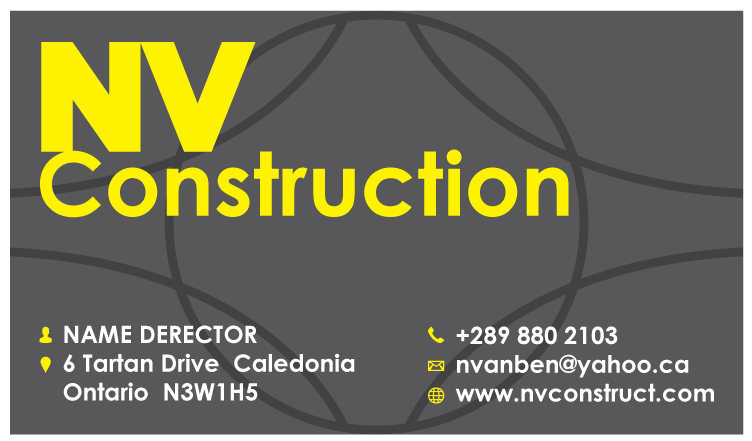 This is a simple, straightforward design for those who want to develop an efficient and professional look to their business card. Add your logo's silhouette to the gray background and use a bright yellow font for your company name and the icons against your contact information. Keep it short and simple if you want to add more on the back of the card, like your company slogan, center aligned and in yellow font.
---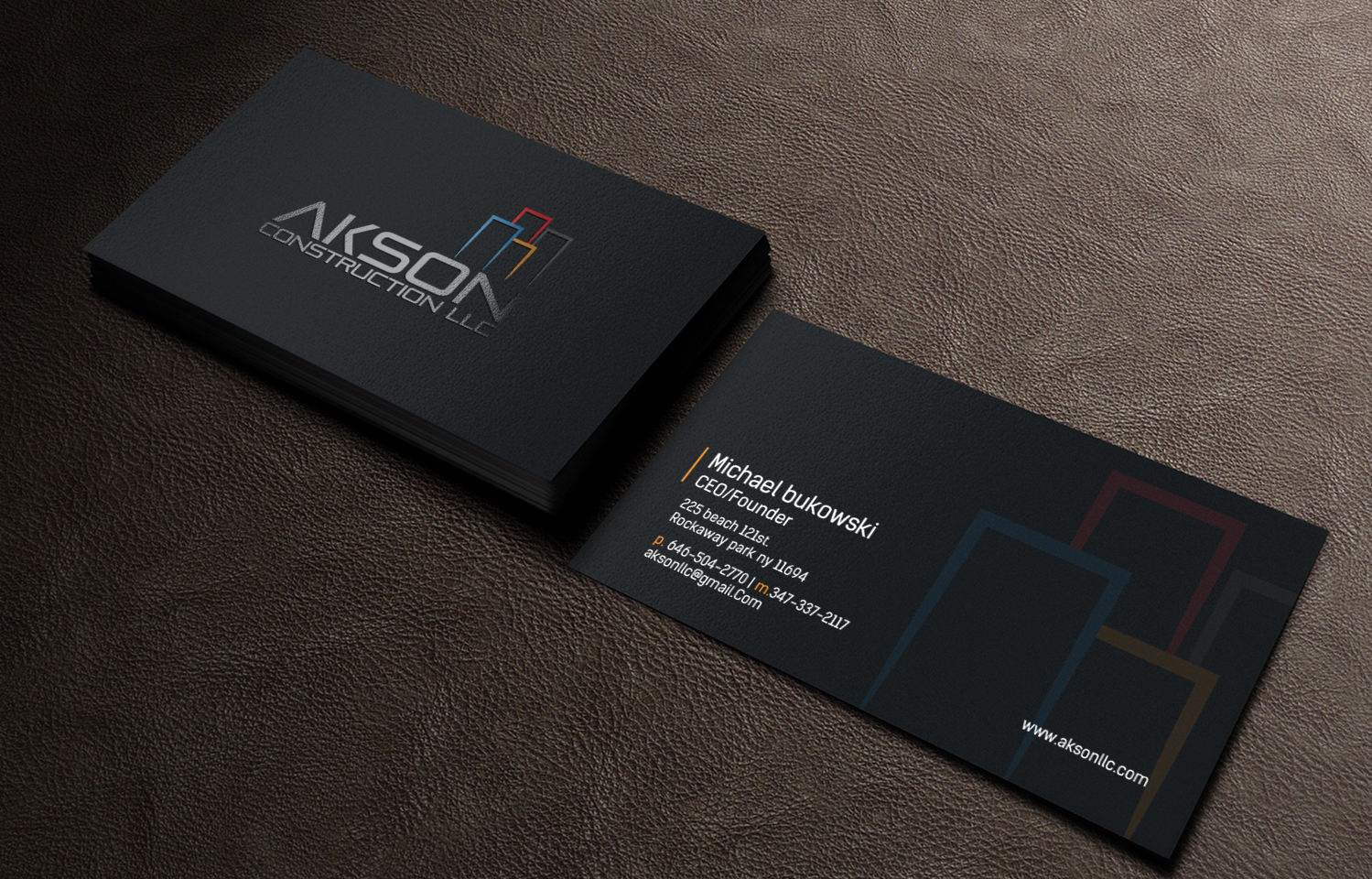 This example demonstrates the versatility of a black business card by using different designs. However, if you want to maintain an elegant look, keep the image and text to a minimum. Notice how they limited the front side with just the company name and the company logo in a simple yet colorful accent. The same pattern is used at the back but with more use of the space and incorporating the colorful logo as part of the background.
---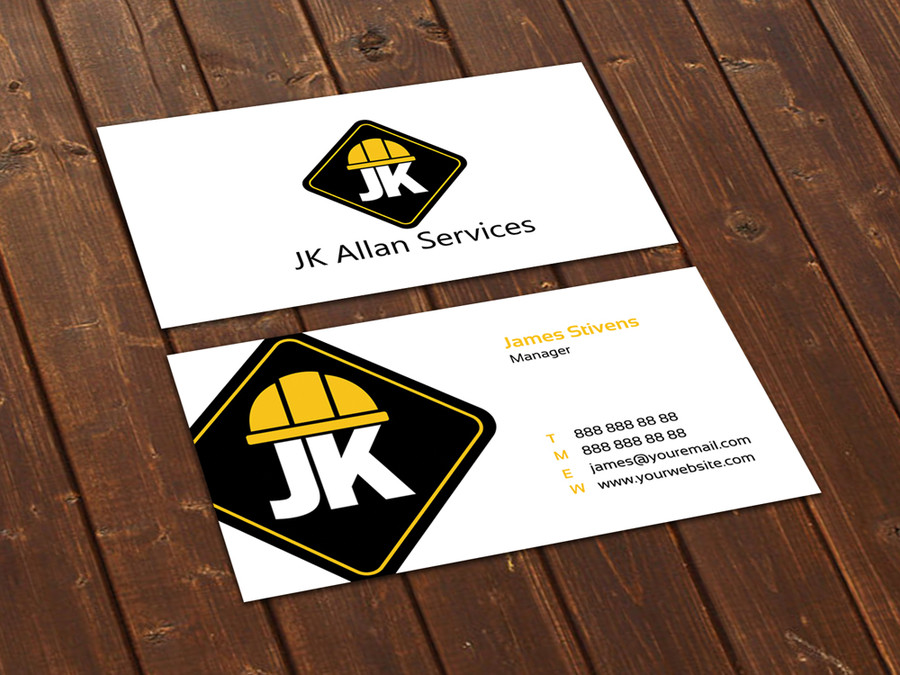 If your logo takes up somewhat a huge space that can be overwhelming, take advantage of its feature by using it as an anchor image for your card. You can use a different color for your paper stock but choose one that's solid and will not clash against your brand colors. The glossy, white paper in this example followed by the use of the same accent color on your logo with the text completes the look.
---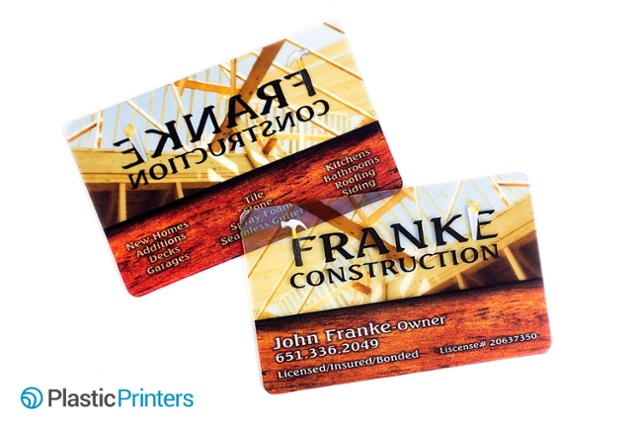 The use of plastic for your business card allows for a wider design option, which also means a more creative way to showcase your brand. This example created an almost glass concept that makes you feel as if you're looking out to a construction site. The border panel at the bottom completes the look and gives the rest of the business information to the audience.
---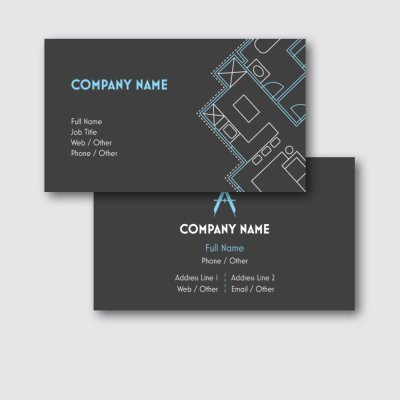 Instead of the traditional construction business images, try adding a blueprint to your design like in the example. Use a dark-colored background and your company colors in the illustration for a strong branding. You can also try keeping only the company name and your business website on the front while the rest of your information is at the back, along with your logo.
---
16. Image Portfolio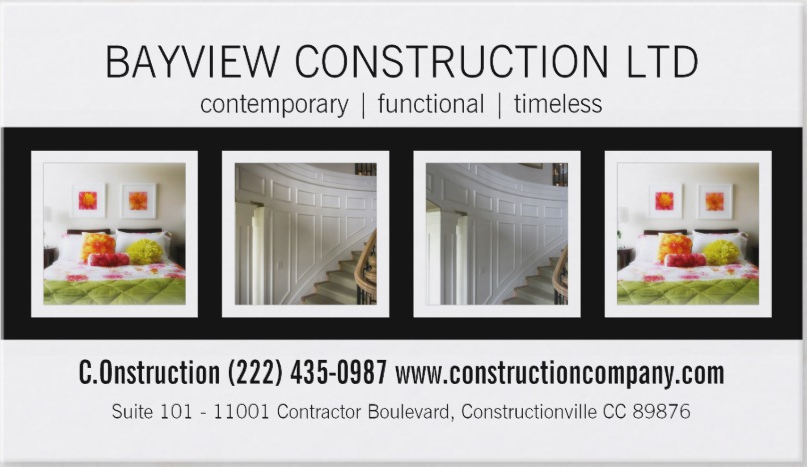 Make use of your image portfolio to create a gallery on your business card. In this example, the designer used border frames to maintain a clean, organized layout. One good idea is to keep your fonts thin and simple to balance out the thick frames used for your images. This helps to keep your card looking too busy or cluttered.
---
17. Minimalist Design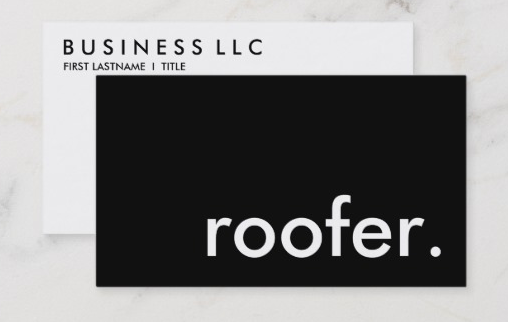 Some might think that this type of business card might be too much of a minimalist for their taste. However, for those who want to use the unconventional to grab attention, this might just be the one to try. We suggest adding your company logo on the front side of the business card to add a little more personalization to the design.
---
18. Modern Twill Grid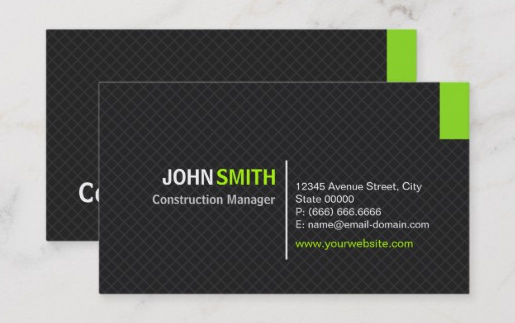 Make your business card stand out with this stylish modern twill grid design. The black and mint grin gives just the right color accent to keep your business card looking clean and elegant. Customize the accent color with your dominant brand color to give a look that helps recognize your brand.
---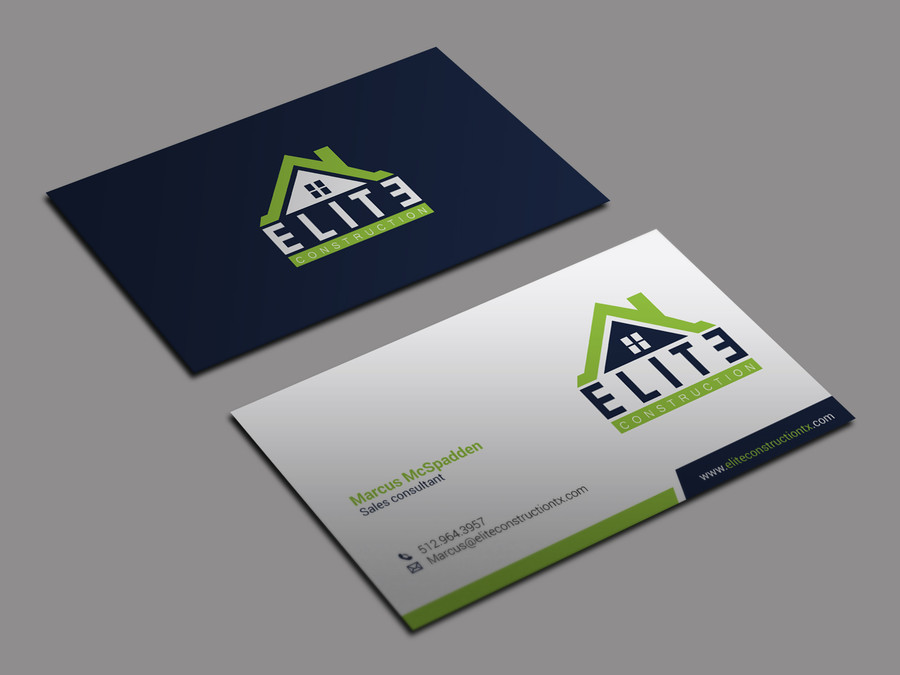 This example showcases how a simple design and clean layout can make your card looking attractive. We like the smart use of the brand colors all throughout the business card, including the two-panel accents at the bottom. You can also try adding your company slogan or a call to action on the darker side of the business card, right underneath the logo.
---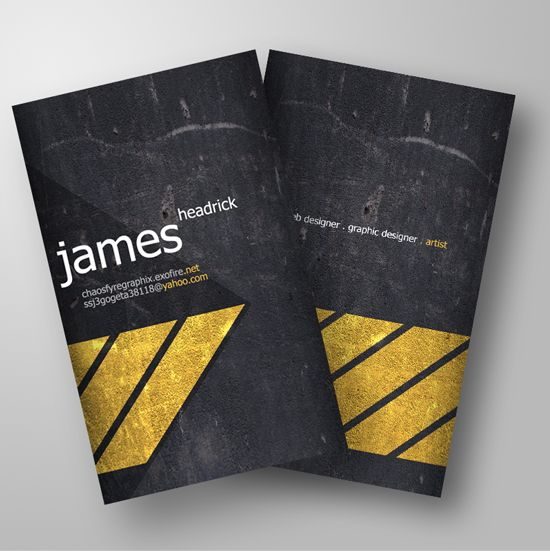 The title and designation in the example might not be specifically for construction cards. However, if you want a more rustic feel, try this design that sets the classic yellow hazard stripes against a gray, almost chalkboard-like background to create an overall grunge look. Add your company logo and business name on the front and then move your name at the back along with your job title and contact details.
---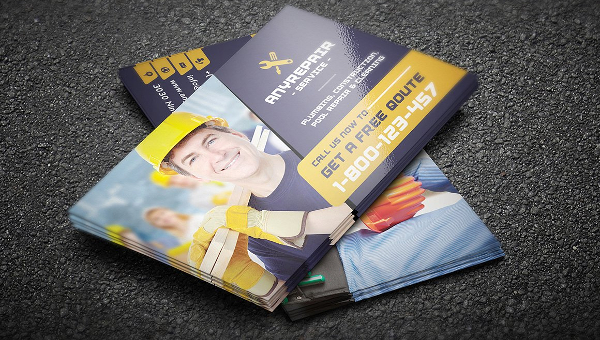 This example helps build trust by adding your photo onto your business card. The design also sports a colorful look and a glossy finish giving the card an almost lifelike feel. We like how the layout included a prominent call to action and phone number to give the audience the next step after receiving your business card.
---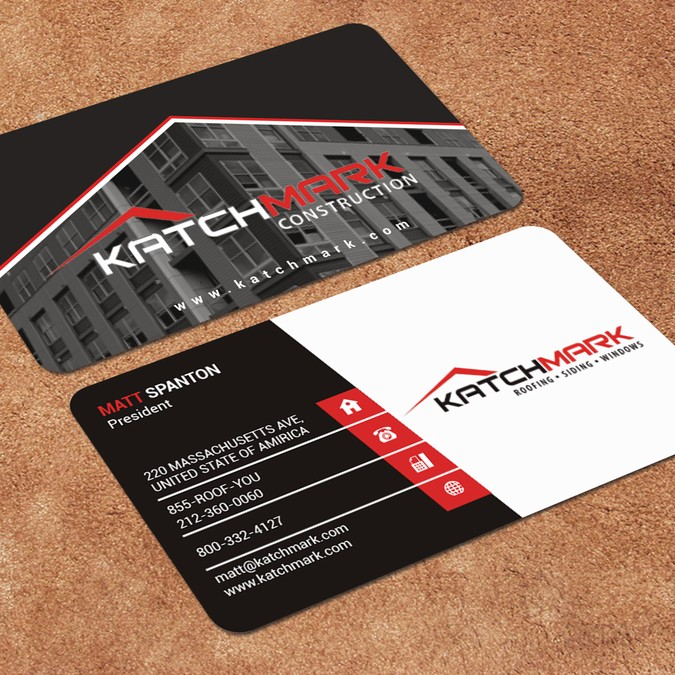 A modern, corporate look, this example is perfect for larger construction companies that want to portray a brand that says "professional" and "industry leader" in the design. Notice how the choice of colors and even the lines were chosen from the company logo to promote the brand effectively.
---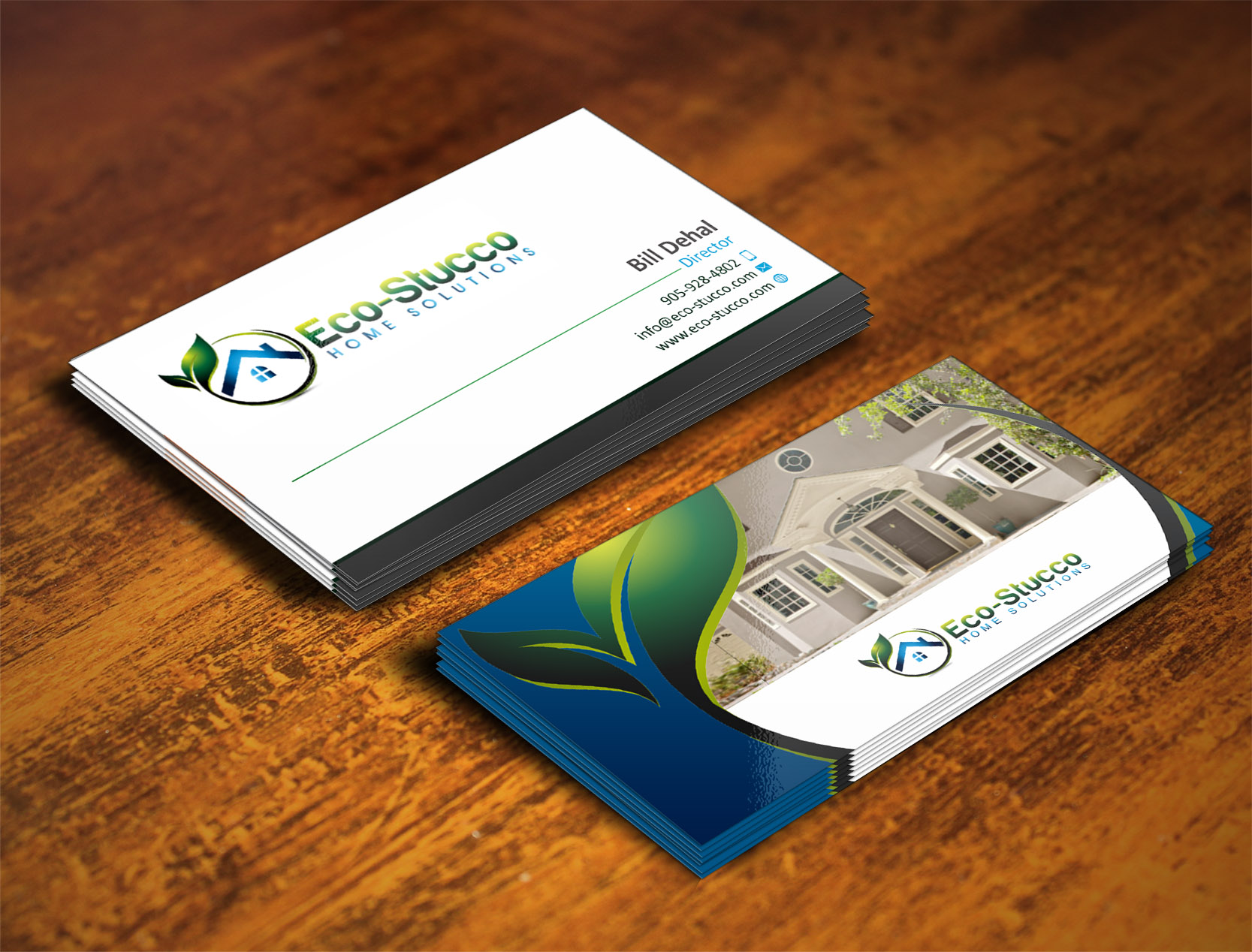 If your company promotes the use of eco-friendly processes and design in your business, this example is a must see. The use of colors and round, curving lines gives emphasis to the business logo and can work similarly to promote your own. Make sure to keep the tone bright and the mood light to achieve the eco-friendly effect in your business card.
---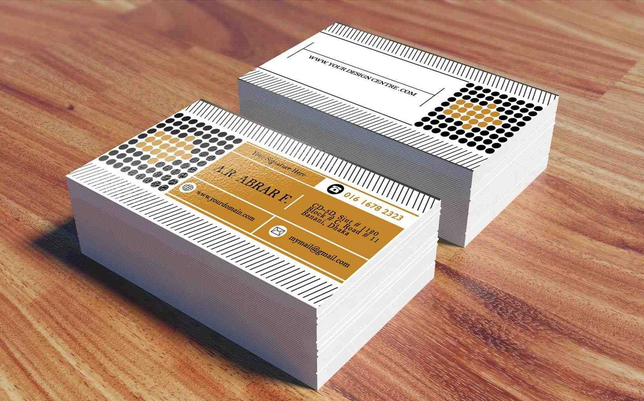 This is a modern take on the traditional colors and symbols for construction. It's brighter and using a white background instead of masculine or dark colors. The play on shapes and lines with the color accent makes this business card interesting and eye-catching for your audience.
---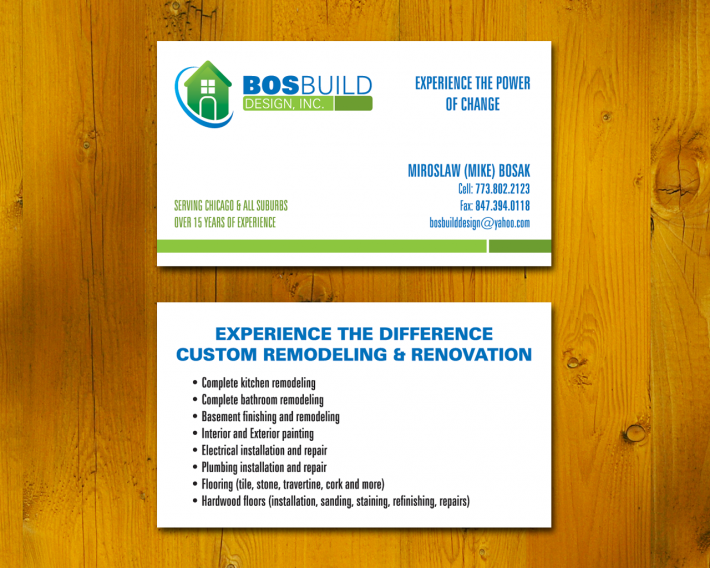 This is another example that strays from the traditional black and yellow theme for construction businesses and instead works with blues and greens against the background. Notice the keywords used in the slogan and taglines — in this case, "Change" and "Difference" — are used to complement with the idea of remodeling and renovation, and it gives you an idea of how the colors are chosen. Once you have your audience curiosity piqued with your design, use of the back side to list important information to get your audience calling.
---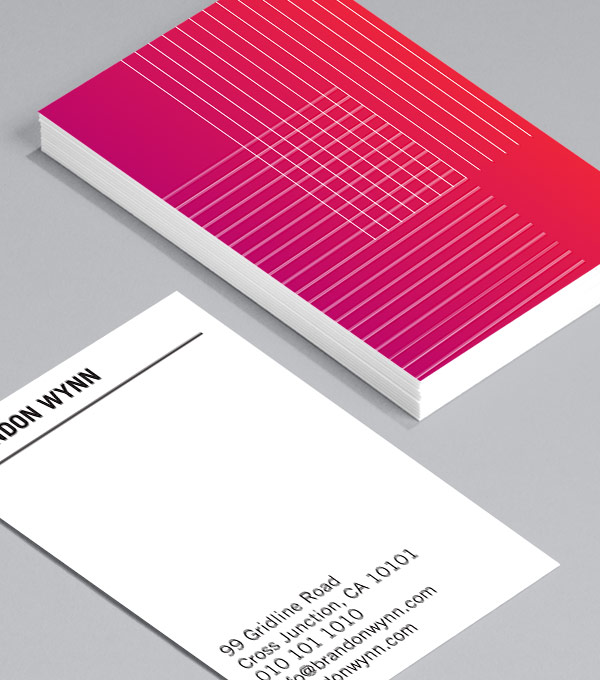 You might wonder why this example is included in the list. One way to stand out is to make use of unexpected colors on the front side of your card to attract audience attention and follow it up with a simple grid design. If you have a prominent brand color, you can use this instead then add your company name and other information on the back side of the card.
---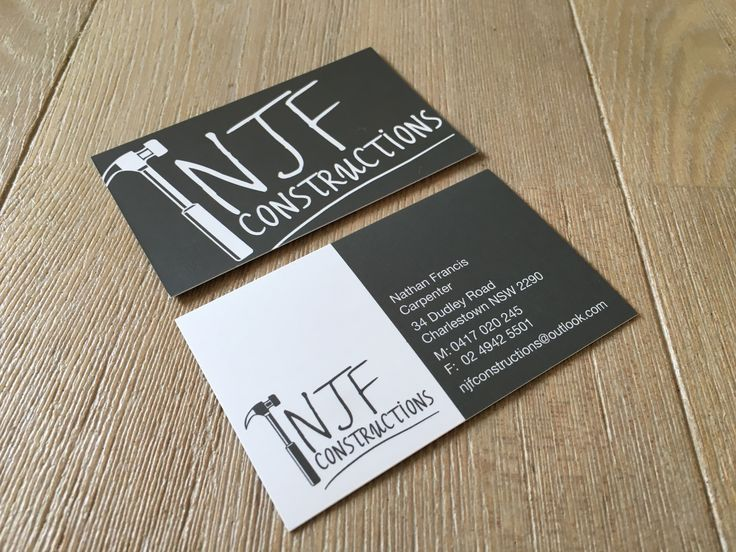 Want a more personal look to your business card? This chalkboard illustration design is both refreshing, friendly and lets your card stand out from the crowd. If you want to try this look, remember to incorporate white space in your design and to keep the layout clean and pleasant to look at.
---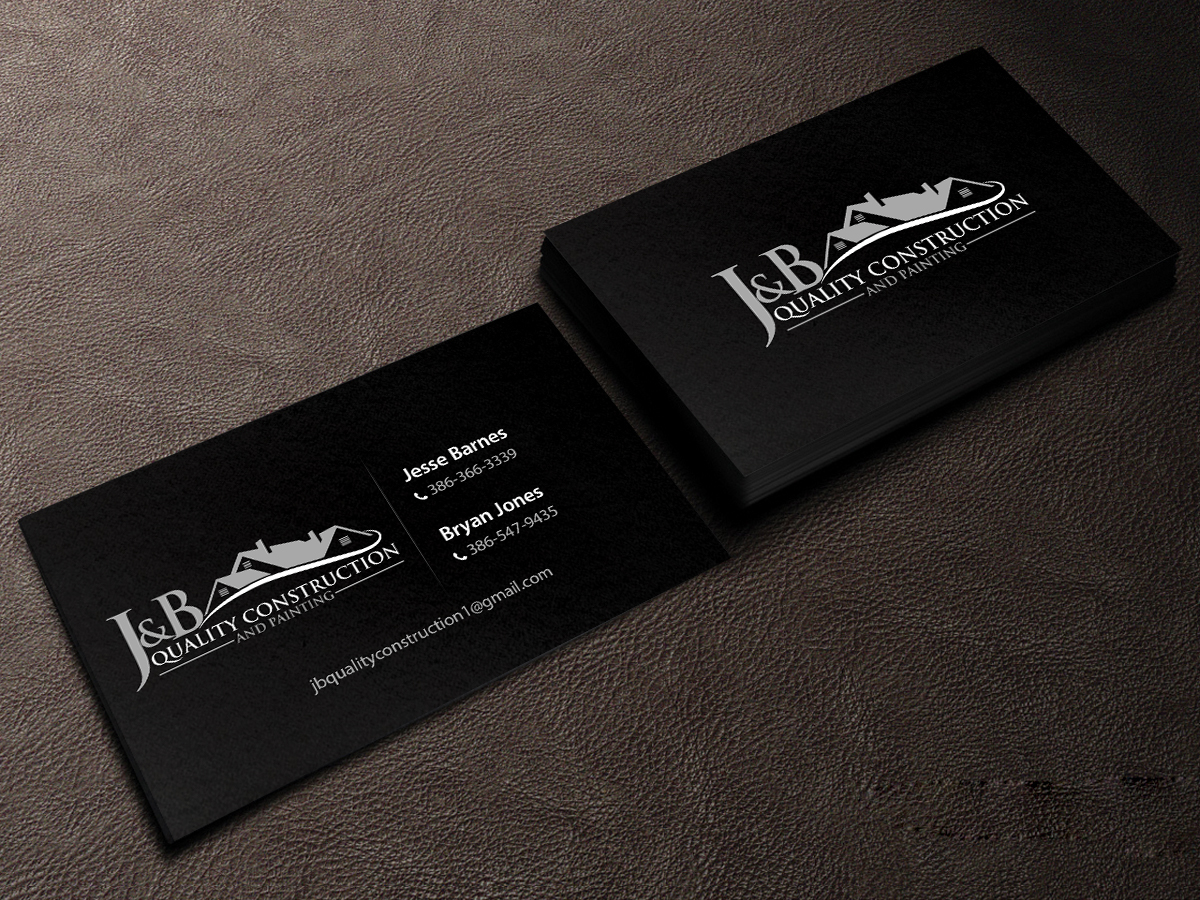 A glossy, white-on-black business card that's as elegant looking as it's silver and gold foil counterparts. This shows how you can achieve the same classy look without the extra cost. Your company logo and name in silhouette, paired with short, simple text is eye-catching and very pleasant to look at. We like how they set the email address apart to make it stand out. This can be done to your website as well depending on your preferred means of contact.
---
Over to You
If you feel that your construction business is not picking up leads as well as it should, consider reinventing your business card. Use the tips from our list and try a fresh new look that's sure to grab the attention of potential customers in no time. Then, choose a business card provider to get started.
Want to add your favorite construction business cards to our list? Share them with us in the comments.