6 Best Call Blocker Apps of 2023
This article is part of a larger series on VoIP.
The best call blocker app stops spam and unwanted calls and messages. Choose a free app if you only need call screening and text blocking, or consider a paid version to get visual voicemail and call recording, which benefits professional users. Stop pesky spam interruptions by choosing from the six best call blocker apps for iOS and Android phones:
Best Call Blocker Apps at a Glance
Call Blocker Apps

Monthly Starting Price

Key Features

Other Features

FSB Rating

Free; $7.99 for paid plans

100% call blocking functionality
Multichannel transcription
Identifies voicemail spam

Professionally recorded greetings
Unlimited visual voicemail
Auto-attendant

4.66 out of 5

$4.99

Answer bots
Audio fingerprinting
Spam text blocking

Scheduled call blocking
Spam patrol
Customized block and allow lists

4.60 out of 5

Free; $2.99 for paid plans

Reverse phone lookup
Spoofed call protection
Call screener

Voicemail protection
Caller ID
Spam call categories

4.44 out of 5

Free; $2.99 quarterly for paid plans

Call blocking
SMS blocking
App dialer

Spam statistics
Spam identification
Ad-free premium plan

3.94 out of 5

$5.99

Unmasks unknown callers
Unlimited reverse number lookup
Custom blocklists

Privacy lock
Call recording
Spam protection

3.92 out of 5

Free, $9.99 for quarterly paid plans

Automatic spam blocking
Quiet hours
SMS blacklist

Reverse phone number lookup
Enhanced caller ID
Call control for landlines

3.86 out of 5
YouMail: Best Overall Call Blocker App
What We Like
Free plan option for individual users
Offers local and vanity numbers
Automatic SMS (short messaging service) reply
What's Missing
Lacks a desktop application
Secondary plan eats into your primary number's plan limits
Limited customer service channels
YouMail Monthly Pricing*
Free: Basic call and voicemail protection
Plus: $7.99 for total spam protection
Essentials: $14.99 for call screening and custom greetings
Complete: $24.99 for five new phone numbers, auto-attendant, and call handling
Ultimate: $34.99 for unlimited visual voicemail and 15 phone numbers
*Save 20% when you opt for yearly billing
YouMail is our pick for the best overall free apps to block spam calls—available for iOS and Android phones and landline desktop devices. YouMail stands out due to its added voice-over-internet-protocol (VoIP) business phone features, including voicemail transcription and virtual phone numbers (from one up to 15) per plan. Users also have access to call routing features with virtual receptionists.
Much like TrapCall, it delivers a "number out of service" message to spam callers and ends the call without forwarding it to your voicemail. However, YouMail can't protect your text inbox from spam and scam messages. If you're looking for such a feature, choose Call Control. This application filters spam messages into a separate folder.
YouMail Features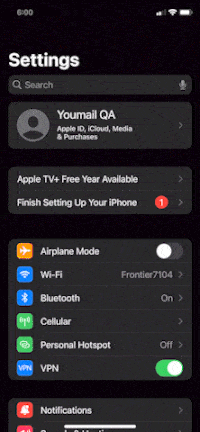 Call screening: YouMail's call screening is excellent for blocking unwanted callers while letting verified callers through. Unrecognized callers need to get through an audio captcha and press a couple of keys to get through and ring your phone.
Free phone number: All YouMail plans have a free second phone number. Get up to 15 local or vanity business phone numbers with free and paid services.
VoIP services: The free plan includes 120 voice minutes. Paid plans additionally offer call management features, such as an auto-attendant, automatic SMS replies for missed calls, and call routing to extensions.
RoboKiller: Best Spam Blocker App Offering Strong Scammer Responses
What We Like
Spam text blocking
Easy application set up for both iOS and Android
Well-designed, easy-to-navigate interface
What's Missing
Bots are sometimes unreliable
Reduces calls, but some calls still get through
Limited customer service availability
RoboKiller Pricing*
Monthly Protection Plan: $4.99 per month
Annual Protection: $39.99 per year
Free trial: 7 days
*Save up to 33% with annual billing
RoboKiller is the best spam call blocker that gives individuals and businesses the power to fight against spam using answer bots. As your secret weapon against distractions and unwanted calls, RoboKiller uses prerecorded audio files that are played back to spam and robo-callers that waste scammers' time instead of yours. Of all the best apps to block spam calls, this is one of the more entertaining and gratifying ways to strike back.
Unfortunately, RoboKiller is at the costlier end of the spectrum compared to other providers, which can become expensive in the long run. If you're on a budget, Hiya offers a free app for blocking calls that's also advertisement-free.
RoboKiller Features
Audio fingerprinting: This RoboKiller feature takes a recording of each robo-caller's unique audio recording and compares it to other "audio fingerprints" to identify phone scams effectively.
Spam text blocking: With the increase of spam texts, RoboKiller uses a predictive spam call blocking algorithm that proactively analyzes each incoming call before it rings your phone and determines whether it's spam.
Radar: Opting for radar makes you part of a patrol network. This allows you to submit your spam reports daily, enhancing RoboKiller's algorithm for blocking unwanted calls.
Hiya: Best for Companies Needing Multilanguage Solutions
What We Like
Free version is also ad-free
Simple and effective
Blocks both spam calls and texts
What's Missing
Only available as an app without a desktop, web version
Doesn't block spam text messages
Free version does not automatically block calls
Hiya Pricing
Free: No charge for spam alerts and fraud detection
Monthly: $2.99 for premium subscription
Yearly: $14.99 for the yearly subscription
Free trial: 7 days
Hiya offers a free call blocker application version with premium robocall blocking services without advertisements. In addition to its low cost, this spam blocker supports multilanguages that are not limited to English, French, and Spanish. This is great for businesses with international numbers and a global presence. In addition to the cost-free version, if you're interested in upgrading, try out its free trial for paid plans.
Unfortunately, one of the comments regarding Hiya is that while it's intuitive, it can be a bit laggy or slow. For a more reliable service, check out YouMail, our top pick. In addition to offering a free version, upgrade your package to VoIP features that include inclusive minutes and voicemail.
Hiya Features
Caller ID management: Hiya lets you register and correct your business information in the Hiya database. The tool also enables you to report inaccurate or offensive comments listed under your phone number.
Call screener: This optional feature blocks unknown phone numbers and sends the callers a text message asking them to identify themselves.
Languages: Hiya is the only spam blocker app on our list with language preferences on its website and the iOS Hiya app download page. Supported languages include English, French, German, Italian, Portuguese, and Spanish.
Truecaller: Best Call Blocker App for All-in-one Messaging Platform
What We Like
Blocks calls and messages
Community IQ features
Offers Do Not Disturb mode
What's Missing
Repetitive prompt to set the app as the default message and call application
Premium is the only ad-free plan
SMS content is not stored
Truecaller Pricing
Free: For basic call blocking features
Monthly: $2.99 for a premium subscription
Yearly: $26.99 for the yearly subscription
Free trial: 7 days
Truecaller is a popular call blocking app trusted by over 330 million people to identify calls and SMS from around the world. This free phone-blocking app allows you to select which phone numbers will be on your blacklist and choose whether you're blocking messages, calls, or both. Its Urgent Messages feature lets you respond with animated emojis and send quick note messages. However, its iOS application is found to be inferior to the Android version.
Truecaller has gotten feedback that its ads can be irritating. If you're looking for an ad-free call block app, check out Hiya. Its free version is advertisement-free, and like the other providers on this list, Hiya blocks spam and scam calls and displays caller ID names and reasons for incoming calls.
Truecaller Features
Caller ID: Truecaller's Caller ID allows you to identify any domestic or international number by automatically detecting the location and name of the person calling. There are different True Colors to identify callers; blue is for a standard call, red is for scammers, purple is for priority calls, and green indicates a verified business.
Spam blocking: The application blocks telemarketers, scams, frauds, and robocalls based on real-time community reports. Community members report numbers in real time, so everyone is always protected against unwanted calls.
Smart SMS: Truecaller is able to manage all your messaging through a single application. Make it your main SMS app to identify spam, schedule messages, use chat, and track upcoming bills. This feature, however, is only available in select countries.
TrapCall: Best for Unmasking & Identifying Incoming Callers
What We Like
Plays a disconnect message to anyone on your blocklist
Unmasks unknown callers
Reverse number lookup provides photos, numbers, and addresses
What's Missing
Does not offer a free plan
Basic plan lacks call recording and transcriptions features
Monthly fees aren't disclosed unless you sign up for the service or free trial
TrapCall Monthly Pricing*
Basic: $5.99 for call blocking and 10 reverse number lookups
Premium: $9.99 for call blocking, 50 reverse number lookups, 10 voicemail transcriptions, and call recording
Ultimate: $24.99 for call blocking, unlimited reverse number lookups, voicemail transcriptions, and call recording
Free trial: 7 days
*TrapCall's pricing is not readily published on its website. Prices posted are based on the latest online information and are subject to change.
TrapCall lands in the top spot when it comes to unmasking calls. It lets you regain your privacy by letting you know who's hiding behind those pesky "No Caller ID" and "Restricted" calls. It boasts of a patented technology that identifies your callers. All you have to do is decline the call and calls ring back to you unmasked in a matter of seconds. Unfortunately, you must first decline the call for the app to ID the caller.
At this time, TrapCall is only available in the United States; if you're looking for the best call-blocking apps that offer more global coverage, try Hiya. This call blocker supports multiple languages, including English, French, and German.
TrapCall Features
Custom blocklist: Once you add callers to your blocklist, every time they call, TrapCall plays a message saying, "The number you've dialed has been disconnected or is no longer in service."
Record incoming calls: If blocking callers doesn't work, capture incoming calls for documentation with this recording feature. This is particularly useful if you need proof of harassment or want to unmask someone calling you.
Privacy lock: TrapCall will ask unknown callers to identify themselves by stating their names. If you answer, you'll hear their recorded name and have the option to accept, hang up, or send the call to voicemail.
Call Control: Best Call Blocking App for Teams Using Mobile & Landline Devices
What We Like
Extensive database of spam callers
Flexible enough for solopreneurs, small businesses, and enterprises
Protects against spam voice calls, and text messages
What's Missing
Only 10 premium phone number lookups per month on the paid plan
Premium plan information and prices aren't listed on the website
No visual voicemail
Call Control Pricing*
Free plan: Download the app and block spam calls for free
Quarterly plan: $9.99 per quarter
Yearly plan: $29.99 per year and additional data
Free trial: 7 days
*Call Control's pricing is not readily published on its website. Prices posted are based on the latest information available online and are subject to change.
Call Control is one of the most widely used platforms for blocking spam, robocalls, and telemarketers. Call Control is available for desktop landlines, Android, and iOS, and protects your landline using the companion smartphone app. In addition to supporting both mobile and landline devices, it also comes with a built-in feature called CommunityIQ, which facilitates creating Do Not Call reports and community reports.
While the app automatically blocks the calls from those on the personal blacklist and spam callers, if you want to know who is calling, try TrapCall. It works by stripping away hidden phone number information that prevents you from identifying the caller. Use this app to block calls and know who is on the other end of each incoming call.
Call Control Features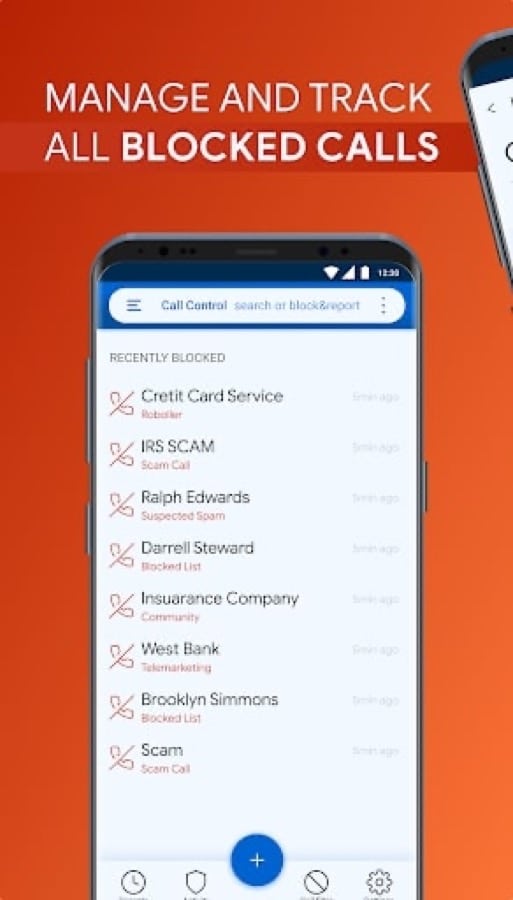 Landline call control: Landline device protection requires a one-time fee, which isn't disclosed on the Call Control website. It automatically blocks spam callers on your landline and provides data about blocked landline calls on your mobile app.
Allow and blocklists: Business versions of call control give each team member's account the ability to add numbers to both allowed and blocked number lists and set time-of-day call handling preferences.
Network integrations: Call Control provides application programming interfaces (APIs) and integrates with popular business phone systems, including Nextiva, Avaya, Cisco, and Broadsoft.
How We Evaluated the Best Call Blocker App
To identify the best call blocker apps, we compared top iOS and Android apps that prevent unwanted calls and messages. These third-party call blocking apps can shield your number from unwanted calls and help you recognize unknown numbers. We reviewed their features and database sizes to determine which is most effective. In addition, we looked for spam and scam call filtering solutions that work well for solopreneurs and small businesses. Criteria and pricing were essential elements we considered, given that smaller teams may have limited resources.
Learn how we evaluated the best call blocker apps by clicking on the tabs below:
25% of Overall Score
In reviewing different call blocker apps, we compared the standard capabilities in IVR systems, such as multilanguage support, allow listing, and caller ID. We also looked at spoof call detection, and the messages or tones played back to scam callers.
20% of Overall Score
We considered call blocking apps that provide spam text message protection and the ability to report numbers to the Federal Trade Commission (FTC). Also, we looked for call recording, straight-to-voicemail functionality, and free or paid visual voicemail features.
25% of Overall Score
We appraised call blocking apps based on the cost and features to determine overall value. We also explored the app's popularity, ease of use, and the value of its features. One of the critical considerations in this review is the customer's feedback based on their use of the software.
*Percentages of overall score
Frequently Asked Questions (FAQs)
Can you block a call without the caller knowing?
Typically, no notification is sent to the caller when they are blocked. Instead, they might hear a busy signal or a message stating that the call couldn't go through. Some providers also present blocked callers with a busy signal. Other providers might allow the caller to hear a single ring before immediately diverting the call to voicemail.
Will a call blocker app block unwanted texts?
Not every call blocker app will stop text messages. For this type of functionality, consider a blocker with SMS blocking. There are also dedicated text message-blocking apps on the market.
Can you see if a blocked number has tried to contact you?
Most providers, like Hiya and Trapcall, alert you when a blocked number has tried to contact you. Additionally, some providers will create call histories for your blocked numbers in their block lists so that you have a detailed record of blocked called attempts.
Bottom Line
Using a paid or free call blocker app gives you extra protection against scammers and minimizes distractions and unwanted phone interruptions. With all the available applications, you will want an intelligent application that features effective caller identification and an intuitive interface.
Our top pick for the best call blocker app for small businesses and solopreneurs is YouMail. It provides a free version and offers affordable paid plans that scale up with VoIP features as your business grows. All packages include VoIP minutes, voicemail, and unlimited reverse number lookups. Download the free app today or sign up for a free premium service trial.