What Is Call Filtering: A Small Business Guide
This article is part of a larger series on VoIP.
Filtering calls gives users control over who can reach your business. The technology enables users to accept, decline, route, and block specific numbers, preventing spam and forwarding calls based on preferences. This guide answers what is call filtering and what it means to filter calls to help you optimize its use to improve productivity, lower call abandonment rates, and allow your team to focus on quality leads.
Defining Call Filtering
What does a call filter mean, and why should it be part of your business phone system? Call filtering is a voice-over-internet-protocol (VoIP) call management feature to screen, block, and reroute inbound calls. It allows users to sort through incoming calls and detects and blocks spam calls by forwarding them to voicemail. Call filters protect you from unwanted calls and let you decide who can reach you at what time.
Call filter solutions enable you to identify spam calls and reject or send the calls to voicemail. Most VoIP call filter vendors have settings on the admin dashboard, allowing the users to adjust their call settings anytime.
Call screening and blocking may be standalone features of devices or VoIP platforms, depending on the provider. In practice, the terms call screening and call filtering are used interchangeably.
If you want to learn more about related call management features, see our guide "What is Call Screening?" to learn how it improves business communications.
How Call Filtering Works
Solutions to filter calls enhance the overall performance of a VoIP phone system. It filters and blocks unwanted calls by applying preconfigured rules, such as call routing blocklists and allowlists. To accurately determine which calls are spam and which are legitimate, the technology refers to spam databases, analytics, and your contact list.
Filtering calls begin with caller identification (ID). This includes information such as the caller's name, phone number, and depending on your software, their location. These details help your phone system identify who is calling you so your agents can decide what action to take. They can accept, reject, forward, or let the call proceed to voicemail.
Call filters have different approaches depending on your platform and software. Some applications ask callers to identify themselves so you can decide how to handle the call. Other providers, like GoTo Connect, offer auto-divert features that automatically direct certain numbers to specific extensions.
Filters are based on particular rules like your schedule. For example, create a filter that only applies during certain hours or days, depending on shift schedules. Call filters have exceptions that allow certain calls to come through, such as a number that's part of a blocked area code but is already part of your existing contact list.
Other call filter features include caller ID, spam lockup, block by category, do not disturb, and block by area code. Businesses can combine several rules to create a complex phone filtering system of priority and approved callers, such as clients from target area codes.
How to Set Up Call Filtering
Businesses can prevent spam, scam, and unwanted calls by using third-party filters and call blocking applications or features offered by your telecommunications service provider. Mobile devices like Apple iPhones and Android phones have built-in features for filtering calls. For example, iPhone users can add callers to a blocked contacts list, set the phone to silence unknown callers, or send unknown and spam callers straight to voicemail.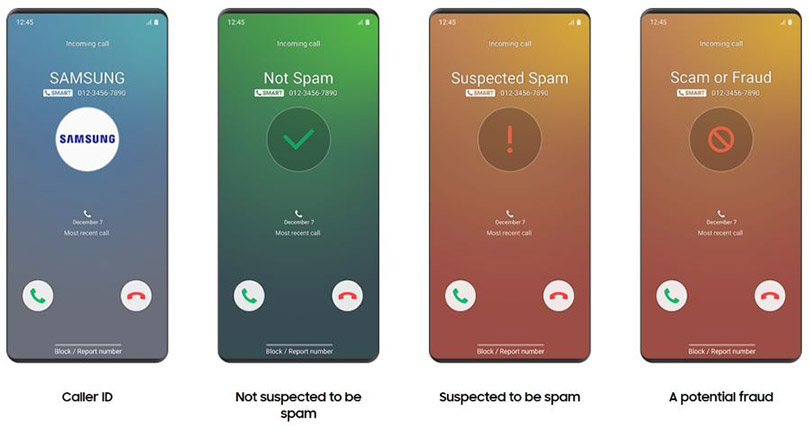 ---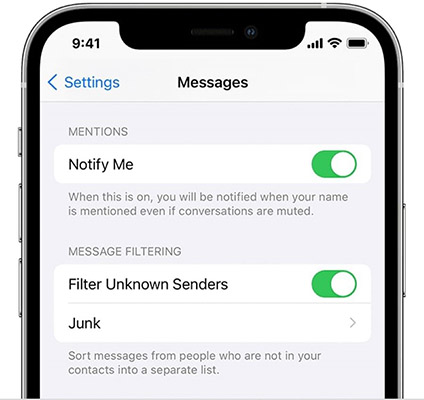 ---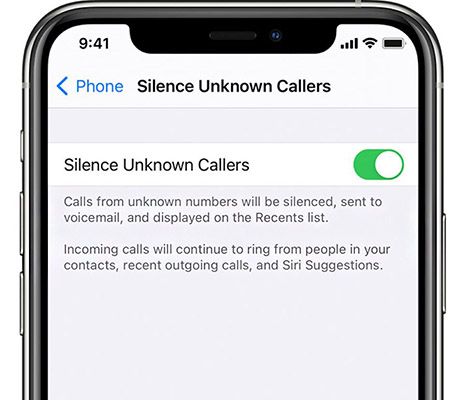 ---
Third-party caller ID applications like Truecaller, available through Google Play or App Store, identify callers and prevent spammers from reaching you. It leverages its community-based spam list from millions of users to identify a caller's identity. These applications are downloaded to your phone and screen incoming calls.
However, small teams and companies needing robust capabilities to filter calls can access general and advanced call filter capabilities through VoIP phone system vendors. For example, when using RingCentral's call screening, caller information is displayed on your screen. You can accept, decline, block, or send calls directly to voicemail. Contact your provider to learn more about what call filtering features are available.
Benefits of Call Filtering
VoIP call filtering solutions have grown in popularity because once you understand the call filter's meaning, you realize it helps control a company's daily phone call volume and call flow. Many businesses use call filters to increase agent productivity, reduce time attending to unwanted calls, and ensure that agents are engaged in high-value calls.
If your agents are preoccupied with calls from telemarketers, spammers, and nuisance callers, they cannot focus on closing high-quality leads or attending to customers. Automatic call screening or filtering enables you to limit distractions, and lets agents focus on the customer experience. Agents spend more time on legitimate and productive conversations by automatically transferring unknown callers to voicemail.
Receiving spam and robocalls regularly increases worker frustration. Having the right call management system and features helps reduce employee frustration. Call filters improve your team's work experience, leading to better employee satisfaction, higher productivity, and enhanced team engagement.
---
Use VoIP call filters to screen and block repeated spam calls. Depending on the provider, users block out numbers from specific area codes. Call filters analyze incoming calls using spam phone number databases, analytics, and your contact list. Filtering phone calls is a standard security measure that helps companies prevent scammers from accessing information. Call filtering also prevents scammers from validating your line, minimizing future spam calls.
Features like call filters increase your phone system security, preventing frauds and scammers from contacting you. Small businesses reduce the possibility of untoward incidents that siphon time and money by securing systems that minimize interaction with unscrupulous individuals.
---
Customers get frustrated and angry when wait times are high. The longer businesses make clients wait for customer support, the more likely they are to hang up. Minimizing the time your agents spend on unsolicited calls and telemarketers means more time to focus on customers. Call screening tools support increased agent productivity, leading to less wait time and more quality customer service.
---
Determining how calls are handled enables you and your team to manage your workflow better. This allows you to prioritize calls, attend to the most important ones first, and spend minimal time on less urgent ones. Instead of being distracted by unimportant calls, use call filter tools to ensure only important calls reach your team.
---
Disadvantages of Call Filtering
Filtering calls—meaning screening and identifying incoming callers—allows businesses to determine the best response. This enables companies to make informed decisions about each incoming call. However, there could be challenges, such as the incorrect setting of rules that leads to filtered leads or customers using the same technology on your phone calls.
The setup of your phone filtering system depends on your established rules. As you use call filters to identify who's calling you, there's a chance that potential customers and leads are rejected or sent to voicemail because they're using an unknown number. However, you can reduce the risk by thoroughly checking your parameters to minimize losing potential clients.
---
There are free and paid call filter solutions. In addition to built-in filtering and screening capabilities on mobile devices, inquire with your wireless or VoIP service provider regarding their filtering solutions. Many vendors include call screening, filtering, and blocking capabilities in their plans. However, not all providers offer call filters in free versions or base plans, so you may need to pay a higher tier or add-on fee to unlock this feature.
There are also filtering applications like Truecaller that offer a free version. Its free version comes with caller ID and spam blocking, which is enough for solopreneurs and small teams. However, if you want ad-free services or need advanced spam blocking, you'll need to subscribe to its premium version.
---
As businesses use call filter technology, the same solutions become popular among consumers. Customers and other companies may be using call filters to reduce the number of spam and scam calls. As a caller, these filters could impact your sales by making it more challenging for your business to engage customers.
---
VoIP Providers With Call Filtering
If call filters are something you need for your business, think about the different tools and capabilities you need when selecting your vendor. The best call management systems include call filters and screening in their suite of services. Advanced filtering features to look out for include call announcement, do not disturb, and call routing based on caller ID. The three providers below are excellent platforms to consider:
Click on the tabs below to learn more about VoIP providers offering services to filter calls:

RingCentral's call screening and blocking solutions come with multiple features, including caller ID display, caller announcements, and text-to-speech messages for quick response. Choose from blocking specific phone numbers, entire area codes, or callers without caller ID.
Use allowlists to identify the phone numbers and area codes—only those numbers can connect with you. RingCentral's monthly subscriptions start at $32.99 per user for one to 20 people. The Essentials plan comes with voicemail-to-text, team messaging, and unmetered calls in the U.S. and Canada. Find out more about RingCentral in our RingCentral review and what makes it one of the best business phone systems.

GoTo Connect is a cloud-based VoIP provider offering affordable phone services with call filter solutions. Inbound call filters route calls based on the incoming caller ID. Custom unlimited filtering settings allow you to identify VIP clients and patch them straight to your extension. GoTo Connect also allows users to create "blacklisted" messages played for spam callers.
GoTo Connect's Basic plan includes a free number, smart call routing, and basic meeting features. Plans start at $27 per user, monthly. Other features included in higher-tier plans are unlimited ring groups, call queues, and meeting duration.

YouMail is one of our top picks for the best call blocker app with its free version option and 100% call blocking functionality. If telemarketers are a particular challenge, YouMail plays a "number out of service" message to convince sales teams that your phone is disconnected. This will remove your number from their calling lists, preventing future calls.
YouMail's call filtering features include multi-channel transcription and voicemail spam identification. The software is available for iOS and Android phones and landline desktop devices. YouMail's free version comes with basic call and voicemail protection, while its paid plans start at $7.99 monthly and offer total spam protection.
Frequently Asked Questions (FAQ)
What other features work with call filtering?
Call filter features work well with VoIP business phone features, such as call waiting and call park. In addition to filtering calls, call waiting lets agents prioritize calls by notifying them when there's another call. The team decides whether to take the call, send it to voicemail, or transfer it to a colleague. Another call prioritization tool is call park, which is useful during peak hours. Select calls are put on hold until an agent becomes available.
How much do call filter solutions cost?
Free services are available with certain mobile devices and free call blocker applications in the market. Paid call filter services begin at around $2.99 per month.
What are the best free call filter apps & services?
Some of the most popular third-party call filter, screening, and blocking apps offering free versions are Truecaller, Hiya, and Call Control. These applications can block calls from specific area codes, numbers, and countries. When a number is blocked, these are usually sent directly to voicemail. Most paid apps like RoboKiller start at $4.99 monthly.
Bottom Line
Receiving unwanted calls and texts impacts daily operations, causing a decrease in call center and customer support productivity. Call filters detect unwanted calls and help your team ensure only quality leads and legitimate callers reach you. Companies like RingCentral, GoTo Connect, and YouMail offer call filtering and VoIP call management features to help you improve team productivity and customer experiences.