Call Screening: What It Is & How to Use It
This article is part of a larger series on VoIP.
Call screening is a method of filtering incoming calls that allows the call recipient to decide if they want to accept a call or choose another action, such as routing the caller to voicemail. Voice-over-internet-protocol (VoIP) systems offer even more features to help manage your time and control interruptions, and can improve customers' experiences through instant responses or seamless call routing when you don't have time to take a call.
How Call Screening Works
Call screening works according to how staff members program their preferences or which services are enabled. For instance, RingCentral offers a do-not-disturb (DND) feature. Users can turn it on and block all incoming calls or only accept direct calls to their line. As another example, users who enable call screening in Google Voice hear the caller's name before accepting the call.
Most cloud-based business phone systems have features that allow users to screen calls according to a designated schedule or by selecting the DND function. Some systems, like RingCentral, can even route calls to agents based on the ZIP code or country.
Depending on your VoIP provider, your call screening options may include:
Call routing rules that direct unknown callers to voicemail automatically
An auto-receptionist asking callers to say their names before connecting them
Choosing to answer, decline, or send calls to voicemail
An automated announcement saying which extension the caller dialed
Listening as the caller leaves a voicemail and picking up the call if desired
Blocking specific phone numbers or area codes
Call Screening Benefits
If your company deals with a high volume of incoming calls, screening helps with call management. For employees, call screening can enhance their productivity when completing important projects. Likewise, business owners can focus on tasks at hand but opt to receive alerts when important clients call.
Call screening provides several benefits, including:
Prioritizing callers: Sync your contact list to your VoIP services to accept known callers while sending others to voicemail.
Increasing productivity: Help staff concentrate on projects and reduce distractions by turning on the DND feature.
Decreasing spam: Stop unwanted callers by blocking their number and add an optional courtesy message for blocked callers.
Improving caller experiences: Seamlessly forward calls to available agents or send a text message letting them know when you'll call back.
Call Screening Features
Most VoIP business phone features include caller ID and call blocking. Some paid plans also come with an auto-attendant, allowing users to route calls according to a schedule. However, different providers offer a range of features designed to help business owners.
A few standard and advanced features include:
Verbal call screening: The auto-attendant prompts callers to announce their names, and then the system tells you the name of the caller.
Line announcement: Hear or view the department or extension the caller initially dialed before you answer the call.
Instant response: Create a text-to-speech or text message to send an immediate response without answering the call.
Eavesdrop on voicemails: Listen as your caller leaves a voicemail message and pick up the call if you want.
Block calls: Temporarily or permanently block callers without caller ID, specific phone numbers, or entire area codes.
Automated attendant: Set up a virtual receptionist to answer calls and route them to an extension. Auto-attendants also reduce robocalls by requiring human interaction with the system.
Call Screening Providers
Although features like call block and caller ID work great when your call volume is low, it's a bit tougher to juggle multiple lines, extensions, and numbers. Upgrading to a professional answering service can be expensive; however, a VoIP system may provide the ideal in-between option a small business needs.
Doing something as simple as adding an auto-attendant may reduce stress levels in your office while keeping callers satisfied. Inbound callers hear a personalized greeting while you screen the call and decide whether or not to accept it. The following VoIP call providers offer one or more call screening features.
RingCentral

RingCentral is among the best business phone systems and offers tiered VoIP plans with various call management features, including call screening tools. The Call Controller alerts desktop users to incoming calls. If the caller is a known contact, it displays their name and number. The auto-attendant can ask callers to say their name and supports user hours, so users can set call screening rules around specific time frames.
While RingCentral provides a do-not-disturb (DND) function, it goes beyond other VoIP services by allowing users to refuse all calls or only calls ringing to shared lines. Moreover, RingCentral supports text-to-speech replies, offering default or custom messages. The automated receptionist can convert your text message into an audio message and play it for the caller without you needing to pick up the line.
Read our RingCentral review to learn about the packages and features their plans provide or contact RingCentral to start a free trial.
Grasshopper

Like RingCentral, Grasshopper is another well-known business phone number provider catering to small businesses. Unlike RingCentral or 8×8, Grasshopper doesn't charge a per-user fee. Instead, it offers plans from one to five phone numbers, and from three up to an unlimited number of extensions. Grasshopper also provides call screening tools, including DND, instant response, and call announce.
Additionally, users can set up different business hours and rules for each line. For example, a business owner may opt to receive calls from a customer service extension but send sales calls to voicemail. Explore features and packages by checking out our Grasshopper review or by signing up for a free trial.
8×8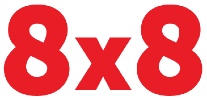 8×8 is a VoIP phone service specializing in low-cost international calling. It offers plans with unlimited voice calls to 47 countries. Like Grasshopper and RingCentral, 8×8 comes with call screening features like an auto-attendant, call blocking, and DND. Users customize their extension by checking the box under call forwarding to enable call screening.
8×8 also provides a virtual office for NetSuite, so if an inbound caller is in your contact list, a screen pop notification appears on your desktop. The screen pop gives details about your caller, including call history, allowing users to pick up the call or let it go to voicemail. This feature works even if you're on another call. Decide if 8×8 is right for you by looking at our 8×8 review or try out the 8×8 Express package free for 30 days.
Google Voice

Google Voice offers free and paid VoIP services. It also provides a unique call screening feature for Google Pixel and Android phones through Google's Phone app.
Users see a real-time transcript of the Google Assistant greeting the caller from a script and the caller's responses. The Google Assistant can even ask callers why they're calling. Users can select from prompts like "I'll message you" or "I'll call you back," and the virtual assistant reads the prompt to the caller while they are still on the line.
Google Voice screens calls based on caller ID and comes with an automated receptionist. Users can create personalized messages for certain contacts, or configure settings to automatically forward personal or emergency calls to one or more phone numbers. It also supports time-of-day routing, which allows users to send calls to different lines or voicemails according to a schedule. Discover more Google Voice features in our Google Voice review.
Call Screening Pros & Cons
Call screening features give business owners more control over their time and help reduce spam calls. However, call screening features vary by provider and plan. While most are easy to set up, some tools require additional configuration that can confuse new users.
PROS

CONS

Maximize efficiency and productivity using the DND function to limit calls while working on a project
Some call screening tools are more complicated to set up, depending on the VoIP provider
Prioritize customers by adding them to your contact list while screening other callers
Few call screening systems completely eliminate spam
Get details about an incoming call on your desktop or mobile app before picking up or refusing the call
A risk of small business customers feeling that a virtual receptionist is impersonal
Tips for Getting Past Call Screeners
Of course, many of the screening features available to business users are also used by consumers, meaning it may be more difficult to get your calls answered. If your company depends on cold calls for sales or needs to reach customers for subscription renewals, use these tips to get through call screening services.
Set Up a Business Caller ID
Some VoIP services and plans allow users to customize caller IDs for outgoing calls. Select how your business name and number, or an extension name, such as customer support, will show up on the recipient's phone. Doing so helps your customers and prospects see who is calling and can reduce instances of your calls going unanswered or being reported as spam.
Leave Voicemails
Concise voicemails with details, like your business name, phone number, and purpose of the call, may encourage people to respond to your message. Also, including a personal statement that mentions how you know the person you are trying to call may generate more return calls.
Be Clear & Direct
Similar to business phone systems, some mobile apps also ask callers to state their name. For instance, the Google Phone app requests the caller's name and the purpose of the call. These tools require a response or the call will be disconnected. Be ready to answer a virtual assistant with your name, business name, and call purpose to get past the call screening tools.
Use a Local Number
Many call recipients accept incoming calls when the phone number has a local area code. However, spam callers increasingly use auto-generated local numbers, so people may be less likely to answer, even when the caller's phone number seems local. One way to overcome this is by setting up your caller ID in VoIP settings to display your business name and phone number. Then use the same number on your business website and Google My Business profile. This way, if the call recipient performs a quick web search for the phone number, your business name comes up.
Frequently Asked Questions (FAQs)
What is call screening on a phone?
Call screening on a phone refers to the details provided about incoming callers, such as a phone number and name. Users may click to accept or decline the call or send it to voicemail. In addition, some phones or applications let users ask callers to state their purpose before deciding to pick up or decline the call.
How do I activate call screening?
Activate call screening features through your call settings or auto-attendant tools. Most VoIP services or phone apps have a button users can click to enable call screening and then choose from various options in the settings menu.
Which phones have call screening?
All Google Pixel phones come with call screening features. iPhones also let users assign different ringtones to numbers and enable the do-not-disturb feature. Plus, some Samsung models make it easy to block and report numbers, while Android phones work with Google's Phone app to ask callers to state their name and purpose.
Bottom Line
Call screening has come a long way from simple caller identification. Advanced options help businesses manage incoming calls, reduce spam, and reply to callers without picking up the phone. It's an effective way to set aside time without disturbances.
Routing and monitoring features also let business users differentiate callers based on their identification or the time of day, ensuring important calls get answered. After-hours calls are routed to the correct extension or voicemail.
Most VoIP providers offer call screening tools, but options vary by the provider and calling package. If you want to find a business phone system with call screening features but aren't sure where to start, explore our e-book on How to Choose Your Business Phone System. You'll find details about various features and get tips for implementing a new phone system.