Call screening helps businesses filter unwanted calls and prioritize known clients. While it varies per voice-over-internet-protocol (VoIP) provider, call screening typically includes caller identification (ID), do-not-disturb (DND), and call blocking functionalities. Business phone systems with call screening tools cross-reference caller ID data with calling name (CNAM) databases. Learn what is call screening and how it improves business communications.
How Call Screening Works
Automated call screening identifies inbound callers and takes action based on preconfigured rules related to schedules, blocklists, or the recipient's status. For example, it sends the call straight to voicemail or asks the caller to state their name.
Call screening works on all devices, such as desk phones, computers, and mobile phones. The technology also operates alongside call management features, including call filtering, automatic call distributors (ACD), and auto-attendants. Together, these tools route incoming calls based on call screening and handling preferences.
DND is a common call screening feature found on most small business VoIP services, like RingCentral. You can use DND to block all incoming calls or only accept calls to your direct line or from callers on your allowlist.
Likewise, call announce is a popular tool for screening calls. RingCentral and Google Voice users enable this feature to screen calls on all devices. It says the name of known callers (people on your contact list) and businesses listed on Google Maps. For unknown callers, the screening tool requests callers to speak their name and plays the recorded name to you. Choose to pick up the call or send it to voicemail.
Here are a few other ways to screen calls:
Forward calls to devices or agents based on the caller ID or contact's country or ZIP code
Send unknown callers or those on a blocklist automatically to voicemail
Listen to or read incoming voicemails and decide whether to answer the call
Follow up with an automated text message or voice response to declined calls
Play a prerecorded message to blocked callers before ending the call
Call Screening Benefits for Small Businesses
According to an Ooma survey, 84% of small businesses get robocalls every day, with employees wasting 24 minutes per call. Additionally, one primary source of customer frustration is not being able to reach an agent quickly. In fact, based on Squaretalk research, 27% cite a lack of effectiveness as being the main sticking point for a poor customer service experience. Call screening lets your team focus on customers, not spam or scam calls.
The benefits of screening calls to your line or company-wide phone system include:
Reclaim Your Time
Solopreneurs, employees, and supervisors can set parameters to protect their time after business hours. Screening tools combined with call handling routing or forwarding rules let you control if or when you answer calls without harming the caller experience.
Decrease Operating Costs
With Ooma reporting that the average spam call costs companies $9.46 in lost productivity, screening calls saves your organization up to $118,000 per year. It also enhances employee experiences, resulting in less turnover.
Improve Caller Experiences
Ooma found that 44% of business owners and managers believe "robocalls distract from authentic calls." Call screening tools move very important persons (VIPs) to the front of the line or free up your agent's time, so they answer lines quicker.
Lower Call Abandonment Rates
Front desk, customer service, and sales phone lines have long call queues, leading to callers hanging up. Use call screening methods to prioritize VIPs or repeat callers while reducing the number of calls on hold.
Increase Efficiency & Productivity
Unwanted calls are distracting, with Ooma reporting it takes 23 minutes to recover and "become fully productive." Screening calls reduce these time-wasting activities.
Call Screening Features
On a basic level, call screening relies on your settings and phone number or contact databases. However, many VoIP business features ensure your call screening tools work effectively. Whether you have a current phone system with call screening capabilities or want to find a new one, here are the features to look for and use:
Caller Name Announcement
If you're on the move, call announcement helps you decide whether or not to take a call. You configure it to verbally say the name of callers from your contact list and play a recording of unknown callers stating their names. After the verbal notification, accept or reject the call. Declined calls go to voicemail, and some phone systems let you send callers back to the main auto-attendant menu.
Instant Voice or Text Response
Call screening services may support auto-replies, which respond to a screened call. Grasshopper's instant reply feature sends a text message to new callers or phone numbers if you miss the call or choose not to answer it. You create different messages for each line, and recipients respond to your texts when convenient.
Dialpad also has an instant reply feature. It sends a text message to missed calls after working hours or whenever you enable DND. Alternatively, RingCentral gives you 60 seconds to reply to an inbound caller using text-to-speech. Create a custom voice message or use a template. After the recording plays, callers hear a list of possible actions, including replying with a yes, no, or "Urgent, please call immediately."
Voicemail Screening
If you're waiting for an important call, voicemail screening helps you effectively use your time. RingCentral users click "Screen Voicemail" when a call comes in. This feature lets you listen to the message in real time. You then decide to pick up the call or stop listening. If you stop listening, the caller finishes their voicemail, and you can listen to it later.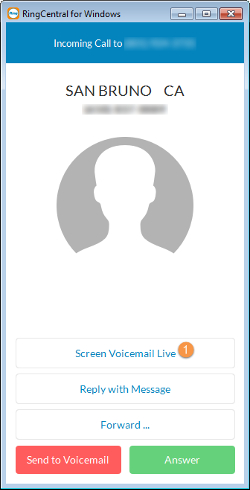 Call Blocking
If your business continually receives unwanted calls from a specific phone number, you can block them using a call blocker app. This feature is available on most business phone systems, including Google Voice, Grasshopper, and RingCentral. Google Voice provides a "number not in service" message. However, RingCentral offers advanced customization for handling blocked numbers.
Once you put a number on the blocked numbers list, RingCentral blocks all incoming faxes, calls, and text messages. You then opt to send an error message, a greeting, or say nothing at all.
Call Routing Technologies
Business phone systems offer virtual receptionists, interactive voice response (IVR), and automatic call distributor (ACD) technologies. These tools use call screening configurations for known contacts, area codes, or geographical locations to automatically forward calls to the right person, voicemail box, or menu.
For instance, RingCentral lets you forward international callers to a remote agent in their region. You can also set specific rules for people on your contact list, such as sending them to their favorite agent. Another option is to use schedule-based routing for calls from certain ZIP codes while allowing specific customers, family, or friends.
Phone answering services and receptionists help you screen calls. However, these solutions may cost more than enabling call screening and routing features on a VoIP phone system.
DND & Schedule-based Screening
Do-not-disturb (DND) lets individuals screen calls automatically. You can set DND to apply to all calls while in a meeting or only accept calls from certain people. For instance, you don't even need to hear the line ring with DND unless it's a VIP or a call you've been waiting for.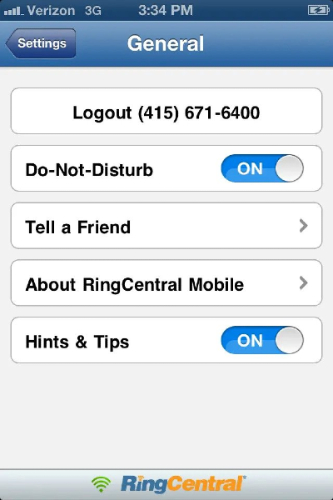 Call Screening Providers
Many Android and iOS cell phones have call screening tools that work with personal calls or ones forwarded from your VoIP account. However, you may want to screen calls from office phones and computers. The best business phone systems provide call screening features and a business phone number with unlimited calling.
VoIP services make the screening process seamless by greeting callers while providing caller information to the recipient. It offers various configuration methods, including company-wide or individual user settings.

Use RingCentral to find out who's calling and decide how to respond. RingCentral provides call screening tools for desktop applications, office phones, and mobile devices. On your desk phone, choose to announce the internal extension or department calling or ask unknown callers to say their names.
RingCentral also has DND, and call blocking features let you screen calls and block specific phone numbers, callers without caller ID, or entire area codes. You can screen voicemails by listening to them in real time. In addition, RingCentral has a unique text-to-speech feature, which lets you relay a custom or preset message to the caller on the line without needing to pick it up.
Subscriptions include single or multilevel auto-attendants with schedule- or location-based routing. Pricing starts at $19.99 per user, per month for one to 20 people with annual billing. Learn about more features in our RingCentral review.
---

If you have a remote team and want to share phone lines without paying per-user fees, Grasshopper is an excellent solution. It's a virtual phone system with basic call screening, blocking, and forwarding features. According to our Grasshopper review, users appreciate its ease of use and affordability.
The instant response feature lets you automatically respond to new or unknown callers with a prewritten text message. The recipient can reply to your message, giving you key information for more effective callbacks. Like RingCentral, Grasshopper also has a blocklist where you add up to 1,000 numbers. This function won't ring your line if a number appears on the list. Request blocked callers to say their name and decide to answer or not.
Grasshopper pricing begins at $28 for one line and three extensions with annual billing. Unlike other voice-over-internet-protocol (VoIP) services, all Grasshopper subscriptions have the same features. Higher-tier plans provide more lines and extensions.
---

Google Voice offers a free version for personal use and solopreneurs wanting a business phone number. It turns your cell phone into a work device, allowing you to screen calls and create custom call forwarding rules. The call screening feature asks unknown callers to say their names, and you choose to accept the call or send it to voicemail.
Use custom call forwarding to select one or more contacts or lists to apply certain rules. For instance, you can apply rules to starred contacts, anonymous callers, or family members. If you are a Google Workspace user and need one or more business lines, the Google Voice add-on feature starts at $10 per person, per month. Check out our Google Voice review to see if it's a good fit for your company.
---
Call Screening Best Practices
Many consumers and small businesses use call blocker apps and call screening tools. Consequently, it can be challenging to get a customer on the line. In addition, it's vital to ensure your software isn't preventing potential sales leads from connecting to your staff.
Use these tips to improve your call screening and outreach techniques:
Set Up a Local Number & Caller ID
Check with your phone service provider to see if it supports CNAM registration. This feature puts your business name, or in some cases, the department extension (such as customer service or billing) on the caller ID. Customers can see who is calling and are more likely to pick up verified versus unknown numbers.
Likewise, a local phone number increases your odds of getting past consumer call screening apps. Consider buying a virtual number with a familiar area code. Business systems like RingCentral offer local and international numbers, so you can use certain ones for targeted campaigns.
Connect Your CRM to Your Phone System
Choosing a phone system with customer relationship management (CRM) integrations is essential, allowing you to screen unwanted calls while ensuring known contacts always get through. Additionally, CRM integrations give agents caller details before and during the phone call, enabling them to personalize their approach. This is useful if you screen calls and use the call announce feature.
For instance, if you know an incoming caller dialed your customer service line, answer it with the appropriate greeting and address them by name.
Review Screened Calls & Voicemails Regularly
Call screening software isn't perfect. In many cases, it will screen callers until you add them to your contact list. If your customers frequently change phone numbers or prospects call your organization, you may miss important calls and messages.
Review screened call logs and voicemails frequently. This way, you can catch any issues and adjust your call screening rules to prevent the problem from happening again.
Frequently Asked Questions (FAQs)
How does call screening work on a cell phone?
Android and iPhone devices have some built-in call screening and blocking features. Most show the caller ID of incoming calls and allow you to block numbers from your voicemail, recent, or favorites call log. You can also silence unknown callers and send them directly to voicemail. Alternatively, add a mobile softphone app from your VoIP provider to screen business calls.
Can you screen calls from co-workers?
Many business phone systems let you customize your preferences according to a schedule or the dialed number or extension. Use the DND function to prevent all callers, including co-workers, from ringing your line. This works well if you're in a meeting or on vacation. Callers can still leave a voicemail, and be sure to check notifications to review missed calls.
Does call screening work on international phone numbers?
Some VoIP and cellular services let you screen calls from international numbers. For instance, you set up call announce by location, requiring callers from outside your area to state their name. You also block a group of numbers using the country code and send these calls to voicemail.
Bottom Line
Unwanted calls burden your team and tie up phone lines. Screening calls reduce spam or scam calls, allowing your company to concentrate on client communications. You can also personalize your call screening and handling features for individuals or have company-wide rules. In addition, call screening is effective for in-house and remote teams, so it's suitable for a wide range of use cases.
However, call screening is only one feature critical to your business phone system. Companies like RingCentral, Google Voice, and Grasshopper offer many tools to improve experiences and productivity. Check out our free e-book to learn how to choose your business phone system.