Call recording is an integral part of the business realm and a tool to help improve customer service and agent efficiency. If your phone or service does not provide these services, call recording apps make it easy to record telephone conversations. We looked at the biggest names in the industry and determined our picks for the top six best call recording apps.
| Call Recorder Apps | Best For |
| --- | --- |
| | (Best Overall) Business wanting easy recording and transcription services that are written by a human |
| | Teams that want to save money on a virtual phone service that also offers call recording as a feature |
| | People using iDevices that want a clear, high-quality audio recording |
| | Companies wanting an app that will automatically begin recording telephone calls |
| | Businesses that need an Android-capable voice recorder with softphone dialing |
| | Anybody who wants a simplistic app to create and save unlimited voice recordings |
How We Evaluated Call Recording Apps
While pricing is an important aspect, ease of use and clear recording quality were two of the most important factors in choosing which is the best recording app overall. The best call recording app should be extremely easy to set up and use, offering customer support and a clean interface. They should also include archiving and marking (e.g., the ability to save conversations as important or mark them as spam).
We evaluated call recording apps based on the following:
Price
Ease of use
Transcription accuracy
Recording quality
Available storage
Stock features
Advanced features
Customer support
Rev is our top pick for call recording apps. Not only is it reasonably priced, but Rev offers plenty of services beyond call recording, like transcription, subtitles, and captions. The best part about Rev is that it is not an artificial intelligence (AI)-controlled system; human transcriptionists are employed to listen to and transcribe your recordings, providing you with the most accurate call and chat logs of any other service on this list.
Did you know? While call recording apps are beneficial, it is worth noting that call recording is a feature found in many full-featured business phone systems, which often include even more robust tools to help you keep track of calls. If managing a heavy call volume is part of your daily work, please visit our call management systems buyer's guide for more information.
Rev: Best Overall Call Recording App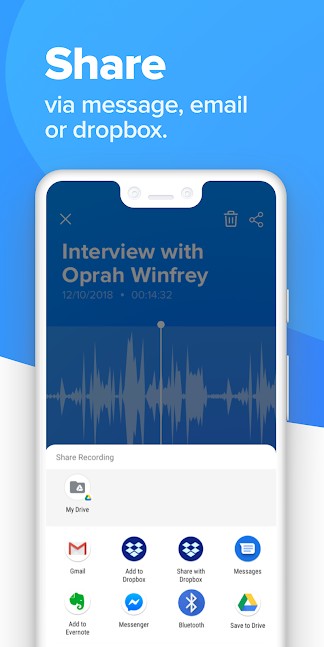 What it is: Rev is a call recording app, but it also provides many other services related to call recording like offering you call and chat logs, which can make it a robust, hand-held alternative to fuller-featured VoIP Systems, particularly for single users.
Why it is great for businesses: If you need more than call recording software, Rev offers several related services to help enhance the user experience. It does not use AI technology to transcribe your recordings, meaning that human transcriptionists are standing by to type out your conversation.
| Rev Strengths | Rev Weaknesses |
| --- | --- |
| Highly accurate: Rev boasts a 99% accuracy rating on its website. | Features: Although there are many services, specific features like business integrations, and so forth are lacking. |
| Quick: Most Rev services offer a turnaround time of 24 hours. | No subscription: You must pay for each service every time you use it; there's no subscription available. |
| Easy to use: Editing and making changes is easy with Rev's intuitive editing program. | Trial: There is no free trial available with Rev. |
Rev Pricing
Transcription: $1.25 per audio minute
Automated transcription: 25 cents per minute
Captions: $1.25 per video minute
Foreign subtitles: $3 to $7 per video minute
Live captions for Zoom: $20 per host, per month
Rev Features
Human transcription: What makes Rev stand out the most is that there are real people employed to transcribe your audio. You can choose the automated transcription service if you like, but for the most part, you will be dealing with real humans.
Different services: You can choose from five different services with Rev to help your audio stand out with the utmost accuracy.
Google Voice: Best Free Call Recording App
What it is: Google Voice is a free virtual business phone service with other included features like call recording.
Why it is great for businesses: Google Voice is part of the G Suite, which means that you can integrate Voice with other Google applications. Plus, it is totally free with a Gmail address, so you pay nothing to get started with Google Voice.
| Google Voice Strengths | Google Voice Weaknesses |
| --- | --- |
| Convenient: Google Voice offers you a second phone number, giving you a convenient alternative to sharing your personal number. | Limited: As with any free service, features are limited compared to a paid plan. |
| Familiar: If you know Google apps, then Google Voice is familiar enough to easily navigate through. | AI translations: Since Voice depends on a bot to translate recordings, it is an imperfect system. |
| User-friendly: A clean user interface (UI) and easy navigation make the app user-friendly for all skill levels. | Enterprise environments: Voice is better suited to solopreneurs or very small businesses; Enterprise environments will not do well with it. |
Google Voice Pricing
Google Voice is completely free with an existing Google account.
Google Voice Features
G Suite integrations: Voice can be used with existing G Suite applications like Calendar and Gmail to help you streamline the workday and maximize efficiency.
Full solution: Very small companies can enjoy the benefits of Google Voice as a full phone solution, with perks like a second number, SMS texting, Gmail services, and more.

Visit our reviews page to learn more about Google Voice, its features, and pricing.
If you're unsure what kind of features to look for in a business phone system, check out our article on voice-over-internet-protocol (VoIP) phone features.
NoNotes: Best iOS Call Recording App for Clearest Audio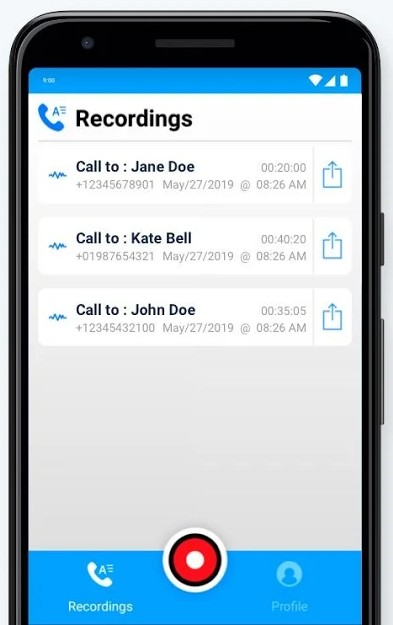 What it is: NoNotes is a voice recording service that was built for iDevices.
Why it is great for businesses: Affordable and easy to use, NoNotes is ideal for companies that want a quality audio recording service but don't mind paying a little extra for other services.
| NoNotes Strengths | NoNotes Weaknesses |
| --- | --- |
| High quality: Clear, quality recordings are the top feature of NoNotes. | iOS exclusive: At this time, you are unable to use the feature on any device but an iDevice. |
| Obtain word transcripts: Once you've recorded your conversation, you can download the transcript as a Word doc. | Pro vs RoboTranscribe: Although RoboTranscribe is cheaper, it is an AI system and not as accurate as ProTranscribe. |
| Turnaround: NoNotes promises a 24-hour turnaround time. | Unsecure data: All data is stored in the Amazon Web Services cloud. This means that there is a potential for your data to be hijacked by hackers. |
NoNotes Pricing
Free: The first 20 minutes of your NoNotes services are free
Unlimited monthly: $10.00
Unlimited yearly: $96.00
NoNotes Features
iOS compatible: iDevice users are the prime audience for NoNotes. The app is iPhone- and iPad-friendly, making it the perfect solution for dedicated iOS users.
Non-expiring minutes: All transcription minutes will stay within your account and "rollover," meaning that they never expire and you can use them indefinitely.
Live transcriptionists: Like Rev, NoNotes uses live transcriptionists. Most are located in-house, and NoNotes also says on its website that they maintain many global partnerships as well.
Automatic Call Recorder: Best Call Recorder App for Auto-recording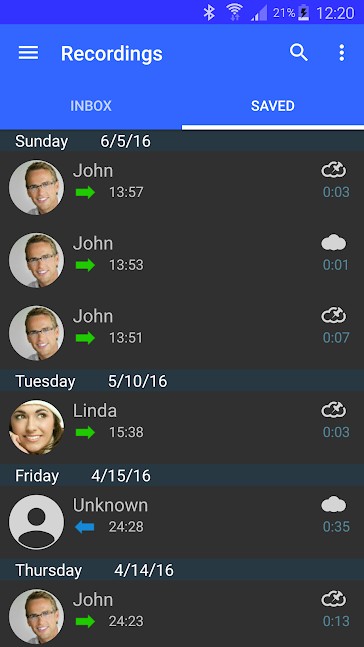 What it is: Automatic Call Recorder is a call recording app available for Android devices.
Why it is great for businesses: Rather than push the record button every time you start a call, Automatic Call Recorder does the work for you. You can record as many conversations as your phone storage can handle, archiving and deleting old ones and saving important ones.
| Automatic Call Recorder Strengths | Automatic Call Recorder Weaknesses |
| --- | --- |
| Unlimited recordings: As long as you have storage available on your device, you can record unlimited calls. | Handsets: The developers mention on the website that certain handsets can cause audio issues with the app. |
| Auto-delete: As more calls fill your inbox, older recordings will be automatically deleted. | Analytics: There is no reporting feature with Automatic Call Recorder. |
| Notes: Take notes immediately following calls to detail important information. | Ads: Customers complain that ads in the free version are excessive and annoying. |
Automatic Call Recorder Pricing
Free version: $0
Pro version: $6.99 (one-time purchase)
Automatic Call Recorder Features
Auto-recording: As its name implies, Automatic Call Recorder is set to record your telephone calls automatically. You can choose the individual settings, which include record everything, ignore everything, and ignore contacts.
Business integrations: Google Drive and Dropbox are integrated with Automatic Call Recorder, letting you upload and share recordings if you like. This can also be helpful if you begin to run out of storage space on your device.
Save recordings: To mark a conversation as Important, add it to your Saved Calls folder to easily access it when you need it next time.
Note Call Recorder: Best Android Call Recording App for File Storage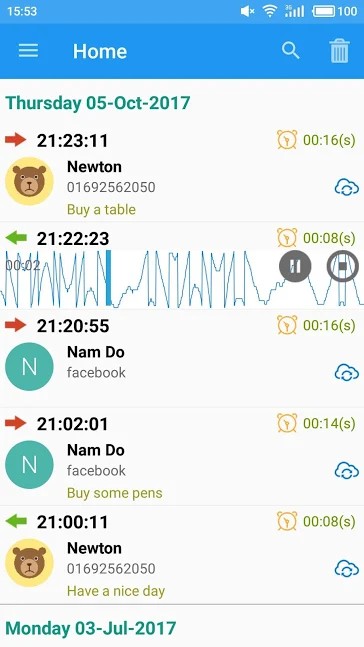 What it is: Note Call Recorder is a voice recording app that was built for Android devices.
Why it is great for businesses: There are plenty of advanced features that users can enjoy with Note Call Recorder, including statistics and analytics, call notes, and softphone dialing.
| Note Call Recorder Strengths | Note Call Recorder Weaknesses |
| --- | --- |
| Softphone: Call directly from the app instead of pulling up your phone's dial pad. | Low quality: Compared to others on this list, Note Call Recorder has a lower audio quality while recording. |
| Search for recordings: Filter through all your previous recordings to find the one you're looking for. | Ads: Users strongly dislike how many ads are on the app, some even calling them "intrusive." |
| Compressed files: To save storage space, Note Call Recorder compresses audio files. | One-sided: The free version does not allow you to record the whole conversation; you will only hear your own voice. |
Note Call Recorder Pricing
In-app products: $5.99 per item
Note Call Recorder Features
Android-friendly: Note Call Recorder was built for Android devices, making it the ideal call recorder app for people who are loyal to the brand.
Free option: If you aren't ready to commit to Note Call Recorder just yet, you can take advantage of a scaled-down version of its features by downloading the free version.
Bluetooth capability: One benefit that users really enjoy is the capability to record conversations using a Bluetooth device.
Voice Recorder & Audio Editor: Best Unlimited Call Recording App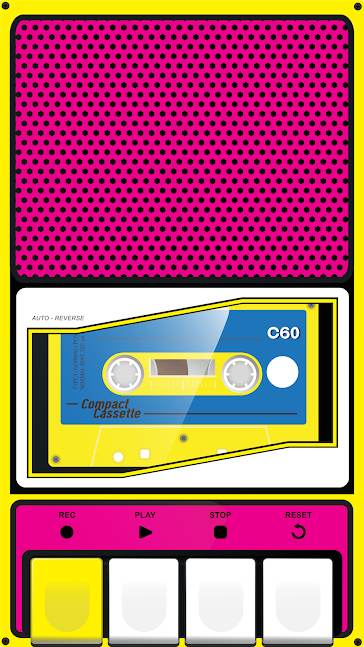 What it is: Voice Recorder & Audio Editor is just what it sounds like: An app that lets you record unlimited conversations and edit your audio when you're done.
Why it is great for businesses: Although the call recording feature is a separate price, the app itself is very user-friendly and easy to use. If you need nothing more than a simple program to help you record and edit audio recordings, then Voice Recorder & Audio Editor fits the bill.
| Voice Recorder & Audio Editor Strengths | Voice Recorder & Audio Editor Weaknesses |
| --- | --- |
| Free: You don't need to pay to use Voice Recorder & Audio Editor—it's free. | In-app purchases: Certain features, like call recording, transcription, and call notes, are an additional fee. |
| Languages: 29 languages are supported, including Japanese, Dutch, Polish, Greek, and more. | Basic features: Although you can do many things with your recordings, the features are incredibly basic. |
| Cloud-enabled: Upload your recordings to your choice of cloud storage programs for safekeeping. | Imperfect: Accuracy is not a strong point with Voice Recorder & Audio Editor, so your recordings might not be perfect. |
Visit Voice Recorder & Audio Editor
Voice Recorder & Audio Editor Pricing
App download: Free
TapMedia PRO: $1.99 monthly
Call recorder: $4.99 monthly
Voice recorder PRO: $4.99 (one-time purchase)
Voice Recorder & Audio Editor Features
Unlimited recordings: As long as your device has space, you can save as many audio creations as you like, and even upload them to your computer using a USB cable or Wi-Fi sync.
Advanced features: With Voice Recorder & Audio Editor, you can enhance your recordings with features such as loop, trim, playback speed, and skip backwards and forwards.
Share your recordings: Voice Recorder & Audio Editor lets you share audio recordings through email, Twitter, Dropbox, Messages, and more.