5 Best Call Recording Apps for Android & iOS in 2022
This article is part of a larger series on VoIP.
The best call recording app helps businesses save conversations as audio files for various purposes, such as training teams, sharing information, and resolving issues. Most voice-over-internet-protocol (VoIP) phone systems come with basic call recording functionality, but there are also standalone apps offering added benefits. We compared a dozen call recording apps for Android and iOS devices to determine the top five based on a mix of value and affordability.
Call Recording Apps

Starting Price

Key Features

Device Compatibility

FSB Rating

Free plan for 1 user available or $10 per user, per month for the paid plans

Google Workspace integrations
Intuitive user interface
Free version available

4.16 out of 5

$4.99

Works on iPhone, iPad, and accessories, like AirPods and Apple Watch
In-app recording editing available
Automatic transcriptions

3.72 out of 5

Free; paid services start at $1.99 per credit

Top-notch transcription accuracy
Unlimited call recording
Quick turnaround services

3.60 out of 5

Free or $1.39 per in-app purchase

Free English call recordings and transcriptions
Straightforward user interface
Advanced features available in the free version, such as password-protected recordings

3.59 out of 5

Free or $1.99 per in-app purchase

Automatic recording based on selected contacts
Manual recording available for capturing only the specific portions of the conversations
Built-in file explorer for managing recordings

3.43 out of 5
Google Voice: Best Overall Call Recording App
What's Missing
Lacks automatic call recording and other advanced features
Transcriptions are sometimes inaccurate
The paid version has way higher fees than alternatives in this list
Google Voice Pricing
Personal: Free for 1 user with 1 number, unlimited local calls and texts, desktop and mobile apps, call recordings, and voicemail inbox and transcriptions
Starter: $10 per user, per month for up to 10 users and domestic locations and access to features, like call forwarding, service level agreement (SLA), and usage and activity reporting
Standard: $20 per user, per month for an unlimited number of users and domestic locations, multilevel auto-attendant, ring groups, and eDiscovery for records
Premier: $30 per user, per month for unlimited international locations, users, and domestic locations, and advanced reporting
Google Voice is the best overall call recording app thanks to its wide device compatibility, allowing users to access it through a web browser or Android or iOS device. Moreover, it comes with a basic phone system with a free local phone number and unlimited VoIP calls and texts at no cost. It is great for solopreneurs and freelancers looking for one of the best free call recording and basic call management systems for their client communication needs. Check out our full Google Voice review for more details.
While its free version with business phone capabilities is impressive, those with advanced needs might need to look elsewhere as its features are mostly basic. Moreover, its voice transcriptions aren't always reliable, and those who need accurate transcriptions can look into alternatives, like Rev Call Recorder.
Interested to explore more VoIP systems? Check out our list of the best business phone systems to discover which product matches your needs.
Google Voice Features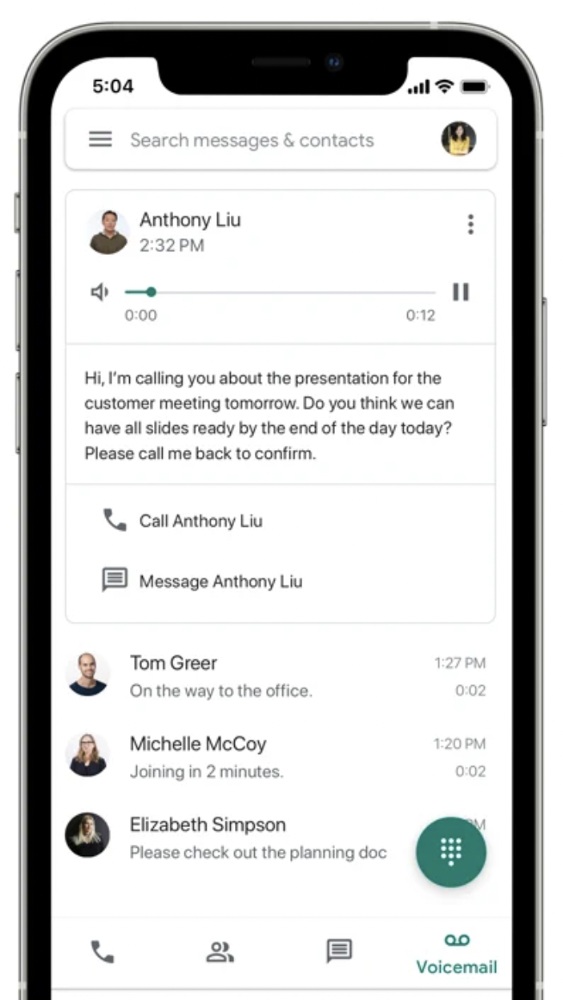 Multidevice compatibility: In addition to web browsers, Google Voice lets you record your phone calls on iOS or Android devices.
Google Workspace integrations: Backup or store your call logs on Google Drive with ease through its Google Workspace integrations. It also integrates with other Google Workspace integrations, such as Google Calendar and Google Meet.
Business VoIP platform: Manage your business calls, texts, and voicemail through the Google Voice app. It also comes with voicemail transcriptions—great for reviewing messages when you can't listen to the audio files.
Be on the lookout for the right capabilities for your needs when selecting a VoIP solution. Check out our list of the top VoIP business phone features to explore tools that best fit your needs.
Just Press Record: Best Call Recording App for iOS Users
What We Like
Works on Apple devices and accessories, like iPhone, iPad, AirPods, and Apple Watch
In-app recording editing
Storage options available, such as in-app, in the Cloud, or synced to all devices
Automatic transcriptions available
What's Missing
Lacks a free version
No automatic call recording, unlike ACR Call Recording
Transcriptions aren't always accurate with skipped or misidentified words
Just Press Record Pricing
Just Press Record charges a one-time fee of $4.99 to provide users access to all of its features and inclusions.
Just Press Record is among the best call recording apps for its ease of access across iOS devices and accessories, such as iPhone, iPad, Apple Watch, and AirPods. Users can also store recordings in sync across all of their iOS devices. Automatic transcriptions are available with searchable texts, which can replace the need for manual call logs while also providing easier access to specific conversations.
Unlike most apps, Just Press Record doesn't offer a free version or trial. It also lacks automatic call recording features, and those who need this capability may look into alternatives, like ACR Call Recording. Its transcriptions aren't that reliable, like Google Voice, so if this is an issue, check out Rev Call Recorder instead.
Just Press Record Features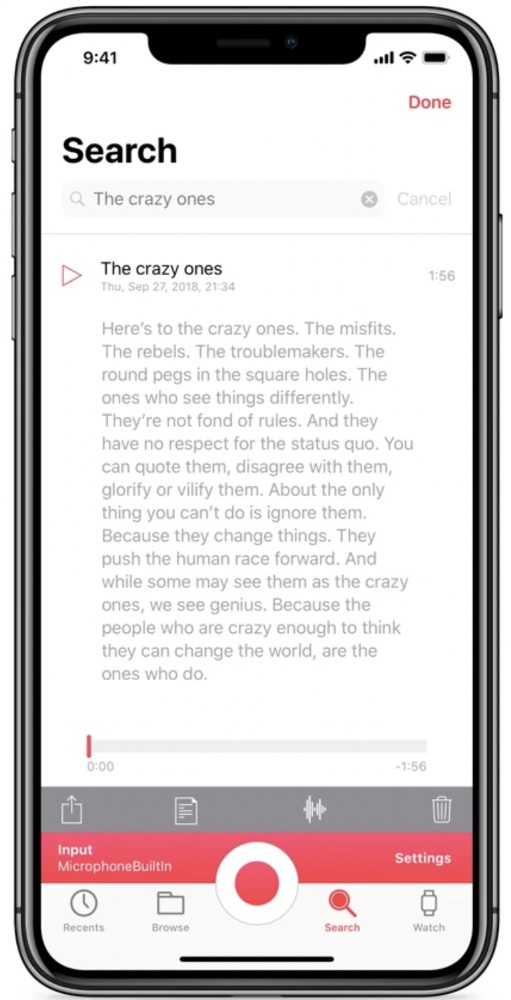 Wide iOS compatibility: Apart from mobile phones and tablets, Just Press Record also lets you record from your Apple Watch or AirPods, making it the most iOS-friendly call recording app on this list.
Hands-free unlimited recording: Users can utilize voice commands—such as asking Siri—to begin recording without the need to press any button. You can also record an unlimited number of audio files as needed.
Multilanguage support: Just Press Record comes with automatic transcriptions with searchable texts—supporting over 30 languages.
Rev Call Recorder: Best Call Recording App for Accurate Transcriptions
What We Like
Up to 99% transcription accuracy guaranteed
Quick turnaround services for captions, transcriptions, and subtitles
Unlimited call recording
What's Missing
Very few features available in the free app, and some capabilities cost extra, such as automatic transcriptions
Only accessible on iOS devices
Rev Call Recorder Pricing
Mobile app: Free with in-app purchases; starts at $1.99 for 1 credit
Services:

Transcription: $1.50 per audio minute
Automated transcription: 25 cents per minute
Captions: $1.50 per video minute
Foreign subtitles: $3 to $7 per video minute
Live captions for Zoom: $20 per host, per month
Rev Call Recorder is the best call recording app with the most accurate transcriptions on this list. While its automated and human-generated transcripts come with extra charges, it guarantees up to 99% accuracy and a quick turnaround time. Users receive their transcripts in as fast as a few minutes (machine-generated) up to 12 hours (man-made). Those who prioritize accuracy over price must look into its services, which also includes local and foreign subtitles and live Zoom captions.
Its free mobile app comes with impressive features, like unlimited call recording, sharing, and exports. However, if you are on a tight budget, you're better off with an all-inclusive app instead. For example, other free apps, such as ACR Call Recorder, come with English transcriptions at no added costs.
Rev Call Recorder Features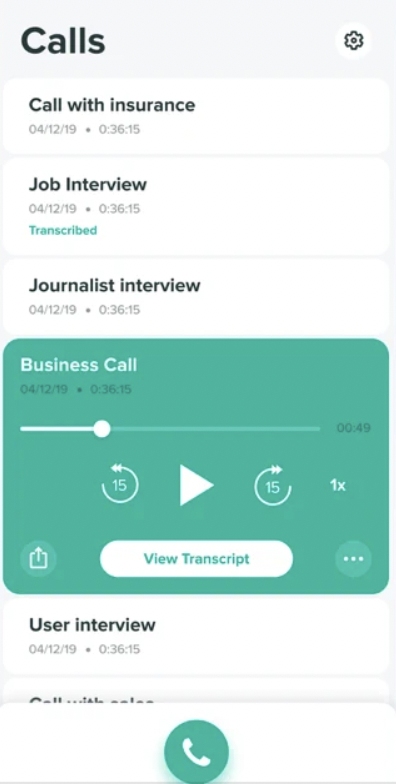 Unlimited call recording: Record incoming and outgoing calls with no limits through its free mobile app. You can also share and export recordings to many channels, such as email, SMS, and Dropbox.
Human-generated transcriptions: Have professionals transcribe your recordings with 99% accuracy. You will receive your transcripts in 12 hours.
Professional services: Hire Rev professionals to generate your needed local and foreign video subtitles and live Zoom captions. You can also request an automated speech-to-text transcription with over 80% accuracy through the app.
ACR Call Recorder: Best for Automatic Call Recording for Android Users
What We Like
Free call recordings and English transcriptions
Cloud upload available
Many formats supported, such as MP4 and WAV
Supports 40+ languages
What's Missing
No VoIP call recording feature
Lacks automatic backups
Other advanced features require a Pro license, such as manual recording
ACR Call Recorder Pricing
Mobile app: Free with automatic call recording, password protection, English transcriptions, and recording listing by matching phone numbers to users' contacts
In-app purchases: $1.39 to $4.49 per item
Pro license: $3.99 to unlock all features, including manual recording, automatic deletion of short recordings, and more integrations
ACR Call Recorder is among the best mobile apps for automatic call recording needs and providing a free Android-compatible system with robust features. Users can easily search for call recordings by contact names, phone numbers, or notes. ACR Call Recorder also comes with advanced features that other competitors lack, such as password protection for recordings.
However, if you are relying mostly on VoIP calls, then you must look at alternatives, like Google Voice and Cube Call Recorder. While its free app lacks other essential features, like manual recording, it offers a Pro license that unlocks some of these capabilities.
ACR Call Recorder Features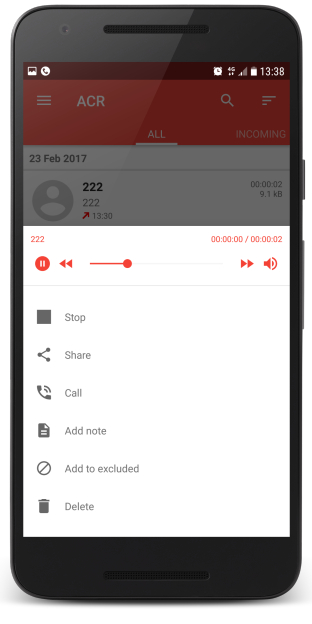 Cloud upload: ACR Call Recorder lets users upload recordings in the Cloud, such as through Google Drive, Dropbox, OneDrive, FTP, FTPS, WebDAV, and automated email.
Auto-deletion of old recordings: Old audio files will be automatically deleted to make space for new ones. You can also mark recordings as important to ensure that they won't be erased.
Numerous recording formats: Save your recordings in formats you prefer, including MP3, WAV, M4A, AMR, OGG, 3GP, MP4, and FLAC.
Cube Call Recorder: Best for Omnichannel Call Recording
What We Like
Supports recording on several VoIP apps, like Slack, WhatsApp, and Skype
Manual and automatic call recording available
Works on Android smartphones and tablets
What's Missing
Cloud upload only available with Google Drive
The free version is ad-heavy
Pin-lock recordings and smart storage management require extra fees
Cube Call Recorder Pricing
Mobile app: Free for automatic and manual recordings, crystal-clear sound quality, and in-app playback
In-app purchases: Premium features range from $1.99 to $9.99
Cube Call Recorder is the best option for recording VoIP calls as it supports a variety of apps, such as Slack, Facebook, Viber, Skype, and WhatsApp. Like ACR Call Recorder, it comes with auto-deletion of old non-starred and short recordings. Manual and automatic recording features are also available.
However, cloud uploads are limited to only Google Drive, unlike ACR Call Recorder's wider selection. It also lacks pin-protected recordings, which ACR Call Recorder offers in its free app. The downside for these free versions, like Cube Call Recorder, is the heavy display of ads. Users can choose to purchase premium features through the app.
Cube Call Recorder Features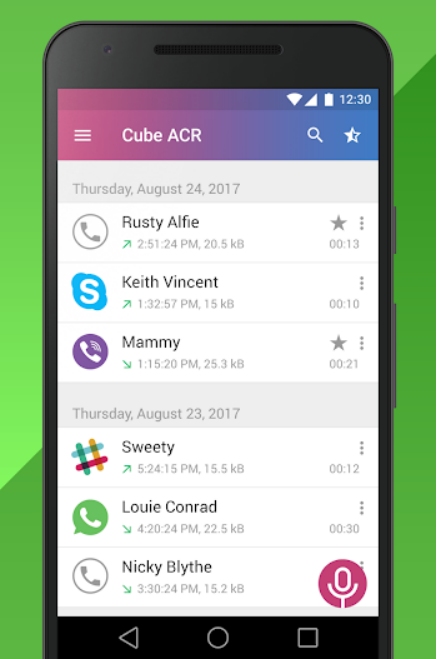 Automatic call recording: Users can choose to record every call automatically as soon as the conversation starts. They can also create a list of the contacts they want to choose to record automatically.
Manual recording: You can tap the record button to save specific portions of the conversations for easier and more efficient playback.
Exclusion list: Users can also create a list of contacts who won't be recorded.
How We Evaluated the Best Call Recording Apps
When reviewing the top VoIP and phone call recording apps, we discovered that most of them are offered free with very inexpensive premium features you can purchase as add-ons. While we still considered pricing in evaluating each mobile solution, we dug deeper into features, both general and advanced. We also looked into user feedback and device compatibility.
Learn how we evaluated the best call recording apps by clicking on the tabs below:
15% of Overall Score
We looked into reliable apps that offer free recording features at affordable rates. We also reviewed which provide unlimited recording capabilities and those that require one-time fees for premium functionalities.
35% of Overall Score
While the main functionality of call recording apps is to record phone conversations, the top systems come with automatic transcriptions and security features. We reviewed which apps offered automatic call recording, cloud storage, send-to-email, automated recording transcriptions, and human-generated transcriptions.
20% of Overall Score
We also scored apps based on the advanced features they provide, such as telephony capabilities, VoIP compatibility, push notifications, and guaranteed turnaround time.
30% of Overall Score
We analyzed the apps' ease of use and value for the money, reviewing the set of features they provide for their price. We also checked out their popularity and considered our own experience and customer reviews about their experiences with the platform.
*Percentages of overall score
Bottom Line
Call recording is a feature commonly found on unified communications as a service (UCaaS) and business phone systems. However, several standalone call recording apps let users record conversations over the phone or via VoIP solutions. When choosing the one for you, consider your budget, priorities, and your phone's operating system.
Google Voice earned the top spot with a 4.16 out of 5 rating. It is compatible with Android and iOS devices and can also be accessed through web browsers. While it has more expensive paid plans, it comes with a complete VoIP platform—great for small businesses looking for a call management system for their needs. Try Google Voice's free plan to see if it works best for you.