Creating a formal customer service program starts by identifying your customer's needs and your company's weaknesses. This then allows you to plan a strategy to address both while devising a system for evaluating results. In this article, we discuss the steps to develop a more in-depth customer service program. Moreover, we've created a free template for you to use as a guide for establishing a customized training program for your support team.
Free Customer Service Skills Training Template
In-depth understanding of what customer service is all about for small businesses starts with proper training. A comprehensive customer service program includes activities or exercises designed to hone an agent's product or company knowledge as well as their skills in interpersonal communication, conflict resolution, and crisis management.
There are a number of topics that can be covered, which is why we've created a free template for you to use as a guide for developing a customized training program for your support team.
Download this customer service program template for free
Below are the steps on how to create a customer service training program:
Step 1. List Your Customers' Top Needs
The first thing you need to do to create a customer service program is to think about what your customers need. Using customer service analytics, you can discover key details and top customer needs such as the kind of experience they expect from your brand, their preferred communication channels, and their perception of your company.
This data will help you identify the types of courses you need to include as part of your training program. It will also help you devise role-playing exercises later to help coach your service team on how to more effectively engage with your customers in those channels.
Step 2. Assess Your Company's Weaknesses
Once you have a list of your customers' needs, figure out where your company falls short on delivering. A training needs analysis helps you pinpoint your current weaknesses, such as the skills or knowledge your team lacks and what motivates your agents to learn. This list of weaknesses will transfer into goals you'll aim to hit with the help of your customer service program.
You can also use customer feedback management software, such as SurveyMonkey, to create and send surveys to obtain information about customer experience. To gather employee feedback, use employee survey tools, such as Zoho Survey or monday.com, to identify areas of improvement in customer service. For some options, check out our best employee survey tool guide—we compare the best platforms and how they fit in your company.
After you identify these weaknesses, invest in additional training to help your CS team improve their skills base. Aside from that, you can incorporate a rewards or recognition program for top performers so you can improve staff retention and avoid losing key team members.
Step 3. Plan How You Will Meet Your Customers' Needs
With the collected list of gaps your team and your customer service system has to address, it's time to plan out your strategy for meeting your customers' needs. Utilize our downloadable template as a guide in writing down what your training program aims to accomplish and how it will be implemented.
There are various factors to consider when designing your own training program to be used in employees' customer service classes. These include the type of learning methods you implement, the training platform used to deliver the training, and the soft skills you want your employees to develop.
When designing customer service training programs, managers should include a healthy balance of different learning methods. The 70:20:10 framework is a great model to follow in order to ensure optimal learning for your employees. This consists of 70% experiential learning, 20% social learning, and 10% formal training.
Experiential learning: Uses different customer service training activities to make it easier for the trainee to retain and apply the information they have learned. These activities include real-life scenarios and conversation simulations.
Social learning: Includes group simulations and peer learning sessions where employees learn from each other.
Formal training: A combination of instructor-led training through webinars, mobile learning, interactive videos, worksheets, and mini-quizzes.
---
Consider the right platform from which you will deliver the engaging content of your program. Choose a platform or learning management system (LMS) that allows you to create diverse training content, as well as integrates with teleconference tools like Zoom to make the learning process easier. A system like 360Learning is a centralized hub for scheduling classes, distributing training content, and tracking employee progress.
---
Soft skills are character traits that pertain to a person's relationships with other people. These skills complement hard skills (knowledge and occupational skills). For your customer support training program to succeed, help your employees develop these crucial soft skills:
Active listening: Being engaged in conversations, asking the right questions, and summarizing the information back to the customer.
Empathy: The ability to understand a customer's frustrations and make them feel valued by reacting in a compassionate manner.
Crisis management: The ability to resolve complicated and high-stress situations with patience and confidence.
Emotional intelligence: Being able to evaluate and manage emotions in order to make the customer feel heard and manage stressful encounters.
Passion: The knack to enjoy work and find ways to make customers happy.
---
Carefully consider the best balance of learning methods for your agents, the company culture you want your employees to adopt, and the platforms to be used for the training. For instance, your customer data indicates that your clients are not satisfied with your options for customer service channels. As part of your strategy to meet this need, start training your agents on how to use new channels, such as social media, to respond to customer queries.
Step 4. Implement Your Customer Service Training Program
Once you have completed the learning setup for customer service training for employees, it's time to deliver training to your staff. It's an excellent idea to balance experiential, social, and formal (manual-based) training to ensure that they have the best learning experience. Simulations are one of the best customer service practices that can help assess and improve customer service skills.
In a simulation, allow your employees to participate in a dialogue that mimics a real-life customer-agent conversation. The situations can vary and may include questions that check an employee's product knowledge or test their patience in dealing with a disgruntled client. They can choose what to say and receive feedback from the facilitator based on how they handle the given situation.
For instance, a customer called in to express frustration about billing and streaming issues. Create a simulation training where the agent actively listens, gathers necessary information, and provides a clear plan of action to de-escalate the situation and reassure the customer. This demonstrates effective customer service skills in handling challenging interactions.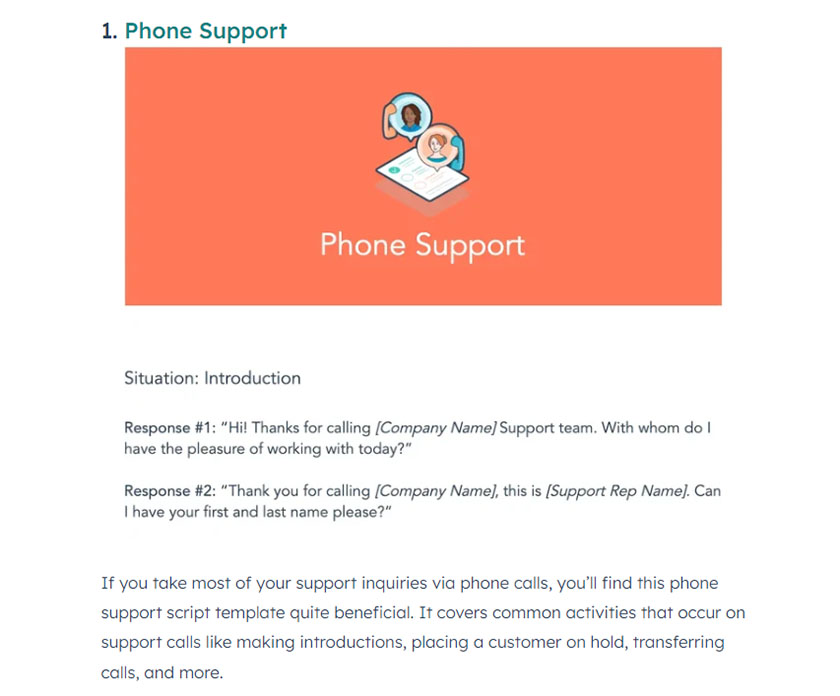 ---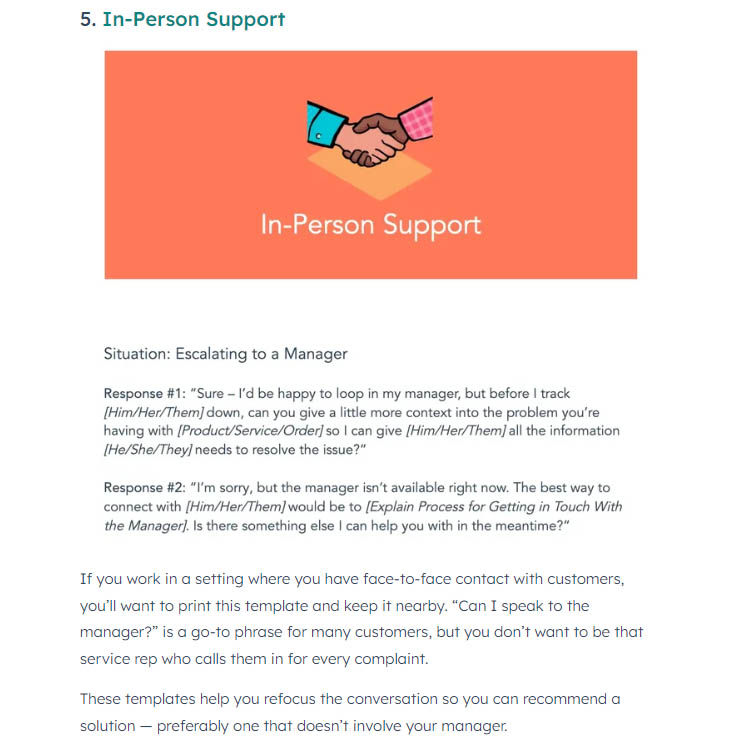 ---
Step 5. Review & Revise Your Program as Needed
Developing your customer service training program doesn't end after planning and implementing it. Training and development is an ongoing process, and you need to regularly measure the effectiveness of your program to determine employee engagement, pain points, and how the trainees feel about the experience.
Once you master how to create a customer service program, you can provide your employees with constructive feedback and offer actionable advice on how to improve performance. Evaluate how the training program has affected your core customer service metrics, such as the time it takes to resolve or respond to issues, call abandonment rates, customer callbacks, and average incoming chats or calls of each team.
All team members should know the most common customer service problems and how to resolve them. For instance, you recognize that your new call center agents need additional phone support training to handle difficult customers efficiently. You can schedule extra training sessions and perform simulations using your customer service associate training program.
Trends in Developing Customer Service Programs
Aside from determining the needs of your customers, keeping up with the customer service industry updates can help you create more effective programs for employee training. Here are the top trends related to developing customer service programs that can help you achieve this goal:
Frequently Asked Questions (FAQs)
A customer service program includes all activities and training modules to support agents by providing them with the necessary core knowledge and skills to perform their job effectively. This training usually involves simulations and customer service software training.
---
Start creating a customer service training program by listing your customers' needs, assessing your company's weaknesses, and planning how to meet your customers' needs. After that, you can implement your customer service program and review and revise it as needed.
---
The best customer service training program is tailored to your organization's needs and covers customer service skills, policies, product knowledge, communication, and soft skills. It offers practical exercises, ongoing learning, and feedback, and integrates technology and channel-specific training.
---
Bottom Line
Creating a customer service program takes careful planning, implementation, and evaluation to attain success. You should consider the most effective learning methods, use a robust training platform, and help your team develop core customer service skills that enable your employees to provide excellent service to customers. Remember, there is no one-size-fits-all approach to customer service training, so customize your program to fit your specific business needs.