Diversity hiring is a simple concept—creating recruitment, evaluation, and hiring practices that attract a diverse set of high-quality candidates. It's not just about casting a wide net or hiring from underrepresented demographics but about removing biases from your processes and ultimately finding the best candidates that infuse your workplace with energy and ideas. The end goal, after all, is to have the best employee base to grow your business.
1. Understand the Types of Diversity
Although, historically, making a diversity hire has been focused on hiring racial minorities and women (bolstered by federal requirements), it has grown beyond racial and gender lines. There are three kinds of diversity:
Internal: This is the kind one is born with, including demographics like race, ethnicity, and age. Gender identity and physical capability are also included here.
External: This refers to characteristics that influence a person's development, such as education, religion, citizenship, geographic location, socioeconomic status, family status, and even personal experiences.
World-view: This includes political and cultural beliefs and even attitudes toward life.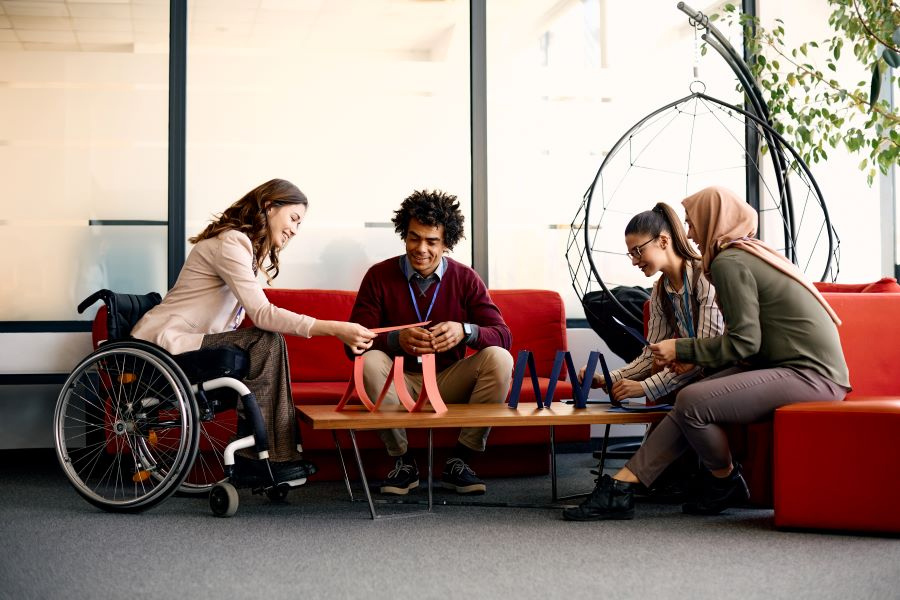 True diversity hiring, therefore, recognizes these levels of diversity, and weeds out biases where they do not apply. People from different backgrounds bring different perspectives and ideas, leading to new innovations. In the sales and service industries, for instance, it means you have employees who can identify with customer needs.
2. Establish Yourself as a Diverse Company
Make sure your website reflects the diversity of your workforce—blog about it or create a recruiting video dedicated to workplace diversity. However, promoting yourself as a diversity-friendly workforce won't mean much if you don't also practice it daily. Build a company culture based on respect for different people, the free sharing of ideas, and the promotion of people based on merit.
Studies show that companies with a diverse workforce benefit from better communication, innovation, and company reputation. This leads to more idea-sharing and greater profitability. A recent survey by As You Sow found that a higher representation of diverse employees in management has a positive relationship to higher cash flow, net profit, three- and five-year revenue, five-year return on equity (ROE), and stock performance. Another survey found that there is a 230% increase in cash flow per employee in diverse companies.
3. Create Job Descriptions That Promote Diversity
A diverse job description goes beyond gender-neutral language. If you use templates, be sure the requirements are accurate to the job. Nice-to-haves, for example, can decrease the opportunity for diversity. According to Forbes, men are more likely to apply for jobs when they meet only 60% of requirements, while women tend to apply only if they meet them all.
Avoid statements like "must be able to lift 50 pounds," as this may discourage women or those with certain physical disabilities. Instead, you can say something like, "heavy lifting may be required." A statement like this indicates that there is lifting required but it also allows for accommodations.
4. Post to Diverse Job Boards
Posting to job boards that promote diversity, including career-specific boards, is a smart step for finding and hiring a diverse team. These job boards cater directly to specific diverse backgrounds and will allow your open positions to get in front of multiple job seekers.
5. Have a Blind Hiring Process
A blind hiring process means hiring for talent and qualifications instead of singling out someone for demographics, even if you do so with the best intentions. You can do this by blocking out information that signals age, ethnicity, gender, and socioeconomic status (among other factors) when evaluating resumes.
But this process applies to more than just the resume—it means using tools like pre-skills assessments and adopting bias-free interviewing practices. It also helps to have a heterogeneous team interviewing candidates, so aim for a mix of ages, genders, and ethnicities.
Controversy Surrounding a Blind Hiring Process
Using a blind hiring process is a good practice for hiring for diversity, as it helps you focus on skills and experience rather than protected classes. However, some sources believe that a blind hiring process can undermine the desire for inclusivity. Additionally, hiring someone because they meet a certain minority demographically, regardless of skill, can be just as damaging as rejecting them.
Glassdoor reports that using a blind hiring technique doesn't automatically increase the diversity of your workforce. The report goes on to say that anonymous hiring harms the likelihood of women getting callbacks. If you are trying to increase inclusiveness by hiring more people from underrepresented groups, then don't remove the ability to determine whether a candidate is part of one of those groups.
To negate this impact, consider delaying the blind part of your interview process until after you have reviewed resumes in their entirety and are ready to move them to the hiring manager or team.
What Laws Govern Diversity Hiring?
There are federal and state laws concerning finding diverse employees, mainly in terms of anti-discrimination. It's best to approach increasing the diversity in your workplace as organically as possible—avoid setting processes that largely favor certain disadvantaged groups over others, i.e., transgender candidates vs those with a disability or of an ethnic minority.
Click the tabs below to learn more about specific laws governing diversity in the workplace.
Bottom Line
Diversity hiring is good for businesses—and for society, in general—as it creates new opportunities for those in protected classes. The best way to make diversity hires for your business is to make it an ongoing part of your company culture by incorporating it into your job descriptions, postings, and hiring process.