Employee benefits are employer-hosted perks like health insurance, commuter benefits, 401k savings plans, and life insurance. Offering a benefits package can cost from $0 to hundreds of dollars per employee per month. An employee benefits package helps you attract and retain quality workers; you'll need two things to start—a benefits provider and a budget.
For most small businesses, trying to cobble together the confusing selection of benefits programs into one package can be a real nightmare. You can make the process much easier with an all-in-one HR, benefits, and payroll platform like Zenefits. It offers health benefits packages from over 250 nationwide insurance carriers and lets you filter and compare plans based on deductibles, premiums, and more to help you find the right ones for your business. Start a free trial today.
Here are the six steps to set up an employee benefits package.
1. Decide What Benefits You Want to Offer
Deciding what employee benefits to offer requires that you consider which benefits your employees might find valuable. An employee benefits package can be as limited or as grand as you like. A recent survey from PEO Justworks found the benefits that employees want most are health benefits; but low cost perks and paid time off also ranked highly.
Many, like the first five benefits shown below, are available to an employee as pre-tax options, lowering an employee's overall taxable income. Their benefit deductions are subtracted before tax withholdings are calculated on the employee's paycheck (this can also lower your payroll tax liability).
Below are examples of employee benefits to consider offering:
Health Insurance – Including medical coverage for employee and family
Dental and Vision Insurance – Including coverage for employee and family
Life and Disability Insurance – To cover worker and spouse in case of accident/death
Retirement Plans – 401(k), SIMPLE IRA, or profit sharing plan
Alternative Health Benefit Options – Like flex spending or health savings accounts
Paid Time Off – Such as paid sick time and vacation
Paid Holidays – Like the 4th of July and Christmas
Commuter Benefits – Such as bus or light rail fare, carpooling, or bicycle maintenance
Fringe Benefits – Logo jacket, sporting event tickets, or a holiday party
Work-Life Balance Benefits – Such as flex time, remote work, or pets at work options
On the fence about what benefits to offer? Read our article on Company Benefits Stats to see what other businesses are doing, and also to determine which benefits might bring you the most value based on your employee demographics, company size, and industry.
Here's what an employment expert says:
It's important for every business, small or large, to provide appropriate benefits to their employees because it encourages them to stay with you, feel good about where they work, and feel good about your concern for them. It also shows their value to you.

—Dr. Gayle Carson, President, Carson Research Center and Ambassadors Board Member for Nova Southeastern University
2. Determine What Your Budget Will Be
Based on the type of benefits you provide, you'll need to set up a budget. The least expensive benefits are one-time items like a company T-shirt or employee pizza party. The most costly (and valuable to employees) are health-related benefits like medical insurance and health savings plans.
Here are price ranges to help you budget for each of the following employee benefit types:
Employee Benefit Costs by Type
| Employee Benefits | How It Works | ≅Monthly Cost per Covered Employee |
| --- | --- | --- |
| Pre-Tax Benefits | | |
| Health Insurance | Employers typically share costs with employees, such as 50/50 percent. | $500 and up |
| Dental and/or Vision Insurance | Employers may contribute or employees pay premiums. | $15-$30 average |
| Vision Insurance | Employers may contribute or employees pay premiums. | $5-$10 average |
| FSA and HSA Savings Accounts | Either employer or employee can contribute; subject to annual limits. | $50-$200 is common |
| Retirement Planning | Employers typically contribute a dollar amount or percent, e.g., matching 2-5% of earnings. | Varies, based on rate and earnings |
| Taxable | | |
| Commuter Benefits | Employees are reimbursed for commuter expenses; required in some locations. | $20-$255, varies |
| Life & Disability Insurance | Some employers pay for a fixed benefit amount such as $50,000, providing an option for employees to purchase additional coverage. | $25-$35, varies |
Recently released data from the Bureau of Labor Statistics show the various amounts that employers pay for different kinds of employee benefits. The percentage that employers spend is well upwards of 30% of each employee's total compensation. For example, for an employee making $35 per hour, the average employer pays an additional $13 per hour in benefits.
For a 401(k) solution that your employees will love and won't cost you a fortune, you may want to check out Human Interest. Their dedicated account managers will provide compliance support and help your employees choose great low-fee options for their investments. For a company with 20 employees, it would cost $200 per month. Get more information here.
3. Evaluate Which Provider Offers the Mix of Benefits You Want
Companies that administer employee benefits are known as benefit providers. They vary widely in terms of cost, types of benefits, and the size of businesses that they work with. On one end is something basic like a company that provides an employee assistance program (EAP) for a few dollars per employee per month. At the other end is outsourcing your entire employee benefits package by working with a professional employer organization (PEO). That can cost thousands of dollars a year.
Employee Benefits & Benefit Provider Types Summary
Benefit

PEO

HR Software

Payroll Software

SHOP Exchange

Insurance Company/Broker

Alternative Providers*

Health insurance

✔

Some
offer

Some
offer

✔

✔

Some
offer

Dental & vision insurance

✔

Some
offer

Some
offer

Dental only

✔

Life & disability insurance

✔

Some
offer

Unlikely

✔

401(k) & retirement plans

✔

Some
offer

Unlikely

✔

Cafeteria plans

✔

Some
offer

Some
offer

✔

HRA

Some
offer

✔

Paid time off & paid holidays

✔

✔

✔

Commuter benefits

✔

Some
offer

Unlikely

Unlikely

Some
offer
*Alternative providers include companies like Human Interest, which offer 401(k) plans, or Zane Benefits, which only do HRAs. Other businesses, such as your bank or credit union, may be able to offer benefits in addition to payroll processing. Some PEOs like TriNet can even offer employees discounts on tickets and purchases.
However, if you're looking for an all-inclusive option, PEOs like ADP TotalSource and Justworks, and HR/payroll providers like Gusto and Zenefits, may provide you with great rates and more choices than trying to negotiate with big insurance firms on your own. Most small business owners will want to use one of the providers we describe below to ensure labor-law compliance and eliminate time-consuming administrative hassles.
Professional Employer Organizations (PEO)
A PEO is an external organization that manages HR, payroll, and employee benefits for you. PEOs pool together small businesses to offer big-company benefits—like medical and life insurance—at a lower cost. They also ensure your business stays in compliance with tax, state, and federal laws, like workers' compensation and overtime.
PEOs vary greatly in price from under $100 per employee per month to thousands of dollars a year. However, in the long run, they can save you money on health insurance and workers' compensation rates. With some remote staff and a home office in NYC, Fit Small Business uses a PEO to help us offer great benefits to our distributed team in the most cost-effective way. You can learn more about PEOs in our guide to the best PEO providers.
If you think PEO is the best option for your business but don't know which PEO provider to use, take the quick four question quiz below. It will offer you a customized recommendation based on the responses you give.
Which PEO Provider is Best for You?
HR Software
Most cloud-based HR software can manage employee benefits while some provide health insurance as well. HR software makes sense for a small business once you get to 10 employees or more. That's because managing HR processes like employee onboarding and personnel files becomes time-consuming as you add additional staff.
Like a PEO, HR software can provide health, dental, vision, life, and disability insurance, as well as a 401(k) and retirement planning. It can also provide alternative health benefit options like FSAs, cafeteria plans, and commuter benefits. And typically, HR software can track PTO and holidays for you, ensure fringe benefits are managed correctly, and pass data to your payroll system.
If you're looking for an HR solution that can also help you choose and manage employee benefits, check out Zenefits. In addition to offering you thousands of filterable benefits plans, you get a user-friendly dashboard that lets employees self-onboard, enroll for benefits, and set up payroll — all online. Start a 15-day free trial.
Payroll Software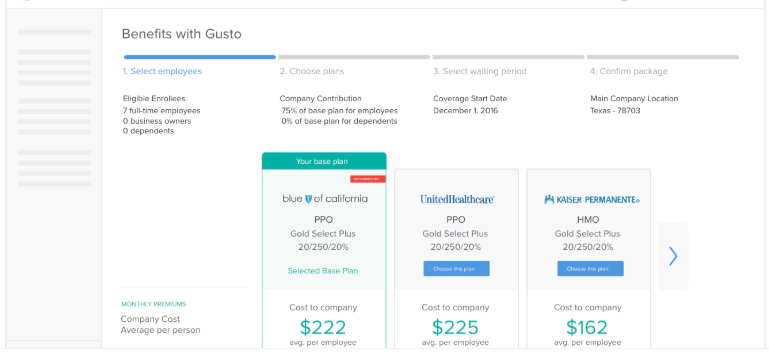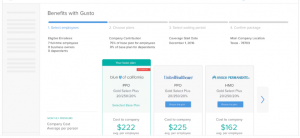 Online payroll software is evolving. At its core, it runs payroll and ensures compliance with federal, state, and local taxes, and employment laws. Most payroll software options also provide workers' compensation insurance. Using payroll software is recommended for businesses that have one or more employees in order to keep payroll compliant and reliable.
Similar to HR software, some payroll software companies give you the option to obtain all kinds of insurance plus financial and retirement benefits as well as alternative health benefits. Some integrate directly with benefits providers like Aetna and Blue Cross. Others serve as an insurance broker by offering multiple plans. They also track PTO and holidays and process deductions for benefits like a company car or a uniform laundering program.
Gusto is a great all-in-one solution for small businesses that need payroll software with added HR features. It's an affordable option that offers easy onboarding for new hires, time tracking, PTO and benefits management, and more. Start a free 30-day trial.
SHOP Exchange: Small Business Health Options Program
The SHOP Exchange was created by the Affordable Care Act (ACA) as a way for small business owners to provide their employees with medical and dental insurance. Some states run their own SHOPs and others use the federal government website.
The SHOP Exchange is ideal for businesses from one to 50 employees that want to provide health insurance for themselves and/or their team. If your business is under 25 employees and you yourself are on the same SHOP health plan as your employees, you can get up to a 50% tax credit. Therefore, it is worth it to get a quote from the SHOP Exchange.
Insurance Companies or Brokers
Independent insurance brokers and insurance companies can provide all kinds of insurance, such as health insurance, dental, vision, life, and disability insurance. Some also offer small business financial services and can provide a 401(k) and retirement planning.
If you go this route, ask about alternative health benefits, cafeteria plans, and commuter benefits as well. Unfortunately, insurance companies won't be able to manage your PTO and holidays like HR/payroll software or a PEO can, and you'll still need to manage the deductions through payroll.
Alternative Benefits Providers
If you feel that your business needs don't fit into one of the categories above, or if you have a limited budget, it's best to also look at alternative benefits providers like local credit unions, outsourced HR companies, student loan repayment programs, and local insurance companies.
Some alternative health benefits include things like section 125 cafeteria plans, Health Reimbursement Accounts (HRA), Flexible Spending Accounts (FSA), and Health Savings Accounts (HSA). Many of these benefits can be provided to the employee as pre-tax deductions.
4. Ask Questions to Choose the Best Provider for Your Business
Employee benefits can range from a free coffee mug to the typical health insurance provision. Each kind of benefit can be provided by a specialty benefits provider. However, some providers can offer multiple kinds of benefits. Be sure to ask questions about the exact benefit offerings available, as well as their costs.
Benefits Providers That Can Provide a Benefits Package
| Type of Benefit Provider | Best For |
| --- | --- |
| Professional Employer Organizations (PEOs) | Small businesses with 10-50 employees that want to offer a full range of big-company benefits to their employees—from medical benefits to 401(k). |
| HR Software | Small businesses with 10+ employees that want basic HR features, like onboarding or org charts, in addition to benefit offerings like medical and life insurance. |
| Payroll Software | Small businesses with 1+ employees that want to track benefit deductions correctly in addition to running payroll. |
| SHOP Exchange | Small businesses with 5+ employees that want to provide health or dental benefits through the Affordable Care Act (ACA). |
| Insurance Companies or Brokers | Small businesses with 50+ employees that want to try to negotiate good insurance premiums on their own. |
| Alternative Benefits Providers | Small businesses with 1+ employees that only want to offer out of the ordinary benefits such as flex spending accounts or commuter benefits. |
Once you have more than a handful of employees, you may prefer to manage employee benefits data with software rather than on a spreadsheet. Without integrated software, it can be overwhelming to answer questions that employees ask, like: "How can I increase my life insurance by $10,000?" or "Can I get a new copy of my vision card?" or "Can I take Friday off as a floating holiday?"
5. Sign Up for a Free Trial
Most cloud-based HR and payroll services allow you to sign up for a free trial. That's the best way to determine whether the interface is easy for your management team as well as if the self-service options will work for your employees. Some, like Gusto and Zenefits, offer mobile options that let employees check their balances or search for a provider using a smartphone.
6. Consider Other Employee Perks & Benefits
There are other types of benefits that can be provided within your employee benefits package. We place them into the "alternative benefits" category because they don't cost much, but nonetheless, provide value to your employees.
Alternative Employee Benefits & Costs
| Alternative Benefits | Who Should Offer This Alternative | What It Costs |
| --- | --- | --- |
| Paid-Time Off (PTO) | Businesses of all size that want to retain their employees by offering vacation and paid holidays. | One-to-two weeks' employee salary |
| Fringe Benefits | Businesses that want employees to feel like they're part of the company. | $10-$50/per employee |
| Work-Life Balance Benefits | Business with salaried exempt employees like professional or administrative services. | $0, typically |
What PTO Costs
Federal law does not require you to provide any paid holidays or paid vacation (some states do require paid or unpaid sick leave). However, offering paid time off can be an important part of your overall compensation plan. If we consider a person who makes $50,000 annually and give them five paid days off, the cost will be:
5 days of PTO = 1 week = $961.54
Basically, you're giving every employee one week's pay for not working. However, remember how much you might save in employee turnover if they choose to stay with your company rather than move to another job that does have paid time off. In that sense, paid holidays and vacation time are more of an investment in keeping your employees happy.
What Fringe Benefits Cost
Some fringe benefits are provided to the employee pre-tax, such as tuition assistance. Others, like snacks in the lobby, can be written off as a business expense. Costs vary. But if you pay off a student loan, give an employee a laptop (or other item) that they can use at home for personal use, or hand them a holiday bonus, that income needs to be reported as income on the employee's paycheck. IRS rules are provided for reference, and we recommend getting guidance from your tax professional.
Common examples of fringe benefits are:
Education assistance for tuition and books
Repayment of student loans
Achievement awards up to $1,600 (like a performance bonus)
Employee discounts on your company's products or services (up to 20%)
Birthday and holiday gifts for employees
Complimentary coffee, soda, and snacks in the office for your employees
Employer-provided meals (that cost less than $75 per person)
Fringe benefits may be more valuable to your employees than you think, particularly if you employ millennials. A 2017 survey by Millennial Personal Finance found that 46% of recent college grads would give up paid time off for student loan repayment assistance from their employer.
Here's what another expert had to say about the value of fringe benefits to your employees:
Why is it a good "investment" for employers to pay for their employees' continuing education or college courses, or to pay off their student loan? Employee retention! How do great employers keep their star employees? They invest in them. Tune your super employees via radio station WIIFM: What's In It for Me.

Compare a raise of "x" dollars with paying for a continuing education or college course that helps your employee and business to grow and learn new skills. A business needs to analyze the metrics of how long its employees stay. If you are seeing a trend of high turnover, then change something.

—Dr. Elliott Jaffa, HR Consultant, Dr. Elliott Jaffa & Associates and University of Maryland alumnus
What Work-Life Benefits Cost
Work-life benefits may cost nothing, for example, if you let employees work a flex schedule and they're able to get their work done. Others vary based on whether you're purchasing something to improve work life balance (healthy snacks or gym equipment) or giving them time off.
Consider some of these work-life benefit examples:
Let workers manage their own flex-schedule as long as they get the job done.
Allow new parents to bring quiet babies to work or let well-behaved children study in the back room after school so they're not home alone.
Provide a nap or quiet space for employees to use during their break or lunch.
Provide exercise equipment or a massage chair for employees to use on the job.
Give each employee one day off per year to do volunteer work in your community.
Allow computer workers, such as designers and professionals, to work from home.
Consider letting well-behaved pets come to the office one day a week.
Allow sales and service workers to use the company vehicle for personal errands.
Offer a short-term loan to an employee moving into a new apartment.
Additional work-life ideas can be found in our article on great work perks. Here are a couple experts who weighed in the value of work-life benefits:
Employee benefits for small businesses that would add value are work-life balance benefits, providing opportunities for employees to have a flexible schedule or work a day from home. Other benefits include gym membership, discount programs, and training reimbursements. Employees place different values on perks, so know your employees and structure your program accordingly.

—Matthew Burr, HR Consultant and Assistant Professor at Elmira College
Frequently Asked Questions (FAQs) When Setting Up an Employee Benefits Package
Below are questions small business owners may have when setting up employee benefits.
Are paid holidays or paid time off a required employee benefit?
No. But in states like California and Oregon, paid sick leave is required. For a list of all states that require paid or unpaid sick leave to be provided, read our state sick leave laws article. In addition, if you do offer holiday or vacation time, be aware of your state's laws for payout of accrued balances when an employee leaves the company.
When is a small business required to offer employee health insurance?
The Affordable Care Act (ACA) mandates that healthcare benefits be offered to employees once an employer has 50 or more full-time employees (FTE) on staff.
How can I find out what benefits my employee wants most?
The best way to find out what your employees will value most is to conduct a survey. Survey tools like Zoho Survey let you write questions and send employees a link they can use to fill out the survey anonymously. Of course, if you have an open culture, you may simply want to share what you can afford, and see what your employees prefer that money be spent on.
What if I have zero budget for an employee benefits package?
Consider improving your employee's on-the-job experience. Here's what Dr. Caroselli recommends:
Contrary to popular belief, more money does not correlate with greater job satisfaction. This is good news for small business owners: They can provide benefits such as more interesting work (try job rotation) or better alignment between employee values and the work environment (arrange a volunteer effort to build Habitat for Humanity, for example). Owners can also provide greater autonomy, if only on a limited basis, or ask employees for their opinion (individually or in staff meetings) to improve both morale and motivation.

—Dr. Marlene Caroselli, Consultant and Author and Adjunct Professor at National University and UCLA
What should I know before purchasing health insurance for my employees?
Health insurance, being the most sought-after employee benefit, isn't required to be provided by employers until they reach a threshold of at least 50 employees. To help you as you consider offering employee health insurance in particular, we've compiled answers to the 15 most common questions you should ask before you buy employee health insurance.
Where should employee benefits information be stored?
An employee handbook can be a good place to store your employee benefits policies and open enrollment process. It's not a bad idea to list the benefits you provide in your employment ads and job offers as well.
If you're using a PEO or HR/payroll software, both can provide an employee handbook you can store online. In addition, employees will have an HR portal dashboard with mobile access to be able to view and manage their employee benefit plan.
Bottom Line: Setting Up Employee Benefits
According to a survey by Aflac, 72% of small business employees say an improvement in their benefits offerings would make them happier. Setting up employee benefits doesn't have to be complicated or even expensive, and will improve your ability to hire and retain employees. Offering benefits is one of the small business problems that, once you get it right, can actually improve your bottom line by reducing employee turnover.
Overall, Zenefits is an affordable solution for small businesses that need help choosing and managing employee benefits. It lets you filter and compare thousands of plans from over 250 carriers based on deductibles, premiums, and more and offers robust HR and payroll feature, all in one platform. Start a free trial today.