A robust and dynamic employee benefits program can help you attract and retain top talent within your industry. To set up a strong program you need to establish your budget, identify the benefits you want to include, and consider how you want the benefits managed (i.e., through a professional employer organization) before finalizing and rolling out the plan. You do not have to spend a fortune to create an enticing employee benefits package—you only need to make thoughtful, strategic decisions.
For most small businesses, trying to piece together the confusing selection of benefits programs into one package can be daunting. Rippling brings all benefits—health insurance, 401(k), commuter, and more—into one system and automates the busy work, like enrolling new hires, updating deductions, and administering COBRA.
Step 1. Set Up a Budget
Now that you have decided to build an employee benefits program, you need to create a budget. Regardless of the types of benefits you provide, you'll need to determine how much your small business can contribute toward a comprehensive employee benefits package. The least expensive are one-time items such as a company T-shirt or a lunch-and-learn series. The most expensive (and frequently most valuable to employees) are health-related benefits, like medical insurance, and long-term savings plans, like a 401(k).
Essentially, this is a needs assessment—based on what the company can afford and the standard benefit offerings from employers. Many benefits are available as pretax options, lowering an employee's overall taxable income. You can download our employee benefits program budget template and customize it to meet your benefits needs.
Cost Analysis Per Benefit (Employer vs Employee)
It's important to do a cost analysis per benefit when determining your budget. Recently released data from the Bureau of Labor Statistics shows the various amounts that employers pay for different kinds of employee benefits. The percentage that employers spend is around 38% of each employee's total compensation. For example, for an employee making $35 per hour, the average employer pays an additional $13 per hour in employee benefits.
Employee Benefit Costs by Type
| Employee Benefits | How It Works | Monthly Cost per Covered Employee |
| --- | --- | --- |
| Health Insurance | Employers typically share costs with employees, such as 50/50, or up to a specific dollar amount. | $500 and up |
| Dental Insurance | Employers may contribute, or employees pay full premiums. | $10–$25 average |
| Vision Insurance | Employers may contribute, or employees pay full premiums. | $5–$10 average |
| FSA and HSA Savings Accounts | Either employer or employee can contribute; subject to annual limits. | $50–$200 is common |
| Retirement Planning | Employers typically contribute a dollar amount or percent, e.g., matching 2%–5% of earnings. | Varies based on rate and earnings |
| Commuter Benefits | Employees are reimbursed for commuter expenses; required in some locations. | $20–$255; varies |
| Life and Disability Insurance | Some employers pay for a fixed benefit amount, such as $50,000, providing an option for employees to purchase additional coverage. |  $25–$35; varies |
Step 2. Decide Which Benefits to Include in Your Program
At this stage in planning, small businesses should decide which benefits to include in their employee benefits package. There are many different benefits employers can offer to their employees. Below is a list of popular options:
Medical/Dental/Vision – Many employers contribute to the medical portion of this program (for instance, 50/50) while keeping dental and vision employee-paid only. Keeping the program affordable will likely increase employee participation.
Paid Time Off (vacation days, sick days, and holidays) – Having a robust PTO policy creates a good work/life balance. Employees need time to disconnect from work and focus on their personal life. A progressive PTO package can produce a better-quality work environment and increase production.
Retirement Savings Options, e.g., 401(k) or 403(b) – More and more individuals are looking for ways to save money for the future. 401(k) plans are a good option as the employee can save a certain amount per year. Many companies also have 401(k) matching, meaning the company will match employee contributions up to a certain percentage (usually a 5% cap).
Flexible or Health Savings Accounts (FSAs or HSAs) – FSA and HSA accounts help employees with out-of-pocket medical expenses. The employee contributes a certain amount per year, and typically the company will also contribute.
Life Insurance/Disability Insurance – This is a good option for employees to help with expenses (medical, funeral, etc.). It can be company-sponsored and/or employee-contributed.
Additional Work/Life Balance Perks – Options can include flexible work schedules, remote work, professional development, employee clubs/activities/gifts, food/beverage, etc.
Although not all businesses offer the benefits noted below, there is competition among companies to be creative, dynamic, and flexible with employee benefits packages. Not all companies want "dog-friendly" workplaces or can offer free lunches every day, but there are creative ideas your employees will love that may fit with your benefits philosophy.
Some less common benefits (or perks) that you may want to consider are:
Free snacks or beverages in the workplace
Free gym memberships or on-site gym
Student loan or tuition assistance
Company-wide retreats
Free or low-cost daycare services
Company-paid stipend to use for vacation
Paid maternity and paternity leave
Remote work options
Unlimited PTO
Team bonding events
Pet-friendly workplaces
REMINDER: Certain benefits may be required by law and include:
Social Security
Unemployment insurance
Workers' compensation
COBRA
Short-term disability insurance (required in California, Hawaii, New Jersey, New York, Rhode Island, and Puerto Rico)
Leaves of absence (paid FMLA required in California, Colorado, Connecticut, Delaware, Massachusetts, Maryland, New Jersey, New York, Oregon, Rhode Island, Washington, and Washington D.C.)
Disability leave
---
When deciding what benefits you want to offer, it is important to consider how they fit with your employees' total compensation. Total compensation includes all forms of pay and monetized benefits, including those mentioned above as well as the examples listed below:
Bonuses
Commissions
Profit-sharing distributions
Tuition assistance
Child care assistance
Public transit credits or reimbursements (commuter benefits)
IT reimbursements (home Wi-Fi, cellphone, personal computer, etc.)
Gym or club memberships
---
Step 3. Consider External Resources
Creating a comprehensive employee benefits package can be stressful. To help alleviate some of the headaches and make sure HR laws are followed, consider using an external resource for your benefits program.
Professional employer organizations (PEOs) manage all aspects of HR administration and provide access to group benefit rates small businesses wouldn't otherwise qualify for. To find out which PEO would be suitable for your company, take our PEO quiz below.
Which PEO Provider Is Best for You?
Step 4. Finalize Your Benefits Program
Now that you have created your budget and identified which benefits to include in your package, it is time to finalize your plan before rolling it out to employees. You will need to talk with healthcare providers to determine the best plan for your company. Be advised, however, that benefits plans can be complex, and there are many different options to consider.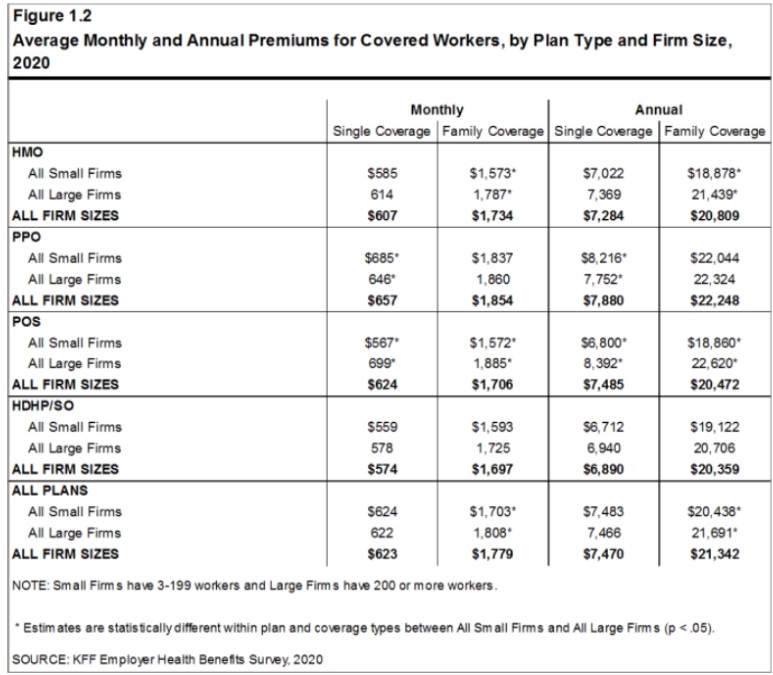 Sample benefits plans with cost analysis.
Once you decide which plan you will offer to your employees, you will need to gather the paperwork required by the provider, sign them, and determine the start date of your plan. This step should be followed for each type of benefit you provide to your employees.
This can be a very time-consuming process. We recommend that you use an all-inclusive company, like Rippling, for your benefits. It will contact providers for you and compare plan benefits and associated costs.
Step 5. Roll Out the Plan to Employees
Once your program is established, paperwork has been signed, and you are ready to incorporate your benefits package into the employee experience, communicating what has been developed, as well as how and why, is essential.
Our tips for implementing an effective communication campaign for your employee benefits program will help you cover the most important aspects of your employees' experience as they absorb this news.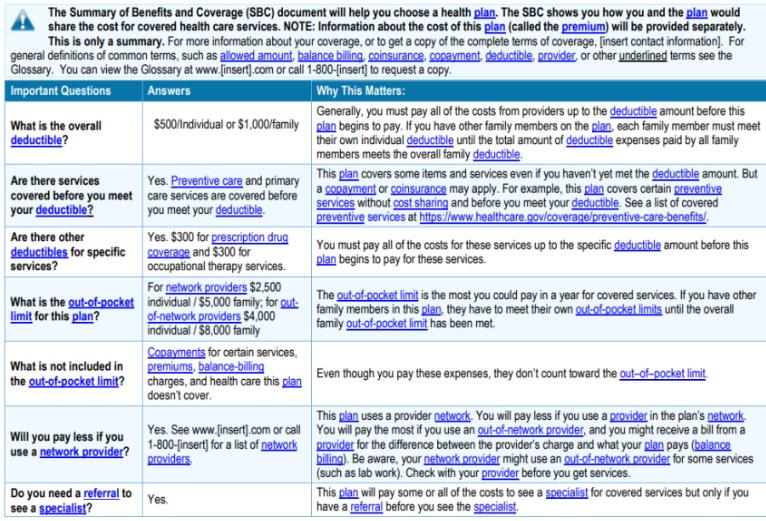 Sample summary of benefits and coverage information to provide for each type of benefit.
Follow these steps to deliver critical information to your employees:
Notify your employees. Hold a group discussion meeting to deliver the details of the benefits program to your employees and answer any questions. Be enthusiastic about your program, and your employees will be as well.
Provide details of the plan. You should provide your employees with physical or digital copies of each benefit available, including the cost to the employee and the amount the company will contribute.
Double-check for understanding. Once the news has been shared, ensure an adequate follow-up to see if everyone understands their benefits, coverages, how dependents may be covered, etc.
Utilize a portal or online resource. Once you have shared the news and launched your benefits program, publish it. Make sure that employees have a place to return to get additional questions answered and independently learn more about what and how their benefits can enhance their quality of life.
Update your company's Career Page. Potential employees are becoming savvier as they research companies online. As job candidates and casual job seekers check out your Careers Page, you will want to ensure that your top benefits are listed and easy to understand.
Mention benefits in your job advertisements. Although job advertisements are primarily about the job you want to fill, always include a brief yet informative blurb about your benefits. It is what attracts job seekers.
Tips to Follow When Developing Your Employee Benefits Program
When developing your employee benefits package, it is essential to consider how employees (and job candidates) look at benefits. Equally important is how other employers see benefits. Take a look at our breakdown below:
| Job Candidates/Employees | Employers |
| --- | --- |
| 88% of employees report healthcare benefits are significant when considering an employer | 41% of employers offer healthcare benefits |
| 66% reported that paid parental leave is essential. | Only 13% of employers offer parental leave |
| 88% said that paid time off is essential | Only 36% offer paid time off in their benefits package |
(Source: Justworks.com)
There can be a divide between what employees and employers think about benefits—as you can see from the table above. As you work to narrow this gap in your workplace, keep these three guiding principles in mind:
Start slow; there is no going back. Once you offer new benefits, taking them away (due to expense or other factors) is not an enjoyable endeavor. Employees do not like having access to a benefit one minute and then losing it, regardless of the reason, the next.
Assess the actual cost of each benefit. Many employers will cling to an idea for a new benefit and expose employees to it without first knowing the true costs of the benefit. That is, how much will this benefit cost the company if all eligible employees sign up? Will there be administrative upkeep for the benefit?
Don't just look at what others are doing. Although this is a wise action to take, do not let this be your only vetting method. Ensure that your benefits are supported by your team so they serve your employees' unique needs and desires in the best way possible.
Research Data on Your Employee Demographics
There are countless ways to determine how and what employee benefits you want to offer to your team members. Although we help you look at this topic from a few different angles, the most straightforward numbers to view are the ones that point to the most popular benefits for employees.
There are endless comparisons of what benefits men and women prefer. A Gallup survey reported some differences, with women placing more value on work-life balance and better well-being over other benefits. Alternatively, men found increased income preferable.
The greatest factor candidates look for when considering a job is whether the organization is diverse and inclusive. In addition, there was a survey issued by the International Foundation of Employee Benefit Plans that lists non-binary/transgender-inclusive benefits:
90% request mental health benefits
86% request gender reassignment or affirmation surgery benefits
14% request cosmetic surgery benefits
Across the generations of working groups there are plenty of commonalities in the most desired benefits, such as health and wellness, PTO or vacation time, and paid holidays—all employees generally want those benefits. However, beyond those, some generations value certain benefits over others. For instance, work-life balance is one of the more valued benefits for millennials, while financial wellness ranks highly for Gen Z.
Survey Employees for Benefits Ideas
Surveying your employees is the quickest way to clearly understand what they are excited about in terms of employee benefits and their total compensation. Surveys can be shared in several ways, but their true attraction is the fact that employers receive valuable feedback from employees about what they want to see more of, and employees can share their honest thoughts, feelings, and ideas anonymously.
The two most common ways of surveying employees we found to be effective are:
Hosting employee surveys in-house, often led by HR.
Utilizing a third-party surveyor such as SurveyMonkey to execute the survey for your organization. You can customize your survey questions and then launch them online for employees to participate anonymously.
Employee Benefits Frequently Asked Questions (FAQs)
Why are employee benefits important for the employer?
Employers who invest in their employees' well-being have happier, more productive workers. Adequate health coverage, retirement plans, and vacation time can help create a better work-life balance for employees, leading to improved mental health and overall job satisfaction. This could result in better morale amongst team members, which helps maintain a positive working environment for everyone involved.
Additionally, offering competitive benefits packages is important for employers because it helps keep staff engaged with their work and encourages them to stay longer with the company instead of looking elsewhere for better opportunities.
Can I deduct employee benefits on my business tax return?
The simple answer is yes. Employee benefit deductions are subtracted before tax withholdings and are calculated on the employee's paycheck (reducing the company's payroll tax liability).
If your business has employees and you pay health insurance premiums for them, these amounts are deducted on the applicable tax form and line for employee benefit program expenses. For example, if your business is a sole proprietorship, you deduct premiums paid to provide health coverage to employees on Schedule C.
Bottom Line
There are a number of ways to approach putting together and then maintaining an employee benefits package that current employees will love and job candidates will be attracted to. Many companies have solid, creative, and engaging employee benefits packages, and they all look a little different.
Your organization's goal should be to create your own sustainable version of an inclusive and dynamic employee benefits program that speaks to your employee base while maintaining your company's budget.