A Non-compete Agreement (NCA) is used to safeguard a business's competitive interests. This agreement, or contract, is used by a business when it has a unique or well-performing product, service, or sales platform with clientele that could be depreciated with departing employees.
Non-compete Agreements are used to keep current employees or other associates, like clients or partners, from starting similar businesses and taking customers with them in the process. Non-compete Agreements remain to this day, controversial and at times are legally challenged due to former employees' inability to secure similar employment within their industry.
In this article, we will discuss:
Free Non-Compete Agreement Template
Pros and Cons of Non-Compete Agreements
Why You Might Need a Non-Compete Agreement
States That Do Not Recognize Non-Compete Agreements (this data is constantly evolving)
Top 6 Mistakes With Non-Compete Agreements
Non-Compete Agreements vs Non-disclosure or Confidentiality Agreements
Free Non-Compete Agreement Template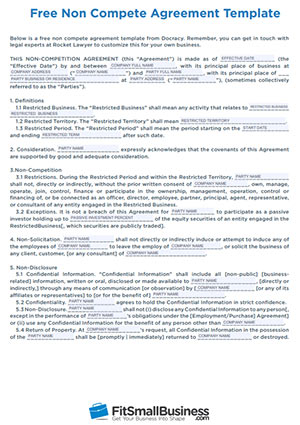 Please note that this article contains general information only, so you should consult your own legal professional before making any decisions on Non-compete Agreement or contracts. We offer a generic but thoughtfully crafted Non-compete Agreement (NCA) for your consideration. Every single Non-compete Agreement requires unique, specific, and detailed information about what the company wishes to protect and what the employee is being asked to agree to.
The template Non-disclosure Agreement is provided by Docracy. Also note that you can get in touch with legal experts at RocketLawyer to customize this for your own business.
Free NCA Template – Docx or PDF
States That Do Not Recognize Non-Compete Agreements
As noted earlier, the concept of a Non-compete Agreement is hotly contested in various states and not all companies will be able to incorporate Non-disclosure agreements into their normal hiring practices. Many states have chosen to take matters into their own hands by not legally allowing them at all or, if they do, under specific or very narrow circumstances.
Non-compete Agreements can make it exceptionally difficult for employees to find continued work after leaving their previous employer. Specifically, Non-compete Agreements often prevent employees from retaining work in the same industry as their former companies. This is where states have concerns around rights to gainful employment. If professionals have spent their entire careers developing their expertise and specified skillsets for their industry, but are restricted by a Non-disclosure Agreement, finding similar employment that they can capitalize their expertise on becomes unreasonably limited, or in some cases, impossible.
We focus below on the states where Non-compete Agreements are not generally upheld in the same way they are in other states, but we advise you to consult your attorney in your respective location.
You can also use RocketLawyer to consult with a professional who can guide you through your state's NCA laws.
First, refer to our table on "states that exclude non-compete agreements," to see if Non-compete Agreements are even a viable option for your organization.
Expectations of Enforceability by State
Source: The Department of Treasury, LegalNature, and Sheppard Mullin.
Pros and Cons of Non-Compete Agreements
| Pros | Cons |
| --- | --- |
| Secures and protects trade secrets and employee's knowledge of them | May scare off best-in-class professionals who do not want to be bound to a NCA |
| Ensures that clientele or customers remain with company | Many states do not enforce or hold up NCA contracts and, in general, NCA's at times bring on legal fights that can be costly and time-consuming |
| May assist in reducing key-employee turnover | Professionals, at times, have a difficult time seeking gainful employment within the same field or profession due to NCA limitations |
| Solidifies return-on-investment (ROI) relating to on-going training and investment in personnel (sales professionals, etc.) | Many companies fail to update and keep fully current NCAs as business, products, and services evolve over time |
Why You Might Need a Non-Compete Agreement
You might still be wondering if a Non-compete Agreement is needed for your business. We understand the concern and potential frustration. Paperwork, particularly legal agreements, and asking for signatures from newly hired employees can sound intimidating. The fact is, if you need one, it should be part of your new hire on-boarding process. So, to make things easier, we provide a set of questions to determine whether or not you need an NCA.
If you answer any of the following questions with a "yes," you should consider having a NCA signed by all of your employees:
Do you run a client or customer-based business?
Do you worry that your employees will try to open a similar business?
Do you worry that your employees may be trying to see your clients on the side or telling them they would charge them less?
Do a lot of your employees have their own businesses on the side?
In general, having a Non-compete Agreement is becoming more common as competition for customers increases and as the entrepreneurial spirit of young employees becomes stronger. It is considered fairly attractive right now to "start your own thing," which has made Non-compete Agreements more common.
Common Company Scenarios and Resulting Non-Compete Agreements
(In all cases, seek legal counsel before reaching your decision)
Company Situation

Do They Need a Non-compete Agreement?

The Reason(s)

Boutique marketing firm

Maybe

This is a "maybe" situation because your team members will most likely have a marketing background and will go to another marketing firm after they work for you. This is what is termed the "right to make a living" in many states that oppose Non-compete Agreements. You might want a

Nondisclosure Agreement

for your marketing methods instead. However, if you worry about someone opening a competing firm down the street, you might look into a Non-competition Agreement.

Fitness studio

Yes

You will want to make sure that your staff doesn't solicit clients to become "private clients" of theirs, such as personal training them in their home versus in your gym for a cheaper rate.

Startup who just got funding

Yes

This is essential to protect yourselves as a start up. You also may want to look into an

Invention Patent

.

Sales Professionals

Yes, Maybe

The circumstance simply depends on the specific scenario that you have going on. If your sales professionals are selling a product or service that is widely available on the market then having a Non-compete Agreement may help squelch unneeded clientele loss when sales employees leave your company. If your product or service is a niche or patented product, then one is typically not required due to the legal guardrails around both the product as well as the accompanying Nondisclosure Agreement that is signed.
Top 6 Mistakes With Non-Competition Agreements
Well-written Non-compete Agreements can help a business retain essential assets, valuable employees, protect its customers, and reduce the threat of unfair competition. If not crafted well, however, they can provide you with a false sense of security, which is, we would argue, worse than not having a Non-competition Agreement at all. Here's what to watch out for.
Interpretation of "Competition"
Too large of a reach as you attempt to define your competition will render the Non-compete Agreement useless. You cannot use a large dragnet of coverage in this exercise, you must instead be specific and your specificity must be defendable and easy for someone outside of the party (such as a judge) to understand it.
You Must Clarify the definition of what would be construed as competition and provide examples in an addendum. You will want to think about if working for a competitor, opening their own similar business, or working for a client in your current book of business is considered competing (and why).
Lack of Consideration
A Non-competition Agreement will almost be rendered moot in the court of law unless consideration is offered. For a Non-compete Agreement to be enforceable, there must be consideration, which is a legal expression for an "exchange of value."
According to MacElreeHarvey, one of the most common reasons that courts refuse to enforce Non-compete Agreements is that employers make the error of obtaining the Non-compete Agreement from a current employee without providing the employee with anything of additional value in return. Generally, such agreements are unenforceable because the employee did not receive any additional "consideration."
You Must Clarify what the employee is also gaining in addition to continued employment. It is that simple. You cannot gain the security of a Non-compete Agreement without offering something in return that levels out the employment relationship.
Length of Enforceability
Non-compete Agreements may not last forever. Oftentimes a Non-compete Agreement will be rendered unenforceable because it restricts competition for too long a period. As an example, a court typically will not enforce an agreement that prohibits an employee from competing for the rest of his or her life.
You Must Clarify when the Non-compete Agreement starts, when it ends, and the exact duration of its validity. Most agreements hover around one year, depending on their location. Some can go up to two, three, or even five years.
Definition of "Territory"
Non-compete Agreements may not, generally speaking, be worldwide. If a Non-compete Agreement attempts to restrict competition in an unreasonably large territory, it will run into problems. Well-written Non-compete Agreements usually describe a restricted area in which the employee cannot compete.
You Must Clarify what the territory is and if it evolves or changes, unless you are a startup with huge funding, an online business, or if you are a global company, like one of the healthcare giants. Usually a one, three, five or even 10 mile radius is plenty for a non-compete agreement; however, your situation might require more or less.
Confirming Jurisdiction
MacElreeHarvey also notes that not having a choice of law provision will impact a Non-compete Agreement's effectiveness. It is critical that a Non-compete Agreement appropriately addresses the issue of which jurisdiction's laws will govern the agreement. If there is a conflict, will a court in California or Ohio hear the case? These are details that are not always outlined within the body of the text.
Additionally, a Non-compete Agreement that is enforceable in one state may not be enforceable in another. Likewise, a remedy for a violation of a Non-compete Agreement may be a legal remedy in one jurisdiction but forbidden in another (within the same state). This raises significant issues for companies that are engaged in business in multiple states.
You Must Clarify what state or jurisdiction the Non-compete Agreement will be active in and adjudicated, if needed.
Failing to Update Your Non-Compete Agreements
You may, or may not, be surprised at how many companies NEVER update their Non-compete Agreements. It is more common than you think. The circumstances of your business and the laws governing Non-compete Agreements evolve over time.
MacElreeHarvey notes that if Non-compete Agreements are not updated or reviewed periodically, they risk becoming irrelevant to a business' changing needs. Many aspects of businesses evolve over time for any business, including its essential employees, its key customers, and the information or trade data that it wants to keep confidential.
You Must Clarify your updates and changes with your employees. Your Non-compete Agreements need to evolve as well so your confidence in its legal backing remains strong.
Non-Compete Agreements vs Non-disclosure or Confidentiality Agreements
Like a Non-compete Agreement, a Non-disclosure Agreement (NDA) is a legally binding contract meant to protect a business owner. The NDA is focused on information like trade secrets or product inventions, and the NCA is focused on an individual or company that would open a similar business, steal clients, or go work for a competitor. There can be overlap though. Let's look at some examples:
NDA vs NCA Example Scenarios: What Tool Is Best?
Scenario 1: Linda is a marketing manager at XYZ Social Media. Linda takes a job at ABC Social Media Marketing in the same city at XYZ. Linda shares with them their Facebook strategy, as well as a list of the clients she was working on at XYZ.
Answer: Both NCA and NDA. Linda is revealing information, as well as trying to solicit clients.
Scenario 2: Marty is an HVAC repair person.
Marty gets tired of working for Heater HVAC and goes to work for Cooler HVAC. He teaches his entire new crew his method of repairing a clogged drain line after his boss notices how fast it is.
Answer: Neither. Marty is in a skilled trade and his knowledge is from experience.
Scenario 3: Jane is a business consultant for BusinessBee Consulting.
Jane switches to the Competitor C Consulting Firm, which is a firm across the county from BusinessBee. She moves her family and wishes her old firm well. Jane calls her biggest client from BusinessBee and tells him about her move and job change. The client asks if Jane can still be her consultant and insists on moving to Competitor C.
Answer: NCA. Jane called the client directly, which could be interpreted as solicitation, and then did not stop the client from becoming a client of Competitor C. If she had signed an NCA, she could be in violation of her agreement with BusinessBee.
The Bottom Line
A Non-compete Agreement can be helpful to your business, especially at the management level, professional and sales areas of your business, depending on your industry and location. Only you and your attorney will know best if it makes sense for your business needs. We advise looking into the many details of Non-compete Agreements to be sure that you know the pros and cons of these arrangements so you are prepared for their benefits as well as their drawbacks.