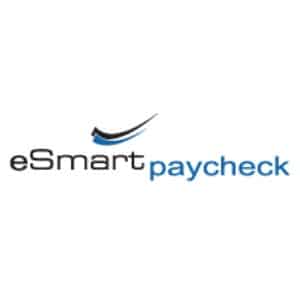 eSmart Paycheck is an online payroll software that's optimal for small businesses that have very basic payroll needs. It provides tools for calculating employee pay and payroll taxes, creating paychecks and paystubs, and printing federal forms (such as Form W-2). eSmart Paycheck also offers tax deposits and filings for select states and a free payroll calculator that you can use to manage simple payroll tax and deduction computations.
What We Recommend eSmart Paycheck For
With eSmart Paycheck, you get a simple and cost-effective solution for calculating employee payroll and payroll taxes. It has a flexible interface, enabling you to easily set up and add earning and deduction items (such as overtime, commissions, bonuses, health plan payments, and local tax deductions). Plus, its system allows you to manage payroll for several companies with just one account.
Apart from its payroll management solution, it has an online payroll calculator that you can use for free. It can handle simple payroll and tax computations for hourly and salaried employees and even lets you print paychecks and download pay stubs.
In short, eSmart Paycheck is best for:
Budget-conscious businesses: eSmart Paycheck offers a simple to learn and use solution that's affordably priced. Its annual fees cost anywhere from $50 to $300, depending on the number of employees you have. Plus, it doesn't charge a setup fee for new clients.
Entrepreneurs looking for a way to compute payroll for a few employees: If you have a very small team and need an easy way to calculate employee salaries, then eSmart Paycheck's free online payroll calculator will be easy for you to use. It also comes with paycheck and paystub printing capabilities. For other free payroll tools, check out our top free payroll software picks.
Bookkeepers who handle basic payroll services for a few clients: With eSmart Paycheck's online payroll management solution, you can handle employee pay processing for multiple companies under one account. Its tools are basic, though, and there's no guarantee it offers e-filing for your state, so it's important the clients are small, few in total, and have a simple structure.
When eSmart Paycheck Would Not Be a Good Fit
Companies in heavily regulated industries that need access to HR experts and/or benefits: If you don't have in-house HR expertise and must meet more regulatory requirements than the average business, eSmart Paycheck won't work well for you. Benefits are unavailable, as are dedicated representatives and HR experts on staff; live phone support is even limited. Check out our guide to the best HR payroll software for more robust options.
Companies that don't live in areas that charge local taxes, like New York: eSmart Paycheck doesn't automate local tax calculations—only state and federal. This means you'll have to research and stay abreast of any local taxes your employees owe. For payroll solutions that will do this for you, check out our best payroll services buyer's guide.
Business owners paying remote employees in different states: If your workforce is spread throughout the US, you should consider other payroll solutions like Gusto, as eSmart Paycheck doesn't support multi-state pay processing. Check out our best payroll software guide for more suitable options.
Not sure how to choose the best payroll solution? Read our guide on finding the right payroll solution for a step-by-step walkthrough on the process that you should follow.
eSmart Paycheck Overview
PROS

CONS

Affordably priced
Lacks a direct deposit option
Automatically calculates federal and state taxes
E-filing and deposits are limited to certain states
Paid version is free for the first three months
Multi-state payroll isn't supported
Free online payroll calculator
Software overall is very limited in functionality
eSmart Paycheck Pricing and Features
Free Online Payroll Calculator

eSmart Paycheck Online Payroll Software

Annual Pricing

$0

Ranges from $50 to $300
(for up to 40 employees)

Automatic Federal and State Tax Calculations

✔

✔

Custom Earnings and Deductions Types
(i.e., bonuses, insurance deductions, and child support payments)

✔

✔

Paychecks and Payslips Printing

✔

✔

Federal Forms Printing and e-Filing (W-2/940/941)

N/A

✔

Automatic Federal Tax Deposits

N/A

$25 per year

Electronic State Tax Deposits

N/A

$25 per year

State Payroll Forms Printing and e-Filing

N/A

$15 per year, per form type

W-2 e-Filings to States

N/A

$20 plus $2 per employee

Print and Mail Year-End W-2s

N/A

$2 per form
While eSmart Paycheck's online payroll calculator is free to use, it has limited features. The tool can only compute payroll and payroll taxes, as well as print paychecks and pay stubs. It doesn't have the capability to generate the federal and state forms needed for tax reporting.
Moreover, you have to re-input your salary information each time you access the free payroll calculator. If you want the system to retain your details, then you have to upgrade to a paid plan.
eSmart Paycheck offers six subscription options, wherein pricing is based on the number of employees you have. Its fees start at $50 and can go as high as $300 per year. However, new annual plan subscribers are allowed to use its paid payroll solutions for free for the first three months.
eSmart Paycheck Annual Pricing
Up to five employees: $50 per year
Six to 10 employees: $100 per year
11 to 15 employees: $150 per year
16 to 20 employees: $200 per year
21 to 30 employees: $250 per year
31 to 40 employees: $300 per year
Subscribing to the provider's paid plan provides you with additional functionalities like generating and printing federal forms 940, 941, and W-2. You are also granted access to eSmart Paycheck's tax filing services in which the provider will electronically file your federal forms to the IRS. Note that for state tax deposits and filings, the provider can only do this for select US states. Additionally, you have to pay extra to enjoy some of its payroll tax services.
Payroll Management
eSmart Paycheck supports several pay cycles (such as daily, weekly, biweekly, monthly, semimonthly, quarterly, and annually) and can handle pay processing of hourly and salaried employees. You can also customize earning types for payroll, from overtime and fringe benefits to bonuses and commissions. Similarly, it lets you add custom non-tax, pre-tax, and after-tax deductions,like a premium-only plan (POP), 401(k), garnishment, and local tax items.
Payroll Tax Calculations and Services
With eSmart Paycheck, you don't have to separately manage tax tables. Its system tracks and calculates federal and state payroll taxes automatically. It also generates and electronically files federal tax forms (such as Forms W-2, 940, and 941)—provided you subscribe to an annual plan.
In addition, eSmart Paycheck offers payroll tax deposit and e-filing services as paid solutions. However, its state payroll tax services are limited to select US states only; you'll have to call to verify if your state qualifies. For states that are not included in the provider's tax services, then you have to handle tax deposits and filings yourself.
Paycheck and Pay Stub Printing
You can create paychecks and pay stubs at any time. eSmart Paycheck generates PDF versions that you can print. You can either use blank check stocks or pre-printed company checks. Note, though, that you need a laser printer to print paychecks.
eSmart Paycheck Ease of Use
User-friendly interface, although not the most aesthetically pleasing
Automatic payroll tax calculations
Free online payroll calculator
Phone and email support
FAQs and how-to video guides
eSmart Paycheck is simple to learn and use, especially if you have a good grasp of payroll and payroll tax requirements. If you require assistance or have questions about some of its functionalities, the provider offers phone and email support; however, it can be hard to reach a rep by phone. We called several times and never received a call back, plus its website states that support is "very limited." Alternatively, you can visit eSmart Paycheck's website to access its video guides and FAQ section.
Top eSmart Paycheck Alternatives
| | | |
| --- | --- | --- |
| Best for: Small businesses (with up to 100 employees) wanting easy-to-use software | Best for: QuickBooks accounting small business customers | Best for: Mom-and-pop businesses |
| Base monthly fee from: $19 | Base monthly fee from: $45 | Base monthly fee from: $59 (DIY payroll option) |
| Per-employee monthly fee from: $6 | Per-employee fee from: $4 | Per-employee fee from: $4 |
| | | |
If you're not sure eSmart Paycheck is right for you, see how it compares with our top payroll services.
What Users Think About eSmart Paycheck
At the time of publication, there are no eSmart Paycheck user reviews available online.
Bottom Line
eSmart Paycheck is best suited for small companies that need basic payroll services—no benefits, compliance help, or advanced reporting. Both of its paid and free payroll solutions include adjustable pay cycles, automatic payroll tax calculations, and paycheck printing functionalities. The provider even offers payroll tax deposits and e-filings as add-on services—provided that you subscribe to its annual plan. Sign up for an eSmart Paycheck account today.