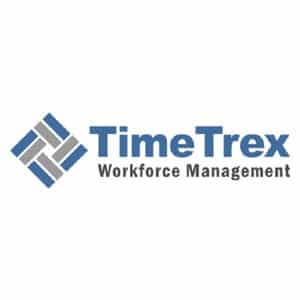 TimeTrex is a workforce management platform that helps businesses with time clocks, time and attendance tracking, schedule and leave management, job costing and expense reporting, payroll, and human resource management. A free version of the platform is available for businesses that want browser-based time and attendance tracking and basic tools. More robust packages are available at a custom price tag. If your business is in the market for a new time tracking software, take advantage of TimeTrex's free trial to see if it's a good fit.
What We Recommend TimeTrex For
TimeTrex may be a good option for businesses that rely heavily on hourly employees and need the peace of mind provided by hands-off, biometric time clock software. The software may also meet your needs if you're looking for a middle-of-the-road payroll system and human resource management tools. That said, the platform is somewhat outdated, and users have reported that it can be difficult to navigate—especially at first.
Overall, TimeTrex is best for:
Small blue-collar businesses with hourly employees: Many blue-collar businesses have hourly workers. Using TimeTrex time clocks to monitor employee hours can help save employers' time and ensure that the information is accurate—without costing a lot of money. It also comes with a payroll system that ranks No. 1 in our free payroll software guide.
Organizations housing highly sensitive data (i.e., healthcare) that require hands-off time tracking: Not only can TimeTrex's time clock software be used with basic tablets and smartphones, but its hands-free design also makes it a safer option for employees. Instead of typing information on a touch screen or other devices, employees can clock in just by positioning their face in front of the device's camera. This helps to eliminate the threat of time theft and buddy punching.
Administrators who want to automate time calculations for payroll: TimeTrex makes it easy to automate the calculation of overtime, premiums, time accruals, and multiple pay rates. What's more, employers can use the software to automate scheduling, so less time is wasted (when compared to generating them manually).
When TimeTrex Is Not a Good Fit
Some businesses will benefit from an alternative to TimeTrex, including:
Administrators who prefer a modern user interface: Multiple user reviews report that TimeTrex has an outdated interface. Our own use of the dashboard as part of a free trial confirms that users who prefer a streamlined user experience may want to look elsewhere when choosing time tracking software.
Businesses that want extensive integrations: While TimeTrex integrates with several payroll providers, it's unclear whether the software can be fully integrated with other HR management software. For this reason, businesses that intend to utilize other, more comprehensive HR software in addition to TimeTrex may want to choose another time and attendance system.
HR administrators who want the best payroll service available: The best payroll services for your business may be more robust than the tools offered by TimeTrex. Likewise, depending on the platform you choose, you may be unable to integrate with TimeTrex's time tracking software. For this reason, always confirm compatibility before committing to TimeTrex for time tracking.
TimeTrex Overview
PROS

CONS

Prospective customers can get a free demo and trial
Some users find the interface difficult to navigate
Offers live online training
User dashboard is somewhat outdated
Automatically runs payroll
Pricing information isn't available online
Can be integrated with other payroll tools like ADP and QuickBooks
Website makes it difficult to find information regarding plans and free trial
TimeTrex Features
Though primarily a time and attendance tracking platform, TimeTrex provides users a number of additional payroll and HR tools. For example, customers can use the TimeTrex open source payroll tools or integrate with its existing payroll platform. Likewise, its employee recruitment and performance tools make it easier to manage your business' talent.
If you're interested in TimeTrex but aren't sure it's the right fit for your business, you can sign up for a free 30-day trial by navigating to the link in the footer of the TimeTrex homepage. Once you're logged in, setup is easy—simply follow the setup wizard as it helps you add basic user preferences. New users can also access the Administrator Guide under "Help" in the menu at the top of the dashboard or visit the platform's Initial Setup Guide to get step-by-step guidance through the setup process.
Here are the main features that you can expect from TimeTrex:
Rule-Based Time and Attendance Software
One of its most robust and well-known features, TimeTrex time tracking, and attendance software can be accessed by employees via a web browser, mobile app, and facial recognition time clocks. That said, administrators have the ability to set rules that limit where employees can punch out from—down to the device and geofence.
Once the data is entered, business administrators can view it from the user dashboard by navigating to the "Attendance" tab in the top menu. Importantly, this includes real-time reports of employee time and attendance, so you won't have to wait until it's time to run payroll to review hours.
TimeTrex users can also take advantage of the software's accrual and time bank tools, which automatically track each employee's available vacation time, sick days, and banked time. In addition to helping the employer monitor employee time, employees can view this information without having to contact HR.
Facial Recognition Time Clocks
Businesses can optimize time tracking and prevent timecard fraud using TimeTrex's facial recognition time clocks. This advanced tool is made possible by a combination of TimeTrex software, hardware, and off-the-shelf tablets and phones, including those with Apple and Android operating systems. In addition to being touchless—and, therefore, more hygienic—the TimeTrex time clocks are highly accurate, even with facial hair. The system can also save employee images and be customized for additional data entry, like for job costing.
Scheduling and Leave Management
As with time and attendance tracking, TimeTrex offers flexible scheduling and leave management tool that works for businesses of all sizes. Employees can request time off through their TimeTrex dashboard—and the software automatically routes the request through an approval hierarchy set by the administrator. Scheduling can also be fully automated so that managers don't have to waste time manually creating employee schedules.
HR and Recruitment
Beyond time tracking and management tools, TimeTrex offers users a range of features for HR teams. The Personal Information Management (PIM) database organizes personal details, profile pictures, contact information and emergency contacts, job information and salary, and relevant attachments.
The software can also be used to track both current employees and job applicant performance, including skills education, memberships, licenses, and languages. This portion of the TimeTrex platform further streamlines employee performance reviews by tracking custom key performance indicators, disciplinary measures, and entrance and exit interviews.
Open Source Payroll Software
TimeTrex's integrated payroll processing software lets users keep all of their time tracking and payment information in one place. The platform also integrates with other payroll tools like ADP and QuickBooks, for businesses that already use a processing company. If you're still trying to choose a payroll service for your business, just make sure you pick one that can integrate with TimeTrex before committing to the software for time tracking.
In addition, TimeTrex's software handles the electronic transfer of payroll funds to employees, so you don't have to outsource payroll at an additional cost to your business. Payroll administrators can also take advantage of the TimeTrex payroll tax calculator, which automatically calculates federal, state, and local income taxes. What's more, the platform simplifies other custom deductions like benefits, insurance, accrual of vacation and sick leave, and wage garnishments.
Job Costing and Expenses
Beyond just tracking employee time in the field and office, TimeTrex makes it easy to allocate employee time to up to four levels of cost centers. Labor can also be attributed to projects by branch, department, type of task, and quantities produced. This makes it easy to track the productivity and profitability of each project your company is working on at any given time.
Business owners can also track and reimburse project-related expenses via the TimeTrex platform. Just like time tracking, employees can track their expenses and mileage—and upload receipts—remotely. Administrators can assign expenses to branches, departments, jobs, and tasks, and issue full or partial reimbursements to employees.
TimeTrex Pricing
TimeTrex does not publish its pricing online. However, we contacted a sales representative and were told that pricing is based on the number of employees and differs depending on whether the client uses cloud-based or on-site hosting. Cloud-hosted service starts at $2.99 per month, per employee, and the price starts to decrease at 26 employees. On-site hosting starts at $35.88 per employee, per year, and decreases for companies with a larger workforce.
TimeTrex Ease of Use
Personalized demos let you see how features can help your business
Users can take advantage of live online training and online resources
Phone support is available Monday through Friday from 7 a.m. to 4 p.m. Pacific time
Personalized email support is available for sales, support, billing, and general inquiries
Users can access a live chat tool by selecting "Live Chat w/Support" in the upper right-hand corner of the dashboard
Top TimeTrex Alternatives
Best for: Tracking employees with GPS and biometric identification to prevent time theft

Best for: Managing a business' hourly workforce and job costing

Best for: Businesses that want a hands-off onboarding process and streamlined payroll

Base monthly fee from: N/A

Base monthly fee from: $20

Base monthly fee from: $59

Per-employee monthly fee from: $1.66 when billed annually

Per-employee monthly fee from: $8

Free 30-day trial

Per-employee monthly fee from: $4
If you're not sure TimeTrex is right for you, see how it compares to our best time tracking software.
What Users Think About TimeTrex
Satisfied TimeTrex users report that the platform's automations make it easier and more convenient to track time and attendance. Likewise, the built-in HR tools and integrations with other HR management providers lets businesses keep all of their relevant data in one, user-friendly platform. That said, some users find that setting up and navigating the user dashboard can be difficult and the number of features is actually intimidating.
At the time of publication, TimeTrex earned the following scores on these popular user review sites:
A few trends stand out from these reviews:
| Users Like | Users Don't Like |
| --- | --- |
| Automations make tracking time and attendance more streamlined and efficient | The website occasionally malfunctions, making it difficult to enter time |
| Integrates with other HR platforms | Some users find setup and navigation difficult |
| User-friendly platform | The number of features can be intimidating |
Bottom Line
For business owners who need a robust but low-cost time tracking and payroll platform, TimeTrex provides extensive HR tools in addition to its time clock and time and attendance tracking software. The user interface is somewhat outdated and some users report that the extensive functionality is intimidating, but reviews are otherwise positive. Overall, it's an excellent option for businesses that rely heavily on hourly employees and want to bolster time tracking tools with automations and HR functionality.
In spite of some shortcomings, TimeTrex is a low-cost and user-friendly way to track employee time and attendance while also managing payroll, hiring, and documents. Sign up for a free 30-day trial of TimeTrex today—no credit card necessary.