Facebook Ads vs Google Ads: Which Is Best for Your Business?
Facebook Ads and Google Ads are both leading pay-per-click (PPC) ad platforms—but are very different in terms of use cases. Google Ads is best for brands, products, or services your audience is actively searching for, like plumbers. Facebook Ads (also known as Meta Ads or Meta for Business) are best for advertising something your target audience isn't necessarily actively searching for but is likely to be interested in, such as new headphones.
Facebook Ads vs Google Ads at a Glance
| | | |
| --- | --- | --- |
| Average Cost-per-Click (CPC) | 57 cents | 62 cents |
| Average Click-through Rate (CTR) | 1.32% | 4.85% |
| Average Conversion Rate | 6.57% | 6.33% |
| User Intent | Passive: Ad viewers may or may not be actively looking for a specific product, service, or brand | Active: Ad viewers are actively searching for a product, service, or specific brand, and are likely ready to buy |
| Targeting Basis | Interests, demographics | Keywords, search intent |
| Ad Types | Image, Video, Slideshow, Carousel, Collection, and Instant Experience | Organic results, Call-only, Shopping Ads, Service Ads, and Remarketing Display Ads |
| | | |
(Source: SideCar)
Google vs Facebook Advertising Platforms: How They Work
Facebook and Google PPC ads operate with a competitive bidding structure, but each works differently. Facebook Ads, also known as Meta or Meta for Business, is a form of paid social media advertising. Its ads can be displayed to users on Facebook, Instagram, Messenger, and throughout Meta's expanded Audience Network.
Google Ads are paid search ads displayed in Google's search engine results pages (SERPs) or image-and-text ads shown to remarketing lists throughout the Google Ad Network. Search page ads also include Google Shopping ads as well as sponsored image ads shown on image search pages, sponsored videos on video search results pages, and so on.
How Facebook Ads Work
Ads are created on the Facebook Ad Manager platform and displayed to a target audience defined by Facebook user demographics, interests, behavior, and engagement patterns. As part of the ad creation process, advertisers also designate an ad budget, ad placement, and schedule.
Advanced audience targeting distinguishes Facebook Ads from Google Ads since Facebook users aren't actively looking for a product or service on social media. Facebook Ads produce conversions by giving advertisers comprehensive targeting options—including factors like age, gender, income, and interests—that align closely with ad content.
The actual ad creation process on Facebook is relatively easy with the user-friendly Facebook Ads Manager. To build ads:
Click the "Create" button on your account dashboard
Choose your ad format, select your audience, edit ad settings, write your ad's copy, and add images (or video).
When thoughtfully crafted and expertly targeted, Facebook ads capture latent user interest, generating brand awareness and driving sales. It's important to note, however, that it may take more time to convert Facebook leads to customers (especially for expensive products or have an inherently longer customer journey) as they are not actively seeking your product or service. Learn how to advertise your business on Facebook in our step-by-step guide.
---
How Google Ads Work
Google is a search engine that allows businesses to advertise on its network with pay-per-click ads. Ads are targeted using keywords, and advertisers can set parameters for maximum bids, overall budget, ad scheduling, and location (e.g., ads can be displayed to users in specific geographic areas).
Google Ads appear at the top of search results pages in almost the same format as organic search results based on the keywords searched by the user and how those keywords align with ad content. To create a Google Ad, advertisers sign up for a Google Ads account and then add text-only ad copy and keyword targeting information.
User search intent is the primary driver of Google Ads vs. Facebook Ads. On Google, users actively search for a specific product or service or the answer to a specific question. If you can provide the exact information they're looking for, they are more likely to purchase your product or service or engage with your brand. Unlike Facebook Ads, Google Ads are triggered by keywords and search terms.
Ads are built in the Google Ad Manager interface, which is generally regarded as not very easy or intuitive to use (though it's getting better). Still, advertisers can quickly build a text-based ad by creating Campaigns, Ad Sets, and individual Ads with a headline and description. Learn more with our step-by-step details about how to advertise on Google.
Businesses that advertise products or services with clear use cases benefit most from Google Ads. It's easy to capture keywords in search and encourage users to click and buy using simple, actionable language. More nuanced campaigns—such as those for brand awareness or multistep engagement—will likely not fare as well on Google in terms of return on ad spend (ROAS).
Another way to use Google Ads is through remarketing ads. Remarketing ads are display advertisements shown to people who visited your website recently, such as in the last 90 days, on other websites. For example, someone who visited your website after clicking on your Ad or your URL in organic search results might then see your display ad and branding on a media or news site, reminding them of your offer. Read our article on website banner ads to learn more.
Local service ads are another way for your brand to get discovered on Google search pages. These are ads specifically for local service-based businesses that are shown to users whose search query indicates a high probability of buying intent, and often immediate buying intent.
For example, someone with a burst pipe might search for "plumbers" and then be shown local service ads at the top of the page, giving them immediate access to a service they need quickly. Learn more about local service ads to see if they're an excellent PPC advertising option for your company.
---
Both Google and Facebook Ads involve a learning curve and significant time for management. For this reason, many small businesses rely on PPC ad management agencies like Hibu to get the maximum return on ad spend and increase their return on investment (ROI). Get started with a free consultation today.
When to Use Facebook Ads vs Google Ads
Facebook Ads and Google Ads serve different business objectives. It's generally best to use Facebook Ads to build brand awareness of products or services people don't necessarily need (or don't need right now), such as a new high-tech espresso machine or sports team apparel. Google Ads, however, are best for increasing sales of products or services that people are actively searching for, such as an electrician or a nearby restaurant.
When to Use Facebook Ads
Facebook Ads are best for businesses seeking to increase awareness of their brand or the products or services it sells—especially with people who may not have heard of them before. With extensive audience targeting options, Facebook allows advertisers to introduce their offerings to the desired target audience via text, image, and compelling video ads.
When to Use Google Ads
Google Ads are best for brands with a product or service a user wants or needs and is actively searching for. These ads primarily target users in the buying phase, so advertisement copy that is concise, unambiguous, makes it easy to call or visit, and highlights the clear advantages of the brand's product or service will be the most successful.
Facebook and Google aren't your only PPC ad options. While similar to Google Ads, Microsoft Ads are displayed in the Microsoft Search Network (e.g., Bing, AOL, Yahoo, MSN.com, and Edge browser results). These sites also have unique audience demographics that might make them a better platform for certain businesses. Learn more about advertising with Microsoft.
Facebook Ads vs Google Ads: Pricing & Performance Data
Average Cost-per-Click (CPC)

$0.70

$2.34 (Search ads)

$0.54 (Shopping ads)

$0.31 (Display ads)

Average Cost per 1,000 Impressions, or CPM

$12.71* Facebook

$10.14* Instagram

$3.12

Average Cost per Lead (CPL)

$8.29* Facebook

$7.78* Instagram

$3.53

Average Click-through Rate (CTR)

0.90%

3.17%

Average Conversion Rate

9.21%

8.82%
(Sources: SearchLab, TopDraw, WordStream, LocalIQ)
*October 2022 per RevealBot
When considering affordability, the price needs to be viewed in relation to click-through and conversion rates. While Google Search ads have a higher average cost-per-click (CPC) and a slightly lower conversion rate than Facebook Ads, they have a much higher click-through rate, so your return can be higher than with Facebook Ads.
Google Ads are also more effective at capturing leads who are ready to buy. For this reason, it tends to produce a more immediate return vs leads generated from Facebook Ads, which might take longer to convert.
Knowing the averages is just the beginning, as competition also affects how much you need to spend to get results with both platforms. For more details to help you set an ad budget, check out our full breakdown of Facebook advertising costs.
Google vs Facebook Ads: Campaign Features
| | | |
| --- | --- | --- |
| Ad Networks | Facebook, Messenger, Instagram, and Audience Network | Google Search, Display, Shopping, Remarketing, and Local Service Ads |
| Audience Intent | Passive | Active |
| Ad Targeting | Audience | Keywords |
| Audience Targeting by Location | ✓ | ✓ |
| Audience Targeting by Behaviors, Interests, or Demographics | ✓ | ✕ |
| Ads With Images | All Ads | Shopping and Remarketing |
| Video Ads | ✓ | ✕ |
| Ad Scheduling | ✓ | ✓ |
| Negative Keywords (to Exclude) | ✕ | ✓ |
| Automatic Budget Optimization | ✓* | ✓ |
| Remarketing Ads | ✓ | ✓ |
*With Lifetime Budget only
The main difference between Facebook Ads and Google Ads campaigns is how audiences are targeted. Facebook Ads provide broad audience targeting options, but there is little to no search or buying intent.
While Google Ads has fewer options regarding audience characteristics targeting, its users are actively seeking a particular product or service. Plus, each offers unique features, such as Google's Local Service Ads and Facebook's Instagram Ads.
Facebook Ads Features
Facebook Ads is a low-cost, pay-per-click platform for social media marketing. Its standout features include a user-friendly ad design interface, comprehensive targeting options, and many ad types with several placement options.
Audience Intent
A lack of active audience intent is a weakness of Facebook Ads. The platform's users are not actively searching for your brand, product, or service like they are with Google Ads. Instead, users are generally on Facebook to connect with other users or browse entertaining content.
Some advertisers consider passive intent as a detriment to advertising return on investment (ROI). However, many find Facebook to be an excellent platform for introducing a brand and its offerings to new audiences and staying top of mind over time. Once the audience knows their brand, advertisers can follow up with social media and email marketing campaigns to move prospects through the sales funnel to conversion.
---
Audience Targeting
Facebook Ads overcomes its lack of audience intent by providing the ability to hone in on specific audiences using a wealth of targeting parameters. This allows advertisers to closely align ad audiences with their brand's target audience, thereby increasing the likelihood of engaging their ideal customer and landing a sale.
Facebook's comprehensive targeting options include demographic information, interests, browsing behavior, location, political affiliations, life events, industry, job title, and dozens of other parameters. Advertisers have the power to pinpoint the exact people they want to see their ads. Google Ads does offer some basic demographic-based targeting, but primarily leans on keyword searches to display ads to the right audience.
---
Average Conversion Rate
The conversion rate indicates how often your ad successfully achieves the action you want users to take, whether it's signing up for a newsletter, filling out a form, or completing a purchase. The average conversion rate on Facebook ads is 6.57%, meaning that for every 100 clicks on an ad, more than six users click on an ad and complete the desired conversion on the connected landing page.
---
Ad Placement Options
Ad placement refers to where ads are displayed on Facebook and its affiliated sites. Facebook Ads offers a wide array of ad placement options. For example, ads can be seen in user feeds, in the right column, in stories, in the marketplace, and in streaming videos. They also appear on Messenger, Instagram feeds and stories, and throughout the expanded Meta Audience Network.
---
Ad Types
Facebook currently has six different ad types or formats advertisers can choose from. These include images, video, slideshow, carousel, collection, and instant experience (formerly canvas) ads. Unlike the text-based Google Ads displayed above organic search results, Facebook Ads look and feel like organic social media content, allowing advertisers to get more creative and use visuals to encourage audience engagement.
---
Google Ads Features
Google Ads also has a low cost-per-click average, though this varies significantly depending on your industry and targeted keywords. There's no minimum ad spend, though the average small business spends anywhere from $2,500 to $7,500 a month on Google Ads. For ads shown in Google search results, advertisers create ads that appear in the same format as organic search results based on keyword searches and basic audience targeting options, such as location.
Audience Intent
Active buying intent is a key benefit of Google search ads. Related ads appear at the top of search results whenever a user searches a keyword. This allows advertisers to capture the audience's attention, often when they intend to buy a product or service. This increases the likelihood of a sale and, as a result, increases the return on advertising investment.
However, for users to search Google for your relevant keywords, they need to know that your type of product or service exists. In other words, there needs to be people searching Google for a business like yours, or the products or services your business sells. If they don't, it's likely better to use Facebook's refined audience targeting options to build brand awareness and capture new customers.
---
Audience Targeting
Google Ads are displayed based on the alignment of keyword searches and keywords used in (or assigned to) ads. Google's Keyword Planner Tool enables advertisers to research the average CPC of specific keywords and see how much search traffic exists for each one. This is a helpful way to gauge buyer interest, and possible ad spend. In addition to keywords, basic audience targeting parameters include age, gender, location, and device type.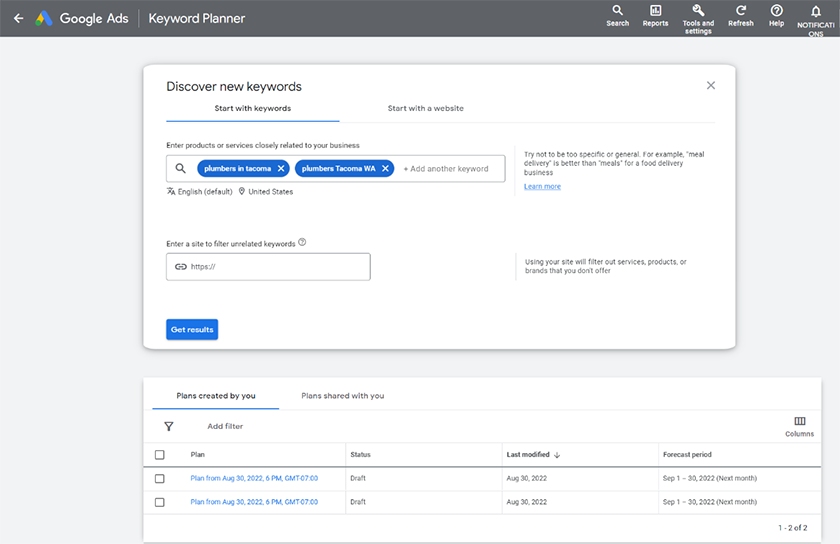 ---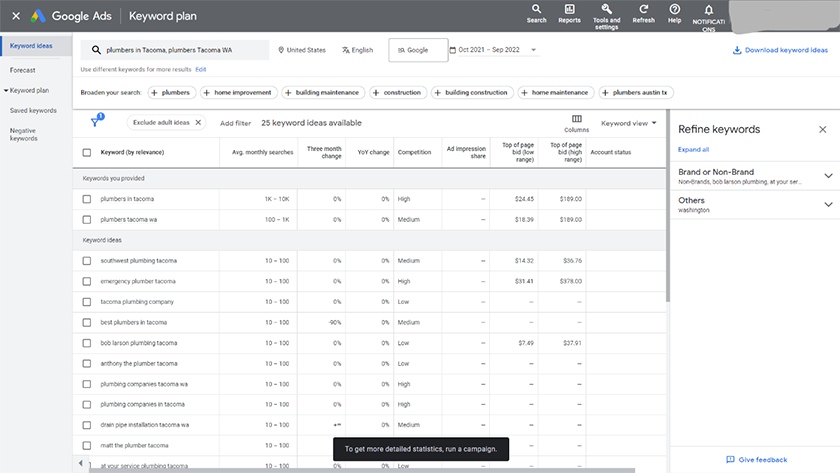 ---
Google Ads does offer more robust audience targeting options, such as remarketing or retargeting ads and affinity audiences. Remarketing ads are web banner ads (display ads) shown to users who previously visited your website. They bring your brand, product, or offer back to mind to entice someone to buy from you, such as a shopper who abandoned a cart.
Remarketing ad audience lists can be created in several different ways. For example, you can add code with the Google Ads tag to your website, which will then identify site visitors and add them to your remarketing list for up to 540 days. Other ways to set up remarketing are through Google Analytics, YouTube, Google Play, and even via third-party apps and Zapier integrations.
Affinity audiences are custom audiences you create for specific initiatives like remarketing, Facebook video ads, YouTube, and LinkedIn InMail campaigns. They are typically used by larger marketing teams and PPC management companies, as they are generally beyond the scope of the average small business. Due to their complexity, they were not a primary consideration in this article.
---
Average Conversion Rate
The average conversion rate for Google Ads is 6.33%. While the rate varies from advertiser to advertiser, it is slightly lower than that of Facebook Ads. However, it's worth noting that Google Ads has a higher ad click-through rate than Facebook Ads. Plus, users are generally in the buying vs discovery or research stage of the customer journey.
---
Ad Placement Options
Google Ads currently offers two main ad placement options. Google search results and display within the Google Display Network, which includes well-known company sites like Amazon, The New York Times, The Washington Post, and over 2 million other supported websites. However, most advertisers start with text-based ads on Google search pages as it gives them the most control over where their ads are displayed.
---
Ad Types
Google Ads currently has four main ad types, or ad formats. These include text-only ads, call-only ads, shopping ads, and banner ads for remarketing. Text-only ads appear on the top, and sometimes the right-hand side, of search results pages in a nearly identical format as organic search results. They are marked with the word "Ad" to differentiate them from organic results.
Call-only ads are similar to text-only ads, with the difference that when the ad is clicked, it automatically calls the advertiser's phone number. Click-to-call ads are ideal for businesses using calls to action, such as "book an appointment now" or those which customers want to reach immediately, such as placing a restaurant order or finding a plumber.
Google shopping ads have images, making them more similar to Facebook ads. However, while Facebook ads are better used for product and brand awareness, Google shopping ads encourage direct and immediate purchases. Remarketing display ads can also include images, and most have a combination of text-based ad copy and imagery, such as a product image or brand logo.
It's worth noting that many online stores prefer Facebook Ads for creating shipping promotion advertisements. Plus, unlike Google, the Facebook Ad platform allows advertisers to include multiple images or videos in a single ad, and carousel image ads, in particular, have proven highly engaging.
---
Facebook Ads vs Google Ads: Ease of Use
In a nutshell: Both involve a learning curve. However, Facebook Ads has a slightly more user-friendly interface, making it easier to learn.
Both platforms can be intimidating at first glance due to the sheer number of options and features to navigate. Facebook Ads are more beginner-friendly, while Google Ads has a more data-focused interface.
Most find it easy to use Facebook's basic features, but struggle to learn its more advanced functionality. Google, on the other hand, is harder to learn at the beginning, but once a user acclimates, the platform is simple to manage. It's also easy to expand into display and remarketing ads down the road as your ad budget increases for further reach and more sales.
It's worth noting that remarketing ads are usually far less expensive than search ads, and you can set your spend based on the number of impressions, not just clicks. Using them in combination is best, especially for businesses whose products or services may have a longer customer buying journey or multistep sales pipeline.
Facebook Ads Ease of Use
Facebook Ads Manager has an intuitive, user-friendly interface that makes it easy to set up ads, even though there are several steps to navigate. In addition, Facebook has more ad types, ad placements, and advanced audience targeting options than Google Ad Manager, so it can be overwhelming. Facebook is also constantly adding and changing features, making it more difficult to keep up with.
The Facebook Ads Manager interface is organized by lists of ad campaigns. It shows basic information pertaining to campaigns, such as whether or not a campaign is currently active, how much ad spend each campaign has used, its budget, and more. For more detailed information, click on the individual campaign. This will display campaign metrics such as CPC, campaign click-through, and conversion rates.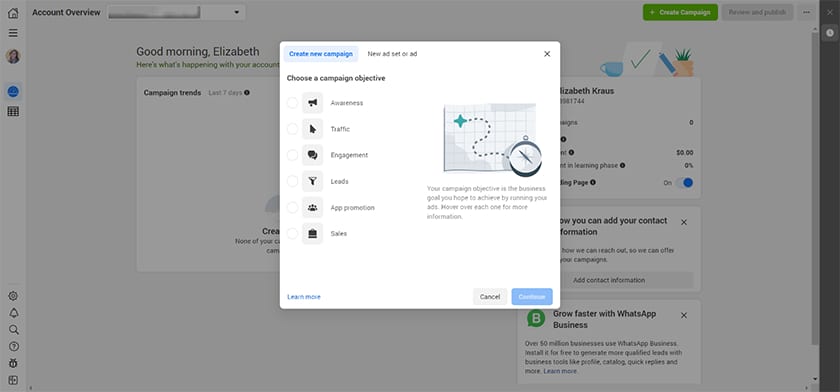 ---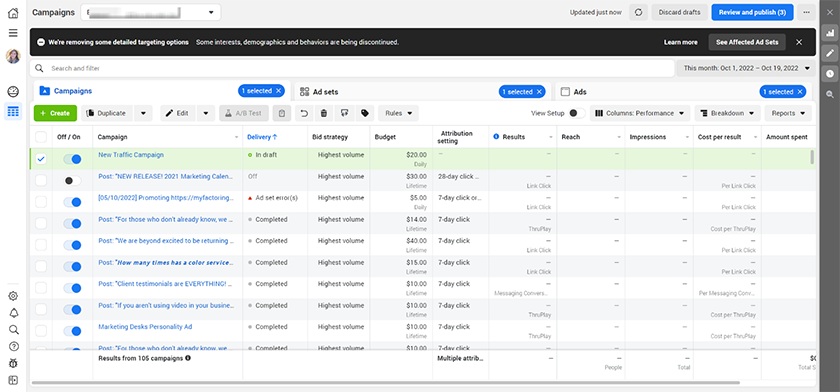 ---
Google Ads Ease of Use
The Google Ads interface appears more challenging to use at first as it is a text and data-heavy platform. But once users become familiar with Google Ads, it becomes easier to use than Facebook Ads, mainly because it doesn't offer as many ad types, ad placements, or audience targeting options as Facebook Ads.
Google Ads Manager is similar to Facebook Ads Manager in that campaigns break it out. Once you click on an individual campaign, you will see additional data for that campaign, including metrics like the click-through rate and ad quality score. Unlike Facebook, Google provides individual keyword performance data.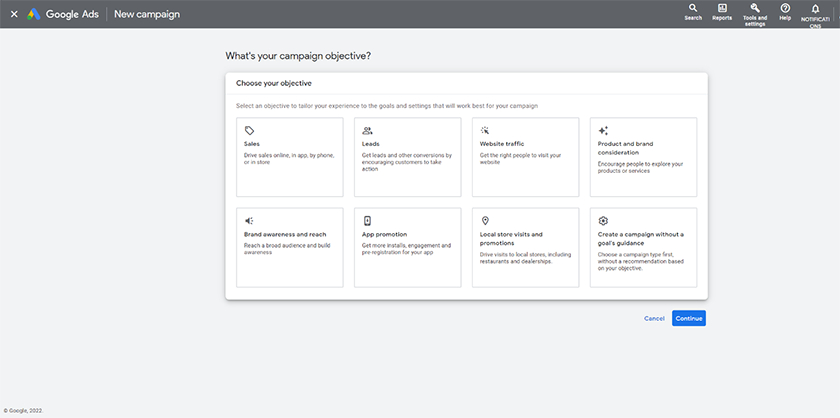 ---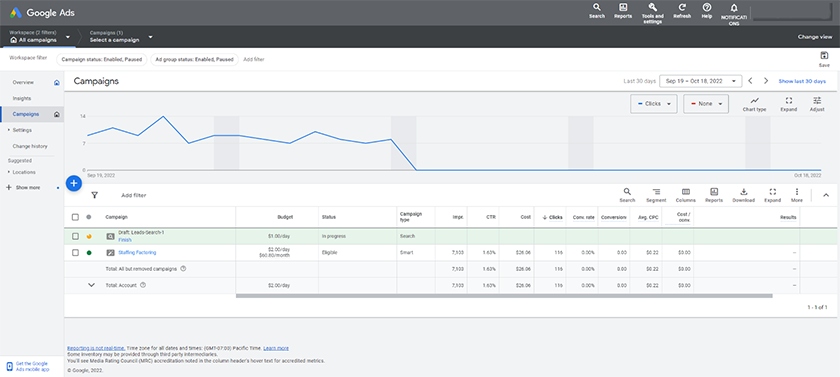 ---
Best Alternatives
When considering whether to use Facebook Ads or Google Ads, you should also look at top competitors that might offer better options for your small business. For example, Microsoft Ads (formerly known as Bing Ads) are better if you want to reach audience demographics such as higher income and education levels.
| | | | |
| --- | --- | --- | --- |
| Best For | Ecommerce retailers | Business-to-business ads, luxury brands, or reaching highly educated audiences | Ecommerce sellers wanting to reach younger audiences |
| Ad Types | Sponsored products, sponsored brands, video ads, display ads, audio ads | Search, Product, App Install, native display ads, Vertical banner ads | Native ads (in-article display ads) and banner ads |
| Ad Networks | Amazon.com, Alexa devices, Amazon Music, and Amazon's publisher network | Bing.com, Yahoo!, AOL, MSN, and the extended Microsoft Ad Network | Tens of thousands of sites, such as NBC News, CBS News, MSN, USA Today, Bloomberg, The Weather Channel and more |
| Average Cost | | | From $10/day |
| | | | |
In addition, social networks (like TikTok, Twitter, LinkedIn, Snapchat, and Pinterest) and user-community sites (like Reddit and Quora) all offer unique advertising options for small businesses. Read our guide to social media advertising for all the details.
Facebook Ads vs Google Ads: Customer Service
*Extended business hours, 9 a.m. to 8 p.m. Eastern Time, Monday through Friday
Google Ads is hands-down better than Facebook Ads when it comes to customer service. It not only offers support via phone, but it also has helpful customer support. In fact, its support team is proactive and may occasionally reach out to you with ideas on how you can improve campaign performance.
However, Facebook Ads offers support via email, which is what Google Ads does not offer. Both offer support via live chat and comprehensive help centers, giving users a number of options for getting the support they need the way they want it.
Facebook Ads vs Google Ads: Customer Reviews
Rating (G2 Crowd)

What Users Like

Moderately user-friendly
Instagram ads
Many placements available (e.g., in-feed, sidebar, stories, etc.)

In-depth data
YouTube ads
Retargeting ads to site visitors
Google Shopping ads are more effective at selling high-end products

What Users Dislike

Gets expensive if ads aren't targeted well
Advanced features can be challenging for beginners

Steep learning curve, not intuitive, especially for beginners
Expensive for broad or high-competition keywords
Facebook Ads and Google Ads both have a 4.2 out of 5-star rating from out of over 1,000 reviewers per G2.com. Facebook Ads is considered by many to be an easy platform, whereas Google Ads is often regarded as a must-have for small business marketing.
How We Evaluated Google Ads vs Facebook Ads
It can be difficult to know which PPC ad platform is best for your business, and trying every option is time-consuming and costly. To help you determine the best for your business, we evaluated and compared these two leading platforms based on cost, audience intent, targeting options, ad types, ad placement options, and ease of use.
Based on the above criteria, we recommend Google Ads for businesses wanting to increase the sales of their products or services. Alternatively, Facebook Ads is recommended for businesses looking to increase brand awareness and introduce new products and services to a fresh audience.
For example, an airport transfer service company seeking passengers would receive a return by launching a Google Ad advertising transportation options for travelers. On the other hand, a new high-tech travel bag company might be more successful in advertising its product on Facebook to young professionals making more than $100,000 a year.
Frequently Asked Questions (FAQs)
Which is better: Google Ads or Facebook Ads?
Google Ads is better than Facebook Ads for certain business types and marketing goals. For example, businesses in the service industry or those with need-based products typically find Google Ads a better option than Facebook Ads. On the other hand, local service-based businesses could get the most value from Google's local service ads.
Are Google Ads effective?
Google Ads provides businesses with an effective way of reaching customers through search. The effectiveness of ads will vary as it depends greatly on the campaign strategy, ad content, and targeting. Learn how to create effective Google Ads in our guide on how to advertise on Google.
Are Google Ads worth it?
Google Ads are generally considered a relatively affordable and effective form of advertising, since advertisers only pay when users interact with their ad. This usually makes Google Ads worth it, even for those with higher-than-average CPCs. Additionally, Google offers free ad promo codes. Learn more about how to get your free Google Ads promo code to get started with Google Ads.
Bottom Line
Facebook Ads and Google Ads are both leading pay-per-click advertising platforms where advertisers pay per each click their ad receives. Facebook Ads is a paid social ad platform with extensive audience targeting options, while Google Ads is a paid ad search platform relying primarily on Google users' keyword searches.
As easy as it may be to create a simple ad, both platforms involve a steep learning curve to build effective ads that drive not only clicks, but conversions too. Get the most out of your ad spend by leaving it to the experts at Hibu.
You Might Also Like…