The best Facebook advertising agencies give businesses a higher return on ad spend and the peace of mind that their campaigns are in the hands of experts. Granted, with so many Facebook ad agencies to choose from (and with wildly different minimum ad spend requirements, management fees, and services), it can be a challenge to find the best one for you. So we reviewed dozens of top agencies to find which are the best for small businesses.
Here are the five best Facebook ad agencies for small businesses in 2021:
Which Facebook Advertising Agency Is Right for You?
Answer a few questions about your business, and we'll give you a personalized product match.
How We Evaluated Each Facebook Ad Agency
Most small businesses are not equipped with large budgets or personnel to manage Facebook advertising campaigns. Instead, they typically look for an agency to create, manage, and optimize Facebook campaigns at a reasonable price point. Therefore, we sought out affordable and comprehensive agencies with a strong portfolio of case studies and superior customer support to serve a wide range of small businesses.
Based on small business needs, we used the following criteria in our ranking:
Affordable management fees
Campaign setup
Ongoing campaign management and optimization
Transparent monthly performance reporting
Additional services (e.g., other forms of social media marketing services)
Customer support
Customer reviews
Based on the criteria above, Lyfe Marketing is the best overall Facebook ad agency for small businesses. Get started with your free proposal from Lyfe Marketing.
Best for Facebook & Instagram Advertising: Lyfe Marketing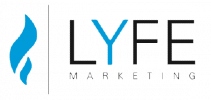 PROS

CONS

The Facebook Ad management plan includes Instagram ads
Management fees are expensive for ad spend below $3,000 per month
Twitter and LinkedIn Ads are available for an additional $100 per month each
One-time setup fee of $300
Full-service marketing agency
Lyfe Marketing
is an award-winning social media management agency that offers high-quality Facebook ad management services. It's the best overall Facebook advertising agency for businesses looking to get expert quality, done for Facebook ad management services with a good return on investment. While it has a low minimum ad spend of $500, it's best for those looking to spend $3,000 or more per month on ads given its $550 monthly management fee.
Lyfe Marketing Pricing & Features
Lyfe Marketing offers Facebook Ad management services (including Instagram) for a fixed monthly fee based on your monthly ad spend. Management fees start at $550 per month with a minimum ad spend of $500 per month. Additionally, there is an account setup fee of $300 (which is often waived), landing page design is $150 each, and the cost for additional social networks (i.e., Twitter or LinkedIn) is $100 per month each.
Let's take a look at Lyfe Marketing's features:
Campaign setup: Lyfe Marketing handles all account and campaign creation. Keep in mind that there is a $300 account setup fee. However, this can typically be waived on request.
Ongoing campaign management and optimization: Your account manager will work with you to determine your goals and optimize your Facebook Ads.
Reporting: As industry standard, clients receive monthly performance reports detailing campaigns. Additionally, clients get up to two hours of phone consults with their account manager per month.
Additional services: It also offers SSM, social media advertising, search engine optimization (SEO), pay-per-click (PPC), email marketing, video, and web design.
If you're looking to harness the power of social through expert Facebook ad management, Lyfe Marketing will be a safe bet. Get the conversation started to see what it can do for your business.
Best Value for Multiplatform Advertising: Hibu

PROS

CONS

Low-cost management fees starting at just $250 per month
Does not offer LinkedIn or Pinterest Advertising services
Instagram and Twitter included with budgets of $500+
Flexible pricing is not transparent
High return on ad spend from current clients
Hibu
is a full-service digital marketing agency with a comprehensive Facebook advertising campaign setup, management, optimization, and reporting services starting at $250. One thing that sets Hibu apart is its flexible pricing and services for social media marketing, giving you a full range of options that can be customized to your Facebook needs. Its flexible services make it a great solution for businesses that need an agency to scale with over time.
Hibu Pricing & Features
Hibu offers a flexible pricing structure to accommodate your small business' Facebook advertising goals, so you'll only pay for what you need. In addition to your Facebook advertising spend, Hibu's Facebook advertising services start at $250 per month. With a budget of $500 and higher a month, you can extend your campaigns to Instagram and Twitter.
Let's take a look at Hibu's features:
Campaign setup: To set up your campaign correctly, Hibu first learns more about your business goals for Facebook advertising, which could be to drive website traffic, generate leads, or reach local consumers. Hibu then creates multiple ad variations to see what works best and handles ad placement on the Facebook News Feed and Facebook Messenger, and in the Facebook Marketplace.
Ongoing campaign management and optimization: After setting up your Facebook ad, Hibu measures and analyzes performance focused on your ad's impressions and click-through rates. It continues to optimize the ad throughout the life of your campaign, tweaking the targeting, ad content, and split testing ad creative so that you're getting the greatest reach and clicks at the lowest possible cost.
Regular reporting: You'll have 24/7 access to an online dashboard so you can track your ad's performance. Hibu also provides a monthly email report with detailed analytics on your ad's performance, including impressions and click-through rates. You can also compare click-through rates for different ads to see which ones are driving the most engagement.
Full-service marketing: Hibu's additional services are designed to work together to drive traffic to a website and build a brand. Some of the additional services available through Hibu are listings management, online review management, website design, search engine optimization, and search engine marketing (i.e., Google Ads).
Put your Facebook ads in the hands of the experts and take advantage of the full range of affordable digital marketing services Hibu has to offer to grow your business.
Best for Commitment-free Facebook Ad Management: Fiverr Pro

PROS

CONS

Very competitively priced Facebook Ad management services
Quality varies by provider
Most services are on a commitment-free, month-to-month basis
Transparency with public client reviews
OK,
Fiverr Pro
isn't a Facebook advertising agency, but it is a platform for discovering some ultra-competitively priced social media management agencies and expert Facebook Ad managers. In addition to affordability, it stands out because it's very transparent. Clients purchase packages, so you always know exactly what you're going to get and what you're going to pay for that. And with no long-term contracts, clients stay because they're happy, not because they have to.
Fiverr Pro Pricing & Features
Fiverr has Facebook advertising gigs for as little as $5 for small one-time tasks (e.g., landing page design or ad optimization). However, if you're looking for ongoing Facebook ad management services from a Fiverr Pro, expect to pay around $200 to $500 per month in management fees. Though this is similar in price to other Facebook Ad agencies, Fiverr Pro services are typically on a month-to-month basis, so it's commitment-free and risk-free.
Let's take a look at Fiverr's top features:
Campaign setup: Fiverr has freelancers who specialize in setting up Facebook ads. Often, they will have differently priced packages, where the cheapest package offers basic audience research and the creation of one advertisement. Premium packages offer more sophisticated audience targeting, the setup of a Facebook tracking pixel, and the creation of multiple versions of your ad.
Ongoing campaign management and optimization: The level of ad optimization you receive on Fiverr depends on the freelancer you choose. Freelancers often offer Basic, Standard, and Premium services with varying levels of optimization. Compare the packages to see how much optimization is available in each. For example, a Facebook advertising expert may offer four ad versions for testing and optimization in a Standard package and eight ad versions in a Premium package.
Regular reporting: Contact freelancers directly to see what their typical reporting process is. Many freelancers are willing to customize their services, so performance reports are often available by request. You can also track ad performance in Facebook Ads Manager, including reach, conversion, and spend if you're an admin on your Facebook Business page.
Additional services: Fiverr offers a huge range of services, covering just about anything your business could need for Facebook advertising (and more). For example, it offers graphic design, video production, copywriting, market research, landing page optimization, organic Facebook growth, and digital marketing services.
Fiverr gives you access to hundreds of Facebook Ads experts and Facebook ad agencies. Find the best service for your business by choosing a Verified Pro who has a high volume of high ratings from previous clients.
Best For in-house Facebook Ad Management: Marketing 360

PROS

CONS

Get the best of both worlds with a dedicated account manager and in-house marketing software
The software involves a steep learning curve
Includes everything for one monthly fee of $595
May be expensive for those who won't utilize its marketing software
Also offers advertising with Instagram, YouTube, LinkedIn, and Pandora
Marketing 360
is a robust marketing platform that offers end-to-end management of your Facebook advertising. Other Marketing 360 services include social advertising on non-Facebook platforms, web management, email marketing, short message service (SMS) marketing, and customer relationship management (CRM). These services cost $595 per month. Marketing 360 is ideal for those with in-house marketing looking for expert advertising help.
Marketing 360 Pricing & Features
Pricing for Marketing 360's Facebook advertising services is $595 per month. For this price, you get unlimited marketing consultations with your dedicated marketing consultant and access to their in-house creative team, in addition to their full suite of digital marketing services. Your Facebook advertising budget is a separate cost.
Here are the benefits of Marketing 360 as a small business advertising agency:
Campaign setup: Marketing 360 researches the demographics of your existing customers to align your Facebook ad targeting with this audience. They have an in-house team of graphic designers, writers, and video producers who will develop multiple versions of your ads to test with different audience segments.
Ongoing campaign management and optimization: Once you launch an ad, Marketing 360's platform uses built-in optimization algorithms to funnel more budget toward top-performing Facebook ads and improve underperforming ads. Throughout your campaign, your dedicated marketing executive will manage and optimize your ads for you.
Reporting: All Marketing 360 customers have 24/7 access to the Digital Marketing Analytics section within the Marketing 360 platform. You can compare your Facebook ads' reach, clicks, and conversions, along with different digital marketing channels, to see which campaigns are performing best. Its platform also includes a budget estimator to determine what kind of visits, conversions, and revenue you can expect before you even begin a campaign.
Additional services: The additional services offered by Marketing 360 include social media management, email marketing, website design, SMS marketing, and local listing ads. These are complementary services that boost overall marketing results and drive traffic.
Get the best of both worlds by having a dedicated marketing executive manage and optimize your Facebook advertising. Plus, you'll also have a robust marketing platform where you can keep track of ad performance and manage other marketing channels and customers through its CRM.
Best for a la Carte Facebook Ad Services: Voy Media

PROS

CONS

Industry-low management fees of just 10% of monthly ad spend
Its range of marketing services is limited compared to other agencies
Clients frequently note seeing a higher ROI with Voy Media
$5,000 minimum monthly ad spend is prohibitive for some
A la carte services mean you only pay for what you need
Voy Media
is a Facebook advertising agency that offers various options, including one-off or ongoing Facebook advertising services, for 10% of your Facebook ad budget. Unlike the other agencies on this list, Voy Media stands out by offering a la carte services like ad copywriting and targeting. Voy Media is a great option for businesses that want to manage Facebook ads in-house but want some extra help with the details here and there.
Voy Media Pricing & Features
Voy Media offers a la carte Facebook ad copywriting for $49.99 and target audience research for $249.99. Completely outsourced Facebook advertising costs 10% for a $5,000 to $19,999 per month ad budget and 15% for a $20,000 to $49,999 per month budget. The minimum ad budget is $5,000 per month.
Here's a look at Voy Media's features:
Campaign setup: Your ads will be professionally designed with a compelling creative and professional copy. Additionally, Voy Media can import your email list into Facebook Ads Manager to target your email contacts or develop a "look-alike" audience to target a similar demographic. Its team will also set up a Facebook tracking pixel and create retargeting ads to reach an audience that has already expressed interest in your business.
Ongoing campaign management and optimization: To run effective Facebook ads, Voy Media will optimize your ads on an ongoing basis by testing different headlines, descriptions, and images to see what generates the greatest number of clicks and conversions. Its team will also experiment with different audience targeting to find the right segment for a low cost-per-sale and positive return on investment (ROI). Your budget will be allocated so that your money is fueling the ads with the best performance.
Reporting: Voy Media offers biweekly reporting and 24/7 access to real-time analytics. Reports focus on ad performance and business impact, including sales and revenue generation. In addition to biweekly reports, Voy Media has weekly calls with clients to review recent ad performance.
Additional services: The additional services provided by Vox Media include Instagram ad and retargeting ad management, as well as ad creative development. Instagram ads and retargeting are both within the platform of Facebook, so it makes sense that Vox Media would include these services for clients.
Voy Media offers Facebook advertising, Instagram advertising, and retargeting services. In addition to fully managed services—where Voy Media will create, analyze, and optimize ad performance fully—it has a couple of unique one-off services for businesses that want copywriting and targeting ad support without fully outsourcing their advertising.
Best Facebook Ad Agencies Honorable Mentions
With so many Facebook advertising agencies out there, there are, of course, many great ones to choose from that didn't make our list. While some are simply too expensive for the average small business or are simply less user-friendly than our top five, some may still be a good fit for your unique needs. Check out our list of honorable mentions below, including why they didn't land in the five best Facebook advertising agencies.
Here are some of the best Facebook Ad agencies that didn't make the cut:
Looking for more alternatives? Check out our article on the best social media marketing agencies for small businesses.
Frequently Asked Questions (FAQs)
How much does Facebook advertising cost?
Facebook Ads are an affordable pay-per-click advertising channel where you only pay when your ad is effective and gets clicks. To advertise, you only need to spend at least $1 per day, and it doesn't require any commitment. The cost-per-click (CPC) will vary, but the average is $1.86. Get the full breakdown of Facebook advertising costs by industry.
What's the difference between Facebook Ads & Google Ads?
Facebook Ads and Google Ads are both leading pay-per-click (PPC) advertising platforms. The main difference between the two is ad targeting and user intent. In other words, with Google Ads, businesses target ads by keywords, and users are actively seeking relevant products or services. Whereas with Facebook Ads, ads are targeted by audience, though users are not actively searching for your product or service. Learn more about Facebook Ads vs Google Ads.
What is a Facebook sponsored post?
So you've probably noticed "Sponsored" posts on Facebook. Sponsored posts are similar to Facebook Ads as they are both paid for, rather than displaying organically based on people or groups you follow. Where they differ from ads is that sponsored posts are generally more affordable (and never mind far easier to launch), but they also involve far less audience targeting. Hence, they could be less effective. Learn more about Facebook sponsored posts.
Bottom Line: Facebook Advertising Agencies
Given the available options, finding the right Facebook Ad agency can be challenging and time-consuming. Small businesses need an agency that is affordable with low minimum ad spends and has competitively priced management fees for a service that provides a consistent ROI. Based on our review, the best Facebook Ad agency for small businesses that is affordable and provides great service to help grow your business is Lyfe Marketing.
You Might Also Like…