The best Facebook advertising agency provides a full suite of advertising services specific to Facebook, including creative development and ad campaign management. We reviewed dozens of small business advertising agencies based on affordability, campaign setup, campaign management, and optimization, reporting, and customer support, arriving at the top six Facebook ad agencies and the best overall.
Top 6 Facebook Advertising Agency 2019
| Facebook Ad Agency | Best for |
| --- | --- |
| | (Best overall) Facebook advertising services with flexible services and competitive pricing |
| | Companies that need consultants for affordable, one-off Facebook services |
| | Businesses wanting all-in-one marketing platform that pairs Facebook marketing with other channels |
| | Visual brands that want a dedicated video and design team to create ads |
| Voy Media | Small businesses that want a la carte ad copywriting and ad targeting services |
| | Businesses that want a mobile-focused agency to manage their Facebook advertising |
Which Facebook Advertising Agency is Right for You?
Answer a few questions about your business and we'll give you personalized product match
How We Evaluated Each Facebook Ad Agency
Most small businesses are not equipped with large budgets or personnel to manage Facebook advertising campaigns. Instead, they typically look for an agency to create, manage, and optimize Facebook campaigns at a reasonable price point. Therefore, we sought out affordable and comprehensive agencies with a strong portfolio of case studies and superior customer support to serve a wide range of small businesses.
Based on small business needs, we used the following criteria in our ranking:
Cost: We looked for solutions with low-minimum spending requirements and low service and agency fees to accommodate businesses with small to medium-sized budgets.
Campaign setup: The agencies we selected all perform research to find the right target audience for your ad; they set up campaigns for you, set up tracking pixels, and create all the necessary copy and creative.
Ongoing campaign management & optimization: We made sure that the agencies we selected manage a campaign through its lifetime with regular optimization and testing.
Regular reporting: Our six best Facebook advertising companies give you easy access to your ad performance, including impressions, click-through, and return on investment (ROI) reporting.
Additional services: Facebook advertising is likely just one part of your marketing strategy. We looked for agencies that offer services beyond Facebook marketing to fit into your larger marketing strategy.
Customer support: If you have a question about your ad or need a change made, you should be able to get help quickly; we chose agencies that give you the dedicated support you need, ideally via multiple channels.
Customer reviews: As a means of determining customer satisfaction, we noted key reviews of each agency.
Based on the criteria above, we believe that Hibu is the best overall Facebook ad agency for small businesses. Hibu allows business owners to pick the Facebook services that fit their company advertising needs and scale as their company grows. The customization of Facebook advertising with Hibu allows owners to pinpoint their audience and present ads that target each lead's place in the buying journey.
"Before doing any outsourcing, we made sure to get a better sense of what goes into a good Facebook ad campaign. This helped us to ask more relevant questions while speaking to various ad agencies. We also make sure to speak to some of their previous clients, apart from analyzing their case studies."

— Syed Irfan Ajmal, Growth Marketing Manager, Ridester
Hibu: Best Facebook Advertising Agency Overall
Hibu is a full-service digital marketing agency with a comprehensive Facebook advertising campaign setup, management, optimization, and reporting services starting at $250. One thing that sets Hibu apart is its flexible pricing and services for social media marketing, giving you a full range of options that can be customized to your Facebook needs. Its flexible services make it a great solution for businesses that need an agency to scale with over time.
Hibu Pricing
Hibu offers a flexible pricing structure to accommodate your small business's Facebook advertising goals, so you'll only pay for what you need. In addition to your Facebook advertising spend, Hibu's Facebook advertising services start at $250 per month. With a budget of $500-plus a month, you can extend your campaigns to Instagram and Twitter.
Hibu Features
With Hibu, you get a dedicated digital specialist who helps you create a social marketing plan. In addition to end-to-end Facebook advertising services, Hibu offers social media marketing, listings management, online review management, website design and development, search marketing, display marketing, and search engine optimization (SEO). The features you use will depend on your business goals and budget.
Campaign Setup
To set up your campaign correctly, Hibu first learns more about your business goals for Facebook advertising, which could be to drive website traffic, generate leads, or reach local consumers. Hibu then creates multiple ad variations to see what works best and handles ad placement on the Facebook News Feed and Facebook Messenger, and in the Facebook Marketplace.
Ongoing Campaign Management & Optimization
After setting up your Facebook ad, Hibu measures and analyzes performance focused on your ad's impressions and click-through rates. It continues to optimize the ad throughout the life of your campaign, tweaking the targeting and/or ad content and split testing ad creative so that you're getting the greatest reach and clicks at the lowest possible cost.
Regular Reporting
You'll have 24/7 access to an online dashboard so you can track your ad's performance. Hibu also provides a monthly email report with detailed analytics on your ad's performance, including impressions and click-through rates. You can also compare click-through rates for different ads to see which ones are driving the most engagement.
Additional Services
Additional services for Hibu are designed to work together to drive traffic to a website and build a brand. Some of the additional services available through Hibu are listings management, online review management, website design, and search engine marketing.
In addition to Facebook advertising, Hibu offers:
Social media marketing: In addition to Facebook advertising, Hibu can create your Facebook Business Page and build a strong, up-to-date Facebook presence.
Listings management: Hibu reviews and manages your business's information on more than 60 top sites, directories, and apps so you can make a positive impression on potential customers online.
Online review management: Hibu encourages your existing customers to post positive reviews to your Facebook, Yelp, and Google pages to build a positive online reputation and attract new customers.
Website design and development: Get a custom-built, mobile-friendly website from Hibu. Their team creates the site to match your brand and adds fresh content to engage your visitors.
Search ads: Promote your business on the major search engines—Google, Yahoo, and Bing—with professional ads created by Hibu's analysts.
SEO: Hibu uses onsite, offsite, and social SEO to strengthen your online presence and increase website traffic. Your website will be SEO-optimized and Hibu sources external links to point back to your website.
Hibu Customer Support
Hibu assigns you a dedicated digital specialist that you can contact at any time. Hibu's service and support teams are available to assist by phone, live chat, or email. Its customer support hours are Monday to Friday from 8 a.m. to 11 p.m. Eastern time and Saturday from 8 a.m. to 6 p.m. Eastern time.
What Hibu Is Missing
Hibu has great social advertising features for Facebook, Instagram, and Twitter. However, if you're interested in exploring social advertising on channels like LinkedIn or Pinterest, Hibu does not work with these channels at this time. If you're looking for LinkedIn, Pinterest, or Snapchat advertising support, MuteSix will be a better fit.
What Users Think About Hibu
Hibu currently has a more than 4-star rating on major review sites including ConsumerAffairs, Better Business Bureau, and Trustpilot. Positive reviews commonly mention Hibu's superior customer service. For some reviewers, the flexible pricing was a downside because, without fixed pricing tiers, it was challenging to anticipate costs if you're using multiple Hibu services at once.
To get an idea of Hibu's ROI, we reviewed the library of its client testimonials. A success story for an auto salon mentioned 527 new leads from a paid social campaign. Another, from a tax accountant, mentioned 2,084 clicks from new leads through a combination of search, display, and social advertising.
Where to Find Hibu
Visit Hibu's website where you can find more information on their Facebook advertising, digital marketing, and website design services. You can connect with a Hibu representative for a no-obligation consultation before moving forward with your dedicated marketing specialist.
Fiverr: Best Facebook Consultants for One-off Projects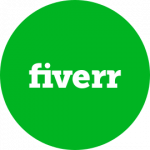 Fiverr is the world's largest online marketplace for freelance services starting at $5. While Fiverr isn't a Facebook advertising agency, we included it on this list because it's one of the best places to find freelance Facebook advertising experts who can help you set up ads or refine targeting at a low price. Consider using Fiverr if you're a budget-conscious small business in need of one-off Facebook advertising services and want to work with an individual.
Fiverr Pricing
Fiverr has Facebook advertising gigs for as little as $5, making it ideal for businesses that want a consultant to perform a small task like designing Facebook ads or setting up targeting for ads. Fiverr charges businesses a processing fee of $1 on transactions costing up to $20 and 5% on purchases above $20.
Fiverr Features
Fiverr gives you access to hundreds of freelancers who specialize in Facebook advertising. You can sort by specialty, including design, video ads, and copywriting. You'll also get access to freelancer work samples and buyer feedback on each freelancer. The platform also lets you contact freelancers directly to see if they will be a good fit for your business.
Campaign Setup
Fiverr has freelancers who specialize in setting up Facebook ads. Often, he or she will have differently priced packages where the cheapest package offers basic audience research and the creation of one advertisement. Premium packages offer more sophisticated audience targeting, the setup of a Facebook tracking pixel, and creation of multiple versions of your ad.
Ongoing Campaign Management & Optimization
The level of ad optimization you receive on Fiverr depends on the freelancer you choose. Freelancers often offer Basic, Standard, and Premium services with varying levels of optimization. Compare the packages to see how much optimization is available in each. For example, a Facebook advertising expert may offer four ad versions for testing and optimization in a Standard package and eight ad versions in a Premium package.
Regular Reporting
Contact freelancers directly to see what their typical reporting process is. Many freelancers are willing to customize their services, so performance reports are often available by request. You can also track ad performance in Facebook Ads Manager, including reach, conversion, and spend if you're an admin on your Facebook Business page.
Additional Services
Fiverr's additional services are very flexible because there are so many freelancers. Fiverr offers graphics design, video, copywriting, and digital marketing services in addition to Facebook advertising. These services will enhance the results of any Facebook advertising campaign.
In addition to Facebook advertising, Fiverr services include:
Graphic design: Find a freelancer to design your Facebook ad; many freelancers can provide you multiple image options for testing and can also make ads for Instagram.
Video and animation: Get a short video ad tailored to your business and brand; Fiverr has video producers who specialize in animated and humorous videos, as well as other styles.
Copywriting: Fiverr has freelancers that specialize in writing copy for Facebook ads. Find someone to write your ad copy or edit your initial ad.
Digital marketing: Beyond social media marketing, Fiverr has SEO, content marketing, video marketing, email marketing, search and display marketing, and influencer marketing specialists available to support your marketing initiatives.
Fiverr Customer Support
In most cases, your marketing consultant will be your primary point of contact as he or she will be the most familiar Facebook advertising campaign. However, Fiverr also offers customer support through their user forum and via a request from its website available 24/7. If you have any issues with your freelancer, you can submit a request for support on your order from the Fiverr website.
What Users Think About Fiverr
Before starting a project with your social media specialist, review their ratings and reviews to see if previous clients are reporting positive experiences and results. You can choose to work with a Top-Rated Seller or Fiverr Pro. Fiverr Pros are hand-vetted by Fiverr based on their professional background, education, and previous work or examples of notable projects created for clients outside of Fiverr.
What Fiverr Is Missing
As a marketplace, rather than an agency, Fiverr is missing unified client experiences for Facebook advertising strategy, reporting, and optimization. Your experience will vary depending on the freelancer you choose to work with; in general, freelancers support one-off services rather than ongoing client relationships. If you're looking for a more comprehensive solution, Hibu will likely be a better option for you.
What Users Think About Fiverr
Fiverr users typically enjoy its easy-to-use interface and search tools that help businesses find a consultant who matches their business needs. Negative experiences are typically caused by specific freelancers on the site who did not provide the services promised.
Marketing 360: Best All-in-One Facebook Advertising Agency

Marketing 360 is a full-service digital marketing platform that offers end-to-end management of your Facebook advertising. Additional Marketing 360 services include social advertising on non-Facebook platforms, web management, email marketing, short message service (SMS) marketing, and customer relationship marketing (CRM); these services cost $595/month. Choose Marketing 360 if you want an all-in-one advertising solution using multiple channels.
Marketing 360 Pricing
Pricing for Marketing 360's Facebook advertising services is $595 per month. For this price, you get unlimited marketing consultations with your dedicated marketing consultant and access to their in-house creative team, in addition to their full suite of digital marketing services. Your Facebook advertising budget is a separate cost.
Marketing 360 Features
A dedicated marketing executive will manage and optimize your Facebook advertising. You can monitor results through the Marketing 360 platform or contact your marketing executive for an update. Marketing 360 can extend your advertising campaign to social channels beyond Facebook, including Instagram, YouTube, LinkedIn, and Pandora Radio. For the same base price ($595 per month), you'll also get access to their full suite of digital marketing services.
Here are the benefits of Marketing 360 as a small business advertising agency.
Campaign Setup
Marketing 360 researches the demographics of your existing customers to align your Facebook ad targeting with this audience. They have an in-house team of graphic designers, writers, and video producers who will develop multiple versions of your ads to test with different audience segments.
Ongoing Campaign Management & Optimization
Once you launch an ad, Marketing 360's platform uses built-in optimization algorithms to funnel more budget toward top-performing Facebook ads and improve underperforming ads. Throughout your campaign, your dedicated marketing executive will manage and optimize your ads for you.
Marketing 360 optimizes ads to get the largest reach while only targeting users who fall into your target audience. If one version of your ad is performing with a higher click-through rate, Marketing 360 will redistribute the budget so that this ad reaches a larger audience.
Regular Reporting
All Marketing 360 customers have 24/7 access to the Digital Marketing Analytics section within the Marketing 360 platform. You can compare the reach, clicks, and conversions of your Facebook ads and different digital marketing channels to see which campaigns are performing best. Its platform also includes a budget estimator to determine what kind of visits, conversions, and revenue you can expect before you even begin a campaign.
Reach shows how many members of your target audience see your ads. Clicks demonstrate how many of these people are interested enough in your ad to click on it. Once someone clicks on your ads, Marketing 360 monitors how many people take the next step to make a purchase, set up a call, start a product trial, and so on.
Additional Services
The additional services offered by Marketing 360 include social media management, email marketing, website design, SMS marketing, and local listing ads. These are complementary services that boost overall marketing results and drive traffic.
In addition to Facebook advertising services, Marketing 360 offers:
Social media management: In addition to Facebook ads, Marketing 360 offers social full media management, including posting engaging content, monitoring social interactions, and improving your engagement and traffic. This can be used for multiple platforms, including LinkedIn, YouTube, and Instagram.
Website design: Marketing 360 develops mobile-responsive websites designed to match your brand; you can provide the content for your site or have Marketing 360's writing team develop it for you.
Email marketing: Design, send, and automate email campaigns using Marketing 360 email features and templates; you can send promotional emails or informative newsletters.
SMS marketing: Marketing 360's texting service allows you to reach customers on mobile devices. You can promote timely sales or schedule texts to contact customers at a specific time.
Local listing ads: Add and update brand listings on 50 of the most popular local sites, directories, and apps; the Marketing 360 platform allows you to manage, monitor, and update listings as well as run local listing ads.
Marketing 360 Customer Support
Your dedicated marketing executive will be your primary point of contact. You can call, text, or email your marketing executive at any time. You can also contact the client services department on Monday through Friday from 9 a.m. to 6 p.m. Eastern time.
What Marketing 360 Is Missing
As a comprehensive marketing platform, Marketing 360 has many services to offer. If you would prefer to work with a Facebook advertising company that only focuses on Facebook ads, then MuteSix might be a better fit.
What Users Think About Marketing 360
Users who recommend Marketing 360 like that the platform has dedicated marketing executives who help them manage and optimize their marketing campaigns and websites. The largest concern is that the software requires a steep learning curve because there are many features available.
MuteSix: Best Facebook Advertising Agency for Graphic Design

MuteSix is a Facebook advertising agency that offers Facebook advertising, Google Ads advertising, email marketing, and creative services starting at 15% of your ad budget. Unlike other Facebook ad agencies, MuteSix has a dedicated video studio, along with a full-time graphic design team. Choose MuteSix if you have a visual brand that relies on high-quality ad creative, and you want help developing graphics and videos.
MuteSix Pricing
In general, MuteSix charges 15% of whatever you spend on your Facebook advertising. For that fee, it produces ads, helps target the right audience for your ad, optimizes the ad, advises on website design, and regularly reports on performance.
MuteSix Features
MuteSix's specialty is Facebook advertising with a focus on professional ad creation and targeting. With an in-house video studio and graphic design team, MuteSix helps businesses expand their reach with high-quality visuals. MuteSix also offers ad support for non-Facebook social channels, including Instagram, Pinterest, LinkedIn, and Snapchat. Other services include Google Ads and email marketing.
These are the benefits of MuteSix as a small business advertising agency.
Campaign Setup
MuteSix will create multiple versions of visually appealing ads to test on different target audience segments. Additionally, MuteSix can place a Facebook pixel on your website to track user actions and later retarget ads to people who start but do not complete an order. MuteSix experiments with different ad formats as well, including link, video, and carousel ads.
If you need visual elements as part of your ad, you can work with your account representative to outline your needs. MuteSix's creative team will then shoot your video in their in-house studio or offer designs for graphic elements. MuteSix is primarily known for its ability to create stories with videos, so if storytelling as part of your ad is critical, then MuteSix is a good fit.
Ongoing Campaign Management & Optimization
Your ROI is dependent on MuteSix continually testing new creative, A/B testing different audience targets and landing pages and optimizing for the Facebook ad score to maximize impressions and keep the cost per conversion low.
This testing ensures your target audience is not overwhelmed with the same ad multiple times a day. MuteSix retargets ads to engaged users who have viewed a product or added to cart without purchasing, so you're reaching a highly engaged and highly convertible audience
Regular Reporting
With MuteSix, you'll have access to a real-time reporting dashboard. Additionally, you will have a weekly call to go over recent metrics, including impressions, clicks, conversions, and insights from recent campaign tests. Impressions includes how many views and unique views your ad receives. Clicks tell users which ad types are generating the most interest. Conversions monitor how many people are taking action like making a purchase or signing up for an email.
Additional Services
The additional services of MuteSix includes Google Ads advertising, email marketing, and video marketing. These advertising platforms and media services add to the Facebook ad management MuteSix offers, giving you even more opportunities to secure web traffic and user engagement. For more information, check out our guide to Facebook ad management services.
In addition to Facebook advertising, MuteSix's services include:
Google Ads: MuteSix's Google Ads team works with you to help you show up in relevant online searches through paid advertising; its goal is to increase traffic and sales while decreasing your cost per lead.
Email marketing: Once you bring in new leads from your Facebook and Google Ads campaigns, MuteSix helps you nurture leads with email marketing; they'll handle email copy, template design, triggered email creation, and opt-in experiences.
Video marketing: You'll have access to an in-house creative team of producers, cinematographers, and editors who work with you to create compelling video ads for platforms like YouTube.
MuteSix Customer Support
You'll receive a dedicated campaign manager and full campaign team to handle your ad's creative, targeting, and optimization. You have direct access to your campaign team 24/7 and have the flexibility to be as hands-on or hands-off as you'd like with your Facebook ad management. You can also contact MuteSix directly from Monday through Saturday from 7 a.m. to 8 p.m. Pacific time.
What MuteSix Is Missing
MuteSix focuses on Facebook advertising services, along with Google Ads and email marketing. If you are looking for an agency with a more comprehensive suite of services, including website design, SEO, and search marketing, Hibu will probably be a better option for your business.
What Users Think About MuteSix
MuteSix has a five-star review on Yelp, Google Reviews, and its Facebook Page. Positive reviews mention that the MuteSix team is knowledgeable, skilled with video production, and easy to work with. Some reviews mention increased sales and exposure for its business after working with MuteSix.
Voy Media: Best Facebook Advertising Agency for Single Services

Voy Media is a Facebook advertising agency that offers a variety of options, including one-off or ongoing Facebook advertising services, for 10% of your Facebook ad budget. Unlike the other agencies on this list, Voy Media stands out by offering a la carte services like ad copywriting and targeting. Voy Media is a great option for businesses that would like to start with one-off services but are considering ongoing services in the future.
Voy Media Pricing
Voy Media offers a la carte Facebook ad copywriting for $49.99 and target audience research for $249.99. Completely outsourced Facebook advertising costs 10% for a $5,000 to $19,999/month ad budget and 15% for $20,000 to $49,999/month budget. $5,000/month is the minimum ad budget.
Voy Media Features
Voy Media offers Facebook advertising, Instagram advertising, and retargeting services. In addition to fully managed services—where Voy Media will create, analyze, and optimize ad performance fully—Voy Media has a couple of unique one-off services for businesses that want copywriting and targeting ad support without fully outsourcing their advertising.
Campaign Setup
Your ads will be professionally designed with compelling creative and professional copy. Additionally, Voy Media can import your email list into Facebook Ads Manager to target your email contacts or develop a "lookalike" audience to target a similar demographic. Their team will also set up a Facebook tracking pixel and create retargeting ads to reach an audience that has already expressed interest in your business.
Ongoing Campaign Management & Optimization
To run effective Facebook ads, Voy Media will optimize your ads on an ongoing basis by testing different headlines, descriptions, and images to see what generates the greatest number of clicks and conversions. They will also experiment with different audience targeting to find the right segment for a low cost-per-sale and positive ROI. Your budget will be allocated so that your money is fueling the ads with the best performance.
Regular Reporting
Voy Media offers biweekly reporting and 24/7 access to real-time analytics. Reports focus on ad performance and business impact, including sales and revenue generation. In addition to biweekly reports, Voy Media has weekly calls with clients to review recent ad performance.
For ad performance, you'll receive an overview of the reach and number of clicks your ads receive; you'll also be able to compare the performance of multiple campaigns to see what's working best. For revenue generation, you will see a return on your advertising investment. You can also review how much business your ads are bringing in vs. how much you're spending.
Additional Services
The additional services provided by Vox Media include Instagram ad and retargeting ad management, as well as ad creative development. Instagram ads and retargeting are both within the platform of Facebook, so it makes sense that Vox Media would include these services for clients.
In addition to Facebook advertising services, Voy Media services include:
Instagram ads: Voy Media will help your business set up image, video, or carousel ads on Instagram to reach new audiences and drive traffic to your site.
Retargeting: If someone has visited your site previously, but has not yet made a purchase, Voy Media can plan, construct, manage, and optimize your retargeting campaigns to push prospects towards a sale.
Creative development: Voy Media offers a full creative suite, with assistance shooting and editing videos and taking photographs you can use on your website and social media.
Voy Media Customer Support
Voy Media sets you up with a dedicated account manager with whom you will have weekly calls to review recent campaign strategies and results. Additionally, you will have access to your account manager via phone, email, or Skype if any issues come up in between calls during business hours.
What Voy Media Is Missing
Primarily a Facebook advertising agency, Voy Media offers Instagram advertising and retargeting as well as some unique one-off services for Facebook ad copywriting and targeting. However, if you are looking for an agency with a more comprehensive suite of services, including website design, SEO and search marketing, Hibu will probably be a better option for your business.
What Users Think About Voy Media
Voy Media has a five-star rating on Google reviews and a 4.5 rating on Yelp. Positive reviews mention strong communication with the Voy Media team, which involved the delivery of regular reports. Multiple reviewers also mentioned business benefits like better ROI, increased click-through rates, and lower cost per conversion. One reviewer mentioned an unexpected fee to set up a Facebook tracking pixel.
Regarding its ROI, Voy Media has a case study on its website that shows how they improved one business's cost per acquisition from $50 to $24.45 using targeted Facebook advertising with an impressive 9.5% click-through rate. For more information on your likely ROI, consult Voy Media directly.
Bamboo: Best Facebook Advertising Agency for Mobile Ads

Bamboo is a mobile advertising agency that specializes in Facebook advertising and social media marketing at 11% of your Facebook ad budget. Unlike other Facebook ad agencies, Bamboo approaches paid social with a mobile-first mentality, targeting and designing ads specifically for the mobile experience. Bamboo's Facebook ad services are a great option if you know the majority of your social media audience is using a mobile device.
Bamboo Pricing
Bamboo works with businesses that have at least a $30,000 monthly advertising budget. For this budget, Bamboo charges 11% of media spend as well as a $5,500 retainer.
Bamboo Features
Bamboo's Facebook advertising services involve mobile-first campaign strategy and management, creative production, and customized reporting. Ads are initially tested and optimized, then scaled to drive greater results—regardless of whether your ad is focused on customer acquisition or retargeting. In addition to Facebook, Bamboo works across channels like Instagram, Twitter, Pinterest, Snapchat, and Google.
Campaign Setup
Bamboo creates Facebook ads that are optimized for mobile devices. It develops link, image, video, or dynamic advertisements through Facebook, then conducts demographic research for audience targeting. Further, it pixels your site to track revenue, new users, and ROI.
Ongoing Campaign Management & Optimization
Ongoing optimization means Bamboo quickly tests new design concepts or ad formats. It measures the results and then scales up what is working best. Additionally, Bamboo uses testing tools like Facebook's creative split testing and dynamic creation optimization to get the best ROI.
Ads are optimized so that you're engaging an audience that is ready to make a purchase. If you have a mobile application, Bamboo optimizes ads for the greatest number of downloads and new users. Your ads will be constantly tweaked to bring in the most sales at the lowest possible cost.
Regular Reporting
Bamboo will set up a daily dashboard and schedule weekly hour-long calls to dig into your campaign results. You'll have visibility into where your investment is being allocated, how your ads are performing—impressions, clicks, and conversions—and what new insights your ads are generating based on recent testing. You will also retain full ownership of and access to all your ad accounts.
Additional Services
Bamboo offers a complete suite of other social media marketing and advertising services, including Pinterest, Twitter, Snapchat, Instagram, and Google. The Google advertising options include YouTube and app marketing in the Google Play Store.
In addition to Facebook advertising services, Bamboo offers services on these platforms:
Instagram: Bamboo develops and manages Instagram advertising campaigns for image and carousel ads, video ads, and story ads.
Twitter: With Bamboo, you can request customized Twitter ad copy with relevant hashtags, images, videos, and calls to action (CTAs).
Pinterest: Using Promoted Pins, Bamboo works to engage Pinterest users with mobile-optimized image and video ads.
Snapchat: Using Snapchat Ads Manager, Bamboo custom-builds an audience to target with Snapchat videos, GIFs, and filters.
Google: Bamboo helps you display ads across the entire Google network—Google Display Network, search, YouTube, and Google Play Store—to reach a large but targeted audience.
Bamboo Customer Support
As a Bamboo customer, you'll have access to an account manager who will manage your end-to-end social advertising efforts. Your full marketing team will include an account director, an account manager, and an account analyst, all of which are meant to function as an extension of your in-house marketing team. Your team is available during normal business hours from 9 a.m. to 5 p.m. Pacific time Monday through Friday.
What Bamboo Is Missing
As a mobile-focused social advertising agency, Bamboo specializes in paid social and mobile advertising services. If you are looking for an agency with a more comprehensive suite of services, including website design, SEO, and search marketing, Hibu will probably be a better option for your business.
What Users Think About Bamboo
Bamboo has eight customer success stories on their website with quotes that highlight Bamboo's ability to generate good ROI on Facebook and Instagram. Customer quotes commonly mention Bamboo's professionalism, quality ad creative, and effective optimization.
Bottom Line: Facebook & Small Business Advertising Agencies
Given the available options, finding the right Facebook ad agency is complicated and challenging. Small businesses need an agency that is not only affordable, but that delivers a consistent ROI. That's why we ranked the best ones according to affordability, campaign setup and optimization, customer support, and reporting.
Based on our ranking, we found Hibu to be the best Facebook ad agency because of its comprehensive features, ease of customization, and flexible price model. In addition to ad management, it offers assistance with web design, SEO, and listing management. You can get started by visiting Hibu's website or calling for a free consultation.