What Social Media Advertising Is, How It Works & What It Costs
Social media advertising is any type of paid advertising on social media platforms like Facebook, Twitter, Instagram, LinkedIn, and TikTok, among others. It's a widely used and effective way for small businesses to easily connect with targeted audiences. Keep reading to learn everything about social media ads, what they are, how they work, average costs, the best tools to use, and more.
Social Media Advertising Overview
Social media advertising (aka paid social) is any content promoted on social media platforms at a cost, designed to engage customers organically during leisure time. Unlike traditional advertising, social media advertisements are interactive by nature (instead of mono-directional), and allow for more sophisticated audience targeting and in-depth analytics.
Social media ads come in many forms, from image and text-based posts to more creative formats like full-screen stories or interactive photo filters, depending on the platform. It can be used for nearly any marketing objective, from building brand presence to increasing website or landing page traffic, generating leads, and closing sales.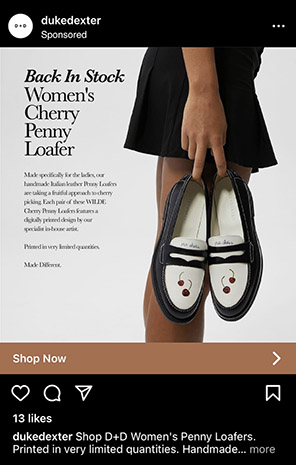 ---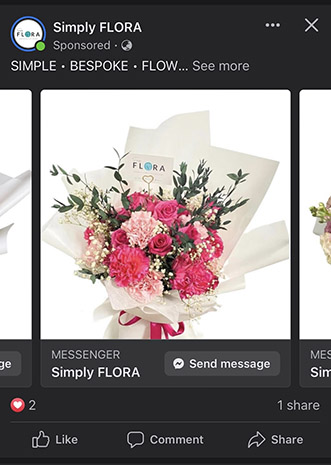 ---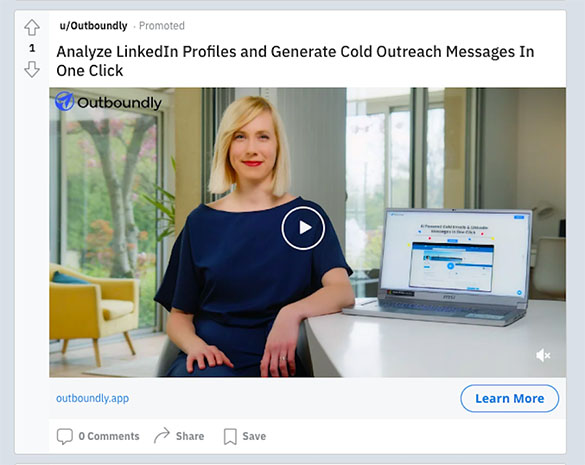 ---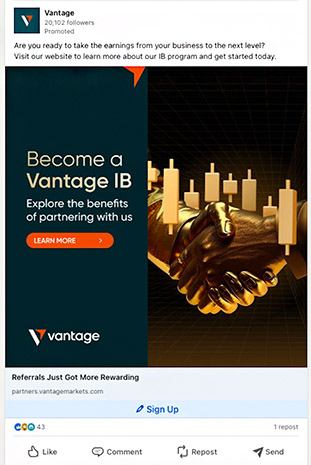 ---
Key takeaway: Social media advertising is any ad promoted on a social media platform like Facebook or TikTok. They stand out from traditional advertising strategies for their interactivity, precise audience targeting features—and accessibility for anyone to use, even small business owners.
Elements of Paid Social Media Ad Campaigns
Before setting up your social advertising campaign, you'll first need to understand the makeup of paid social ads. These are the elements that you'll assemble to form your campaign. From goals and key performance indicators (KPIs) to your campaign content, below are the fundamental elements of a social media advertising campaign:
Ad objective: Every marketing campaign needs to have a measurable objective, and social media marketing is no exception. Social media offers several tools and strategies to meet various business purposes, from increasing website clicks to encouraging event sign-ups. Your objective is the primary reason for your entire campaign—be sure you have one before executing your campaign.
Key performance indicators (KPIs): Following your campaign's objective, an equally essential part of any social media campaign are KPIs, or key performance indicators. KPIs give your campaign measurable metrics that you can use to track your campaign's success.
Social media platform: The social media platform you choose acts as the medium of your entire campaign and plays a substantial role in its overall success. For instance, Instagram is great for visual-oriented or lifestyle campaigns, while LinkedIn is the platform of choice for business-to-business (B2B) marketing.
Ad content: Social media depends and thrives on content—it's what keeps people engaging and conversing with one another and with brands. Whether it's an article or a pay-per-click (PPC) ad, your content is the main essence of your campaign that will capture and hold people's attention and motivate them to take action.
Audience targeting: As discussed above, one of the best benefits social media advertisements have over other platforms is its ultra-precise audience targeting features. With any social media ad campaign, you can send your ad out to detailed customer profiles, down to their specific interests and behaviors, and even more.
Campaign budget: Social media ads are called "paid advertising" for a reason—you specifically pay the platform to get your message in front of your target audience. However, what's also great about it is the ability to control your ad budget. You can set a specific daily budget or opt for PPC campaigns, which only charge you for every click on your ad.
Social media analytics: Finally, no social media advertising campaign is complete without evaluating its performance, which is made possible through analytics. The rise of digital marketing, including within social media, has provided advertising with more detailed campaign analytics than ever before, with much faster turnarounds. These analytics can then help guide your future campaigns for better success.
How Advertising on Social Media Works
Creating a social media campaign entails assembling the above elements into the proper procedure. While each social media platform has its own ad platform and guidelines, the basic process of advertising on social media is essentially the same: you'll need to create an account, explore your options, set your budget and objectives, create and target your ad, then track your results—we'll outline each step in more detail below.
Key information: Most social media networks have self-service advertising platforms where you can create and launch campaigns to promote your business as part of your overall social media marketing strategy. Some examples are Facebook's Meta platform to advertise on both Facebook and Instagram and Reddit's Reddit for Business platform to set up and manage Reddit ads.
Here are the seven basic steps for advertising on social media.
1. Find the Best Social Ad Platforms
The first step is choosing the best social media platforms that best suit your business needs. If this is your first foray into social advertising, it's best to start small. Choose one or two social platforms that best match your target audience and campaign objective. To find the best options for your business, read our guide where we outline the audience demographics and ad types for the 10 most popular paid social channels.
Each social platform has its unique features and benefits. For example, if you have a clothing brand aimed at Gen Z consumers, TikTok might be a good platform to advertise on. On the other hand, if you own a local cafe, getting listed on Yelp might be the more effective choice. Do research on each platform, then find one or two where your brand fits most organically.
2. Create an Account
After selecting which social networks to advertise on, create an account and set up a profile. Even if your ads are driving traffic to your website, people learning about your brand will likely check out your social profile on the platform as well. So, take the time to complete your profile by adding a cover and profile image and filling out the descriptive and business information sections.
3. Explore Paid Advertising Options
Once your account is set up, you can explore the platform's ad creation and targeting tools. Each ad usually has a designated advertising platform (e.g., Meta for Facebook and Instagram Meta or Pinterest for Business) where you can explore your advertising options. This research can also help you avoid social media fails like sharing the wrong messaging for your audience.
This includes finding what types of ads you can place on the platform, where they are displayed, and what type and size of collateral you'll need (such as for images or video). You should also be able to get an idea of what type of return you could expect to see.
4. Set Your Budget & Goals
Next, take some time to set a campaign budget and measurable goals. Both need to be realistic. If you're just starting out, you can't expect a massive return on a one-off ad or an advertisement run for just a few days. It's also better to start with a small budget at first, then adjust later on depending on which ad types and settings produce the best return on ad spend (ROAS).
5. Create Ads
Of course, no ad campaign would be complete without the actual advertisement. Create your ad content, whether it's in an image, image carousel, video, or blog. Be sure that it includes compelling ad copy that leads your audience to complete a specific call to action (CTA)—this can be a designated landing page, a sign-up form to fill out, or a page to purchase a product.
Pro tip: If you need help creating and designing your ad content, Fiverr has professional copywriters, graphic designers, video editors, and more who can create ad content for you on a per-project basis starting as low as $5.
6. Target Ads to Your Audience
One of the best benefits of advertising on social media is its hyper-precise audience targeting features. Once your ad is uploaded onto your social platform, you'll need to target which audience set it will appear to. This could include anything from their location to their personal or professional interests, characteristics such as household income or industry, and much more.
Targeting your audience is critical—narrowing your ads can lessen your chances of wasted ad spend on irrelevant audiences. Alternatively, making your audience too narrow could mean you don't see any return at all, as the ad might not get enough impressions, so finding the right balance is crucial.
If you're new to ad targeting, read our instructions for how to create customer personas. This will give you a clearer picture of the ideal customer you want to attract with your ads, in turn allowing you to more accurately target your ads and control costs.
7. Track & Measure Results
Once your ads are up and running or when a campaign has ended, it's equally important to take time to analyze your results. Some metrics to look out for are your ads' reach, click-through rate (CTR), cost-per-click (CPC), and traffic source, among others. Then, use what you learn to inform and better fine-tune your future social media campaigns.
How Much Advertising Costs on Social Media
Social ads are a relatively affordable form of digital advertising, which is one of the main reasons it's a valuable strategy for small businesses. For example, the average cost-per-click (CPC) for advertising on Facebook is less than one dollar. Here are some notable figures about the cost of ads on social media:
The average CPC on Facebook is 97 cents, while on Twitter it's a mere 38 cents, according to WebFX.
Meanwhile, the average cost to get 1,000 views on a YouTube ad is $9.68.
Our internal research into Facebook ad costs shows that while the average click-through rate (CTR) is under 1%, conversion rates for those clicks are over 9%.
On the whole, budgets for digital advertising average $534 per month, according to Statista.
However, that doesn't mean your business can't see a good ROAS with a much lower ad spend. Most social media platforms have a minimum daily ad spend of around $1 to $5—but also allow you to turn ads on and off at any time.
Key information: The kind of content shared on each social platform also determines whether it's best for business-to-consumer (B2C) or business-to-business (B2B) advertising. For example, many consumers spend hours watching videos on YouTube, making it a great platform for B2C video marketing. In contrast, LinkedIn is where professionals share business-related content, making it best for B2B advertising.
With all that in mind, here are the most popular platforms for advertising on social media (not including chat or messaging platforms) worldwide and in the U.S. You'll also find the average cost-per-click, minimum spending requirements, and what types of advertisers each is generally best for.
Number of Users, Average CPC & Minimum Ad Budgets by Social Media Platform
Platform

Worldwide Users

US Users

Advertisers Its Best For

Average CPC

Advertising Minimums

2.96 billion

243 million

B2C

$1.01

$1/day for impressions

$5/day for clicks

$40/day for app downloads or offer claims

2.51 billion

246 million

B2C

20 cents

$0

1.35 billion

127 million

B2C

$3.56

$1/day for impressions

$5/day for clicks

$40/day for app downloads or offer claims

834 million

113 million

B2C

$1.00

$20/day for ad group

$50/day for ad campaign

900 million

200 million

B2B

$5.26

$10/day

$100/lifetime

750 million

108 million

B2C

79 cents

$5/day

450 million

85 million

B2C

$1.50

10 cents CPC

$2 CPM

354 million

77 million

B2B or B2C

38 cents

$0

1.5 billion

340 million

B2C

44 cents

$5/day

300 million

115 million*

B2B or B2C

26 cents

1 cent CPC

20 cents CPM
(Sources: Meta, Statista, WebFX, Snapchat, TikTok, Bank My Cell, EarthWeb)
*Based on traffic by country percentage via SimilarWeb
The actual cost of ads isn't the only factor to consider when preparing your social media advertising budget. Here are some other costs and metrics associated with social media ads to take note of:
---
Pro tip: Ready to start building your social media strategy? Read our step-by-step guide on how to build a social media plan for your small business, along with a free template you can download.
Other Types of Paid Advertising
Social media marketing is immensely helpful for growing your small business, but it isn't your only option. Ideally, your marketing strategy will encompass a combination of digital marketing strategies, including paid social, search engine optimization (SEO) content marketing, and others. Here are a few other forms of paid advertising you can use to maximize your business' growth.
Pro tip: With 8.5 billion Google searches happening daily, there's no question that optimizing your website for search is crucial to your success. Learn more essential Google search statistics to guide your digital marketing strategy.
6 Benefits of Using Social Ads to Promote Your Small Business
Social media platforms enable advanced and niche audience targeting, making it one of the best ways to reach the exact people you want to target. But this isn't the only benefit for your business—social media advertising is also cost-effective, interactive by nature, and an easy way to reach new audiences beyond your following.
Here are six benefits of using social media ads to promote your business.
Reach your ideal customer: Arguably one of social media's most valuable benefits is its sophisticated audience targeting tools, which allow you to choose exactly who will see your ads. Traditional advertising outlets like newspaper ads, billboards, and the like cast a wide net. In contrast, social media lets you pinpoint your exact audience, in turn making your ads more effective.
Affordable: With social media ads, you choose how much (or how little) to spend per day, click, lead, conversion, and so on—so it can be effective even if your budget is small. Plus, most paid social ads allow you to limit ad spend to pay-per-click (PPC), meaning that you only pay when someone interacts with your ads.
Generate leads: Advertising in social media is proven to generate leads and build contact lists using content tailored to engage your target audience. For example, you can link ads to landing pages with a compelling offer like a 10% discount or a free download to collect contact info like names and email addresses.
Influence buying behavior: Social media is a powerful means of influencing people to buy products or services based on ads, brand posts, reviews, and recommendations from friends. A study by Statista found that over half of U.S. consumers were influenced to buy a product after seeing it in a social media ad.
Drive traffic to your website: Targeted ads increase brand awareness with your target audience and often drive people to visit your site. Generally, the more website traffic you get from members of your target audience and ideal client types, the more likely you are to generate leads and sales.
In-depth analytics: Most marketers agree that advertising is a long game—one that requires consistent improvement over time for better results. Fortunately, most social media ad platforms provide in-depth analytics, from how much it costs to produce a lead to where the bulk of your audience is coming from and when they're most likely to engage with your ads, among others.
With the right platform, ad content, and audience targeting, nearly any business can reap countless benefits from advertising on social media. Whether you're looking to build brand awareness, increase website traffic, generate sales, or need to diversify your marketing efforts, paid social could be a worthwhile place to spend your advertising budget.
Best Advertising Tools & Resources for Small Businesses
A single social media ad entails many elements, from creating your ad content to analyzing your results. The good news is that you don't have to do them all alone, even if you're on a tight budget. Several tools are available that can help optimize your social media ad campaign, from automating your posts to offering free ad templates. Below are some of the most helpful:
Frequently Asked Questions (FAQs)
---
---
---
Bottom Line
In this day and age, there's no questioning the influence of social media in shaping people's behavior, including their purchase decisions. From starting out as a platform for connections and conversations—and it still is—social media has since grown into a powerful advertising platform to meet audiences in personal, authentic, and cost-effective ways and convert them into loyal customers, all in just a few clicks.