Google Voice is a virtual phone service offering free and paid plans. You can get a Google Voice number for free by signing up for a Google account and can then forward calls to your existing cell phone, landline, or computer. Doing so lets you keep professional and personal calls separate without needing a new device. Plus, it's simple to set up, and you can start receiving or sending calls within minutes.
Learn how to get a Google number by following four easy steps.
1. Sign Up for a Google Account
The first step toward getting a Google Voice number is to sign up for a Google account. If you already have an existing account, you can skip to step two. Otherwise, you will need to click "Create Account" on the Google Account sign-in page.
You will then be asked to choose between two options: "For Myself" or "To Manage My Business." If you want to use the free Google Voice services, select "For Myself." The second option, "Manage My Business," is for adding paid plans.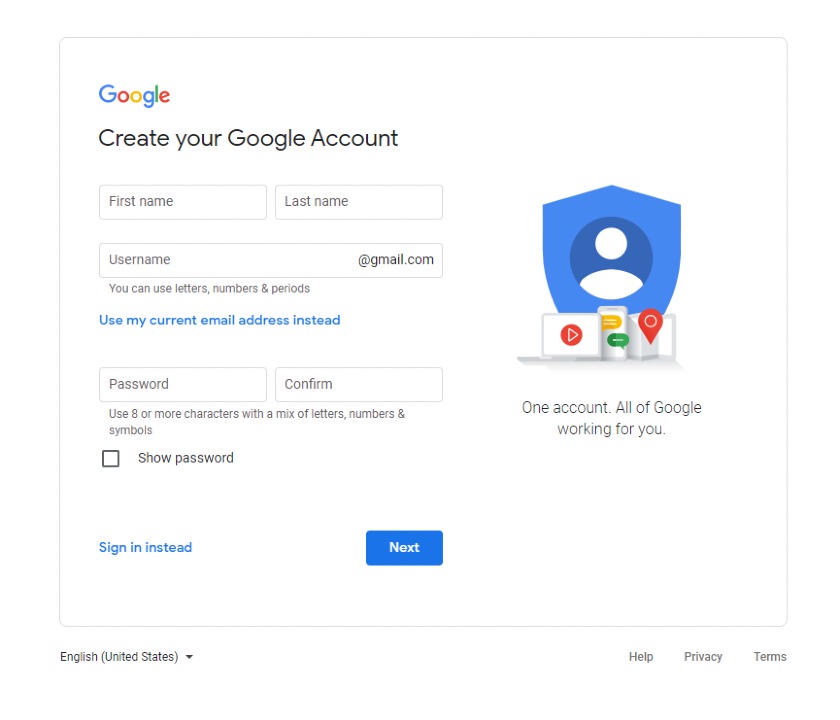 For personal accounts, you can use an existing email address by clicking "Use My Current Email Address Instead," and you'll need to verify your email account before continuing. Or get a new account by typing your first and last name into the boxes, then selecting a username. Your username becomes the first part of your Gmail address. You can use letters, numbers, and periods in your username.
If you use your email address for business, consider creating a professional username similar to your business name. Google automatically lets you know if your username is taken or not allowed.
Next, select a password using eight or more characters. Remember to make a strong password with a mix of upper and lowercase letters, numbers, and symbols. Also, your password should be unique and not used elsewhere. Once you've completed the form, click "Next."
This next section is for setting up your security, and it's optional. You can enter a phone number and email address to recover your account details, if needed. Also, input your date of birth and choose your gender: female, male, prefer not to say, or custom. You can click to learn how Google uses your gender data, and an informational page opens in a new tab. Once complete, tap "Next."
2. Get a Google Voice Number
Once you have a Google account, head to Google Voice. Like when you signed up for your Google account, you will have the option of selecting "For Personal Use" or "For Business." For a free Google Voice number, choose "For Personal Use" and select an option from the choices: iOS, Android, or Web.
If you pick iOS or Android, Google sends you to the app download page, whereas if you choose Web, you'll be prompted to sign in to your Google account. Read the terms of service and privacy policy and click "Continue."
If you want a paid plan, then choose "For Business." This option brings you to the Google Voice product page, where you can choose from three monthly plans, ranging from $10 to $30 per month. All plans come with a service level agreement (SLA) and voicemail transcription. However, Google Voice for Business is only available for Google Workspace customers, meaning you'll need to sign up for a Google Workspace account, which ranges from $6 to $18 per month.
Next, you can get a Google Voice number. Type your area code, and Google automatically populates several numbers near your location. However, local numbers aren't available for people located in Hawaii or Alaska.
You can click "Show More" to see a longer list of phone numbers. In some cases, such as people living in highly populated cities, your area code isn't available. Instead, select from other area codes in use near your location.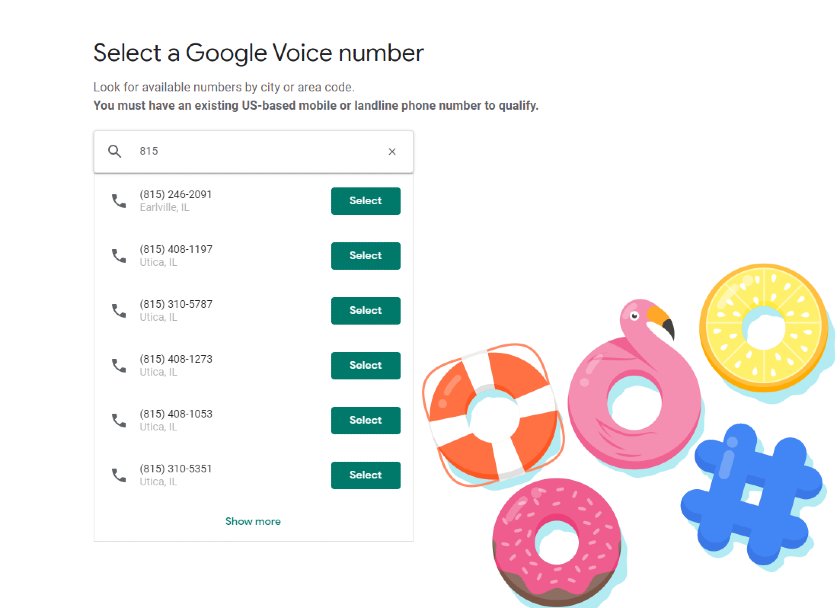 Look for an easy-to-remember phone number that you want to be connected to your business. Since you'll likely put the number on business documents, take your time to find the right combination that works for you. Once you've made your selection, tap "Select."
3. Verify & Link Your Existing Phone Number
Since Google Voice is a virtual phone number provider, you must verify and link the phone number that Google will forward calls to. It must be a U.S.-based cell phone or landline phone number. After selecting your phone number, a new screen comes up asking you to confirm your number. Click "Verify." An on-screen pop-up appears, and you can enter your current phone number and tap "Send Code."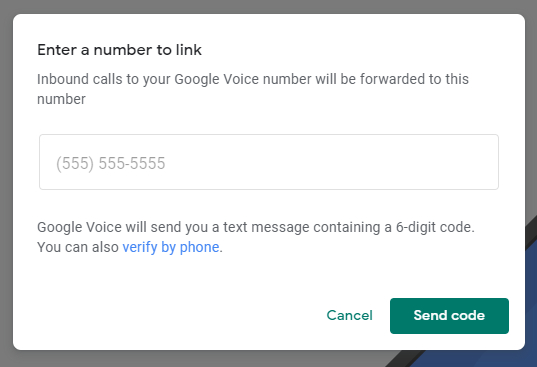 Google will send a six-digit code via text message to your mobile phone, or you can opt to confirm via a phone call. Enter the code into the provided form and click finish to finalize your account setup.
4. Download the Mobile App
To get the most of your free Google Voice number, download the iOS and Android apps on the devices you'll use to answer calls. Head to your carrier's app store and search for "Google Voice." Or click on the links below to download your Google Voice app.
To complete your download, simply click "Download." A prompt appears on the screen for you to enter your Google account login information.
After you've downloaded your app, you can start sending or receiving calls and text messages using your Google Voice number. You can also use a browser to make and receive calls, with Google recommending Chrome Browser, Microsoft Edge, Mozilla Firefox, and Safari.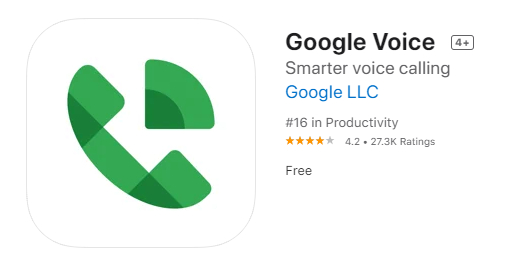 Google Voice Costs
A personal Google Voice number is free to use. You can call or text most locations in the U.S. or Canada at no charge. However, you will pay a per-minute charge when calling international locations. Rates vary but are lower than many other voice-over-internet-protocol (VoIP) providers, with pricing starting at 1 cent per minute.
If you want a business phone system with additional features, such as a service level agreement (SLA), you must be a Google Workspace user and select from one of the following plans:
Starter: $10 per user, per month for voicemail transcription and Google Calendar integration
Standard: $20 per user, per month for a multilevel auto-attendant and ring groups
Premier: $30 per user, per month for unlimited international locations and advanced reporting
Google Voice Features
Once you get a Google Voice number, you can start taking advantage of your virtual phone system's convenient features, such as:
A business phone number, perfect for building a local business presence
Works on any device, including cell phones, landlines, and desktop computers
User-friendly, highly rated mobile apps for iOS and Android
A clean web user interface to easily make or receive calls using a browser
Readable voicemails via Google's free voicemail transcription service
Paid Google Voice plans come with additional features, like ring groups, a multilevel auto-attendant, and advanced reporting options.
Google Voice Pros & Cons
A Google Voice number is an excellent way to increase visibility in a specific location. But Google doesn't offer vanity or toll-free phone numbers. You also can't integrate Google Voice with your customer relationship management (CRM) program or share documents through your Google Voice app. Before picking a virtual phone number, consider the pros and cons of Google Voice and read our full Google Voice review.
PROS

CONS

A free Google Voice number and voicemail
No SLA with a free Google Voice number
Fast account setup
Customer service is limited with free plans
Available for use on any device
Voicemail transcription isn't always accurate
Business owners wanting to connect multiple employees without purchasing Google Workspace and a VoIP calling plan may want to consider Google Voice alternatives. Other virtual number providers, such as Grasshopper, let you pick a toll-free number and connect several team members via extensions.
Frequently Asked Questions (FAQs)
Can I have more than one Google Voice number?
Google Voice provides one phone number per account, so you can't add new numbers to your account without deleting the original number. If you use more than one Google account, then you can add one phone number per account.
How do I screen calls on Google Voice?
You can opt to screen callers by clicking on "Enable Call Screening" in Google Voice settings. Once set up, Google will identify incoming callers based on your Google Contacts or known business listings. For all others, Google will prompt the caller to state their name. All incoming calls are announced, and you can press 1 to answer the call or 2 to send it to voicemail.
Can I transfer an existing number to or from Google Voice?
Yes, you can port your current phone number to your Google Voice account for a $20 fee. Or, if you decide to switch VoIP services, you must pay a $3 fee to unlock your Google Voice number before completing the porting steps through your new provider. Lastly, you can transfer your current number to another Google account for free.
Bottom Line
If you want a second phone number for your business, Google Voice is an excellent option. It offers free or low-cost plans and is incredibly easy to use. The entire setup process takes only a few minutes, and once complete, you can call or text customers using your cell phone, landline, or any internet-connected device. Moreover, with free voicemail and voicemail transcription, you can deliver an excellent first impression, even if you can't answer the phone.