Google Voice is a free virtual phone service that gives you a local phone number that can be accessed on a cell phone or a landline. It's also easy to get a Google Voice number. All you have to do is register for an account, pick a number, and set it up on your device.
Follow these steps to start using Google Voice:
1. Sign Up for a Google Account
To use Google Voice features, you must first register for a Google account, which will unlock access to Google Voice along with other apps. Luckily, signing up for a Google account is free and only takes a few moments of your time. If you already have a Google account, you can skip to the next step.
Navigate to the Google Account sign-in page and fill out your information in the provided form. This is where you get to choose an email address. If you intend to use Google Voice or other Google apps for professional use, consider creating a username that is similar to your business name (Google will automatically inform you if an email address already exists).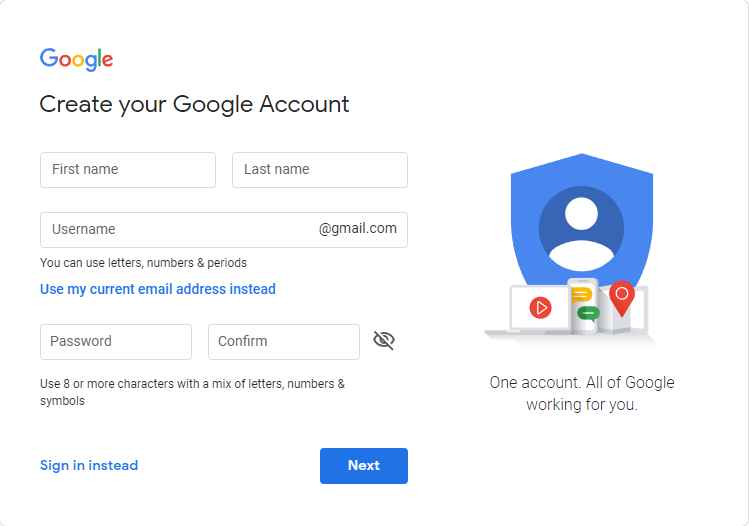 Don't skim past the end user license agreement (EULA) without reading it; it's wordy, but if you're planning on using your Google Voice number for your business, it's good to know the finer details. Read through all the terms and conditions so that you understand what you are agreeing to. Once you've finished, enter your password and click "Next" to sign in with your freshly created Google account.
2. Enter Your Local Area Code
Once you've agreed to the terms and conditions, Google will prompt you to enter your three-digit area code. By default, it will use your location and give you the cities nearest you, so make sure that you grant Google permission to use your location when prompted. You don't have to grant Google this permission, but part of establishing a local presence with your small business is ensuring that you have an area code that is native to the area.
Note: Some area codes may not be available. For example, you may have wanted a 212 (Manhattan) phone number, but might need to settle for something else nearby, as all 212 numbers have been used. This can be an issue for highly populated cities like New York or Seattle. However, you should have better luck finding an available area code if you live in a smaller city.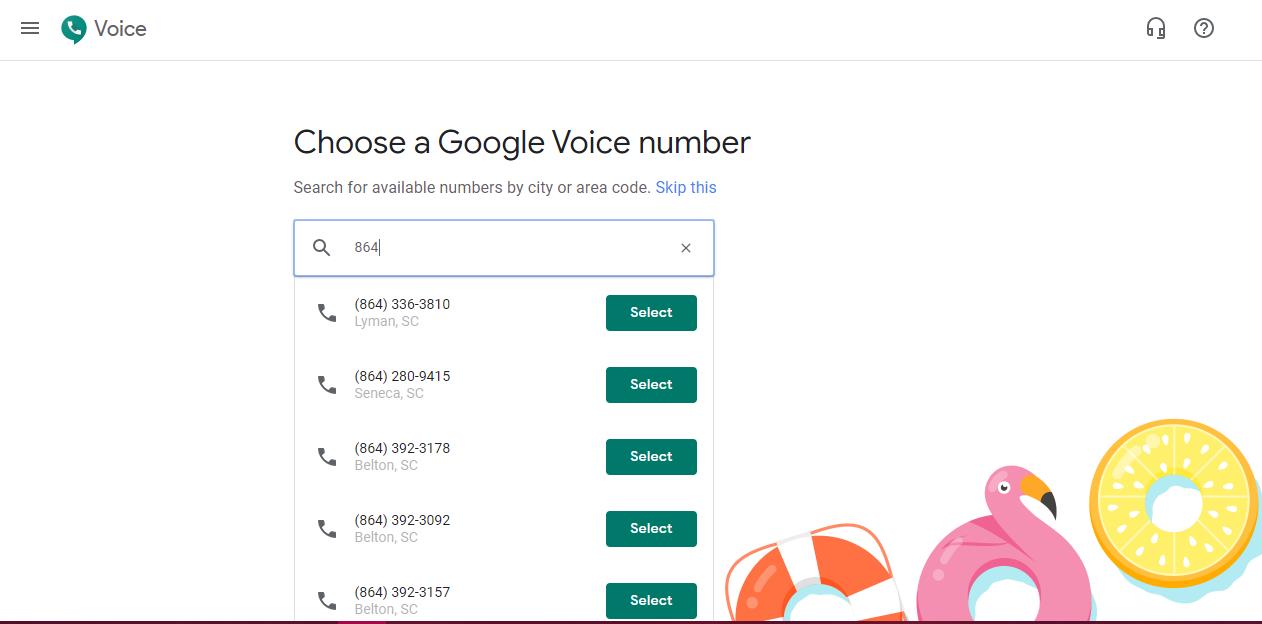 3. Pick a Phone Number
Google will search records and display a list of available numbers. Choose the one that you think works for your business. Try to find something memorable that will be easy to remember for your clients and associates. If you're not seeing anything in the list provided, click the "show more" button. Once you see a phone number that speaks to you, click "Select."
Pro tip: Don't rush through this step, as your number reflects the image of your organization and how customers see you. If you need help choosing a number for your organization, check out our more comprehensive guide on business phone numbers.
4. Link Your Existing Phone Number
Virtual phone services work by forwarding calls to existing devices. Therefore, you need to have an existing phone number to complete the sign-up process. The number you link with your Google Voice account in this step should be the same phone number that you normally use to call the device you want your Google Voice number to ring on, and must be a U.S.-based number. You will be asked to verify this number before you can complete this step.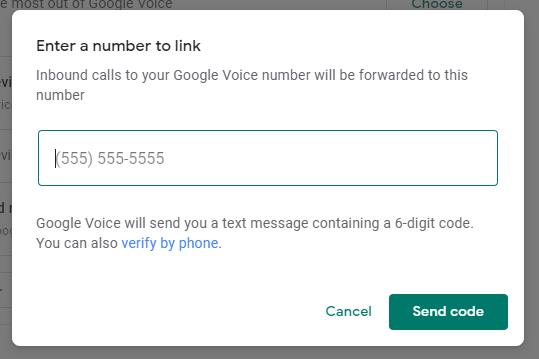 Google Voice will then send you a six-digit verification code by text message or by calling your device. It does this automatically to ensure you are not a spambot and instead are a legitimate Google customer. When you receive this verification code, enter the number in the provided form.
5. Download the Mobile App
Like other business phone systems on the market, Google Voice offers an app for iOS and Android devices. Navigate to your carrier's app store and search for "Google Voice." Choose the app and click "Download." You will be prompted to sign in, so simply enter the login information for your Google account to get started. Once that's complete, you can start making calls and messaging all you like with your newly minted Google Voice number.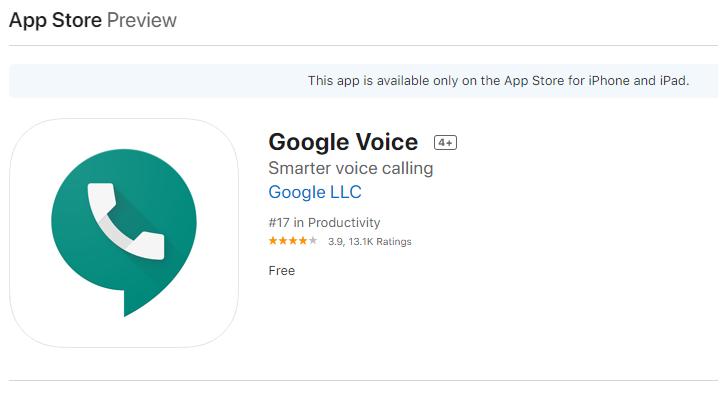 Google Voice Features
Google excels at making things user-friendly, and Google Voice is no exception. A smooth interface and clean layout are only the beginning. Google Voice features helpful tools like downloadable, transcribed voicemail, contact search, and the ability to place calls with a touch of a button. It also lets you fine-tune forwarding settings so that phone calls go to your device, but text messages get routed to Google Hangouts instead.
While these features are great for starting out, the system lacks more advanced features like a toll-free number or software integrations. Therefore, if you are looking for a more powerful virtual phone option, consider Grasshopper. The service offers multiple extensions per number, so you can share your business phone with your team members. You can also adopt a toll-free phone number for a more professional presence. Click here to start your seven-day free trial.
Frequently Asked Questions (FAQs)
Can I take my Google phone number with me to another service?
Yes, you can. Navigate to the Google Voice unlock page and choose "Unlock my number." Note that this process will cost you $3.
Does Google Voice use cell phone minutes?
Yes. Anytime that you use Google Voice with your cell phone, you are not getting around using your minutes in any way. Google Voice is not a service that offers a phone plan at this time.
Can Google Voice provide toll-free numbers?
Unfortunately, Google Voice does not provide toll-free numbers at this time.
How much does Google Voice cost?
There is no cost for Google Voice sign-up, and all services are free as long as you are located in the lower 48 of the United States and most of Canada. International calls are priced per minute, but there are very few fees associated with Google Voice.
Can I port my existing number to another service?
Yes. There is a setting called "Change/Port." It allows you to port an existing number to Google Voice. Note that there is a $20 fee through major mobile service providers.
Bottom Line: Google Voice Sign-Up
If you're a small business owner, freelancer, or team leader of any kind, Google Voice is a great option if you're on a budget and don't need the extras of a voice-over-internet-protocol (VoIP) system. Google walks you through the entire setup process and helps you to quickly familiarize yourself with it. It is intuitive and easy to learn and use, serving as the perfect communication tool.