To set up a Google Voice number, the first step is to create a Google account. Then, choose your phone number, link it to your existing phone number, and download the application to your devices. Each Google Voice line works on desktops or laptops, mobile devices, and compatible desk phones—allowing you to stay connected from home, the office, or while on the go. Note that you need a U.S. mobile or landline number to get a Google Voice number.
See the steps below to set up your Google Voice number:
1. Create a Google Account
To get a Google Voice number, you must have an active Google account, which will be used to sign into Google Voice and other Google tools and apps. These include Gmail, Google Docs, Chrome browser, and the Google Workspace suite.
To create an account, go to the Google Account sign-in page and click on "Create account." You will select whether the account will be for yourself, your child, or "To manage my business" from the pop-out form. From there, populate the form that includes selecting a username, a password, and adding a phone number to your account.
You may also use an existing email address, which doesn't need to be a Gmail account. If you opt to use a pre-existing email, you will receive a verification email in your inbox confirming that it is your account before being linked to your Google account.
You will need to create a password for the account using at least eight characters with upper and lowercase letters, numbers, and symbols. Make sure to choose a strong, unique password not used on other accounts. Once the passwords match, go to the next page and complete the security settings.
Adding a phone number and recovery email address is optional for security purposes. Then, the form will require your birthday and gender. After reading through and accepting Google's Privacy and Terms, your Google account is created.
2. Select Your Google Voice Number
Once your Google account is created, proceed to the Google Voice webpage to set it up. You will need to select whether the account is for personal or business purposes. To proceed, log into your Google account.
If you choose "For personal use," there will be three options: Android, iOS, or Web. You will be redirected to the app store download for Android or iOS if on a mobile phone. For those using the "Web" option, enter your credentials and agreement to the terms of service to continue.
If signing up "For business," select a plan from the three options, ranging from $10 to $30. You will also need a Google Workspace account that costs between $6 and $8, paid monthly. Once a plan is selected, choose the business phone number used with Google Voice.
Selecting a Google Voice number begins with searching for available numbers by city or area code. Available numbers will be displayed and if none of the numbers shown are suitable for you, select "show more" to see additional options. Click the blue "Select" button once you find a Google Voice number you wish to use for your business.
3. Link & Verify Your Existing Phone Number
The next page will display your selected phone number. To complete the setup, link and verify your existing phone number where calls will be forwarded. You must use a cell or landline number based in the United States.
Once you've entered a number to link, Google Voice will send a code verification text with six digits to your phone. For landlines, you may opt to verify the number through a phone call. Once you receive the code, enter it in the space provided, and click "Verify" to complete your account setup.
"Claim" the number, and a confirmation prompt will inform you that your existing number has been added and successfully linked to your Google Voice number. Click "Finish" to complete the process.
4. Download the App on Your Devices
Once you've completed steps one to three, your Google Voice number is available for use on the web and mobile devices. We recommend setting up Google Voice on your cell phone to maximize the benefits of its VoIP phone services, such as increased flexibility, scalability, and lower costs.
To download the Google Voice application, open your Apple app store or Google Play Store, whichever is applicable. Locate the app and click the "download" button. Once the download is complete, open the application, enter your Google account information, and review and accept the Terms of Service and Privacy Policy.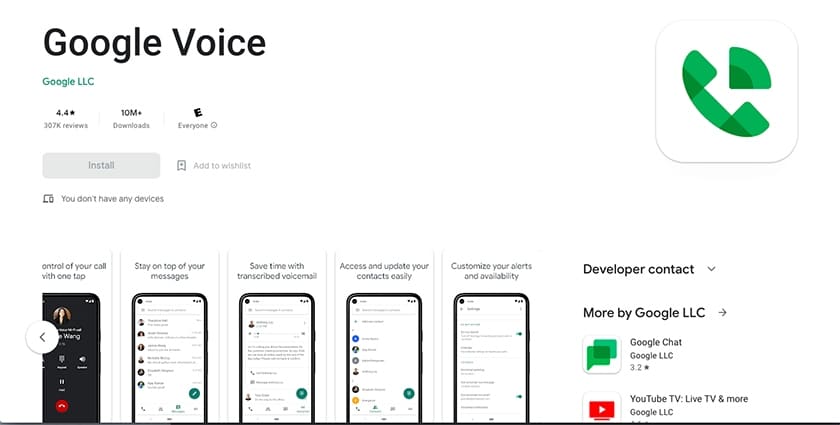 ---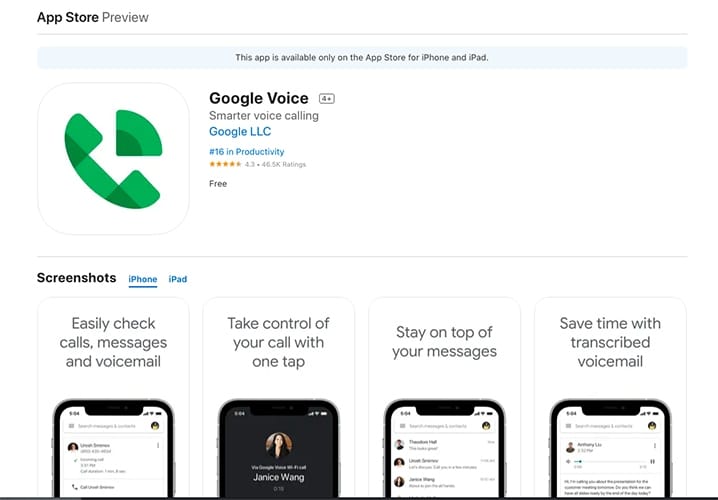 ---
Getting a Google Voice number is quick and easy, especially if you already have a Google Workspace account. Once you have a Google Voice number, you can maximize its international and domestic calls, texts, and voicemail. Learn how to use Google Voice for your simplified business communication needs or start setting up our Google Voice number today.
Top Google Voice Features
Google Voice's value for small businesses is its low-cost VoIP service that empowers you to make and receive calls and text messages using your number on any device. Customers conveniently access the platform through smartphones and tables.
For business-level functionality, Google Voice offers a range of features, such as filters, voicemail-to-text transcription, and auto-attendants, that streamline calls and messages. Aside from standard one-on-one calls, users can maximize collaboration capabilities through Google Workspace integrations.
Here are some Google Voice features to consider when deciding whether it's the right platform for your small business.
Google Voice provides free phone numbers with unlimited calling and short message service (SMS) texting throughout the U.S. and Canada. It is available on multiple devices, including desktop computers as well as Android and Apple smartphones and tablets. This allows users to combine personal and business phones into a single device connected through cellular data or Wi-Fi.
---
Google Voice is flexible enough to work on various devices, including select desk phones. This feature is available with Google Voice Standard and Premier subscriptions and helps businesses transition from a legacy phone system to the VoIP-enabled Google Voice. Supported desk phone models include:
Poly EDGE B10, B20, and B30
Poly OBi 300 and 302
Poly VVX 150, 250, 350, and 450 OBi Edition
---
Google Voice's spam filter blocks unwanted calls and messages by using algorithms to route blocked or known spam numbers directly to your spam folder. Like email spam, you should check your Google Voice spam folder occasionally to see if any callers have misrouted. For blocked numbers, the caller will get a "Number not in service" message when they call.
---
Google Voice's automated attendant is available only with Standard and Premier subscriptions. This routing feature uses menus to guide callers to navigate options toward the correct extension, reducing misrouted calls. Expanding its text-to-speech technology, administrators can upload custom greetings and messages when setting up a Google Voice automated attendant.
---
Ring Groups enable multiple people to answer calls from the same Google Voice number—allowing an entire team to take action on an incoming call. Ring Group setup is customizable, and options include ringing all team members simultaneously until the call is answered, ringing team members randomly one at a time, or ringing members one at a time in a fixed order.
The features available with your Google Voice number depend on the account subscription type. To understand which features are available for specific plans, consult our pricing table below.
---
Advantages & Disadvantages of Google Voice
Individuals looking for a free business phone number with basic phone capabilities for a single person are better suited for the free Google Voice plan. For solopreneurs and small businesses looking for straightforward business call management services, Google Voice is an excellent option for your company.
A paid subscription to Google Voice provides access to the complementary features of Google Workspace, which is ideal for small businesses with remote teams that frequently use mobile devices. For a quick overview of the key advantages and disadvantages of Google Voice numbers for business, see below:
PROS

CONS

Free for personal use
Only available in select countries
Provides 24/7 customer service*
No way to get international numbers
Allows for mobility and flexibility
Emergency calls outside your home country may not be available**
Available on multidevices and platforms
Competitive virtual phone service pricing
Seamless Google Workspace integration
*Channel or type of support is dependent on your subscription plan.
**Emergency calling is only available for work or school Google Workspace accounts. 911 calls through Google Voice are routed to national emergency service call centers.
Google Voice Plans & Pricing
Google Voice has three subscriptions for business-level plans priced at $10, $20, and $30 per user (paid monthly), with all calls billed centrally to the organization. Key features in the business plans include free calling to the U.S. and Canada, call forwarding, Google Workspace integration, and 24/7 Google support. Premium features, such as a multilevel auto-attendant, ring groups, and advanced reporting, are available in higher-tiered business plans.
| | Starter | Standard | Premier |
| --- | --- | --- | --- |
| Monthly Pricing | $10 per user | $20 per user | $30 per user |
| Number of Users | 10 | Unlimited | Unlimited |
| Virtual Numbers | 10 | Unlimited | Unlimited |
| International Locations | ✕ | ✕ | Unlimited |
| Multilevel Auto-attendant | ✕ | ✓ | ✓ |
| Ring Groups | ✕ | ✓ | ✓ |
| Desk Phone Support | ✕ | ✓ | ✓ |
| eDiscovery for Calls, Voicemails & SMS Records | ✕ | ✓ | ✓ |
| Advanced Reporting (BigQuery) | ✕ | ✕ | ✓ |
Google Voice is one of the best business phone systems for small businesses thanks to its multiple VoIP endpoints and low-cost access to virtual phone numbers. However, RingCentral's full-service contact center is a better option for your business if you require advanced features, such as built-in analytics, unified communications, and extensive international calling.
Google Voice: A Strong Provider for Local Numbers
It's important to understand that Google Voice isn't a provider for toll-free, vanity, or international numbers, but it does provider number you may like in local jurisdictions. Here's a breakdown of how a local virtual number works so that you can understand the value of this offering.
Frequently Asked Questions (FAQs)
Do you need a Google Account to use Google Voice?
To use Google Voice features, users need a Google account and an existing U.S-based mobile or landline number. Check out our Google Voice review to learn how this tool works.
How many Google Voice numbers can I have?
The quantity of Google Voice numbers is dependent on your subscription plan. For businesses, the basic Starter plan starts at $10 and includes a maximum of 10 domestic numbers. The higher-tiered plans, Standard and Premier, offer unlimited virtual numbers paid monthly at $20 and $30 per user, respectively.
Does Google Voice provide international numbers?
Currently, Google Voice does not offer international phone numbers, but its Premier plan allows for international calls made through Google Voice. For businesses needing international calling and minutes, 8×8 offers free international calls to 47 countries and international phone numbers for over 120 countries. Find out more about the cost of international calls and services offered by some of the most popular providers.
Bottom Line
Getting a Google Voice number for your business is easy, and once you have a Google Workspace account, it should not take longer than 10 minutes. Small companies can maximize the VoIP service to place and receive calls and messages from anywhere using existing Android, iOS, or web browser platforms.