Voice-over-internet-protocol (VoIP) services let businesses make and receive calls over the internet, some offering services for free. We compared different cheap VoIP services to determine the top six, looking at aspects like price, features, ease of access, and overall customer experience.
Top 6 Cheap VoIP Services 2020
Cheap VoIP Service
Best For

Price Range*

(Best Overall) Businesses looking for an economic, easy-to-use VoIP service

Free - $49.95

Solopreneurs looking for a free option with basic features

Free

Budget-conscious small teams wanting a feature-rich VoIP service

$26 - $89

International companies looking for an affordable way to stay in touch

$25 - $55

Organizations that want to integrate business tools with phone service

$17.99 - $37.99

Businesses looking to build a fully customized plan

$9.99 - $59.99

Last updated on 05/06/20
*Per user, per month pricing shown is based on plans for one to five users with annual billing agreements.
How We Evaluated Cheap VoIP Service Plans
Voice-over-internet-protocol (VoIP) business phone systems don't require copper wire infrastructure to operate. This means businesses can gain access to user-friendly features and good call quality for less than $30 per month. The best plans also include additional value like user-friendly mobile and desktop apps, are scalable, and offer collaboration tools to allow you better communication with teams and customers while remaining affordable.
To identify cheap small business VoIP service plans offering the best value, we considered:
Overall cost
Call quality
Customer support
Ease of use
Collaboration tools
Additional features
Available apps
OnSIP is our pick for the provider with the best cheap VoIP service plan. Not only does its basic plan support up to 100 users at once, the starting price is completely free. Upgrades are available for a price, but the ability to make calls within your organization and to other VoIP phones free of charge is a great benefit for most growing businesses. However, there are some use cases where another provider's plan might be the better option.
OnSIP: Best Overall Cheap VoIP System

OnSIP is a complete phone system that offers many different ways to collaborate with your teams and clients, including free video meetings and free calling to other VoIP phones. This makes the price ideal for businesses looking for a phone plan on a budget. Then, when you are ready, you can upgrade to OnSIP's Per-Minute plan for $49.95 per month, making OnSIP, and its starter plan, the best overall plan for businesses on a tight budget.
| OnSIP Strengths | OnSIP Weaknesses |
| --- | --- |
| Free to make and receive VoIP calls | No voicemail with a free plan |
| Business app integration available | Conference calling is not a base feature |
| Unlimited extensions | Can only call other VoIP phones with free plan |
OnSIP Pricing
Free Plan: $0
Basic: Costs $49.95 monthly, plus 2.9 cents per minute inbound and 3.9 cents per minute outbound.
Unlimited: $18.95 per user, per month; however, this plan requires that teams of five pass a credit check. At the end of the process, the actual cost for a team of three is $113.70 per month.
OnSIP Features
Wi-Fi calls: Make and receive calls either via your data network or over Wi-Fi.
Business app integration: Zendesk and Slack are included with your OnSIP account.
Number porting: Keep your existing phone number by paying a one-time fee of $15.
Auto-attendant: This handy features routes calls to their correct department and extension.
Mobile app: Maintain settings, make and receive phone calls, control extensions, and more.
If you would like to learn more about OnSIP's pricing and features, visit our OnSIP reviews page.
Google Voice: Best Free VoIP Service for Solo Users

Google Voice is a virtual phone service that allows you to stay in contact with colleagues and customers with features like softphone calling and group messaging. It is completely free to use with a Google account, which means that it will also sync across other devices—like your laptop and tablet—that use the Chrome browser. Google Voice is our pick for the best service for budget-conscious solopreneurs who don't need a fully featured phone system.
| Google Voice Strengths | Google Voice Weaknesses |
| --- | --- |
| Free | Lacks customer support |
| Send and receive SMS messages | No auto-attendant feature |
| Syncs with other Google apps like mail and calendar | No customer support |
Google Voice Pricing
Free plan: Google Voice is free to use.
Google Voice Features
Phone number: Pick an area code and a phone number.
Call management: Features like hold, mute, and block help you manage calls like a pro.
Google integrations: Seamlessly sync Google Voice with other Google apps like Gmail, Calendar, and Hangouts.
Visual voicemail: Voicemails are transcribed into text, also giving you the option to download them as MP3 files.
Call recording: Record incoming calls and save them for later review.
If you're interested in learning more about Google Voice and its pros and cons, see what our reviews have to say about it.
Grasshopper: Best Cheap VoIP System for Small Teams

Grasshopper is a virtual phone number provider that includes business texting and convenient call forwarding features, like mute and hold, with every package. It also lets you keep your existing smartphone without needing to purchase excess equipment. While Grasshopper's most popular plan is $44 for three phone numbers, its $26 solo, or single number, plan is ideal for teams of three or less wanting VoIP features typically found in larger systems for a low price.
| Grasshopper Strengths | Grasshopper Weaknesses |
| --- | --- |
| Use your existing smartphone to make and receive business and personal calls | Customers report that the mobile app can be glitchy sometimes |
| VoIP and Wi-Fi calling | No voicemail greeting included—you must create your own |
| 24/7 live support | No call recording option |
Grasshopper Pricing
All Grasshopper plans are billed per user, per month. You have the option to pay on a monthly basis or an annual basis, with annual plans being about 10% cheaper than monthly plans.
Solo: $26 when billed annually, $29 when billed monthly; includes one number and three extensions.
Partner: $44 when billed annually, $49 when billed monthly; includes three numbers and six extensions.
Small Business: $80 when billed annually, $89 when billed monthly; includes five numbers and unlimited extensions.
Grasshopper Features
Phone numbers: Local, vanity, or toll-free numbers are available.
Voicemail transcription: Read your voicemail messages when you're in a hurry and download them to refer back to later.
Virtual fax: Receive faxes from clients and employees directly on your phone.
Mobile and desktop apps: Configure settings and control things like extensions, call forwarding options, and more.
BYOD: "Bring your own device." Grasshopper lets you use your existing smartphone, eliminating the need to purchase or rent excess equipment.
Check out our reviews page to learn more about Grasshopper's features and benefits.
8×8: Best Cheap VoIP System for International Teams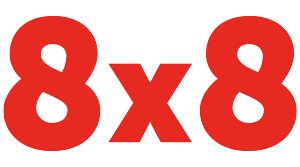 8×8 is a full VoIP service that offers HD video meetings, team and SMS messaging and screen sharing, along with international calling. Both 8×8's mobile and desktop apps are user-friendly, making it easy to do things like schedule meetings, host conference calls, or send group messages to your team, no matter where they're located. This makes 8×8 our pick for the best cheap VoIP service for businesses with international needs.
| 8x8 Strengths | 8x8 Weaknesses |
| --- | --- |
| Collaboration-heavy, giving you many ways to stay in contact with customers and employees | Mixed customer service reviews from customers |
| Unlimited calling in the U.S. and Canada, and international calling with higher-tiered packages | Users report issues with desktop app locking up or glitching |
| Auto-attendant services with all plans | Higher-service tiers are significantly more expensive |
8×8 Pricing
Like Grasshopper, all plans are billed on a per user, per month basis. Unlike Grasshopper, you're not given the option to pay annually for a discount; prices are set monthly.
X2: $25 monthly
X5: $35 monthly
X8: $155 monthly
8×8 Features
International calling: With calling available to up to 47 countries, 8×8 is perfect for companies doing a lot of business overseas.
Phone numbers: Port an existing phone number, create a new one, or choose toll-free or vanity numbers.
Integrations: Sync with your Google or MS Outlook accounts for seamless integrations.
Auto-attendant: Route your calls quickly and professionally using auto-attendant services.
SMS messaging: Keep in contact with clients and employees by sending SMS text messages from your 8×8 number.
For more information about 8×8, its features, or user reviews, visit our 8×8 user reviews page.
Vonage: Best Cheap & Integration-ready VoIP Service

Vonage is a VoIP service with base features like team messaging, desktop and mobile apps, and unlimited calling. Integrations like Zendesk, G Suite, and the MS Suite are available as well. Base prices are budget-friendly with plenty of add-ons available. If your team is between five and 18 people, you can start with Vonage for as low as $17.99 per user, per month. Vonage has the best cheap VoIP plan for businesses that want to integrate phone service with other tools.
| Vonage Strengths | Vonage Weaknesses |
| --- | --- |
| Customizable to fit all companies | Add-ons can get expensive |
| Call forwarding options to get your calls to you no matter where you are | No 24/7 customer service |
| Make and receive phone calls with your smartphone, tablet, or computer with softphone features | No visual voicemail for lower-tiered packages |
Vonage Pricing
Mobile: $17.99 monthly*
Premium: $27.99 monthly*
Advanced: $37.99 monthly*
Additional equipment, e.g., desk phones, is available as well.
* Pricing is for five to 18 users. Volume discounts are available as you add more users.
Vonage Features
Customization: Build a plan to fit your needs by picking and choosing your options.
SMS messaging: Stay in contact with clients by sending SMS text messages.
Desktop and mobile apps: Use the two apps to tweak settings, configure users, and many other options.
Team messaging: Stay in contact with your colleagues throughout the workday.
Keep your device: Desk phone and excess equipment are optional—use your existing smartphone for business calls.
Check out our Vonage user reviews page to learn more about features and prices.
Phone.com: Best Low-cost, Customizable VoIP Plan

Phone.com is a VoIP service with three tiers of service, and with better features the higher you go. Phone.com lets you add or remove all the features you want, building a VoIP plan that is only as expensive as you choose. Packages start as low as $9.99 per month and are subject to change based on your desired features. The ability to change and customize your plan is what makes Phone.com the best choice for businesses that want to completely build their own phone plan.
| Phone.com Strengths | Phone.com Weaknesses |
| --- | --- |
| No contracts, allowing you to cancel service anytime you please | Add-ons can tally up to quite a large price tag if you're not paying attention |
| U.S.-based and bilingual customer service team | Mixed reviews on customer service quality and dependability |
| Customizable—only buy the features you want | Outdated user interface |
Phone.com Pricing
Like Grasshopper, you can choose to pay an annual fee (which is about 10% cheaper) or a monthly fee. Phone.com lets you choose between pay-per-minute and unlimited plans.
Pay-Per-Minute:
Base: $9.99 monthly
Plus: $14.99 monthly
Pro: $29.99 monthly
Unlimited:
Base: $24.99 monthly
Plus: $32.99 monthly
Pro: $49.99 monthly
Phone.com Features
SMS messaging: Stay in contact with your customers starting with 5,000 SMS messages in the basic plan.
Phone numbers: Port an existing number or choose from local, vanity, or toll-free phone numbers.
E911: Ensure that you've always got access to emergency services in case you need them.
Hold music: Keep customers on hold engaged with lively background music.
Digital faxing: Send and receive faxes using no equipment but your smartphone's camera.
To learn more about Phone.com and its features, visit our reviews page for an in-depth analysis.
Bottom Line
Using a cheap VoIP service can be a risk. Some phone plans can be cheap but have less than stellar service, while others seem too expensive for the features they lack. However, when it comes to cheap VoIP service, choosing a plan that fits your needs is the best thing you can do to streamline your workday.
We have chosen OnSIP as the best provider for low-cost VoIP service based on the features you get for the price you pay. There's no price better than free, and with features like call recording and auto-attendant, there is so much to love about the service.