A business phone number is important because it represents your company. It also keeps your work calls separate from your personal presence. A business phone number can usually be set up in a matter of minutes and can take the form of a local number, a toll-free 800 number, or a customized vanity number like 1-800-FLOWERS. Pricing can range from free to hundreds of dollars per month.
Business Phone Number Options
| | Pros | Cons | Price (Approximately) |
| --- | --- | --- | --- |
| Local Phone Number | Simple, often standard with phone service | Ties you to a single geographic area; projects a smaller business footprint | $0-$10/month |
| Toll-free/800 Number | Projects the image of a more established, nationwide business | You have to pay for incoming calls; not always memorable | $10/month |
| Vanity Phone Number | Highly memorable; works as a marketing tool | Can be expensive; the number you want might not be available | $10-$50/month or higher |
There are three main types of business phone number: local, toll-free, and vanity. Each one has its own pros and cons and suit unique business needs, industries, and company sizes.
It is also worth noting that there are virtual phone numbers. These are phone numbers that automatically route incoming calls to another number and mask outgoing calls, giving users a low-cost way to separate business and personal calls. They can also be set up as local, toll-free, or as a vanity number, which can make them an attractive choice for small, budget-conscious teams interested in adding any of the phone number options to their business.
Take our quiz to find out which type of phone service is best for you:
What Type of Business Phone Service Is Best for You?
Answer a few questions about your business and we'll give you personalized product match
Here are more details on the differences between each type of business phone number and example providers:
Local Business Phone Number
Local phone numbers are the most common type of phone number available. In most cases, they are free with a monthly service contract, but can cost up to $39.99 per month. Local numbers have a three-digit area that corresponds to your city or region. This could be perfect for brick-and-mortar businesses that cater to a mostly local audience. In fact, having a local prefix shows your customers you are a part of their community, which can build trust.
In nearly any business phone system, a local number will be included for free when you make an account. This is true whether you choose a landline, voice-over-internet-protocol (VoIP) service, or virtual phone system. You can learn more about these options in our guide to the best business phone systems.
It is worth noting you can get a free business phone number from Google Voice. With this system, you can make calls from your desktop or smartphone. The app lets you search for a phone number from nearly anywhere in the United States. However, the main downside is that some area codes in highly populated areas may not be available. The system also lacks a lot of the advanced features of more expensive platforms like RingCentral.
Read our article to learn more about how to get a free Google Voice number.
Toll-free Phone Number
If your business serves customers nationwide, then a toll-free number with a 1-800 prefix can be a great way to encourage customers to contact you, as they are not charged for the call. Pricing for these numbers can start as low as $10 per month, but you will have to also pay for all of your incoming calls. That said, these numbers often make your organization look larger and more established.
Popular toll-free prefixes include 800, 888, 877, 866, 855, and 844. Most VoIP services, like Nextiva and RingCentral, include a toll-free number for free when you sign up. You can also buy a virtual toll-free number that forwards to your existing line. For more details on toll-free numbers, check out our guide on 800 numbers.
Vanity Phone Number
Vanity phone numbers are highly memorable because they take the form of easy-to-remember words, like 1-800-TELEPHONE. This works by corresponding to the letters on modern dial pads. For example, 1-800-TELEPHONE would translate to 1-800-835-3746. However, the moniker is far easier to remember and can help you stand out from your competitors.
Pricing for vanity numbers varies widely depending on demand. Most providers will let you pick a number either for free or for a small extra monthly charge, but you might need to use some numbers in combination with words, like 1-800-824-TAXI. Number costs from a specialized service like RingBoost can cost anywhere from $30 to more than $400 per month.
Grasshopper is a powerful phone service that makes it very easy to choose and adopt a vanity number. They serve as a valuable alternative for purchasing a number through a larger provider. Check out our Grasshopper user reviews page for more information.
When to Use Each Type of Phone Number
The best type of phone number for your business will ultimately depend on how you intend to use the number. It will also depend on your industry and company size. Here are some general recommendations for each type of phone number.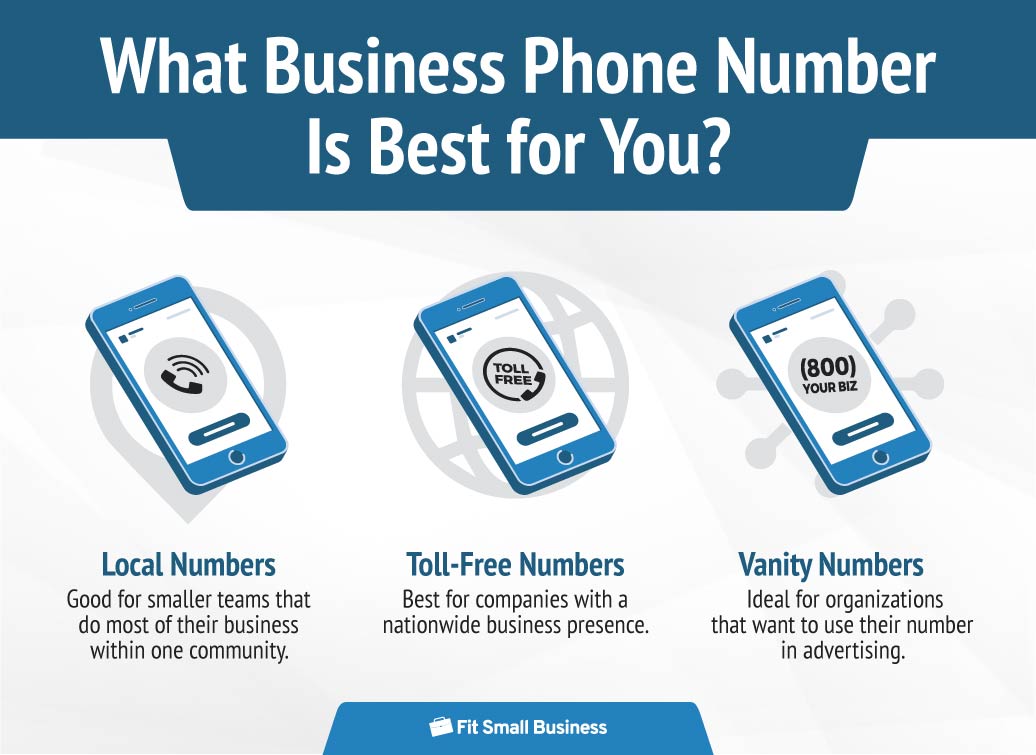 Local Phone Numbers: Best for Local Businesses
Local numbers are likely the best option for any team that does the majority of its business within one community. It conveys to your customer base that you are just as much a part of the community as they are. In fact, using a 1-800 number can make your team look cold and unfeeling. Another benefit of local numbers is value, as nearly any phone system offers free business phone numbers.
Toll-free, 800 Numbers: Best for National Companies
Companies that serve customers all over the country may benefit from adopting a toll-free number. Not only do these numbers allow people to call your company at no cost to them, but it also makes your organization look like a large, established enterprise. This is true even if you are a relatively small and modest company.
Vanity Phone Numbers: Best for Advertising & Marketing
Vanity phone numbers have a huge benefit in that they are memorable and easily associated with your business. If you put them in your print, radio, and other ads, the number can stay in the minds of your audience, and therefore, people might be more likely to remember your number versus your competitors. If getting your company's name out there is of the utmost importance, then you should consider a vanity number.
Frequently Asked Questions (FAQs)
Are there free business phone numbers?
Yes. Services like Google Voice offer a complete phone system and a free local phone number for your business.
How can I find out if my desired vanity number has been taken?
You will have to use the lookup page on services like Grasshopper and RingCentral to search for the number you want to see if it is available.
If I switch providers, can I bring my phone number with me?
Yes. Just about any small business phone system will support number porting. In most cases, this can be done in the system settings menu. It can also be done by calling the company's customer service and having their staff walk you through the process.
Bottom Line
When it comes to choosing a phone number for your business, it's worthwhile understanding the different kinds of numbers available. Each type of phone number has its own advantages for different kinds of businesses. Fortunately, most vendors allow you to adopt any kind of number for your team.
We recommend RingCentral to anyone looking for a new phone system and number. Not only does it allow you to choose between a local, toll-free, or vanity number, it is a powerful system in its own right. Click the button below to get started today.