How to Buy Land: Step-by-Step Guide, Types & Pros & Cons
Vacant land is a real estate investment that can be used to produce high returns in a wide variety of industries—from parking lots to agriculture. Learning how to buy land requires detailed research and knowledge about land types, features, and uses. Before financing the purchase, look into crucial factors like location and ownership history, then locate the land you intend to buy. While a land can be an inexpensive and hands-off investment, note that it's often more difficult to produce a monetary return than a residential property.
In this guide, you'll learn exactly what to look for, what to avoid, and how to profit from land ownership. Here are the six steps you need when learning how to buy land:
1. Decide on the Type of Land to Purchase
Many new investors are only familiar with a few common types of land transactions, like rural property, farm acreage, and undeveloped residential lots. However, there is a wider variety of land types available for real estate investors to purchase and turn a profit in unique or creative ways.
Potential uses of vacant land can vary drastically based on your location, topography, climate, and job market. Therefore, researching all the types of land available in your area helps you uncover some unexpected ways to invest or resell your land purchases.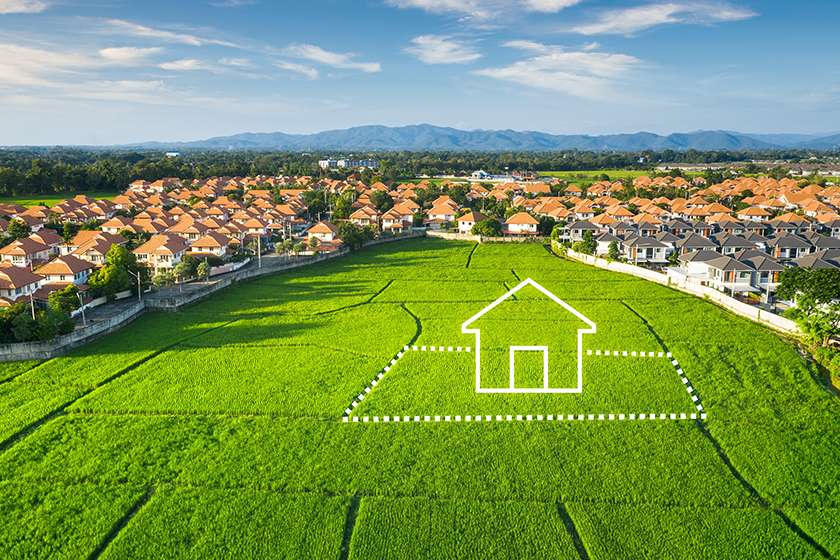 Start considering some lesser-known land types and uses by researching:
Residential: Residential land is used to build an individual home for the owner or for homebuilders to develop neighborhoods.
Commercial: Land sold for commercial uses is intended to generate a profit, which could be building warehouses, hotels, office buildings, medical centers, or shopping centers.
Industrial: This includes warehouses for storage, discount wholesale stores, lumber yards, or factories.
Agricultural: Agricultural land includes row crop farmland, livestock-raising land, vegetable farmland, vineyards, and orchards.
Recreational: Land used for recreational purposes is essentially designed for outdoor activities, whether paid or free, often including parks, campsites, lodging, or swimming pools.
Timberland: This is the name for many forest lands, which are used for producing wood products.
Transportation: Transportation isn't possible without the use of land. This type of land purchase is usually used to build roads or bike paths.
Parking lots: Parking lots are extremely valuable for a variety of business types, like consumer-facing stores and service providers, transportation companies, and mobile home parks.
2. Factors to Consider When Purchasing Land
Buying land for investment purposes is a great strategy for many new and experienced investors. However, those starting the land buying process for the first time can often be lured by affordable prices or deals that appear strong without knowing which specific factors to consider.
In fact, some land deals can cost only a few hundred dollars or be promoted as "can't lose" investments by dishonest sellers. When you're considering how to buy land, make sure you are prepared to do plenty of research before agreeing to any deal.
Make sure to investigate the following factors when purchasing land:
As the saying goes, real estate is all about location, location, location. This is the case for residential homes and every type of real estate investment, so it's extremely important to evaluate in detail. Finding the best place to buy land is one of the best ways to maximize your return on investment (ROI).
Of course, the best location for your land purchase depends on the method you choose to profit from it. For example, if you plan to flip the land, homebuilders and commercial real estate developers will be evaluating the location according to very different criteria. Homebuilders will want a land of a certain size, near other neighborhoods, and in good quality school districts, while commercial developers will generally need much larger land parcels near busy streets. When you're searching for where you can buy land, make sure you have your overall investment strategy in mind.
---
A deed is a legal document that transfers ownership of the property from one party to another. In the process of buying land, researching the ownership history can actually be more difficult because vacant land may not have been legally examined in the past. In contrast, a property with an existing building must have been through at least one title search, and any ownership claims have typically been resolved.
You may find multiple parties who have legitimate claims to a parcel of land through inheritance, easements, or gifting. Sometimes, unrecorded claims will come out of the woodwork but, in the end, could be substantiated.
When you are considering how to purchase land, it's vitally important to pay for a thorough title search and get title insurance. This can be accomplished by a title or escrow company or real estate law office. It will uncover those who have claims to the property or who have filed liens against it. Title insurance will protect your interest in the property in the case of an unforeseen claim coming to light.
---
Unlike most other real estate investments, owning land comes with very few expenses. The only ongoing expense you will have after buying land for an investment, other than a mortgage payment, is annual property taxes. Therefore, make sure you know what the tax amount will be before closing on the property.
In some areas of the country―particularly rural areas―property taxes are minimal. However, in densely populated urban or suburban areas like New York, Boston, or Los Angeles, taxes are significant and can end up costing almost as much as a mortgage payment.
---
Every piece of land has a zoning designation, which specifies how the property can be used. There are many zoning categories, depending on your area, but the primary categories are:
Residential: Allows for single-family homes
Multifamily: Allows for single-family and multifamily homes, like duplexes, triplexes, fourplexes, and apartment buildings
Commercial: Permits office buildings, retail, and sometimes hotels
Industrial: Generally reserved for warehouses, factories, and light manufacturing
Agricultural: For farms, orchards, ranches, and similar; single-family homes and small multi-units like duplexes are sometimes allowed with this zoning
These zoning designations can change (getting "rezoned"), which can either solve existing problems or cause new ones. Part of your land buying process must include researching pending zoning changes. Zoning massively affects what you can do with the land, which can be costly to you.
---
To investors who are unfamiliar with how buying land works, it may seem like most land parcels are the same. However, you can easily buy a piece of worthless land if you are not careful and mindful of its physical characteristics.
Here are a few physical characteristics to pay attention to:
Accessibility: In order to profit off of your land purchase, it must have road access. A landlocked parcel is fully surrounded by other properties with no road or driveway access, making it extremely difficult, if not impossible, to sell or profit from.
Flood zones: Many pieces of land remain undeveloped because they are located in a flood zone. You may never be able to build on these land parcels or may be unable to insure any structures.
Environmental issues: Depending on your location, there is a wide range of possible environmental concerns to consider. For example, environmentally sensitive areas can include wetlands, habitats, wildlife areas, tribal lands, or national parks. Make sure you research these with the help of your local authorities.
Topography: Flat land pieces are the easiest to build on, so consider the land's topography along with your plans for the space. It's possible to build in most places, but having to remove trees or do extensive landscaping for the foundation will increase costs.
Soil type: Most people don't know how much of an impact soil has on construction. In fact, you may be required to do a soil test in order to get a permit to build any kind of home or structure. Therefore, it's necessary to have that information before buying the land.
---
Zoning is not the only restriction that can limit what you can do with the land. Make sure to research potential restrictions and requirements, which frequently include:
Building moratoriums: This is a legal restriction that stops the construction of all building projects on a piece of land. There are many construction projects around the country with building moratoriums in place due to potential building code violations or environmental concerns, so make sure you're able to build on your land.
Easements: An easement means that another party is legally permitted to use a piece of land, even when it is owned by someone else. Examples include wildlife and historic preservation easements that may prevent all future development.
Inadequate size or shape: Make sure the lot is large enough to build on by consulting a building professional. Keep road access, parking, and traffic in consideration as well.
Setbacks: Many local areas have specifications about how far back a building must sit on a lot. Make sure your lot is set up to abide by these laws, or you may face bigger problems down the road.
Covenants, conditions, and restrictions (CCRs): CCRs are set by local homeowner's associations (HOAs) or local government and typically apply to land zoned for single-family homes. Make sure you know all the rules of your HOA before you move forward with any plans.
---
One of the simplest factors of buying land can actually become very complex—the availability of necessary utilities at the lot. When utilities like gas and electric are available, you may still need to have them brought to the lot line, which can be costly. For those still learning how to buy land, make sure to do plenty of research on the utilities you need, their availability, and the costs involved with building.
Look for the following utility availability:
Water: If municipal water has not been run, then you must investigate whether digging a well is possible. If not, a lot without water is generally unbuildable.
Sewer: If municipal sewer is not available, then you must run a percolation test (perk test) to see if the parcel can have a septic tank. If it won't perk, you will probably be unable to get a permit to build.
Electricity: Electricity is one of the easiest utilities to run to a lot if it's nearby. Check with your local electric utility to estimate the cost of running a line if there isn't an existing one.
Gas (optional): Fortunately, if a lot has electricity, it doesn't necessarily need gas. However, if gas is the custom in the area, then you will want to check with the gas provider to investigate the cost of running a line to the lot.
Phone, communication, and internet: The lack of telephone, cable TV, or internet lines won't prevent you from building, but lacking them will certainly be unacceptable for anyone eventually planning on living or working on the land you develop.
---
Many of the necessary issues to investigate can be answered with property surveys and plat maps. Plat maps show all the land parcels with lot lines, measurements, zoning designations, topographic and geographic features, and what they are adjacent to. These maps and surveys may be available online or at your county surveyor's office.
---
Decide How You Will Profit From the Land After Purchase
Once you own a piece of land, there are a variety of ways to turn it into a profit. Keep in mind that some options will generate a short-term return, and others can take years. Make sure that you evaluate each option along with the land type, restrictions, and your own finances to determine what is most beneficial.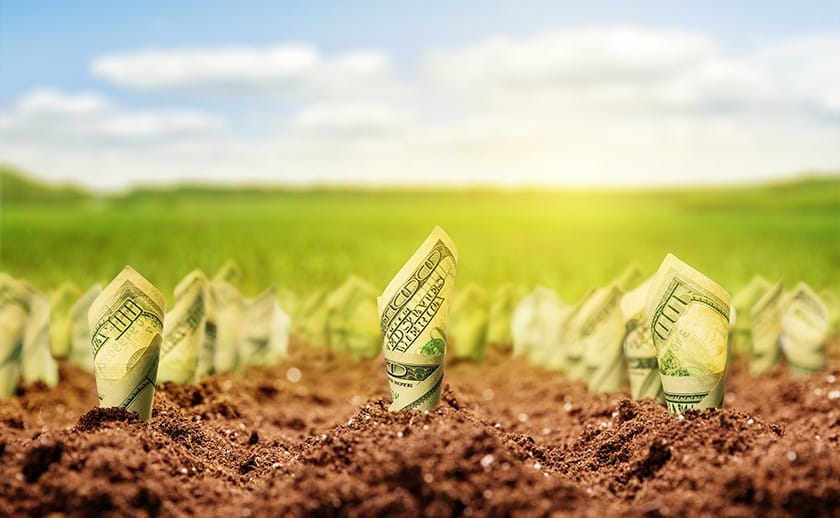 The most common methods of profiting from a land purchase include:
Holding it long term: Perhaps the most basic land investment strategy is holding it long term, then reselling when the price rises. If development is moving in the direction of the land you own, it will apply upward price pressure. The closer development gets, the more valuable your land is likely to get, even if you don't touch it at all.
Improve the lot: You can naturally increase the value of the lot by building on it or making smaller changes like running utilities or adding a driveway.
Get the property rezoned to a higher use: There is a principle in real estate known as "highest and best use" that can make land more valuable simply by changing its zoning, thus what it can be used for. For example, if a large parcel was zoned for agricultural use and you successfully got it rezoned for residential development, the value of the parcel may significantly increase without any physical changes.
Lease the land: This is an often overlooked option for land purchases. Mobile home parks are structured around leased lots. Rural land can be leased to farmers to cultivate or graze livestock, and even large parcels of the most rural countryside can be leased to hunters.
Flip the land purchase: While land flipping is not nearly as common as flipping houses, it is possible to acquire a lot at a below-market price, then resell it quickly at a higher price. One route to do this is by offering owner financing to the new buyer. This can make the land purchase more attractive, and you can earn a profit on the resale and collect periodic interest.
3. Organize the Finance of the Land Purchase
Many people want to know how to buy land with no money, but the process of financing an investment property is essentially the same for land, residential properties, and commercial buildings. There are two paths to fund an investment purchase: using cash or obtaining financing. Financing can mean getting a mortgage loan, owner financing, or a few other options.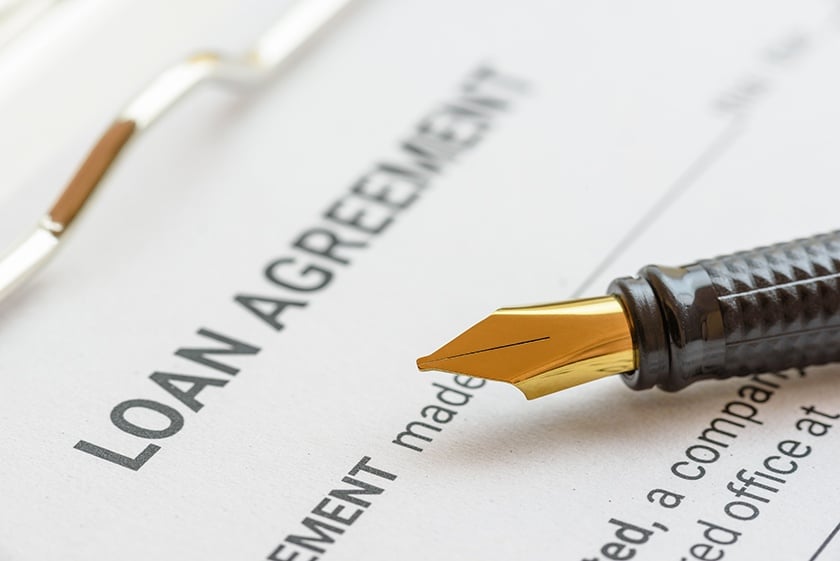 The most common ways to finance your land purchase are:
Paying cash: Because prices for raw land are generally lower than existing buildings, it's common for buyers to pay cash. This is also due to the fact that banks tend to view raw land as a riskier investment, making financing more difficult.
Conventional loans: Some conventional lenders offer long-term mortgages for land purchases. Generally, the loan-to-value (LTV) is rather low, so be prepared for loan options to cover as little as 50% of the purchase price.
Land loans and lot loans: Many lenders specialize in land loans or lot loans. Often, these are savings and loan institutions in more rural areas. Land loans tend to be shorter terms of 10 years or less, typically higher than the market rate, and require 20% to 50% down.
Owner financing: You'll find that owner financing is more prevalent with raw land than with developed parcels. Vacant land typically is harder to sell than developed properties and is more commonly owned outright, making owner financing easier.
Hard money: Hard money loans are short-term financing methods, usually set for 18 months or less. They can be funded in a matter of days, which allows you to compete with cash buyers in competitive markets. However, you must have a strong plan to generate a return on investment (ROI) on your purchase in order to cover the payment in a short period of time, along with the high interest rates.
4. Locate Land to Buy
In order to make strong investments in any area of real estate, you need a strong strategy for finding investment properties for sale. Finding land for sale can be done in a variety of ways, and it's best to implement multiple strategies. These include working with real estate agents and land brokers, evaluating government-owned land, and searching land for sale sites.
Real Estate Agents
Real estate brokerages and their agents have access to the largest number of properties for sale, including raw land. In fact, according to the National Association of Realtors (NAR), only 8% of real estate sales are for sale by owner (FSBO). Plus, research from the Realtors Land Institute (RLI) shows that land sales within the last year are surpassing many types of commercial real estate transactions. All of this data proves that more land is listed through real estate agencies than anywhere else.
However, not every real estate professional has experience with land sales. Make sure that you choose an agent or broker with this specialty, and they will quickly become a valuable resource during your transaction.
The downside to searching for a property with an agent is that the seller has agreed to pay a commission for the sale, which will be reflected in the price. Including this commission in the transaction can effectively make the asking price of the land about 3% to 5% higher. However, land prices are generally negotiable, so you may be able to overcome the higher asking price with good negotiation.
Land Brokers
Since many real estate salespeople don't have experience with land sales, you may want to directly contact a specialist—a land broker. Land brokers are most commonly found in rural and agricultural areas, and they are well-versed in the process of finding parcels, evaluating your needs, and researching the characteristics of the lot.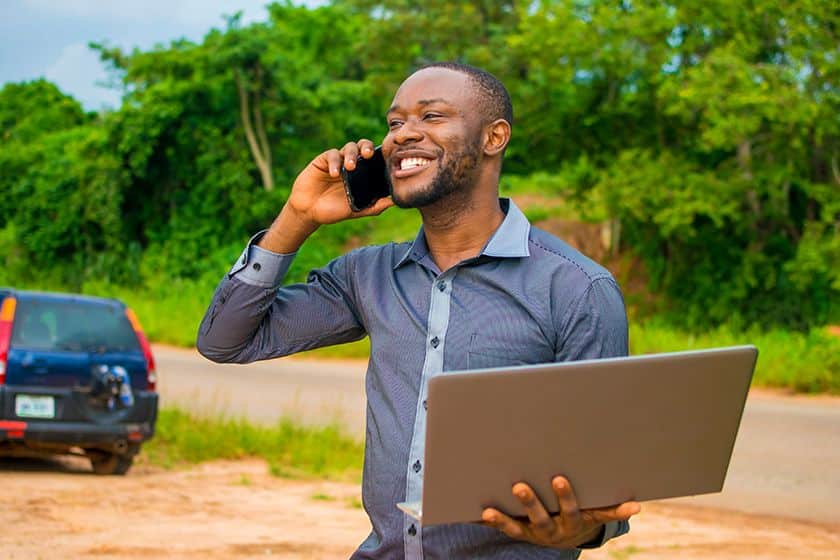 The commissions for land brokers tend to be a bit higher than typical residential real estate agencies, often ranging between 7% and 10%. Since land is harder to sell than other property types, these agencies price their work into the commission.
Government-owned Land
Many government agencies have land available for sale, often coming from one of two sources. The first is surplus land that local, state, or federal agencies own but no longer need. The second comes when property owners fail to pay annual taxes, and the land is sold at tax lien and tax deed sales and auctions. Learn more about land auctions in your state's surplus property division or search for surplus sales on the usa.gov website.
Land for Sale Sites
Searching for land parcels online is arguably the most efficient method to find properties for sale. There are many land for sale sites that make it easy to search, including Zillow, the largest real estate marketplace for all types of properties. Other land marketplaces, like Crexi and LoopNet, provide more extensive and relevant property details for investors. Another great benefit of using the following land for sale sites is that all of them are free to browse for buyers.
Site

Key Features

Most accessible online marketplace for buyers and sellers
Detailed property filters and searches
Provides neighborhood information

Commercial property marketplace
Connect with commercial real estate agents
Market and property analysis tools

Popular commercial real estate marketplace
Extensive property data
Extensive search filters with investment criteria

Top rural land marketplace
Listings can include virtual tours
Offers land financing options

Learn More
For Sale by Owner Sites (FSBO)
Many land parcels on the market are being listed directly by their owners. If you've ever driven in less developed parts of town or more rural areas, you've probably seen any number of signs advertising a parcel of ground for sale. This makes online FSBO sites great sources of lots, developable parcels, and rural land.
One highly effective and valuable tool to find FSBO properties is REDX. Although it's a real estate lead generation tool designed to connect agents with FSBOs, it can also be used by investors to connect with land sellers more quickly and efficiently. REDX automatically searches various data sources to provide new FSBO listings earlier than you'd be able to find them on listing sites. Monthly pricing starts at $39.99, and they exclusively offer free setup to Fit Small Business readers—a discount of $150.
However, FSBO sites are generally easy to use and free to search, so they are great options if you aren't ready to invest in a tool.
Sites

Key Features

One of the most popular online FSBO sites
Closing assistance for buyers and sellers
Financing options

Search for FSBOs and foreclosures
Real estate contract templates
Additional resources and legal forms available

Divided by city and location
Simple listings from FSBO sellers
Less competition than other platforms

Largest real estate marketplace
Detailed search filters
Detailed property information

Learn More
Auction Sites
Another key strategy for buying land for investment reasons is finding auctions. Land sales are one of the most common property types sold by auction. Auctions remove the possibility of negotiations and shorten the closing period. Many auctions are held locally or in-person, so you can find those by searching for terms like "Chicago auctions" and "Chicago land auctions."
Online auction sites are also great ways to find land to buy. They often have an existing process that makes it easy to register, get all the property information, and bid online. Plus, most of them are free to browse and place bids, since the seller is responsible for fees. Start by looking at four of the top real estate auction sites below.
Sites

Key Features

Private and government-owned auctions
Weekly email alerts
Resource center and tutorials

View detailed property information before auctions
Foreclosures, short sales, and government-owned properties
Glossary and help center

Detailed property and market information and analytics
Recently sold property and auction data for research
LoopNet partner

Multiparcel auctions
Detailed property information and due diligence before auction
Recent auction data available for research

Learn More
5. Go Through the Purchase Process
With financing in place, a property selected, and an investment strategy, the process of buying land will be relatively similar to other real estate transactions. You'll start by making an offer on the property, which includes providing financing details, the offer price, and any contingencies. For land purchases, you may want to include contingencies like environmental test results, permits, and land surveys.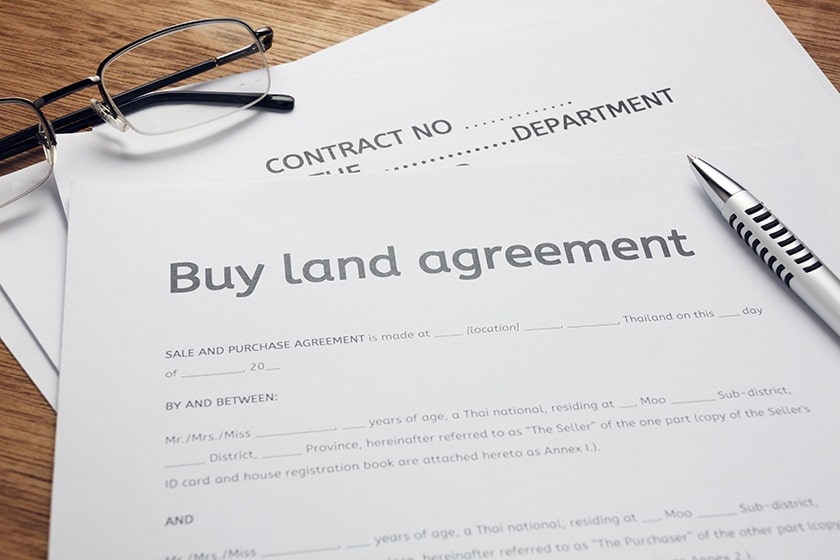 The land owner may accept, reject, or provide a counteroffer, to which you can choose to negotiate the price. Once an agreement has been made, the closing timeline depends on the type of financing you are using to make the purchase. Conventional loans can take 30 to 60 days to approve, while hard money lenders can provide funds in a matter of days.
If you're working with a real estate agent or land broker, you won't have to worry about creating a legal purchase agreement or consulting with an attorney. An experienced agent who already knows how to buy land will walk you through the process, provide recommendations, and schedule the necessary inspections and tests before closing.
6. Move Forward With Your Profit Plan
With a land parcel finally under your ownership, you can start taking concrete steps to implement your plan to generate an ROI. After doing all the property research, you should have a clear understanding of any property restrictions and be well-familiar with all the potential opportunities for income. You should have an established real estate investing business plan before you close on the property, and now is the time to start executing the plan.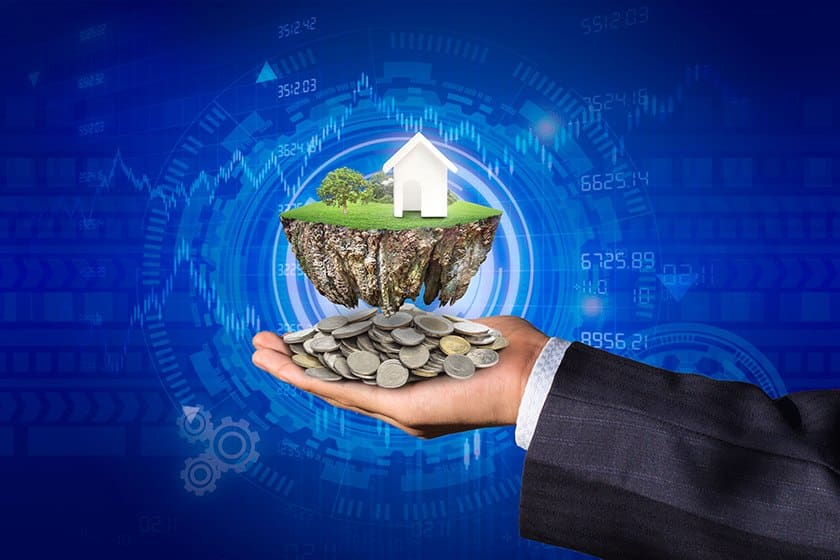 The first steps you take will be vastly different depending on your plan for profit. For instance, if you're planning to flip the property, you might not make any changes to the land at all. Instead, you can simply start marketing to potential buyers as soon as the land is in your name. On the other hand, if your plan is to build a residential or commercial building, the first steps will involve getting permits, creating a blueprint, and hiring a contractor or homebuilder.
Although these steps may not be as exciting as seeing walls go up or getting a check deposited into your account, they are incredibly important for the overall success of your investment. Make sure you take the time to do each step properly and interview potential architects and contractors before making any agreements. Rushing the process makes you more likely to hire a bad contractor, which can waste months of time and thousands of dollars down the line.
Pros & Cons of Buying Land
Land is often overlooked and misunderstood as a potential real estate investment. There are many clear benefits to buying and owning vacant land, like its low-maintenance needs and inexpensive prices. However, there are also downsides to be aware of, like carrying costs and illiquidity.
PROS

CONS

Limited resource: Land isn't something that can be produced—there is a fixed supply. This alone causes it to appreciate in value over time.
Doesn't produce immediate income: Unless you immediately lease your land, it isn't going to naturally generate an income in a short period of time.
Inexpensive entry: For a new investor, purchasing vacant land can be an inexpensive way to break into real estate investing. In fact, there are many places in the country where building lots can be purchased for under $10,000.
Carrying costs: Even land that isn't generating any current income will continue to have property taxes. Depending on your financing method, you may also have a monthly mortgage payment.
Hands-off investment: Vacant land is maintenance-free, and therefore provides passive income. Without structures, appliances, or tenants, the only ongoing obligation is paying property taxes.
Illiquid asset: Land is not as easy to sell as a home, since there are fewer buyers. In a financial emergency, it can be a difficult asset to resell and increase value.
Bottom Line
Buying land can be an incredibly lucrative investment and an easy long-term investment for new or experienced investors. However, the success of your investment depends on your ability to do careful research and create an effective strategy to generate a return on your land investment.