How To Measure Customer Service Satisfaction + Examples
There are various ways to measure customer service satisfaction. For example, you can review surveys, ticket resolution rates, net promoter scores, and social media sentiments. To get an overall picture of your performance, you will need to measure your performance using more than one method. We will discuss more in-depth how to measure customer satisfaction using the top performance indicators. We'll also cover the top software tools for measuring these metrics and how they help businesses of all sizes.
Customer Satisfaction Score (CSAT)
Determining your customer satisfaction score (CSAT) is the simplest way to gauge your customers' sentiments after receiving support from your business. Getting your CSAT can be done through forms or surveys usually sent via email and are triggered upon the closure of a ticket or a case.
It provides a straightforward sentiment evaluation asking customers to rate the quality of support they received from very good to very bad. Customers are usually asked to leave comments to provide better context to their chosen response.
To manually calculate your customer satisfaction score, use the following formula: (total number of positive responses / total number of all responses) x 100.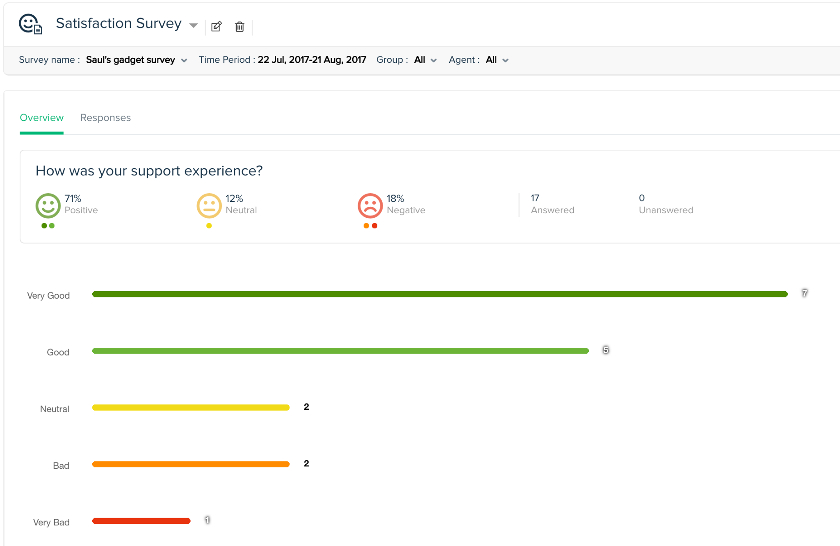 ---

---

---
Freshdesk has tools for surveys and forms users can easily create to share with their customers each time they resolve an issue. In the dashboard, the system shows real-time tracking of sentiments based on responses received. It also shows the number of responses recorded versus the number of recipients who received the survey.
Net Promoter Score (NPS)
NPS stands for Net Promoter Score and measures customers' likelihood of recommending your business or brand to their peers. It's typically used by businesses to evaluate their overall customer service quality to increase customer loyalty.
NPS surveys typically ask customers to rate their customer service experience with the company on a scale of 1–10, with one being the lowest and 10 being the highest. You can also tweak the question and directly ask how likely they are to recommend you to their family and friends. Users can then categorize the respondents into three segments: detractors, passive customers, and promoters.
To manually calculate your NPS score, simply subtract the percentage of detractors from the percentage of promoters and multiply it by 100.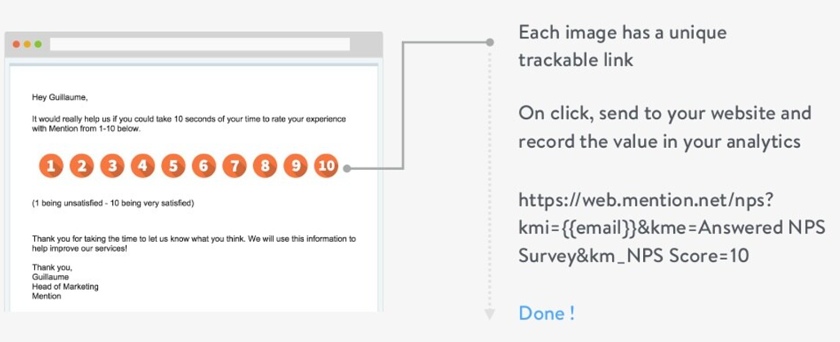 ---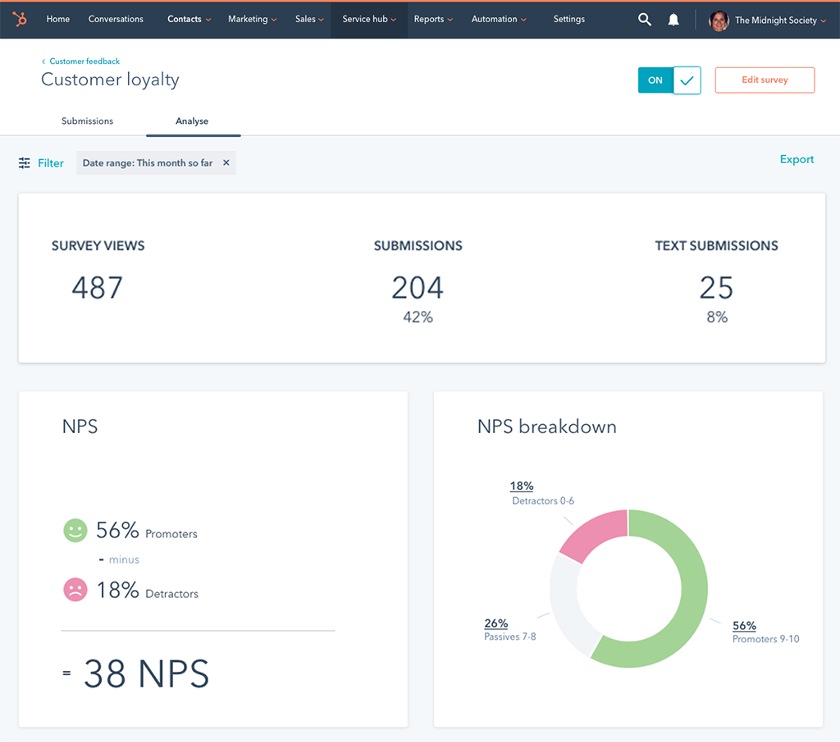 ---
HubSpot Service Hub includes an NPS tool that makes it easy for you to keep track of your customers' satisfaction level and likelihood to recommend—especially if you are using it together with the HubSpot CRM tool. Service Hub lets you easily create and share the survey with your distribution list, and the system will automatically calculate the score for you.
Support & Call Abandonment Rate
Support or call abandonment rate is a metric used to determine the number of customers who gave up trying to reach your customer service team before an agent even gets to entertain their call or query. There are a number of reasons for this—one of which is the customer finding out the answer to their questions on their own using information from your website. In some cases, they've simply gotten frustrated waiting for an agent to help them.
No matter what their reason is for leaving the support queue, having a low abandonment rate helps improve your overall customer service quality as your agents can talk to your customers directly and understand their concerns. A high support abandonment rate can cause concern because it can leave an unreliable impression among your customers. It may also mean you don't have enough agents to handle the volume of queries you receive.
To manually calculate your call abandonment rate, subtract the calls you've handled from your received calls. After that, divide the difference by the number of calls you've received and multiply it by 100.
LiveChat lets users process customer service requests through live agents chats or chatbots. For example, suppose a customer drops out of a queue while waiting to speak with an agent. In that case, the agent can always send a follow-up message to the customer as the chatbox requires customers to enter their contact information before being placed in the queue.
Social Media Sentiments
As the world becomes more social, customers often go to social media to recommend or speak negatively of their experience with businesses and brands. Monitoring customer feedback on social media helps you stay updated about what your customers are saying about you and measure their sentiments. It also alerts you of any issues that need attention so you can reach out to customers for a resolution.
To monitor social media mentions, especially if you have a large customer base, use a social listening tool so you can sweep the online space accurately. These tools usually have advanced analytics capabilities that can measure sentiments through keywords from your customers' social media posts.
Hootsuite is a social media management platform that allows users to respond to customer mentions of their brands, as well as evaluate and measure their customers' post sentiments. This will enable businesses to gauge if their customers are posting positively or negatively about their brand, which can affect your customers' overall brand perception.
In addition, Hootsuite alerts users of issues they need to address and come up with an appropriate response or customer service strategy. While it is not customer service software, it is a social media management tool that can be integrated with service CRMs or customer service tools.
Resolution Rate & Duration To Solve Cases
The goal for every ticket created in your customer service tool is to be resolved properly and promptly. Not being able to resolve a case doesn't give a good impression to the customer, and not being able to act on it quickly also causes frustration.
One of the areas to look into when measuring the quality of your customer service activities is the total amount of resolutions and the average time to resolve a case. The goal is to increase the percentage of your resolution rate and decrease the average duration of your resolution time.
To manually calculate the percentage of total resolutions, divide the number of tickets created by the number of resolved tickets. Meanwhile, to get the percentage of average duration to settle a case, use a time tracking tool (usually included in customer service software) and get the average duration over a specific time.
Zoho Desk provides customer service performance reports that show different aspects of your support activities, including several currently active tickets and communication channels used to raise an issue. Users can see their overall average ticket reply time in its dashboard, including the first response time and total time to resolve issues.
Customer Churn & Retention Rate
An excellent indication of a customer's satisfaction and loyalty to your business is their willingness to keep purchasing your offerings. Therefore, it is important to learn why your customers are sticking with you or leaving you for your competitors. While customer churn and retention can be calculated manually, using AI tools for customer service is helpful because it can zoom in on the factors that affect your retention or churn rate.
Customer retention rate reflects the number of customers that you keep while churn rate reflects the number of customers that you lose.
Salesforce Service Cloud predicts customer churn rate through its artificial intelligence (AI) tool, Einstein. Its churn prediction functionality gets insights from customer data to predict customers' willingness to continue buying products from a business. These factors include case history, resolution information, product purchase history, and customer communication. By taking cues from these data, the system can predict churn rate and highlight issues affecting it.
Why It Is Essential To Measure Customer Service Satisfaction
Business owners and executives know that providing excellent customer service positively affects your business. Below, we share tangible benefits your organization will enjoy by consistently showing up for your customers and giving them the support they need:
Increase in Customer Loyalty
Making customers feel valued increases their affinity for your business and brand. In fact, 89% of consumers are most likely to make another purchase from a business, and 83% are willing to give a recommendation to their peers after having a positive customer service experience.
This means you're not only strengthening your relationship with repeat customers—you're also gaining brand ambassadors who will bring in more customers via referrals. While it is always important to expand your customer base and gain new ones, remember it is easier to retain good customers by providing excellent service.
Identify Areas for Improvement
Getting feedback about your customer service performance is one of the most effective ways to spot areas you need to work on. While it is important to get positive feedback from your customers, striving for constant improvement will also do wonders for your business. Hence, when you receive negative feedback from a customer, don't be discouraged—instead, take it as constructive criticism and use it as a learning opportunity to improve.
Improve relationships that need nurturing
50% of customers are likely to switch companies due to poor customer service. Therefore, this is where receiving negative customer feedback comes in handy. While getting unsatisfactory feedback is not ideal, it is the easiest way to spot your most unhappy customers.
When you receive negative feedback, make an effort to reach out to your customers and learn about their concerns. This not only gives you a chance to dive deep into issues but also shows your customers that you are willing to fix the situation. When you know who these customers are, you can explore ways to reengage them, such as providing discounts, rebates, or special offers.
Bottom Line
Knowing your customers' sentiment toward the quality of customer service you provide is essential in running a well-oiled business because one of your most important assets is your customer. While customer satisfaction surveys are straightforward, remember that it is not the only way to measure customer satisfaction—you can also explore other areas such as likelihood to recommend, customer churn and retention rate, and social media sentiments.