Venture capital is a form of equity investment that involves newer, high-growth companies raising money from private individuals and firms. In exchange for their investment, venture capital investors receive a partial ownership stake in your company, some control over the company, and significant returns if the company is successful.
What Is Venture Capital Funding?
Venture capital is a form of equity financing provided to small businesses and startup companies that have the potential for high growth in exchange for an equity stake in the business. Because these small and startup businesses are seen as high-risk investments, investors seek high returns for startup funding.
How Venture Capital Funding Works
Small and startup businesses seeking funding connect with venture capitalists and present their business to potential investors. If investors are interested, the two parties negotiate the terms for the funding until they come to an agreement. The investors then provide funding to the business and, in exchange, become partial owners.
As the business grows, the investor's ownership interest in the business becomes more valuable. When the business is later sold or goes through an initial public offering (IPO), the investor can cash out their ownership interest and realize a profit from their investment.

Who Venture Capital Is Right For
Not all businesses are well suited for venture capital funding. In general, venture capitalists are only interested in high-growth businesses and businesses with innovative products or concepts that can scale quickly. Additionally, business owners have to be willing to sacrifice some amount of ownership control in exchange for funding.
Some businesses that are best suited for venture capital funding include:
Business owners willing to give up some control: Raising venture capital means being answerable to other people. You will need to have a plan that makes sense to your new partners and report frequently to investors.
High-growth businesses: Venture capitalists want to see the potential for high growth in the businesses they are investing in, as their return is based on the business's success.
Businesses with an innovative product or concept: Investors are looking for the opportunity to invest in the next big thing, if you can convince them your business is destined for greatness, you will have a better chance of securing funding.
How to Raise Venture Capital
If you have decided that venture capital funding is a good fit for your small business, there are seven steps to obtaining funding. You'll need to determine the value of your business and the amount of funding you need and prepare materials to present to investors. Once you have the details of your presentation worked out, you will need to locate potential investors and present your pitch.
When you have interested venture capitalists, you will start negotiating the term sheets for the funding. The venture capital investors will then go through a thorough due diligence process to further evaluate your business. If your business passes the due diligence process, you will close on the deal and receive the funding.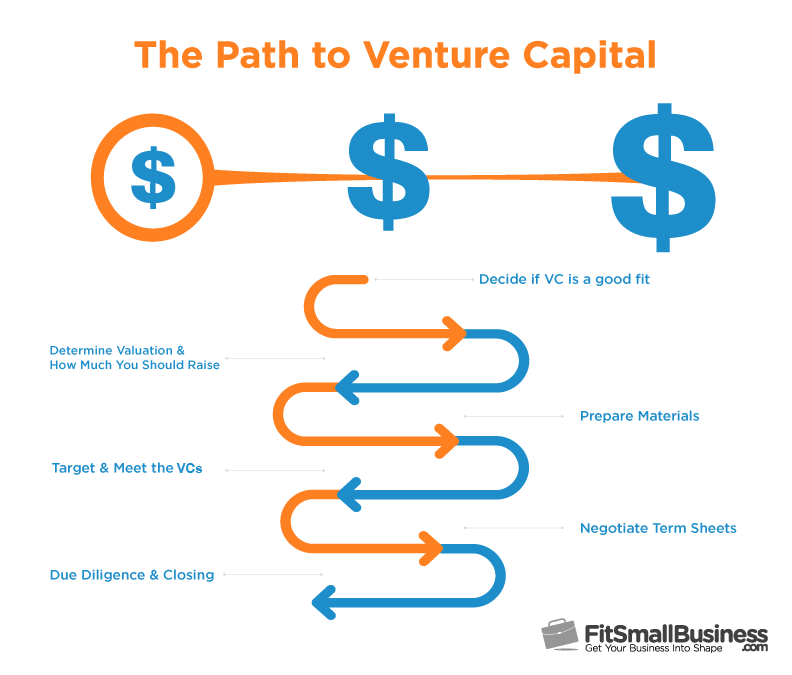 1. Determine the Valuation of Your Business
Your business valuation and the size of your venture round are interlinked. Venture capitalists tend to prefer to take a set percentage of a company, usually 20%, in exchange for funding. Therefore, the higher your valuation, the more money you will be able to raise. However, the valuation of your business is largely out of your control when it comes to raising venture funding.
Even if you use a professional appraiser to determine the value of your business or use statistical models to value your business, these valuations may become irrelevant once you begin negotiating with venture capitalists. That being said, you can do some research and use financial models to calculate your business valuation.
The precise manner of determining what a business is worth varies by business and by industry. In general, consideration is given to the age of the company, how fast it's growing, leadership, revenues and cash flow, patents, and user/customer base.
A business valuation is generally based on the following factors:
Age of the company
How fast the company is growing
Strength of the CEO
Revenues and cash flow
Patents
Number of users/customers
If you're already an established business with sales and revenue, estimating a valuation is possible using traditional methods. These methods include the net asset valuation, profit multiples, and valuation based on discounted cash flows.
The three most common methods of determining business valuation are:
Net asset valuation: This method involves adding up the value of all of the assets on your balance sheet and subtracting any long-term debt. This is usually not a great method for venture capital since investors are more interested in the future cash flows of your business.
Profit multiples: Assuming your company is profitable, you could use a multiple of your annual profit. The usual metric is EBITDA (earnings before interest, depreciation, and amortization). However, the multiple is largely affected by the future growth of EBITDA, which can be highly speculative.
Discounted cash flow: Discounted cash uses your projections for future cash flow and discounts them using interest rates to come up with a value. This method can be difficult due to the highly speculative nature of forecasted cash flows.
For most venture deals, traditional valuation methods aren't effective. Every business is different, making it nearly impossible to come up with a general formula for valuation. The real value of your company is whatever the market will pay for it. Valuation is often a combination of how much a company needs, how much equity in your company you are willing to give up, and how much the venture capitalists are willing to pay for that equity stake.
2. Determine How Much Funding You Need
Instead of predetermining how much you should raise, it's better to have a series of plans, depending on how much you end up raising. Start with a minimum investment amount that will change the risk profile of your company significantly. This could be an annual revenue number or a new version of your product. Then have contingency plans if you can't raise the minimum amount or if you raise more than the minimum.
The amount of money you should try to raise is determined by several factors including:
How much capital you can put to good use
The current stage of your business
Valuation and dilution preference (dilution is how much ownership in your business you will give up to new investors)
The less you raise, the less you need to give up. For instance, if you want to raise $2 million but don't want to sell more than 20% of your company, you'll need a valuation of $10 million or more. For initial rounds of venture capital, it's not uncommon for venture capitalists to want to purchase at least 20% of your company.
3. Gather Necessary Documents
Every business is a little bit different in terms of what it will need to prepare for a venture capital round. In general, most companies will need to prepare a business plan, pitch deck, and product demonstration. Additionally, you may be asked to provide detailed product documentation and references to your potential investors.
Business Plan
A well-developed business plan can be a great asset to your business, whether you are seeking venture capital or another source of financing. Most funders will request a copy of your business plan. There are software tools available, such as those offered by LivePlan, that simplify and speed up the process of writing a business plan.
When seeking venture capital funding, a well-executed executive summary is important because venture capitalists see hundreds of plans regularly, so they will most likely not read your whole plan. They will likely skim the summary and see if it warrants further reading. Your summary should be concise but compelling. You don't have to stick to a fully written out format. If charts or tables convey information more precisely, then use those.
Pitch Deck
Your pitch deck is often the first introduction potential investors will get to your business and should be tailored to the specific investors to which you are presenting. Having a well put together and professional-looking pitch deck can be crucial to securing venture capital funding. The average pitch deck is roughly 19 pages and slides and covers numerous details about your business proposal, including the problem your product is solving, the competitive market, and the financial needs of the project.
Your pitch deck for venture capital funding should address the following:
What problem your product or service is solving: By explaining the problem, you will set the stage for how your business is aimed at filling a gap in the market. The problem should address a common pain point that is relatable to the investors.
How your product or service is the solution: Explain how your product solves the problem, why the timing is right, and give examples of how your business as a solution to the problem is scalable.
What the market looks like: Define your audience and show investors the market potential that your product/service has. Include information on the current market and the potential growth of the market.
What your product is: Share data highlighting the key components that make your product unique and answer the problem. Include quotes or testimonials from those that have tried your product to help prove its value.
How your product or service is performing and traction for further growth: If your product is currently on the market, you must show investors how it's performing in a month-to-month breakdown. For products that are still in development, you will want to show a projected growth trend for your business.
Who is on your team: One of the most important slides in your pitch deck is the one that tells investors who you are. List members of your team, what their educational and experience background is, and what they bring to the team. Investors want to know who the people are they are backing.
Your competition: You'll need to identify who your competitors are in the market, and what sets you apart from them. You want to show investors what makes your company unique to those already in existence.
Projected financials: Ideally, you will present three years' worth of financial projections. Try to remain realistic yet conservative in your projections. You don't want to over-promise and under-deliver financials.
Amount of funds needed: When presenting the amount of funding you are requesting state the amount as a range rather than a fixed amount. Many investment groups have a limit to the amount they will provide to one investment opportunity. If your stated amount is higher than what they can offer, it may rule your business out as an investment.
Product Demonstration
To get venture capital investors to understand your product, there's no substitute for showing them. A prototype is acceptable, but an actual working product is much better. When demonstrating your product, it's important to exhibit how it solves a problem for your customers. This will set up the 10x value proposition–how you are 10 times better than any competing solution out there.
Detailed Product Documentation
Serious venture capitalist interest requires considerable analysis of your product or service. Documentation should include the manufacturing, distribution, customer service, and product support processes. When documenting your solution, focus on key risk areas. Anything that is new or novel is going to get scrutiny. Also, anything that customers will seriously care about, such as security or reliability or quality, should get special attention in your product documentation.
References
When evaluating your business for potential funding, venture capitalists will ask you to provide references. These references will include personal references for the senior management team, as well as customer or prospect references. Keep in mind that you may be speaking to dozens of firms that will want to speak to your references. To avoid burdening your customer references, you should have enough available that you're not sending all the prospective venture capitalists to the same people.
4. Target Venture Capital Investors
Once you have all the pertinent information about your business assembled, it's time to begin searching out potential investors. You'll begin by making a list of potential investors and prioritizing the list. Having identified those you feel are most likely to invest in your business, you can begin making the necessary connections to enable you to present your pitch.
Make a List of Potential Venture Capitalists
To pitch your business to potential venture capital investors, you will need to know who they are. Most venture capital firms invest in a specific business segment. These segments are often defined by the current business stage, the type of business or industry, or the geographic location of the business.
Investment Stage
Venture capital investors tend to segment themselves into various investment stages: early stage, middle, and late stage. Each round of financing that involves professional investors is referred to as a "series." Series A is usually the initial round, Series B is for larger raises to scale and grow, and so on. The actual letter is just an industry norm of distinguishing one round of fundraising from the next. Venture capital investors will often define themselves by which series or stage they tend to participate in.
Location
While it might seem not important, location does matter. Venture capital investors often want to be able to connect in-person frequently. Your chances of raising money are much higher with investors that are close to you.
Industry
Venture capital investors tend to gather industry expertise as they invest. Sometimes, they have raised a fund to address specific market opportunities. Visit each potential investor's website to see which ones cover or focus on your particular industry. The better the match, the higher your chances are of being funded.
Prioritize the List
After identifying a list of nearby investors with the right stage and industry focus, you should prioritize the ones that appear to fit your business best. In all likelihood, you will eventually reach out to everyone on the list but, initially, you should begin with the ones most likely to invest in your company.
Network Your Way Into Meetings
Starting at the top of your prioritized target investor list, you need to network your way to them. Cold emailing or calling venture capitalists is not an effective strategy or a good use of your time. Very few venture capitalists will source a deal that way. Many see it as a red flag if a CEO can't network their way to them.
Some ways to network your way into meeting venture capital investors include:
Introductions: The most preferred way to get to a venture capitalist is mutual introduction. Scour your network―personal and professional. Get on LinkedIn and see how they are connected to you through the people you know. Your goal is to get a warm introduction with the fewest degrees of separation as possible.
Competitions or accelerators: Another way to get in front of venture capitalists is through competitions or accelerators. These vary by industry and could be university-related, incubator-related, or completely independent.
Public relations: Whether it be through a high-profile article about your business or a successful Kickstarter campaign, good public relations is another means to get your business in front of the eyes of potential investors.
5. Negotiate Term Sheets
Term sheets are preliminary legal agreements wherein the major terms of a venture capital investment are agreed to before signing an actual share purchase or equity agreement. There are two sets of terms that are generally negotiated as part of the term sheet, economic issues, and company control issues.
Economic Issues
The typical economic issues negotiated as part of the term sheet include:
Pre-money valuation: The pre-money valuation is the value of the company before investment funds have been added.
Post-money valuation: This is the pre-money valuation of the company plus new investment.

Investment type: The investment will most likely be in the form of convertible preferred stock. The preferred part means that preferred shareholders are first in line to be paid before common stockholders, including you. The convertible part means that at some predetermined time or event, the preferred stock converts into common stock automatically.
Stock option pool: A stock option is a right given to the holder to buy shares in a company at a predetermined price. When the value of the company goes above the option purchase price, the holder makes money. Venture investors like motivated employees, so they usually will require an option pool to be held aside to give to current employees and attract future employees.

Control Issues
The major aspects of company control that are negotiated as part of the term sheet are:
Liquidation preference: This allows investors to receive a certain amount of money back, before common stockholders, in the event the business is sold.
Antidilution protection: This protects investors if you raise additional money later at a lower valuation. This protects the investors from having the value of their investment reduced.
Board seats: Venture investors will require a seat on your board of directors. Two factors get negotiated: the number of board seats and how big the board is. The higher percentage of seats the investors have, the more control they will have for major issues that require board approval like future financing terms or the sale of the company.
Protection provisions: Investors will want protective rights to control specific business activities. Examples of these rights include such aspects as the sale of the company, issuing new shares, large purchases, option grants, and so on.
Expenses: Businesses are often expected to pay back the costs incurred by the venture capital firm to execute the deal. These can include legal, consultant, travel, and other expenses.
6. Proceed Through Due Diligence
Negotiating and agreeing to a term sheet triggers a lengthy process of investigation on the part of investors, called due diligence. It's best to get prepared for all of this before starting due diligence so that it goes as quickly as possible. While actual due diligence questions will vary depending on the type of business you have, some questions are common.
In general, you should be prepared to answer questions regarding:
The market and competition
Your team and business culture
Your current and potential customers
Product development plans
Sales and marketing plans
Your finance and human resources (HR) systems
Any legal contracts your business has entered into
Tips to Streamline the Due Diligence Process
A few things you can do to help make the due diligence process goes as smoothly as possible include:
Create a virtual data room: It's a good idea to keep a data room or a file-sharing service, so investors can access and return to documents in an organized way.
Be proactive: Identify each of the people at the venture capital firm that you will be interacting with and what they'll need. Send the required information to them proactively. If any questions arise, err on the side of overcommunicating.
Maintain your own tracking system: Keep a checklist of what has been sent, to whom, and when. You should also keep track of when a process has been completed, so you can move the overall process forward as fast as possible.
7. Close the Deal
When all of the terms have been negotiated, and you have passed the due diligence process, it's time to close the deal. The closing will involve several legal documents prepared and reviewed by attorneys for both parties. Once the documents have been executed, you will receive funding from venture capital investors.
The following are common closing documents that you'll need to negotiate in detail and sign:
Investment agreement: Describes all material terms and conditions, including financials, forecasts, and other historical information.
Stock purchase agreement: This is the legal sale of shares to investors and details the purchase prices, closing date, shares to be issued, representation, and warranties.
Amendment to the bylaws: This creates a new class of stock and documents all of the shareholder rights negotiated in the term sheet.
Voting agreement: This agreement contains any rights of first refusal to buy new shares, stock transfer restrictions, and a requirement for common shareholders to elect venture capitalists to the board of directors.
Indemnification agreement: The company agrees to hold harmless the board, and investors should a third party sue the company.
Certificate of incorporation: All classes of stock must be detailed in the company's certificate of incorporation.
Legal opinion: This is a letter sent by the company's attorney to the investors validating the legal formation of the business, the business's power to conduct business, legal issuance of stock, and other relevant legal review options.
Employment and confidentiality agreements: Intended for senior management, this document defines obligations, compensation, grounds for termination, noncompetes, and so on.
Some of these documents may be combined or configured differently depending on the preferences of the attorneys involved. However, all of these elements will be covered in the closing documents that are executed.

Alternatives to Venture Capital Funding
Venture capital funding is often difficult to obtain and may not be the best financing choice for all businesses. If you aren't certain that venture capital funding is right for your business, you may want to consider other start-up financing options like Small Business Administration (SBA) loans, a small business line of credit, utilizing 401(k) savings towards your business, or other equity financing, such as angel investors or crowdfunding.
SBA Loans for Startups
SBA loans are a good choice for business funding for growth as they offer fixed monthly payments and longer repayment terms than other online business loans. SBA loans can be used for working capital, to purchase inventory and supplies, to finance fixtures and equipment, or to purchase real estate. As your business grows and scales, an SBA loan can provide a low-cost financing option.
Rollover for Business Startups
If you have retirement savings in a 401(k) or individual retirement account (IRA) that you are willing to invest in your business, a rollover for business startups (ROBS) allows you to use retirement funds to provide funding for your small business. A ROBS is not a business loan, so there's no debt to repay or interest payments to make. You can use a rollover for business startups without paying any early withdrawal penalties or taxes on the funds used from your retirement account.
Small Business Line of Credit
As an alternative to venture capital funding, a small business line of credit allows you to make advances against a pre-established credit limit. An advantage to this is you only pay interest on the amount advanced. This is a great alternative to venture capital if you're only looking to bridge a small short-term need and if you have good credit. Some of the best small business lines of credit can even provide you funding in as little as one to two days.
Angel Investors
While your business is still in the startup stage and seeking funding opportunities, you may want to consider seeking out one or more angel investors. Angel investors are individual investors who provide funding in exchange for an equity stake―partial ownership―in your business. Because angel investors are fronting their own personal money, they will want to be confident in your ability to succeed as a business owner as well as in the potential success of your business.
Crowdfunding
Many small business startups use crowdfunding as a source of financing for their business. With crowdfunding, many individuals contribute small amounts of money to fund your business collaboratively. This method of financing is facilitated through a crowdfunding site. Crowdfunding participants are often given something in return for their investment, whether it be equity, promise to repay, or some other reward.
Venture Capital Frequently Asked Questions (FAQs)
How long does it take to raise venture capital?
If you are fortunate enough to receive venture capital funding, you can expect it to take roughly six months from the time you pitch your business to the time you receive the funds. However, some businesses receive funding in as little as 90 days, and others may have to wait 12 months or more.
How do you attract venture capitalists?
Business competitions, incubators, and accelerators are all great ways to get your business in front of potential venture capital investors. Venture capitalists often seek out businesses to invest in from these platforms. To be a viable candidate for venture capital funding, your business will need to be innovative and have high-growth potential.
How do venture capitalists get paid?
Venture capitalists make money by investing in startup businesses. The investment is given to the company in exchange for an equity stake in the business. As the business grows and becomes more valuable, so does the investor's stake in the business. When that stake is later sold, the investor collects their return.
Bottom Line
Obtaining venture capital funding is not a simple process, but it can be a cost-effective way to get your startup business funded. Preparing your pitch properly, locating an investor whose interest matches your business, negotiating the terms, and closing the deal can provide your business with the funding it needs to reach its full potential.