It's been said that entrepreneurs are the ones who really change the world. Goods and services like instant coffee or instant communication were once non-existent but thanks to daring entrepreneurs we now have the luxury to take these products for granted. Without entrepreneurs, innovation would wither along with productivity and growth.
If you're looking to change the world, start with these 15 insightful entrepreneurship statistics that you should know.
1. Which country offers the best environment to cultivate entrepreneurs?
The United States provides the best environment for cultivating entrepreneurship, ranking 1st out of 138 countries using the Global Entrepreneurship and Development Index. (Source: GEDI 2017)
2. What percent of the country's population works on their business as their primary job?
6.02 percent of the US adult population owns a business as their main job. (Source: Kauffman Foundation 2016)
3. Are we seeing more businesses being born now than three decades ago?
452,835 companies were founded in 2014. While the number is impressive, it is significantly lower than the 500,000 – 600,000 new US startups every year from the late 1970s to the early 2000s. Therefore, we are seeing less businesses being born now than 30 years ago. (Source: CNN 2016)
4. Does that mean that business failure rates are climbing?
Actually no, because business failure rates are in a long-term decline. The rate at which American entrepreneurs closed shops has fallen by 30% since 1977. (Source: Entrepreneur 2016)
5. What are the reasons why businesses fail?
46% of businesses fail due to incompetence, 30% due to lack of managerial experience, 11% due to lack of experience, and the rest were attributed to fraud, natural disasters and neglect. (Source: Indiana Small Business Development Center)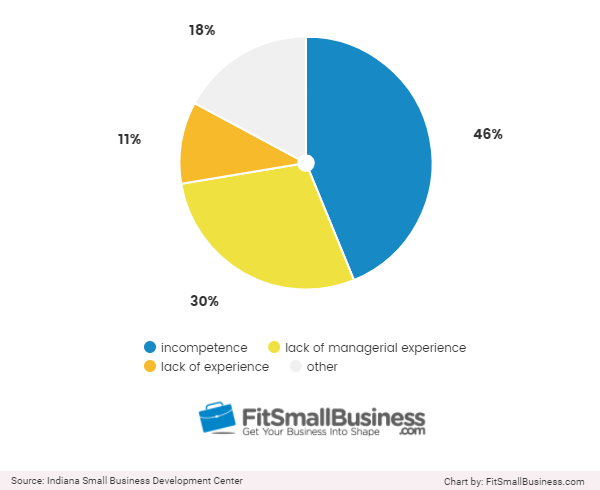 6. What are the chances that a first-time entrepreneur will succeed? What about if an entrepreneur had previous experience?
Entrepreneurs who succeeded in a prior venture, such as a company that went public, have a 30% chance of success in their next venture. On the other hand, first-time business owners have only an 18% chance of succeeding. Entrepreneurs who previously failed have a 20% chance of success. (Source: SSRN)
7. How do entrepreneurs fund their business?
80% of entrepreneurs used their own money to fund their business. The remaining 20% received money from family, bank, or investors. (Source: BusinessDailyNews)
8. How much money do entrepreneurs ask for to fund their business and how much money do they actually get?
Across all financing sources such as credit cards, friends and family, alternative lenders, and angel and venture investment—businesses, entrepreneurs applied for a median of $100,000 and walked away with a median of $40,500. (Source: Babson College 2016)
9. What percent of entrepreneurs founded their own business?
83.1% founded their own business, 11.3% purchased, 2.8% inherited, and 4.4% transfer of ownership or gift. (Source: United States Census Bureau 2016)
10. What percent of entrepreneurs hold at least a bachelor's degree?
39.2% of business owners have a bachelor's degree or higher. (Source: SBA.gov)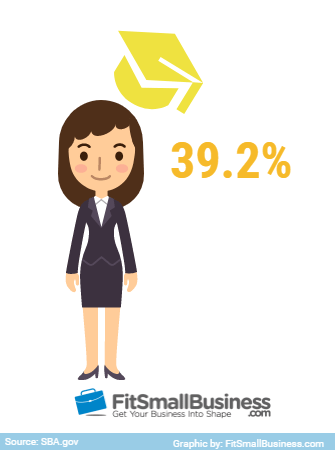 11. What percent of companies started out of a garage or a basement?
51.6 percent of businesses were operated primarily from someone's home (Source: SBE Council)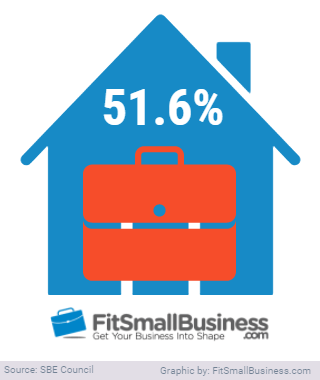 12. How much do entrepreneurs work per week?
A survey of hundreds of entrepreneurs revealed:
19% work 60+ hours per week
30% work 50-59 hours per week
33% work 40-49 hours per week
14% work 30-39 hours per week
5% work less than 30 hours per week
(Source: The Alternative Board)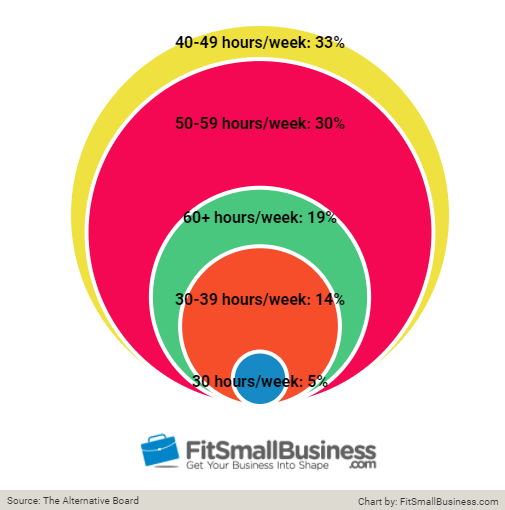 13. Which aspects of entrepreneurship education are vital in preparing entrepreneurs to start their own business?
Entrepreneurs surveyed in the Global Entrepreneurship Monitor were given the freedom to select multiple choices:
42% responded with basic business skills like marketing or computer applications.
37% responded with leadership and management skills and rhetorical abilities
37% responded with entrepreneurship in practice such as business plans or business simulations
31% responded with innovation like finding creative approaches to problems
32% responded with entrepreneurial role models
24% responded with learning from the analysis of entrepreneur success stories.
(Source: Global Entrepreneurship Monitor 2016)
14. Do entrepreneurs believe they have a duty to perform social good?
64% of entrepreneurs surveyed by HSBC believe it is their duty to have a positive social and economic impact on society and 74% gave to good causes in the preceding year. Moreover, one-third of business owners contribute to society by taking an unpaid role in the community or donating time or expertise to social causes. (Source: HSBC 2016)
15. What percent of US billionaires are self-made?
Out 585 US billionaires, 62% are self-made. (Source: Wealth-X 2016)
In Conclusion
Entrepreneurs are the ones changing the world, one solution and one innovation at a time. What do you think about these 15 entrepreneurship statistics? Let us know in the comment section below.