How to Set Up Square Appointments in 6 Easy Steps
Square Appointments is an appointment scheduling platform that has integrated point-of-sale (POS) and payment processing solutions. With Square Appointments, you can manage your business calendar, track customer information, view sales reports, create invoices, and more. Every Square Appointments account includes Square Online, where merchants can create an ecommerce store and manage online bookings for free.
To get you up and running quickly in Square Appointments, we created a six-step setup guide for new users.
Step 1: Sign Up for Square and Log in to Your Account
To get started with Square Appointments, sign up for your free account. You'll be prompted to enter your business name, phone number, and local time zone. Once you've completed that, click "Get Started" to go to your Dashboard, which is like your business control center for Square Appointments. Visit Square to create your free account and follow along the rest of the steps.
Once you've created your account, or if you already have a Square Appointments account, log in to your dashboard. New Square account holders will be prompted through the rest of the setup process including adding staff, creating services, making a test appointment, and setting up your online booking site. If you already have a Square account, you'll find each of these settings in the left-hand menu.
Step 2: Add Staff
Once you've created or logged in to your account, your next step depends on your business profile.
If you require just one seat for yourself, you can skip adding staff and head to the next step. If you have any team members, each individual will need a profile to use the appointments tool.
While Square Appointments is free for individuals, adding staff to your account requires a paid subscription. Square charges based on the number of staff, and subscription fees start at $50 per month for two to five  members.
To add a profile, click on the "Staff" tab from your Appointments Dashboard and then click "Add Employee" in the top right corner. Here, you can add contact information, set booking availability, and assign offered services. You can also manage employee notifications and designate employee access permissions.
Step 3: Create Your Services
Now you need to add services for customers to book. You can create your bookable services from your Appointments Dashboard. Click the "Services" tab on the left-hand side of your screen and then click "Create Service."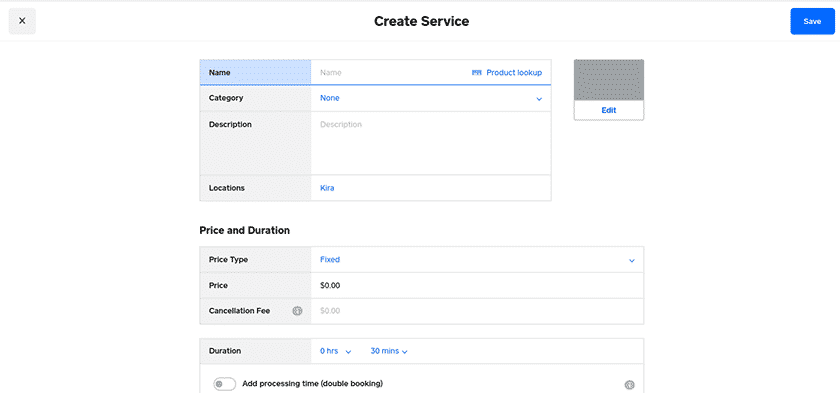 ---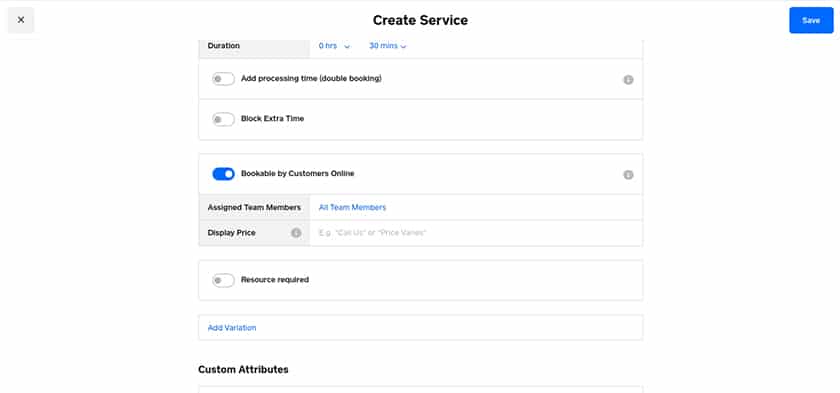 ---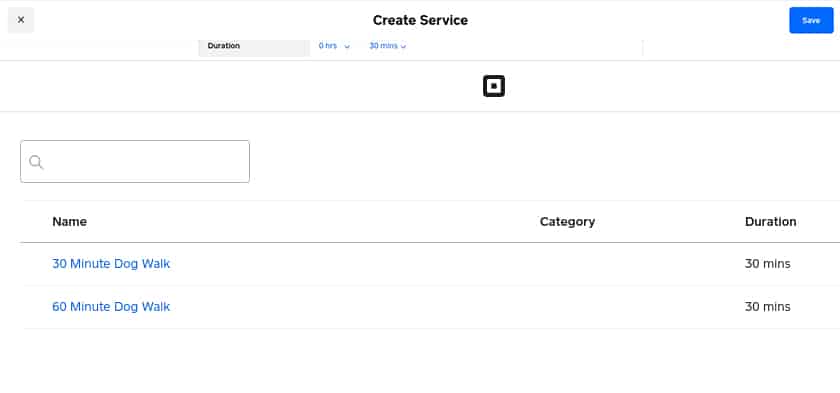 ---
Step 4: Create a Test Appointment
After you've added all your services, you'll want to test the system out before rolling it out to your customers. You can add appointments by clicking the "Calendar" tab from your Appointments Dashboard. From your Calendar, click "Create Appointment" at the top right corner of your screen.
When you create an appointment for the first time, Square will prompt you to create a test appointment with yourself.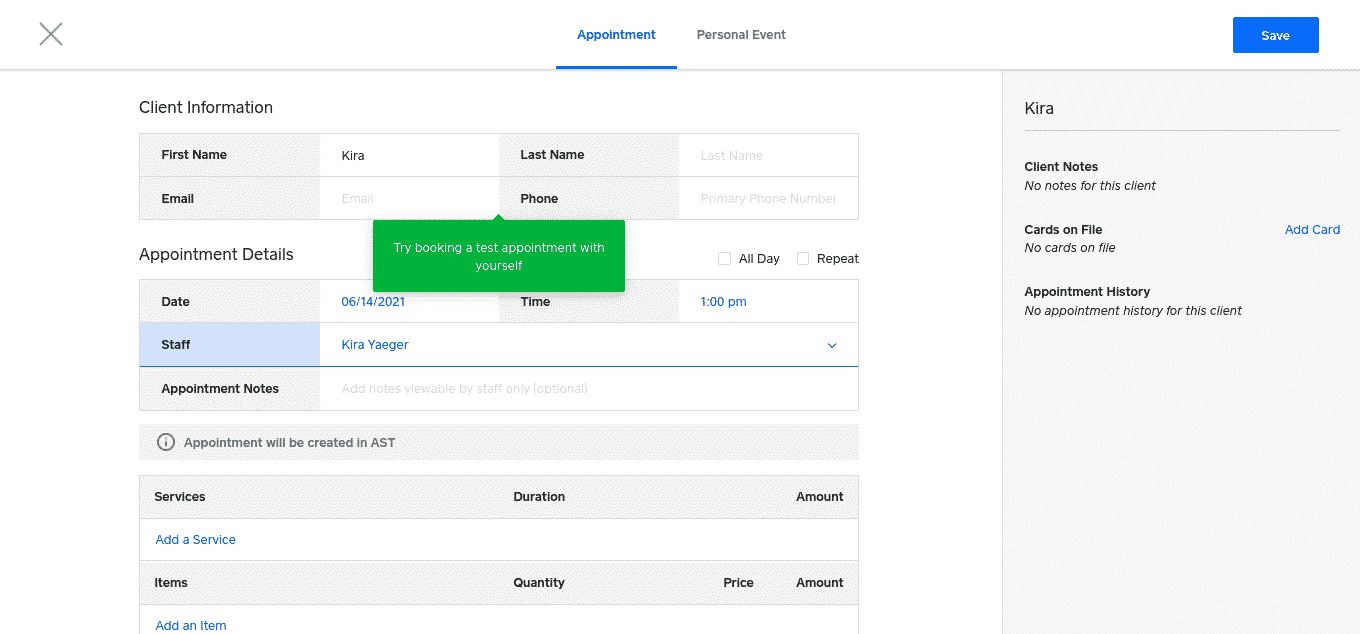 ---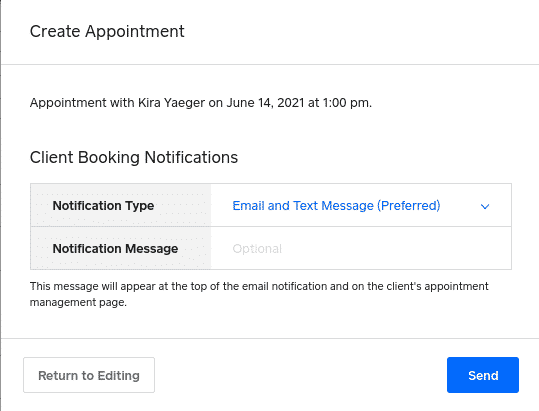 ---
Step 5: Set Up Online Booking
Now you can decide how you want to allow customers to book online services. Square Appointments accommodates different online booking methods for customers. These bookings are automatically synced, so your calendar is always up-to-date. You can choose from the following options:
Set up a custom online booking website with Square Online at no extra cost
Embed your appointment calendar to your existing website
Add a Square booking widget or a booking button on your existing website
Add a Square booking button to social media platforms like Instagram, Facebook, and Google
To create an online booking site from your Square Appointments dashboard, click the "Online Booking" tab on the left and then click "Channels." On this page, toggle over to "Enable online booking" where you'll see your booking channel options.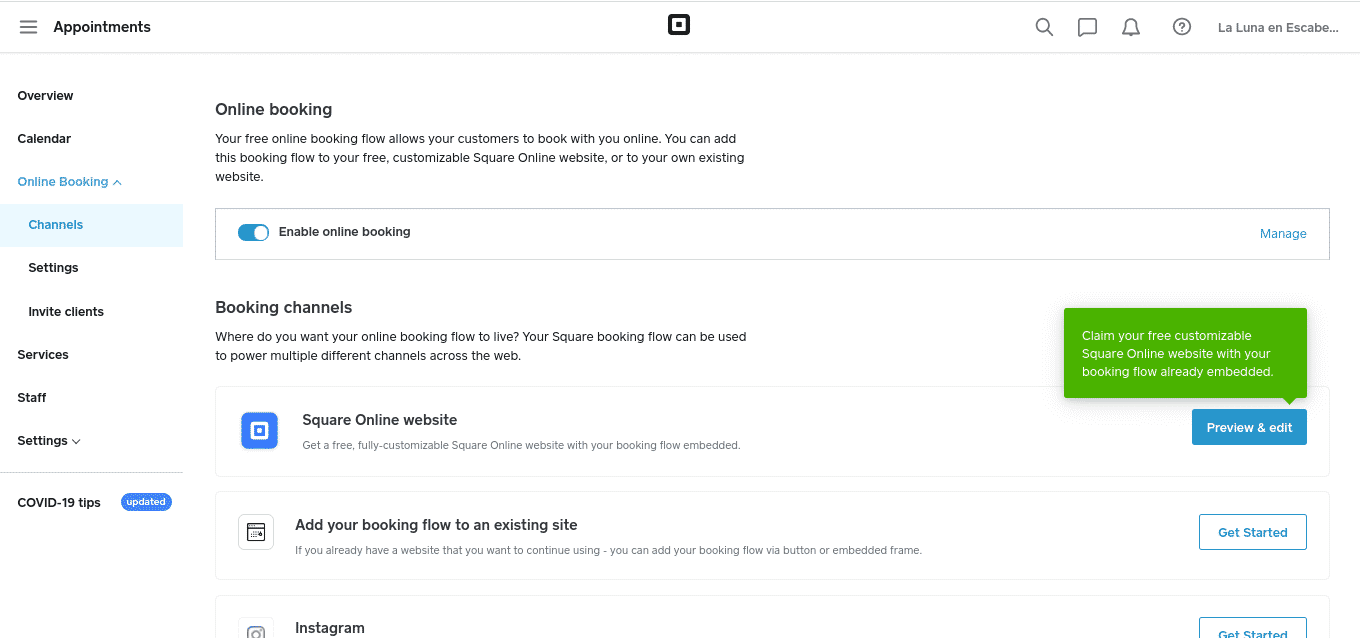 ---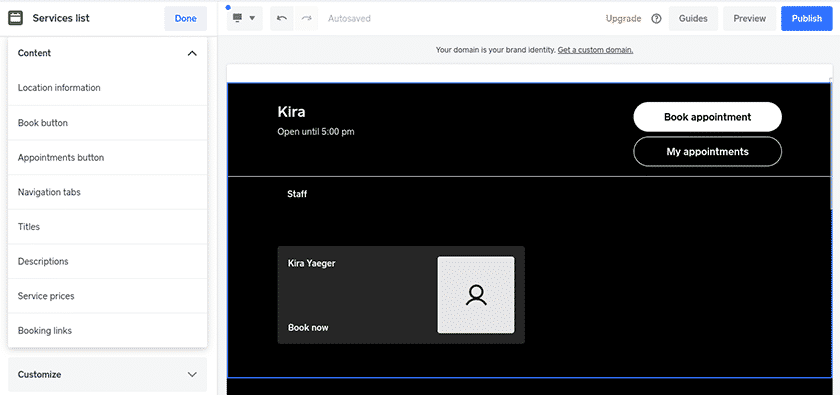 ---
Once you've created your new booking website, click "Publish" to share it with clients through email or social media.
Square also includes a free subdomain with your site—you can connect it to an existing domain or find a custom one, but these require paid plans. For more information on how to create a new booking website, see our guide on how to create a free online store with Square Online.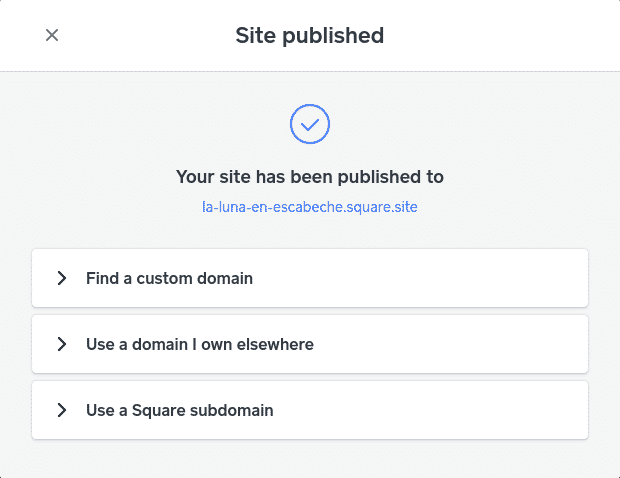 If you prefer to add Square booking to your existing site, follow the same steps above from your appointments dashboard to get to the "Channels" section. Here, you'll click "Get Started" next to "Add your booking flow to an existing site." You have the option to get your Square URL to add to your website, add a booking button, or embed the booking flow directly into your site.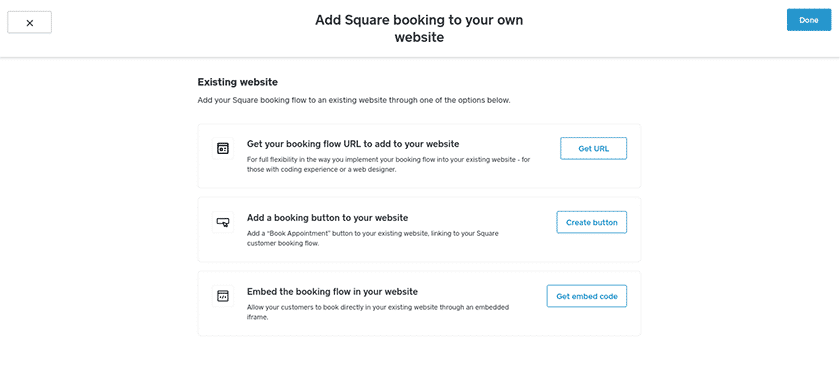 ---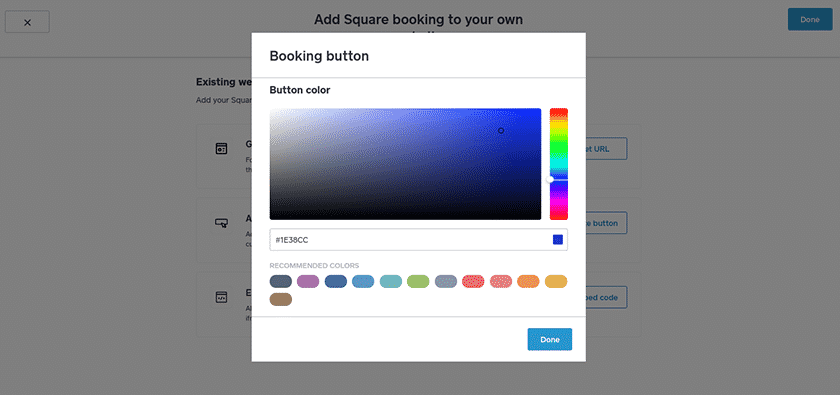 ---
Adding your booking flow to an existing website involves handling a block of code, so it's advisable to have some coding skills when trying this option out. Head over to Square's Website Embed Guide for more information.
Step 6: Invite Customers to Book Online
Once you've selected your booking channels, it's time to let your customers know they can book with you—and tell them how. You can create a customized marketing email campaign by selecting "Invite Clients" from the dropdown menu under "Online Booking."
Once you've set up your profile, you can use a range of automation features to streamline processes, like booking and payment, for both you and your customers. You can also update services and calendars with only a few clicks, which saves time and makes it easier to adjust for changes like seasonal employees. Read our Square Appointments review for more information on these features.
Bottom Line
Square Appointments is one of the most versatile appointment scheduling software products on the market—and this guide helps you get up and running in no time. The platform offers a wide range of customizable business management tools that you can access all in one place from your Appointments Dashboard.
Ready to try Square Appointments? It has a fast signup process, is free, and doesn't require any commitment or credit card—you can cancel anytime.