How to Set Up Square Appointments in 8 Easy Steps
Square Appointments is an appointment scheduling platform with integrated point-of-sale (POS) and payment processing solutions. Not only that, but every Square Appointments account includes Square Online, where merchants can create an ecommerce store and booking site that will integrate seamlessly with your Square Appointments calendar and POS system.
With Square Appointments, you can manage your business calendar, track customer information, view sales reports, and create invoices—all from the same customizable dashboard.
Learn how to use Square Appointments and get your account running with this eight-step setup guide.
Step 1: Sign Up for Square & Log in to Your Account
To get started with Square Appointments, sign up for your free account. You'll be prompted to enter your business name, phone number, and local time zone. Once you've completed that, click "Get Started" to go to your Dashboard, which is like your business control center for Square Appointments.
Once you are on your dashboard, Square will prompt you through the rest of the setup process. If you already have a Square account or have exited the prompted setup process, you can access all of these settings on the Settings page, listed on the left-hand menu. Settings include:
Adding and managing staff
Creating services
Setting up your calendar
Creating your online booking site
Adding booking settings/restraints
Adding payment and cancellation settings
Setting up booking reminders/customer communications
If you have additional questions or concerns, you can always check out Square's Seller Community, where Square users can pose questions and get insights from Square's experts. This is also where you can request services not yet offered by Square for developers to view.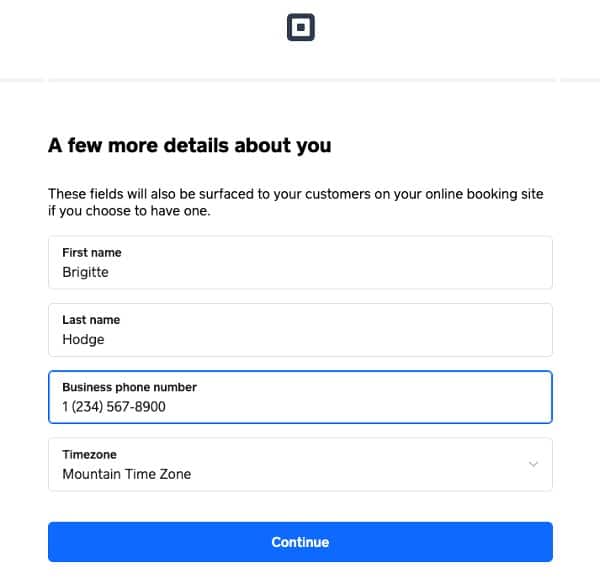 ---

---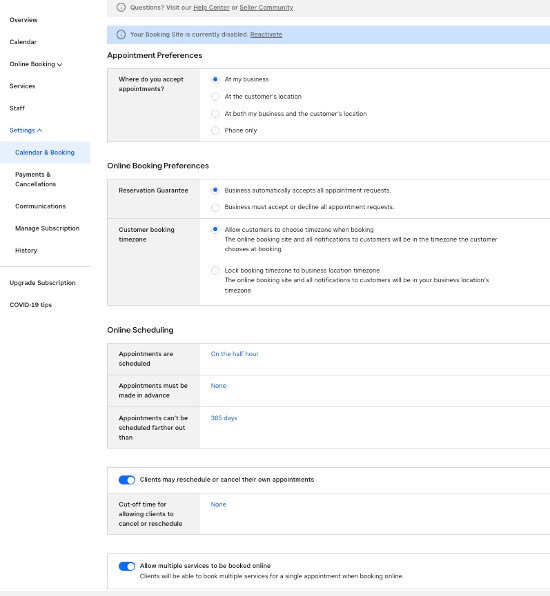 ---
Choosing a Square Appointments Plan
During the setup process, you will be prompted to choose a Square Appointments subscription plan. You can choose from three different plans: Free, Plus ($29/month), and Premium ($69/month). Every plan comes with the base features needed to run a single location—booking tools, an online store, staff management, a corresponding scheduling app, payment processing, and reminders.
Both of Square Appointments' advanced plans include multilocation tracking, advanced staff management tools through Square's Team Plus, and additional customer communication tools and resource management.
While you can't go wrong with the free plan, if you operate a business with multiple locations, large staff, or appointments that include resources, you will want to upgrade to one of Square's paid options.
Step 2: Add Staff
Once you've created or logged in to your account, the next thing you will want to do is add your staff.
If you are a single-person operation, you can skip this step—your seat is automatically created when you create your Square Appointments account. However, if you have team members, you will need to create a unique staff profile for each. This will allow them to use Square's appointment tools and will let you restrict their permissions and access options.
To add a profile, simply click on the "Staff" option on the left-hand menu of your Appointments Dashboard, and then click "Add Employee" in the top right corner. Here, you can add contact information, set booking availability, assign offered services, manage employee notifications, and designate employee access permissions.
Step 3: Create Your Services
With your staff input into your system, you now need to add services for customers to book. You can create your bookable services from your Appointments Dashboard by selecting the "Services" tab on the left-hand side of your screen and then clicking "Create Service."
Here, you can assign service information, like price, duration, eligible staff members, the location where the service is offered, and online bookability. Once you have filled out the service form, simply click Save, and your new service will be added to your library.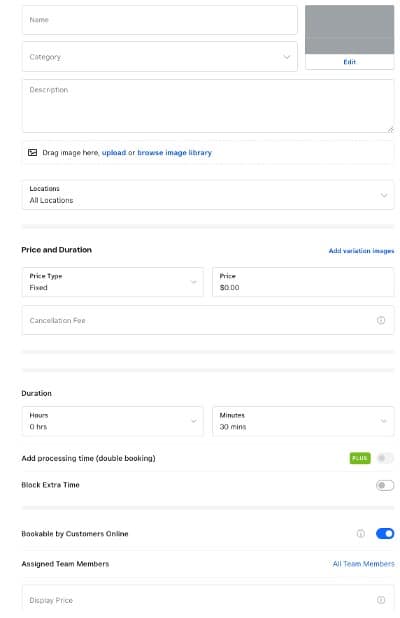 ---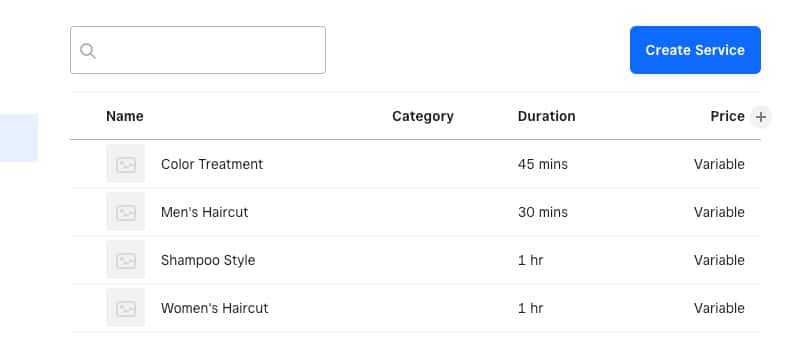 ---
Square also added a new feature that lets you add images and GIFs to your appointment page so customers can get a better idea of what they are booking before they make an appointment.
Step 4: Sync Your Calendar & Booking Settings
With your services and staff ready to go, there are only a few more items to set up before you can open your calendar up for bookings. First, you will want to set your booking settings. Essentially, your calendar and booking settings restrict when customers can book an appointment, where appointments will take place, and how your calendar will appear online.
To start, scroll over to the left-hand menu and select "Settings" and then "Calendar and Bookings." This will take you to a page where you can add settings for your appointment preferences, online booking settings, calendar appearance, online scheduling restrictions, and Google Calendar sync. Once you have those settings to your liking, simply save them, and they will sync with your calendar at any time.
Please note that adjusting these settings will change your booking and calendar preferences on your booking pages, but it will not state your policies for customers to see. You should also create a cancellation policy (as we will cover in the following step) so that customers will be able to view and understand your booking guidelines before they make an appointment.
---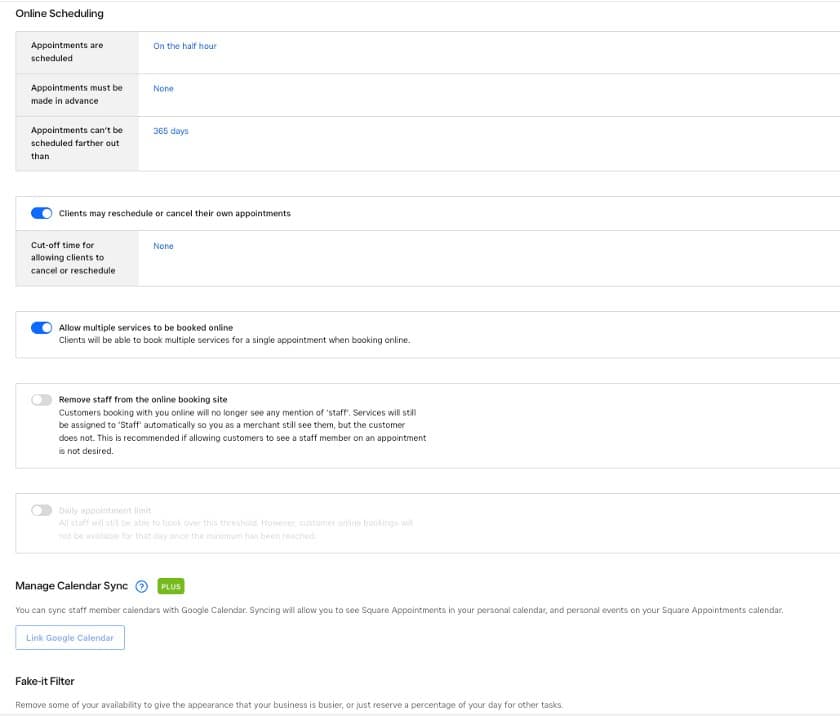 ---
Step 5: Add Your Payment Settings & Cancellation Policy
Once your booking and calendar settings are ready to go, you should then take a look at your payment and cancellation policy settings. To do this, you simply head over to the left-hand menu on your Appointments dashboard and select "Settings" and then "Payments and Cancellations."
For payments, all Square accounts are automatically enrolled in Square Payments, and all you need to do is click "Activate Card Processing," and then follow the ensuing steps to start processing. From there, you can require payment upon booking (both in-store and online) and add no-show protection, which creates a charge for customers who do not make their appointments.
For your cancellation settings, you simply toggle the "Cancellation Policy" button, and then a blank field will appear. You can fill out your custom cancellation policy. This policy will then appear on all booking pages so that customers know exactly how you handle cancellations and no-shows.
Step 6: Set Up Online Booking
Once you have your account settings ready to go, it's time to create your online booking options so that customers can start making appointments online. In addition to your Square Online site that is included in every Square Appointments account, you can also add booking options to several other channels, including Instagram, your Google listing, and any additional sites you may have. Not only that but bookings made on these channels are automatically synced, so your calendar is always up-to-date.
For online booking, you can utilize the following options:
Square Online: Set up a custom online booking website with Square Online at no extra cost
Existing website: Embed your appointment calendar to your existing website or add a Square booking widget or a booking button
Instagram and Google: Add a Square booking button to your Instagram page and Google listing
To sync your online booking options from your Square Appointments dashboard, click the "Online Booking" tab on the left and then click "Channels." On this page, toggle "Enable online booking," where you'll see your booking channel options. From there, simply follow the buttons to the right of the channel names and follow the setup prompts.
Square Online
If you want to use Square's free website builder to create your booking site, you will want to choose the "Square Online website" option from the Channels menu. If you then select "Preview and edit," this will lead you to Square Appointments' free website designer. Here, you can choose from a host of website templates and then add your information and personalize your website. Once you've set up your new booking website, click "Publish" to make it public.
Square also includes a free subdomain with your site. However, if you want to connect your URL to an existing domain or create a custom one, you will need to sign up for a paid plan.
---
Existing Site
If you have an existing website and would prefer to add Square booking there, return to your Channels options page. Here, you'll click "Get Started" in the "Add your booking flow to an existing site" row. This will take you to a screen where you have the options to either get your Square booking flow to add to your website, add a booking button, or embed the booking flow directly into your site.
You can customize the color of your booking button so that it is in line with your current site's appearance.
From there, you simply follow the prompts. Square will take you step by step through the process of adding your booking flow or button to your website with ease. After that, customers will be able to book directly from your website and all appointments will automatically sync to your Square Appointments calendar.
Adding your booking flow to an existing website involves handling a block of code, so it's advisable to have some coding skills when trying this option out. Head over to Square's Website Embed Guide for more information.
---
Google & Instagram
The final places that you can add online booking options that will sync with your Square appointments account are your Instagram page and Google listing. For both options, you will return to your Channels page and select the "Get Started" button. From there, Square will show you all the steps for integrating a booking button into your Google listing and Instagram page.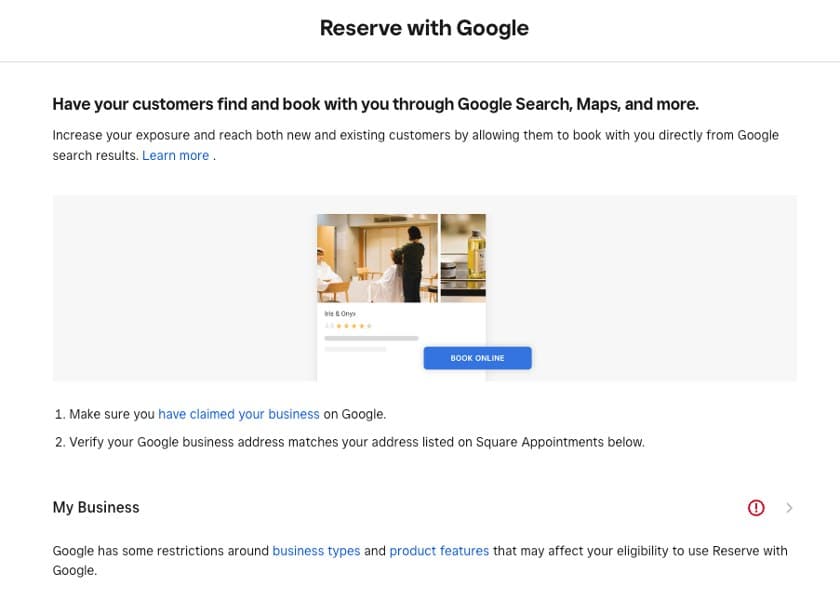 ---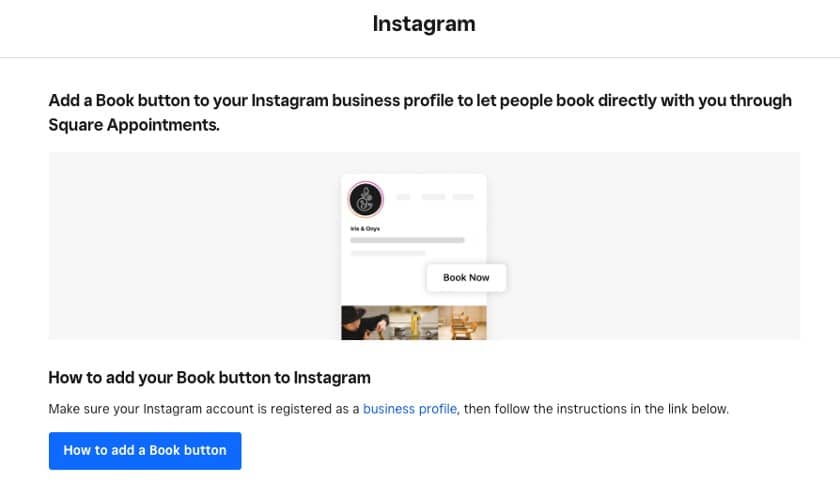 ---
Unfortunately, adding buttons to Instagram and Google cannot be done directly through Square, and will require you to navigate through Instagram and Google. Once you have the buttons set up, however, they will automatically sync with your Square account.
---
Step 7: Create a Test Appointment
Before you start sending your calendar out to clients, you'll want to test the system and check for any glitches or issues. In fact, when you create an appointment for the first time, Square will prompt you to create a test appointment with yourself.
To make your test appointment, you will click over to the "Calendar" tab on the left-hand menu of your Appointments Dashboard. From there, click "Create Appointment" at the top right corner of your screen. This will take you to an appointment form where you can fill out all pertinent information.
As you fill in the client name field, you will either have to include an existing client from your address book or create a new one that includes contact information. Square requires this information so that it can send appointment reminders, track their activity, and log their information. Additionally, each new contact will automatically save to your account for future use.
Once you add your appointment and client information, select "Save" to add it to your calendar. This action will also prompt Square to give you a client notification option. Here, you can input notification preferences and add a custom message.
From there, your appointment will be on your calendar and your clients (in this case, you) will be notified accordingly.
Step 8: Invite Customers to Book Online
Once you've got everything set and tested, it's time to let your customers know they can book with you—and tell them how. Square makes this easy with integrated, customizable marketing campaigns. To start your own roll-out campaign, start by selecting "Invite Clients" from the dropdown menu under "Online Booking." Then click the "Start a Campaign" button.
This will take you to a form where you can create a custom email to send to your clients announcing your launch and linking them to your booking page.
Once your email is designed and ready, click the "select audience" button in the upper right-hand corner. This will take you to a page where you can choose who you want to send your campaign to, as well as how it will appear on mobile devices.
From there, all that is left to do is hit send and watch the appointments roll in.
Bottom Line
Square Appointments is one of the most versatile appointment scheduling software products on the market—and this guide helps you get up and running in no time. The platform offers a wide range of customizable business management tools that you can access all in one place from your Appointments Dashboard.
Ready to try Square Appointments? It has a fast signup process, is free, and doesn't require any commitment or credit card—you can cancel anytime.