Square Appointments Review: Is It Right for Your Business in 2022?
This article is part of a larger series on POS Systems.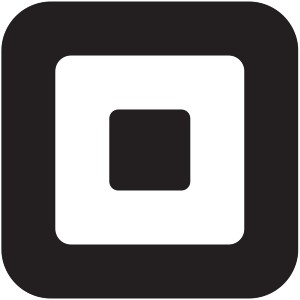 Square Appointments is an appointment scheduling platform that comes with a fully integrated point-of-sale (POS) system and online booking platform, payment processing solutions, and inventory management tools. It also offers a mobile app so that you can manage your business while on the go. This program has a free plan (paid monthly subscriptions start at $50) and is best for individuals or small service-based businesses that want a comprehensive scheduling solution with built-in payment tools.
When to Use Square Appointments
After testing and comparing dozens of appointment software, we determined that Square Appointments is among the best appointment scheduling apps for individuals and small service-based businesses. While only for one person, its forever free comes packed full with powerful features to manage and schedule unlimited appointments, process payments, and extend your business online.
We found Square Appointments particularly suited for the following:
Small beauty and wellness centers: Square Appointments lets you create custom services menus and includes scheduling tools—such as an online booking page that you can integrate into your social platforms and personal website, automated calendar syncing, intake questions and forms, and built-in no-show protection—so that you don't miss out on revenue due to double booking or cancellations. This makes Square Appointments our top choice for the best salon POS and spa management software.
Freelance coaches and educators: Square Appointments is one of the top free appointment scheduling apps on the market. The software is free for single users, so solopreneurs like tutors and personal trainers can use its full appointment scheduling features at no extra cost. Square's free plan comes with all the perks and features of the paid options, so you won't have to worry about any necessary features being hidden behind a paywall.
Professional consultants: In addition to appointment booking and calendar management, Square Appointments offer tools that allow you to issue customized estimates, recurring billing, and invoices. This makes it a great option for individuals such as accountants, advertisers, and marketers who need to draft professional estimates and issue invoices to clients.
Home repair and cleaning services: Square Appointments offers great schedule management tools for independent contractors in the home repair and cleaning service business. Along with the ability to place customer notes and prepare invoices, you can also accept mobile payments with the mobile card reader. The ability to schedule appointments and accept payments from anywhere makes Square one of the best mobile POS apps for traveling service businesses.
When Square Appointments Would Not Be a Good Fit
Looking for a different Square software? Square also provides some of the best POS systems for small businesses, from an all-purpose Square POS, to more industry-specific solutions—such as Square for Retail and Square for Restaurants. Square also comes with Square Payments—a simple, built-in payment solution, which also happens to be our top choice for the best merchant services for small businesses.
Square Appointments Overview
PROS

CONS

Unlimited free features and appointments for one user
Processing fees for all transactions
Automated messaging tools
Expensive scaling option
Pre-payment and no-show protection
Lacks integrated intake forms
Free online booking website
Syncs only with Google Calendar
Integrate booking page with website, Facebook, Instagram, and Google
No video integrations
Square Appointments Pricing
Square Appointments' pricing scheme covers a free plan for individuals and three paid tiers. Monthly fees start at $50 for two to five employees and increase for up to 10 users, while custom pricing is available for 11 or more seats. Credit card transaction fees start at 2.6% + 10 cents. All plans include full access to its appointment setting and payment processing features.
Square Appointments Pricing Plans
Individual

2–5
Employees

6–10
Employees

10+
Employees

Monthly Subscription Fees

$0

$50

$90

Custom

Credit Card Processing Fees*

2.6% + 10¢

2.5% + 10¢

2.5% + 10¢

Custom

Numbers of Appointments per Month

Unlimited

Unlimited

Unlimited

Unlimited
*For every credit card tap, dip, or swipe.
You can also use Square to accept remote payments.
Manual card entry through POS app: 3.5% + 15 cents per transaction
Payments via Square virtual terminal: 3.5% + 15 cents per transaction
Payments using Square Online store: 2.9% + 30 cents per transaction
Card on file transactions: 3.5% + 15 cents per transaction
Square invoices: 2.9% + 30 cents per transaction
Square Appointments Add-ons
Square Appointments is part of a larger Square ecosystem, with more services that can be fully integrated with your POS software. These add-ons will help you efficiently manage a steadily growing number of customers while matching the increase in demand with more employees.
Square Online: Free plan included in your Square Appointments account, which includes a smart website builder, free online store, and Instagram selling tools. Paid plan options start at $12 per month with additional tools, such as custom domain and on-page product reviews. Read our full Square Online review for more details.
Square Marketing: Paid subscription starts at $15 per month for 0–500 contacts. Features include unlimited email sends, automated email campaigns, Square Assistant, and campaign performance reporting.
Square Loyalty: Paid subscription starts at $45 per month per location for up to 500 loyalty visits. Features include quick customer sign-up, automated rewards notification via text messaging, and the ability to apply rewards at checkout.
Square Payroll: Subscription starts at $35 plus $5 per employee each month. Integrates with Square's team management app. Features include full-service payroll, unlimited pay runs, and automatic tax calculations. See our Square Payroll review for details.
Square Appointments Hardware
There is no hardware required to operate Square Appointments. The program is app- and web-based, so it can run on your desktop computer and your Android and iOS devices. This gives you the flexibility to manage your business without having to adopt new programs or even when you are on the go.
If you are interested, however, Square also offers a host of hardware options that you can easily use in conjunction with all Square programs, including Appointments. Square offers the Square contactless chip reader, the Square Register, and Square Stand for iPad for brick-and-mortar establishments with a front desk—like salons, spas, and clinics.
Both the Square Register and the Square Stand come with a free mobile magstripe card reader. We recommend, however, getting a contactless chip reader so that you can also accept EMV and NFC card payments.
Square for Chip and Contactless

Square Stand for iPad

Square Register

Cost: $49 (add dock for Square Reader $29)

Cost: $169 or $16 per month for 12 months

Cost: $799 or $39 per month for 24 months

Connects to Android and iOS mobile device
Accept tap, dip, and contactless payments
Manage calendar
Approve bookings
Communicate with customers through the app

Bluetooth connectivity
Accepts EMV and NFC payments
Made to swivel for customer engagement
Runs plugged in or wireless with a battery
Compatible with 9.7", 10.2", and 10.5" iPads

All-in-one countertop
Separate customer display screen with payment processing
Bluetooth connectivity with peripherals

Best for: Freelancers and traveling service businesses

Best for: Small consultancy businesses and health or wellness centers

Best for: Busy and growing service-based businesses with a storefront
Square Appointments Features
Every Square Appointments account has the full features of the software and gives you everything from calendar management tools to features for selling complementary products. Because it's both cloud- and web-based, you can access the software from any computer and even run your business remotely, if needed. This also means you can accept payments from anywhere—be it from a front desk, on your website, or at a remote location.
The only thing you should consider is the sustainability of Square as your business grows. While free for a single user, Square costs $50 per month for two to five users and $90 or more for more people than that. While you do get access to some great features, this might not be a viable price point and you should consider both your monthly sales volume and the value you get from Square when deciding how this program will work for your business over time.
Click through the headings below for an in-depth look at Square Appointments' features.
Calendar Management
Square Appointments' scheduling tools are at the core of this software's operation. You get full control over your cloud-based calendar, so you can view and manage your calendar and appointments from anywhere.
Square Appointments calendar management includes:
Square App and Online Account: Access and manage appointments from your Square app or any computer via your Square Appointments login
Appointment acceptance: Manual and automatic appointment acceptance modes
Advanced calendar viewing: Customize your viewing options by filtering your calendar according to time frame, staff, or location
Availability management: Manage your daily schedule better by blocking personal events and marking these as "busy" when you sync your personal Google Calendar
Calendar syncing: Sync your appointment schedule with your Google Calendar
Resource booking: Allows you to assign resources (like chairs, rooms, or supplies) to certain appointments so that they get booked when their corresponding appointments are created
Multiple time zone syncing: Sync all your appointments with the correct time zones so that no one forgets a booking.
Cancelation and no-show protection: Set a cancelation window and protect against no-shows with a deposit system
---
Online Booking
Square Appointments lets you provide your customers with different ways to book appointments online. These are automatically synced to both your Square and Google calendars, so your calendar stays up to date at all times. You can choose from the following options based on varying technical skills and business requirements:
Online booking page: Set up a free online booking page that you can share with your clients via text or email. This page is customizable, so you can make it fit your brand and desired customer experience.
Booking page embed: Embed your online booking page into your existing website.
Booking widget or button: Add a booking widget or a booking button to your existing website. Your widget and button are also fully customizable and you can get help setting these up with Square Support.
Social media integration: Add a booking button to your Instagram and Facebook.
Google listing: Add a booking button to your Google listing.
Square website: Create a custom website and online booking with Square Online at no extra cost.
---
Automated Appointment Reminders and Messaging
Square Appointments allows you to connect with clients through SMS and email messaging tools where you can send personalized notes from the moment clients make their booking to when their service has been rendered and payment is completed.
With Square Appointments, you can
Send appointment confirmation messages as soon as clients book so that they have all their appointment information in an easy to find place.
Set appointment reminders so that your clients never miss an appointment.
Send digital receipts and client survey forms after their appointments so that they can give their feedback about your business. Square also lets you respond directly to survey responses, making it easy to fix any problems and maintain customer loyalty.
Use Square Assistant, a smart messaging tool that comes free with Square Appointments. It allows clients to confirm, cancel, or reschedule appointments via SMS at any time of the day in response to your automated appointment reminders. It will automatically respond and update your calendar so that you can do more working and less worrying about managing your schedule.
---
Customized Payment and Cancellation Policies
You can customize your payment requirements and cancelation policy to protect your business from no-show clients. Access the settings from your appointments dashboard, then choose between letting clients book without adding their credit card information and requiring credit card details either to hold a reservation or for prepayment.
If you opt to require a client to enter credit card information to hold a reservation, you can specify the cut-off time for cancellation and the corresponding charges for canceling beyond your stipulated deadline. You can also set the fee either as a dollar amount or a percentage of the total cost of the canceled service.
Your clients will receive an email notification once you approve of the cancellation. It will include details of the canceled appointment, along with the corresponding fee, and your cancellation policy.
---
Services Customization
Square Appointments allows you to create and customize your list of services. Each service will have a description, specified duration, and pricing option. You can also assign specific resources to your services so that their availability is updated with appointment bookings.
For pricing your services, you can either set a fixed price that customers can pay directly online at checkout or a variable price that is determined after the service is complete and paid at checkout. You can also add variations and a block transition time between services.
Once you have your list of services, you can customize how they appear on your booking page—whether that be as a menu or on your actual calendar.
---
Team Management
While Square Appointments' free plan is only for one person, if you do adopt Square for additional staff members, the program comes with rich team management tools so that you can stay on top of all your employees and their schedules.
Each staff member receives a unique login where they can access and manage their own calendar from any desktop or the Square Appointments mobile app. Each profile can be customized by specifying location, offered services, and bookable hours. There's also a biography section where you can add information about their availability, specialization, and other offered services.
With administrator access, you can manage your staff's booked appointments and control what they see by assigning permissions. You can also set custom permissions so that employees can change only necessary items on their schedule. Additionally, you can specify multiple wage rates, assign unique commission rates, disable booking, split tips, or delete a staff profile altogether. Users also get regular timecard and labor vs sales reports.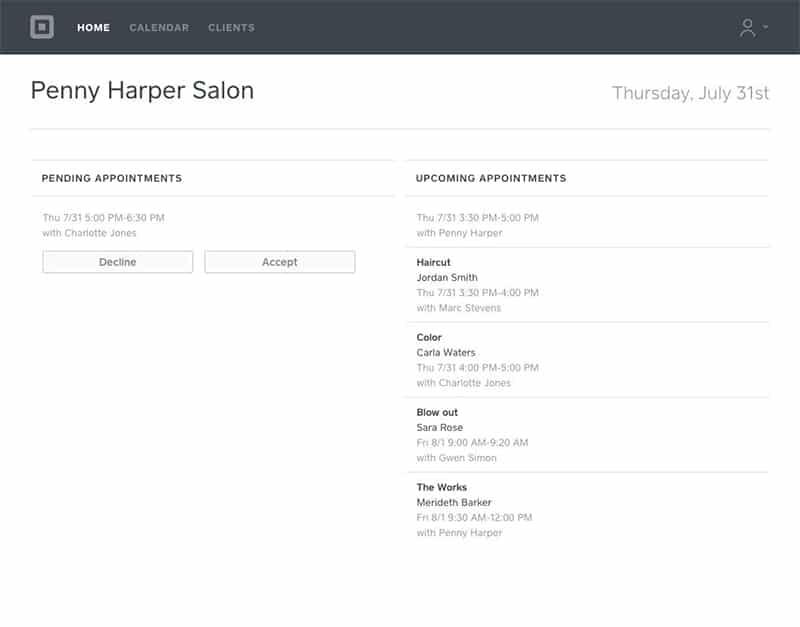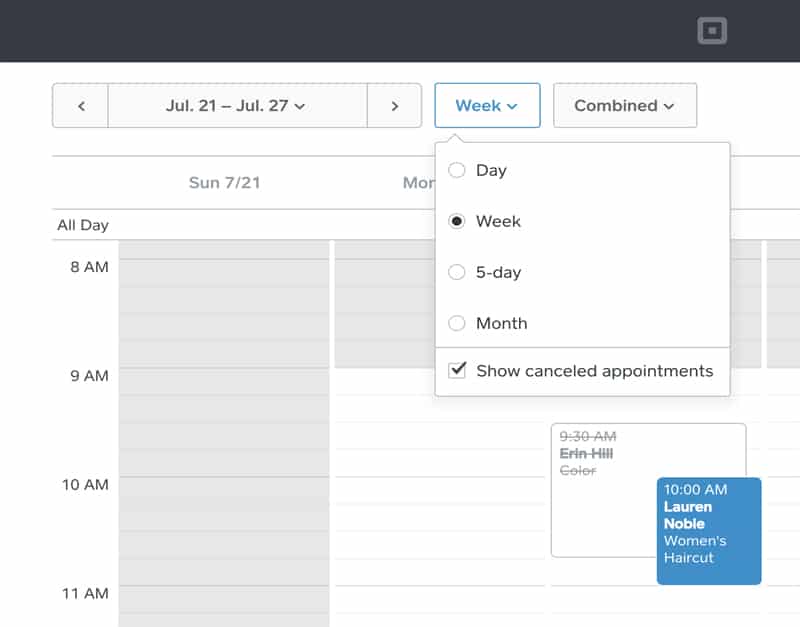 Each employee get their own profile for managing their appointments.
(Source: Square)
---
Point-of-Sale System
When you sign up for Square Appointments, you will also receive a Square POS system where you can process payments and keep track of your inventory, appointment activities, and client information. The Square POS system also lets walk-in clients view your list of services, book, and check out. You also have the ability to issue a refund for an entire appointment or per individual service item.
It is important to note that while the Square POS system works well with Square hardware, you can also use Square POS with your existing equipment. Square does work best, however, with a tablet application.
Additional tools for customizing point-of-sale includes:
Issue professional invoices
Perform quick checkouts with customer card-on-file
Process keyed-in payments
Accept split payments
Apply appropriate sales taxes
Apply rewards as discounts
Allow custom tipping
Redeem loyalty rewards
Accept gift cards
Contactless payment compatible
Data security (PCI) compliance
Reporting on sales
---
Client Management
Square Appointments lets you save detailed customer information to your Square Dashboard. Additionally, if you have an existing customer contact list, you can import their information into Square as a CSV file. Each client profile contains their personal details, credit card info, appointment schedules, and purchase history. You can even add personalized notes to each client profile to remind you of their preferred services.
Square also offers communication tools to improve client relations. When a new client gets added to your dashboard, Square allows you to send custom messages to welcome your new customer. You can also send email and text reminders for their appointments, as well as send soft copy contracts if you require a client's signature before performing a service. Client management also lets you create client groups for marketing campaigns.
---
Retail and Inventory Management
Square Appointments can combine service and retail for blended businesses. While Square for Retail is a better option for businesses with thousands of SKUs or complex inventory needs, Square Appointments' POS has a built-in inventory management feature that is great for service-based businesses with smaller inventory needs. Square Appointments' inventory system is easy to use and includes features like:
Inventory organization: Stock unlimited inventory, customize products with categories, and use an item search tool during checkout
Inventory tracking: Track stock levels in real time and set low stock email alerts when items are running low
Barcode scanning: Ring up sales through barcode scanning with a barcode scanner or your iPad's camera
Sales allocation: Monitor retail sales and attribute it to the correct employees automatically, enabling you to handle commission payouts for said transactions efficiently
Social media Integration: Integrate your inventory to Instagram and make a storefront where customers can shop right from your social media page
---
Square Appointments Integrations
While you can opt to use all Square products—from building your website, to managing your inventory, to booking appointments—Square also has several integration options so that you can adopt Square into existing systems without having to worry about compatibility issues or switching providers.
The following third-party integrations are compatible with Square Appointments:
Wix
QuickBooks
JotForm
Google Calendar
Instagram
Third-party integrations are limited for this software, which most critics find as a major downside in using the platform. The biggest shortcomings here is the lack of intake form capabilities and that the calendar only syncs with Google. Competitor products, like Picktime and 10to8, offer integration with other calendar applications such as iCal, Office 365, and Outlook.
---
Square Appointments Ease of Use
Simple account creation
Customized services display
Handy Square Dashboard
Automated Square Assistant
Item and customer search tool
Active community forum
Step-by-step setup guide
While Square may lack some integrations, the software is overall easy to use and loved by its users. Square Appointments lets you manage your business from your Square Dashboard—or on the Square Appointments app if you are on the go. You also have the Square Assistant app that automates your booking procedure. Square also makes it easy to update your booking page, and reorganize how your services are displayed so that you can have your most popular services, promos or bundles, and specialty services at the top of the list.
Documentation for Square Appointments in the help center is somewhat limited, but it does have a comprehensive startup guide for first-time users. You'll need to log in to your Square account in order to access customer service. Live phone support operates on extended hours, which is Mondays through Fridays, from 6 a.m. to 6 p.m., Pacific time.
Square Appointments Alternatives
| | | |
| --- | --- | --- |
| | | |
| Best for: Services with multiple staff members | Best for: Consulting-based businesses | Best for: Businesses looking for built-in marketing features |
| Software from: $0 | Software from: $14/month | Software from: $14.95/month |
| | | |
See more on how Square Appointments compares with other popular scheduling apps.
What Users Think of Square Appointments
While users and critics do have some reservations about Square Appointments, the software still gets an overall positive review. Users laud Square Appointments for its range of features and customization options, while most of the negative feedback centers around lack of integrations and video capabilities. Square Appointments is rated 4.9 out of 5 based on over 108,000 reviews directly from the Apple App Store and 4.6 out of 5 based on about 2,700 reviews on the Google's Play store.
Other popular third-party review websites rated Square Appointments as follows:
Here are the trending positive and negative feedback that I noticed while reading through the reviews.
| Users Like | Users Don't Like |
| --- | --- |
| Convenient and easy to use | Lack of widget and brand customization options |
| Services and booking customization and automation features | QuickBooks integration is an add-on |
| Option to require for prepayment of services | Some learning curve for setting up integrations |
| Google calendar integration | Lack of integrated forms |
Bottom Line
Square's ecosystem makes Square Appointments one of the most versatile appointment scheduling software on the market. It offers the ability to combine service with retail and a range of automation features so that you can book and manage appointments 24/7. Updating services takes only a few clicks, while upgrading and downgrading plans is automatic, so it becomes easy to hire seasonal employees and offer seasonal services.
Ready to try Square Appointments? Visit its website for a fast sign-up process. It's free, and there's no commitment or credit card required—so you can cancel anytime.