Square is a free point-of-sale (POS) app that uses a credit card reader and your phone or tablet to process payments. The Square POS system includes features like inventory management, customer directories, and sales reports to help retailers manage their business.
1. Choose Which Square POS Is Right for You
This guide focuses on Square's flagship product: Square POS. It's a general purpose POS that's our top pick for the best POS for small businesses. However, Square also has three other POS products: Square for Retail, Square for Restaurants, and Square appointments. Though the examples in this guide are from Square POS, the setup process is very similar across all of Square's POS products.
Click through the tabs below to learn more about each Square POS product:
2. Sign Up for a Free Square Account
The first step in using Square POS is setting up your free Square account. Many business owners worry about how to set up a POS system because some solutions require professional installation, separate merchant account applications, or other lengthy and expensive processes.
But with Square, the process is very fast, and once you complete each step, you can set up your store and start selling right away—there's no waiting for approval. Plus, you can change any information you enter at signup later on, so don't sweat the details.
Visit Square's website and click "Get Started." Then the below screen will appear. Enter your email address, create a password, and select your country. Then continue on to the next step.
Tip: Choose a secure password with numbers and symbols because you will also need to enter your banking information and Social Security Number.
3. Select "Quick" or "Full" Setup
There are two setup options for Square:
If you only need to quickly accept orders and payments online or in-person, Square has an express setup.
If you want to walk through all of Square's available features, choose the full setup.
You can adjust all features and settings anytime in the Square Dashboard, so don't worry if you want to change something later on.
For this demo, we chose "Quick" setup.
4. Enter Your Business Name
The next step is to tell Square about your business. If you don't have a business name, that's OK. Just use something your customers will recognize, such as your personal name. This name is what will appear on your receipts and your customer's bank charges. You will need to keep your business name to 40 characters or less.
After creating your login, if at any point you accidentally close out of the Square screen, your session times out, or you click the refresh button, you will resume setup through your Square Dashboard. There will be prompts to walk you through any missing information.
5. Choose Your Business Type
On the next screen, you will need to select what kind of business you run. Options include:
Clothing and accessories
Specialty shop (retail)
Events/festivals (leisure and entertainment)
Outdoor markets (retail)
Food truck/cart
Outdoor markets (food and drink)
Art, photo, and film
Jewelry and watches
Caterer
Events/festivals (casual use)
Outdoor markets (casual use)
Independent stylist/barber
Hair salon/barbershop
Beauty salon
Massage therapist
Specialty shop (food and drink)
Bakery
Square asks you to pick your specific business type because there are free software options for different needs. Standard Square POS is great for occasional or general POS use. There are also dedicated retail, restaurant, and appointment-based options. Within each software, there are also different templates and settings for even more specific business types such as events or catering.
6. Choose How to Accept Payments
Every account comes with the default option to ring up in-person sales through the POS app. You can also opt to set up a virtual terminal, invoicing, online sales, and donations for free. You can also offer customers the option to pay with gift cards.
You can set up e-gift cards for free through Square POS, though you'll pay 2.9% plus 30 cents for every electronic gift card you sell. Square also offers options for physical gift cards, depending on your need.
You can add, adjust, or remove any of these features at any time.
With Square Online, "Sell online" means more than just ecommerce sales. Choosing this option also allows you to offer order-ahead, curbside pickup, and contactless in-store ordering with QR codes.
We recommend most businesses choose the sell online add-on because:
It's free (Square Online is free with every Square POS account)
Pickup orders reduce in-store crowding
More options allow customers to shop according to comfort levels and preferences
For information on pricing for different add-ons and upgrades, read our Ultimate Guide to Square Fees & Pricing.
7. Verify Your Identity
Even though Square doesn't have an application process for merchant services, it still needs to verify your identity before you can process payments. The process is instant—you'll just need to provide your name, address, birthday, phone number, and last four digits of your Social Security Number. And there's no credit check involved.
8. Select a Business Location
After entering your personal identification information, choose where your business will be operating: home, on-the-go, or a different location.
9. Select a Deposit Speed
When setting up your deposits, you can also choose how fast you want to receive funds. There are two options to choose from:
Next business day: Your funds will be deposited within one to two business days free of charge.
Same-day: Receive your funds instantly at the close of your business day for a 1.5% fee of the total deposit amount.
You can adjust deposit options and schedules at any time in your Square Dashboard. Deposits can be scheduled or manually pushed through. So, even if you opt for scheduled, free next-day deposits, if you ever need funds right away, you can request a same-day deposit for a 1.5% fee through the Square Dashboard.
10. Link Your Bank Account
Connect the bank account where you want to receive the deposits. To verify your account, Square will withdraw and then redeposit a one-cent charge. Verification can take up to four business days. Until your bank account is verified, any funds from sales will be held in your Square Balance.
11. Set Up Add-Ons
Remember in Step 5 where you selected additional payment methods, like online payments and invoices? The last step is setting those up. If you chose "Sell online," you'll be able to pick from four options: a single shopping page, a shoppable Instagram page, a full website and online store, or checkout links.
This selection isn't permanent and can be changed at any time. If you're not sure what you need, Square has a prompt to help you decide. It will ask if you have an existing website, how many items you sell (a few or a lot), and to choose a statement that best describes what you want. If you're not sure, Square recommends opting for a single shopping page, which you can always expand later.
How to Get Started With Square POS
After creating your account, you can choose POS hardware, configure your product and service lists, adjust business settings (like taxes and operating hours), and begin accepting payments.
Choose Your Square Hardware
It's possible to use Square POS without purchasing any additional hardware. You can key in orders on your phone using the POS app or through the virtual terminal on Square Dashboard. If you set up Square Online, you can also set up QR codes and online payments.
Every new Square account also comes with a free magstripe reader that will arrive in the mail. When signing up, you can choose between a lighting or audio jack connection.
However, if you plan on accepting in-person payments, I recommend purchasing at least a chip card reader. Chip (EMV) and contactless (NFC) payments are more secure than magstripe. Plus, processing fees are significantly lower for card-present transactions (swipe, chip, and contactless) vs typing in the card information.
Square Card Readers
| Square Reader for Magstripe | Square Reader for Contactless and Chip | Square Stand for Contactless and Chip |
| --- | --- | --- |
| | | |
| First free, additional $10 | $49 | $169 or $16 per month for 12 months |
| Available with lightning or audio jack input. Accepts payments via magstripe (swiped). | Connects via Bluetooth. Accepts payments via EMV (chip), or NFC (Apple Pay, Google Pay). | Connects via Bluetooth and accepts EMV and NFC payments. Optional receipt printer, cash drawer, and bar code scanner. |
| Best for: Occasional mobile sales | Best for: All-purpose payment processing | Best for: Using iPad for a countertop POS |
| | Buy Contactless Reader | |
Square Full POS Systems
| Square Terminal | Square Register |
| --- | --- |
| | |
| $299 or $27 per month for 12 months | $799 or $39 per month for 24 months |
| All-in-one credit card machine with POS, card reader, and receipt printer | Full POS with touch-screen monitor, detachable customer-facing display, and credit card machine |
| Best for: Any business looking to upgrade from a standard credit card terminal or wanting a portable POS machine. | Best for: Retailers, boutiques, specialty shops, or cafes wanting a sleek countertop system. |
| | |
Set up Your Product List
There are two options for setting up product lists in Square:
Create individual items
Import items in bulk
If you only have a few products or are just starting out as a new business, you can go ahead and add products individually.
If you have an established business and/or a lot of SKUs to manage, you can save a lot of time by uploading in bulk. To do so, you'll need to download Square's template from the Item Library section of Square Dashboard. Then, fill it in with your current product list, and upload it to Square.
To learn more about managing products in Square, read our full step-by-step Square Inventory guide.
Adjust Store Settings
The Accounts & Settings section of your Square Dashboard is where you can change your business name, edit bank account information, set up custom email notifications, manage transfers and deposits, customize your receipts, view tax forms, create contracts (such as credit card authorization forms), and manage hardware.
Click through the tabs below to learn more about each setting:
In your Square Dashboard, under Accounts & Settings > Security, you can enable Team Permissions. This allows you to set up restrictions for team members on a number of different functions, which will apply to all POS devices.
Adjustable team settings include:
Use virtual terminal
Cancel transactions
Adjust taxes manually
Void transactions
View completed transactions
View reports
Add, edit, and delete customer data
Choose what reporting and transaction emails you want to receive and opt in or out of emails from Square. Square has options for daily, monthly, and annual sales summaries. However, you can't customize the reports emailed to you.
Add your logo and brand colors, choose what information to display, add a return policy, and add social media handles. We recommend adding itemized receipts, a clear return policy, and contact information.
Add your taxpayer information, including your business name and employer identification number (EIN). Square will automatically file 1099-K forms for you when you reach the earnings threshold ($20,000 or 200 payments in most states).
1099-K forms are what credit card processing companies submit to the IRS to report the earnings of its merchants. Once you cross the reporting threshold, you can view your 1099-K forms in the Square Dashboard.
If you set up payroll through Square, you'll also be able to view your W-2, 940, and other payroll forms in the Square Dashboard, which Square will also automatically submit for you.
Contracts are one of Square's newer features. Within Square Dashboard, there are templates for:
Credit card authorization forms
Service agreements
Sale of goods
Completion of service
Confirmation of delivery
COVID-19 agreement
Contracts are not necessary for every brick-and-mortar business, but if you sell services or expensive made-to-order goods, charge subscriptions or have recurring billing, or offer retail delivery, they may be a good fit for you.
Secure your Square account by providing additional business details. The more Square knows about your business, the better it can manage your merchant services in terms of fighting chargebacks and preventing processing limits.
Download the Square POS App
After downloading the Square POS app from the Apple App Store or Google's Play store, log in to your account using the email and password you set up earlier. Immediately after that, you'll be prompted through a test transaction.
1. Select a Product to Sell
When you're ready to make a sale, select "Checkout" at the top of the left-hand menu. Then you can either enter a dollar amount or select the list icon at the bottom of the screen to ring up one of the preset inventory items you created. We recommend using this method if you have physical products with inventory to track.
2. Click the "Charge" Button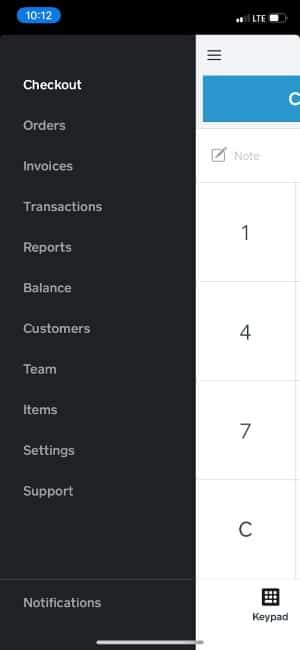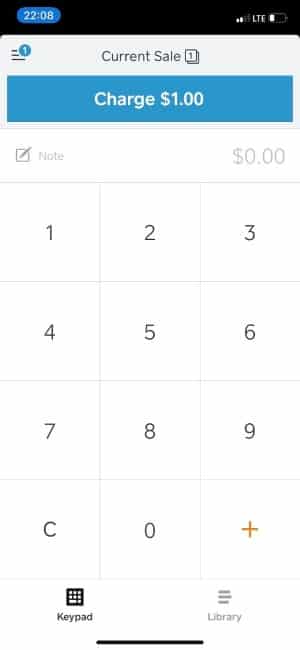 You May Also Like…