The main reason most small business owners use Square is to process payments, mainly credit and debit cards. With Square, you can start accepting credit and debit cards within minutes, on the go or anywhere your business takes you. In this article, we will walk you through how to complete a sale on Square POS (Point of Sale).
If you haven't done so already, the first step is to click here to sign up for a free Square account. Click "get started", and answer some basic questions about your business to complete the signup process.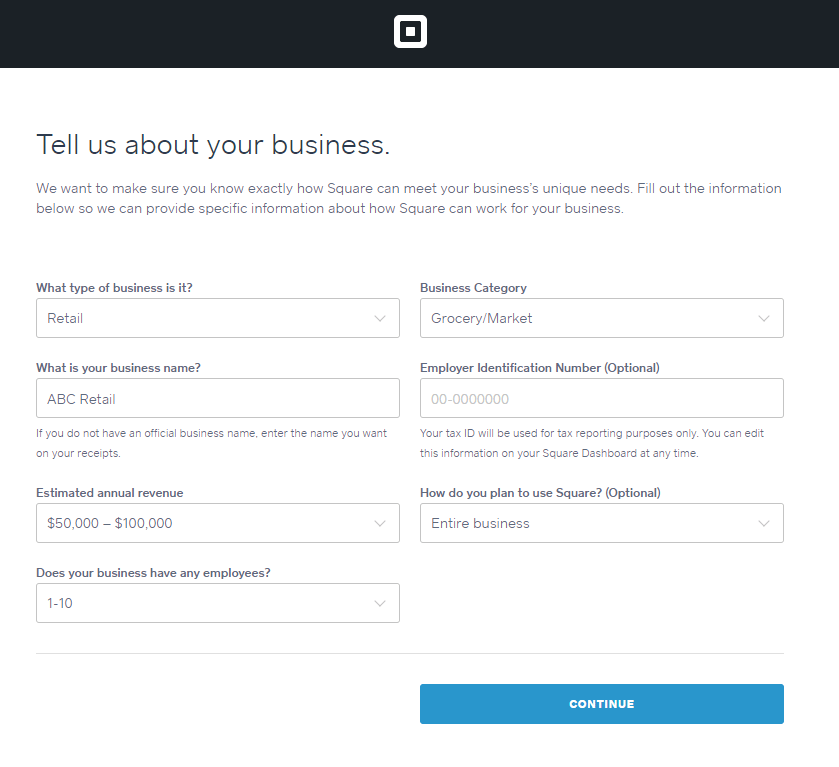 It's optional to put in an Employer Identification Number (EIN), but we suggest putting it in if you have one to avoid IRS withholdings/audits. Once you've completed your business information, click "Continue."
You'll then be asked a few personal questions, including your date of birth and the last four digits of your Social Security Number. Don't worry about providing this information–Square doesn't perform a credit check. It's simply to verify your identity.
Finally, you'll link your business bank account so that you get paid when your customers pay you! You can skip this step and go back to it later, but it's quicker to link your account now if you have one. Credit and debit card payments are deposited into your account within 1-2 business days.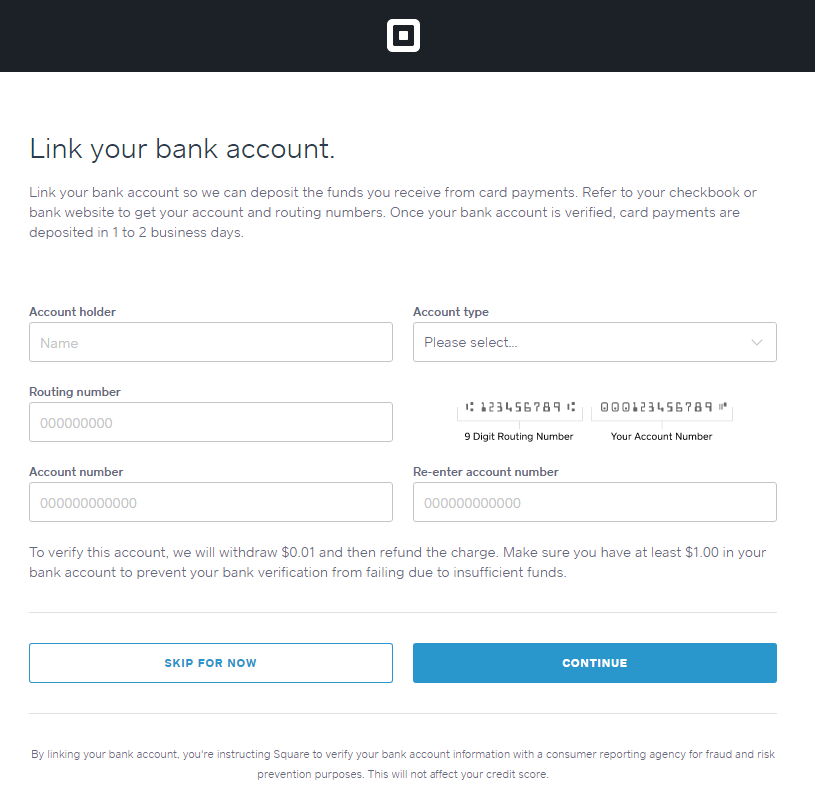 Step 2. Choose a Credit Card Reader
After providing your business and personal information, Square gives you the option to choose a credit card reader, which they will mail to your place of business.
Square offers several credit card readers. You can either choose the free Magstripe credit card reader or the $29 Square reader for contactless and EMV chip cards. We recommend choosing the latter because credit card companies now penalize businesses for fraudulent credit card transactions if they don't have chip card readers. Read more here about how to protect your small business from fraudulent credit card transactions. Contactless payments, such as Apple Pay, are becoming more popular as well, and you're putting yourself at a disadvantage if you're unable to accept such payments.
You should receive the chip card reader in the mail in 5-7 business days. If you choose the free Magstripe reader, you can specify how quickly you need it on the next page.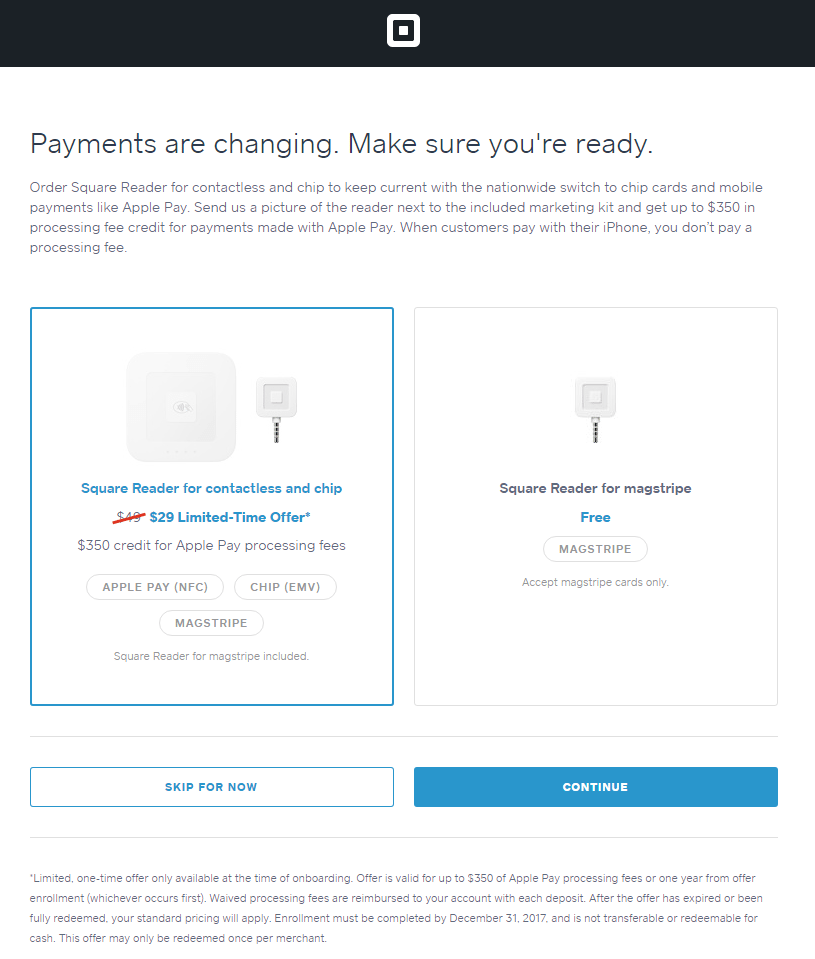 Step 3. Download the Square POS App
Before you can accept a sale, you need to download the Square POS app (formerly called the Square register app) onto your mobile phone or tablet. If you use an iPhone or iPad, click on the App Store logo and search for "Square." The first result is Square Point of Sale. Download this app onto your device, and you're ready to accept your first payment!
The process is the same for Android users. The Square Point of Sale app can be found in the Play Store.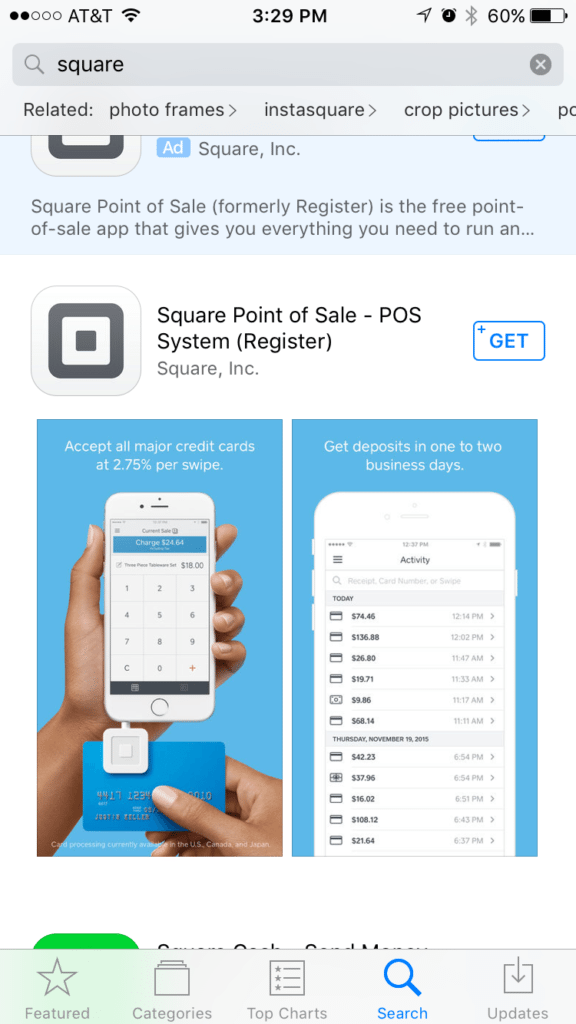 Step 4: Configure Your Store Settings
Before processing your first sale, take a moment to configure the store settings on your Square dashboard. This will save you time when you have a long line of customers because everything you need, such as receipts and customer information, will already be stored in your account.
To get the settings part of your dashboard, sign in and navigate to "account & settings" in the left tab.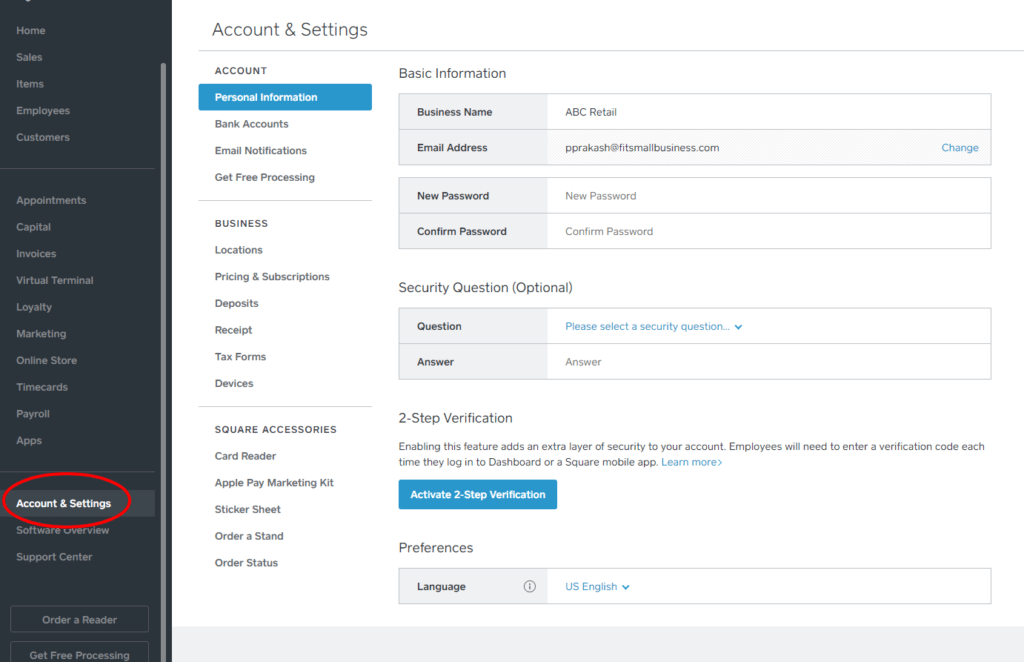 Here are the things you can configure in your dashboard:
Change personal and business information, such as address or phone number.
Bank accounts – Set or change the bank account that your money is deposited into
Locations – Add a new physical location for your business if you operate multiple storefronts
Pricing & Subscriptions – See how much Square charges you for different types of transactions and services, such as Square Appointments (Free for one user) and Square Loyalty ($25/month per location), both ideal tools for gyms, salons, and other service businesses.
Deposits – See how quickly your money gets deposited. For an additional 1% of the balance, you can set up Instant deposits.
Receipt – Customize the text, logo, and colors on the receipt your customers receive.
Tax forms – Set up your taxpayer information and 1099-Ks. A 1099-K is a tax form that online sellers use to report revenue from credit card sales.
Devices – If you use multiple devices to accept payments, you can create codes to quickly sign in on any device without having to type in your username and password each time.
Square accessories – Purchase additional card readers, a tablet stand, and other hardware.
Step 5: Input your Sale/Transaction Amount
After logging in, the app will ask you to enable your microphone, location services, and push notifications so that everything works properly. Then, you'll be directed to the keypad screen, and the transaction balance should be $0 (as shown below).
From there, you just use the touchscreen keypad to type in your Square transaction amount.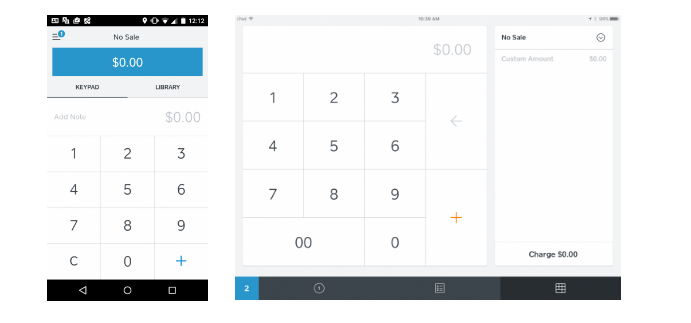 Step 6: Click the "Charge" button
Once you have the transaction amount inputted, simply click the "Charge" button, which will take you to the payment screen.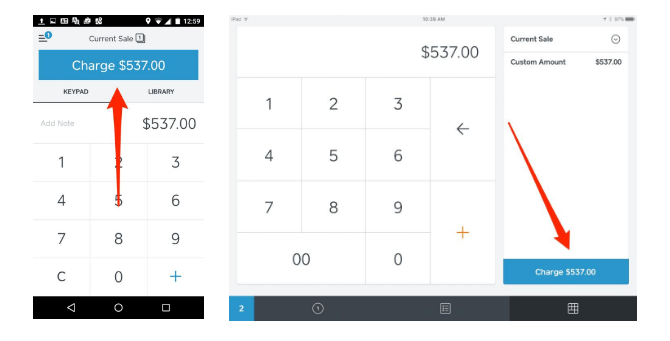 Step 7: Choose Your Payment Option (probably credit card in most cases)
There are 2 different ways to choose payment. The first is just to select the appropriate method of payment, i.e. cash, other, etc.
But, if you have a credit card reader attached, you can also just simply swipe or insert (EMV) the card or position the reader in front of the card (for contactless payment options like Apple Pay), and it will automatically be accepted as the payment for that transaction. In this case, I just selected "cash," since I didn't want to process an actual credit card transaction.
On a tablet, there are multiple cash options, like the exact total of $537 or rounded out like $540. You select an option, and you're good to go. On mobile, it just automatically inputs the exact total, and then you can change it if needed and hit "Tender."
If you need to make change, Square will calculate that and let you know what you need to give back to the customer. In this case, I just said the cash amount was exact.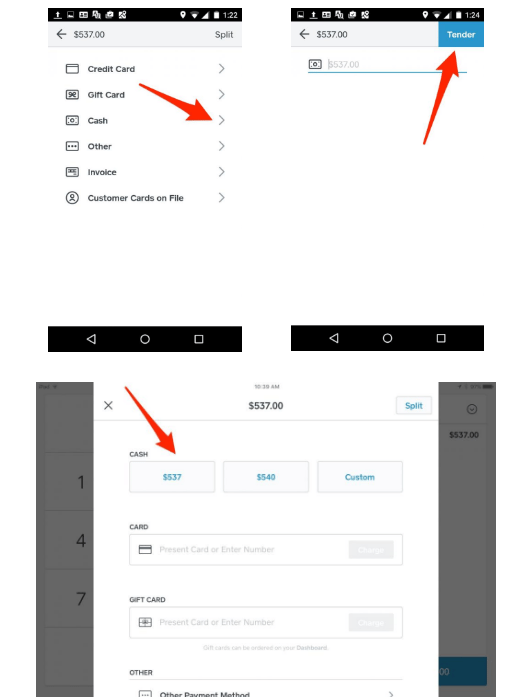 Step 8: Pick a Receipt Option and Complete the Sale
Once you have completed payment, Square gives your customer the option of what kind of receipt they would like. You can send an email or text receipt, or simply select "no thanks" if your customer doesn't need a receipt. The system will store their email or number so that they don't have to provide it every time they pay a vendor that uses Square POS.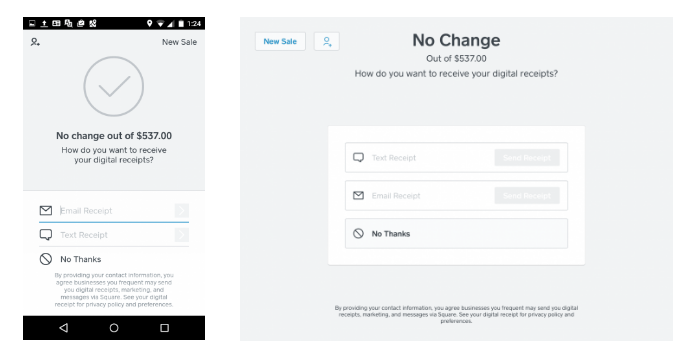 Bottom Line
That's all there is to it. Now you know how to process a sale on Square POS. You can make this even easier by adding inventory items to your Square register. This stores the item and its associated price points in your account, and inventory counts automatically adjust when you sell an item. But inventory control is just one of Square's many business-friendly features. See them all and the associated Square fees here.
And if you're interested in what customers think of Square POS, read reviews here. Ready to order your free chip reader and start making sales? Click the button below: