The Ultimate Square POS Setup Guide
This article is part of a larger series on POS Systems.
Square is a free point-of-sale (POS) app that uses a credit card reader and your phone or tablet to process payments. It offers an all-purpose POS alongside several industry-specific software options with advanced features like inventory management, customer directories, and sales reports. Setting up a Square account is quick and easy, even for new business owners. But if you need more help, follow this simple guide to get you started.
1. Choose Which Square POS Is Right for You
This guide focuses on Square's flagship product: Square POS. Square POS is a general-purpose POS that's our top pick for the best POS for small businesses. However, Square also has three other POS products: Square for Retail, Square for Restaurants, and Square Appointments. Though the examples in this guide are from Square POS, the setup process is very similar across all of Square's POS products.
Click through the tabs below to learn more about each Square POS product:
2. Choose Your Hardware
It's possible to use Square POS without purchasing any additional hardware. You can key in orders on your phone using the POS app or through the virtual terminal on your Square Dashboard. If you set up Square Online, you can also set up QR codes and online payments. However, if you plan on accepting in-person payments, we recommend purchasing at least a chip card reader.
Square Hardware Options At-a-Glance
| Hardware | Best For | Cost |
| --- | --- | --- |
| | Accepting card payments on the go | First free, additional $10 |
| | Accepting card, EMV, and contactless payments on-the-go | $49 |
| | In-store mobility and curbside sales | $299 or $27 per month for 12 months |
| | Affordable countertop setup using an iPad and mobile card reader | $149 or $14 per month for 12 months |
| | Full POS countertop plus customer display with built-in card reader | $799 or $39 per month for 24 months |
| (with printer and cash register) | Square Register users with frequent cash transactions | $1,389 |
| (with POS and kitchen printers, and cash register) | Restaurant setup needing tableside POS option | $1,019 |
3. Sign Up for a Free Square Account
The first step in using Square POS is setting up your free Square account. Many business owners worry about how to set up a POS system because some solutions require professional installation, separate merchant account applications, or other lengthy and expensive processes.
But with Square, the process is very fast. Once you complete each step, you can set up your store and start selling right away—there's no waiting for approval. Plus, you can change any information you enter at signup later, so don't sweat the details.
Visit Square's website and click "Get Started." Then the below screen will appear. Enter your email address, create a password, and select your country. Then continue to the next step.
Tip: Choose a secure password with numbers and symbols because you will also need to enter your banking information and Social Security number. It is also a good idea to opt in to 2-factor authentication.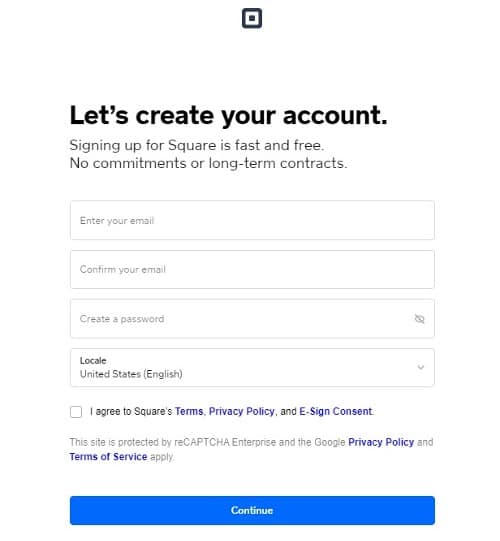 ---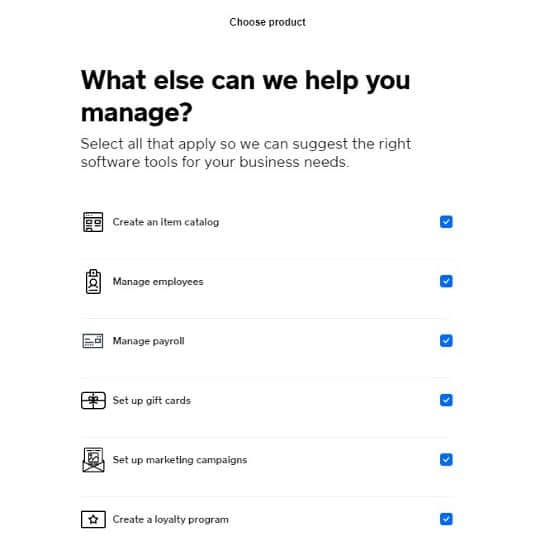 ---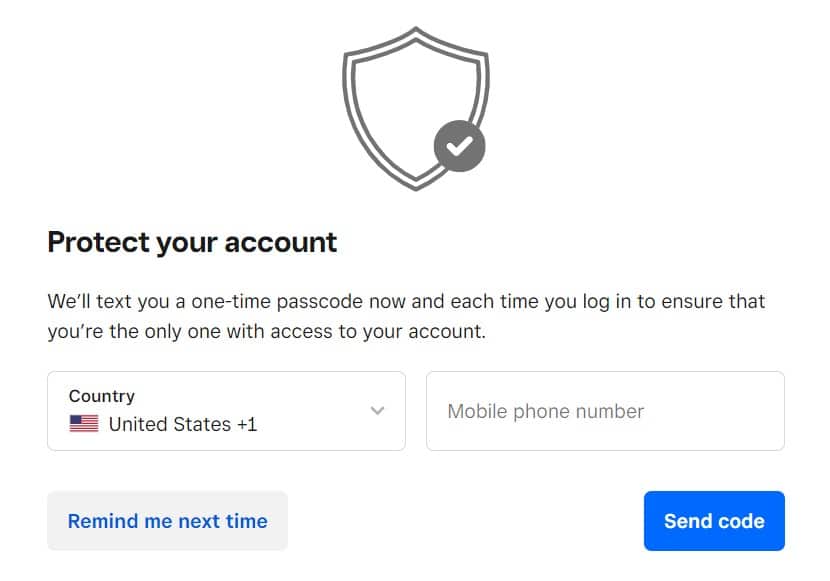 ---
4. Select Your Merchant Type
Next, Square will ask you for your merchant type:
Individual: For sole proprietorship and persons accepting payments from casual or occasional sales.
Business: For businesses accepting payment as a business entity, whether partnership, LLC, corporation, nonprofit, or religious organization.
Then, enter your business or personal name so customers know who they are paying.
It is important to correctly list your business classification. Failing to do so could result in unnecessary fund holds down the line, especially if you list your business as an individual when it should be an LLC or corporation.
Once you have your login, if at any point you accidentally close out of the Square screen, your session times out, or you click the refresh button, you will resume setup through your Square Dashboard. There will be prompts to walk you through any missing information.
5. Choose Your Business Type
On the next screen, you will need to select what type of business you run. Options include:
Clothing and accessories
Specialty shop (retail)
Events/festivals (leisure and entertainment)
Outdoor markets (retail)
Food truck/cart
Outdoor markets (food and drink)
Art, photo, and film
Jewelry and watches
Caterer
Events/festivals (casual use)
Outdoor markets (casual use)
Independent stylist/barber
Hair salon/barbershop
Beauty salon
Massage therapist
Specialty shop (food and drink)
Bakery
The business type you select may determine the sequence of your account setup. For example, if you choose a brick-and-mortar business type, the account setup wizard may prompt you to choose a POS type. If you choose a mobile business, the wizard will prompt you to set up online sales channels. Though the setup wizard is not the only way to opt into these services. Once your Square account is set up, you can add additional tools to your Square dashboard at any time.
6. Choose How to Accept Payments
Every Square account comes with the default option to ring up in-person sales through the POS app. For no additional fees, you can also accept payments via:
Square's virtual terminal
Square Invoices
Square Online Store
Donation
For an additional fee, you can add physical gift cards, or offer Square digital gift cards for a slightly higher processing rate of 2.9% + 30 cents. You can add, adjust, or remove any of these features at any time.
For information on pricing for different add-ons and upgrades, read our Ultimate Guide to Square Fees & Pricing.
7. Verify Your Identity
Square doesn't have an application process for merchant services, but it still needs to verify your identity before you can process payments. The process is instant—you'll just need to provide your name, address, birthday, phone number, and last four digits of your Social Security number. There's no credit check involved.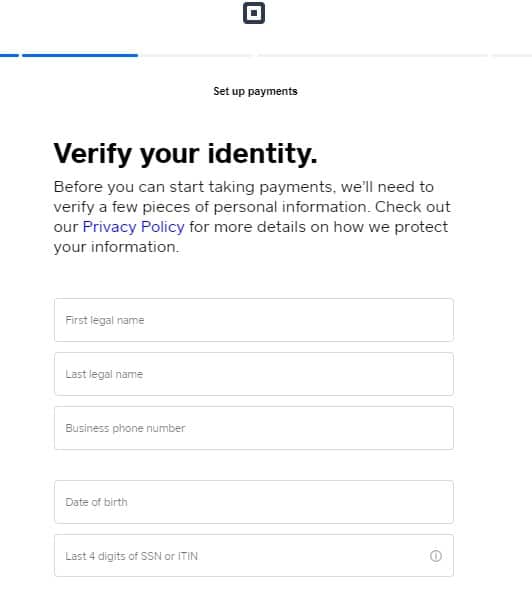 8. Select a Business Location
After entering your personal identification information, choose where your business will be operating: home, on the go, or a different location.
9. Select How to Receive Deposits
When setting up your deposits, you can also choose how fast you want to receive funds. There are three options to choose from:
Via Square Checking: Square will deposit your funds instantly in a Square Banking account. In most cases, these funds are available right away for no additional fee.
Next business day: Your funds will be deposited within one to two business days free of charge.
Same-day: Receive your funds instantly at the close of your business day for a 1.5% fee of the total deposit amount.
You can adjust deposit options and schedules at any time in your Square Dashboard. Deposits can be scheduled or manually pushed through. So, even if you opt for scheduled, free next-day deposits, if you ever need funds right away, you can request a same-day deposit for a 1.5% fee through the Square Dashboard.
10. Link Your Bank Account
Connect the bank account where you want to receive the deposits. To verify your account, Square will withdraw and then redeposit a one-cent charge. Verification can take up to four business days; though typically it only takes a couple of hours. Until your bank account is verified, any funds from sales will be held in your Square Balance.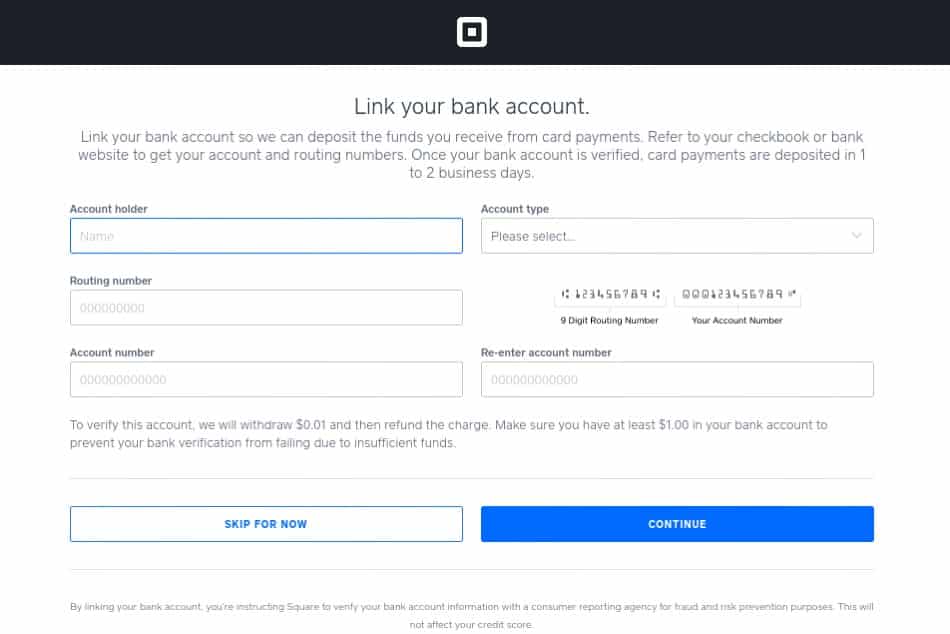 ---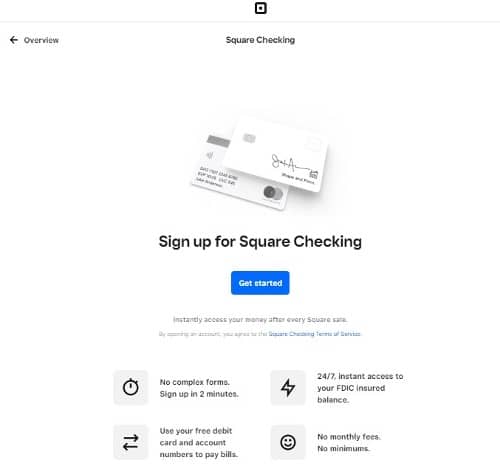 ---
Square has launched its own banking service called Square Checking, which provides a traditional bank account. Opening a Square Checking account allows you to automatically transfer sales into your account and instantly access them via debit card—digitally or in person. Visit Square Checking to learn more.
11. Download the Square POS App
After downloading the Square POS app from the Apple App Store or Google's Play store, log in to your account using the email and password you set up earlier. Immediately after that, you'll be prompted through a test transaction.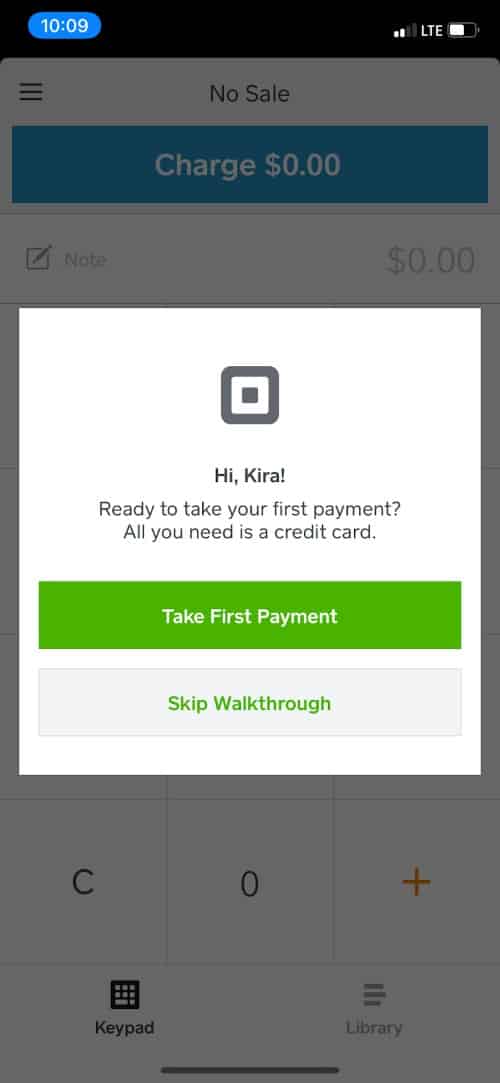 Select a Product to Sell
When you're ready to make a sale, select "Checkout" at the top of the left-hand menu. Then you can either enter a dollar amount or select the list icon at the bottom of the screen to ring up one of the preset inventory items you created. We recommend using this method if you have physical products with inventory to track.
Click the "Charge" Button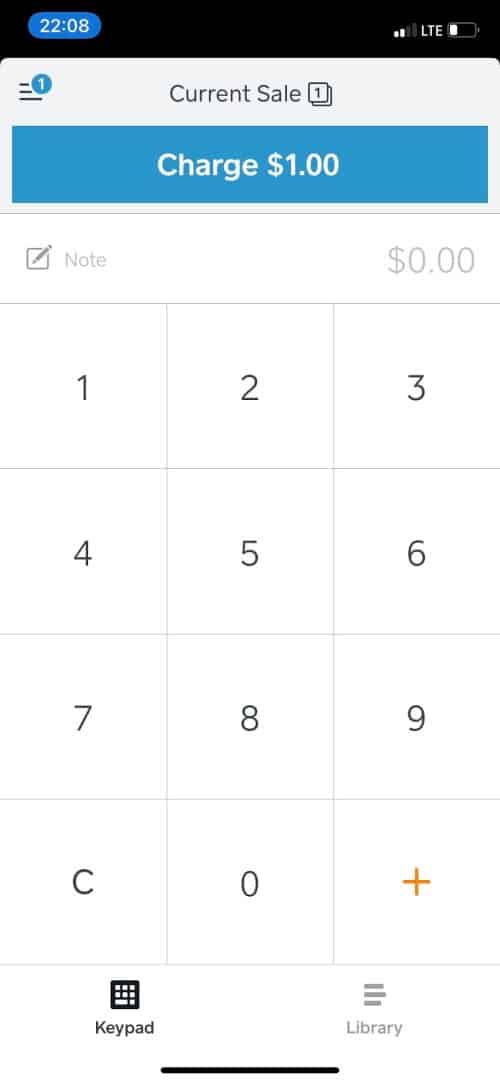 Once you have the transaction amount or appropriate products entered, simply click the "Charge" button, which will take you to the payment screen. At this point, you can also apply loyalty rewards or discounts.
Choose a Payment Option
There are multiple payment options to choose from. If you have a connected card reader, you can go ahead and swipe the payment card. You can also type in a credit or gift card number, send an invoice, use a credit card stored on file, or accept cash or check.
Select a Receipt Option & Complete the Sale
Once you have completed the payment, Square gives your customer the option of what kind of receipt they would like. You can send an email or text receipt or simply select "No Thanks" if your customer doesn't need a receipt. The system will store their email or number so that they don't have to provide it every time they pay a vendor that uses Square POS.
12. Customize Product & Account Settings
Once your POS app is up and running, you can speed your sales process by tailoring your product and account settings to match your business. These can be easily adjusted in your Square Dashboard.
Set Up Your Product List
Square inventory management software comes free with your Square account. You'll need to add your products or services into the system before you can process transactions from your POS or online store. There are two options for setting up product lists in Square:
Create individual items
Import items in bulk
If you only have a few products or are just starting out as a new business, you can add products individually.
---
Adjust Store Settings
The Accounts & Settings section of your Square Dashboard is where you can change your business name, edit bank account information, set up custom email notifications, manage transfers and deposits, customize your receipts, view tax forms, create contracts (such as credit card authorization forms), and manage hardware.
Click through the tabs below to learn more about each setting:
In your Square Dashboard, under Accounts & Settings > Security, you can enable Team Permissions. This allows you to set up restrictions for team members on a number of different functions, which will apply to all POS devices.
Adjustable team settings include:
Use virtual terminal
Cancel transactions
Adjust taxes manually
Void transactions
View completed transactions
View reports
Add, edit, and delete customer data
Choose what reporting and transaction emails you want to receive and opt in or out of emails from Square. Square has options for daily, monthly, and annual sales summaries. However, you can't customize the reports emailed to you.
Add your logo and brand colors, choose what information to display, add a return policy, and add social media handles. We recommend adding itemized receipts, a clear return policy, and contact information.
Add your taxpayer information, including your business name and employer identification number (EIN). Square will automatically file 1099-K forms for you when you reach the earnings threshold ($20,000 or 200 payments in most states).
1099-K forms are what credit card processing companies submit to the IRS to report the earnings of its merchants. Once you cross the reporting threshold, you can view your 1099-K forms in the Square Dashboard.
If you set up payroll through Square, you'll also be able to view your W-2, 940, and other payroll forms in the Square Dashboard, which Square will also automatically submit for you.
Contracts are one of Square's newer features. Within the Square Dashboard, there are templates for:
Credit card authorization forms
Service agreements
Sale of goods
Completion of service
Confirmation of delivery
Contracts are not necessary for every brick-and-mortar business, but if you sell services or expensive made-to-order goods, charge subscriptions or have recurring billing, or offer retail delivery, they may be a good fit for you.
Secure your Square account by providing additional business details. The more Square knows about your business, the better it can manage your merchant services in terms of fighting chargebacks and preventing processing limits.
---
13. Expand With Add-ons
The last step is setting up additional tools that communicate with your POS. Depending on your business type, these might be online sales, customer feedback collection, or email marketing. If your business has employees, you'll want to add employees and create custom user permissions.
Set Up Your Online Store
Selecting Square's "Sell online" feature gives you more than simple ecommerce sales. Choosing this option also allows you to offer order-ahead, curbside pickup, and contactless in-store ordering with QR codes.
We recommend most businesses choose the sell online add-on because:
It's free (Square Online is free with every Square POS account)
Pickup orders reduce in-store crowding
More options allow customers to shop according to comfort levels and preferences
If you choose to sell online via a free Square Online store, you'll be able to pick from four options: a single shopping page, a shoppable Instagram page, a full website and online store, or checkout links.
This selection isn't permanent and can be changed at any time. If you're not sure what you need, Square has a prompt to help you decide. It will ask if you have an existing website, how many items you sell (a few or a lot), and to choose a statement that best describes what you want. If you're not sure, Square recommends opting for a single shopping page, which you can always expand later.
---
Collect Customer Feedback
Once you've processed your first sale, start collecting customer feedback. On every digital receipt, customers will be able to rate their experience along with a reason. You'll see this feedback immediately in your Square Dashboard or POS app. You can have private conversations with your customers about their experience, issue partial or full refunds, and see that customer's history with your business.
From the Dashboard, you can view feedback trends so you can spot opportunities to improve. By having customers leave feedback from their receipt, business owners can respond immediately and privately, instead of learning about the customer's experience from a public review site.
---
Set Up Email Marketing
If you want to create an email marketing campaign for your business, you can purchase a Square Marketing subscription. Pricing ranges from $15 to $35 per month, depending on your number of contacts. If you don't need to send marketing emails often or only want to reach a small number of customers, you can also pay 10 cents per marketing email. You can manage subscribed customers in your customer directory, which you can access through your Square Dashboard.
---
Add Employees
If you have employees, you can add them directly in your Square Dashboard. Each staff member will have their own POS login to track transactions, and most Square POS accounts will allow you to also set custom permissions to control what information each employee can access. Though some of the industry-specific POS systems—like Square for Restaurants—only support one set of user permissions for Free users, the options can vary.
Square offers three main tools for employee management:
Square Team: This allows you to enter employees, manage user permissions, and track hours worked and commissions or tips (where applicable). Square offers a Free tier of Teams, with advanced features like shift scheduling and unlimited user permissions at $35 per month.
Square Shifts: This is Square's scheduling module. The shifts dashboard is where you build schedules and can track time off requests and shift trades. Shifts is free for up to five employees. Businesses with more than five employees will pay from $2.50 to $4 per employee monthly.
Square Payroll: This module integrates directly with the POS time cards for quick and easy paycheck processing. Pricing for Square Payroll starts at $35 per month plus $5 per employee.
---
Add Popular Integration Apps
Square has an App Marketplace with a variety of popular third-party business apps that you can integrate to streamline operations. Browse through categories like accounting, invoicing, ecommerce, team management, and inventory. You can also check out its suggested app bundle tailored to your specific needs. There are collections for restaurants, retail, beauty/personal care, live video, Square Online, and more. Some of these apps are free, others require paid plans.
---
Bottom Line
Square is a free mobile POS and payment processing app that works on smartphones and tablets. Square makes money by charging flat-rate payment processing fees. In return, businesses receive a suite of free management features, a mobile POS, and competitive credit card processing rates.
It's easy to set up a free Square account, and it's even easier to process mobile sales. Best of all, Square is free to use and requires no commitment. Visit Square to set up your own account and test out the app for yourself.