Many people maintain second jobs to help bring in a little extra cash. This is typically not a concern to employers; however, in some cases, it can impact an employee's shift availability, work productivity, professional behavior, and cause other issues. If your company determines that it needs an outside employment policy, there are dos and don'ts that we will walk you through in this article. The focus here is on protecting the organization without needlessly limiting employees' options and rights.
To save time, use our free moonlighting policy template to create your own.
Sample – Outside Employment Company Policy
What Is Outside Employment?
Some employers choose to create outside employment or "moonlighting" policies to protect themselves from distracted or poor performing employees. The term "outside employment" refers to any work that an employee commits to beyond their job with the employer.
So, if John Doe works for you but has another job, perhaps part-time, then—from the vantage point of the employer—their employee has an outside job or is moonlighting. Simply, it is a second job in addition to an individual's primary source of employment.
Note that the expression "moonlighting" stems from those who go to their second job in the afternoon or evening, after completing their day job. Although legal within the US, there are many employers who have policies around this activity just to ensure that ground rules are clear, understood, and do not negatively impact the employee's relationship to their job or the business-at-large.
We have found it best to announce or highlight this policy during the hiring process, specifically during the new employee onboarding process. This is most easily accomplished by adding a signature line to an onboarding form that the employee signs along with acknowledgement of having received, read, and understood the employee handbook and all policies within.
Why Employees Maintain Outside Employment
From the employee's perspective, outside employment may be an incredibly important part of bringing in income for their families. There are many reasons for employees choosing to have more than a single job including extra income, on-the-job training, setting up entrepreneurship opportunities, and so on.
Did You Know?
The main reasons why workers decide to supplement their income.
50% Keep up with increased cost of living
16% Family situation changed
14% Wanted to explore a new career
8% No main reason
6% Increased healthcare costs
3% Other
2% Tuition costs for continuing education
(Source: Indeed.com)
Not all who have second jobs work full-time jobs. Many have two part-time jobs, thus the need for having more than one. Others have intermittent work opportunities with one job and need a more stable, backup job that offers more constant pay.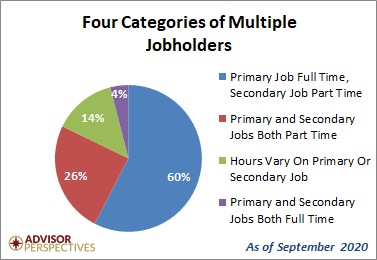 What to Include in Your Moonlighting Policy
As you can see in the outside employment policy template offered along with this article, there are a number of details that you want to bring a voice to in your policy. Here is a list of attributes to include within your own company policy:
Define what "outside employment" means to the company: The first thing to complete is to define what secondary, outside, or moonlighting employment means to your company. The remainder of the policy will unfold from this definition.
Add a general hindrance clause: This main statement should frame the policy overall and should speak to the reality that employees may not engage in any outside employment or business that could hinder or impair their performance while on the job.
Ask for notices of outside employment: Much of the time, employers who allow outside employment will request that employees notify them when a second job is secured. This allows the company to perform due diligence through their methods of observation and not only the employee's.
Address impacted employees: Although the policy should fairly impact all employees, if there is a case of a specific job class or type that the policy impacts, call them out by name within the policy (for example, customer service agents may be heavily impacted while your IT technicians may not be).
Mention any encumbrances and conflicts of interest: Obviously, your company does not want your employees moonlighting at a competitor's business. Outline what this means to your organization and offer examples (particularly if there is one or two specific competitors that are forbidden).
Clarify your stand on secondary work on the Company's Premises: In some cases, outside employment refers to selling items (does anyone remember Avon?) or other homemade goods and products at the workplace such as in lunchrooms, in the parking lot, or other work areas. If this activity is excluded, specifically make mention of this.
Specify the use of company resources: In almost all cases, companies do not want employees utilizing company resources for their outside employment work. Mention this explicitly in the policy.
Define public representation: Generally, if you have employees working second jobs, it is unwise to allow someone who works for you to be a public face for another company. In advertising, marketing, branding, and so on, it is wise to outline the dos and don'ts in this area.
Explicate the right of refusal: Although an across the board denial of employees outside employment is a fool's errand (as you truly cannot prevent employees from doing anything when "off the clock"), employers can prohibit employees from working, as noted, from competitors, vendors, suppliers, certain customers, and so on. It is important to mention the right for refusal.
Declare consequences for violating the policy: Your company needs to define what the consequences are if there is a violation of this policy. If there is a possibility of employment termination, then it should be referenced within the policy.
Best Practices When Considering an Outside Employment Policy
As we have advised, if your company concludes that it requires an outside employment policy, it's wisest to not focus on modulating employees' time or conduct away from the workplace. Instead, any policy addressing outside employment should focus on the matter of what some employment legal advisers refer to as "non-interference with the business." This terminology includes unfettered ability and willingness of employees, regardless of outside activities, to make their scheduled work shifts, perform duties related to their job, and maintain professional behaviors needed for the employer consistently.
In addition, the following suggestions are good "best practice" related methodologies to consider when you are developing your outside employment policy:
Focus on the employee's job: As previously noted, do not attempt to define what the employee can and cannot do while away from the workplace. Rather, focus on what defines a successful employment relationship with the company. For example, showing up to work on time and ready to go, not missing scheduled shifts, performing as expected, acting professional, and so on.
Develop a fair policy that people understand: Ensure that your policy does not negatively impact your lower income earners (who are the ones who most often have more than a single job).
Make note of concern about safety: When it comes down to it, a best practice attribution is developing a policy that includes workplace safety in its many forms. Oftentimes, being tired, low energy, stressed, and distracted are all part of having multiple jobs—and employers know this. No one wants an employee showing up for work tired and distracted.
Provide options for employees, not just limitations: A truly progressive policy will help employees with their personal lives and protect the business. For example, offering a practice of flexible scheduling or consistent scheduling so employees can manage work shifts along with outside employment opportunities.
Legal Aspects of Outside Employment Policies
Although you will develop your own rules when it comes to outside employment, you do need to be aware of federal and state laws that might impact your moonlighting policy.
Can Outside Employment Result in Termination?
We want to reiterate that it is not a wise practice to attempt to prohibit your employees from their outside employment endeavors. Not only is it legally deficient, but it is also a policy that cannot ever fully be enforced.
Regardless of a policy's focus within your handbook, if you cannot fully enforce it, do not include it as a company mandate. Aside from creating a potential divide between you and your employees, you are setting your company up for potential legal liabilities. Since you will only ever know about some employees' moonlighting endeavors and not others, you will almost surely enforce the policy inconsistently. It is better to focus on the expectations of the employee while at the workplace.
As we have addressed, employees may do what they wish to, vocationally related or otherwise, while outside of the workplace, and employers may have the right to terminate employment if the employee is creating harm to the company, performing job duties inadequately, and/or exhibiting unprofessional behavior.
The three most common troubles employees run into, regarding moonlighting with a second job, are for the following reasons:
The outside employment-related work constitutes a conflict of interest.
The outside employment-related work occurs during the workday and/or on company property.
The outside employment-related work eventually begins impacting the employee's efficiency in performing their primary work duties or results in unprofessional behavior.
State Outside Employment Laws
Although not all states have laws on the books protecting employees' outside employment rights, California, Colorado, and North Dakota do. These states mandate employers may not take any employment action against employees for their participation in legal activities on non-work time (again, this is contingent upon the fact that employees are performing normally at the workplace).
Employer Reporting
Employers have the right to inquire as to with whom the employee has outside work relationships. That is, who they are working for, what the work consists of, and so on. Generally, the following questions are both safe (legal) to ask and can help you, the employer, become knowledgeable about the employee's outside employment endeavors:
Name, and active DBAs, of the employer
Employer's address
General description of outside employment relationship (is the employee working consistently, seasonally, as needed, occasionally, and so on)
Type of outside employment-related work performed
Licenses or certifications that are required or preferred (this is to ensure that the primary employer is not paying for licenses or certifications that the employee is financially benefiting from elsewhere)
Each of these questions can be easily justified by way of needing to know about any confidentiality or conflict of interests concerns, competitors within the industry, or a company name or brand that may have known (recent or current) publicity or public legal issues.
In Lieu of a Moonlighting Policy
At the end of the day, what employers want is protection. Protection is needed from any employee who maintains outside activities, of any kind, that can provide harm, violation of confidentiality, conflict of interest, or, most commonly, poor or declining work performance or unprofessional behavior while at the workplace.
Some feel that companies do not even need an outside work policy, as most well-designed employee handbooks have confidentiality, conflict of interest, acceptable work performance and progressive discipline policies already included for such concerns. The people who think this way are not entirely incorrect. What an outside employment policy does is allow the employer (you) to both work with the employee and specify boundaries before concerns arise. This allows the employee to earn extra income for their family, start a side business, or monetize a hobby, while the employer gets a concrete set of ground rules and the ability to enforce them if needed.
Bottom Line
Having prepared and announced a moonlighting policy before needing one is the wise approach to helping govern your workplace with employees who are energized and ready for work, regardless of what their activities outside of the workplace happen to be. A well-written policy will prevent confusion and uncertainty and allows both the employee and the employer to refer to the policy whenever there are questions or concerns.