New employee forms are electronic or paper documents that capture new hire information, such as address, tax withholdings, and work eligibility. New hire forms like W-4s, I-9s, and job applications ensure your business is compliant with labor laws and make it easier for you to manage scheduling, communication, and payroll processing.
Disclaimer: We provide general information and sample forms only; please consult your legal professional before finalizing your new employee forms.
Types of New Employee Forms
New hire forms are a means to gather employee information. Only a few new employee forms are required by law, such as I-9s and W-4s, so we'll cover those first. Forms like the I-9 and W-4 are considered compliance forms because they ensure your business is compliant in terms of gathering data that federal — and, sometimes, state and local — government requests. In most cases, compliance forms can be found online for free. The remainder of these new hire forms may be required based on company size or industry. Many are optional.
Here is a summary of the four basic kinds of new hire forms:
Compliance: Forms required for labor law and tax compliance like the I-9 and W-4
Best practice: Forms that make your life easier managing employee work and payroll
Company-specific: Forms that may be needed based on company size and industry
Employee experience: Forms that help make your business a great place to work
Compliance Forms
Compliance forms are documents that you may be required to send or show to a government agency in case of an audit. They fall into three primary categories: those required by the IRS, those required by the United States Citizenship and Immigration Service (USCIS) and those required in support of labor laws. Examples include:
IRS forms for state and federal tax withholdings like W-4 and W-9
Employment eligibility form like I-9
State-specific disclosures and state new hire reporting
Compliance forms can be found on government websites like IRS.gov. In addition, many states offer an employer website that contains all the required compliance forms you need if you employ workers in that state. However, it starts to get complicated if you have workers in multiple states with varying requirements. For example, some states have their own tax withholding forms that are different from the W-4. In most cases, your payroll provider can supply you with the forms you need in these states.
If you don't have a payroll provider, you can find the following new employee forms and compile them yourself for your new employee using the links below:
W-4
The W-4 is the federal tax withholding form that tells you how much to withhold from an employee's paycheck in taxes. Employees are required to complete this form prior to the first payroll. Read here for more info on how to gather and complete a W-4 form.
I-9
The I-9 form is the federal identity verification (employment verification) form employees are required to complete per the U.S. Department of Homeland Security. By the employee's third day on the job, he or she must provide documentation proving that they're legally able to work in the U.S. In most cases, a driver's license and Social Security card or U.S. passport can be provided as documentation. Here are instructions for obtaining I-9 verification by the deadline, with examples of valid forms of ID.
W-9
This is the federal tax form used for independent contract employees, which is similar to the W-4 that employees fill out. It's used to gather tax information about nonemployee workers who receive payments of $600 or more in a year. Here are instructions and clarification on when to use a W-9.
State Tax Withholding Forms
Similar to the federal W-4, many states collect data on a state tax withholding form that may be called a W-4 or may have a different name (for example, in Massachusetts it's called an M-4 form; in Kentucky, it's a K-4 form). Other states default to the federal W-4 form and some — like Alaska — don't collect state taxes.
State New Hire Reporting
This is a form you complete and send to the state to document that you've hired a new employee, and it's used for statistical data and child support. Most states require the information be provided to the state within 20 days of hiring a new team member. More information on what's required in terms of your state can be found here.
If you use HR software or work with a Professional Employer Organization (PEO), this reporting is likely done automatically through the software.
Once employees have been hired and earned income, you'll be required to complete two additional forms each year — W-2 and 1099-MISC — based on their employment status. Most HR and payroll providers like
Zenefits
 will provide these year-end forms free for you and your employees, although some payroll providers may charge you extra to process them.
W-2 form: Federal tax form required of employees used to reports earnings and tax deductions; read here for more info on when to use a W-2
1099-MISC form: Federal tax form required of contract workers who earn more than $600 per year
If you're planning to run your first payroll, we recommend reading about the payroll process in terms of what happens and when it happens.
An HR and payroll provider like Zenefits helps you create, send, and file W-2s and 1099s; securely stores all completed forms online; and makes it easy to report new hires to appropriate state agencies. You also get automatic alerts of upcoming regulatory deadlines to help you stay compliant with state and federal laws.
The next category of forms is optional, but we heartily recommend that you consider them all mandatory and as a best practice as an employer and to make your life easier as an employer.
Best Practices: Forms That Make Your Life Easier
Best practices forms are those additional new employee documents that savvy employers gather and save during the new hire onboarding process. They protect your business in case of an employment dispute and make your policies and expectations clear. That improves performance and helps you find critical information when you need it. If you store these documents online, that's even better as you can search for and find them quickly.
Free best practice form templates, examples, and instructions are included via links below:
Job application form: Job application forms can protect you in case of a charge of hiring discrimination and provide basic employee background and contact data
Employee handbook: Used to describe all employee policies from timekeeping to sick leave, which should also cover at-will employment
Specific signed policy documents: Used to confirm that requirements have been met or training completed, such as nondiscrimination or drug testing policies
Emergency contact information: Used in case of an emergency, such as if an employee is injured, becomes ill on the job, or fails to show up for work and can't be reached
Signed offer letter: This documents that the employee agrees to the job role, title, start date, pay, and benefits
Signed employment contract/agreement: Used for management, executive, and contractors to confirm the work agreement including penalties for nonperformance
Noncompete agreement (NCA): This protects your business by preventing the worker from competing with your company during or after he or she terminates employment
Nondisclosure agreement (NDA): Also known as a confidentiality agreement, this protects your business by preventing workers from sharing confidential, proprietary information
Direct deposit form: Gathers employees' bank account information (optional)
Benefits enrollment forms: Allows an employee to sign up for health care or insurance benefits and gathers information on employees and their dependents (optional)
Retirement enrollment and beneficiary forms: Used only if you provide retirement benefits like a 401(k) or insurance benefits like life insurance (optional)
If you have an hourly, part-time business like a cafe or retail shop that doesn't need to protect proprietary information, we would recommend that you consider using the first three forms at a minimum: employee handbook, policy documents, and emergency contact information. Of course, if you offer direct deposit, you'll also want to have new hires complete a direct deposit form, so that you don't have to print, distribute, and track manual paychecks.
You also will need a place to store all of these new employee forms, either in file folders (which we don't recommend) or virtually, with free document storage using an HR or payroll system like Gusto. Then, when it comes time to file your taxes, you will have everything in one place for your accountant.
In fact, if you use any one of our recommended payroll services, tax filing should be done automatically. We also recommend offering direct deposit, although some states have requirements limiting alternative payment methods which you can read about here.
Regardless of your business, storing all these documents can become overwhelming. If you work with Zenefits, you can create an onboarding process for new employees and electronically send all documents for signing and completion. Better yet, you can see whether they did it or not.
The next section is geared towards businesses in unique industries like health care, childcare, or finance and the new hire forms you might need based on your company size.
Company Specific: Special Case & Industry-related Forms
There are some new employee forms that you may need to add onto your new hire paperwork depending on the size of your business, your industry or your specific-company needs. You can gather these before or during orientation or include them in your new hire checklist.
These include:
Background check results: Testing and background check results may be required in certain industries like education, health care and banking; if you do background checks, you should save the results in a secure location as the results can protect your business in case of a lawsuit claiming unfair hiring practices
Credit check results: Similar to a background check, if your industry requires credit checks or you request them, retain the results
Drug test: These can be industry specific like health care, transportation or optional
Health insurance enrollment forms: Once your employee population reaches 50 full-time employees (FTE), you'll need to offer health care benefits; typically supplied by the benefits provider, completed by the employee and then stored within your system
Equal Employment Opportunity Commission (EEOC) data form: This form is required if you employ more than 100 people and helps monitor that you're complaint with equal opportunity employment laws; unlike the other four forms above, it's completed at year's end rather than at the time of hire
Let's address each of these and the situations you might need them in a table form.
Company Specific New Hire Forms Table
New Hire Form

Who Needs It

Cost

Large companies of 100 employees or more

None; just time, which can also be a part of your onboarding process through a provider like

Zenefits

Background Check
If your business is in education/childcare, financial services, hospitality, government work, health care, gaming, or caregiving, you should be conducting background checks

GoodHire

runs a great service for around $60/check; you can also buy in bulk to save money; read more about background check providers in

our buyer's guide

Credit Check

Any companies in the financial space, including accounting and mortgage brokers, or related to the government, military, or police, should be conducting credit checks

A credit report add-on to a background check is $15 at

GoodHire

Drug Test Check

Any business that deals with

transportation or safety concerns

, like construction, usually drug tests; the U.S. Department of Transportation may require it for certain companies

Drug tests start at $60 each at

GoodHire

(and increase in price with the more substances included)

Benefits Enrollment Forms

Employers with 50 or more FTE are required by the

Affordable Care Act

(ACA) to offer employee benefits and then report on the benefits they offered using (link this article) IRS forms 1094 and 1095-C

There's no cost to the form, but benefits can cost hundreds of dollars a month per employee, depending on how much you, the employer, contribute
Finally, we will share what companies might include if they really want to "wow" a new hire and create a great first impression, as well as set up a company culture that attracts the best talent.
Employee Experience: Forms That Create an Ideal Work Environment
These are optional employee forms and types of new hire documentation that improve the employee experience, on-the-job performance and work culture. These new hire forms aren't required by law but are used instead to create a great impression on the new hire, as well as add to improve your employment brand.
Great forms to include with your other new employee forms are:
Goal setting form: This is a document to gather employee goals and track progress
Personal profile/preferences form: This is nice to know data about the employee, it may include their birthday, favorite food, or dream job
Communication style evaluation: This data can be gathered using assessment tools like dominance, influence, steadiness, and compliance (DiSC), Myers-Briggs, or management by strengths (MBS)
Talent profile: This tracks employee performance and potential as well as their workplace competencies and information on their potential career path
Orientation checklist: This gives employees insight into their first days on the job
Schedule & availability: This gives employees a chance to share their preferences for work hours and is included as a common feature in employee timekeeping software
Benefits enrollment forms: Even if you aren't required to provide health insurance, you can offer employees benefits or perks like a commuter allowance or dry cleaning
401(k) enrollment forms: These programs improve employee retention
While we don't want to dive too far into performance management, reward, or perks, getting a new hire started on a path to success is super important for employee retention as well as from an employer branding standpoint. That helps you recruit top talent in the future.
Here is some detail on each of these documents and forms that improve the employee experience.
Goal Setting Form
Have a new employee fill out a goal worksheet that aligns with their new job description. What do they want to achieve? What are they hoping to learn? Where do they want to go one day? This will motivate them as well as help them discover ways to earn employee recognition. In fact, if you want to automate that process, there are plenty of performance management tools.
Personal Profile/Preferences Form
You don't need their in-depth personal history — nor do you want it — but asking candidates where they are from, what their favorite sports teams are, what their hobbies are and so on can be a good way to introduce them to their co-workers or to find team members they might become friends with due to their common interests. This will immediately help them to feel more welcome.
If you use HR software like Zoho People, you can gather and store this information online easily using templates or customized forms. Zoho is free for small business and then costs only $1 per month, per employee, giving you a way to store all your employee documents in one system. Get a free 15-day trial.
Communication Style Evaluation
Especially if you have a unique or remote team, you will want to know your new employee's communication style — and they will want to know yours. Chat, phone calls, text messages, video conferences, email, or Slack — what form of communication should be used to get the fastest response? What form should they use when responding back? When would they prefer not to be disturbed? Do they prefer to talk ideas through with someone or brainstorm on their own and then present their thoughts?
Some vendors like Indeed allow you to gather this information using assessment tools like DiSC during the hiring process.
In fact, one company I worked with colored their organizational chart based on temperament style using the tool Management by Strengths. It smoothed over a lot of interpersonal communication issues between individuals and departments, once they learned how each person thinks and communicates differently and became willing to adapt to one another's styles.
Talent Profile
Document the skills, experience, career goals, and special talents of every staff member so when a job opening occurs, you'll know who in the organization may be able to hit the ground running. Maybe your customer service rep is a social media whiz, or your shipping clerk speaks Spanish. When you need those skills, you'll know who to turn to. Again, HR software like Zoho People can be used to gather and store this data online.
Orientation Checklist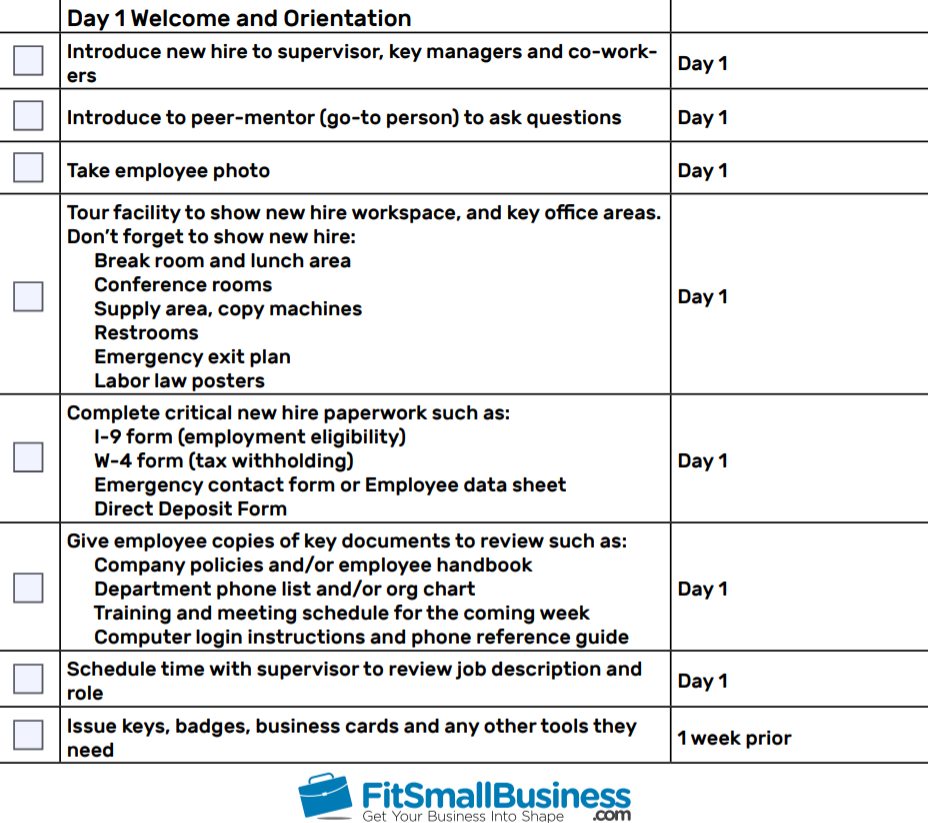 An orientation checklist ensures you don't miss any forms or tasks during the first few weeks. Providing a copy to employees helps them keep track of what they're expected to do and who they're expected to meet.
It's helpful to give new managers a copy so that they understand that orientation and onboarding are more than filling out paperwork and putting the employee to work. It often involves training and job shadowing, so that the employee can get up to speed faster and feel like they're part of the team.
Schedule & Availability
For employers that offer flex work schedules or allow employees to choose their shift preferences, this is a form that employees can use to share those preferences. For example, they may prefer to work nights or weekends or have prior commitments, such as college classes, daycare issues or volunteer responsibilities.
To save time, consider using scheduling software like When I Work or free time and attendance software like Homebase. Both allow employees' input their schedules and even shift swap, saving you time. Sign up for free today.
Who New Hire Forms Are Right For
All businesses, even those with only one employee need to gather and store compliance forms at the minimum. Other forms are best for certain kind of businesses, businesses that reach a certain size or businesses that want to create a top-notch work culture.
Here are the kinds of businesses that need new hire forms of various types:
Businesses that hire employees: All businesses that hire employees are required to collect data as required by the department of homeland security (I-9) and the IRS (W-4)
Businesses that hire contractors: Businesses that hire contractors need only collect tax data (W-9); all other forms are optional; however, NDAs and employment contracts are highly recommended to protect the business and reduce potential lawsuits
Businesses that hire only family members: Even businesses hiring only family members need to collect tax data — either a W-4 or a W-9 — depending on how each family member is paid
Businesses that want to reduce lawsuit risks: The best practice forms listed above, in addition to the compliance forms will help reduce or avoid lawsuits by improving employee and employer communication and clarifying expectations
Businesses that want to build a great company culture: All of the above forms will help improve your employment brand if used correctly; for example, even if not required by law, doing background checks and drug screens can protect your existing workforce and clients by preventing you from hiring people likely to cause workplace drama
Best-in-class employers hire HR experts to gather and manage all this documentation. Zenefits can help reduce your employment risk by giving you access to HR experts and a secure place to gather and store your forms online.
What New Employee Forms Cost
Using our templates, government-provided PDF forms or samples found online, you can gather and prepare most of your new employee forms for free. Then, you can modify and print them for the cost of the paper and ink. However, some businesses prefer to outsource HR to a third party to ensure that all their new hire forms are in order, customized, and legal.
Some of the costs to consider are:
HR software: Often, standard forms are built into HR software; for between $1 to $15 per month, per employee, you can not only have the forms but often have an automated workflow with e-signature and online storage, such as Zenefits provides
HR professional: Hiring an HR professional can cost from $50 per hour to $5,000 for a startup package of new hire forms and documents, which often includes an employee handbook; if you hire a full-time HR resource, that could cost upward of $50,000 per year
Lawyer: If you have an attorney review your downloaded forms, you may be able to get by with a few hours of work for a few hundred to a few thousand dollars; for example, LegalZoom charges $39 to $99 per document to review business forms and policies; however, you could pay significantly more if you have the attorney draft and provide the forms for you
Do-it-yourself: This is the easiest, lowest cost option, but may also be time-intensive; depending on your level of HR experience, you or your administrative assistant may be able to download the forms we provide and customize them for little or no cost other than time-spent
Managing the documents: The cheapest way to manage the documents is to drop them into an employee personnel file that's kept in a secure file folder; however, a better — and more searchable — option is to store them online, such as on your secure network or in a G Suite account; however, if you use HR/payroll software like Zenefits, they'll be stored online for you
The forms themselves cost little. Ensuring they're legally compliant may cost a bit more if you create your own docs. You'll also need to hire someone to track and manage them, which takes time unless you use an automated system like .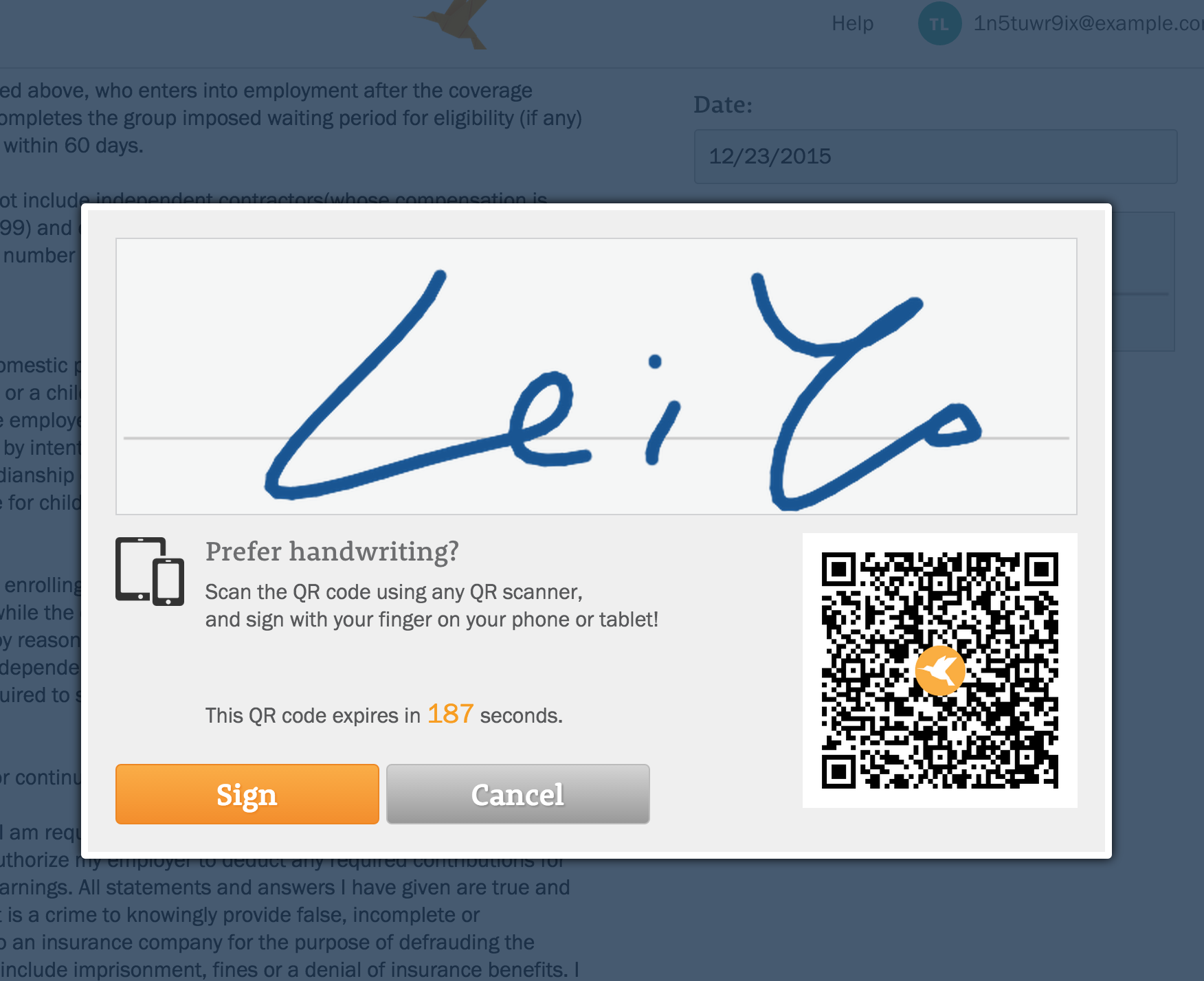 Zenefits makes it easy for employees to sign important documents online, even on their smartphone.[/caption]
Where to Find New Hire Forms
We've done our best in this article to link the forms themselves within the text above. You can also find many on government websites. In addition, in order to lure you to purchase their software or services, many HR and payroll vendors provide downloadable forms for free.
Online
If you search online for any form by name, you'll likely find a usable version that you can start with, download, or modify. Some vendors require you to provide your email address in order to get the form, however, and not all forms are valid in all states. For example, some states don't allow you to ask prior salary questions on a job application form. Therefore, it's best to review downloaded forms yourself or have your attorney take a look to make sure they're valid.
A good place to search is the U.S. Department of Labor. Another good place to find forms is our own FitSmallBusiness website. Search by form name, and you'll often find a form template and a policy that you can download and customize for free.
Payroll Provider
Most payroll providers do their best to make your life easier by offering you new hire forms as part of their service or making them downloadable from their website. For example, Zenefits makes the forms available for e-signature during the new hire onboarding process.
In fact, free timekeeping vendor, Homebase — which works together with Gusto — provides a great selection on new hire forms to support clients that hire hourly workers.
SHRM
The Society for Human Resource Management (SHRM) is the go-to resource for most HR professionals. While it costs a few hundred dollars per year to be a member, you get access to nearly every kind of HR form imaginable, along with policy templates, when you sign up.
An HR Resource/Consultant
If you want more than a form, such as an HR professional to customize it, consider working with an HR consultant. You can find them online through websites like Fiverr or Upwork. Many HR consultants have their own set of predesigned forms that they can modify and provide to you individually or as part of a package.
Your Attorney
If you're risk-averse, this is the way to go. Ask your attorney for HR forms to ensure they're legally compliant for your state. Alternatively, ask them to review the forms you've found online. That way you'll be sure to minimize any chance that your forms may violate employment laws or increase your employment liability.
LegalZoom provides an affordable way to ensure your documents comply with federal, state, and local employment laws. It provides legal consulting services in addition to offering a document review service that starts at just $39 per document that are 15 pages or less.
New Hire Forms Features
If you're creating forms from scratch or customizing forms you've found online, consider making sure your forms have the following features. This provides professionalism, makes sure you have the most updated version of the forms and makes them easier to find.
What the Form Is
Each form should have a name. This is often provided by a government agency, such as the I-9 form of the W-4 form. However, if you create your own forms, such as to capture an employee's emergency contact information, it's best to add the name of the form at the top and perhaps provide a footer showing the form name and revision date in case you later need to modify it.
Why It Is Used
To help employees understand why a form is used, it should have a brief explanation attached. For instance, if you request bank account and routing information from your employees, it's best to explain that the reason you're doing so is so that you can set them up for direct deposit.
How It Should Be Stored
Some documents are fine to store in an employee's personnel folder that their manager has access to. Other forms, like I-9 employment eligibility forms, ought to be kept separate to prevent confidential employee information from being viewed. There are additional forms like the ones employees fill out to indicate their EEO status or benefits enrollment should be kept from the manager's view, due to the confidential health or other private information they contain.
Who Can View It
Due to government regulations like the health insurance portability and accountability act (HIPAA), some documents are not to be viewed by anyone outside those in HR or payroll who need the information to do their job. Other documents should be kept from view due to containing private employee financial information.
It's best to note, either on the document or within your company procedures, who has access to view certain kinds of employee information. In fact, many HR and payroll systems provide role-level security to ensure that information is viewed only by those who have a business and legal need to view it.
How Long Do You Have to Keep It
Document retention varies by government agency and often varies by state. For example, 401(k) enrollment docs need to be kept for six years after an employee terminates, but that new hire offer letter or other salary data need only be kept three years. Here's an explanation of what to retain and for how long.
Pros & Cons of New Employee Forms
There are pros and cons not only to what forms you collect but on how you store them and how long you keep them.
Pros of Using New Hire Forms
The benefit of using new hire forms are mostly on the legal and compliance side:
Legal compliance: Provides documentation in case you're sued or audited
Tax compliance: Ensures your taking out the correct taxes and abiding by tax laws
Reduced misunderstandings: Lowers your risk of miscommunication and can provide defense in case of a hiring, discrimination or wrongful termination lawsuit
Cons of the Using New Hire Forms
On the downside, once you create the forms, you have to verify, store, and maintain them:
Form security: Once you gather data, you need to keep it secure — that means setting up and maintaining filing systems — whether that's file cabinets or electronic storage
Keeping them updated: Forms need to be updated as your brand changes, labor laws change, or your business procedures are revised, so you'll need to manage that
State variations: If you have employees in multiple states, you may need to create multiple version of the same form; for example, some states interpret the at-will document differently than others
Ensuring they're legal: Some online forms or ones you create from scratch may not hold up in court; it's better to have them reviewed by an attorney to be sure
We recommend using LegalZoom as a low-cost way to ensure your forms remain compliant from year to year. It provides low monthly rates for legal consulting services and can review forms and policies up to 15 pages long, for as low as $39 per document.
Alternatives to New Employee Forms
If developing, customizing, gathering, tracking, storing, and securing new employee forms feels overwhelming to you, there are options that vary from using a temp to outsourcing your work. These alternatives can help you minimize your need to manage new hire paperwork.
Partner with a PEO
A professional employment organization (PEO) is a co-employer that hires your employees on your behalf. As such, they are the ones who gather and store the paperwork. A PEO can cost from less than $100 per month per employee to hundreds of dollars a month. Many small businesses choose this route to save money, reduce liability, and give employees the experience of working for a much larger firm with benefits and perks. Check out our PEO review article for reviews on the best PEOs.
If you're interested in a PEO, Justworks is an entry-level HR outsourcing company that provides HR, benefits, and payroll services for companies with as few as two employees. By adding your employees to a pool of thousands of small business employees, they're able to offer "big company" health insurance at low rates. Get a free consultation.
Outsource HR to a Third Party
Some small businesses outsource HR to a third party. That can be a consultant who comes on-site to your location, a virtual HR expert who manages your HR work from afar or an HR consulting company. Here are some of the HR outsourcing options available.
Using a Temporary or Staffing Agency
If you're in a larger urban area, chances are there are temp or staffing agencies you can use to hire employees. Those agencies are the employer of record, and they manage all the employee paperwork — not you. You sign up with the agency, interview, and choose the workers, and then receive a bill from the temporary agency or staffing firm for the hours the employee works. You'll typically pay upward of 30 percent of what it would cost to hire the employee yourself, but the time and paperwork savings may be worth it.
Hire Contractors Instead of Employees
As long as the work you need to be done can be done by a contract company or a contract worker, you may be able to avoid new hire paperwork, including payroll. Instead, you'd gather only one form — a W-9 — and pay the contractor through your accounting system. However, there's a huge risk if you misclassify an employee as a contractor. Therefore, we recommend you read this first.
Hire Virtual Assistants through a VA Company
Many U.S.-based and overseas firms offer virtual assistants (VAs) who can do much of the business work your company may need, from managing your ecommerce website to doing your accounting work. If the only employees you need are office staff, consider hiring a virtual team that works offsite and is employed by a VA company. U.S.-based VAs start at about $25 per hour, but the ones overseas start as low as $5 per hour or $1 per task.
Frequently Asked Questions (FAQs)
Here are some answers to questions that you may have about new hire forms.
What Are the Most Common Mistakes Employers Make on New Hire Forms?
The most common mistake made on new hire compliance forms is not filling them incorrectly, according to the instructions provided by the relevant government agency.
However, the most common mistake on other forms is including information on the forms that can get you in trouble, such as listing a person's gender or prior salary on a job application form. Those may be discoverable in a lawsuit and show proof of discrimination or pay equity issues.
Are New Hire Forms Legally Binding?
These are legal in the sense that a signed document can be presented in court as evidence. This is often to your benefit, such as to prove that employees knew about the attendance policy if you later have to terminate them for no show no call. You can also use this to prove that the reason you promoted one person over another was based on job performance, not age, race, or gender.
How Often Should New Hire Forms Be Updated?
Tax and other labor laws change regularly, at both the state and federal level — and sometimes even at the local level. For example, New York City now requires employers to pay for commuter benefits while Los Angeles requires extensive paid sick leave and many states make it illegal to ask job candidates about prior pay or criminal convictions. Therefore, it's best to take a look at both your forms and your employee handbook each year to make sure they remain compliant.
What If I Change a Policy After New Hires Have Begun Work and Signed Prior Forms?
This is a question that confuses employers. As long as you change a policy that's not legally mandated like providing family and medical leave, you need only communicate the new policy change along with providing the new policy documentation. Many employers do this by means of an annual review of the employee handbook changes or policy changes and then confirm by employee signature that employees have been informed of the change.
The Bottom Line
Knowing what you need from new employees is a critical but intimidating part of the hiring process. They've accepted your offer and, now, on their first day, you are wondering what new employee forms you need to give and get from them. We provide answers to your new employee forms questions here in this article, complete with free templates and/or resources for each form we discuss.